It's never a good idea to let your Mac get too full. As well as potentially causing performance issues, it could mean you run out of space when you need it most. To avoid that, you need to delete anything you don't need and perhaps store some files elsewhere. And in that situation, knowing how to find the largest files on your Mac is going to save you a ton of time.

Did you know?


Many big files that eat up disk space are scattered across your Mac, making them hard to find. MacKeeper's Safe Cleanup feature can locate these files with one quick scan.

Open MacKeeper, and select Safe Cleanup from the left-side menu
Click Scan
Click Clean Junk Files to remove the unneeded files

It's really that easy, so why not download MacKeeper and give it a try. You get one fix for free, so there's nothing to lose.

There are a few ways you can find and delete large files from your Mac:
Checking common folders for large files on your Mac
One of the simplest things you can do when trying to find and delete big files from your Mac is to just look in the most likely places for them.

Common places for large files on a Mac include:
Downloads
Documents
Applications
Make sure to periodically look at what you've got, and delete downloads, documents and apps you don't need anymore. You should also check your desktop for files you might have dropped there and forgotten about. Empty your Trash regularly too, because leaving files in there can easily eat up disk space. Your Mac will also put miscellaneous files like PDFs and cached data into a category called Other. From time to time, you can delete Other storage on Mac to quickly get back some disk space. You can use a file cleaner for Mac to help automate this process.

If possible, you should also check for large files in other Mac user profiles. It's possible to delete files from other people's profiles if you have root privileges, but of course, you probably shouldn't do that without permission. But if you run several accounts on your Mac, it's a good idea to log into them and search for large files too.
Using Finder to sort and search your Mac for large files
It's quite easy to check file sizes on a Mac. When you look at files in Finder, you can easily see how large they are. Just open a folder, and then click at the top of the Size column. Each time you click, it will toggle between sorting small to large and large to small. Either way, you'll be able to see which files are the biggest, making this a quick, easy way to find some of the largest files on your Mac.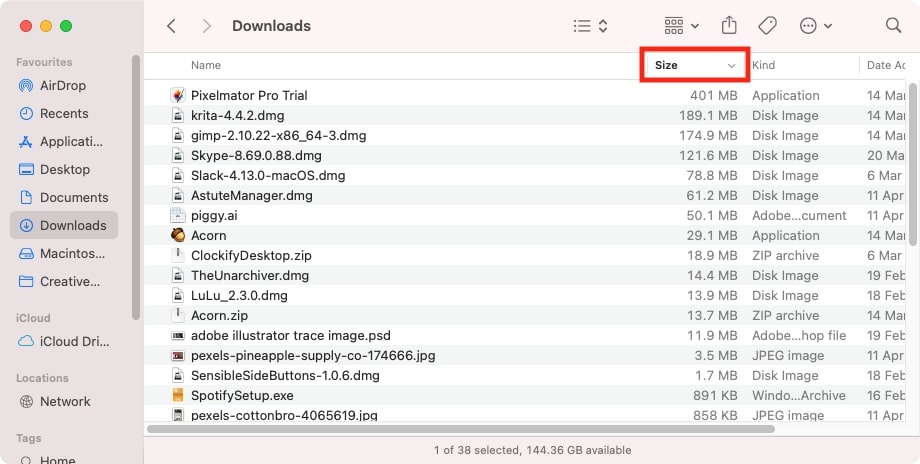 There are a few problems with this, though. For a start, this way of searching your Mac for large files is limited to whatever folder you're in. But you can look in more places using Finder's search function.
How to find and delete large files using Mac's Finder search:

1. Open a Finder window, and press Cmd + F. This will get search mode up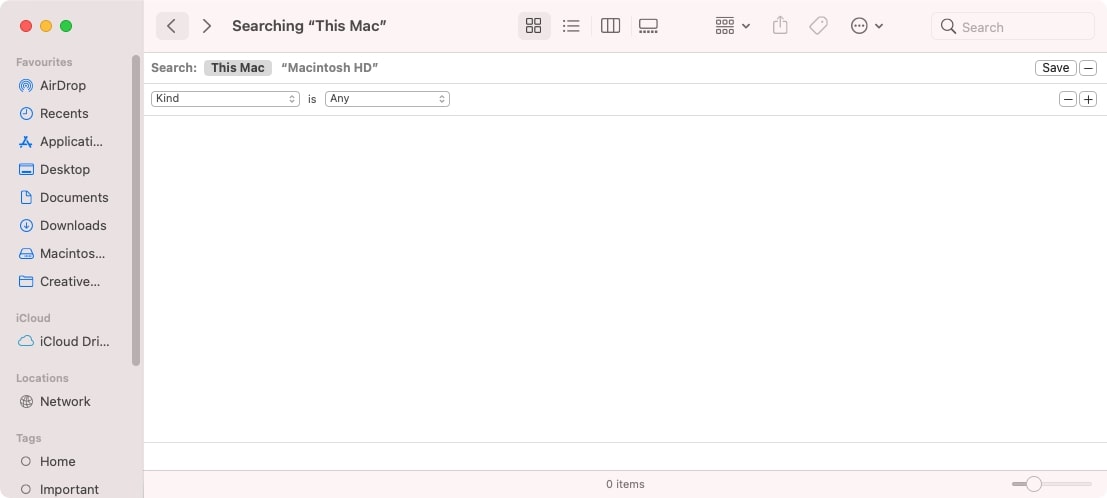 2. In the dropdown menu on the left, select File Size, if it's there. It's not there, select Other, then find it in the list, and click OK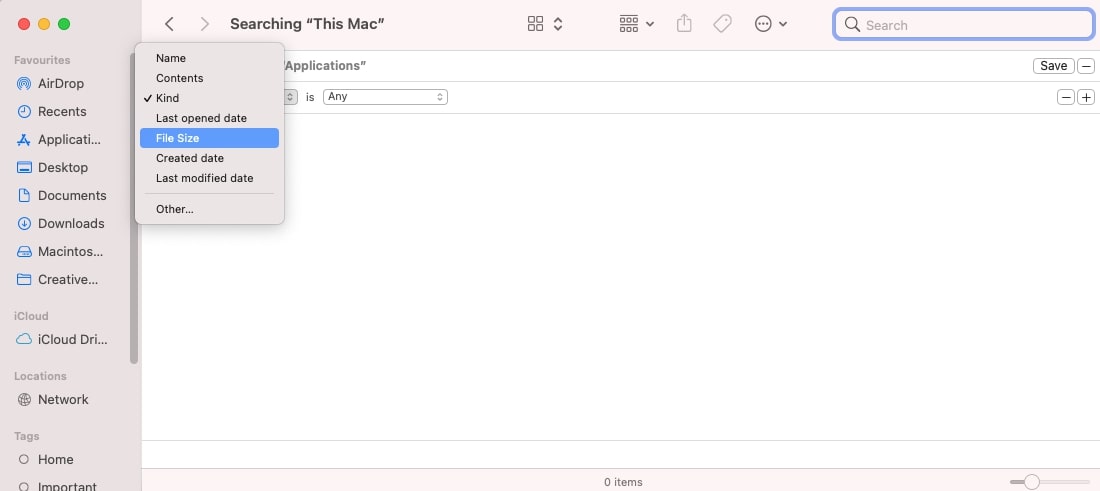 3. In the dropdown menu after File Size, select Is greater than, then enter a file size that you consider to be large in the field next to it
4. If you're searching This Mac, you'll see all files that are larger than the size you entered, no matter where they are on your Mac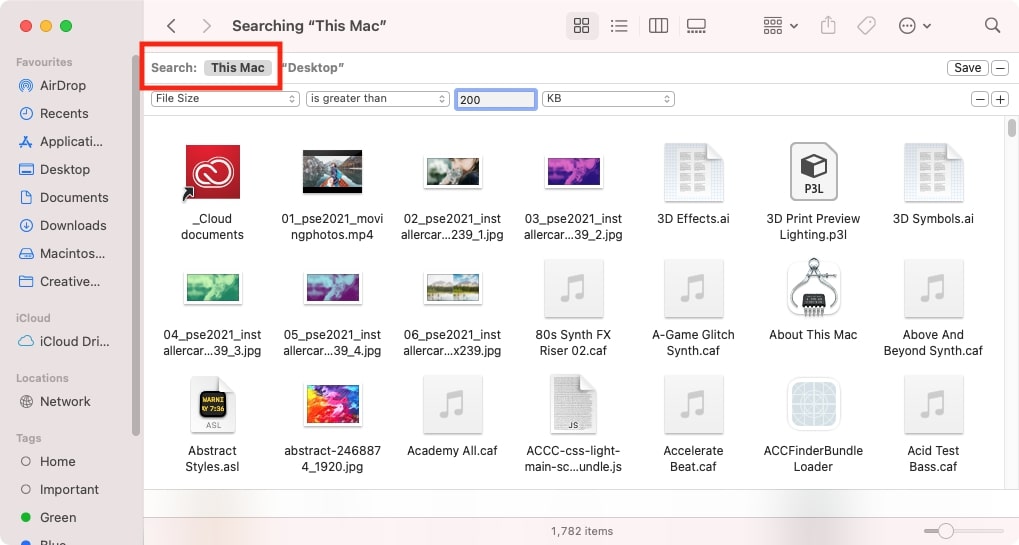 Both of these options only deal with files, though. They don't help you find large folders. That's a problem because you might have folders full of thousands of tiny files that add up to a large chunk of disk space. But there is a quick way to see how large folders are in Finder.
How to find large folders on a Mac using Finder:

1. Open a Finder window, and select a location you want to look in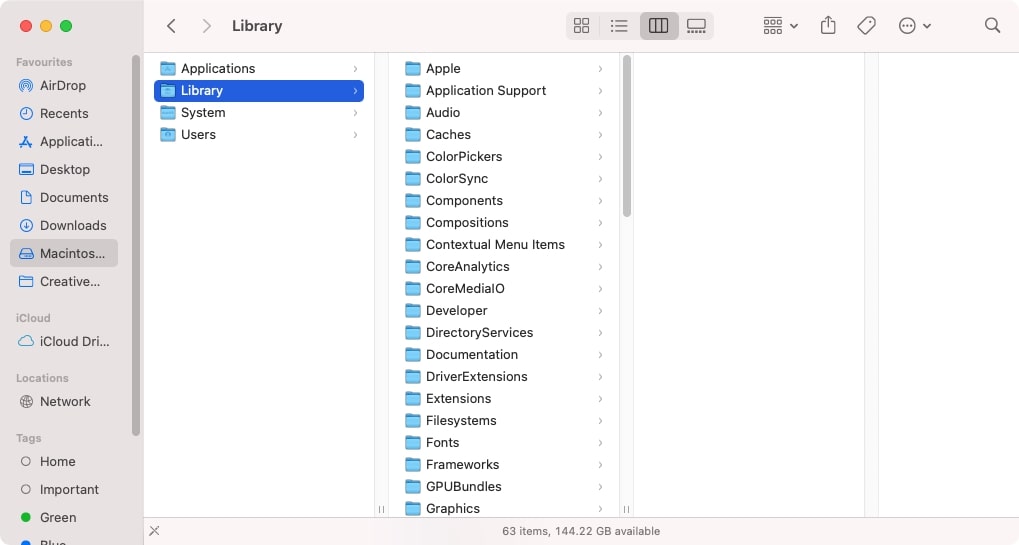 2. Make sure you're in list view. Click the list view button if you're not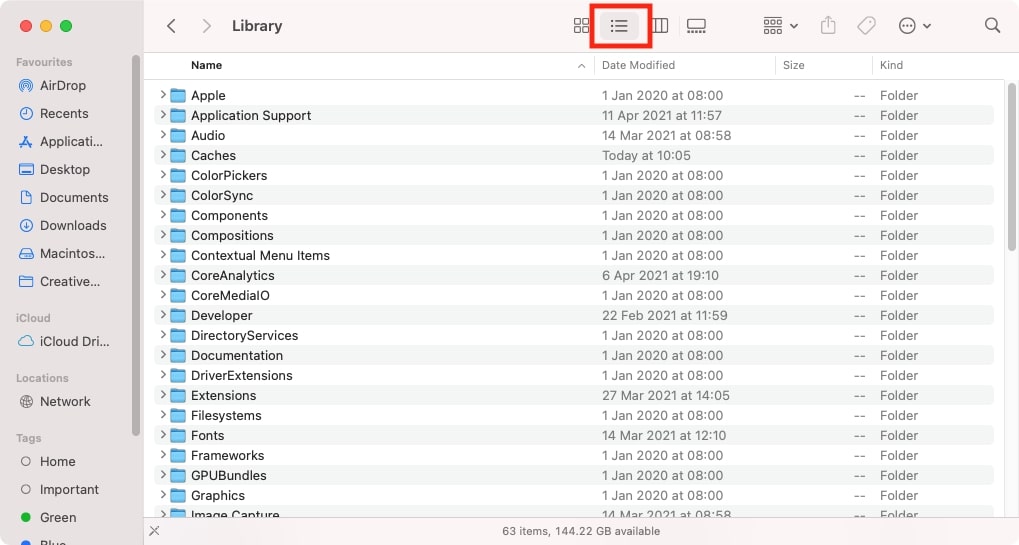 3. From the menu bar, go to View > Show View Options. Alternatively, press Cmd + J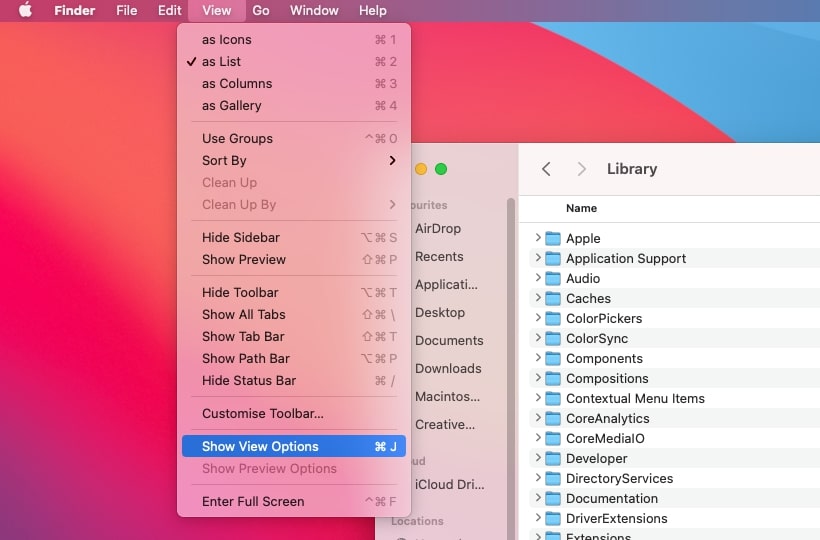 4. Click the box next to Calculate all sizes
5. You'll now see the sizes of folders, so you can sort them and find the biggest ones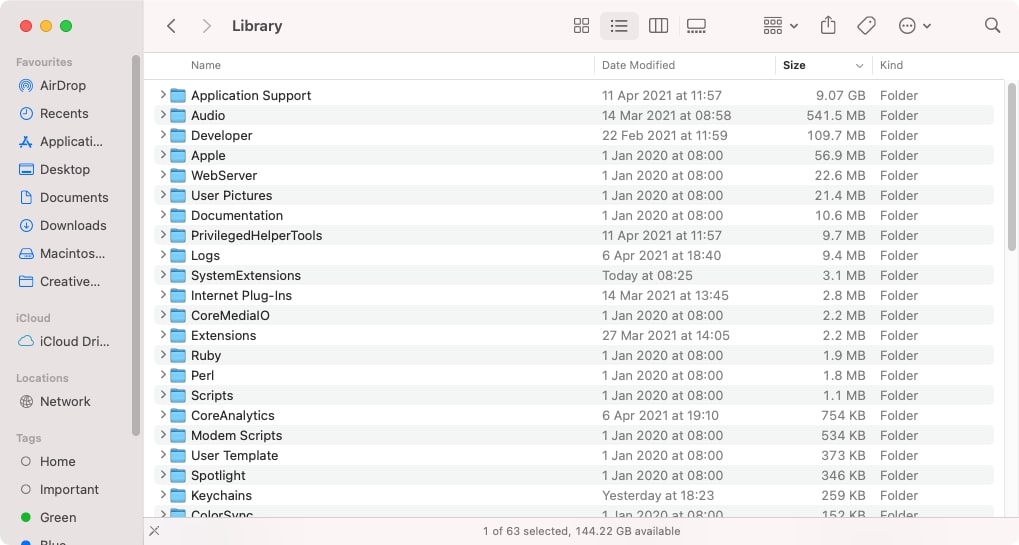 Using Storage Management to find and delete large files from your Mac
More recent versions of macOS have a Storage Management feature, which helps users find big files on their Macs.
How to find the biggest files on your Mac using Storage Management:

1. Click the Apple logo in the top left of your screen, and select About This Mac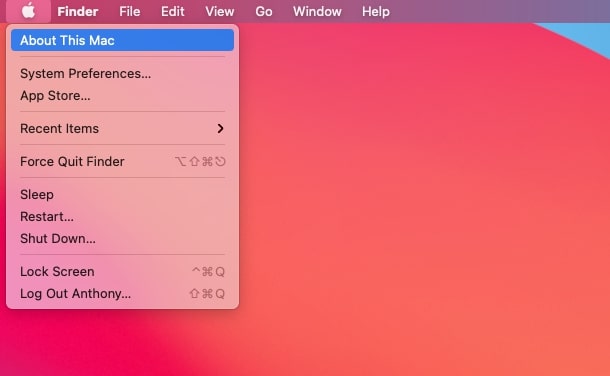 2. Click Storage at the top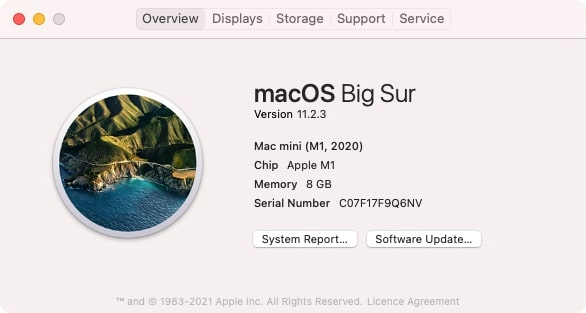 3. Click the Manage button. This will open Storage Management

4. Now, check out the recommendations, and see if any of them are useful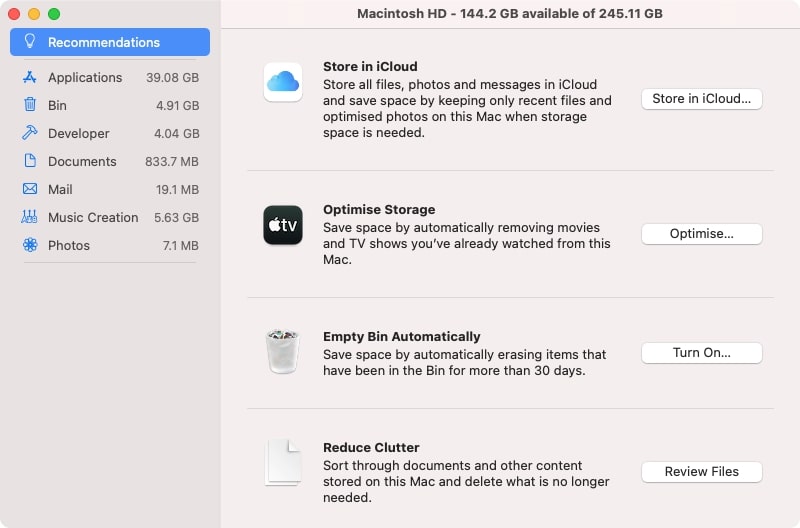 5. Use the categories on the left-hand side to find large files your Mac that you could delete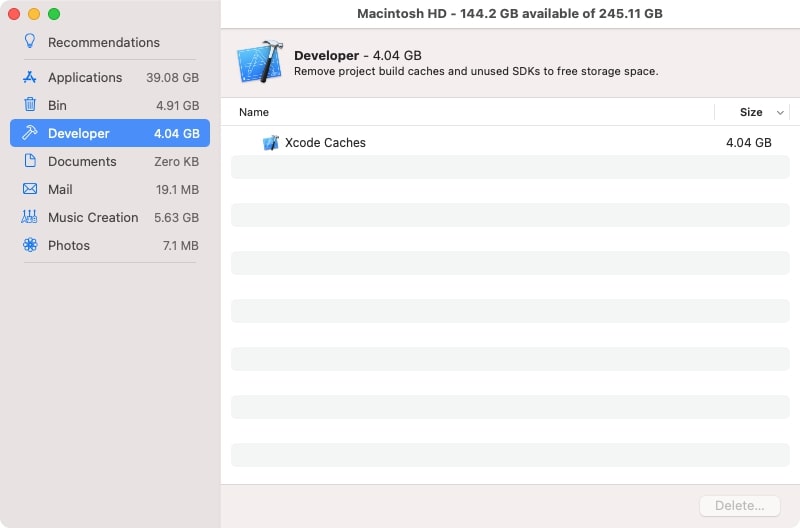 Clearing junk and other unwanted data using MacKeeper
If you're trying to clear out some disk space, MacKeeper can help, particularly with junk and unnecessary files that may be spread out across your Mac. It also features a Smart Uninstaller that removes unwanted apps without leaving any old, unneeded files behind.
No matter what type of scan you do with MacKeeper, you can sort the results by file size. This makes it an easy way to find some of the biggest files on your Mac.
How to check file sizes on your Mac using MacKeeper:

1. Open MacKeeper and run a scan, such as Safe Cleanup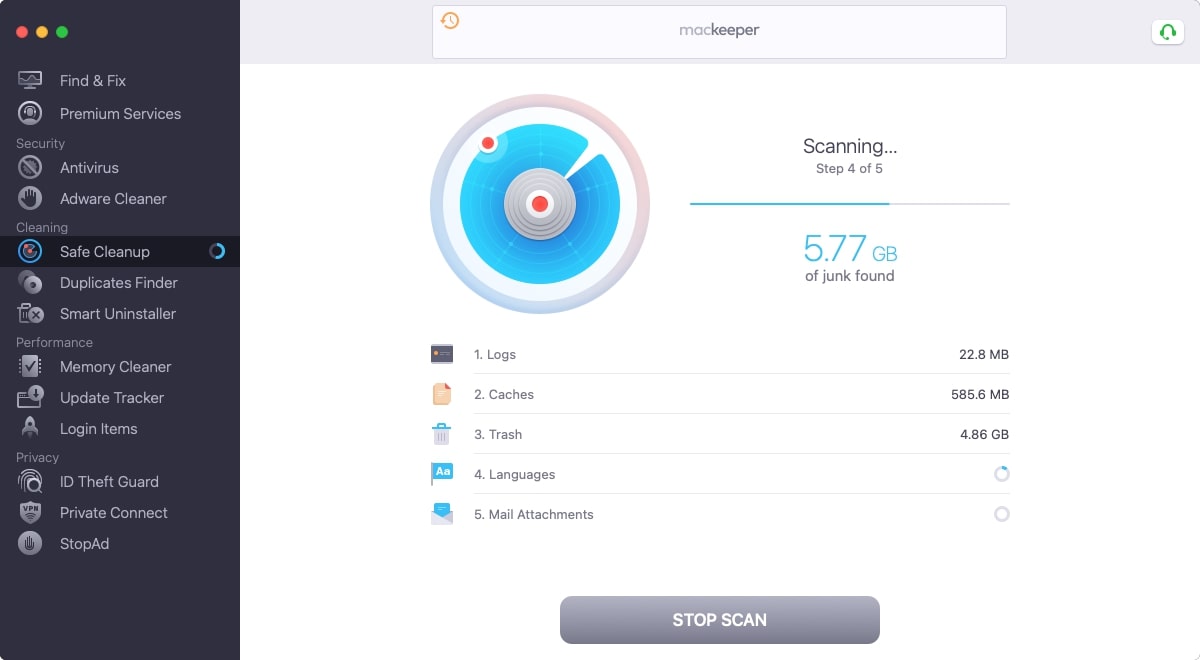 2. Select one of the categories in the scan results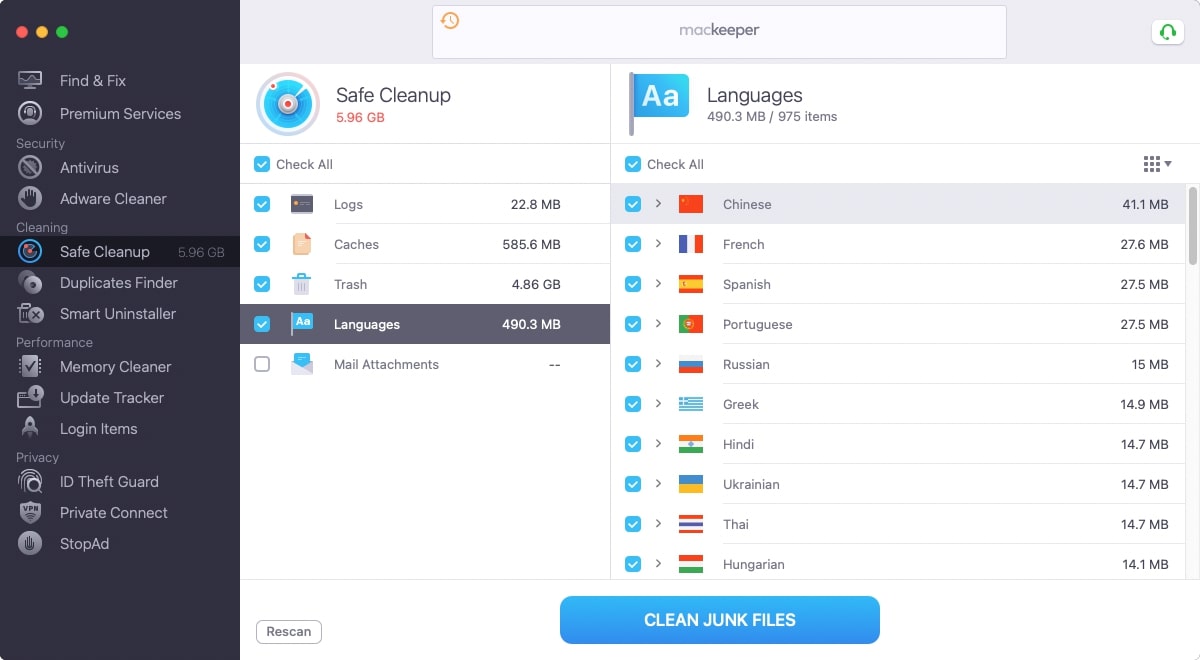 3. Click the sort button in the top right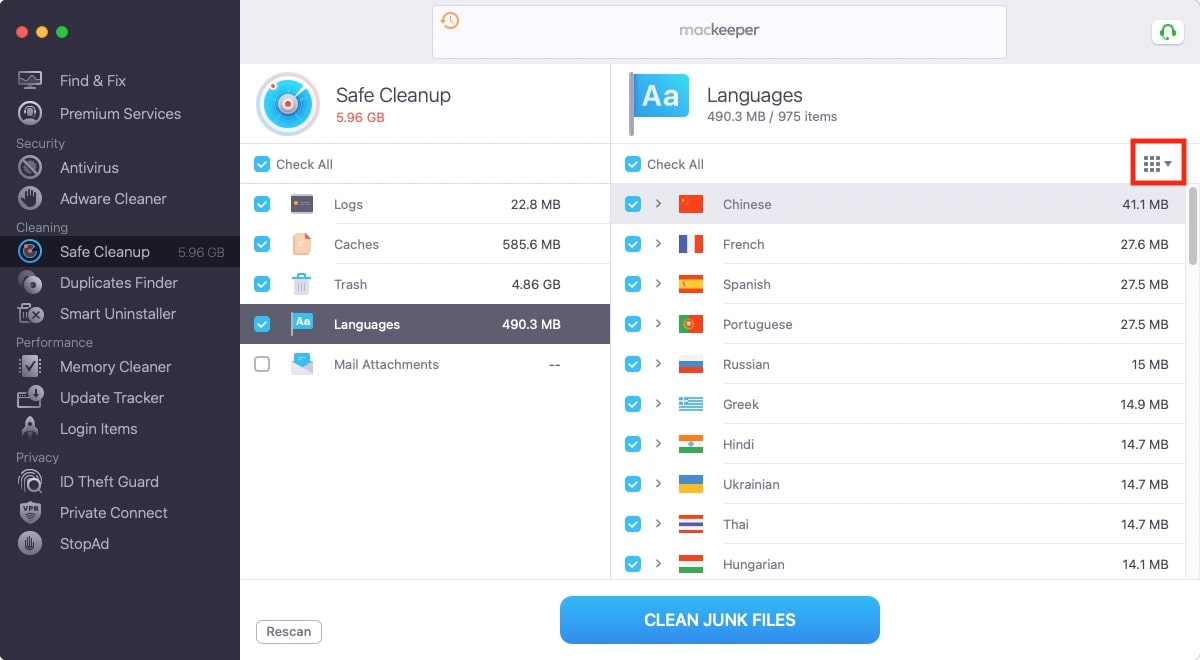 4. If they're not already selected, choose Size and Descending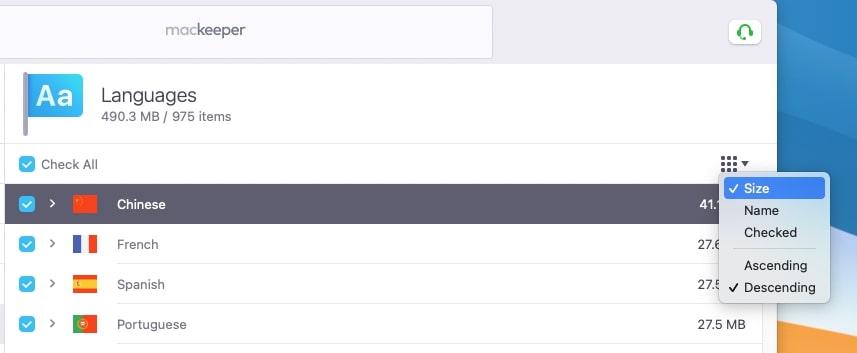 Further reading: How to delete junk files on Mac
Should you delete large files from your Mac?
Sometimes, of course, you'll have big files that you want to keep. In such cases, you don't want to delete them, but it might be a good idea to move them somewhere else. Think about putting them on an external hard drive or saving them to a cloud service like iCloud.
Whatever you decide to do, you can follow the tips in this guide to find the largest files on your Mac as quickly and easily as possible. Add in MacKeeper, and you've got yourself a powerful security and optimization tool as well.
Read more: