In this article you will find the following:
Have you ever had to deal with a slow-performing Mac, but you're not sure why it's not running as it used to? An overloaded Safari cache on your device could be the culprit.
If you don't empty the Safari cache on your Mac regularly, you could run into several issues. Besides performance-related struggles, you could leave yourself vulnerable to others obtaining your personal information. Considering that the Federal Trade Commission (FTC) revealed that 5.7 million people in the US alone reported fraud in 2021, you should take these risks seriously.
Not emptying the Safari cache on your Mac can also lead to you filling in old passwords, which can get quite annoying. Luckily, the solution is pretty simple, and in this article, you'll learn how to delete the Safari cache on your Mac.
Before we begin

You'll find multiple caches on your Mac, and the most convenient way to clear them all is with a reliable third-party tool. MacKeeper's Safe Cleanup solution runs a thorough scan of your device to find files and folders that might cause your device to perform worse. Download MacKeeper today to try it out for yourself.
Unburden your Mac with a keyboard shortcut
When looking at how to clear the Safari cache on your Mac, keyboard shortcuts are a beginner-friendly solution.
Whether you use a MacBook Pro, MacBook Air, or something else, the process is the same for deleting your Safari cache via your keyboard. Once you've simultaneously held Command, Option, and E, your Mac will take care of the rest.
If your Mac uses the Alt key instead of Option, press this with the other two.
Take away Safari cache through the developer menu
You can also clear your Safari cache via the developer menu. But before you can use the tool, you should activate it.
Go to Safari at the top of your toolbar and choose Settings (macOS Ventura and later) or Preferences (macOS Monterey and earlier)

2. Go to the Advanced section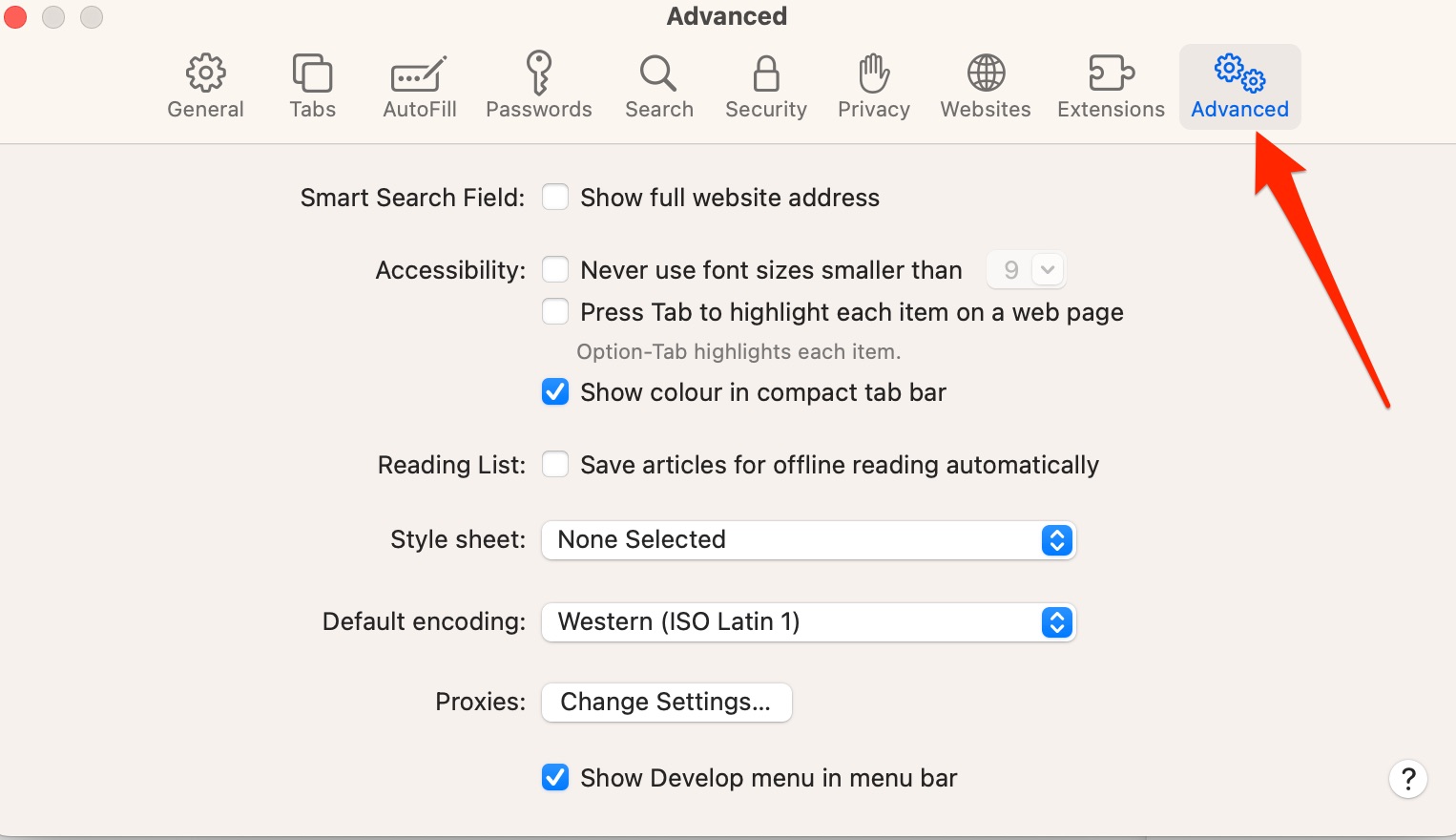 3. Tick the box next to the Show Develop menu in the menu bar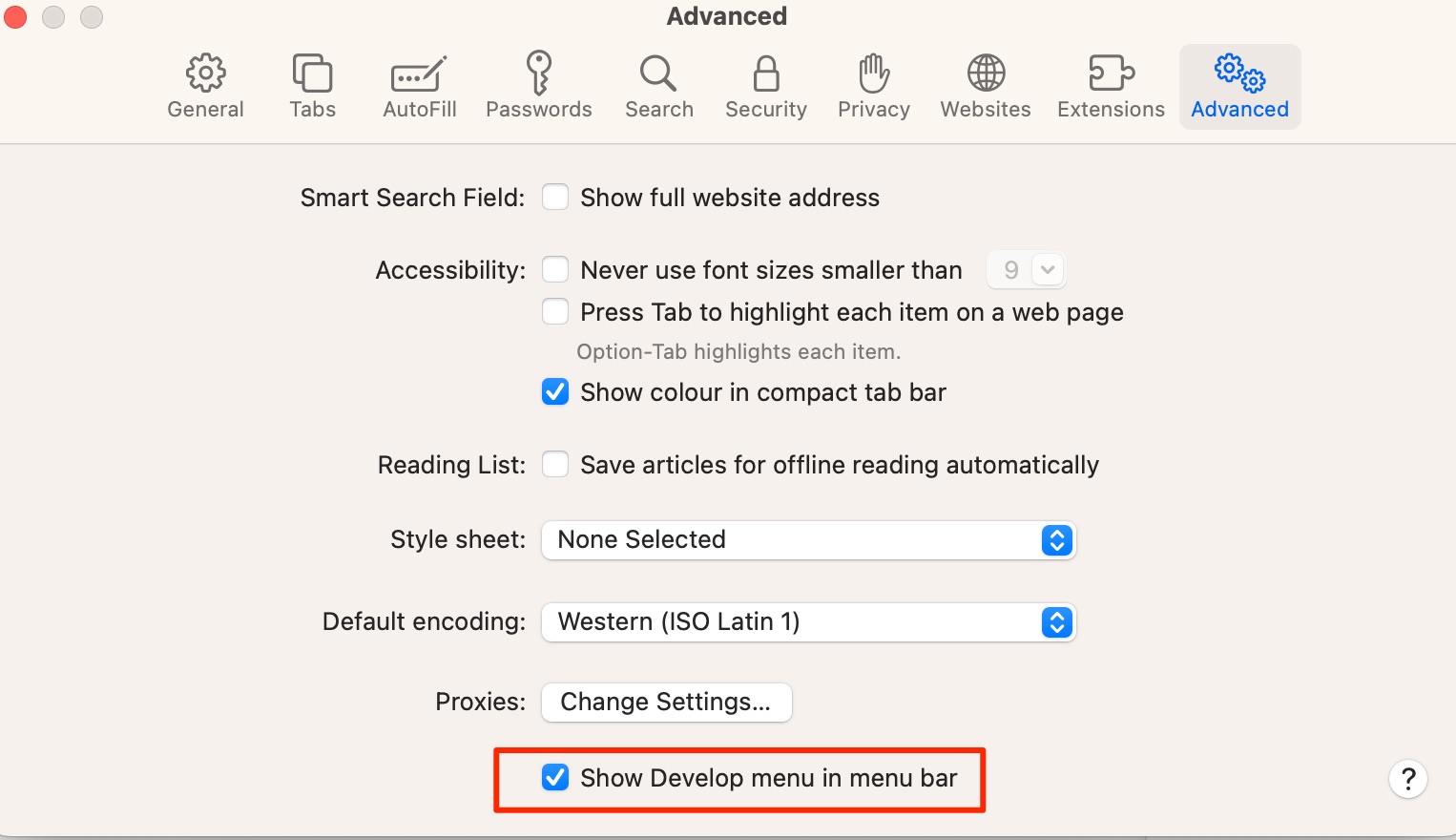 4. When the Develop tab appears at the top of your screen, click on the Empty Caches command.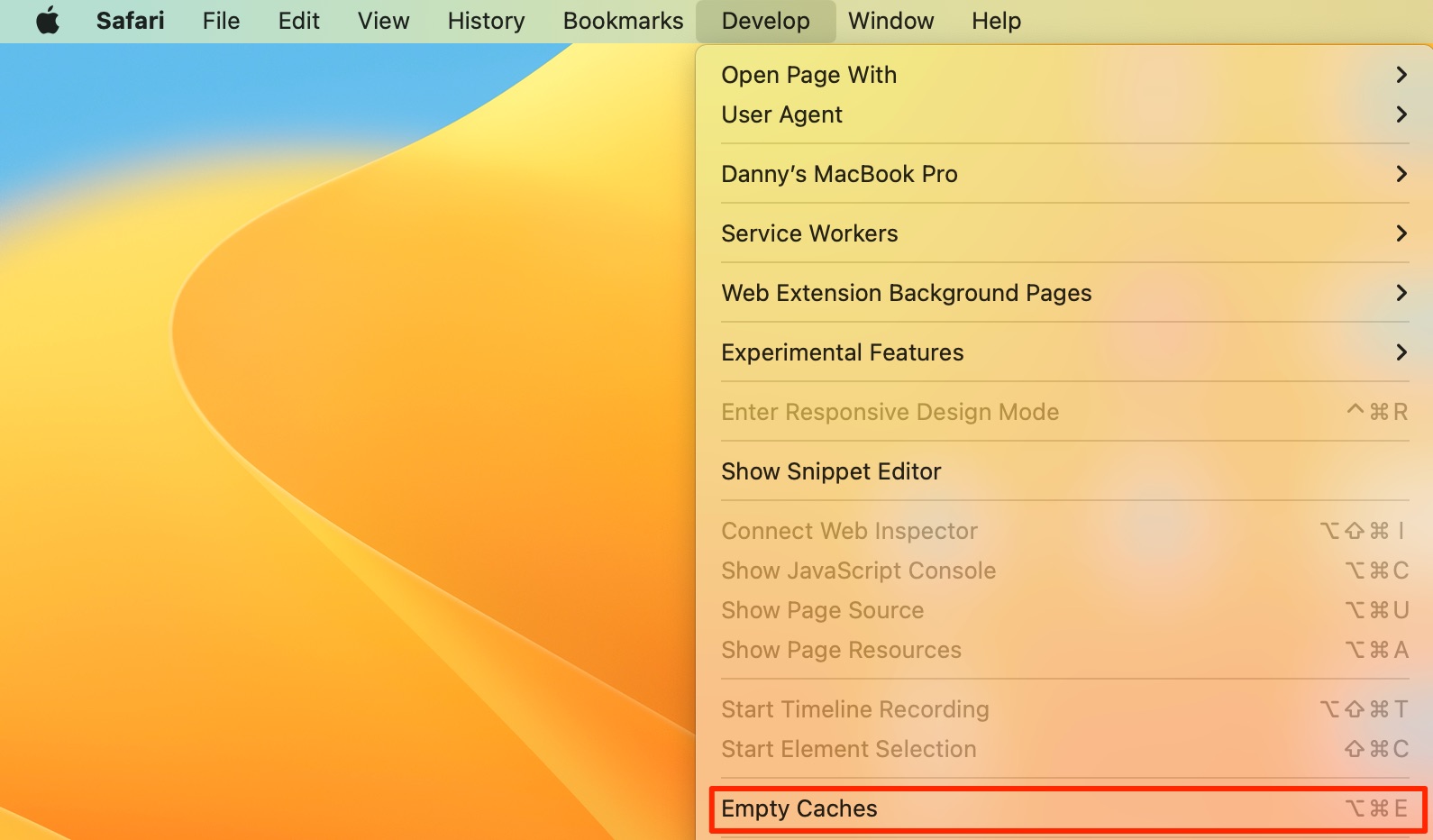 How to get rid of Safari's cookies?
Some cookies are necessary for offering a better user experience on websites, but others aren't. While not every website will sell non-essential cookies to others, that isn't universally the case.
Many websites will give you the option to decline non-essential cookies, and it's mandatory in jurisdictions like the EU that you have this choice. But if you've previously accepted cookies and want to remove them from your Safari browser, here's how to clear cookies on Mac.
Go to Safari > Settings at the top of your screen

2. Click on the Privacy tab when the next window opens and tick the Block all cookies box. You'll find this next to the Cookies and website data section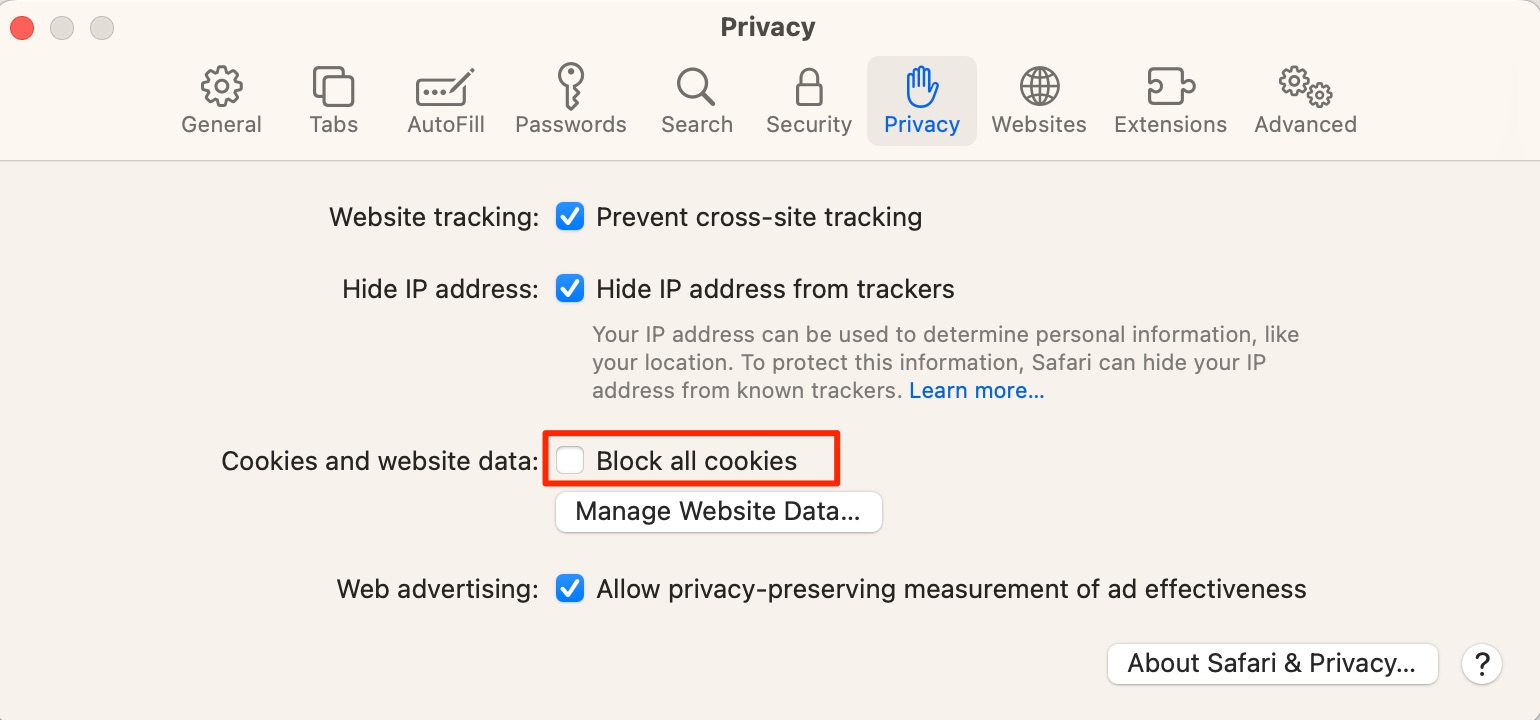 3. Alternatively, you can remove cookies for individual websites. Choose the Manage Website Data button and pick the websites you'd like to remove the cookies for before hitting Remove. You can get rid of all website cookies by selecting Remove All instead.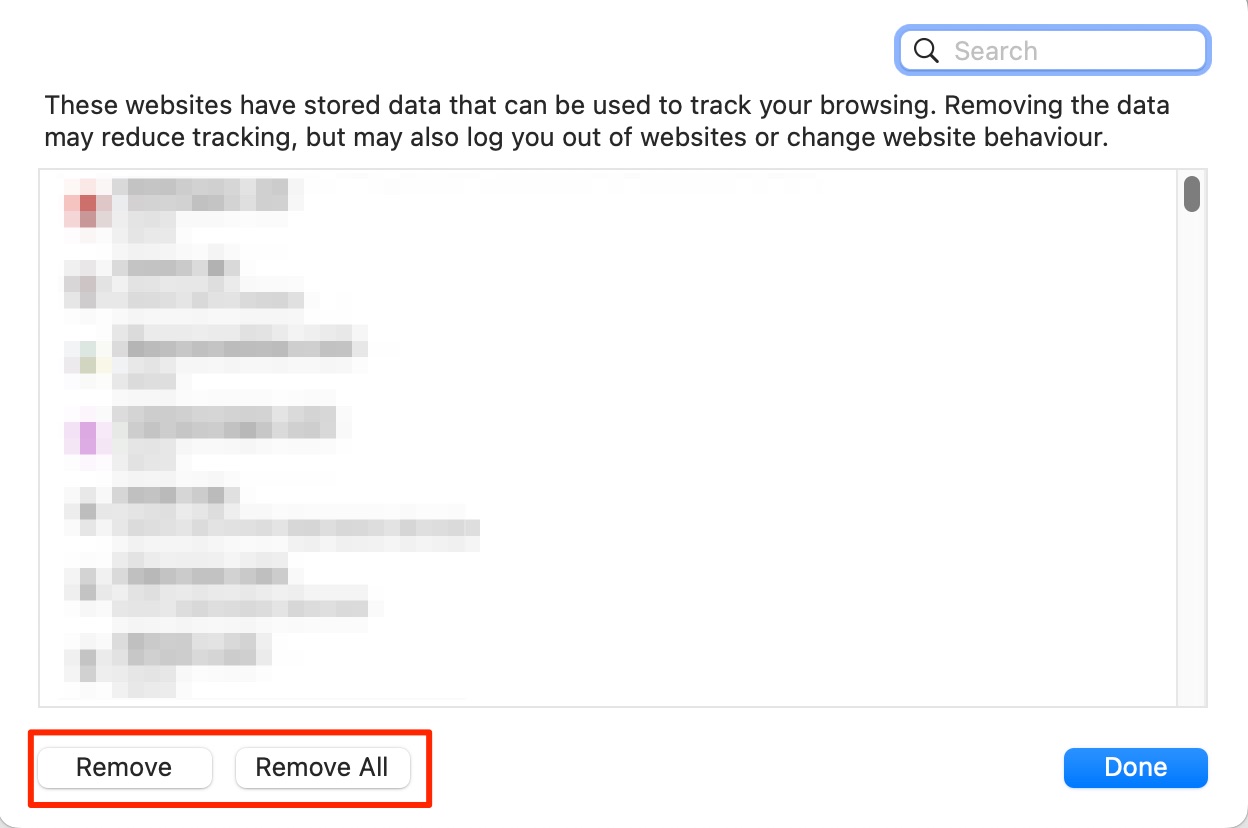 How to clean Safari's history?
Clearing your browser cache is pretty simple in Safari on your Mac, and the same is true for removing cookies. But sometimes, others can track you based on your browsing history. Moreover, they might find the websites you visit if they get a hold of your device, which could make you vulnerable to security threats like hacking and identity theft.
Fortunately, it's easy to clear your browsing history.
Click on the Safari tab at the top of your screen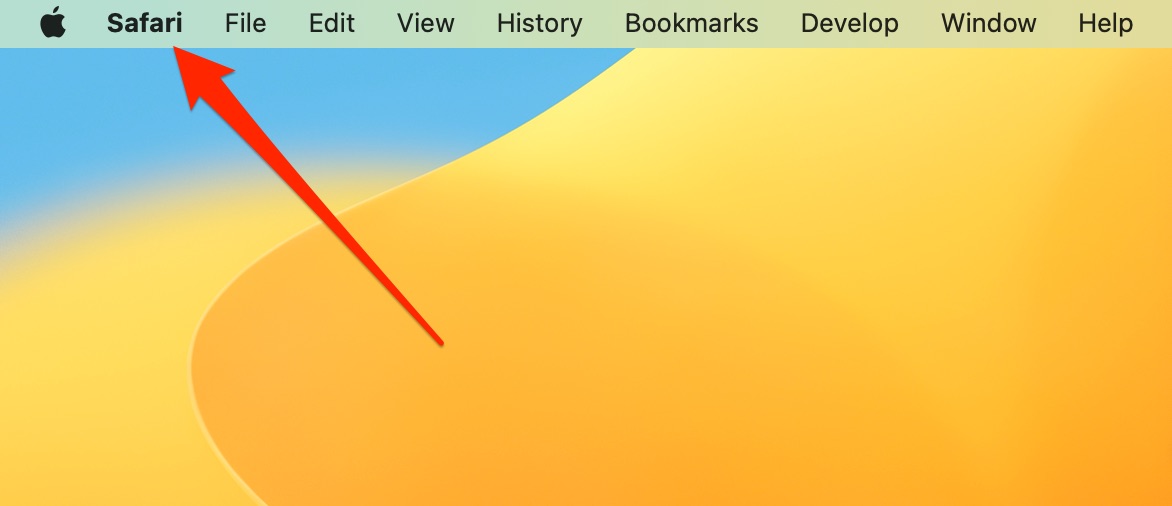 2. When the dropdown menu appears, hit the Clear History option

3. A popup window will appear and ask you to choose the timescale you'd like to delete your history for. Expand the dropdown menu and pick the best option before clicking on the Clear History button.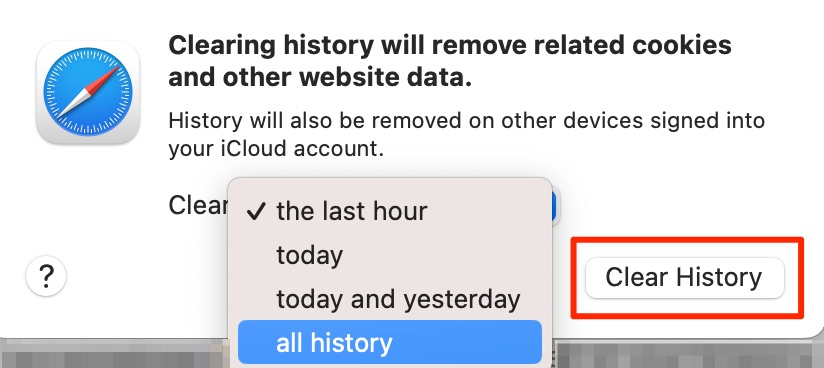 How to remove Safari's cache files on iPhone?
Your Mac isn't the only Apple device on which you can erase Safari caches. And now you know how to clear cache on Mac, let's look at how you can perform the same action on your iPhone.
Open the Settings app before following these instructions:
Scroll down until you see the Safari tab, and tap on this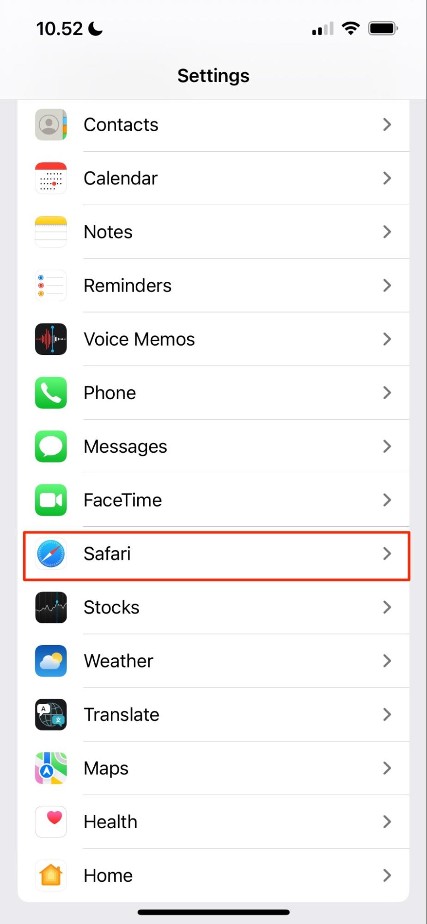 2. Scroll on the next page, too, until you see the Clear History and Website Data option—before selecting this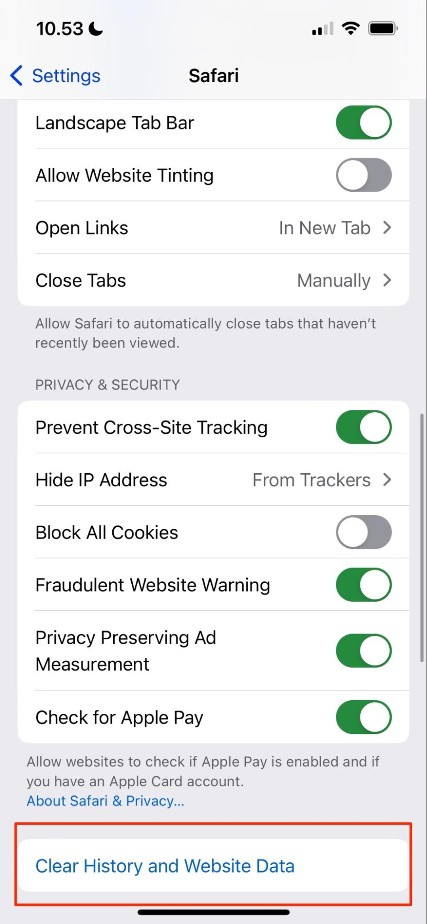 3. A prompt will appear on your screen asking whether you want to remove your history and data. Click on Clear History and Data to confirm your choice.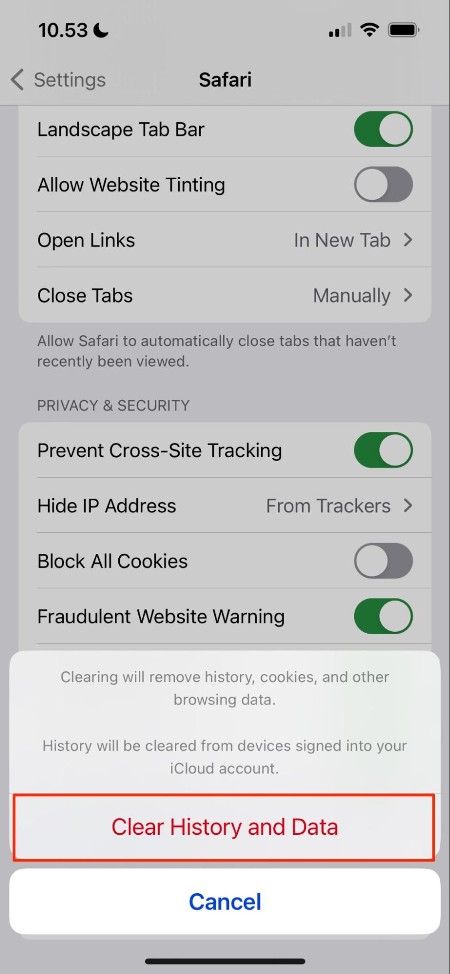 If you don't want to delete your browsing history, you can follow these steps instead:
After going to Settings > Safari, scroll down to the bottom and tap on the Advanced tab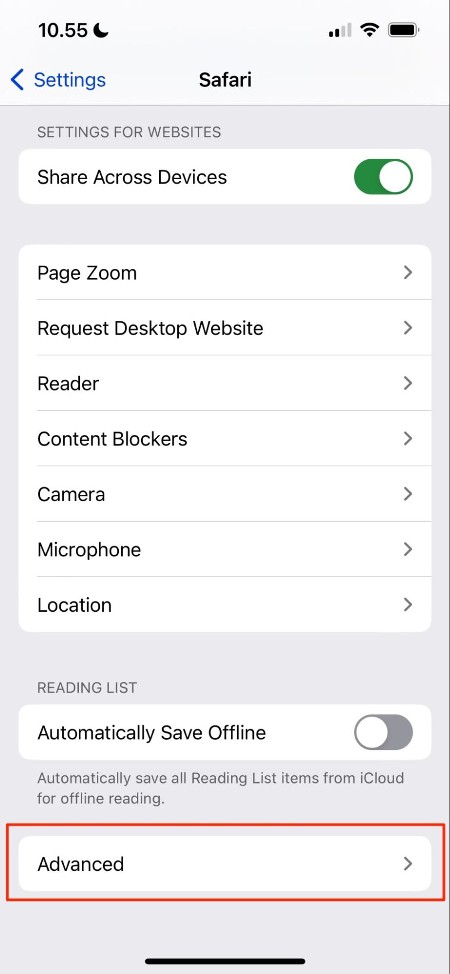 2. Select Website Data on the next page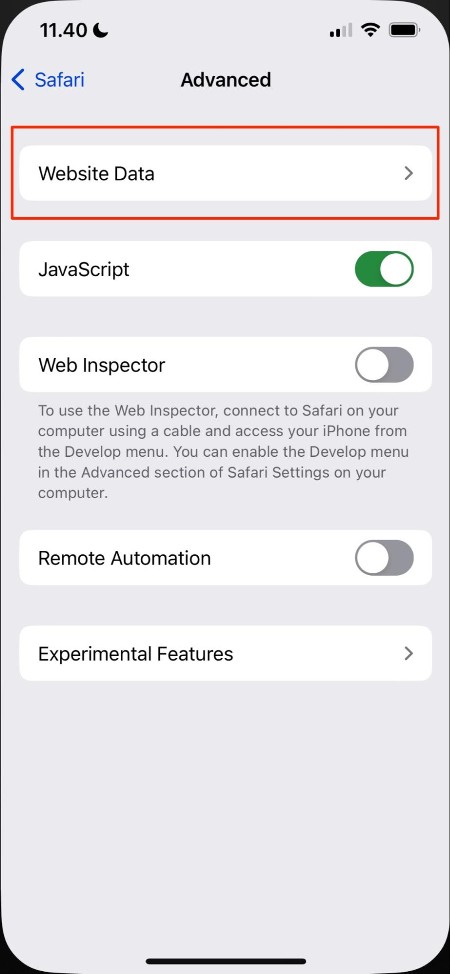 3. Hit Remove All Website Data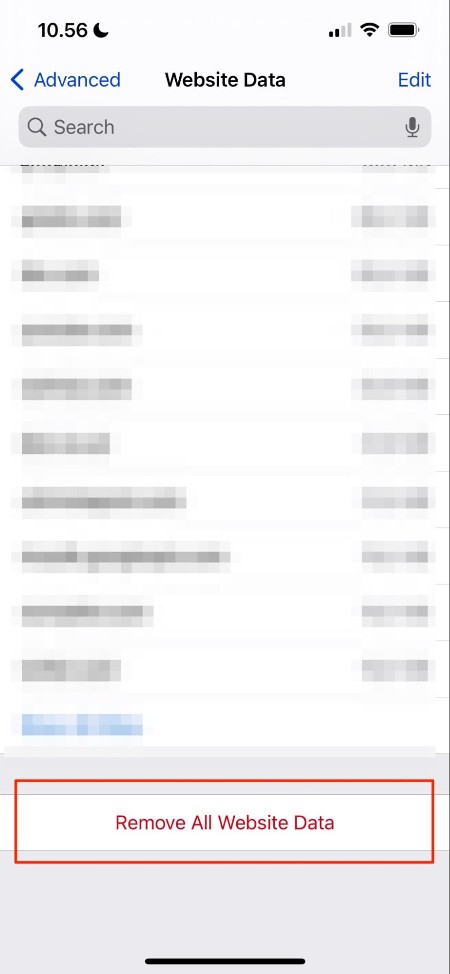 4. A popup command will inform you what happens once you perform this action. Click on Remove Now to confirm everything.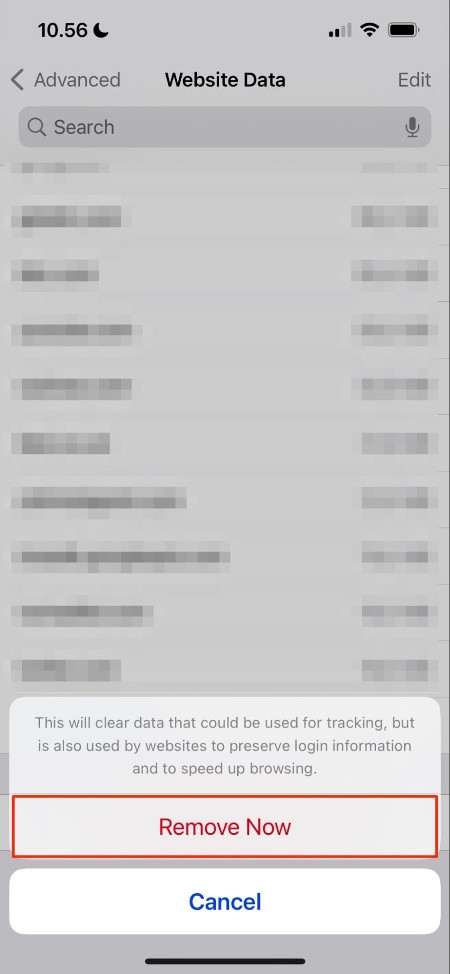 Unclog your App laptop with MacKeeper's Safe Cleanup tool
MacKeeper's Safe Cleanup tool is an excellent way to remove file caches and delete file logs you no longer need—plus much more. To use Safe Cleanup:
Open MacKeeper and go to Cleaning > Safe Cleanup

2. Select the Start Scan button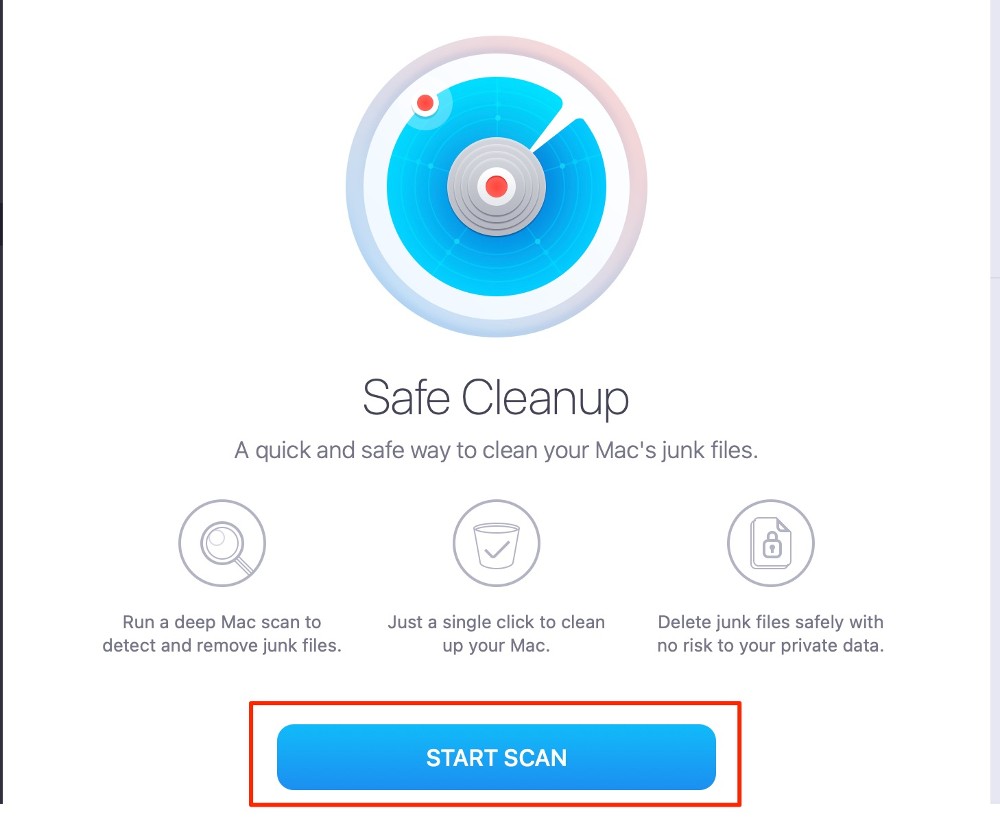 3. Once the scan has completed, tick the boxes you'd like to remove from your Mac. Then, hit Clean Junk Files. If emptying your trash is one of the boxes you selected, you'll need to confirm your choice.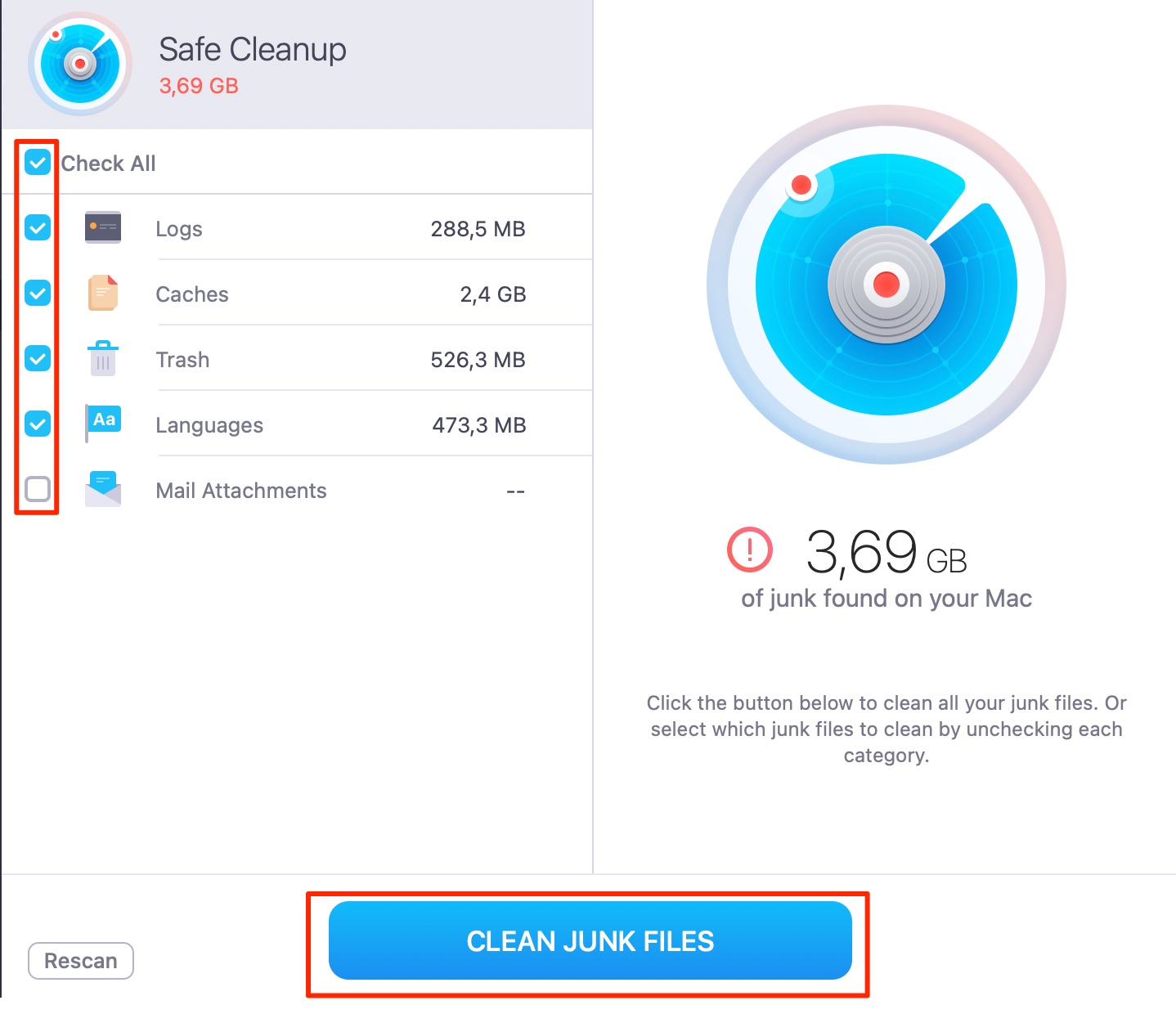 Pave your way to more speedy & smooth Mac performance
Having read this article, you should now know how to speed up Mac and protect your personal information. Caches can cause multiple problems when you allow them to build up, but clearing them is straightforward.
You can use the tools on your Mac and iPhone to clear your Safari cache and browsing history, and doing so shouldn't take you longer than a few minutes. And, of course, it's also possible to use solutions like the Safe Cleanup tool.
Once you've cleared your caches, you should be able to tackle multiple performance issues with your Mac.