When you surf the web with Google Chrome for Mac, it stores all kinds of information about you. The sites you've visited, the links you've clicked on, your location, user account details and more — it's all kept in Chrome's browser history. This has several benefits, but there are also good reasons why you might want to clear Chrome's history on your Mac.
The pros and cons of Chrome's history on Mac
By allowing Chrome to keep a record of your activity, you benefit in a few ways:
When you begin typing in the name of a website you've already visited, Chrome will guess what you're writing and offer to autocomplete it.
It will also fill in web forms automatically
Chrome doesn't have to download cached files, which speeds up page loading.
But there's a less helpful side to Chrome's data collection. It also uses this information to target you with personalized Google ads. Plus features like form auto-completion can inadvertently reveal sensitive details about you to others. And if a website you've visited suffers a security breach, your information could fall into the hands of cybercriminals.
If you want to keep your browsing history private, you can clear:
Your Chrome history and cookies
Website logins and other details you've entered in web forms
If you clear Chrome's cache as well, it can fix page loading errors. And if you find forms auto-fill with incorrect data, it can delete that erroneous information, so you can start afresh.
In this article, we'll look at how to clear your entire Chrome history or just selected pages. We'll also show you how to clear your Google Search history and how to use incognito browsing. Alongside a Mac ad blocker, these steps can help to keep your online activity private.
Before we start

Your browsing history is one of the things marketers use to bombard you with as many ads as they can. Deleting your history can help, but it's not a totally fail-safe way to ensure your Mac is protected from spyware. Download MacKeeper and never worry again about anyone spying on your browsing activity again.
How to clear your entire Chrome history on a Mac
You can clear all your browsing activity in Chrome's history settings. You can even remove just the data from individual sites.
Here's how:
1. There are a few ways to access Chrome's History page. You can click on the three dots in the top right and go to History > History. Or go to the top menu and select History > Show full history. Or you can just use the keyboard shortcut — Cmd + Y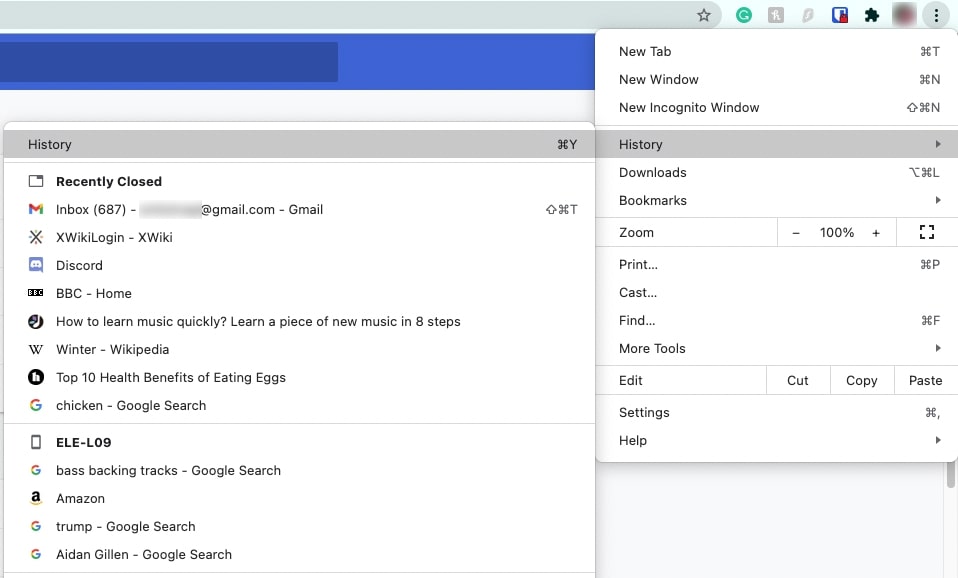 2. On the History page, you'll see the browsing history of all your other devices that use Chrome with the same Google account
3. In the sidebar on the left, click Clear browsing data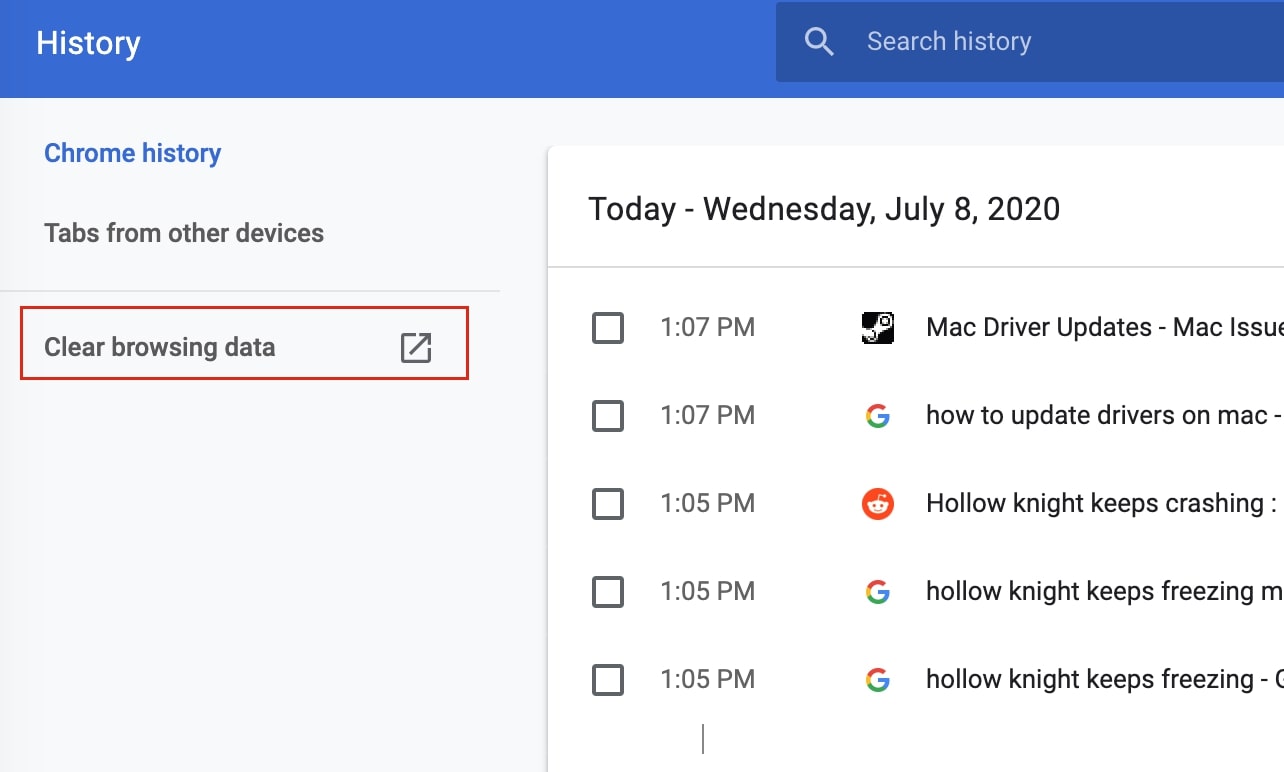 4. A new window will open with several options. You can clear Chrome history for a selected period of time, as well as cookies and cache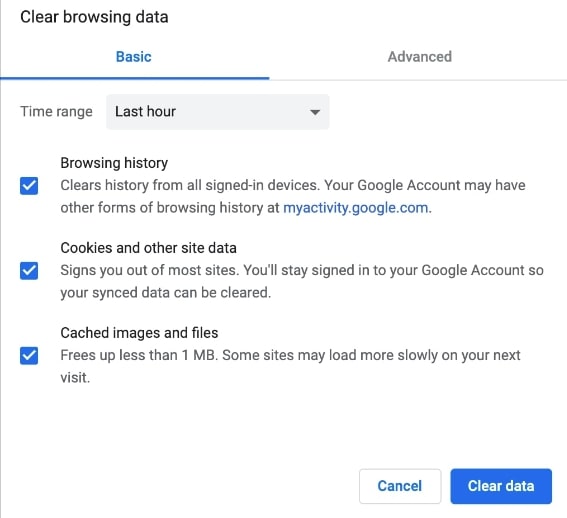 You can use this menu to delete the history of all your synced devices. Click Tabs from other devices in the sidebar on the left, just above the Clear browsing data button. Then simply delete whatever you don't want.
How to clear individual pages from your Chrome history
Open the History page by pressing Cmd + Y. Alternatively, select History > Show full history from the top menu
In the Chrome History tab, check the boxes next to any page you want to delete. You can also search your history for particular websites and select all the visits for it
Once you've checked all the required boxes, click Delete in the top right

How to delete your Google search history
When you use Google Search in Chrome, the browser saves your requests in its history. That way, the next time you look up something similar, Google can be ready with a few relevant links and suggested word combinations.
Search history isn't the only thing that's stored in your browser's history, though. In addition to that, you're also giving up the following information:
Pages you've visited and files you've downloaded
Data from automatically filled forms and any login information
Custom website settings, languages and locations
Cache files like cookies, pictures and scripts
All of this is done to speed up and enhance your browsing experience. Storing this kind of data enables faster page loading and ensures more intuitive navigation when surfing the web. However, these useful features can also track your sensitive data.
If you don't want anyone to see what you've searched on the web, you can clear your cache and cookies.
To do that, follow these steps:
1. Go to Chrome's History page by pressing Cmd + Y
2. Select Clear browsing data from the menu on the left
3. Make sure Cookies and other site data is ticked
4. Set the time range to All time
5. Click the Clear data button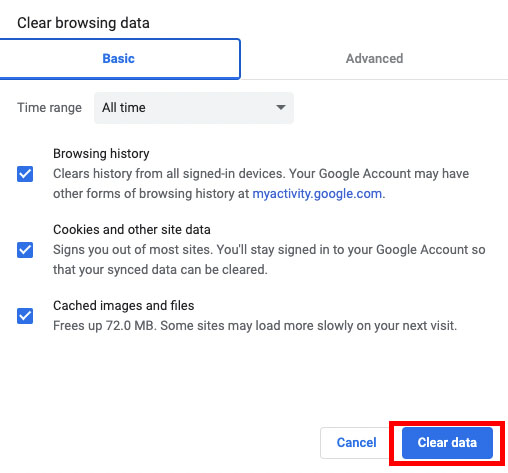 If you want to avoid constantly clearing your search history, you can limit what data Google can collect from you:
1. Click your user account icon in the top right of Chrome
2. Select Manage your Google Account
3. In the sidebar on the left, select the Data and Personalisation option. This opens a page telling you what information is being gathered by Google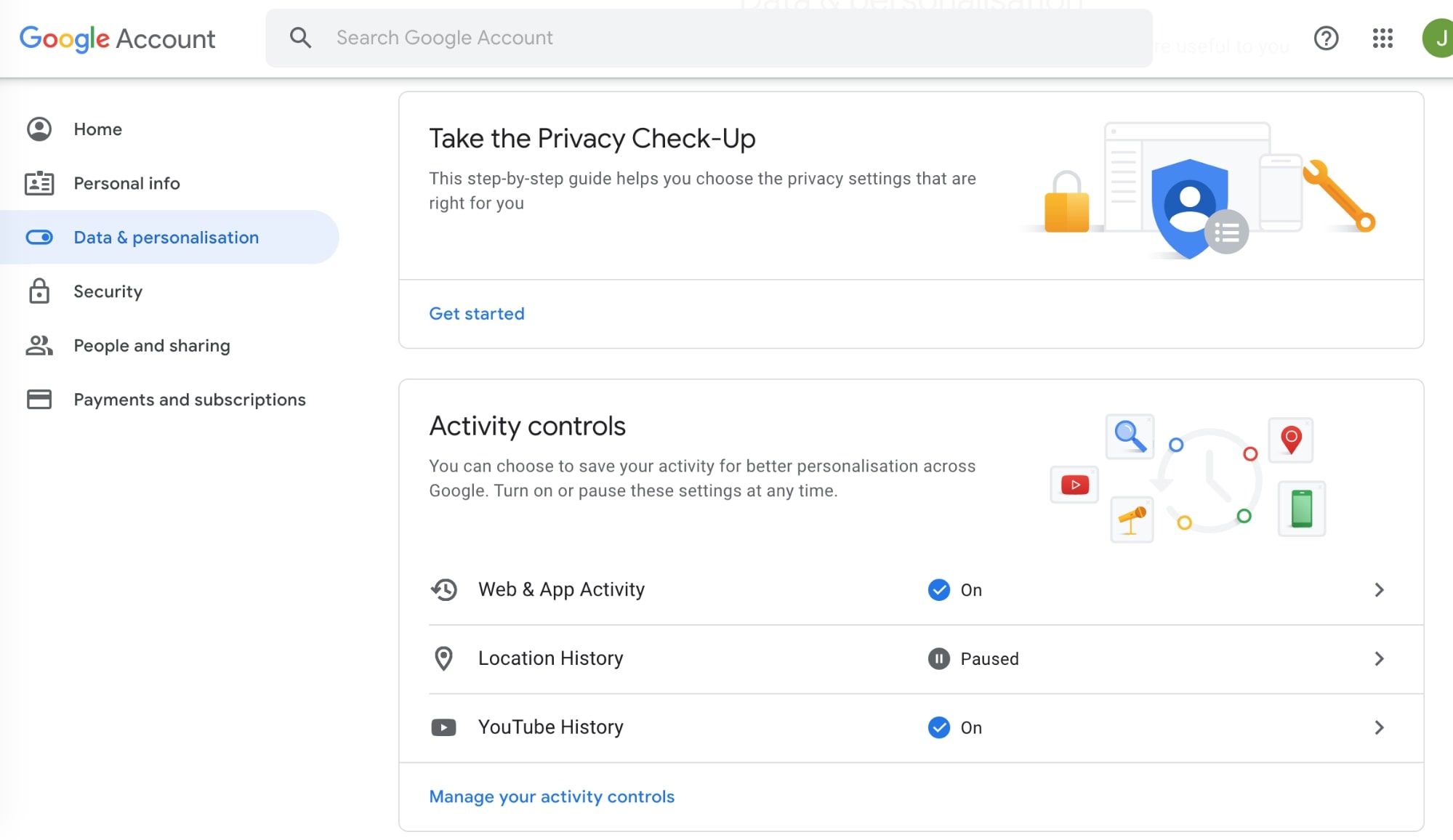 4. Under Activity Controls, you can adjust some of what Google tracks. For example, click Web & App Activity, and you can then toggle it off
5. Scroll down a bit further, and you can turn off ad personalization as well, preventing marketing agencies from accessing your private details
How to browse privately in Chrome for Mac
If you don't want your browser history saved in the first place, you can use private browsing mode in Google Chrome. The advantage of this feature is that neither cache nor history are recorded, so you don't have to delete them after a session. This is useful if you're not the only person using the computer and you don't want other people to stumble on your browsing data.
Bonus tip: if you monitor plane tickets in private browsing mode, the sellers won't know how many times you've searched their websites, and won't be able to use that data to raise the ticket prices. However, VPN might be even more effective for this purpose.
There are a few ways to start a private browsing session in Chrome:
1. Go to File > New Incognito Window in Chrome's top menu bar
2. Click the three dots in the top right of Chrome, and select New Incognito Window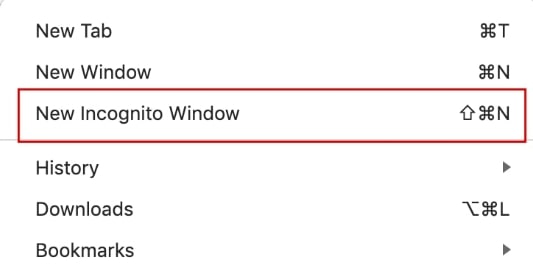 3. Alternatively, press Cmd + Shift + N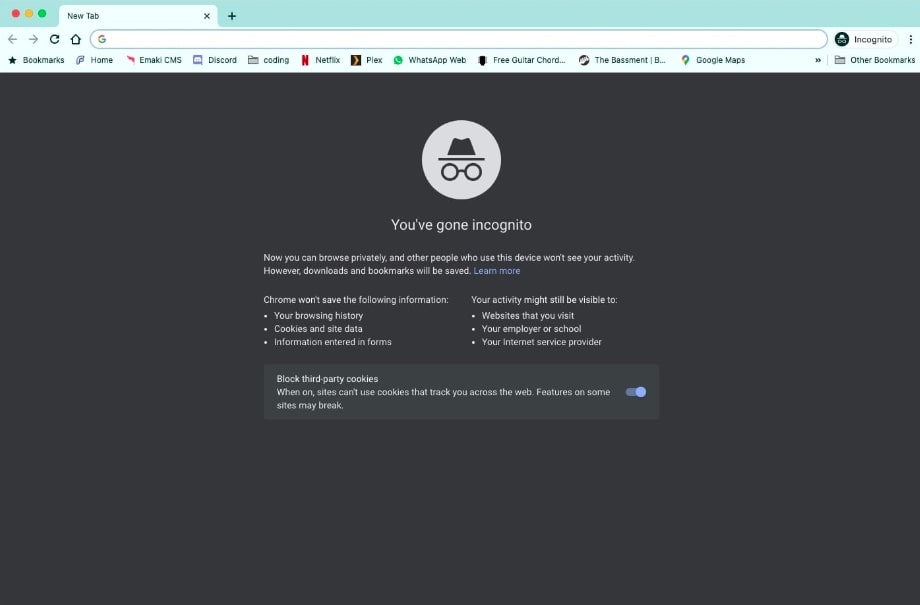 In all cases, Chrome will open a new window on your Mac. But unlike normal browser windows, this one won't track your browsing activity or load cookies from sites you've visited before.
FAQ
Why can't I delete my history in Google Chrome?
This can be caused by a system fault. Try rebooting your Mac and attempting to clear Chrome's history again. If that doesn't solve the problem, try reinstalling Chrome. Also, check that deleting browsing history hasn't been restricted by your Mac's administrator.
How do I disable history deletion in Google Chrome?
You can turn off or change settings for automatically clearing browsing history in Chrome. You can also control what information the browser keeps and gets rid of.
To access these functions, do the following:
From the top menu, select Chrome > Preferences
Go to the Privacy and Security tab in the sidebar on the left
Click Clear browsing data and tweak the settings however you like
If your browsing history is being deleted automatically after each session, you can turn it off in your Google Account settings.
Click your user icon in the top right of the browser window
Go to the Data and Personalisation tab
In the Activity Controls section, click Web and App Activity
Turn off auto-delete
How do I stop Google Chrome from showing my search history?
You can disable search and location history in your Google Account settings:
Click your user icon in the top right of Chrome
Go to the Data and Personalisation tab
Scroll down to the Activity Controls screen
Click Web and App Activity
Uncheck the first checkbox. You'll be asked for confirmation
To turn off location tracking, go back to the previous page and open the Locations tab
Deactivate it by clicking the blue slider button
For the majority of people, it's useful to have Chrome store browsing data in its history. But if you're using a shared computer or just value your privacy, clearing the history or turning it off can be achieved with the steps laid out here. If you're concerned about your privacy, check out MacKeeper's security features, which include ID protection and anti-adware scanning.
Read more: