Picture this: you're editing a picture in Photoshop, and everything looks good and smooth. But as you make more adjustments and add more layers, Photoshop suddenly begins to lag, and you eventually get an error that reads "Could not complete your request because the scratch disks are full."
And when you close and reopen the app, you get another error that says "Could not initialize photoshop because the scratch disks are full." What exactly do these error messages mean? What is a scratch disk? How does it get filled up? Why is the error interrupting your workflow or preventing you from opening Photoshop? And most importantly, how do you fix it?
In this guide, we'll explain everything you need to know about Photoshop scratch disks:
What is a scratch disk?
By default, active applications store temporary files on your Mac's RAM (random access memory). With Photoshop, however, things are a little different. Like other apps, Photoshop stores temporary project files and data on your RAM, but if it fills that RAM, it will use one of your hard disks to store any extra data. This makeshift memory is known as a "scratch disk."
Why do I get a "scratch disks are full" error?
As you create and edit images in Photoshop, the app simultaneously creates a bunch of temporary cache files in the background. These files help Photoshop run faster, but they can quickly accumulate, running into tens or even hundreds of gigabytes, and filling up your hard drive in the process. This affects Photoshop's performance in the long run and can lead to the scratch disk error.

You may also get this error if the temporary files aren't removed from the scratch disk when you stop using the app. Typically, Photoshop, just like any other app, should purge temporary files from the RAM and scratch disk portions of your Mac's hard drive. But that's not always the case. If Photoshop crashes during usage or you force quit it, the temporary files remain and accumulate.
To reiterate, the Photoshop scratch disk error occurs because:
There is limited memory (RAM) available for Photoshop on your Mac
The temporary virtual memory (scratch disk) partition of your Mac's hard disk or SSD is also maxed out and unavailable
How to fix the "scratch disks are full" error
Next, let's look at how to clear a scratch disk on your Mac. We're confident that at least one of these seven troubleshooting methods should do the trick.
1. Free up additional disk space
The Photoshop "scratch disk full" error usually presents itself when your hard disk is low on storage space. You can free up disk space on your Mac by removing duplicate files, clearing browser caches, emptying the Trash, deleting unused applications (and their leftover files), and so on.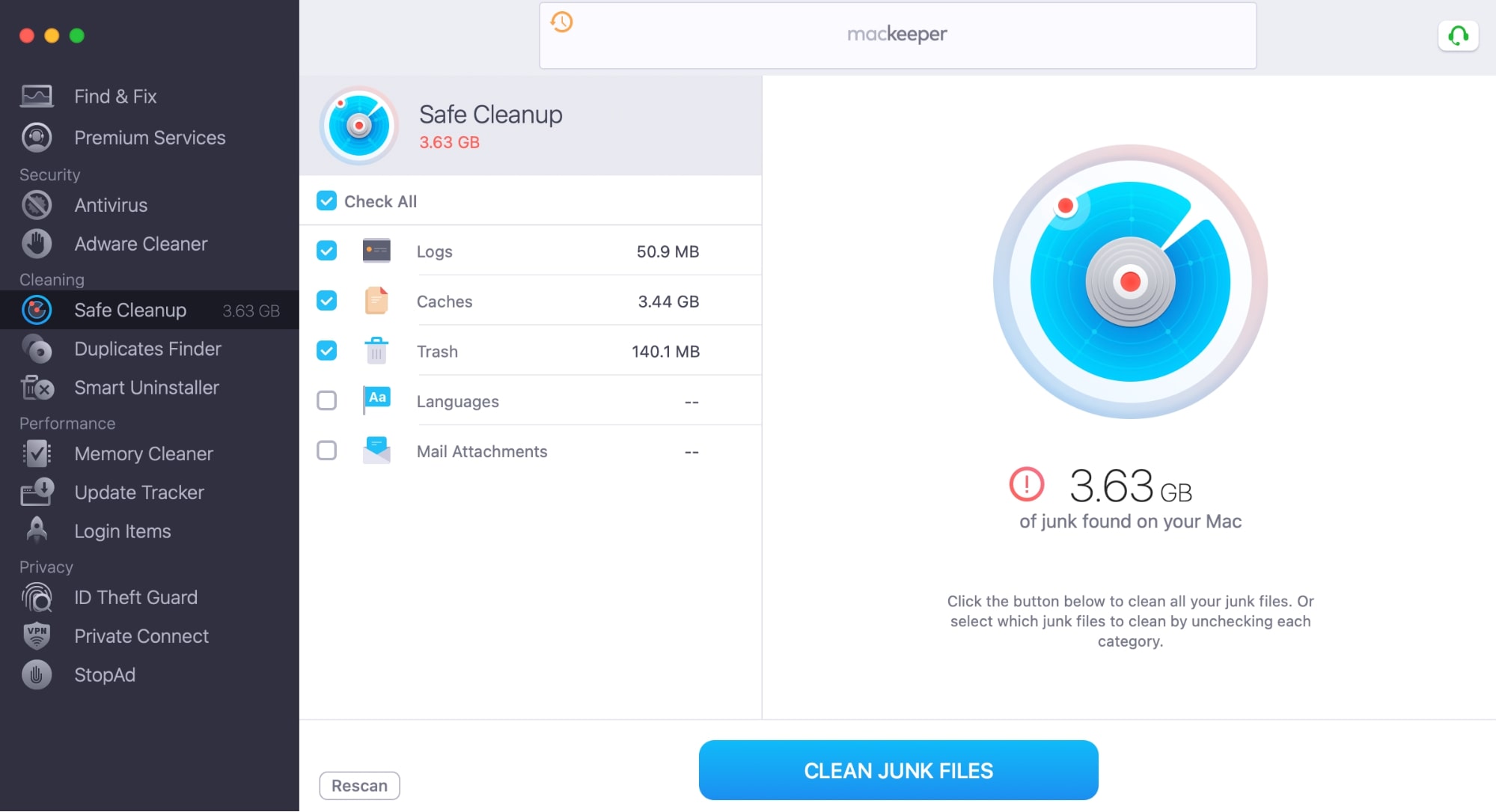 But there is an easier way: you can use MacKeeper. As well as being security and Mac cleaner software, it has a built-in Duplicate Finder, which can help you find and remove duplicate photos with just a few clicks.
Download and install MacKeeper
Go to the Safe Cleanup tab
Click Start Scan
Wait for the scan results
Click Clean Junk Files
Note: For Macs with two (or more) hard drives, the scratch disk is housed on the drive where macOS is installed.
2. Clear your Photoshop cache
By deleting Photoshop's cache, you're essentially clearing the scratch disk. This will resolve the "scratch disk is full" error and get Photoshop working correctly again. The only downside of clearing the app's cache is that previous versions of your projects will be removed from your Mac.
Before you proceed, make sure you save current projects so you don't lose recent changes.
Here's how to clear Photoshop's cache:
Launch Photoshop and open a project
From the menu, go to Edit > Purge > All. This will clear all the various Photoshop caches
Click OK on the confirmation prompt
Repeat these steps for other projects, and check if that resolves the 'scratch disk is full' error.

Although we chose to clear all our caches here, there are five options when it comes to Photoshop caches. Here's what these cache categories contain:
Clipboard: This is a record of things (files, elements, images, etc.) that you copy. You won't be able to paste that data after clearing this cache
Histories: This temporary file holds the previous version(s) of your project. Deleting this cache file means you'll no longer have access to changes made to your project
All: This option deletes all Photoshop's cache files
Video Cache: Holds changes made to a video file or project. You can't restore changes made to a video project when you delete this cache
Note: If an item/category is greyed out, that signifies that the cache has already been cleared.
3. Delete your Photoshop temporary files
In the rare instance that you cannot clear Photoshop's cache using the method above, you can manually delete the app's temporary files from Finder. It requires more effort, but it gets the job done. Plus, it'll resolve the errors relating to full scratch disks.
Important: Before deleting these temporary files, make sure you save any ongoing projects and close Photoshop.
1. Click Go on the menu bar and select Go to Folder
2. Type /tmp in the dialog box, and click Go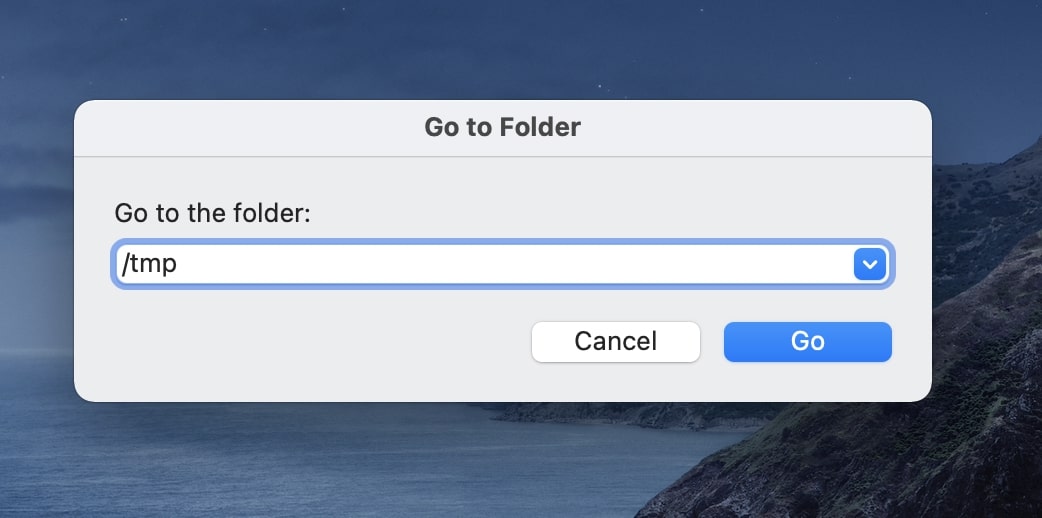 That will open a new Finder window containing your Mac's temporary files and folders. Now, carefully peruse the folders and look out for folders or files starting with Photoshop Temp and a bunch of numbers at the end. Temporary files have a .tmp extension, so make sure you're indeed deleting temporary files, not other file types.
A typical Photoshop temporary file will have this structure: Photoshop Temp78403. Right-click on these folders/files and move them to Trash.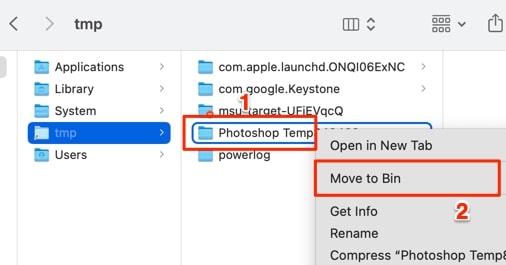 Delete as many temporary files as you can find. Launch Photoshop again and the error should no longer pop up on your screen.
4. Move Photoshop scratch d1isk to an external hard drive
If you'd rather not delete files on your hard disk, an effective workaround is to configure Photoshop's scratch disk partition on an external disk. There's a catch, though: you need to have this external disk plugged into your Mac at all times — or whenever you need to use Photoshop. Here's how to get it done.
1. Launch Photoshop and click Photoshop on the menu bar
2. Go to Preferences > Scratch Disks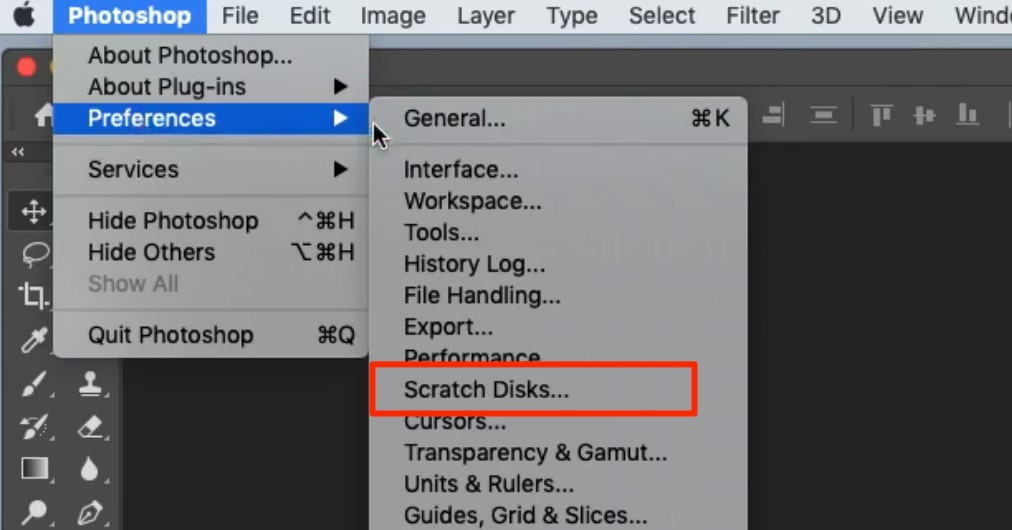 3. In the Scratch Disk Preferences window, choose the external drive you want to use as the scratch disk and uncheck the built-in hard disk with low storage space

4. Click OK to proceed
Force quit Photoshop (use the Command + Option + Esc shortcut), and reopen the app. Photoshop will now use the external hard disk as the scratch disk.
If Photoshop won't open due to the 'scratch disk is full' error, follow the steps below to change Photoshop scratch disk settings without opening the app:
1. Launch Photoshop, and hold the Command + Option keys immediately

That should launch the Scratch Disk Preferences window.
2. Add the external hard drive as a scratch disk, and click OK to proceed
Remember, you'll need to have the external disk plugged into your Mac. Otherwise, you'll get the scratch disk is full error.
5. Reset Photoshop preferences
By resetting Photoshop's preferences, you're basically restoring the app to factory settings. This has the potential to fix problems preventing Photoshop from working correctly, including the "scratch disks are full" error. There are two ways to reset Photoshop's preferences: using keyboard shortcuts or from Photoshop's preference menu.
Note: Resetting Photoshop preferences means you'll need to reconfigure certain options (e.g. plug-in presets, color settings and cursor options) when you relaunch the app.
Reset Photoshop preferences using a keyboard shortcut
You can reset Photoshop using a keyboard shortcut, and it works for all versions of Photoshop on Mac. Make sure you close or force-quit Photoshop before you proceed.
1. First, make sure you close or force-quit Photoshop
2. Afterward, hold the following keys: Command + Option + Shift

3. Without releasing the keys, launch Photoshop
4. A dialog box asking if you want to delete Photoshop's Settings File will pop up on the screen. Click Yes to proceed

Relaunch Photoshop and check if that fixes the error.
Reset Photoshop from the preference menu
Before you proceed, make sure you save current or ongoing projects so you don't lose recent or unsaved changes.
1. From the menu, go to Photoshop > Preferences > General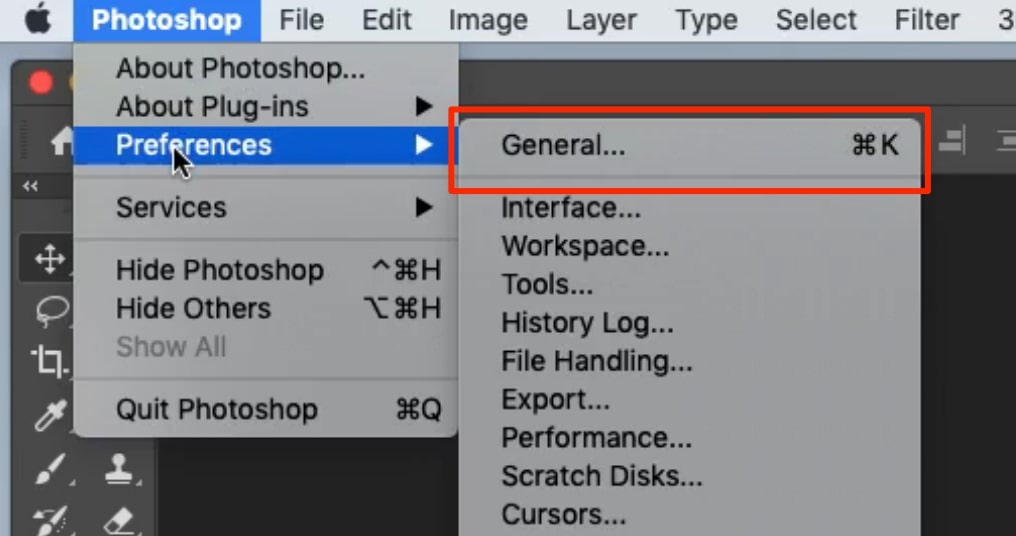 2. In the General tab, click Reset Preferences On Quit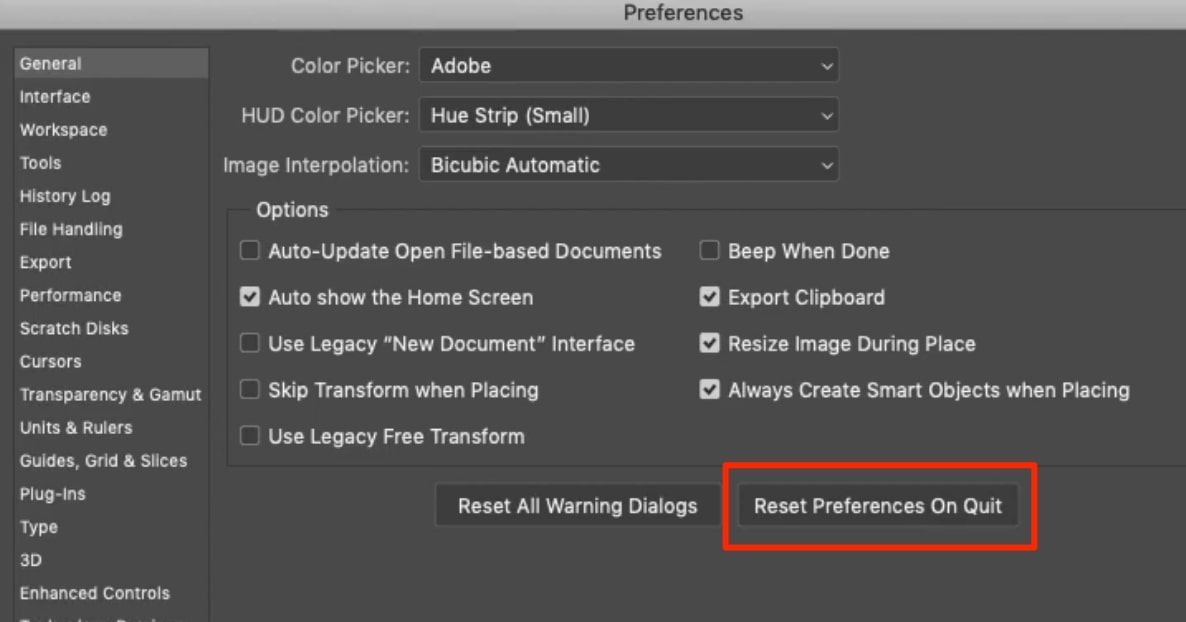 3. Click OK on the dialog box asking "Are you sure you want to reset preferences when quitting Photoshop?" to proceed
4. Close and relaunch Photoshop to reset the app's preferences
6. Disable auto-recovery in Photoshop
By default, Photoshop saves your files and projects automatically at intervals from five minutes to one hour. Although this feature comes with its benefits, it causes Photoshop to consume a lot of memory and hard disk space.
Disabling auto-recovery will reduce the amount of storage used by Photoshop, thereby freeing up space for temporary files (or scratch files). If Photoshop is quite stable on your Mac and it barely crashes, disable the auto-recovery feature. Remember to always save your projects before you close Photoshop so you don't lose recent changes or modifications.
To disable auto-recovery, launch Photoshop:
1. Go to Photoshop > Preferences > File Handling in the main menu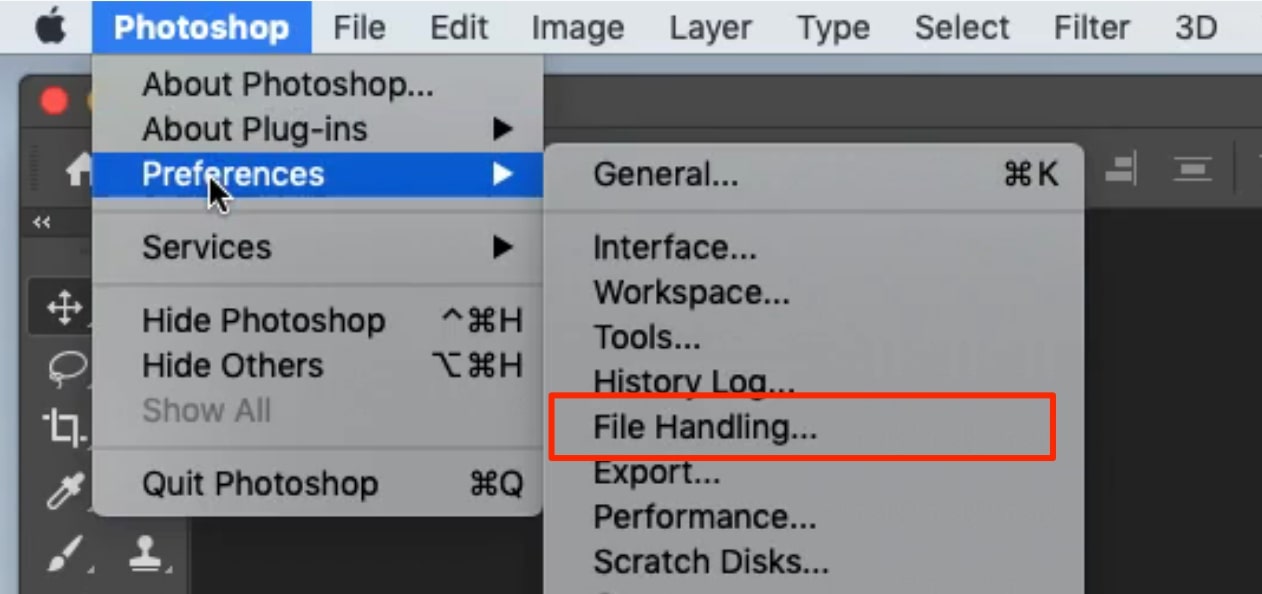 2. Uncheck the option that reads Automatically Save Recovery Information Every

3. Click OK to save your changes
Fix scratch disk errors with ease
The major solution to scratch disk errors is to free up additional space on your Mac. Doing this manually can get exhausting, so we recommend you use an app like MacKeeper to free up space on your Mac within minutes. MacKeeper has a 'Safe Cleanup' tool that finds and removes unnecessary cache files, trash and junk at the click of a button:
Read more: