In this article you will find the following:
It's often said there's no such thing as a free meal. And if you ever find yourself on a MyFlixer website, that should be front and center of your thoughts. It offers access to tons of free films and TV shows, but it's not all it appears to be. In fact, there are several reasons why you should be wary of getting your media from MyFlixer.
In this article, we'll look at what MyFlixer is, whether it's safe, and what it means for you and your Mac.
What is MyFlixer?
MyFlixer is a website that hosts movie and TV streams. It even lets you download files to watch later. All for free. But unlike legitimate streaming services, including free ones like Freevee, the content on MyFlixer is pretty much all pirated.
As well as likely breaching copyright laws in your country, by watching MyFlixer streams, you're also potentially putting yourself and your Mac in harm's way.
Note that like many piracy sites, MyFlixer is banned and blocked in many countries, so it has several mirror or proxy sites. That means it's hosted in lots of different places with a variety of web addresses including myflixer.com, myflixer.site, myflixer.to, and so on. The advice in this guide applies to all of them.
Before we begin

With MacKeeper's Smart Uninstaller, you can remove all kinds of unwanted apps and add-ons—including those associated with MyFlixer.

It's really easy to use. Besides, MacKeeper is packed with other helpful tools, which can also help you to get rid of MyFlixer, such as Safe Cleanup and Duplicates Finder. Try it today, and see what it can do.
Is MyFlixer dangerous?
Any site that offers illegal downloads is a potential risk to your computer. MyFlixer claims to be free of viruses, but there's no way of knowing if that's true or not. What's more, MyFlixer sites often use dodgy advertising networks, which can cause significant problems on your Mac.
MyFlixer and its rogue ads can be dangerous in many ways, including:
You might see a pop-up asking you to allow push notifications. If you allow this, you'll likely be hit with a deluge of dodgy ads
Some MyFlixer sites have an Android app, and you're invited to install this via an .apk installation file. Needless to say, this is probably not safe and should be avoided
Fake virus warnings can trick you into installing pretend security apps or browser add-ons, which are actually malware
You may be tricked into installing other malware, including viruses and ransomware
MyFlixer and sites like it can potentially install browser hijackers like the Bing redirect virus
MyFlixer sites and their advertisers may also be stealing your personal data. Any email addresses or passwords you use to access the site could be used to hack your other accounts.
These are just a few of the different ways MyFlixer can be dangerous. The bottom line is there's no good reason to trust MyFlixer, because it's an open door for hackers and data thieves.
How to get rid of the MyFlixer virus on your Mac
Although many people refer to it as a virus, MyFlixer can be more accurately described as riskware. One way MyFlixer sites can affect your Mac is by installing browser extensions. These can result in nuisance ads, browser redirects, data theft, and other dangers. Let's look at how to remove them from your browser. (Note: the extensions shown here are for demonstration purposes only and aren't connected to MyFlixer.)
How to remove a Safari extension:
1. While in Safari, select Safari > Settings from the menu bar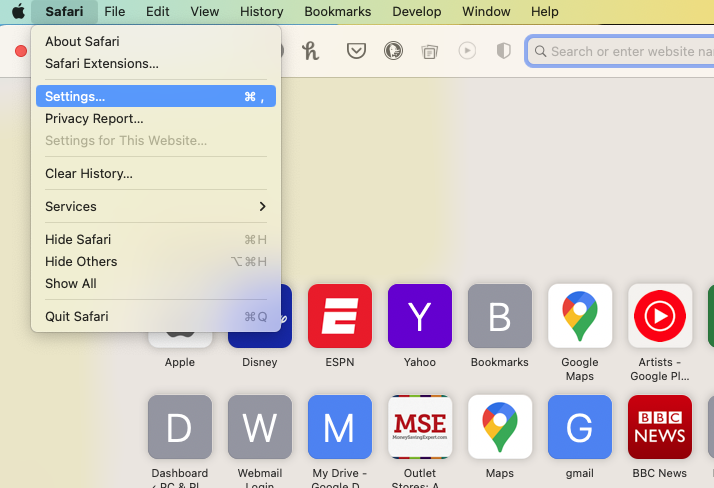 2. Go to the Extensions section, and find any extensions related to MyFlixer. Click the Uninstall button.
3. In the pop-up, click Show in Finder, then delete the extension.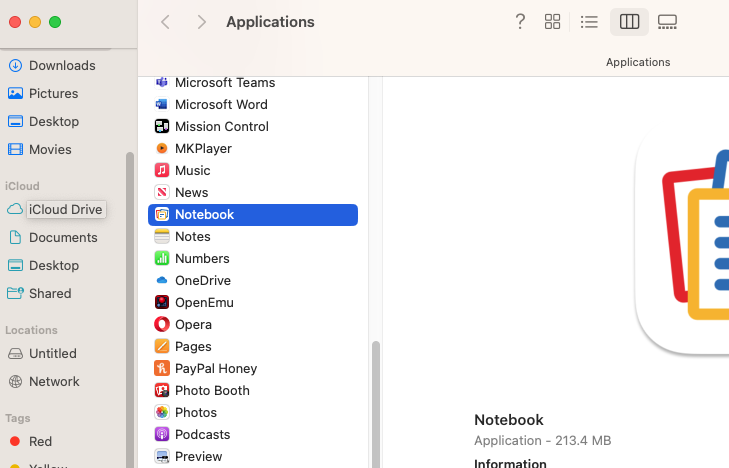 Follow these steps to remove Firefox extensions from your Mac:
1. In Firefox, select Tools > Add-ons and Themes from the menu bar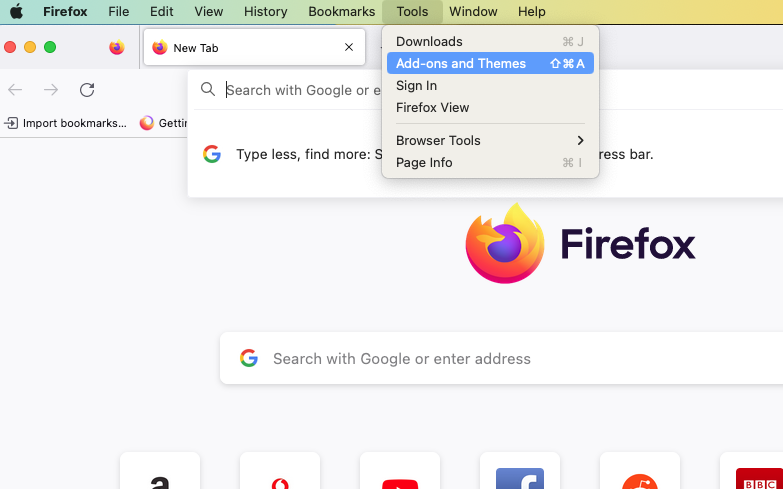 2. In the Extensions section, find any MyFlixer add-ons. Click the three dots next to them, and select Delete.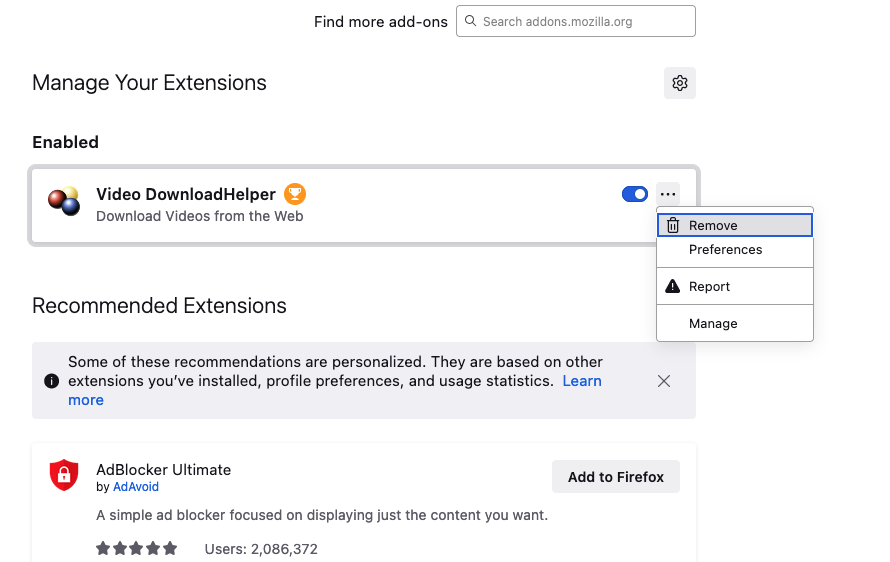 3. Confirm by clicking the Delete button.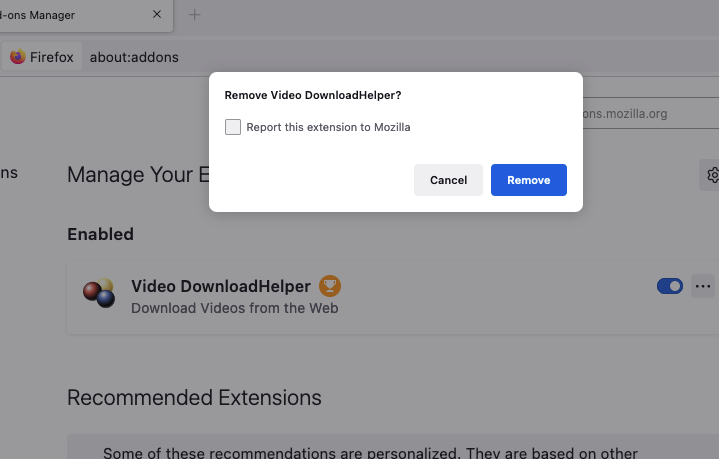 Use this process to remove extensions from Chrome:
1. In Chrome, select Chrome > Settings from the menu bar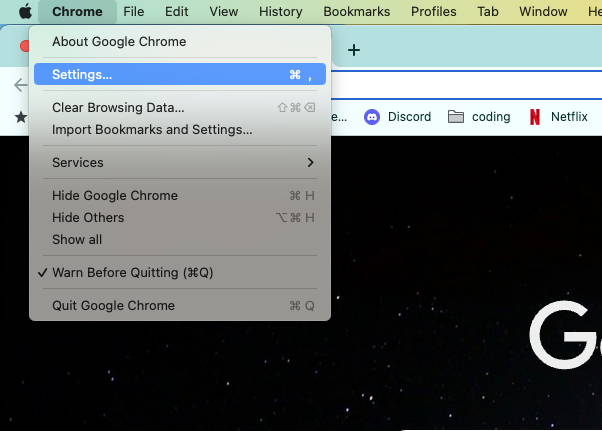 2. Go to the Extensions section, find any MyFlixer extensions, and click the Remove button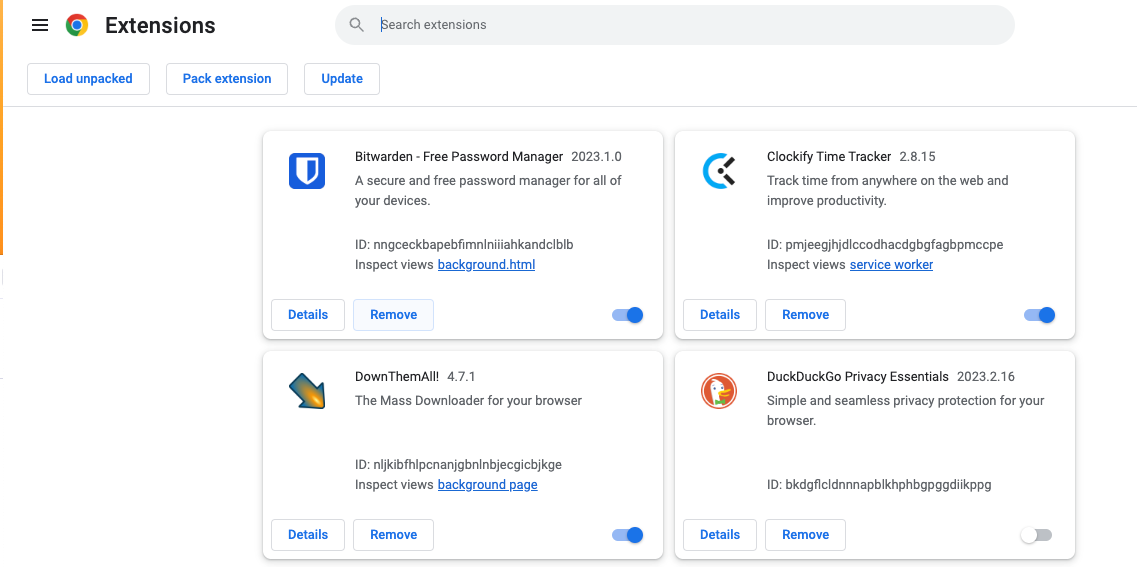 3. Confirm the removal by clicking Remove again.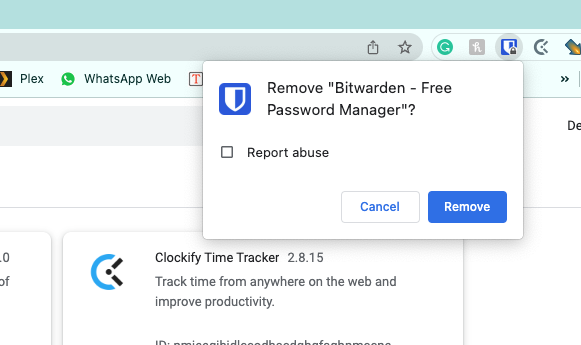 How to remove MyFlixer from Mac
Visiting MyFlixer can also lead to potentially unwanted programs (PUPs) on your Mac. You might find unexpected login items too, which launch when you start up your computer. Here's how to remove them:
1. Start by opening Activity Monitor from Applications > Utilities
2. Look for anything that seems suspicious or connected to MyFlixer. Select it, and click the X button.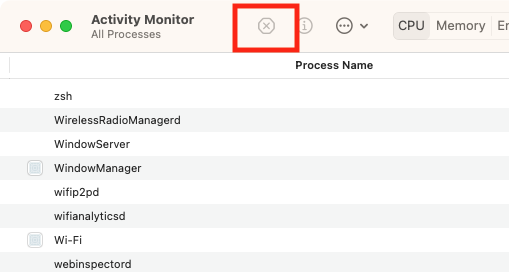 3. Click Force Quit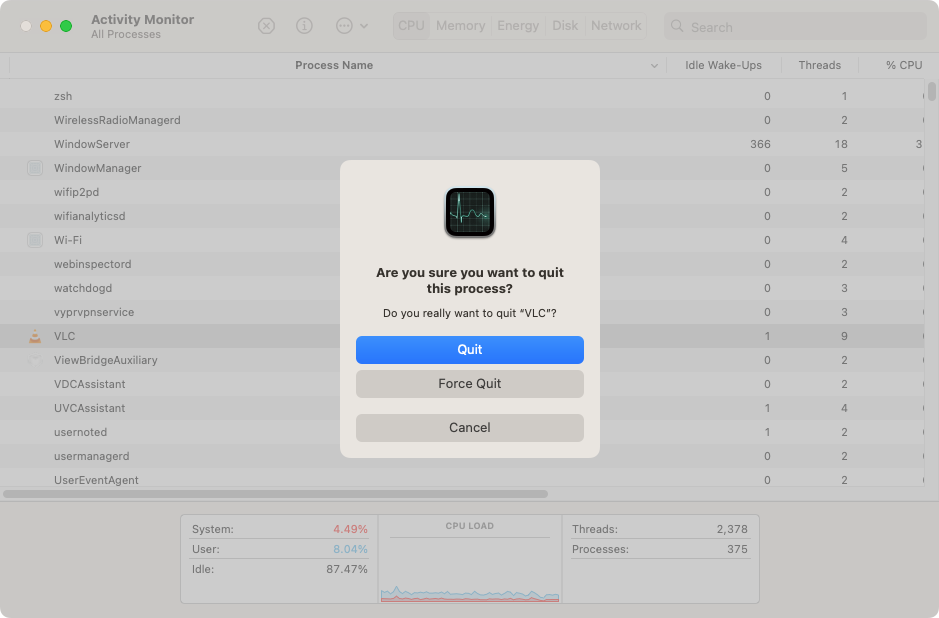 4. Now, go into your Applications folder and delete any apps that you don't recognize. Make sure to empty your Trash afterwards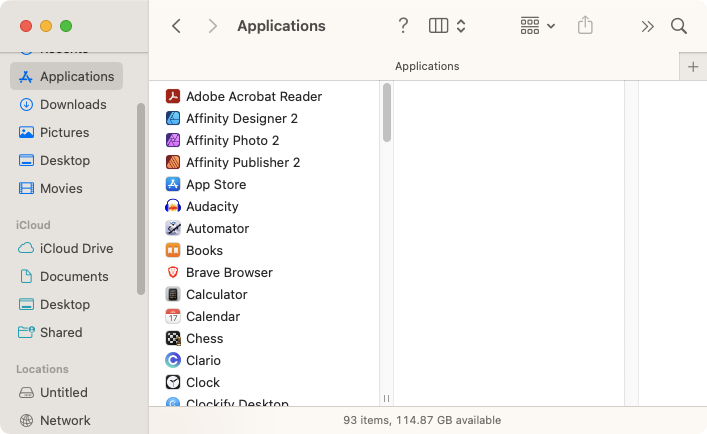 5. Next, click the Apple icon in the top left of your screen and select System Settings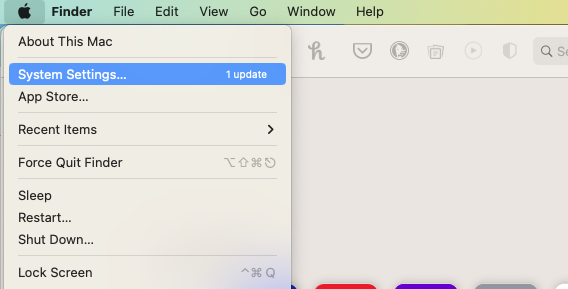 6. Go to General > Login Items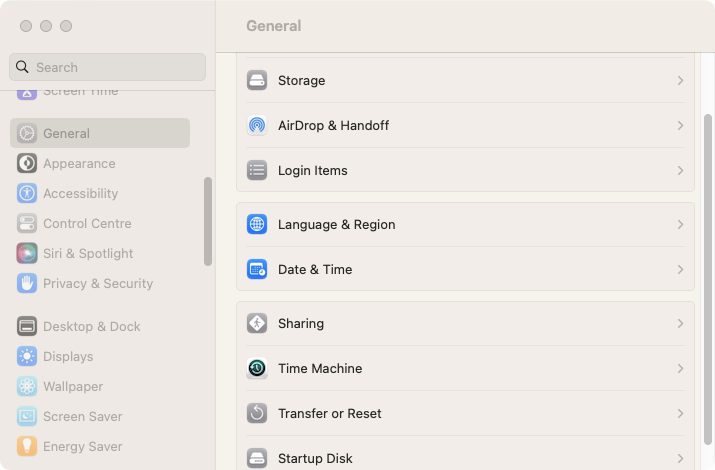 7. Under Open at Login, select anything suspicious, and click the minus button.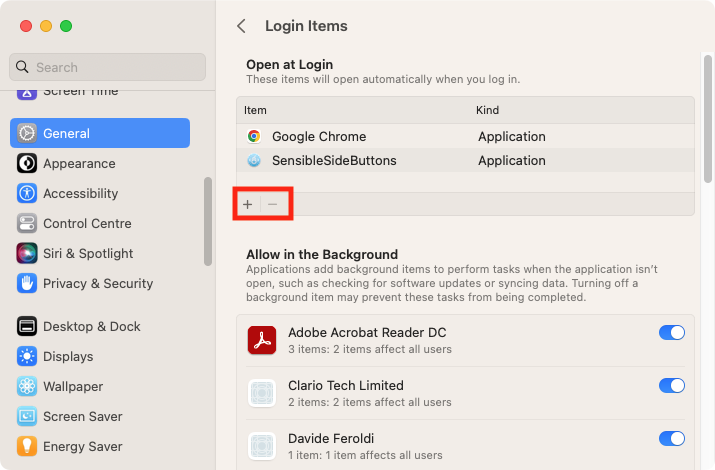 An alternative way to delete MyFlixer
Manually removing unwanted MyFlixer apps, add-ons, and other content might not be enough to keep your Mac safe. For a start, they might be hidden. And if even if you do find these files and delete them, they may leave other files behind, which can continue to cause problems.
For that reason, we recommend using MacKeeper's Smart Uninstaller. Not only will it remove apps without any leftovers, it'll also find and uninstall plug-ins, browser extensions, preference panes, and widgets—all of which could get on your Mac through MyFlixer.
1. Open MacKeeper, and select Smart Uninstaller from the side menu, and click Start Scan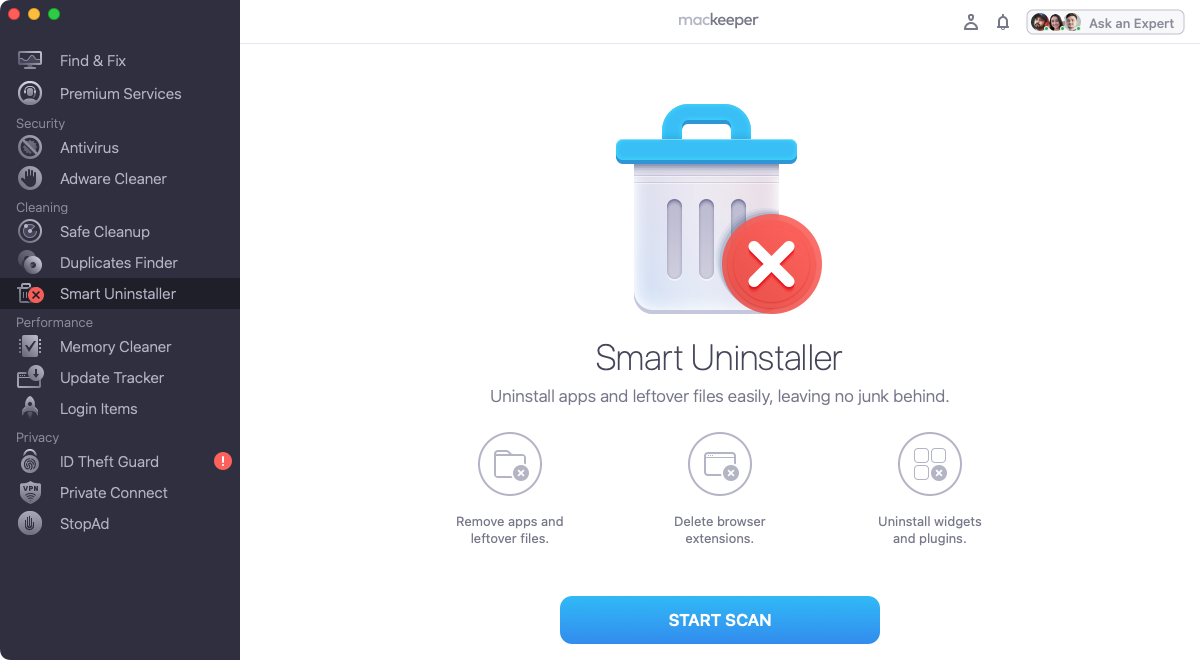 2. When the scan is finished, look through each section, and select anything you want to remove. Click Remove Selected.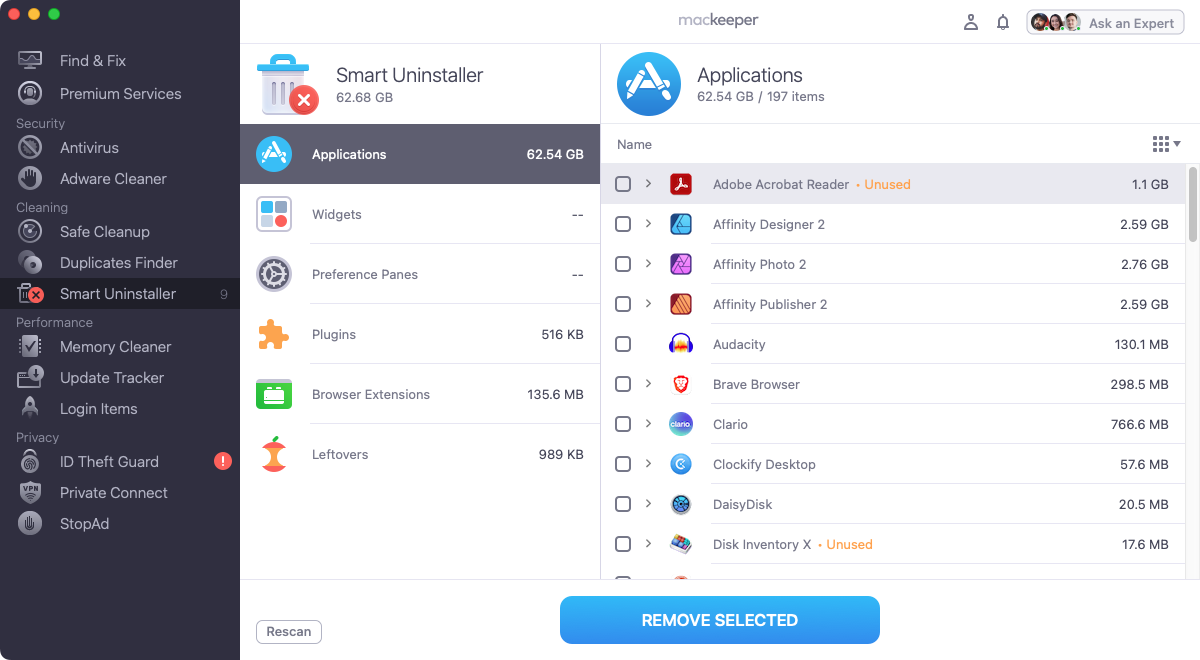 3. Click Remove to confirm.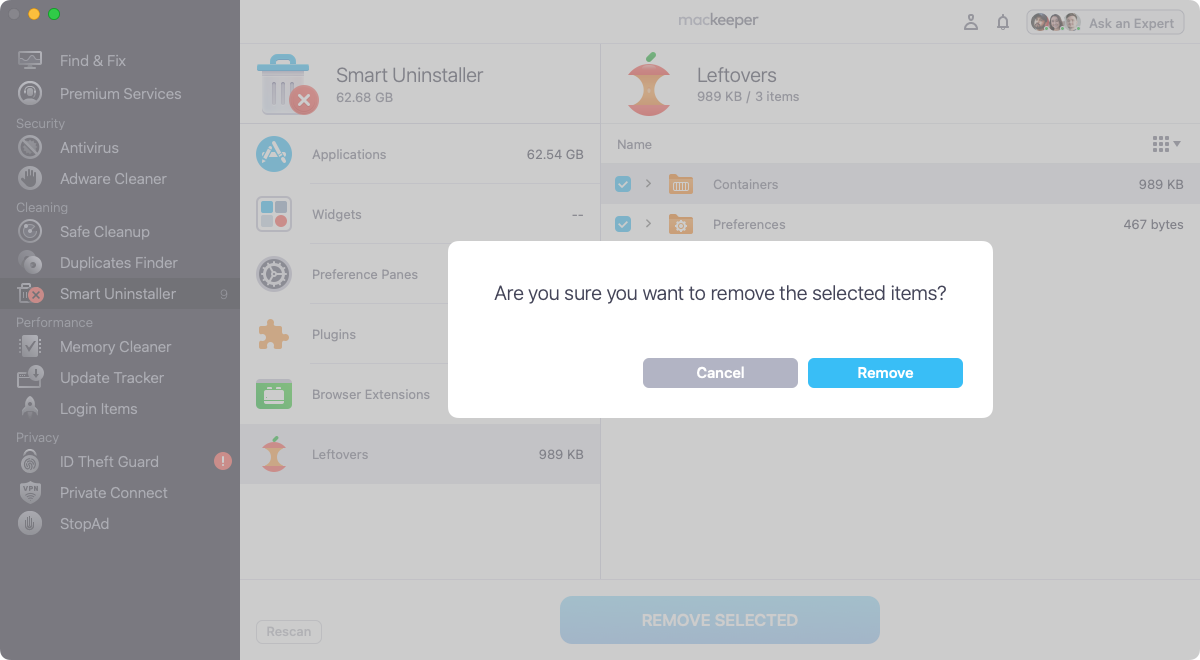 How to prevent malware such as MyFlixer from getting in
The safest way to avoid MyFlixer-related malware is, of course, to avoid MyFlixer. Here are a few more things you can do to keep your Mac safe:
Stick to legal streaming and content services like Netflix, Amazon Prime, and Disney Plus
Use MacKeeper's real-time antivirus to keep your system virus-free, and run regular scans on your desktop or laptop computer. Read our guide on how to scan Mac for viruses to learn more
MacKeeper's Adware cleaner and StopAd features can also keep your browser free of unwanted ads and stop trackers from following you
Avoid clicking on pop-up ads, particularly those that say your Mac is infected
Don't let sites send you notifications unless you trust them
Never give your email address to sites you don't trust 100%, and never reuse your passwords
If sites like MyFlixer ask you to install plugins to watch their content, don't do it.
Whatever happens, don't panic
If you've visited MyFlixer and watched some of its content, there's no reason to panic. If you didn't click on any pop-ups or install any plugins, extensions, or apps, your Mac is probably okay.
You should avoid returning to the site, though, and you should also run a full virus scan. Follow our advice on how to remove malware from Mac to make sure your Mac is clean.
Also, run MacKeeper's Smart Uninstaller to delete any MyFlixer files, and to make sure nothing gets left behind. It's a fast, easy way to clear your system of MyFlixer-related apps and add-ons.
And in future, always be wary of anything that seems to be good to be true. People aren't going to give you free stuff unless they're getting something out of it too.
FAQ
Is MyFlixer illegal?
Yes. While legal free movie and TV sites do exist, they don't offer the latest content like MyFlixer does. MyFlixer able to do that because the content is pirated, so no money goes to the copyright owners.
Is MyFlixer a virus?
Technically, no, it's not. MyFlixer a website, which has many mirrors, and any of them may contain viruses, browser hijackers, malicious ads, web trackers, and other potential threats.
Does MyFixer hack you?
Possibly. The fact is when you visit a MyFlixer site, you have no idea who's running it or what their intentions are. Some may just be making money from advertising, but others may be set up to steal your personal data.
Are all Mac models affected?
Yes. It doesn't matter what model you have. They can all get malware from MyFlixer. Check out our guide Can MacBooks Get Viruses for more information.