In this article you will find the following:
Installing a macOS base system is important for ensuring that your computer gets up and running again whenever a malfunction occurs. However, getting one on your device is difficult for a myriad of reasons. You often need enough storage space, for example, and keeping your system updated can also become quite complicated.
While eliminating all stress associated with a macOS base system is challenging, you can still make your life much easier by adopting a couple of common practices. In this guide, I'll reveal how you can solve frequent problems associated with your base system—along with providing a full explanation of what the feature is.
Before we start

When you use or update macOS base system, not enough storage space is one of the most common difficulties that users encounter. MacKeeper's Memory Cleaner can help you clear files and folders that you no longer need, including duplicates and more.

To use MacKeeper's Memory Cleaner:

Go to Performance > Memory Cleaner
Select Open
Go to the Memory Usage option
Click on the Clean Memory button.
Solving possible issues with OS X base system
You might occasionally encounter problems with your computer's base system. If you do, fixing the issue as soon as possible is essential if you want everything to still run as smoothly as it should. I'll reveal the solution to three of the most common challenges in the sub-sections below.
Not enough disk space on macOS base system
As you use your Mac more and more, your disk space might become more saturated than before. I spoke earlier about MacKeeper's Memory Cleaner, but you can also use the Duplicates Finder to easily find files and folders that you don't need.
Open MacKeeper
Go to Cleaning > Duplicates Finder
Select Start Scan and wait for the scan to complete
Choose the files you want to delete and hit Remove Selected. If you need to check what you're removing beforehand, you can preview your duplicates in the MacKeeper app.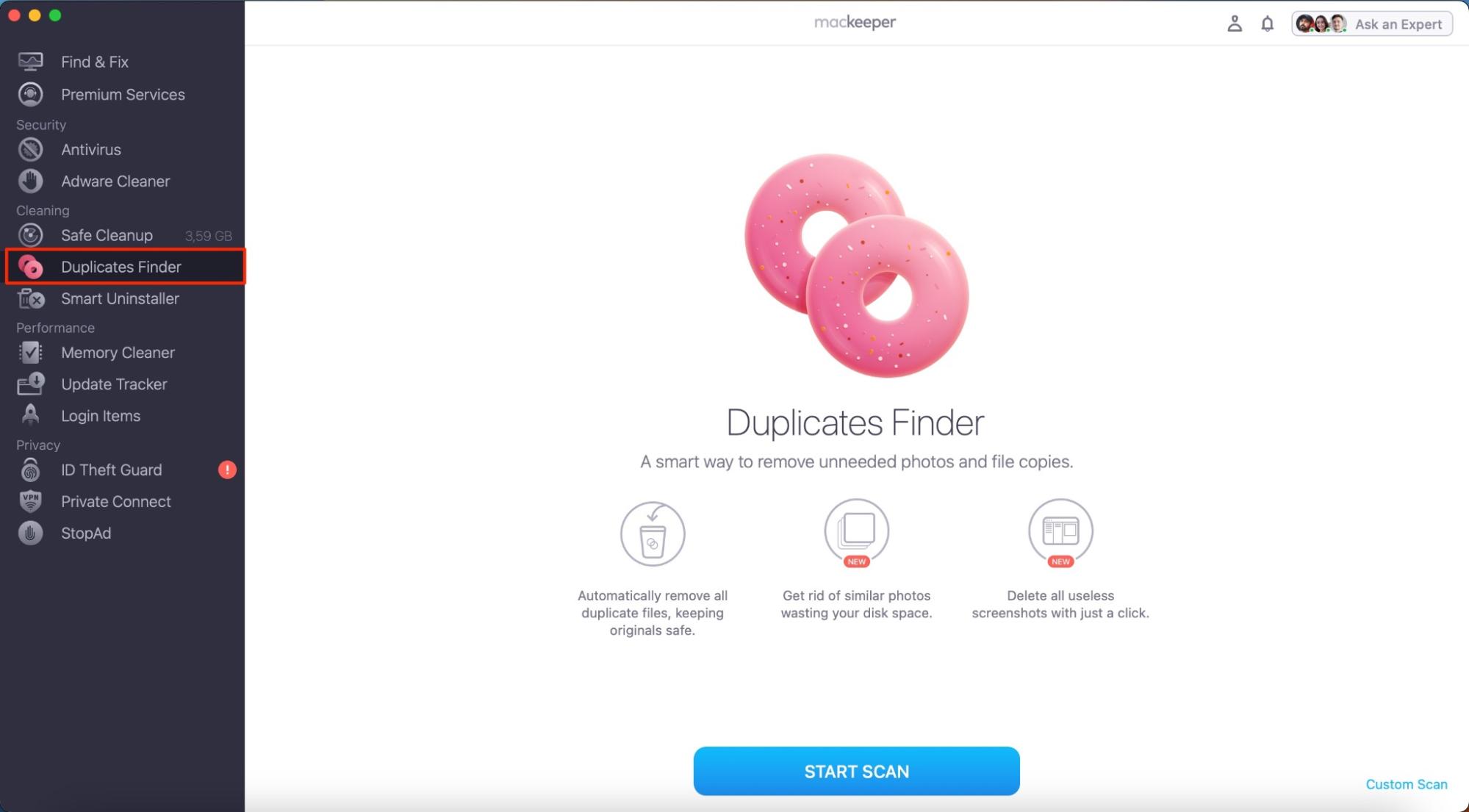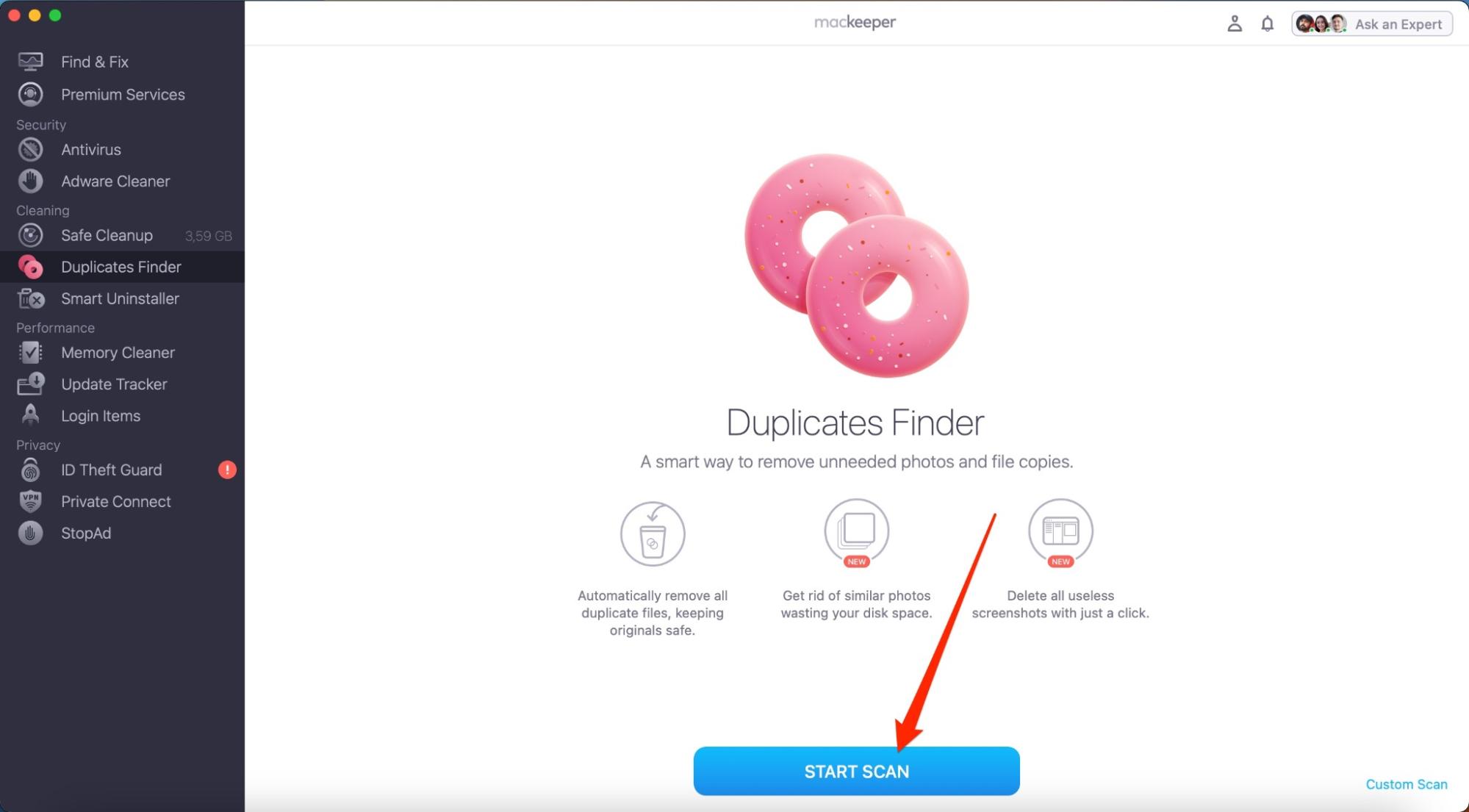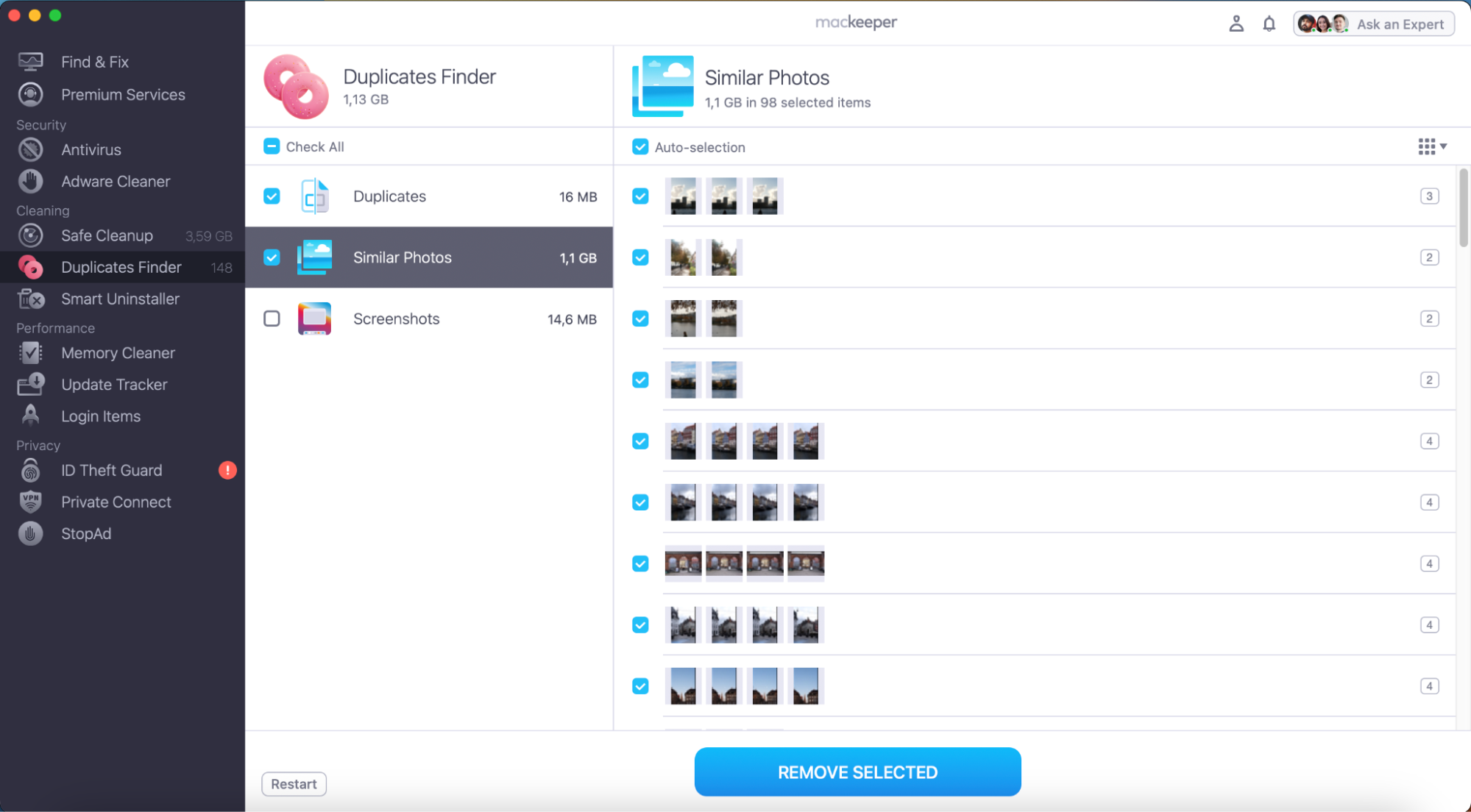 You can also try dragging and dropping apps that you don't use into your Trash folder, along with emptying the Trash if you haven't for a while.
Learn more about macOS storage requirements if you're unsure on how much space you need for your base system and apps.
OS X base system locked
The process to fix the issue is quite complicated, but you can follow these instructions:
Restart your Mac
Hold the Option, Command, and R buttons as soon as you switch your Mac off
Format your Macintosh HD drive to AFPS if needed
Go to Disk Utility > Erase
Reinstall macOS and ensure that you've chosen Macintosh HD as the place to download it.
macOS base system needs to be updated
If you need to update macOS base system, you can update the software on your device. I'd recommend doing this before erasing your disk with the steps in the previous section, and you can update your software by following these instructions:
Go to Apple logo > System Settings
Click on General
Go to Software Update
Hit Update Now if you have software to update
Agree to Apple's licensing agreement
Wait for your computer to download your software.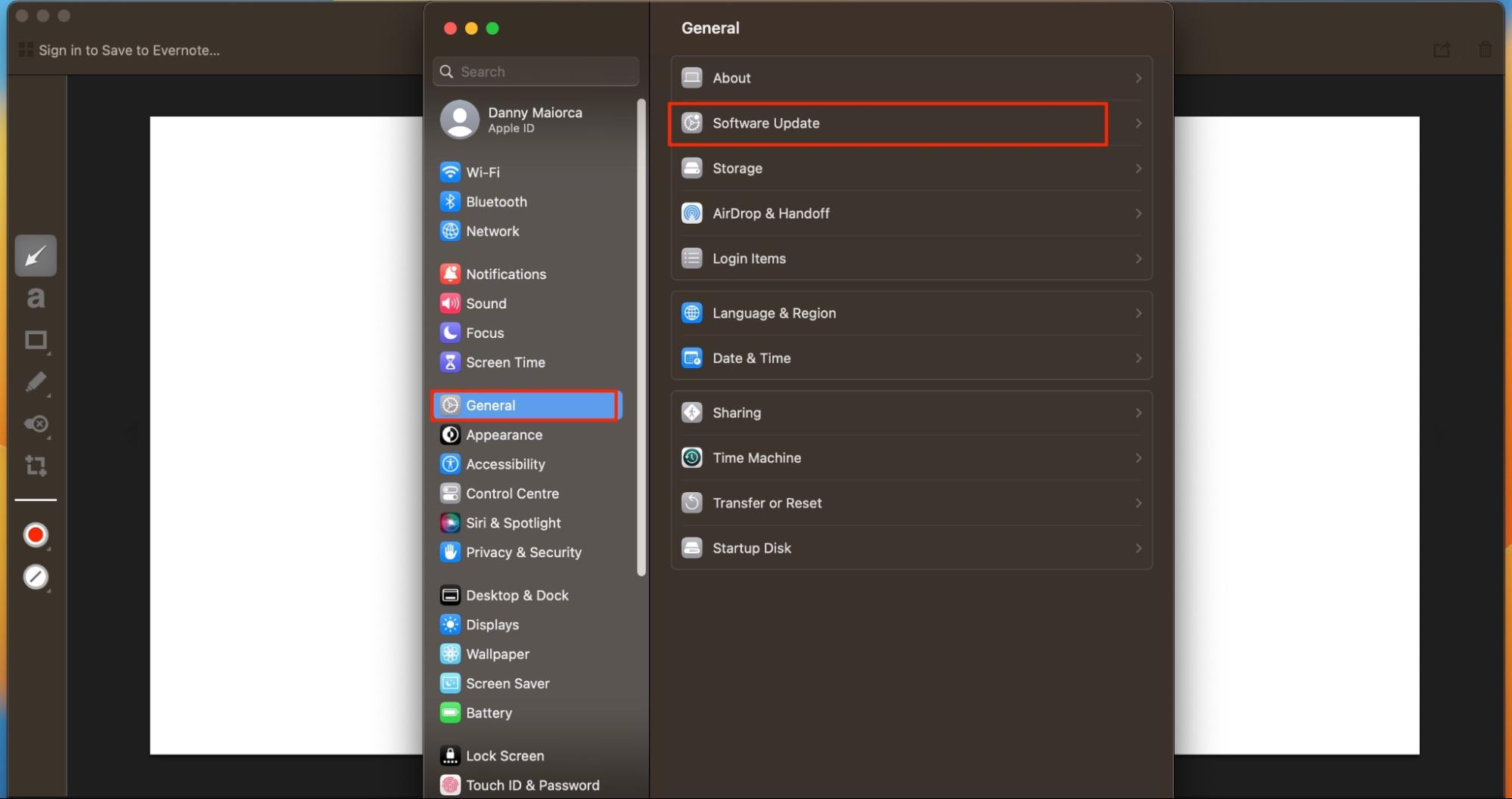 What is the macOS base system?
The base system on your Mac is designed to ensure that recovery on your computer isn't even more of a painful process. You can use the tool to reinstall previous versions of your device, along with updating your software and more. Its most features include:
Update your software: If your Mac isn't performing as it should, your computer's base system can help you update your software. After doing this, you should be able to use everything again like normal.
Troubleshoot issues: Knowing what's wrong with your computer will make it much easier to fix the problem. The base system is capable of determining why your device isn't performing at an optimal level.
Restore previous macOS versions: Sometimes, restoring an old version of macOS will allow your device to operate as it normally should. You can restore your computer via the Time Machine on your device.
If Mac Recovery Mode isn't working, you can consider some additional steps to fix the problem.
macOS Base System vs. Macintosh HD?
Macintosh HD is another important drive on your Mac, but it's not the same as your base system. To help you understand the difference, I've broken down the most important functionalities into the table below. I must note, however, that both are essential for your macOS functionality—and both are also read-only.
| | |
| --- | --- |
| macOS base system | Macintosh HD |
| Recovers previous versions of your Mac | Stores apps you download |
| Is used for recovery purposes only | Is used when you turn on your Mac |
| Necessary to reinstall macOS | Stores other macOS files |
Should you erase macOS base system?
I strongly recommend against trying to erase macOS base system entirely where possible, and you should also attempt to update your computer's software before deleting the content already on it.
Erasing your base system can cause several problems for your device, and you might damage many of your other functions by removing it. Moreover, you'll be unable to restore your computer if a problem occurs in the future.
To erase your base system from your device, you'd need to perform actions that'd almost certainly void your warranty. Apple doesn't let you delete the system, and the button won't work if you try.
You can make using a macOS base system much easier
The base system is an important part of your macOS operations, but you can run into problems that can derail your workflow. Some of these, such as updating your device, are simple to fix—but others might require you to enter Recovery Mode.
If you're in need of more space for your base system, you can easily free up storage on your device by using MacKeeper's Memory Cleaner.