In this article you will find the following:
Since macOS accounts for a sizable chunk of your Mac's hard drive or SSD, knowing its storage requirements gives you a clearer picture of the space you must have at hand during and after installation.
The information also lets you plan ahead when buying a new Mac and helps you determine if you can manage with a 128-256GB baseline model or need a larger capacity drive.
So, whether you're contemplating an upgrade to the newest version of macOS or want to know how much disk space the operating system uses, here's a breakdown of macOS storage requirements by version:
macOS Monterey—from 15.24GB to 20.24GB on average
macOS Big Sur—from 14.94GB to 19.94GB on average
Older macOS versions—from 8.8GB to 18.5GB, depending on its type.
macOS for both Apple silicon and Intel Macs use the same amount of storage, so that's something you don't have to worry about.
Before you start

If you're crunched for space and time and want enough space to install the latest macOS updates quickly, download MacKeeper. It can help you delete obsolete and junk files from the system in minutes. You get one cleanup for free, so you've got nothing to lose.
How much space do you need for macOS Monterey?
macOS 12 Monterey is the latest major public release of Apple's operating system for the Mac. It comes with dozens of new features and enhancements, such as Universal Control, Focus, and SharePlay, and is also faster and more efficient than previous macOS versions.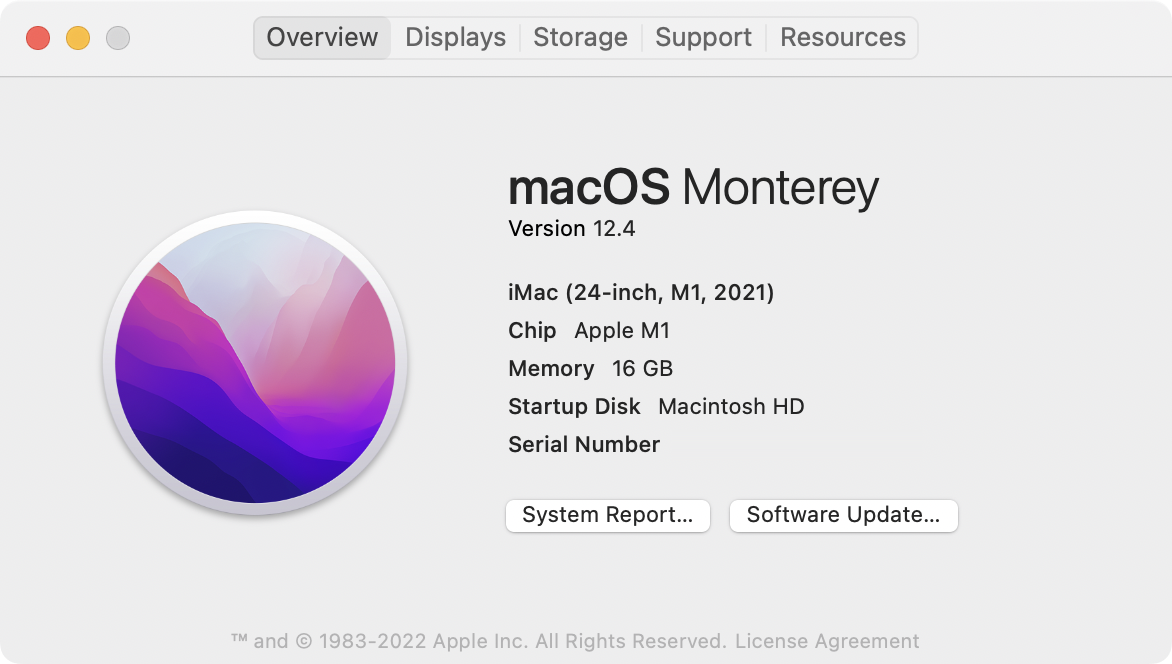 The macOS Monterey installer clocks in at a hefty 12.16GB, and you can download it via the integrated Software Update tool or the Mac's App Store. However, you need additional storage during installation. Our experts recommends the following:
If you're upgrading from macOS Sierra or a later release, you need 22GB in total
If you want to make the upgrade from OS X El Capitan or earlier, you must have 44GB of free space.
Regardless, it's always good to have several gigabytes more than recommended to minimize potential issues while upgrading to macOS Monterey.
If you're struggling for storage, learn what you can do to free up space on Mac for Monterey. Or, you can cut to the chase and use MacKeeper instead.
After installation, macOS Monterey occupies 15.24GB of disk space. Additionally, the operating system uses a minimum of 5-10GB for temporary data creation. The operating system classifies that as System Data, and the actual amount can fluctuate significantly.
To check that, open the Apple menu and select About this Mac > Storage. The lighter gray area on the storage indicator represents the operating system's size, while the dark portion denotes space used by temporary files.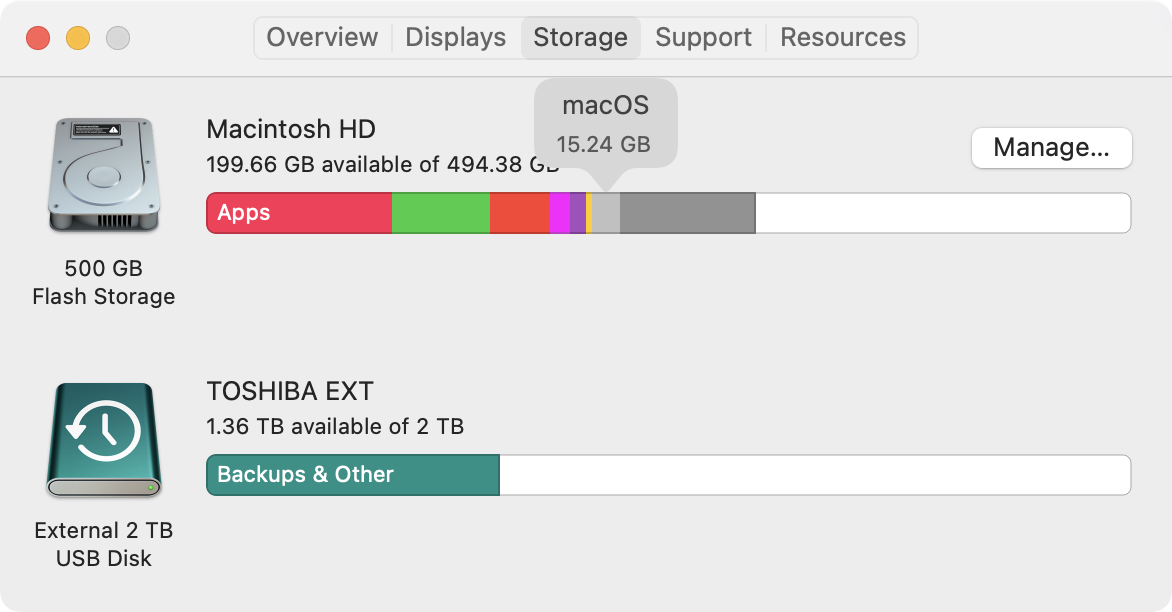 Minor macOS Monterey versions updates (or point updates) come as 2-5GB downloads and contain essential security enhancements, performance improvements, and bug fixes. Again, the installation process requires roughly the same amount of additional storage.
If you're getting yourself a new Mac, the chances are it already comes with macOS Monterey pre-installed. Factor the above in before deciding how much storage you want it to have.
How much space does your Mac need for macOS Big Sur?
macOS 11 Big Sur is the predecessor to macOS Monterey and the first operating system to feature support for Apple silicon Macs. It marks a radical shift in aesthetics compared to older iterations of the system software, with rounded app corners, an overhauled menu bar and Dock, and the introduction of a Control Center.
If you want to install macOS Big Sur on your Mac, the installer weighs 12.23GB (slightly more than macOS Monterey).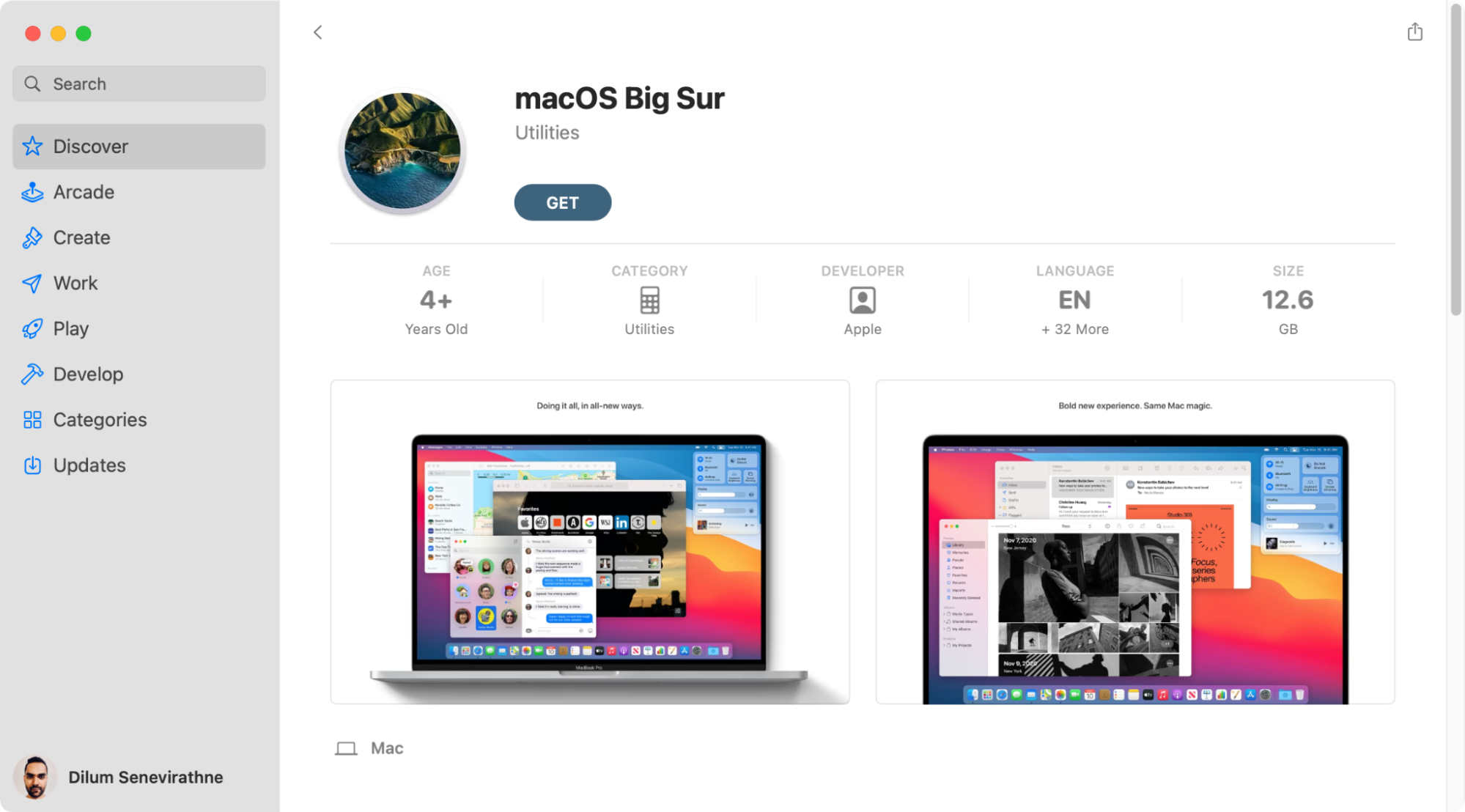 The installer aside, you must have additional free space to apply the upgrade. Like with Monterey, that depends on your current macOS version.
If you're making the upgrade from macOS Sierra or later, your Mac must have 35.5GB of free space
If you want to make the upgrade from OS X El Capitan or earlier, you need 44.5GB of free space.
After installation, macOS Big Sur takes up at least 14.94GB of storage. Remember that the operating system needs at least 5-10GB of extra space at minimum to function well during routine use.
Unless your Mac isn't compatible, you may want to skip Big Sur and update directly to macOS Monterey. The latter builds up on everything in Big Sur and is faster, safer, and more private.
How much space do older macOS versions take?
If you're planning to upgrade your Mac to macOS 10.15 Catalina or an earlier release (or you're looking to downgrade your current macOS installation), you can find the space each version requires below. Older macOS releases don't clarify the exact amount of space they use after installation, but expect the figure to be in the 10-15GB ballpark.
| | | |
| --- | --- | --- |
| Current macOS version | Space to update | macOS version you'll have |
| OS X El Capitan or later | 4.9GB to download + 12.5GB to upgrade | macOS Catalina |
| OS X Yosemite or earlier | 4.9GB to download + 18.5GB to upgrade | macOS Catalina |
| OS X El Capitan or later | 6.5GB to download + 12.5GB to upgrade | macOS Mojave |
| OS X Yosemite or earlier | 6.5GB to download + 18.5GB to upgrade | macOS Mojave |
| OS X Mountain Lion or later | 4.8GB to download + 14.3GB to upgrade | macOS High Sierra |
| OS X Snow Leopard or earlier | 5.01GB to download + 8.8GB to upgrade | macOS Sierra |
Tip from our team:

You can find the links to download older macOS releases on Apple's How to get old versions of macOS page.
FAQ
1. Why do macOS system files take so much space?
macOS is a complex operating system that runs loads of background processes to make the hardware and software on your Mac work. Thousands of system-related files make that possible, and they add up to occupy a significant amount of disk space.
The storage indicator in macOS Catalina and older often lumps the size of the operating system and the temporary data it creates into a single figure. It's best to remain at the screen for at least a minute until your Mac computes a more accurate breakdown.
2. What is macOS "System Data" or "Other"?
Aside from the base macOS installation, the operating system must create additional files to keep the various apps and services running. That counts as System Data (in macOS Monterey) and Other (in macOS Big Sur and earlier).
Your Mac is smart enough to clear out these files periodically, which means that System Data is constantly in flux. However, that may not always happen. If you find your Mac using an unusual amount of storage for temporary data, our advice is to reduce the size of your Mac's System Data.
3. Is 512GB SSD enough for a MacBook, iMac, or Mac mini?
A MacBook, iMac, or Mac mini with 512GB of free storage is a significant step up from the base models and should be plenty if all you want to do is browse the web, work on documents, download and watch movies, etc.
However, if you work with multimedia files and do lots of video exporting, 512GB might not be enough. Consider shelling out extra for a 1TB model in that case, or use other ways to increase your Mac's available storage.
Always have free storage at hand
Freeing up space on your Mac only when it's time for the next major macOS upgrade isn't a great approach, and the result can be frequent slowdowns and other performance issues. Instead, our experience shows that it's always smart to keep at least 10-20% of the internal storage available.
That way, you give the system software enough breathing room for updates and other activities. If manually managing your Mac's storage sounds like a chore, just let MacKeeper do that for you.