Updated: September 14, 2020 | 8 min read
How to Clear Safari History on a Mac in 4 Simple Steps
When you visit a website, your browser records it in the browser history. The elements saved include the page's URL, text, images, and lists of IP addresses. This is done to speed up the loading of the website next time you want to open it. If you ever need to go on the site again, you can just find it in your browser history rather than search for it on Google.
Apple makes retrieving links from your history even easier—if you use iCloud on your devices, it can be accessed from any device signed in to the same iCloud account. Similarly, deleting it will make it disappear on all the connected devices. You can clear the whole of your Safari history as well as specific parts of it for a selected period of time. However, if a website saves its cache and history details autonomously, simply clearing out your own browser won't get rid of them.
You can find out how to delete search history on a Mac from the detailed guide below:
How to clear all Safari history
Below are the four simple steps to remove your Safari history in a range starting from the last hour and up to your complete browsing period.
1. Launch your Safari browser: if you keep it in Dock, simply click on the browser icon, or go to Launchpad and find it there.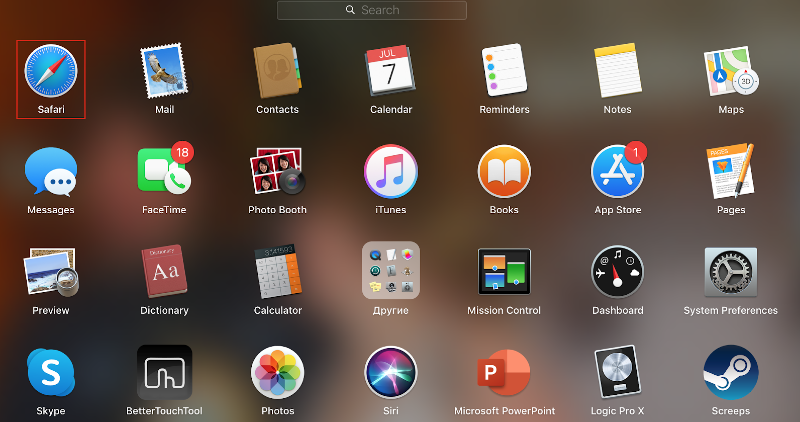 2. In the menu on top of the screen, click on the History tab

3. A drop-down menu will open. At the bottom of the list, click on Clear History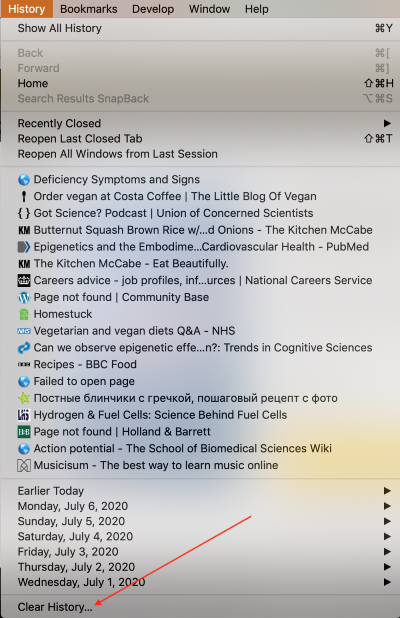 4. In a pop-up window, select the period of time for which you want to clear your Safari history.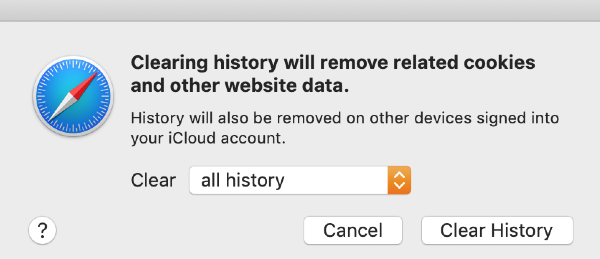 How to delete specific pages from Safari history
What if you only need to delete one link from your Safari history? Luckily, there is an option on Mac to erase particular pages rather than everything. So how do you clear history on a Mac for a specific website? Here is your step-by-step guide:
Launch Safari
Click on the History tab in the menu on top of the screen
Select Show History from the drop-down menu
Right-click on the desired page from the list that appears
Click on Delete in the drop-down menu
You can search for the website's name by typing it in the search bar in the top right corner of the browser window. Unfortunately, you can't select all the items from that search result to delete them at the same time, but you can delete each one of them subsequently.
How to clear cookies and cache in Safari
Cookies are essential for the optimal functioning of any website. They allow pages to load much faster when you open them again after the initial visit. Unfortunately, they can also contain a lot of personal information such as your location, username and password, language preferences, email, and other data. In this way, cookies make your internet usage easily traceable.
How to delete cookies in Safari:
1. Open Safari browser
2. Click on the Safari tab in the menu on top of the screen to open a drop-down menu
3. Click on Preferences
4. Go to the Privacy tab
5. Click on the Manage Website Data button

6. A window listing all websites currently storing your cookies, cache and other types of local data. You can delete all of them by clicking on the Remove All button, or you can select specific websites and click on the Remove button instead
Bear in mind that your browser will slow down when you delete your cookies. If you're not sure about the results, we suggest creating a backup before you start the cleanup.
How to clear cache automatically with MacKeeper
When you visit websites, pieces of text, images and so on are downloaded to your Mac. This information is cache and its purpose is to speed up the loading of a website. Similarly, apps on your Mac and the system as a whole generate cache, too. With time, it piles up and just takes your storage space rather than helps you browse or use apps faster.
With MacKeeper, you can remove all types of cache in just a few clicks, along with other junk files. Check out MacKeeper's cleaning tools!
We've also created a separate article in case you want to learn more about clearing cache on your Mac.
How to browse privately
When you use your browser in Private mode, the usual data acquired when you visit a website is not saved in your browser history. It won't be synchronised with your other Apple devices that use the same iCloud network. This is useful when you don't want history and cookies for your browser session recorded but don't have time to delete them manually afterwards. Learn more about how to browse in Safari Private mode.
For even more private connection, use MacKeeper's VPN Private Connect. This tool will help you hide your online activity and conceal what you browse.
Read more: