In this article you will find the following:
Have you ever tried Googling your name? Found anything you wouldn't want available for everyone to see? A photo from your prom or your billing address? If you nodded in agreement, you probably saw something you didn't like.
Many web dwellers are interested in becoming invisible online. But what could possibly make a person put in all the effort to disappear from the internet? The answer is simple: to protect their data and identity.
Many people have compromised their sensitive information and identity due to data breaches, phishing scams, and the like. Companies track your movements online. Viruses are a dime a dozen. These are all scenarios that could land your personal information on the internet and why you should remove it.
Before you start

If you take your privacy serious, MacKeeper's Private Connect feature is what you're looking for. It's a full VPN service, offering access to hundreds of servers around the world, so you can protect your location and your private data. Here's how to use it.

Open MacKeeper, and select Private Connect
Use the VPN server location dropdown to select a server
Click Turn on

MacKeeper also comes with real-time antivirus, junk cleaning, and many more tools to keep your Mac in tip-top condition. You can try them out now with one free fix for each tool.
How to remove your personal data from the internet
We've touched on how your personal data can end up on the internet. Before we get into how to remove it, it might benefit you to know which federal laws govern how your information is collected.
Here are a few to look into:
Now let's look at all the ways you can remove your personal information online.
Before deleting anything, consider downloading the data—it might be useful for your future career, serve as evidence if you sue, or just have sentimental value.
1. Do a Google search
When considering how to remove personal information from Google, you have to understand how search engines, such as Google, work.
Google's search robots, the so-called crawlers, constantly check all the information that is published on the internet
This information is organized in an index so that Google's algorithms can quickly find the most relevant pages and show them in reply to a specific search phrase
This implies that whatever is found about you in Google was originally published on a specific web page. So, you need to remove it from that source.
It takes time for Google's crawlers to revisit the page and stop showing the information. Moreover, there is no exact timeline for this. But eventually, it will happen.
Your strategy should be informed by the owner and the character of the information:
If you own the information
Well, that's easy. If you can access and edit the information, then just remove it. Your website, blog, or public comments you can delete are examples of such a case
If you don't own the information
Perhaps your mom shared an embarrassing photo of you at five years old, or a reporter published an investigation about your tax evasion. You can sue or negotiate with the publisher. In both cases, the outcome is uncertain and the process might be long. If the information was deleted from the source page but still appears in the search results, you can request its removal through Google's Remove Outdates Content tool.
If certain information can only be deleted from search results by request
You can remove certain content from search results for legal reasons or if it creates risks of identity theft, financial fraud, or other specific harms
You can use the following forms to request the removal of such information:
Note that Google does not normally remove dates of birth, addresses, phone numbers, and other legal and publicly available information.
Googling your name and any aliases you may have had in the past is a good place to start. It shows you social media accounts (including old accounts you may have forgotten about), blogs, articles, and anything else associated with your name.
2. Delete your online accounts
Sometimes you just need to remove embarrassing photos or comments about yourself from the internet. In certain cases, such as on Facebook, Twitter, and Instagram, you can temporarily deactivate your accounts. But let's consider the complete removal of your profiles.
There are obvious platforms you probably want to leave, like Facebook, Twitter, or Instagram. Still, there are hundreds of social media websites, and you could have registered on a few of them sometime in the early 2000s out of sheer curiosity. How can you even remember them?
First, check out this list of 250 social media websites and list all the ones that jump out at you. Alternatively, a quick Google search of your name and social media names will return a list of all your accounts.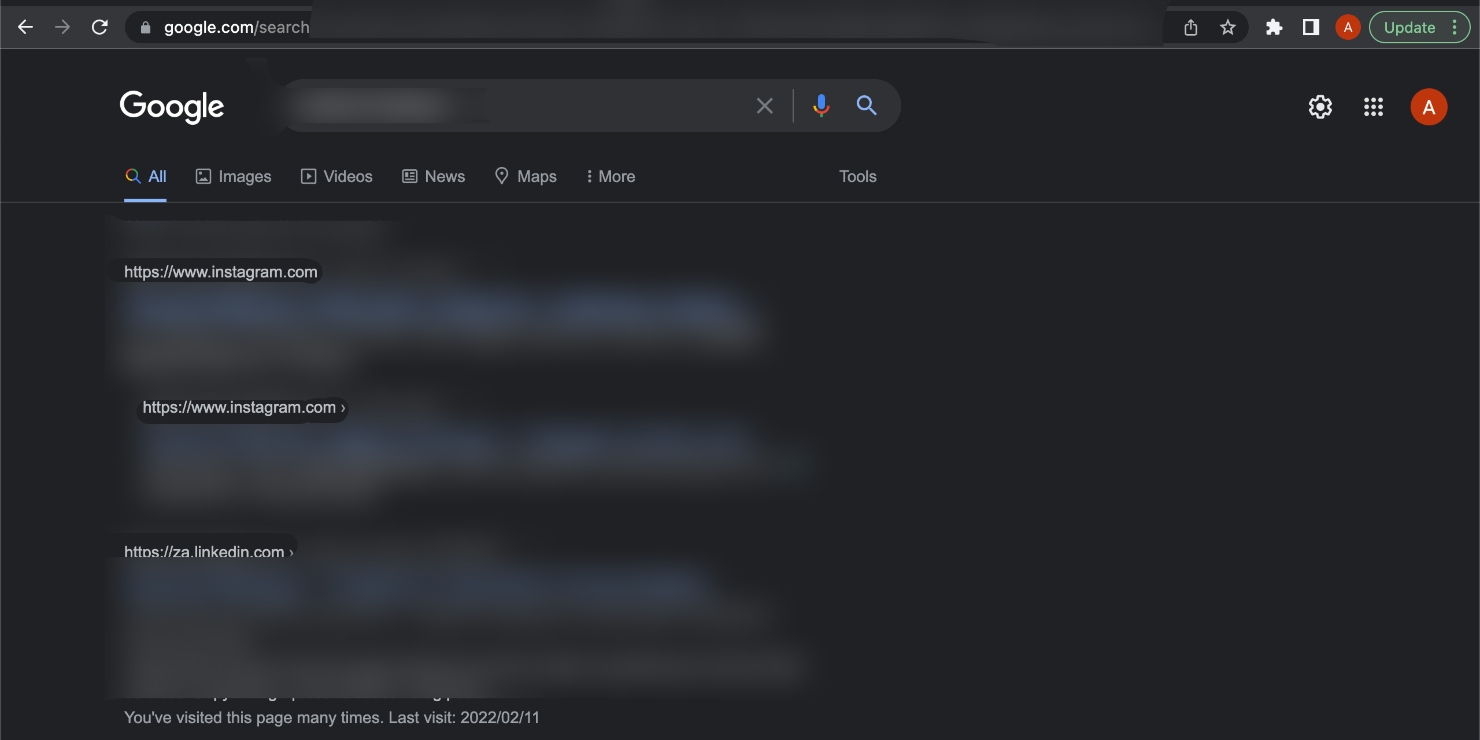 When in doubt about whether you signed up for a certain service, try to register a new account using your email or an older email. The website will let you know if you already have an account registered with it.
Please note: you may have used your Facebook account to log in to other websites, such as IMDb or Pinterest.
You can see a full list on Facebook by navigating to the Menu icon > Settings & privacy > Settings > Apps and websites.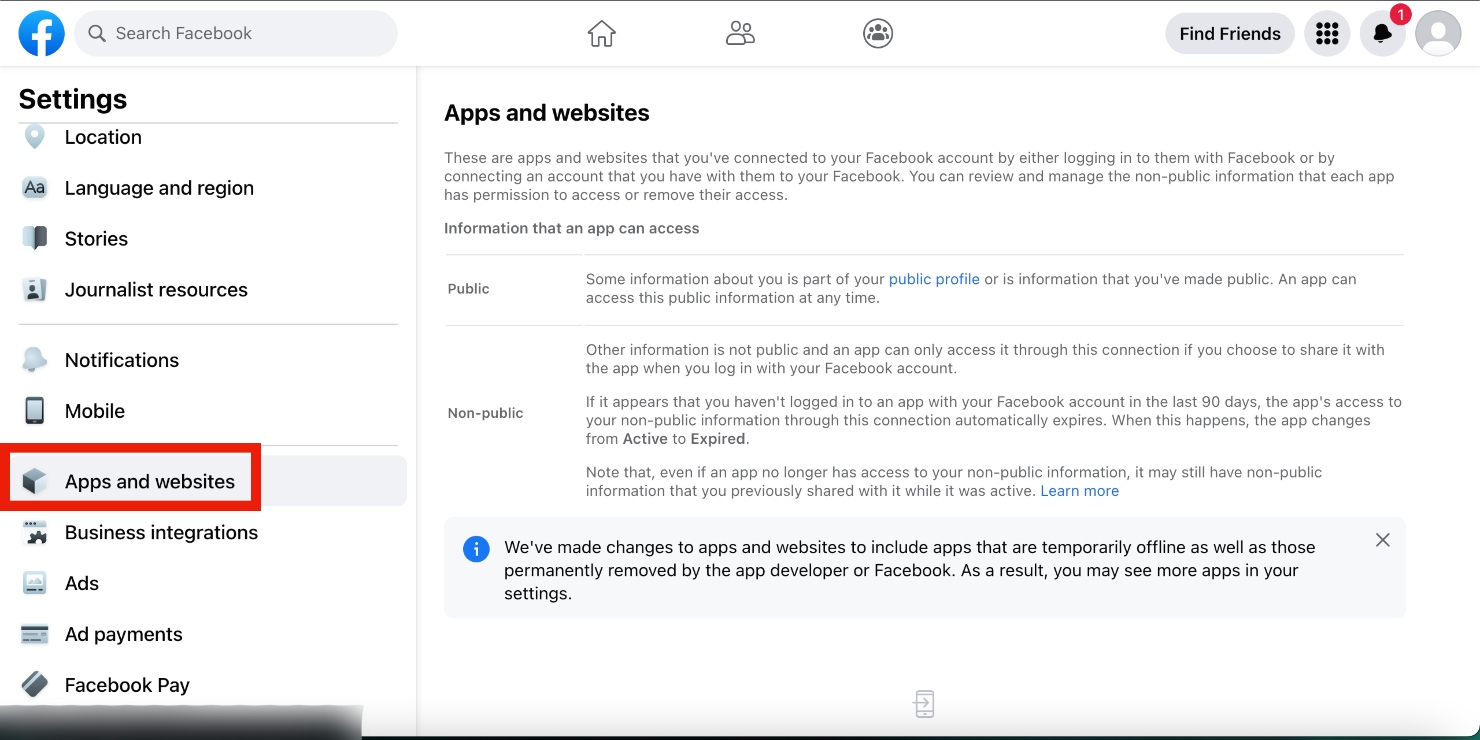 If you delete your Facebook account, you won't be able to access your profiles there. Consider deleting such secondary profiles first, and your Facebook account last.
Now let's finally wipe out your social media accounts. For the most popular ones, see the instructions below:
But that's half the work done. You'll also need to delete accounts for websites you don't need or use, like all the online shopping accounts you've amassed. Delete accounts for streaming services, too, especially for similar services.
Do you really need to have subscriptions for both Apple Music and Spotify, or Netflix and Disney+? Probably not. Delete the ones you hardly (or never) use. You might even end up saving a few bucks.
3. Delete personal blogs and websites
The 2000s were popular for many things—personal blogs being one of them—and you might have been one of many who started a blog of your own at the time. But do you really still need that blog or website you've been holding onto for so long?
Probably not, so it's best to get rid of it. Go through your old and recent blogs and delete any posts revealing your personal information, like…
Your birthday
Information about your family
Your home address
Do this even if that information has since changed because bad actors can use it for identity theft. Unless your blog or website is still important to you, take the final step and delete it to ensure there are no traces of it or the personal information it once included.
4. Delete sketchy or unused apps
How many times have you downloaded an app and mindlessly checked the "I agree" box without reading the terms and conditions?
We get it, they're quite long and tend to be filled with legal jargon that typically goes over the average user's head. However, it doesn't help that you don't understand what you're agreeing to. In fact, it puts you at risk.
Few apps allow you to access or use them without entering your personal information. So, here's the deal:
You've probably agreed to give multiple apps access to your information, like your contact details
Apps that have access to your mic, camera, and location are also privy to your movements and personal conversations
Scary, right?
So, what can you do?
Start by removing your personal information from your apps, especially those that aren't popular or that have bad reviews
Use software that deletes apps and leftover files. While you can delete apps yourself, you won't be as thorough as a tool that's built to do that, because those tools can find and remove files that the human eye can miss. We recommend MacKeeper's Smart Uninstaller
Download MacKeeper now.
Smart Uninstaller in MacKeeper finds and removes Mac apps completely and permanently. It removes any useless widgets, plugins, browser extensions, and much more associated with those apps, and frees up extra disk space in the process.
How to use it:
Open the MacKeeper app on your Mac
Click on Smart Uninstaller on the left panel
Click on Remove Selected and let it delete all unnecessary apps and useless widgets, plugins, browser extensions, and so much more
Learn more about how to use Smart Uninstaller in MacKeeper.
Please note that deleting an app doesn't always guarantee that your information will be removed. Ensure you read every app's privacy and account settings to learn how to fully delete your account.
5. Delete your Google account
If you have a Google account, you may not realize how much information the tech company collects about you. For example, your precise location is tracked on any given day.
Google indicates that specific permissions and settings are needed for this. However, an Associated Press investigation found that many Google services on Android and Apple devices store your location data, even if you've directly tried to prevent Google from doing so.
In fact, Google normally collects way more data about its users, including their names, phone numbers, home, and work addresses, lifestyle preferences, and more.
If this is unacceptable for you, you can delete your Google account and associated data by following the steps below:
Sign in to your account
Click on your profile icon
Now click on Data & privacy on the left panel
Scroll down and click on Delete your Google account, and then follow the prompts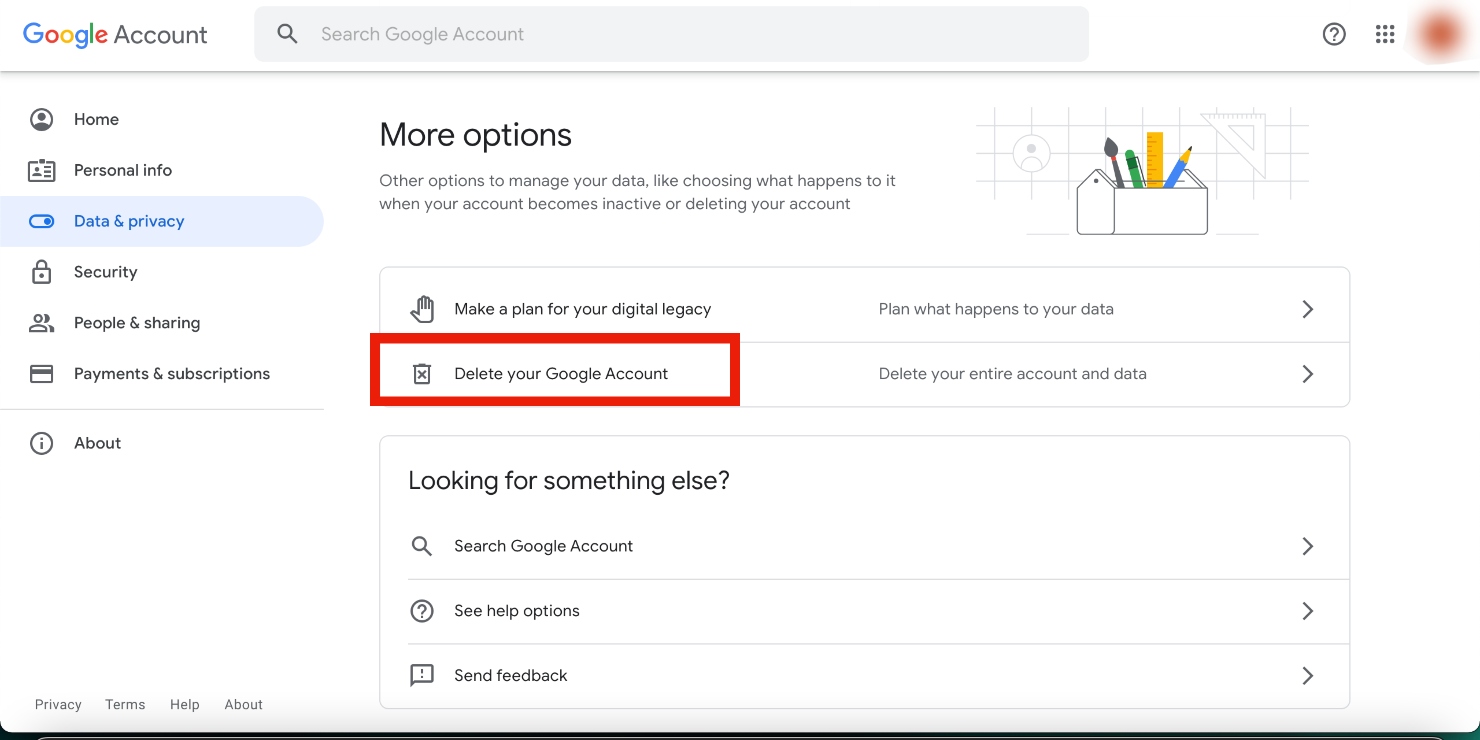 Here's what happens when you delete data from a Google service.
6. Opt out of data collection sites
You know those annoying calls, emails, and text messages you receive from companies without your permission? They buy your information from data brokers—it's a widespread issue. Thankfully, you can do something about it.
Take matters into your own hands by opting out of every data broker and people search site you can think of. Common ones include:
Spokeo
Whitepages.com
PeopleFinder
It might take a while, but it's worth doing the legwork to protect your information from ending up in the wrong hands.
However, if you have the money, consider paying a service to do it for you. DeleteMe removes your details from data collection sites and keeps you protected all year round for under $11/month.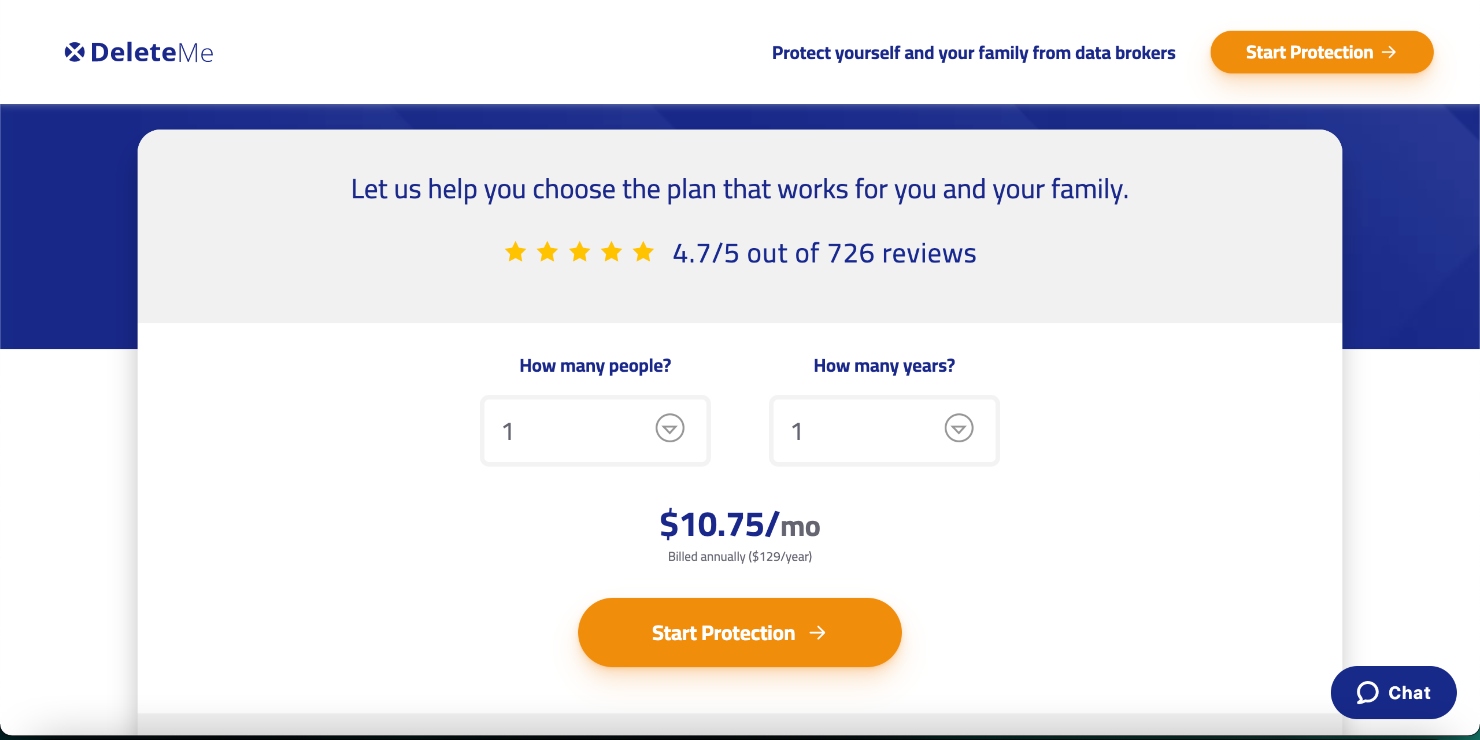 Removing your details from such sites also removes them from Google search results, which is a bonus.
7. Do a sweep of your devices and browser
Your devices and browser hold so much sensitive and personal information that they're virtual goldmines for hackers and bad actors.
That's why you can't remove your personal information online without doing a thorough sweep of your computer, phone, and browser.
Here are some common places where you probably keep your sensitive information that could be easily found by hackers:
Photos
Videos
Social media accounts
Streaming accounts
Shopping accounts
Notes
Emails and attachments
Files
Downloads
Reminders
Calendars
Browser history
Go through each of these and everything on your devices that may leave you exposed. Imagine how easy and quick it would be for hackers to get a hold of this information and what they could do with it!
Do this often and clear your browser history every day to keep your information safe. Here's how to clear your browser history in Chrome for Mac.
Finally, try not to save your account passwords in your browser, as that puts you at risk of getting hacked.
What to do about the information you can't delete?
Unfortunately, there are a lot of situations where you can't control or even know about the flow of information that includes your personal data.
For instance…
Databases with millions of records get leaked and stolen every year
Surveillance cameras set by the governments watch us everywhere
Technologies allow private companies to take amazingly detailed 3D photos of entire cities and the people in them
You can avoid cities and all channels of communication with people, but even this doesn't guarantee that your private information will never appear online.
Your best bet is to be extra cautious about what you share, with whom you share it, and where you share it.
How should you act after deleting your information?
If you still need to use gadgets and the internet after minimizing your digital footprint, at least disguise yourself.
Use a VPN service to alter your IP address and encrypt your browsing data
Make sure your location is difficult to track and never use GPS devices unless it's absolutely necessary
Revert to cash payments so that your transactions aren't tracked
Keep your personal information safe
Nowadays, nearly all of your personal information is online—thanks to social media, online shopping, messaging apps, GPS, and more.
If you want to keep your information from ending up online and in the wrong hands, you'll have to be tedious about that. Take every step necessary to stay safe.