Updated: October 01, 2020 | 15 min read
What is the best Mac for Students in 2020?
College presents an opportunity to start a new life — new friends, new places, new you, but also new challenges. One of them is handling your academic life while remaining social and having fun. A laptop is your main assistant in this matter. How do you choose one when there are so many options, and most of them are ridiculously expensive?
Before we start

Whichever Mac you choose for studying, remember to keep it clean and optimized to make sure it'll serve you for many years to come.

Get MacKeeper, and it'll take care of all your Mac needs. In just a few clicks, you'll be able to clean junk, duplicates, and app leftovers from your Mac and optimize its performance with built-in, highly sophisticated tools.
We've prepared a student's guide to help you choose the best Mac for college. Learn about the main features you should pay attention to, consider the top 3 Macs we recommend, and find out how to use the student discount for Apple desktop or MacBook.
We analyzed the most important factors for a student computer and provided a detailed overview to help you choose the best Apple computer for college.
Here are our findings in short:
Choosing the best Mac for education
Macs — especially Apple laptops — are hugely popular among students. They are portable and fast, have a lower risk of malware attacks, and have a longer battery life compared to other popular laptops.
A Mac you buy for education will provide you with support throughout the entire course and will likely be a computer you'll want to (and be able to) carry on using long after you graduate.
Choosing the best Mac for college depends on the kind of student you are, the type of assignments you get, and your general expectations from a computer.
What you study matters: laptops for different majors
As we previously mentioned, the choice of the best Mac for school depends on your major. The process of studying includes both theory and practice, and it's important to be able to work on all the specific tasks you're required to complete during the course.
If you are studying a technically demanding major such as photography, coding, music production, or filming, we recommend you look for the best Mac for your profession — not just a laptop for a student. You will need this device beyond your graduation as a tool to complete assignments at work.
Earlier we wrote about the best Mac for photo and video editing, graphic design, app development, and music production. Check out these articles if your major involves any of these topics.
On the other hand, students that aren't embarking on a creative specialization don't need their computer to have that much power. Instead, you should look for a light and small device that you can easily carry around and show presentations whenever you need it.
You will get away with a relatively small processor, such as a 1.6GHz dual- or quad-core Intel i3 or i5. No need to invest in a powerful graphics card — an integrated Intel Iris Plus or even older will do.
Do make sure that whatever Mac you get, it has a high-resolution display with True Tone technology. You're likely to spend many hours sitting at the desk and staring at the screen, and that quality image will help you avoid eye damage.
You don't need that much RAM, but you might want to look into getting bigger storage for all that school-related paperwork, essays, and powerpoints. If you don't want to pay for additional gigabytes on the MacBook, consider buying an external disk or, to save even more money, extra cloud space.
MacBook Air for studying
Apple released the new 13.3-inch MacBook Air in 2020 — it is the cheapest Mac in the current line with the longest battery life. To make things even better, the update gave Air a more powerful, 1.1GHz quad-core 10th Gen Core i5 processor that can be improved to 1.2GHz quad-core 10th Gen Core i7 — the strongest MacBook Air processor yet.
The base model costs only $999 and has all the specs that a student might want and more. The 13.3-inch LED-backlit IPS display with True Tone technology has a resolution 2560x1600 at 227 PPI and supports millions of colors. The internal SSD has 256GB configurable to 2TB with 8GB of onboard RAM. Finally, the laptop has Intel Iris Plus graphics with support for an external GPU.
With the new MacBook Air, you can have up to 12 hours of use without connecting it to a charger. Moreover, the small computer only weighs 1.29 kg (2.8 lbs), making it exceptionally portable and compact. If you feel like the 13-inch screen is not enough for you, you can connect up to two external displays.
If you ever need to charge your phone with the laptop, connect an external drive, printer, or mouse, Air has two external Thunderbolt 3 ports. And, the final touch for environmentally-conscious people — it's made out of 100% recycled aluminum and at least 35% recycled plastic.
Below we review some specific Apple models that will fit any budget.
13-inch MacBook Air (2020) Specs
CPU
Basic: 1.1GHz dual-core Intel Core i3. Configurable to: 1.2GHz quad-core Intel Core i7
GPU
Intel Iris Plus with support for eGPU
RAM
Basic: 8GB
Configurable to: 16GB
Storage
Basic: 256GB
Configurable to: 2TB
Display
13.3-inch IPS display with 2560x1600 resolution
Battery life
Up to 12 hours
Ports
Two Thunderbolt 3
Weight
2.8 lbs (1.29 kg)
MacBook Pro for studying
MacBook Pro is a bigger, more powerful, and advanced model than the Air. It will suit even some of the more technologically intense majors such as photography and film-making due to its impressive components.
There are two versions of MacBook Pro. The 13-inch option was updated in 2020 and is a cheaper and smaller alternative. The base model has a 1.4GHz quad-core Core i5 processor configurable to a 1.7GHz quad-core Core i7 with Turbo Boost to 4.5GHz. It has an integrated Iris Plus GPU, up to 32GB RAM, and from 256GB to 4TB internal SSD storage.
The display characteristics are pretty standard: 13-inch Retina IPS display with P3, True Tone, and 2560x1600 resolution. The computer weighs 1.4kg (3.1lbs), has Touch Bar, Touch ID, and up to 4 Thunderbolt 3 ports. Its, battery can last up to 10 hours.
13-inch MacBook Pro (2020) Specs
CPU
Basic: 1.4GHz quad-core 8th-generation Intel Core i5 with Turbo Boost up to 3.9GHz
Configurable to: 2.0GHz quad-core 10th-generation Intel Core i5 with Turbo Boost up to 3.8GHz
RAM
Basic: 8GB
Configurable to: 32GB
Storage
Basic: 256GB
Configurable to: 4TB
Display
13.3-inch Retina IPS
Battery life
Up to 10 hours
Ports
Two Thunderbolt 3
Weight
3.1 lbs (1.4 kg)
The 16-inch model has more of those professional specifications. The base model has a 2.6GHz 6-core Core i7 CPU configurable to a 2.4GHz 8-core Core i9 with Turbo Boost to 5.0GHz. Graphics can go up to an incredible AMD Radeon Pro 5600M with 8GB of HBM2 memory. 16GB to 64GB of RAM and up to 8TB of SSD storage will suffice for even the most demanding individuals. The 16-inch Retina IPS display has a 3072x1920 resolution with True Tone and P3 technologies, same as the 13-inch model.
To some the slightly heavier weight might come to a disadvantage — the computer is 2 kg (4.3 lbs). It also has a Touch Bar and Touch ID and is equipped with four Thunderbolt 3 ports by default. It lasts up to 11 hours without the need to charge.
16-inch MacBook Pro (2019) Specs
CPU
Basic: 2.6GHz 6‑core Intel Core i7
Configurable to: 2.4GHz 8‑core Intel Core i9
GPU
Basic: AMD Radeon Pro 5300M with 4GB of GDDR6 memory. Configurable to: AMD Radeon Pro 5500M with 8GB of GDDR6 memory
RAM
Basic: 16GB
Configurable to: 64GB
Storage
Basic: 512GB
Configurable to: 8TB
Display
16-inch IPS display with 3072x1920 resolution
Battery life
Up to 11 hours
Ports
Four Thunderbolt 3
Weight
4.3 lbs (2 kg)
Note: If you need a laptop simply for researching on the web and drafting written assignments, the MacBook Pro will be a waste of money.
Mac mini for studying
Mac mini is another budget device by Apple that is great for homeschoolers and students on distant learning programs. This small and light desktop computer packs a lot of potential in it and is a great alternative for those who want that special Apple experience for little money — the prices start from $68.58/month, or $799 for a one-time payment.
The base model has a 3.6GHz quad-core Core i3 CPU that is configurable to a 3.2GHz 6-core Core i7 with Turbo Boost up to 4.6GHz. It has an integrated Intel UHD Graphics 630 card. 8GB of RAM can be expanded to as much as 64GB, while SSD storage goes from 256GB to 2TB.
The only downside is that Mac mini doesn't come with a display — it's a small square block 19.7 cm (7.7 in) on 3.6 cm (1.4 in) that weighs only 1.3 kg (2.9 lbs). However, you can connect it to up to three displays — just grab one of the spare ones that you have at home or purchase an inexpensive monitor by another brand. It has an HDMI, four Thunderbolt 3s, two USB-3s, an Ethernet port and a headphone jack.
Mac mini (2018) Specs
CPU
Basic: 3.6GHz quad-core Intel Core i3. Configurable to: 3.2GHz 6-core Intel Core i7
GPU
Intel UHD Graphics 630
Display
To be purchased separately. Recommended at least 12-inch diagonal
RAM
Basic: 8GB
Configurable to: 64GB
SSD
Basic: 256GB
Configurable to: 2TB
Ports
Four Thunderbolt 3
Two USB 3
Gigabit Ethernet
HDMI 2.0
Apple Education Pricing
You can save on a new Mac for your studies with Apple Education Pricing. Learn about the discount you can get along with free AirPods as a current or newly accepted college student. Moreover, you can save 20 percent on AppleCare+ and get 1 free year of Apple TV+ or 6 free months of Apple Music.
Education Pricing is available on eligible Mac models for college students and their parents, as well as faculty, staff, and homeschool teachers. Please note that you will be asked to provide acceptable documentation as proof to get the discount.
Apple has also made it easier and more affordable to make volume purchases for schools and universities. Learn about Mac discounts for your educational institutions on the official website.
How to prepare your Mac for studying?
No matter what you major in, studying requires hard work and concentration. And you don't want to get distracted from getting ready for a seminar, right? Just let MacKeeper take care of your Mac's routine work!
Instead of looking for duplicates scattered all over your folders, you can use MacKeeper to scan and detect copies that are taking up your free space for no reason. Besides, you can run the Safe Cleanup tool whenever you browse to remove caches and some other junk files.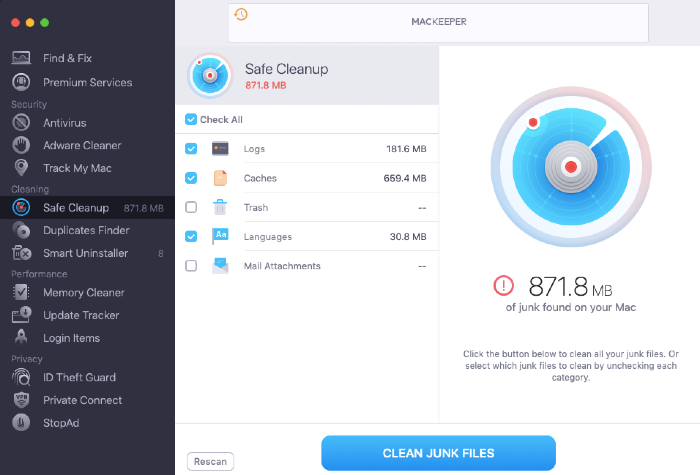 When doing online research we all get annoyed by ads trying to get our attention. To fully focus on your studies install StopAd — MacKeeper's ad-blocking extension. It will block ads and prevent trackers from spying on your browsing habits. And what's more, MacKeeper built-in antivirus fights malware and adware to keep your Mac secure while you study.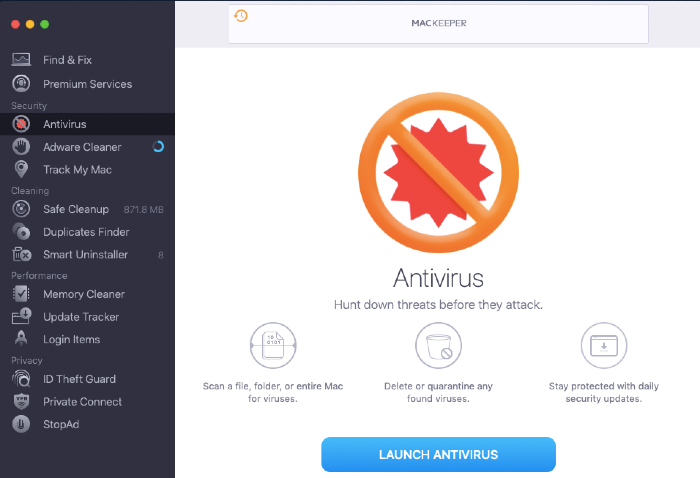 Conclusion
We listed the best options according to the overall combination of price, performance, and portability that you need as a student. Choose the best Mac according to your preferences and lifestyle, and don't forget about the special student discount!
For students that are looking for a bargain on more powerful models or simply want to save as much as they can on the cheap options, refurbished and second-hand Apple laptops are the way to go. You can get a vintage MacBook from a third-party vendor if you don't mind old-school technology, or browse the Apple website for offers on approved devices.
FAQ
Is it better to have a Mac or a PC for college?
Unless you code on macOS, it's always down to your personal preference whether to choose a Mac or a Windows computer. Whatever you're more comfortable using will go the longest way.
You should note that Macs get fewer viruses and malware than Windows and can run any operating system. However, Windows devices have more apps available for them, including video games that don't go on macOS.
What percentage of college students use Macs?
According to a survey by the Apple device management company, 71% of students across five countries use or would prefer to use a Mac. This is a huge statistic demonstrating just how popular they are among youth — both due to their exterior design and the advantages of macOS.
Why do most college students use Macs?
Apple devices are popular for their sleek design, superb image quality, and easy-to-use operating system. It's a well-known fact that macOS is far less prone to malware infections and viruses than any other operating system.
College students, especially those that went for a creative specialization, value Macs for their powerful components packed in a light and small stylish-looking body. Creators are programmers all over the world praise macOS for cross-platform compatibility, easy integration, and the best displays that there are. Finally, the lightweight of MacBooks attracts many people to this day.
Read more: