It's no longer a secret that Google collects your data and sells it out to make personalized adverts. Although it may seem like a completely harmless activity, it puts your sensitive information at risk whenever there is a data breach. Internet security enthusiasts are familiar with Mozilla Firefox browser: if you don't like Google snooping around your life, Firefox is what you should use.
However, no service is perfect — just like Chrome and Safari, Firefox can occasionally lag and crash, causing a great deal of annoyance. If you experience these problems regularly, it's time for a checkup. Let's look into some specific solutions for Mozilla Firefox issues.
What to do if Firefox is slow on Mac
Is your internet connection fine, but the browser is taking ages to load a single page? This rather common problem can occur due to heavy extensions, plugins like Shockwave Flash, and overloaded cache. The easiest way to approach it is by using the Refresh Firefox button.
This feature accesses the data stored in the Firefox profile folder on your computer and wipes certain information, such as add-ons, website permissions, security certificates, and custom user styles. Passwords, cookies, dictionaries, and other important details like that are left intact. This action breathes a new life into the browser, often resolving issues with speed and sluggishness.
To use Refresh Firefox:
Click this Refresh Firefox link to activate the process. This will only work if you're doing this in the Firefox browser
Click Refresh Firefox in the pop-up confirmation window
Firefox will close — do not open a new window, simply wait for the browser to reopen. After a while, you'll see a pop-up window listing the information imported during the refreshment process — click Finish. Then a new Firefox window will appear
Set up Firefox to clear cache and cookies automatically whenever you use the browser. This will free up disk space and speed up the browser, as well as making your internet surfing experience more private. To do this, go to the menu in the top right corner of the window, then click Preferences → Security and Privacy. Scroll down to the Cookies and Site Data heading and tick the box next to Delete cookies and site data when Firefox is closed.
Finally, make sure that you update Firefox regularly. If the browser is out of date, it can become slow and unresponsive. Go to the Firefox menu in the top left corner of the screen and click on About Firefox — if an update is available, you'll see a prompt.
Steps to take when Firefox keeps freezing
If your browser keeps freezing at random, your places database may be corrupted. You can create a new one at the cost of your browsing history and bookmarks of the day. Here's what to do:
1. In the top menu bar, click on Help and select Troubleshooting Information from the drop-down menu
2. In the first Application Basics table search for the Profile Folder heading. Click on the Show in Finder next to it. Alternatively, find this folder in the hidden Library folder: Application Support → Firefox → Profiles.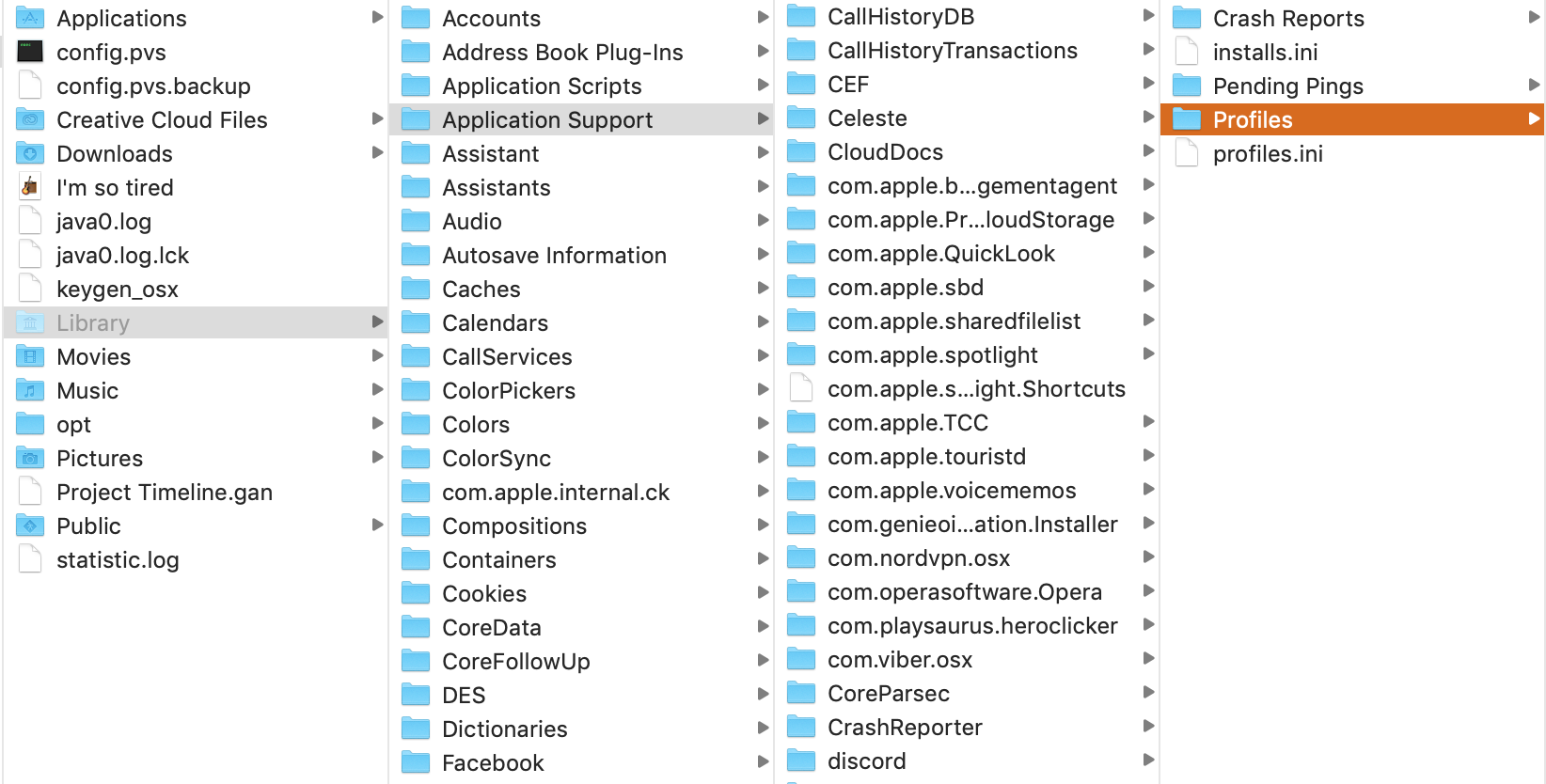 3. Quit Firefox
4. In the profile folder, rename the file places.sqlite to places.sqlite.old. Next, rename places.sqlite-journal to places.sqlite-journal.old
5. Reopen Firefox
If you can open the browser, you should also turn off Hardware Acceleration. This is available in Preferences → General under the Performance heading. Uncheck the box next to Use recommended performance settings to reveal additional options — one of them will regard hardware acceleration. Uncheck it, then restart Firefox.
If Firefox freezes when you try to download a file, try clearing your download history. To do that, click on the Library button and select Downloads from the drop-down menu. Following this, click Show All Downloads to open a new window. At the top of it, locate and click on the Clear Downloads button.
Firefox keeps crashing on Mac: how to solve the problem?
You know that your browser has crashed when you receive a "Firefox quit unexpectedly" warning. If that happens, the first thing to do is to check if there is an update pending — go to the Firefox menu in the top left corner of the screen and click on About Firefox to view the updates page.
If the browser is still faulty after an update, try booting your Mac in Safe Mode. Restart the computer and hold down the Shift key as soon as it starts booting. Let go after about 20 seconds — you should see a regular login screen with a "Safe Boot" indicator in the top right corner. Check if Mozilla is working and restart the system again. Alternatively, keep the MacBook running and only put the browser in Safe Mode by simply holding down the Option key while launching it.
Consider deleting your plugins and extensions. The Flash plugin in particular is known to be the cause of numerous problems. This outdated software is still used by several websites but otherwise has become pretty much obsolete. If you don't regularly visit websites that exploit flash, go to your System Preferences and move the Flash Player icon to the trash.
Firefox Won't Open: Here's What to do
Do you keep getting a pop-up message every time you try to launch the browser? Or are you struggling to open certain web pages? Whatever it is, when you have a problem with starting Firefox you need to reinstall it. Here's what to do:
Close the browser
Go to Finder → Applications and locate the Firefox folder. Drag it to the trash
In the top menu bar, click on Go → Go to Folder
Type in ~/Library and hit Enter
Delete the Firefox folder from Caches and Application Support
Download and install Mozilla Firefox from the official website
Alternatively, you may experience a problem with your Firefox profiles. If your profile happens to be locked, every time you try to start the browser you will receive a message saying "A copy of Firefox is already open". You might have tried to restart your Mac already, and if it doesn't work you need to delete the lock profile:
Open Finder
In the top menu bar, click on Go → Go to Folder
Type in ~/Library
Go to the Application Support folder and find the Firefox folder inside it
Go to the Profiles folder
Delete the .parentlock file
How to avoid Mozilla Firefox not responding on Mac
There are several types of errors that you can get when your Mozilla Firefox browser is not responding. One of the most basic ones is the pop-up notification that says "Warning: Unresponsive Script". In this case, the script goes out of control and disrupts the functioning of your browser. It could come from a web-page, an extension, or the browser itself. What do you do about it?
If simply pressing Continue doesn't change anything and you keep getting the warning, you have several options. The first one is to meddle with advanced configurations. If you go to the address bar and type in about:config, you'll be taken to a warning page. You have to act carefully to make sure you don't damage the browser's security settings. After that, do the following:
In the search bar, type in dom.max_script_run_time and press Enter
Locate the required preference
Click on the Edit button
Type in 20
Save the changes. This will allow your scripts to take their time and prevent you from getting the prompt again

What to do if Firefox is not working on Mac properly
If the browser is not frozen, not crashing, and responding, but is simply working in an extremely odd manner, you might be lost for solutions. It's not a very googlable question, after all. However, there are a few things you could try if your Firefox is lagging and not working properly.
First of all, try to force restart the browser — point at the Firefox icon in Dock and hold down the Option key, then right-click on it. Select Force Quit from the drop-down menu and wait for it to shut down. After that, try running the browser again. Alternatively, use the Refresh Firefox button that we described in an earlier section of this article.
If none of these work, test these fixes:
Disable Hardware Acceleration. Go to the menu in the top right corner of the window and open Preferences. Go to General and scroll down to Performance. Untick the box next to Use recommended performance settings to reveal additional options. Then untick the box next to Use hardware acceleration
Disable Add-Ons. In the address bar, type in about:addons and hit Enter. From the sidebar on the left, select Extensions. Disable the extensions related to tool-bar and anti-virus features. Restart Firefox. If that doesn't help, disable the rest of the addons
Switch to the default theme. Open the menu (the top right button) and click on Addons, then select Themes from the sidebar on the left. Under the Disabled heading, find the Default theme and click on the Enable button on the right. Restart Firefox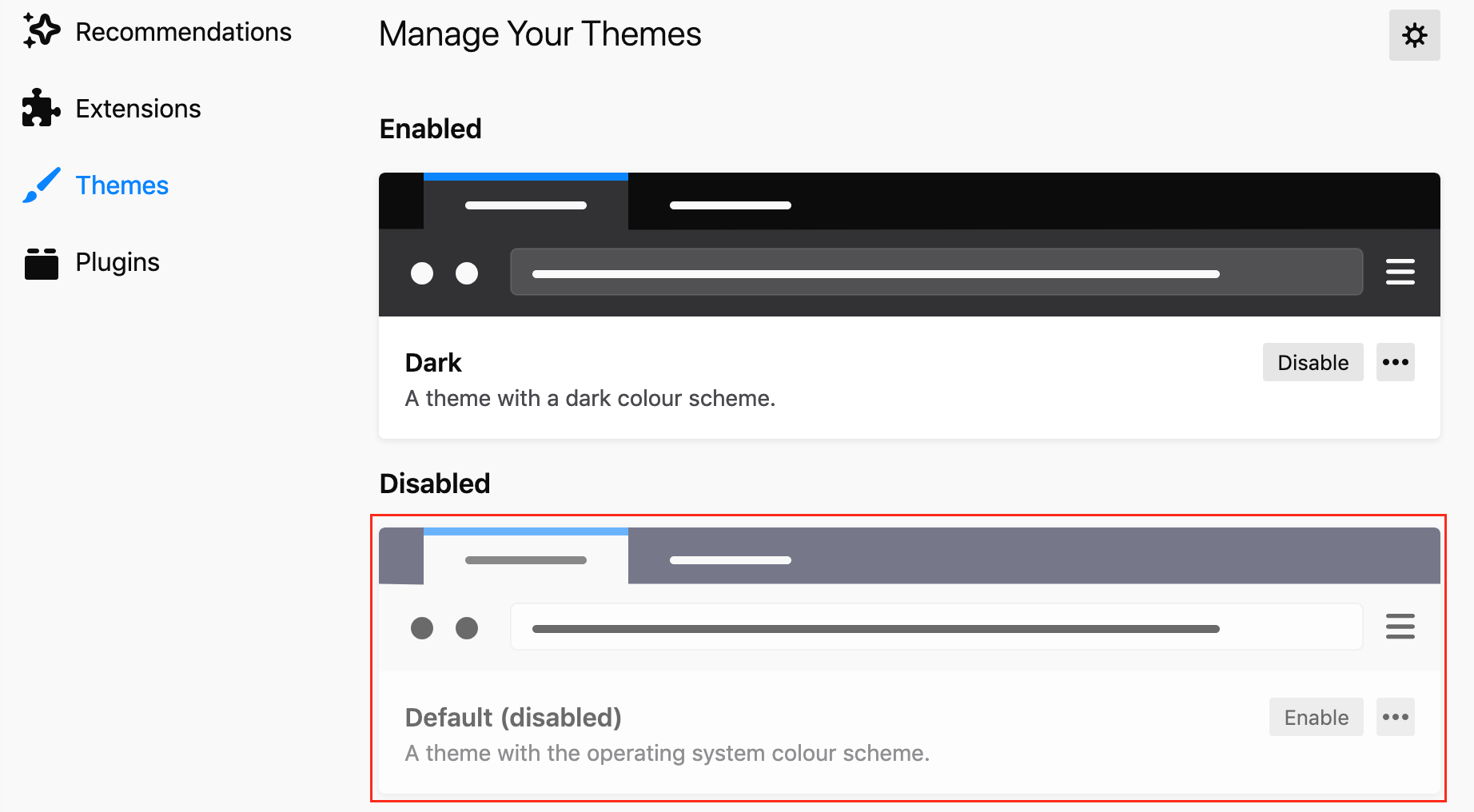 Read more: