A beta version of the newest macOS is here to the excitement of Apple fans. Indeed, macOS Catalina 10.15 has got a lot of cool features. They include the transformation of iTunes into three apps, the integration of iPad apps with Mac, and the ability to extend a Mac's display to an iPad.
However, some users who have already tested the new macOS face a number of bugs and issues. Either macOS Catalina won't install, or their Macs run slow, or some apps aren't working — all of these situations are frustrating. Of course, while the software is in its beta version, it's no surprise that such things happen. The good news is that most of these issues can be resolved, and we're here to help you.
MacKeeper's tech experts collected the most common problems with macOS Catalina Public Beta. Our team of personal tech experts has a lot of experience with Apple products and knows the answers to the trickiest Mac-related questions. They eagerly share their tips and tricks to overcome macOS Catalina bugs.
First, we'll consider common fixes that help with multiple problems; next, we'll go through the most frequent issues in the newest macOS.
General ways to overcome macOS Catalina Public Beta bugs
As with many computer issues, a simple "refreshing" of the system or getting a newer installation file may be a way to solve the problem. Here are the three hints that may help you with various macOS Catalina bugs.
1. Restart your Mac
A simple reboot of your computer may resolve various problems. Errors are often caused by piles of leftover files and background processes. Rebooting a Mac eliminates all this unnecessary clutter. It may help with such issues as Catalina failing to install or specific apps not working properly.
Restart your Mac in one of the following ways:
If the system is responsive, go to the Apple menu in the upper-left corner of your screen, select Restart, and confirm it in a dialogue box
If your Mac frozen, press the Power button and hold it until the computer shuts down. Then, restart it with the same button
2. Reset the System Management Controller (SMC)
System Management Controller (SMC) is responsible for hardware-related functions of your Mac. It regulates the temperature of the device, analyzes battery use, responds to opening and closing of the lid, and so on. Thus, if you notice that your Mac is overheating, its battery doesn't charge properly, or USB-connected devices aren't working, it's worth resetting the SMC.
Apple provides detailed guidelines on resetting the SMC on different Mac models.
3. Update your macOS Catalina Public Beta version
Apple developers constantly collect feedback on macOS Catalina Public Beta and release updates to fix the bugs. Chances are the problem that you're facing was resolved in their latest release. Here's what to do:
Check out the

list of all beta versions

of macOS Catalina

Go to the Apple menu in the upper-left corner of your screen, select About This Mac and see the version that you've got

Download a newer version or wait for the upcoming release
Issue 1. Can't install macOS Catalina Public Beta
Most likely, you don't have enough free space on your Mac. You can make room for the new macOS by removing junk files.
MacOS Catalina will take up to 20 GB of space on your Mac. How can you free it up? You will be surprised to learn how much of the storage is taken by leftover files, duplicates, and other junk. Now you have a good reason to delete them all.
You can easily empty some space on your computer with MacKeeper. Use its Safe Cleanup tool to get rid of useless files. With Duplicates Finder, you can delete identical copies of documents. Finally, Smart Uninstaller will help you remove the apps you don't use. You will be in control of the whole process, so no important files will be deleted.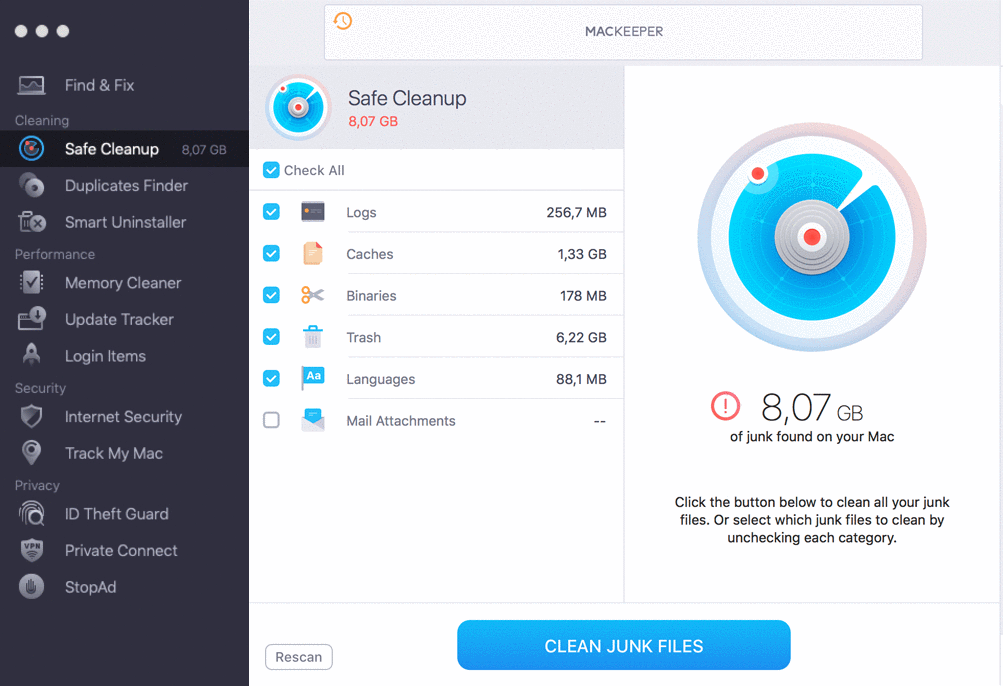 Issue 2. macOS Catalina Public Beta running slow
To help speed up your new macOS, disable processes that take up your Mac's RAM.
You expected that with the new macOS your computer will be lightning-fast. Instead, it lags! Before getting upset, try stopping all the processes that take up your Mac's random access memory (RAM) and cause it.
Apps and services that automatically launch on startup are among the factors that slow down the system. With Mackeeper's Login Items you'll be able to select which apps to launch at startup. Be sure to choose only those you need every day.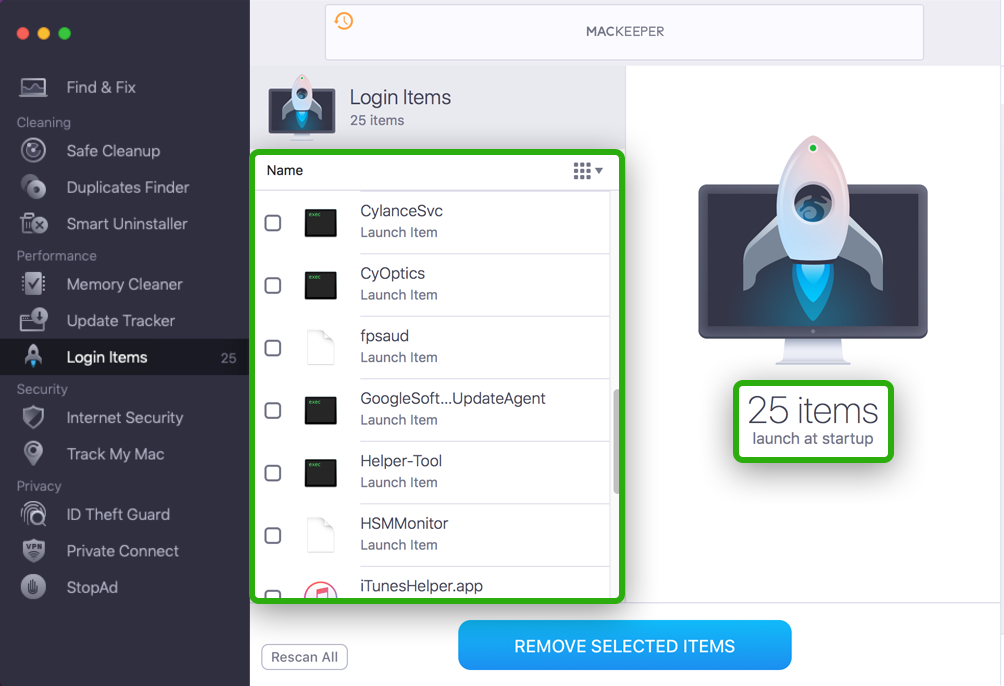 To further offload RAM, we recommend that you get professional assistance. An expert can help you reveal and stop unneeded system processes and hidden services.
Issue 3. Apps not working in macOS 10.15
macOS Catalina supports only 64-bit apps. If you have troubles with an app, chances are it's a 32-bit one, and you need to update it.
One of the features of the newest macOS is that only 64-bit apps are compatible with it. What does it even mean? The apps you use are based on either 32-bit or 64-bit technology, with the latter being more advanced and letting your Mac get faster.
Therefore, if a game or a working tool you've got is a 32-bit one, it won't run on macOS Catalina. Moreover, there could have been other incompatibilities that prevent the app from working correctly. The developers of the app are most likely getting ready for the new macOS and releasing updates, so you need to check whether you have the latest version of the app.
However, your app may be really old with no one taking care of it anymore. That's sad, for sure. In this case you'll probably need to uninstall it and look for alternatives. Another solution is that you can install macOS Catalina on a partition — a dedicated part of your hard drive — while having macOS Mojave on the other partition. That will allow you to switch to the older macOS and the app you need at any time. Learn how to install macOS Catalina on a partition.
Whatever the case, with MacKeeper you can sort out your apps easily. Its Update Tracker tool lets you get the latest versions of all your apps in one click. And if you decided to remove a certain app, there's a Smart Uninstaller tool to do it easily.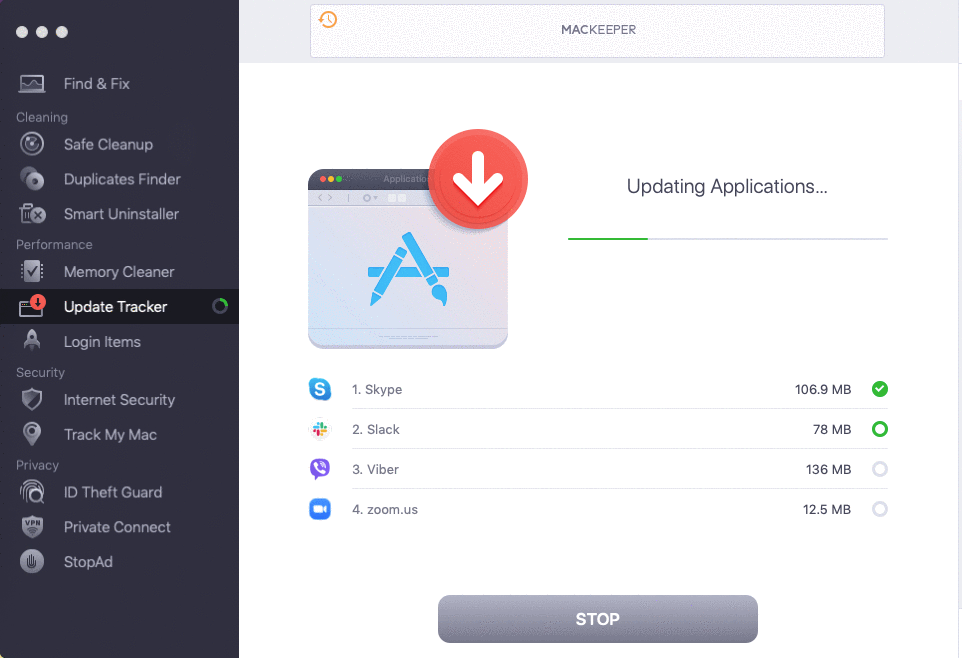 Issue 4. macOS Catalina Launchpad bug
Your App icons may not appear in Launchpad if they are saved in a folder other than Applications. Try moving your app.
Launchpad was created to help you organize and navigate your apps. You can access it through a rocket icon in the Dock. However, users of both macOS Mojave and macOS Catalina have reported an annoying Launchpad issue — some of the apps are missing.
Here's why it happens. Launchpad searches the Applications folder for newly added apps. However, you could have downloaded an app to a different folder. This is often the case when you get apps from websites and not the App Store. If that has happened, the solution is simple. Just locate your app using a search box in Finder and move it to the Applications folder.
Alternatively, you can drag the app's icon from Finder directly to Launchpad's icon on the Dock.
Issue 5. Sidecar problems
If you can't extend your Mac's display with an iPad, make sure your tablet is upgraded to iPadOS and your Mac supports Sidecar.
Many Apple fans are excited by Sidecar — a feature that allows a Mac's display extension with an iPad.
However, this innovation is tricky as it requires both devices — a Mac and iPad — to have the latest OS installed. For your tablet, you'll need iPadOS. Make sure you've got it.
Moreover, only certain devices support Sidecar. See whether your devices are in the lists below.
iPad models compatible with Sidecar:
12.9-inch iPad Pro

11-inch iPad Pro

10.5-inch iPad Pro

9.7-inch iPad Pro

iPad (6th generation)

iPad (5th generation)

iPad mini (5th generation)

iPad mini 4

iPad Air (3rd generation)

iPad Air 2
Mac models compatible with Sidecar:
27-inch iMac (late 2015 or newer)

iMac Pro (2017)

MacBook Pro (mid-2016 or newer)

MacBook Air (late 2018)

MacBook (early 2016 or newer)

Mac mini (late 2018)

Mac Pro (2019)
Issue 6. iCloud not available
This error was widespread with the earliest releases of macOS Catalina Public Beta. Make sure you're using its most recent version.
Some of the early adopters of macOS Catalina faced problems with iCloud. This tool is extremely handy for sharing data between devices so being unable to use it is definitely a drag.
Those who couldn't log into iCloud or use it properly were mostly the users who got early beta releases of macOS Catalina 10.15. Make sure you've installed the latest available version of the operating system. If not, just do the following:
Go to the Apple menu in the upper-left corner of your screen
Select System Preferences
Click System Update and follow the instructions
If this didn't help, you probably need to wait for further fixes by Mac developers. Meanwhile, you can transfer your files through iCloud webpage.
Issue 7. Wi-Fi connection issues
Inability to connect may be caused by Little Snitch, a firewall app incompatible with macOS Catalina. Try updating or removing it.
Another problem that happens with macOS Catalina Public Beta is that some users can't access the internet as Wi-Fi isn't working. One possible reason is a firewall application called Little Snitch that you might have used earlier. It is not compatible with macOS Catalina unless the developers upgrade it. If you have Little Snitch installed, try updating or removing this app.
Alternatively, you can reboot your router and your Mac. As we discussed earlier, this simple action can resolve many issues.
If this didn't help either, the best thing to do is to contact a tech expert. Sometimes the reasons for bad connectivity may be unobvious — such as a wrong time zone or date in the system. A qualified specialist will investigate the issue and resolve it.
***
We hope our guide helped you overcome the issues you might have faced with macOS Catalina. We believe that fighting them was worth it and now you can be among the first Apple lovers to enjoy the new macOS to the fullest.
Looking forward to the new macOS 11? Here's our overview of macOS Big Sur.