Before we start

To make sure all the functions on your Mac work as they are supposed to, make sure you optimize its performance regularly.

MacKeeper will let you optimize your Mac in the fastest and most effective way possible. Just download and try for yourself!
We've all encountered the problem when a Mac won't shut down. Pressing the shutdown button doesn't always help. Or your MacBook simply won't restart because of glitches. These situations are pretty common.
This happens for various reasons. Most likely a frozen application is the culprit for your Mac won't shut down. However, an issue may arise at any one of the multiple stages of the shutdown process. Whatever the reason, this article will find a solution to your Mac not shutting down:
How to shut down a Mac
The basic process of shutting down a Mac is very simple. First, you need to go to the Apple menu and find the Shut Down option. You will then see a pop-up window asking for your confirmation.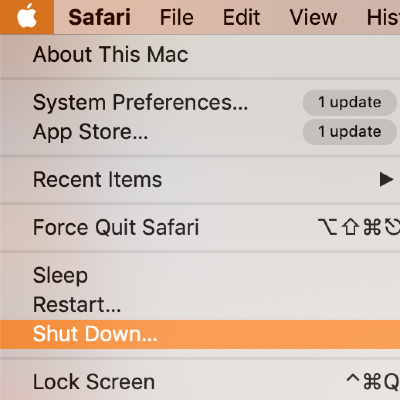 Alternatively, you can hold down the power button for a few seconds until a notification window appears asking you if you want to shut down or restart your Mac.
Finally, you can use Terminal to gain authority over some vital system features and give your Mac a direct command to turn off. Open the utility by following Applications → Utilities → Terminal and paste into command line the following script: sudo shutdown -h now or sudo halt. This will turn off your Mac immediately, but bear in mind that no documents or data will be saved. If you want to restart your Mac instead, paste sudo shutdown -r now.
The process of turning off a Mac will take some time as it's performed in a few stages:
Changes to documents are saved
Current session is saved. This way all the apps and windows can be safely restored in the new one
All applications are closed
Temporary files and caches are cleared
You can do a few things more if your iMac, MacBook Air or MacBook Pro won't shut down after this.
Give your Mac a little more time
Does it feel like the shutdown process is taking ages? Give it a little time. Certain processes may take a while to halt — maybe longer than you would expect. To make sure that the shutdown process is swift in the future, try keeping fewer applications and unsaved documents open at the same time.
Software can cause shutdown issues
A program may refuse to quit when you try to stop all ongoing processes, which can cause your Mac not to shut down. It often happens when a document is unsaved or an important process is open, or maybe the application is simply frozen. It's easy enough to get around this — in the dock, right-click on the app that you need to close and choose Quit.
If there is no response, force quitting it will help. Hold the Option key while clicking on the app's icon and select Force Quit from the drop-down menu. Alternatively, you can press Command (⌘) + Option + Escape to open the Force Quit menu. If the program keeps causing problems, you could try uninstalling it completely and then installing again.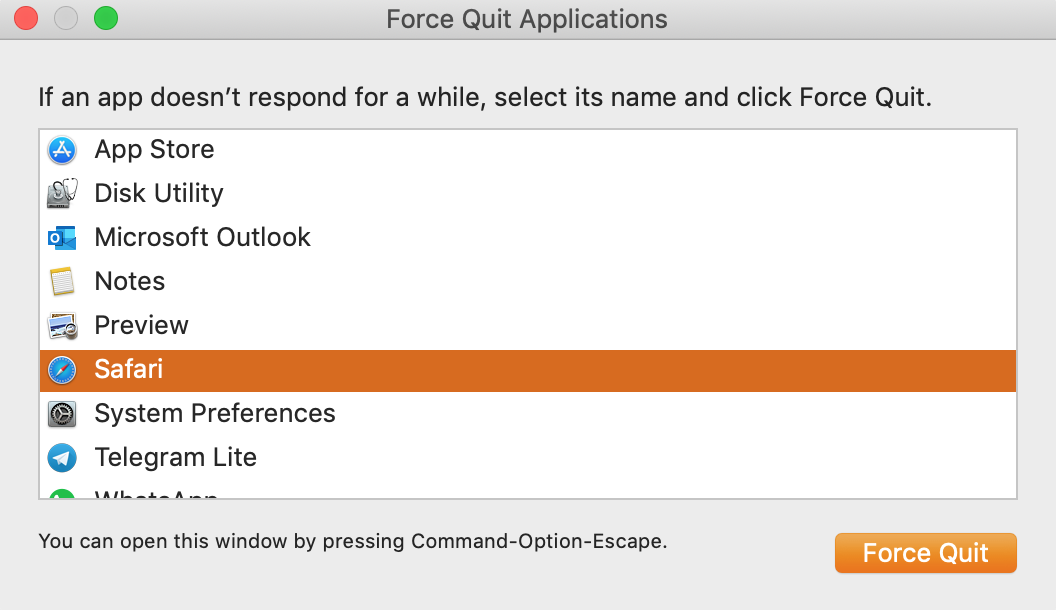 If you don't think that a glitching application is the reason for your Mac not shutting down, you should check for crashing background processes.
Open Spotlight by pressing Control + Space and search for Console. In the utility that opens, go to the Errors and Faults tab to look for recent crashes.
To shut down the process causing the issue, go to Activity Monitor (Applications → Utilities → Activity Monitor) and look for the process with an unusually high %CPU or that is highlighted in red. Select the crashed process and click on a cross in the top left corner of the window. Then try shutting down your Mac again.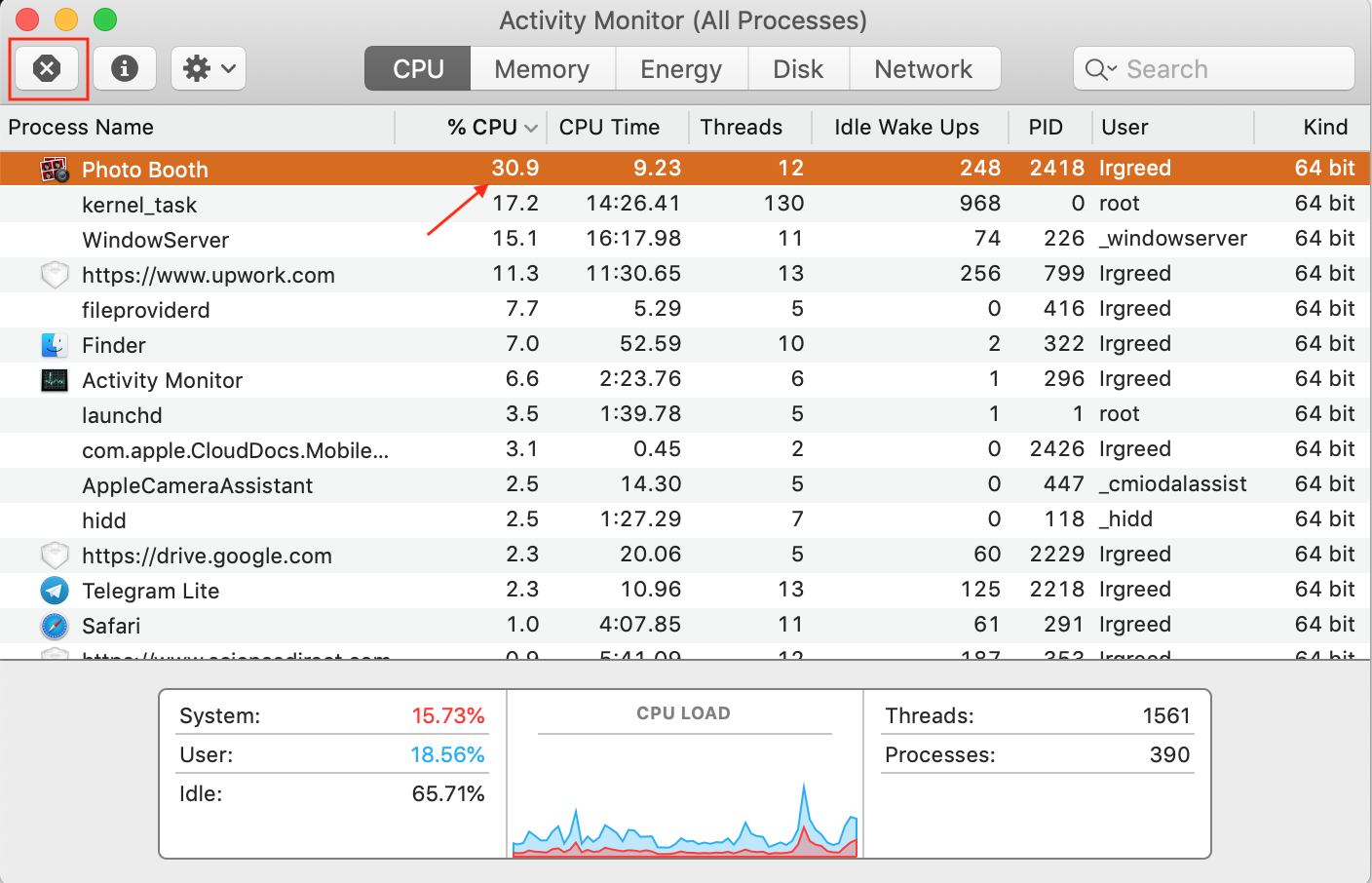 Unplug any peripherals
Sometimes peripherals can cause shutdown issues, especially if they come from third-party manufacturers. It is usually due to poor compatibility with Apple devices. Magic Mouse, trackpad, and keyboards produced by Apple don't tend to be a problem.
Unplug all of your external devices — if you can, eject them safely, otherwise you're risking your files and system getting corrupted. If you're having trouble doing that, try force-ejecting the device — you can do that through Terminal. Go to Applications → Utilities → Terminal and type in diskutil unmountDisk force /Volumes/DISK with the name of your external device instead of each "disk". Then attempt shutting down the Mac again.
When all else fails: force restart your Mac
A force restart is a radical way of turning off your computer that you can do if your Mac won't shut down with all the other measures in place. As we know, the shutdown process occurs in stages for a reason — such gradual implementation protects the core system files from corruption and prevents major data loss. The likelihood of your Mac actually breaking down after a force restart is not alarming, but as a result it can fail to start up.
Choose one of the following methods to force restart:
If you have a power button: hold Control + Command (⌘) + Power button until the Mac turns off
If you don't have a power button: Hold the Eject/Touch ID button + Control + Command (⌘) until the Mac turns off
Attempt startup after about 30 seconds
Preventing Shutdown Problems in the Future
Now that you have resolved the issue of your misbehaving computer, you should start thinking about what measures to put in place to avoid future collapses. There are a few things you can try, mostly software-related.
Update your macOS
Missed macOS updates can cause all sorts of issues — from kernel panics to Mac not shutting down. They also bear important security features which, if not put in place, may compromise your computer's protection.
To update the operating system, go to the Apple menu in the top left corner of the screen and select System Preferences. Choose System Update from the third pane and complete any outstanding updates by clicking the Update Now button. You can also opt for automatic updates by checking the box at the bottom of the window.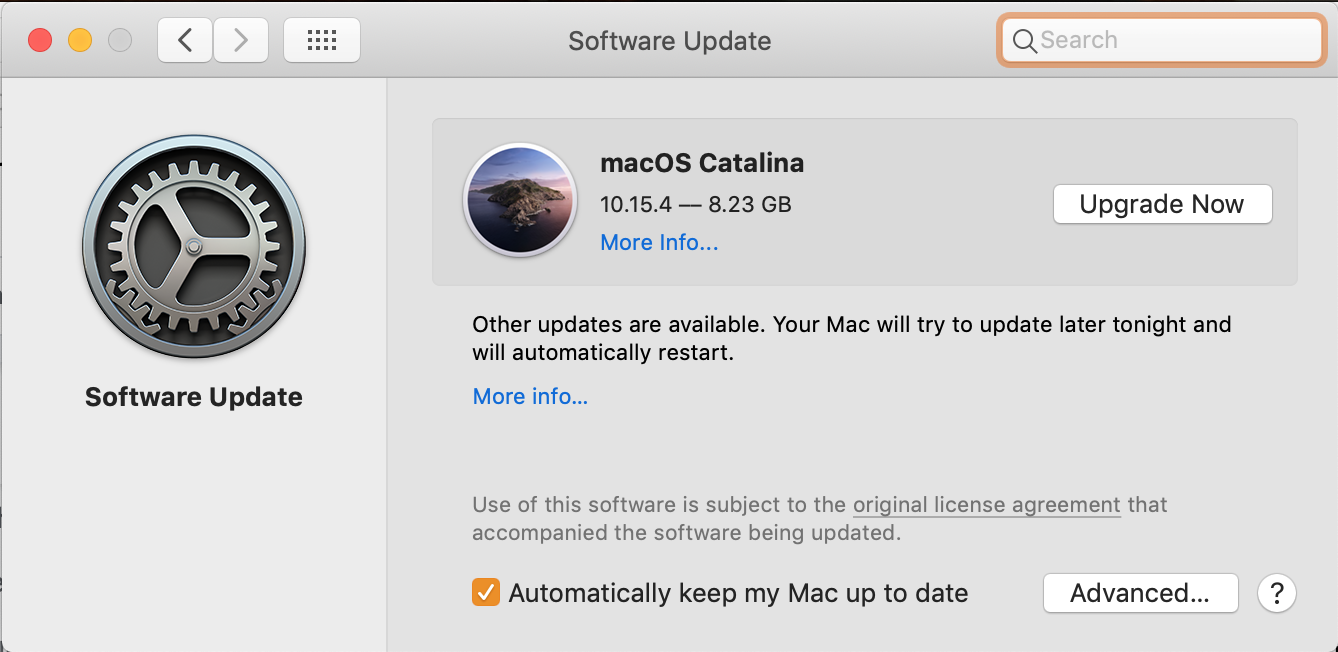 If you're in doubt about whether to upgrade to the most recent macOS, read our guide on macOS Catalina to support your decision-making. Alternatively, you can perform a clean macOS reinstall by factory resetting your Mac.
Update applications
If an application is out of date, it may start frequently crashing or become incompatible with your MacBook's software. Check if any updates are available for your applications in the App Store — open the main page and click on "Updates" in the left-side pane. Click on Update on all applicable programs.

If you have any problems with macOS Catalina, bear in mind that macOS Catalina utilizes the 64-bit system, which means that any app that runs on the 32-bit system will be incompatible with it and will not open. In this case, an update won't do anything. The reason you might have missed it is because the previous versions could operate both types of system.
To check if an app is 32-bit or 64-bit, open Activity Monitor (Applications → Utilities → Activity Monitor) and look at the Kind column in the CPU tab. If an app is 32-bit, go to its developers website and see if they offer a 64-bit version.
Repair Disk Permissions
Disk permissions define what a certain process is allowed to do on your Mac. They are usually set by default, but during the use of a program its permissions sometimes may change. If the permission changes are damaged, they can cause problems.
How to repair disk permissions:
1. Open Disk Utility. You can search for it in Spotlight (Control + Space) or go to Applications → Utilities → Disk Utility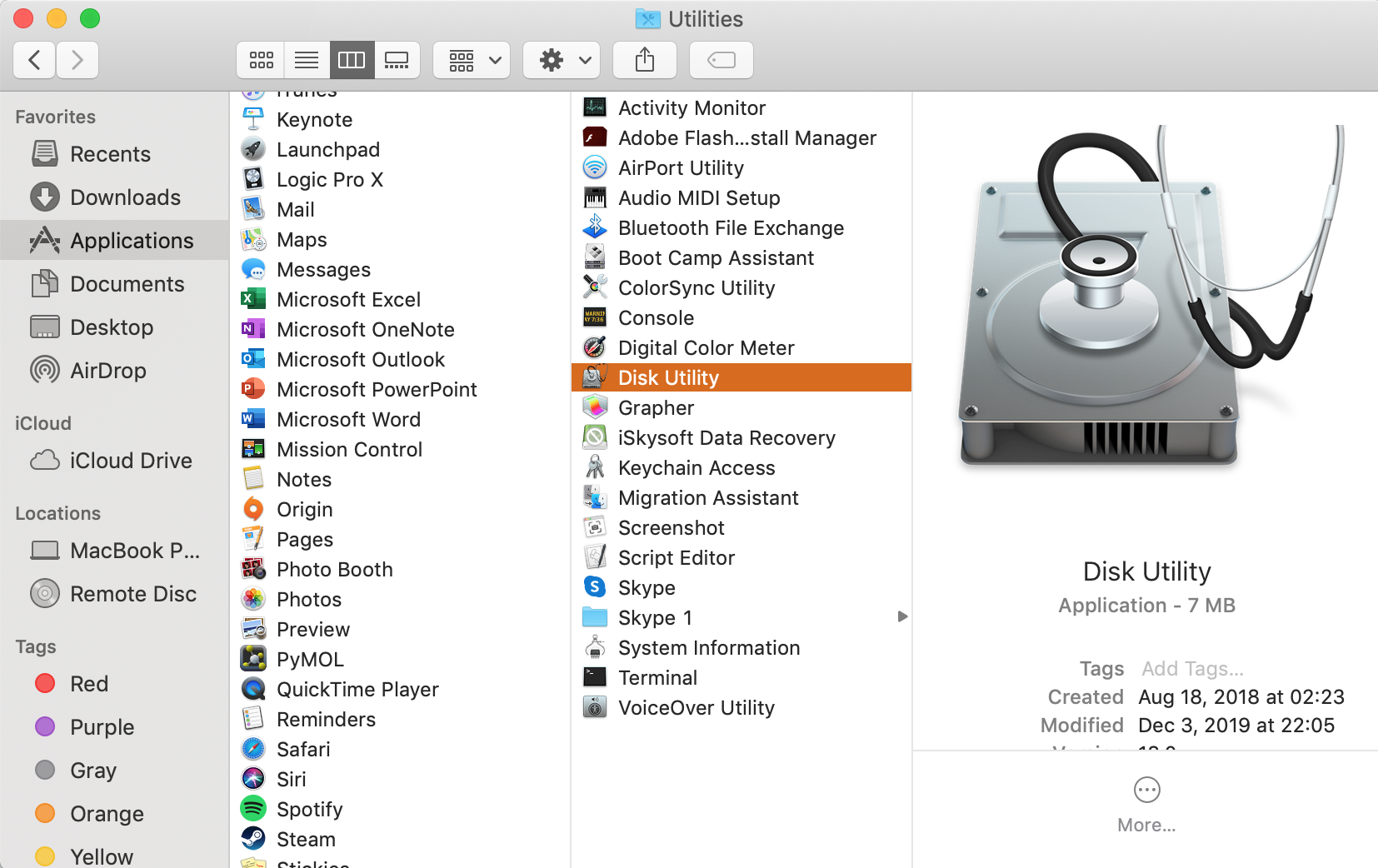 2. Select Macintosh HD in the sidebar on the left
3. Click on the First Aid button and then click Run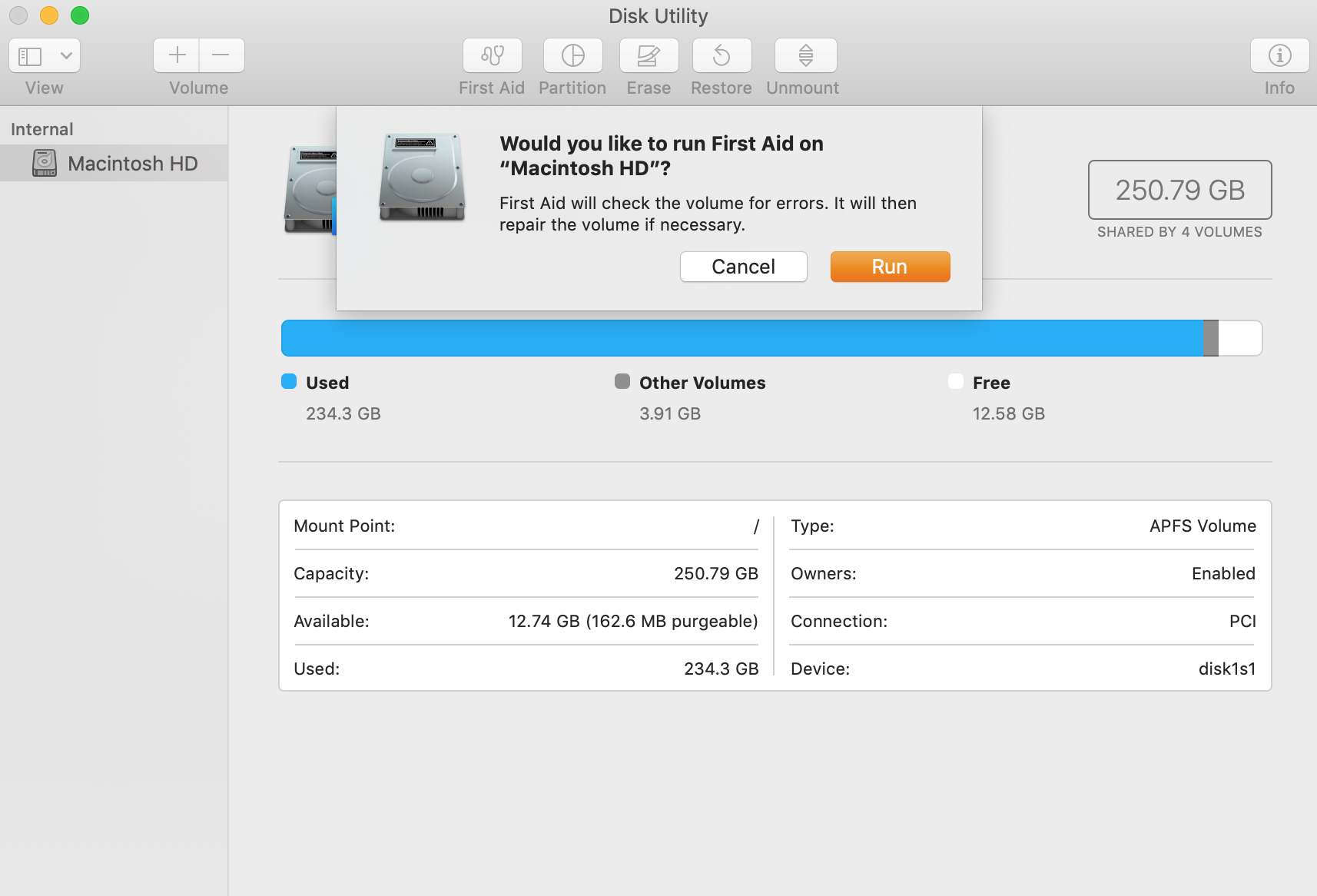 The First Aid examines your Mac's hard drive for problems in various areas and automatically repairs them. If any issues are left unresolved, you'll get a notification. Then rerun First Aid until no problems are detected.
Turn off FileVault
FileVault is an important safety feature built into your Mac which encrypts all of your data, protecting it from hackers and viruses. However, it consumes a lot of your system's power and can cause problems, including Mac not shutting down.
You can try turning it off temporarily to fix the issue. Go to Apple menu → System Preferences → Security and Privacy. Proceed to the FileVault tab and click on Turn Off. Attempt restarting your computer again — we recommend you turn encryption back on.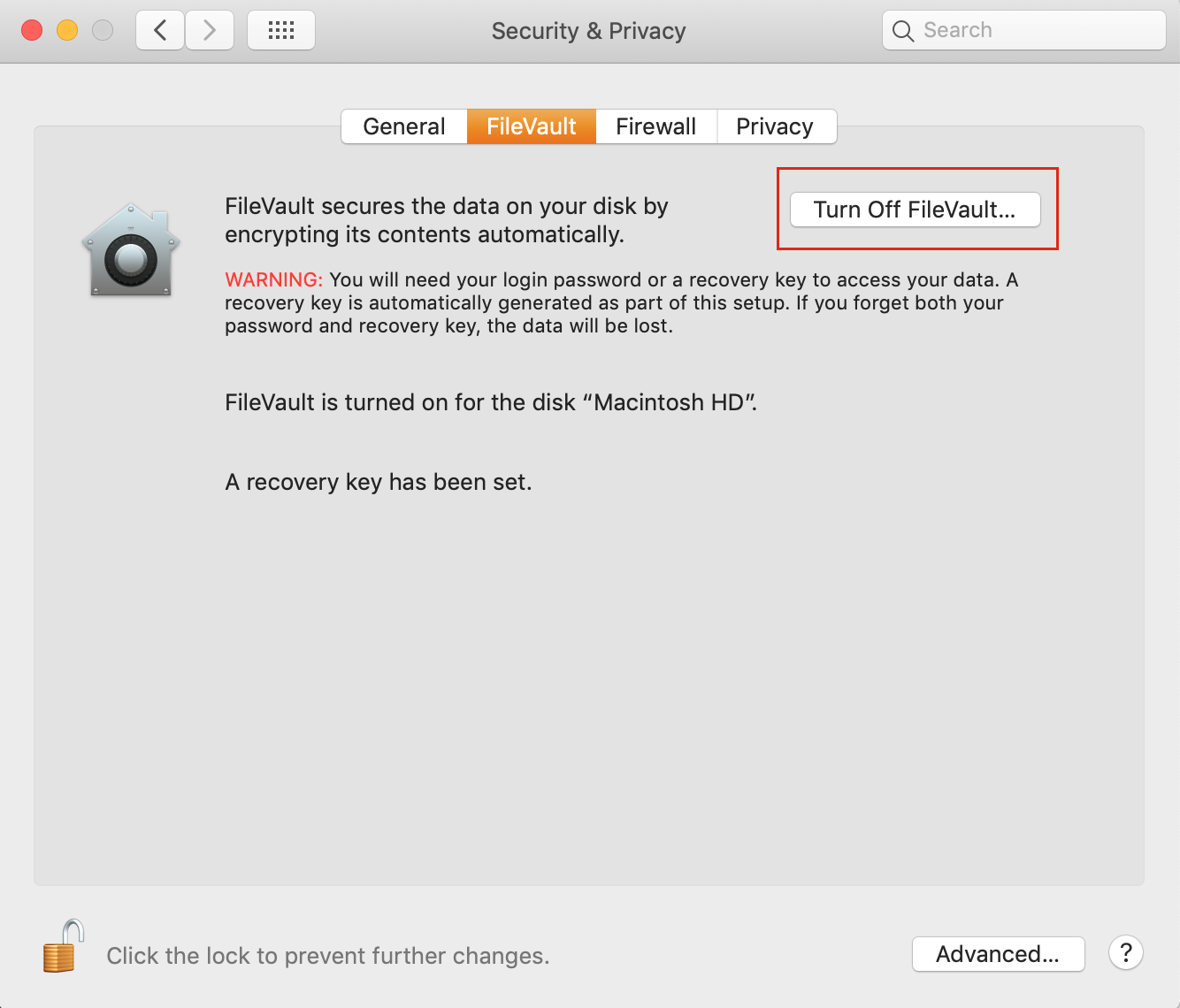 Check for Malware
Viruses can cause all sorts of system glitches on your Mac, sometimes leading to a complete drop in its usability.
Watch out for signs of malware:
Unusually low operation speed
High CPU usage (check in the Activity Monitor app)
Files disappearing or unknown files showing up
Disturbing pop-up ads and windows
Unusual browser startup space
If you think your Mac has been infected with malware, trying to get rid of it on your own is a waste of time. We recommend choosing antivirus software for Mac.
Repair Startup Disk
Repairing the startup disk is not much different from repairing disk permissions. To do that, open Disk Utility (Applications → Utilities → Disk Utility). Then click on the View icon in the top left corner of the window. This will display all the containers and volumes of your internal drive. Click on your Mac's startup disk — Apple SSD or Apple HDD. Then click on the First Aid button and run it.

Reset the System Management Controller (SMC)
The system management controller functions to operate low-level hardware components of your Mac, including the power button's functioning. Naturally, resetting it can help if your Mac won't shut down.
How to reset the SMC on a desktop Mac:
Completely shut down the Mac and disconnect all peripherals
Unplug the power cord and give it a minute
Plug the cable back in and start up your Mac again
How to reset the SMC on a Mac with a non-removable battery:
Shut down the Mac and unplug the charger
Press and hold down Shift + Control + Option keys for 7 seconds. Then press the power button and hold all of the keys for 10 more seconds
Release the keys and connect the Mac to the power
Start up the Mac
How to reset the SMC on a Mac with a removable battery:
Shut down the Mac and disconnect it from the power source
Remove the battery
Hold the power button for 10 seconds
Put the battery back in and connect the Mac to a power source
Restart the Mac
FAQ
How to shut down my unresponsive MacBook?
To shut down your unresponsive MacBook, hold the Power button until you see a dialog window. Select the Shut Down option and give your Mac some time to close apps and processes. Note that you might lose unsaved changes in open apps and files.
Terminal offers another way to address the MacBook unresponsive issue. Go to the Applications > Utilities > Terminal and enter this command: sudo halt. The command will shut down your MacBook immediately. However, just like with the previous method, you will, most likely, lose changes introduced to the open apps and files.
How do I force my MacBook Pro to shut down without the power button?
If your Mac's power button is glitching or doesn't work, you can use a Terminal command to shut down your Mac. Go to Applications > Utilities > Terminal and paste the command sudo shutdown -h now - this will immediately turn off your Mac, but any unsaved data and documents will be lost.
Should I always shut down my MacBook?
As a rule, you don't need to shut down your Mac all the time. You can put it to sleep and leave it to run maintenance tasks in the background. However, try restarting your Mac every once in a while to clear system caches and scan the computer for viruses.
Read more: