In this article you will find the following:
It's important to regularly check for and install software updates on your Mac. Updates to macOS — the operating system on your Mac — might add new features to your computer, improve the power efficiency, or fix problematic software bugs.
But alongside the operating system, it's also important to update the apps on your Mac to ensure everything is working as it should be.
In this guide, we'll show you how to update macOS automatically.
 Also, we'll take you through the process of updating your apps with a single click—the magic possible thanks to MacKeeper's Update Tracker.
How to update macOS on your Mac
If you're starting a new habit of upgrading your macOs, we're glad to hear. Follow these steps to check for new Apple software updates on your Mac:
Go to the Apple menu and choose About This Mac
Click Software Update in the window that opens
Check for available macOS updates. The System will search for new macOS updates, and you'll need to wait a short while
If it finds any, you'll see it soon. Click Upgrade Now to download and install that update
If the update is already downloaded, click Restart Now to install it instead.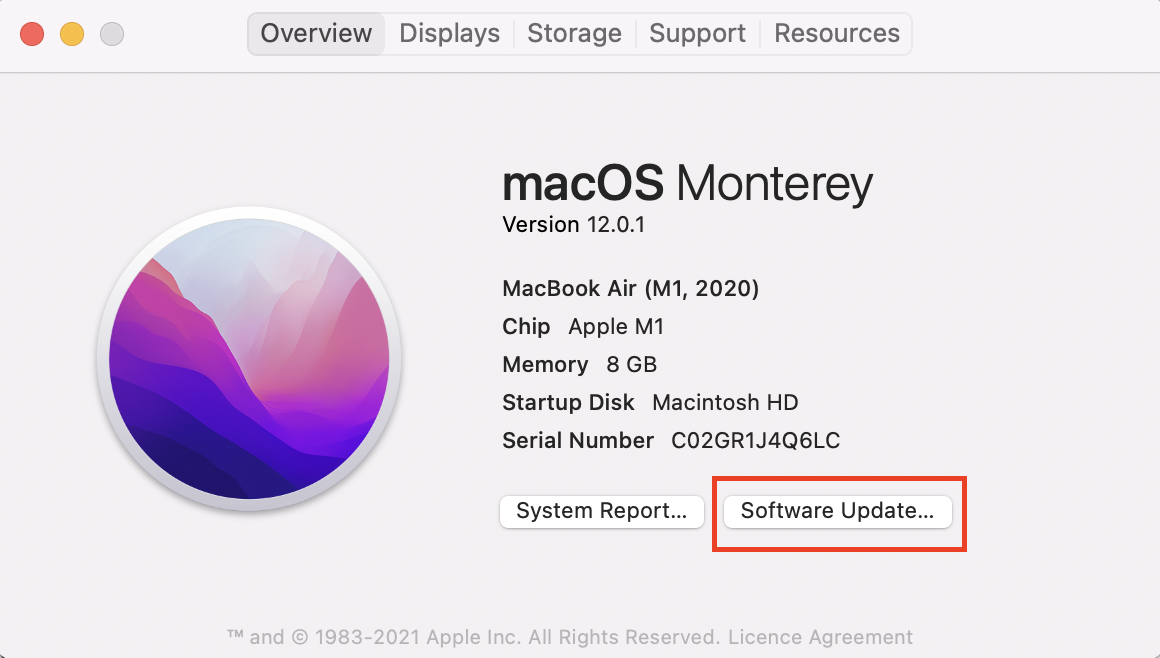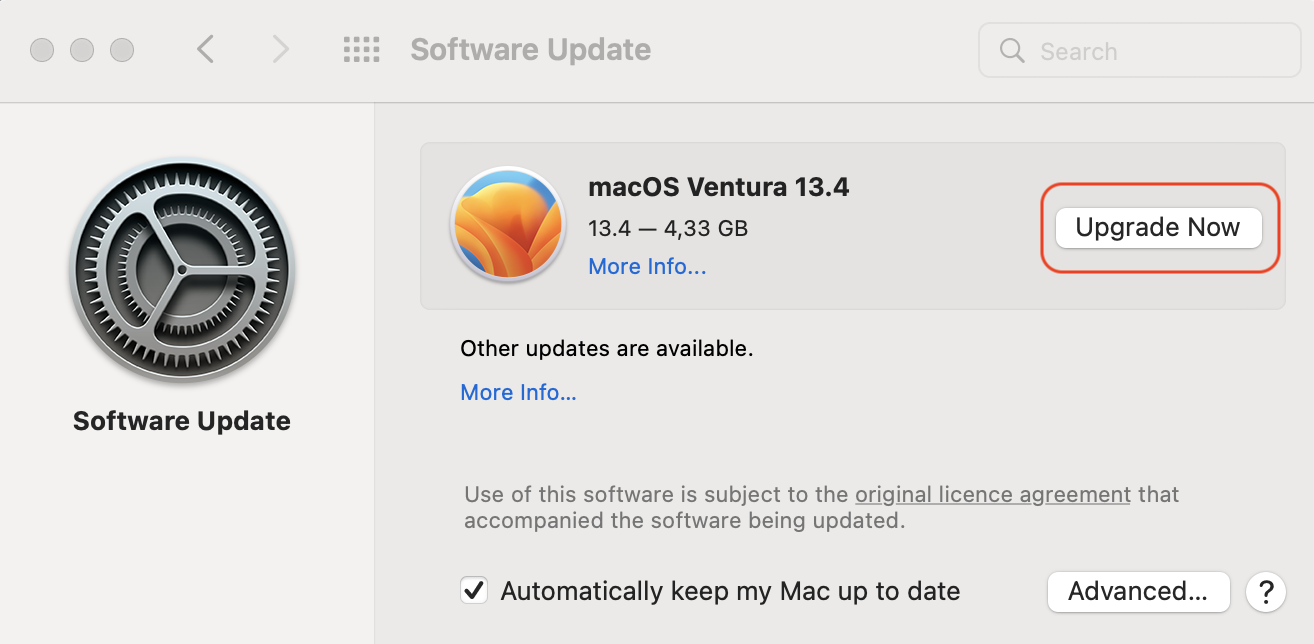 Note from our experts: It could take anywhere between five minutes and five hours to download and install a new software update for your Mac, depending on the size of the update and the speed of your internet connection. When the update is downloaded, your Mac will prompt you to Restart so it can install the update.
How to set your Mac to automatically update macOS
It's a good idea to tell your Mac to update macOS automatically, so you never need to worry about missing an important update.
To do this:
Open the Software Update page in the System Preferences
Check the box that says Automatically keep my Mac up to date.

How to update the apps on your Mac
Just like with the operating system, it's also important to regularly update all the apps on your Mac. Installing the latest software updates for your Mac apps ensures you've all the latest features with none of the latest bugs.
Unfortunately, it's not as easy to update all your apps as it is to update macOS. This is because you need to follow a separate process to update apps you got through the App Store and apps you got outside the App Store.
To update your Mac App Store apps:
Open the App Store on your Mac
Click Updates in the sidebar
If any updates are available, click Update All to download and install them.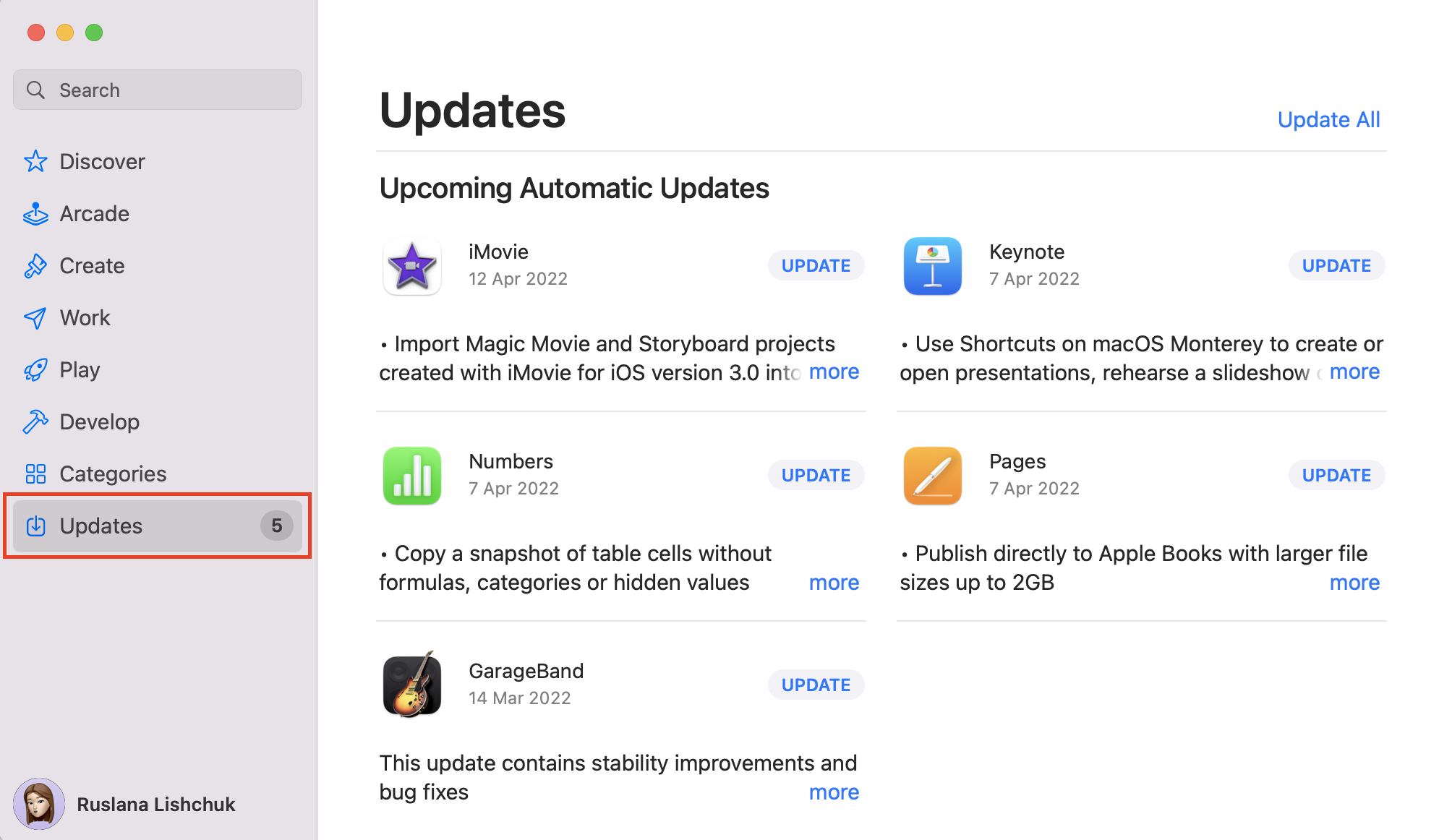 To update Mac apps you didn't get through the App Store, you need to visit the developer's website and download the latest updates there. It's also possible these apps will prompt you to update when you open them.
How to update all your Mac software instantly
The easiest way to update the software for all your Mac apps is using the Update Tracker in MacKeeper. This handy tool scans your Mac to find all your apps, then checks those apps against MacKeeper's database to find out if you're running the latest update or not.
After scanning your Mac apps to find out which ones need updating, you can use MacKeeper to instantly start downloading and installing all the updates with a single click.
Alternatively, you can choose exactly which apps to update and which ones to leave alone, which is particularly useful if you don't have the internet bandwidth to download too many updates at once.
To use the Update Tracker tool:
Download and install MacKeeper on your Mac
Click Update Tracker in the MacKeeper sidebar
Click Scan for Updates and wait for MacKeeper to finish scanning your apps
When the scan is complete, MacKeeper will show a list of the Mac apps you need to update. Click Update All to start updating all those apps at once.
FAQ
1. Why can't I update macOS on my Mac?
There are several reasons you might be unable to update your Mac. However, in our experience, the most common reason is a lack of storage space. Your Mac needs to have enough free space to download the new update files before it can install them.
Aim to keep 15–20GB of free storage on your Mac for installing updates. Check out this guide if you need help clearing free space on your Mac.
2. What is the latest version of macOS?
At the time of updating our guide, Apple's latest software version for the Mac is macOS Ventura 13.4. However, Apple regularly releases new point updates to improve efficiency and patch software bugs, so the exact numbers are likely to change pretty regularly.
3. Is my Mac too old to update?
If you can't update your Mac, despite having plenty of free space to do so, it's possible that your Mac is too old for this version of macOS. Over time, Apple stops releasing macOS updates for its oldest computers to avoid performance issues when the outdated hardware can't keep up with the software.
It's best to check on Apple's website to find out which models of Mac are compatible with the latest version of macOS.
4. Should I update my Mac?
Our team strongly recommends you keep your Mac running the latest software updates. Not only does this get you access to the newest features, but it also means your Mac is protected against software bugs or security breaches.
That said, if you're dependent on certain software for your work, you should only update your Mac if you know that software will still be compatible. After big macOS updates, it often takes a couple of months before every industry-standard software works reliably on that update.
Read more guides: