In this article you will find the following:
If your Mac is constantly telling you it's low on storage, and you've been on the hunt for quick cleaning tools, you've likely stumbled across CleanMyMac X. But together with this solution also comes the security concerns that many Mac users have. Is it really a scam, as some people claim?
Well, in brief, no. CleanMyMac X is perfectly safe to install and use on your Mac, but there are better cleaner apps on the market that will not only help you free up precious storage space but also ship with other incredibly useful tools that CleanMyMac X doesn't offer. For a more comprehensive cleaning and optimization suite, try out MacKeeper instead.
Before we begin

Do you want to remove unnecessary junk from your Mac? Then MacKeeper's Safe Cleanup tool is a perfect fit. It checks your system disk for hidden files that you don't need and deletes them in just a couple of clicks. Plus, MacKeeper is highly rated by Mac users, and it features other useful tools you might need, including a VPN and an Antivirus protection.

Here's how to get started with Safe Cleanup:

Download the app from MacKeeper's official site, install, and open it
Open the MacKeeper installer in your Downloads folder
Complete the installation process and wait for MacKeeper to start
In MacKeeper, click Safe Cleanup on the left, then choose Start Scan
Once the process is complete, click Clean Junk Files.
Who made CleanMyMac X?
CleanMyMac X is developed by MacPaw, a Ukrainian company founded by Oleksandr Kosovan. In addition to CleanMyMac X, MacPaw offers a number of popular apps for Mac, including MoonLock, ClearVPN 2, CleanMyDrive 2, and Gemini Photos. In addition, MacPaw offers the Setapp subscription service that includes dozens of Mac apps.
Is CleanMyMac X safe to download?
If you've been reading about CleanMyMac X online, you'll certainly see posts warning you not to download it. They litter review sites, social media, and online forums—but you should take no notice of them. Why? Ask yourself the main question: is CleanMyMac safe to download? Yes.
In fact, you can find it in the App Store on Mac, which means even Apple has checked and approved it.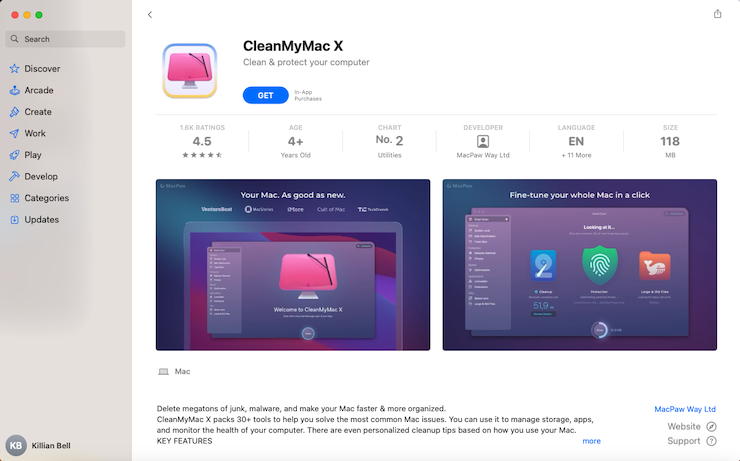 However, if you want a version of CleanMyMac safe from malware, you should be careful about where you download it from. There's always a possibility that malicious versions, modified by bad actors, exist on the internet. That's why the app, like any other piece of software, should only be downloaded from trusted sources, such as the MacPaw website or the App Store.
Is CleanMyMac X safe to use?
MacPaw is a trusted software company that many macOS users rely on. There's no proven evidence that CleanMyMac X has ever been unsafe, or that it has previously carried out any nefarious activities.
Meantime, to protect yourself, you can always scan its installer with a reputable and reliable antivirus application. As a result, you'll be sure that it contains no known threats that you have to worry about.
When you install CleanMyMac X, it'll ask for permission to access certain folders and applications on your Mac, which may be worrying at first. It only does this so that it can analyze your entire system for unnecessary junk and free up as much space as possible. It simply wouldn't be able to do this effectively without the permissions it asks for.
MacPaw has also begun offering CleanMyMac X on Windows, which has a more relaxed approach to third-party software than Apple. Even on that operating system, where it might be easier for MacPaw to get up to things that it shouldn't if it really wanted to, the app is still safe to use and free from any shady tactics.
Why are there so many bad reviews on CleanMyMac X?
You might be wondering why CleanMyMac X has a somewhat mixed reputation among Mac users online. There are many, especially those who deem themselves power users, who see it as a scam. They argue that MacPaw charges users for a service that they can easily carry out themselves. After all, they say you don't need a cleaner app to remove junk from your Mac.
Technically, that's the truth—it's not necessary to install a cleaner app to free up storage space. You can delete all the files that CleanMyMac X might remove yourself. But this requires a deeper knowledge of macOS. Most users d n't know where to find things like unused language packs, system logs, or temporary cache files.
Furthermore, there's a risk involved with deep cleaning your Mac yourself. It's easy to remove files that your installed applications and macOS itself rely on to function properly. If you accidentally delete them from your system, you could cause crashes and other instabilities, or prevent apps from starting altogether. There isn't always an easy fix for this.
Others simply don't like CleanMyMac X because they find it hard to use or haven't worked out how to use it properly. Some refuse to use it because of its somewhat questionable marketing tactics. For instance, when you search for the software on Google, one MacPaw description claims it is "the only legit tool for a health check," which obviously isn't so.
Is CleanMyMac X legit? Absolutely—but it's not the only legit tool you can use to optimize your Mac. Despite these things, CleanMyMac X is a useful piece of software for many Mac users, and it does its job. It can free up space quickly without the worry that something could go wrong, and it makes deep cleaning your Mac much easier than doing it manually.
Is CleanMyMac X available on the App Store?
Yes, CleanMyMac X is available on the App Store for Mac. You can also download it directly from the MacPaw website, or through Setapp.
Moreover, remember that Apple stringently checks all apps before approving them, so those available to download can be trusted. Thus, if you're still wondering, is MacPaw safe, or is CleanMyMac safe to use, these signs tell you all is fine.
Is CleanMyMac X safe from malware?
Official versions of CleanMyMac X that have been downloaded from the App Store, directly from the MacPaw legit website, or through Setapp don't contain any malware. They're perfectly safe to use and aren't packaged with malicious threats, which you can verify yourself by scanning the installer with a reliable antivirus application like MacKeeper's Antivirus.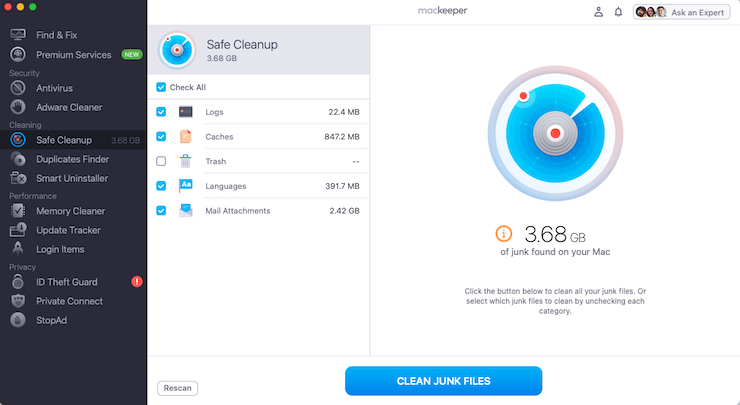 If you don't have an antivirus app installed yet, you can check other reviews of CleanMyMac X by trusted sources. The program has been tested by a number of publications over the years, including Macworld and PCMag, none of which have reported any concerns of CleanMyMac X containing malware. We also have a CleanMyMac review you can read.
Can CleanMyMac X be trusted?
Our professional verdict is that CleanMyMac X is safe to use on macOS, despite the mixed reviews you'll read online. It's free from malware and other malicious code, and it doesn't carry out any unsafe or unnecessary behavior once it's installed. Besides, it's an effective cleaning tool for Mac, which can help you free up storage space if you need room for apps and other content.
If you still have concerns, however, there are some alternatives to CleanMyMac X. One of them is the Safe Cleanup tool built into MacKeeper. It's probably the best CleanMyMac alternative when it comes to safe and effective hidden junk removal. Mind that it can also delete the other unnecessary files from your Mac, freeing up gigabytes of space. It's fast, easy to use, and it won't delete files that your apps or macOS itself rely on to function.
What's more, MacKeeper is a hit with users and reviewers, many of which call it the best Mac cleaner. It has excellent ratings on sites like TrustPilot, ShopperApproved, and SafetyDetectives—and it boasts other useful features you might want to take advantage of. These include a VPN, duplicate file removal, and data breach alerts, none of which are offered by CleanMyMac X.