October 12, 2020 | 16 min read
4 Tools for Remote Desktop Access from a Mac
In the current circumstances, you're likely working from home—just like most of us. Naturally, you may find yourself in need of your office computer, whether to get some files or access a database. Luckily, your Mac has a remote desktop connection feature, so you can manage another Apple device or even a Windows PC from the comfort of your bedroom.
Below we summarise five popular ways to remotely access a desktop from a Mac.
Use Windows Remote Desktop for Mac
Say your office computer is a Windows PC and you urgently need to access a few Windows apps, but you're stuck at home with a MacBook. You can use Microsoft Remote Desktop for Mac to solve this problem. However, you'll need a little help from a colleague who has access to a PC to set everything up.
Get the Remote Desktop client
The setup process for both Windows and Mac devices is pretty straightforward and can be easily done by following the setup assistant.
How to use Windows Remote Desktop client on a Mac:
Download the client for Mac from App Store
Run the Setup Wizard on both devices
On your MacBook, go to Apple menu → System Preferences → Sharing and enable Remote Management
On the PC, search for Allow remote access to your computer and check the button under the System Properties heading
Make sure that the Windows PC is not asleep or hibernating—you cannot use the Remote Desktop feature otherwise. You can change the sleep settings to Never on the computer.
Try the Mac beta client
The new beta client for macOS has some significant upgrades across all clients.
Among the features that you might find exciting are the following:
Minimized decryption errors
Support for HTTP proxy servers
Support for NETBIOS name resolution
Improvements to monitoring layout for Retina displays
The improved surfacing of keychain errors
You can install the client here. Once operating, select Microsoft Remote Desktop beta on the top and check for updates.
Here's what to do:
1. Click on the Plus sign in the top menu of the window
2. From the drop-down menu, select Add PC

3. Insert the PC name—it's the name of the computer you want to connect to. You can change it in the PC System settings
4. Click on the User account heading and insert the domain, username, and password for your target PC
5. You can change the settings for your display resolution and color quality in the Display tab
6. In the Folders tab, you can select the folders that you want to access during the session. To enable changes, check the box next to Redirect folders. You can choose the folders to be read-only
7. In the Devices & Audio tab, you can choose for the sound to be played on your Mac, the PC, or neither. Select the devices that you want to use during the session—you have the option of printers, smart cards, clipboard, microphone, and camera
8. Finally, in the General tab, click on Gateway and enter the host's IP address
9. Add the PC to your list and start the session whenever you're ready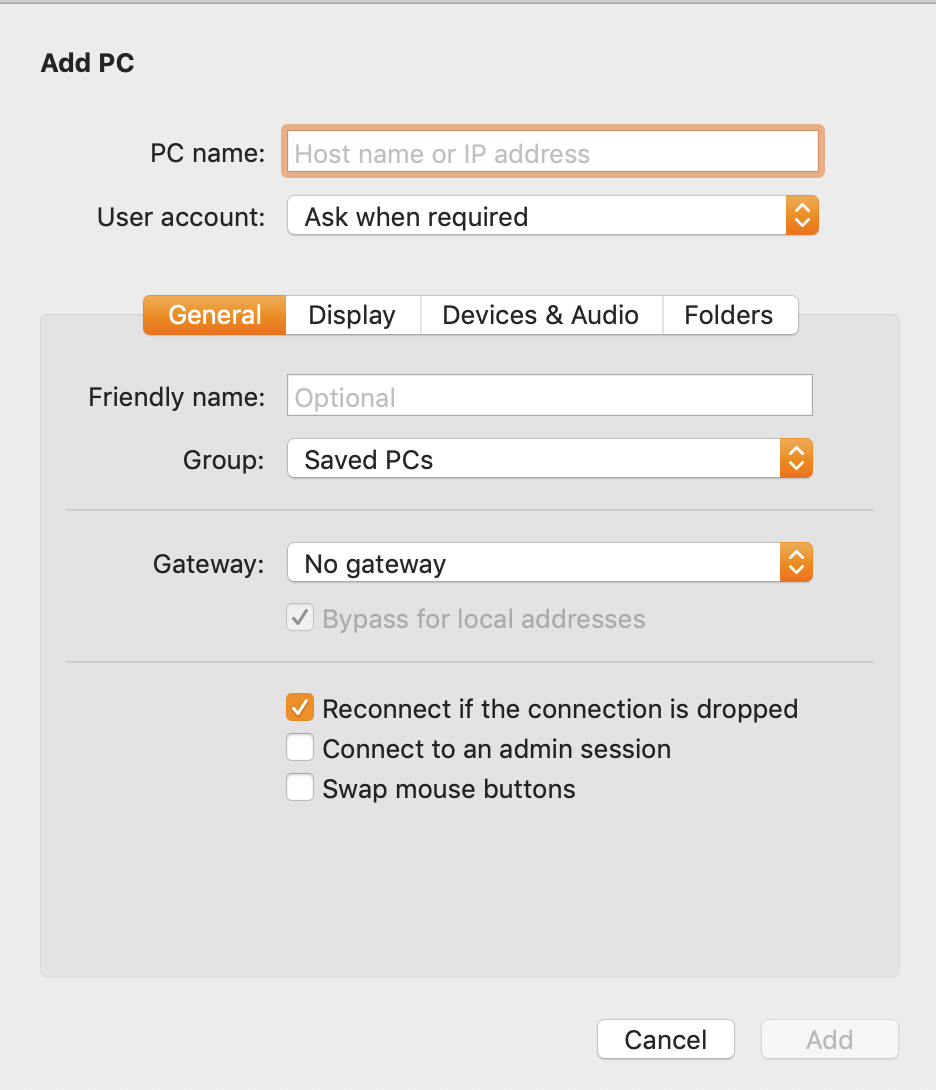 Export and import connections
Each connection is saved as an RDP file on your computer and you can export them to use on another device to avoid setting everything up from scratch.
To import an RDP file:
In the top menu bar, click on Connections
Select Import from RDP file
Choose the file on your Mac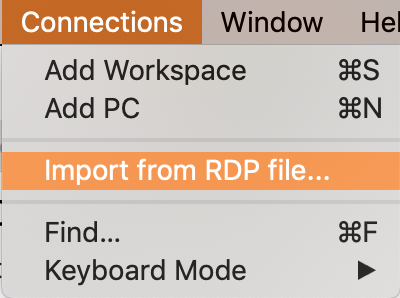 To export a connection:
Right-click on a connection
From the drop-down menu, select Export
Select Browse and choose the file you wish to export
Add a remote resource
A remote source is a published RemoteApp program or virtual desktop.
How to add a remote source:
Go to Connection Center, click on the Plus button and select Add a Remote Source
Enter Feed URL—it's the address of the Remote Desktop Web Access server
Enter the username you're using for the RD Web Access server
Enter the password you're using for the RD Web Access server
Save your changes
You'll be able to find the resources in the Connection Center.
Connect to an RD Gateway to access internal assets
RD Gateway is a utility that allows you to connect to a corporate computer on the same network as you given that you both have an internet connection. You can set it up in preferences.
Step-by-step guide:
Go to Connection Center and select Preferences from the drop-down menu
Click on the Plus button to add another connection
Enter the company name as the server name (IP address, domain name, etc)
Your user name and password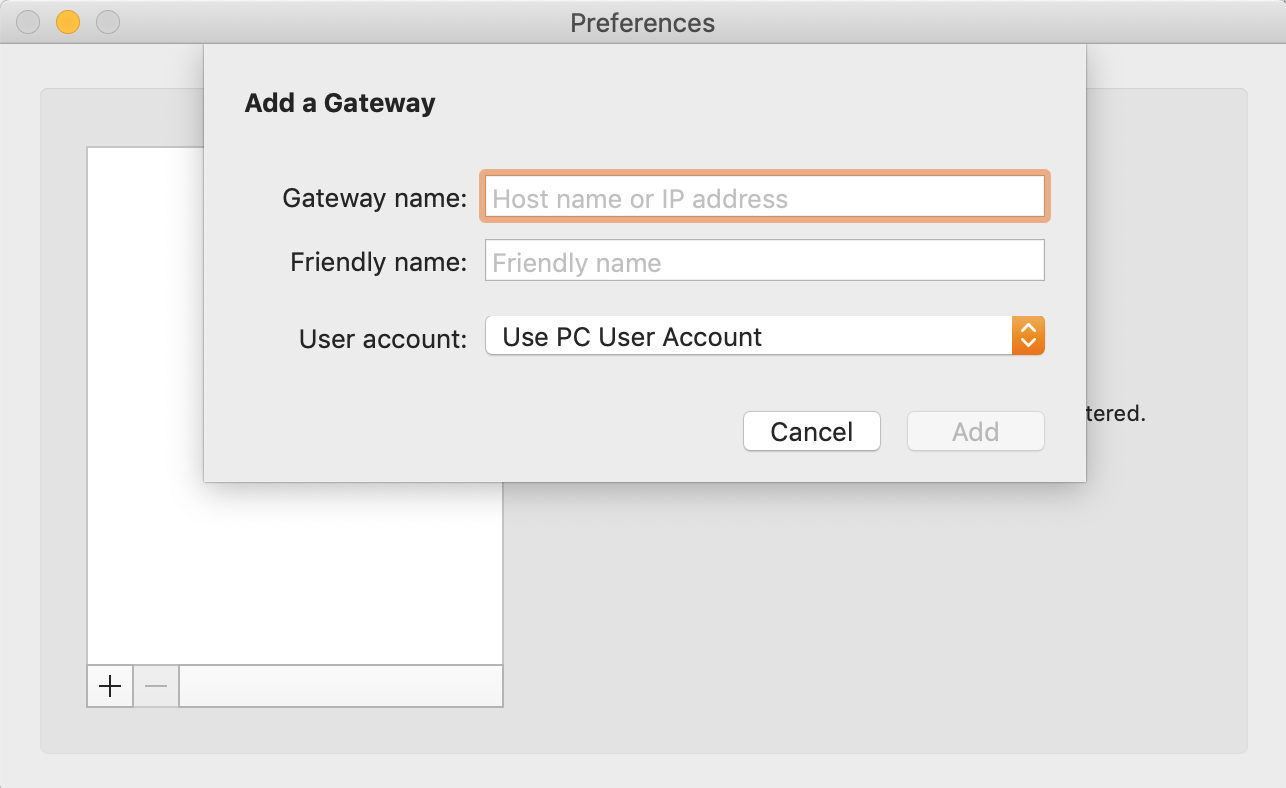 Manage your user accounts
You can have several user accounts that you use to connect to remote desktops and resources. You can create and delete them through the client.
How to create a new account:
Open the Connection Center and go to Preferences
Select the User accounts tab
Click on the Plus sign to add a new user account
Create a username and password of your choosing
Save the changes
To delete an account, simply click on the name in the list on the left and then tap on the Minus button at the bottom.
Customize your display resolution
Connection Center preferences allow you to change the resolution of your Remote Desktop sessions. Open Preferences and move to the Resolutions tab, then select from one of the default options or customize your settings on the right.
Drive redirection for remote resources
This feature allows you to store files created with the Remote Desktop feature in your Mac's home directory.
Use a keyboard in a remote session
Since Mac and Windows keyboards have different layouts, you'll need to take that into account when typing in a Remote Desktop session. For example, the equivalent of the Windows Control key is MacBook's own Command (⌘) key—use it to copy, paste and switch languages.
Run Apple Remote Desktop to access a Mac
Apple went to great lengths to ensure you can find and access your Mac from any other MacBook, iPhone, or iPad. A special feature in Sharing preferences will allow other Apple devices to access your laptop.
How to remotely log into a Mac with Apple Remote Desktop:
1. Open the Apple menu by clicking on the Apple sign in the top left corner of the screen
2. Select System Preferences from the drop-down menu
3. Click on Sharing in the third pane
4. From the list on the left side of the window, check the box next to Remote Management
5. A pop-up menu will appear offering to select the actions remote users are allowed to perform on your Mac. Select whatever you need for your purposes and click OK to save the settings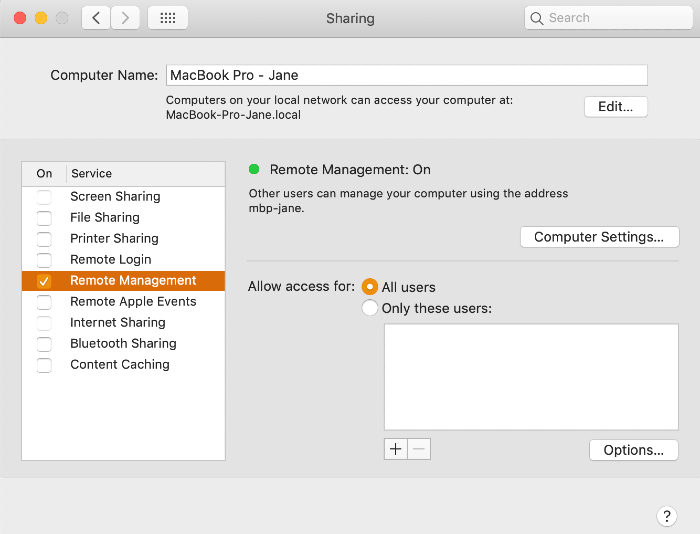 6. You can select whether you want to allow access for all users or only selected individuals in the pane on the right. All users allows anyone with a user account on this computer to access it
7. Click Computer Settings. You can choose to have a Remote Management status in the top menu bar and allow anyone to request permission to control your Mac. You can also allow access for VNC users if you set a password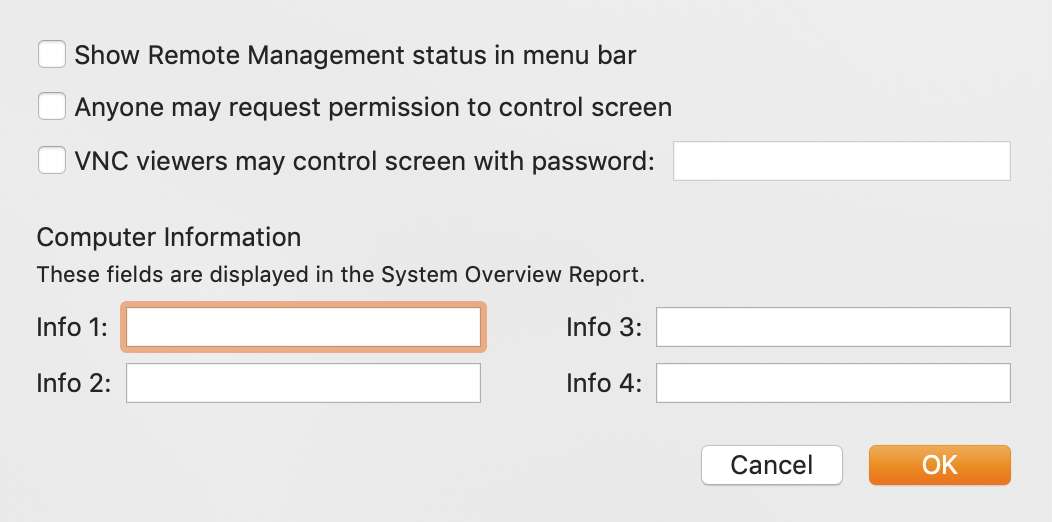 Use Mac Screen Sharing
You can allow other users to view your screen as well as gain access to other desktops with Apple's screen sharing feature. When it's turned on, another user in the same network as you can move open applications, move around, open and close files and windows, and restart your Mac.
How to activate Screen Sharing on Mac:
1. Go to Apple menu → System Preferences → Sharing
2. In the left panel, uncheck the box next to Remote Management if it's selected
3. Instead, tick the box next to Screen Sharing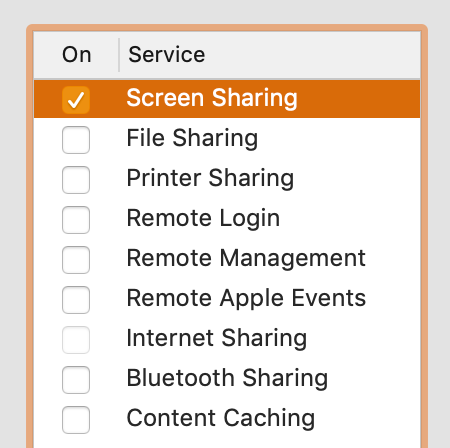 3. Choose who can share your screen on the right panel. If you choose All users, everyone with a user account on this computer will be able to share it. If you're using a network server, people on the same server can access it too
4. You can restrict sharing to specific users by selecting Only these users. Click on the Plus button to select accounts on the computer or choose from Network Users or Network Groups to pick members of your network that can access your screen sharing
5. Click on Computer Settings to add more screen sharing options. You can allow VNC users to control the screen by setting a password or give access to anyone who requests permission
To turn off screen sharing, simply deselect the box in Sharing settings.
Try TeamViewer
TeamViewer has been around for long enough for most experienced users to know about it. It's a remote desktop client that works on Mac, Windows, Linux, Android, and iOS. Unlike most remote access apps, it's still available for free from their website.
TeamViewer is a multi-purpose utility. IT specialists can use it for patching and backups, to monitor a remote computer, and protect endpoint development. An average user will find it helpful to organize a remote workplace or access their devices from a distance. Support teams utilize it for virtual help.
To use TeamViewer on newer versions of macOS, you must have admin privileges and give special permissions to the app. Starting from Mojave, Apple introduced additional security measures that restrict remote control capabilities of the app—without additional permissions, you will only be able to use it for screen viewing.
How to use TeamViewer for remote desktop access on a Mac:
1. When you first install and launch the app, you will be prompted to give it a certain level of access. You can choose from Screen Recording, Accessibility, and Full Disk Access. Screen Recording simply allows other users to view your desktop. Accessibility enables them to remotely control your mouse and keyboard. Finally, Full Disk Access lets them manipulate files and folders on your Mac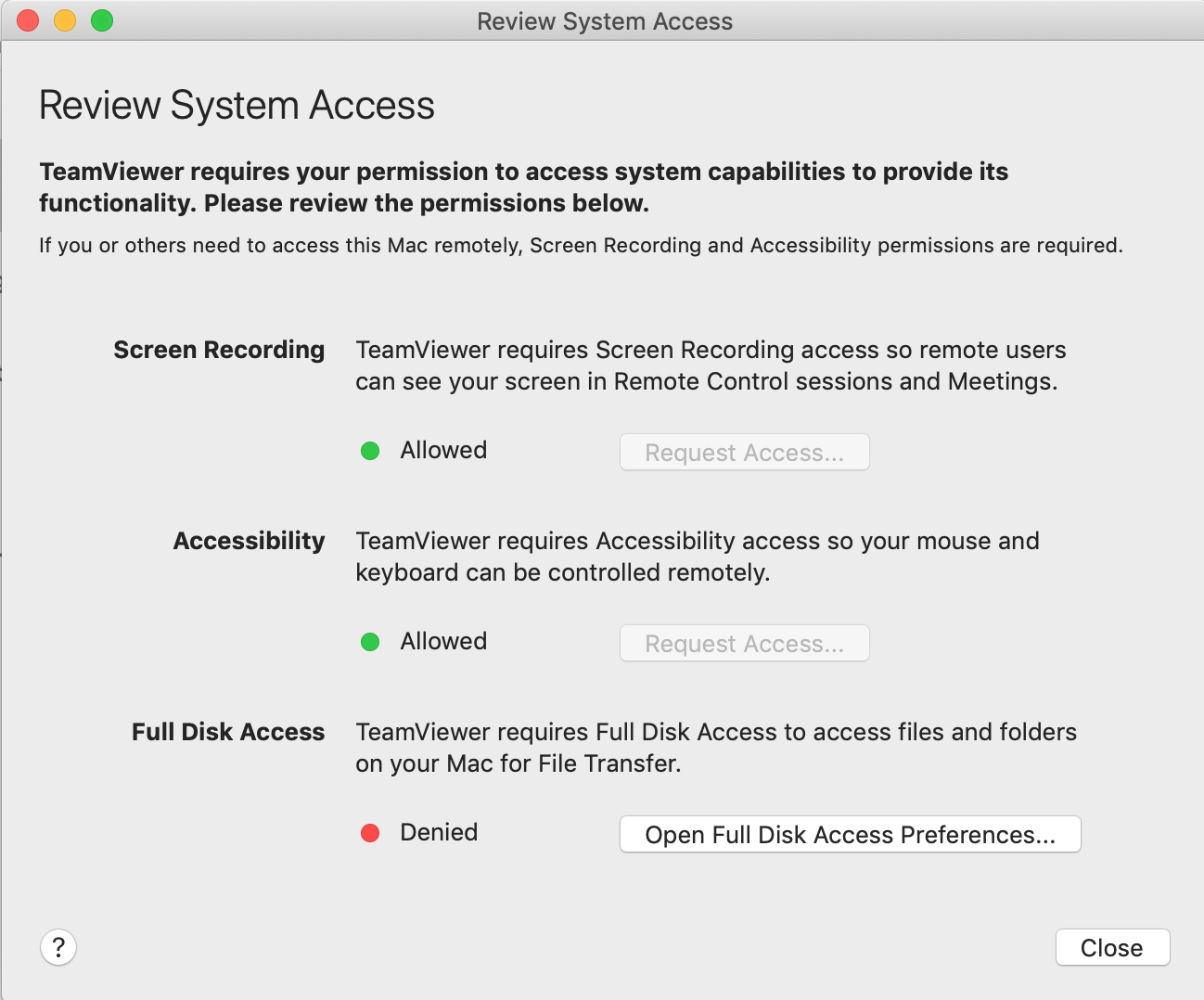 2. For example, allow the Accessibility level, click on Request Access and then choose Open System Preferences when a pop-up window appears
3. You will see a System Preferences Accessibility panel. First, click on the padlock to allow changes to the page. Enter your username and password
4. Check the box next to TeamViewer to grant access
5. To control someone else's computer, enter their ID in the right pane. To start sharing your Mac, share the username and password displayed on the left with the person you want to view your desktop. DO NOT give away these details to anyone else!
Check out Chrome Remote Desktop
If you're one of those MacBook users who still prefer Google Chrome to Safari, we have something interesting for you. Google Chrome makes a ton of great extensions, and Chrome Remote Desktop is one of them. You can get it from Chrome Web Store for free. Click on Add to Chrome to get the extension for your browser.
To use the remote desktop feature, both computers that you want to connect need to have the extension. Once installed, you will be able to see the extension in the top right corner of the screen next to all of your other Chrome tools. When you launch it, you will have to get a 55MB client on your Mac.
The first time you use the tool you will need to choose a name and a PIN code for your device. You will also need to set up permissions for the app—a pop-up notification will appear prompting you to change your settings. You can do it manually by going to Apple menu → System Preferences → Security and Privacy. In the left side panel, select Accessibility and unlock the padlock to enable changes. Check the box next to ChromeRemoteDesktopHost.
To start sharing your desktop with another computer, open the Remote Desktop utility, click on the computer's name and enter your PIN. To stop the process, simply click on Stop Sharing in the bottom left corner of the screen.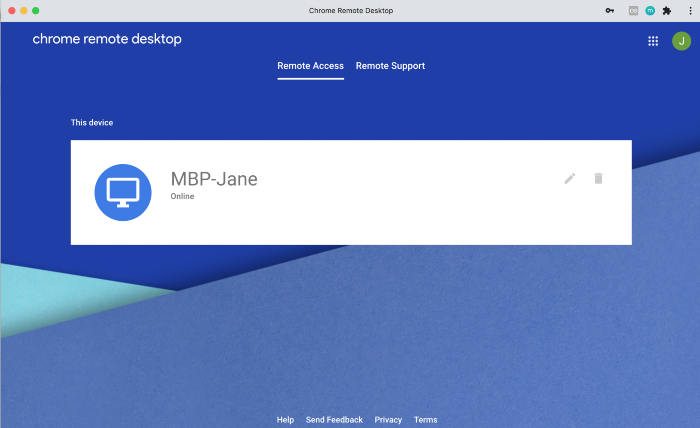 FAQ
Does Mac have a Remote Desktop?
Apple has introduced its Remote Desktop app a while ago, although it's quite pricey ($79.99). Alternatively, you can use the Remote Management feature available in System Preferences. Simply open the Sharing settings and check the relevant box on the left.
What is the best remote desktop app for Mac?
If you're looking for a free app for personal use, TeamViewer is your best bet. A small business with corporate needs would benefit more from the LogMeIn Pro client which is available for $30 per month.
Does Apple Remote Desktop work over the internet?
The client works over the web if you provide the computer's IP address to connect.
Read more: