Time Machine is the best backup software to use with your Mac because it automatically creates incremental backups. An incremental backup means that Time Machine stores multiple versions of your files, making it easy to undo changes or even restore deleted files and folders.
The downside to these incremental backups is that they can end up using a lot of storage. Luckily, there are a few different ways to delete old Time Machine backups from your Mac or external drive.
In this article, we'll show you how to:
Time Machine usually deletes old backups automatically
Most of the time you don't need to do anything to manage your Time Machine backups. This is because Apple designed Time Machine to automatically delete old backups whenever it runs out of storage.
You don't need to do anything to make this happen, Time Machine just deletes old backups in the background whenever it needs to.

However, there are rare occasions where you still need to take matters into your own hands.
For instance, you might need to manually delete Time Machine backups if you want to create space on your external drive for non-backup files. Other times, Time Machine might tell you there isn't enough space to create a particularly large backup, refusing to delete the old backups to make space.
If you do need to manually delete old backups from Time Machine, you can do so using Finder or the Time Machine app.

Further reading: How to check Mac storage space.
How to remove old backups in the Time Machine app
The safest (and easiest) way to delete backups is using the Time Machine app. Following this method, you can choose to either delete backups from a certain date or delete backups of a certain file across all dates.
Follow these steps to use Time Machine to delete backups:

1. Connect your external backup drive to your Mac

2. Launch the Time Machine app. You can do this using by searching for "Time Machine" in Launchpad, Spotlight, or the Applications folder in Finder

3. Use the timeline on the right of the screen or the arrows to navigate to the backup date you want to delete. Alternatively, use the Finder window to navigate to the file or folder you want to delete

4. After selecting the date or file you want to delete, click the ellipsis (…) button in Finder and choose to either Delete Backup or Delete All Backups of [Your File]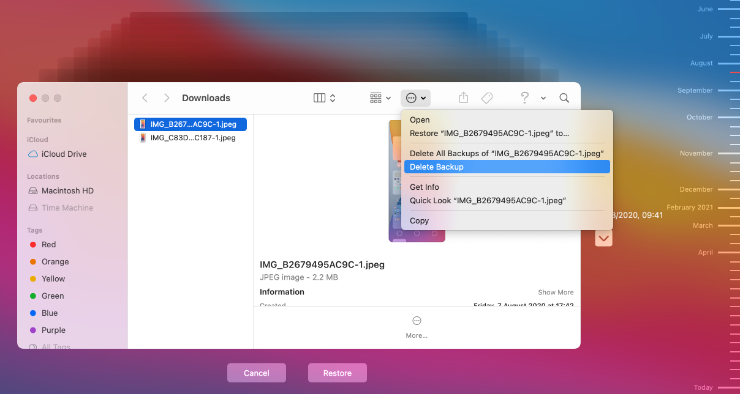 5. Confirm you want to delete the backup, then enter your Mac administrator's password
How to delete Time Machine backups using Finder
In most cases, you're better off using the Time Machine app to delete backups rather than using Finder. This is because the Time Machine app knows exactly where each file from a backup is stored, which is practically impossible to find out for yourself in Finder.
The reason for this is because of Time Machine's incremental backups.
After the first time you use it, whenever you use Time Machine to back up your Mac it only copies the changes to your Mac rather than copying all of your data again and again. This allows Time Machine to store far more backups in less space. But it also means that if you delete the original backup for a file in Finder, you might also delete any future backups as well that were only saving the changes to that file.
The best reason to use Finder to delete Time Machine backups is if you want to remove all the backups for a particular Mac.
If you're still interested, here's how to delete Time Machine backups in Finder:

1. Connect your external backup drive to your Mac

2. Open Finder and select your backup drive from the sidebar

3. Go into the Backups.Backupdb folder and open the folder matching your Mac's name

4. All of your backups are listed in separate folders named after the dates they were created, in the format YYYY-MM-DD. Find the folder for the backup you want to delete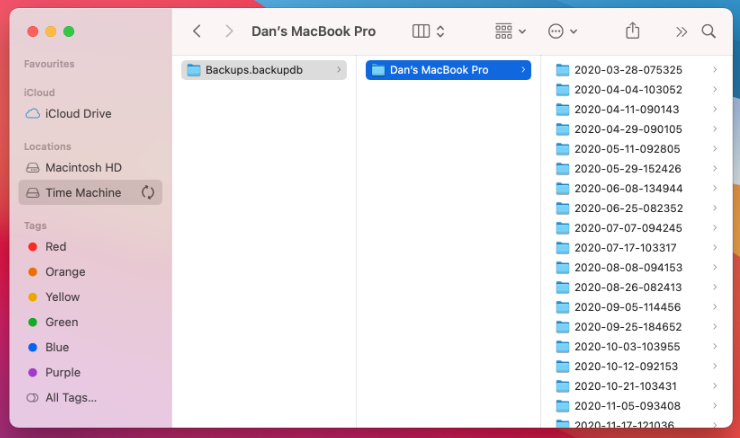 5. To delete a backup, drag that folder to the Trash

6. Important: Make sure you empty the Trash before ejecting your backup drive, otherwise your deleted backup will still take up space on the external drive. To do this, open the Trash from the edge of the Dock and click Empty
FAQs
How do I delete local Time Machine snapshots on my Mac?
You might discover that a lot of "Other" storage on your Mac is being used by local Time Machine snapshots. These are essentially mini backups that your Mac holds onto until it can transfer them to your external Time Machine drive.
The easiest way to delete local Time Machine snapshots is to connect your backup drive and complete a new backup. When you do this, macOS transfers the local snapshot to your external drive and deletes them from your internal Mac storage.
If you can't connect your external backup drive, it's still possible to delete local snapshots using the System Preferences:

1. Open the Apple menu and go to System Preferences > Time Machine
2. Disable the option to Back Up Automatically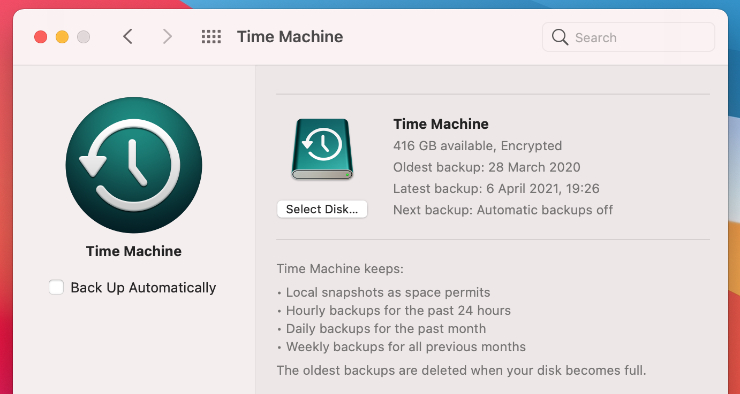 3. This deletes all your saved local snapshots. Now you can re-enable the option to Back Up Automatically
How do I delete Time Machine backups from the Trash?
If you used Finder to delete a Time Machine backup, you might find that the deleted backup then gets stuck in the Trash. This is usually because the backup files are protected by System Integrity Protection (SIP), which won't let you empty the Trash to delete them.
To get past this, you need to temporarily disable SIP.
SIP is a crucial aspect of your Mac's security, so it's very important that you enable SIP again after emptying the Trash.
Here's how to disable and re-enable SIP on your Mac:

1. Restart your Mac and hold Command + R while it powers on to boot into Recovery Mode

2. Select a user account and enter the password to log in

3. From the macOS Recovery screen, go to Utilities > Terminal in the menu bar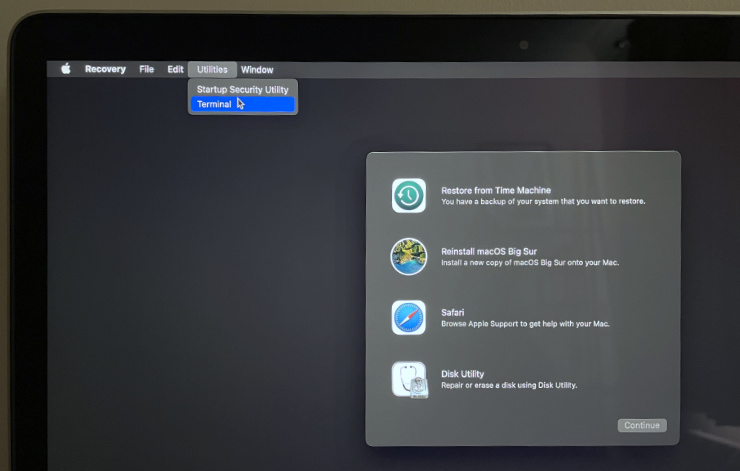 4. Run the following Terminal command to disable SIP: csrutil disable
5. Now restart your Mac and empty the Trash
6. Finally, boot up into Recovery Mode again and run the following Terminal command to re-enable SIP: csrutil enable
Time Machine is the best way to back up your Mac
Time Machine can seem frustrating now and then, but it's still the best software around for backing up your Mac. With regular Time Machine backups, it's easy to jump back to various dates in the past and recover long-lost files.
You can even restore your entire Mac in the event of a catastrophic hard drive failure.
To keep Time Machine working smoothly, try to avoid using Finder to delete old backups whenever possible. It's always better to delete backups using the Time Machine app instead.
Read more: