With over 30 years of experience, Avast is one of the most well-known names in the antivirus world. But it also makes a selection of tools for macOS, including Avast Cleanup Premium for Mac. This app promises to clear your Mac of junk files and other unwanted data, leaving it free of clutter. But how good is it? We've been taking a look.
What is Avast Cleanup?
Avast Cleanup Premium for Mac is a cleaning utility for macOS. Confusingly, it's sometimes referred to as Avast Cleanup Pro on the Avast website. Designed to free up disk space, it clears out multiple types of junk files, cached data and useless apps.
It can clean up:
System caches
Duplicates
Similar photos
Blurred/low-quality photos
Large/unused apps
Avast Cleanup Premium for Mac: features overview
Run Avast Cleanup, and you'll be greeted by a dark-purple dashboard introducing four cleanup features. Each one comes with a detailed description, which explains what the tool cleans up, so you know what to expect before you run them.
If you use Avast Cleanup without a subscription, it will remind you to subscribe. Before you start, the app will also ask you to allow Full Disk Access to find as much junk as possible. That's nothing to worry about — most Mac cleaners will do the same. Avast puts a tick in a checkbox as it completes each step, and the instructions it gives you are clear and helpful.
Here are the main features of Avast Cleanup.
Clean Clutter
Basically, this is a disk cleaner that removes junk files in order to give you more free space. Avast Cleanup will group all junk files it finds into six categories
Application Caches includes temporary files stored by browsers and other apps in macOS
Log Files shows files recording the history of your apps' usage or crashes
Trash displays the content of your Mac's Trash folder
Downloads show you any files you've downloaded
Development Junk refers to crash report files and leftover data from uninstalled apps
External Drive Junk includes system files that macOS adds to external files formatted for other operating systems
Avast Cleanup will produce a recommended selection of things it thinks you may want to delete. By default, this excludes your downloads — a smart move as you might have some important documents there that you don't want to remove. Overall, Clean Clutter is very flexible. You can manage which categories to remove, as well as select files inside the category.
Find Duplicates
Before you scan, Avast Cleanup will ask you to select which folder or drive to check for duplicate files. By default, Avast suggests that you scan the Home folder, but you can select other folders or even external drives.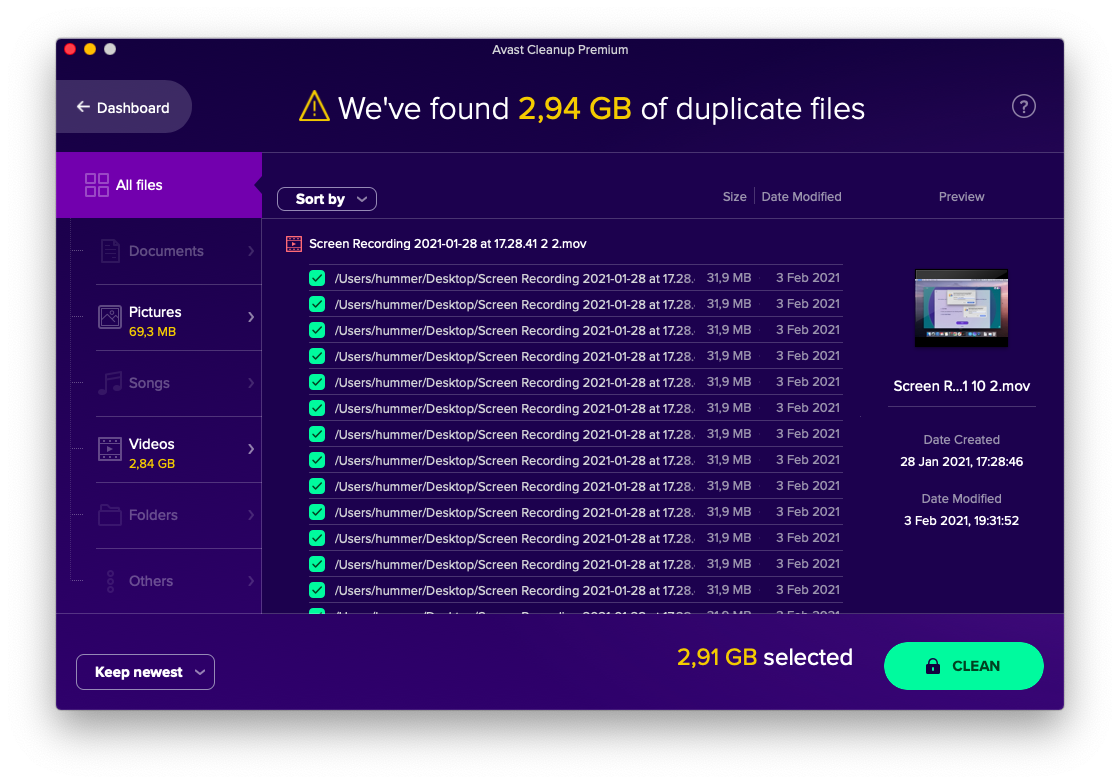 Once the scan is over, Avast Cleanup will list the duplicates it found. It shows their total size plus an alert about how the files found are 100% identical to the others on your Mac (that's why they're useless and waste your disk space). The app sorts all file copies by category:
Documents
Pictures
Songs
Videos
Folders
Others
Clicking View Duplicates will show you more details — where the duplicate file is located when it was created and even a small file preview. If you want, you can sort the list of your duplicates by each of these parameters. What's more, Avast enables you to decide which duplicates to remove. If you're feeling lazy, try to Keep newest, which removes all copies of the file except the latest one, or Keep oldest, which does the opposite.
Find Photos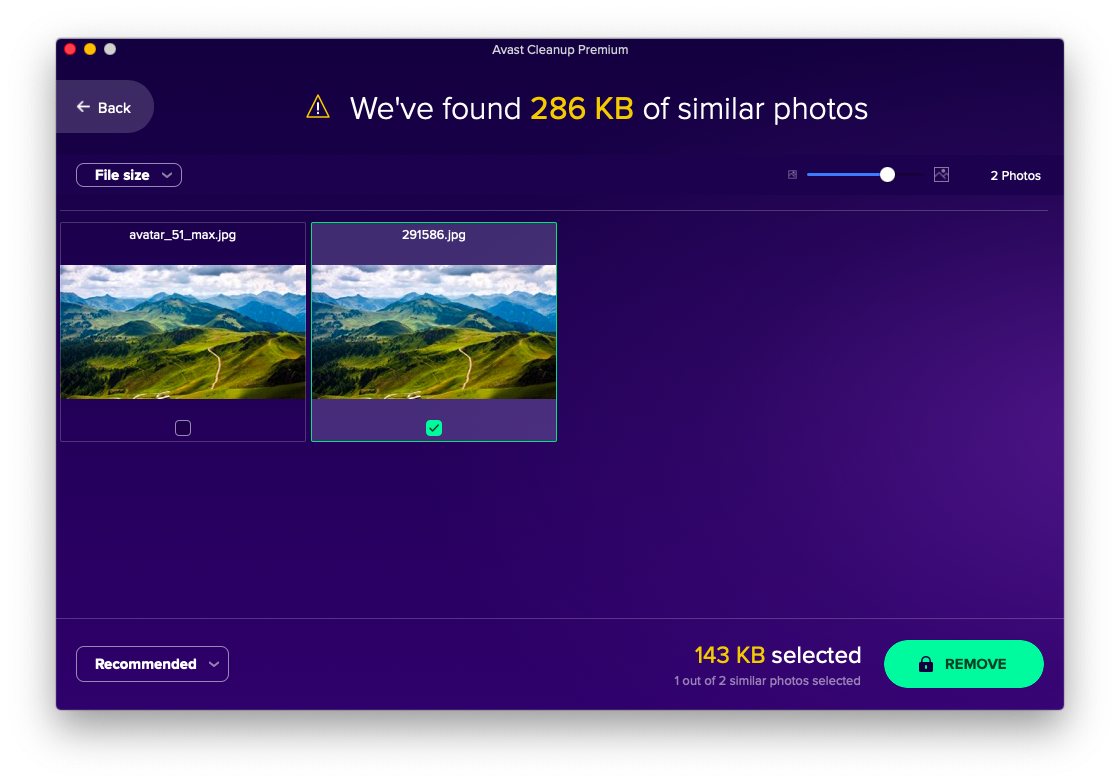 Unlike the previous feature, this one doesn't show 100% identical files. Instead, Avast Cleanup will display similar photos with a medium matching level. You can also identify "bad'' photos — ones that are blurred, low-quality or have poor contrast. What defines a good photo is very subjective, though, so it's a good idea to manually review the results and make sure you agree with Avast.
Uninstall Apps
This Avast Cleanup tool does exactly what its name says. It simply displays a list of your Mac apps so you can uninstall them cleanly, along with all their associated files. There are two specific sections — Unused apps, which are the ones you haven't opened for more than six months, and Large ones, which are those taking up more than 1GB of space.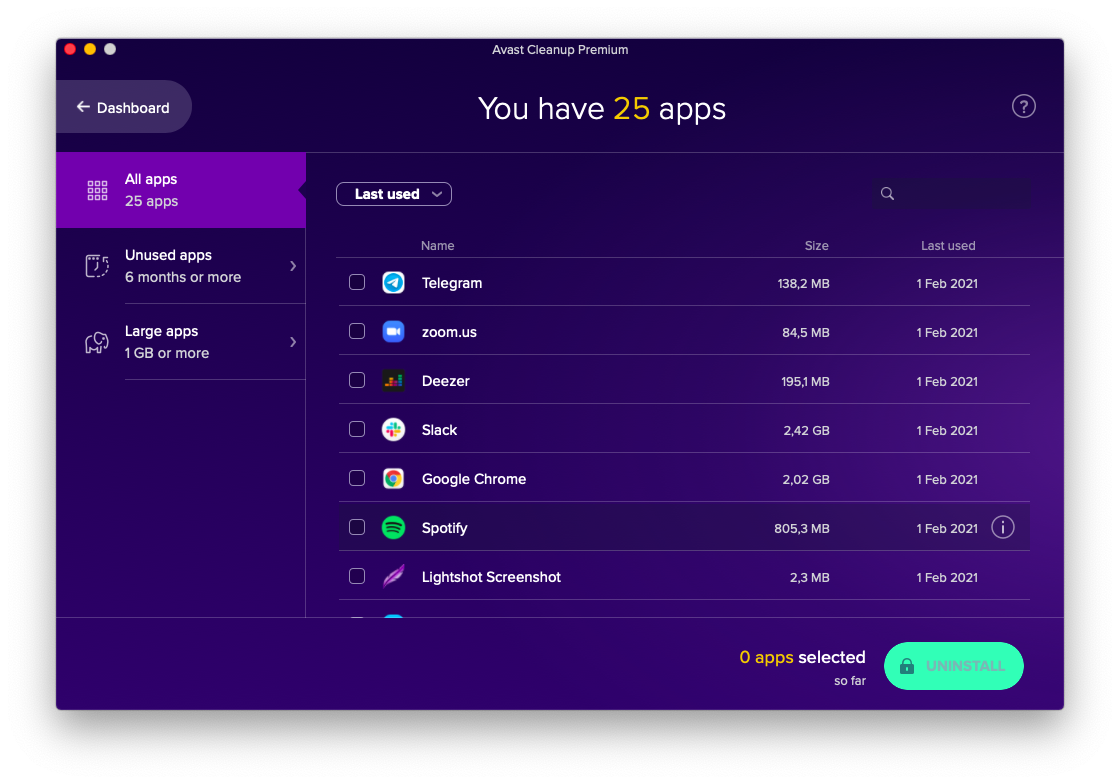 Select an app from the list, and an i icon will be displayed. Click it, and you'll see all files stored on your Mac by that app — from binaries and logs to supporting files and preferences.
Avast Cleanup price
The scan is free and unlimited, but you'll need to pay for the cleanup. Avast Cleanup Premium comes with a 60-day free trial, but a credit card is required to start it. The subscription cost is $59.99 per year for one Mac and $69.99 per year for 10 Macs.
Avast Cleanup vs MacKeeper
Avast Cleanup is certainly a capable Mac cleaner, but that's all it is — it won't detect any viruses or secure your browsing data. In contrast, MacKeeper includes antivirus, ID protection, privacy protection and other security-related features. Certified by AppEsteem as a consumer-friendly and legitimate app, MacKeeper is a great choice for all-in-one Mac care. It's also the best Mac antivirus for home users, according to the latest AV-TEST certification, where it earned the maximum 18 out of 18 points.
MacKeeper includes pretty much everything Avast Cleanup does, plus a whole lot more. Its real-time antivirus protection can automatically detect viruses before they try infecting your Mac. It also keeps you safe from adware, ransomware, annoying ads and site trackers. Plus it adds extra security to your connection with a VPN. And it can help your Mac run faster by cleaning memory or updating apps in a click. All these features make MacKeeper a great alternative to Avast Cleanup.
FAQ
Is Avast Cleanup safe?
Yes. It won't remove any file without your permission, but it's always a good idea to double-check which items you're about to remove before you hit the cleanup button.
Do I need Avast Cleanup?
If you're looking for some basic Mac cleanup, then give it a go. However, Avast Cleanup Premium won't secure your Mac or significantly optimize its performance.
How do I cancel an Avast Cleanup Premium subscription?
Visit your Avast account to cancel your current subscription. If you're doing so because you need an all-in-one Mac maintenance app, download MacKeeper and see how you like it.
Read more reviews: