Finder has been around for as long as we remember. It was introduced with the first-ever Mac, dating back to the '80s. Whether you're running macOS Catalina or the older El Capitan, Finder is crucial for your computer's regular functioning. This file manager is the root of most UI processes in the system, such as launching apps or manipulating data and disks.

Before we start


Junk files can easily build up on your Mac and slow it down. In such cases, you could experience problems with Finder not responding. Running MacKeeper's Safe Cleanup feature could help. It searches for and removes all manner of unwanted, unneeded data from your Mac.

In MacKeeper, select Safe Cleanup from the left-hand menu

Click the Start scan button

When the scan is finished, look through the results and select what you want to delete

Click Clean junk files

If you'd like to try MacKeeper, you can download it right now for free. There are no obligations to buy anything, and you get one free, so you can really see it in action.

What happens if Finder crashes? When the app is constantly not responding, you lose access to your data and apps through the UI route. This makes it incredibly difficult to perform any standard operations on a MacBook. Luckily, most cases don't require the help of a professional and can be easily resolved at home. Let's look through the solutions for Finder malfunctioning.
Mac Finder not working/won't open
If Finder won't open when you try to launch it, you understandably get frustrated. You can try a fairly easy move to fix it — force quitting. There are several ways of doing it:
Through the Dock. Point the cursor at the Finder icon in the Dock. Right-click on it while pressing the Option key — a drop-down menu will open, at the bottom of which is the option to Relaunch. Click on it and wait for Finder to start again
Through the Force Quit menu. This is ideal if the frozen Finder caused your cursor to get stuck. Press Command (⌘) + Option + Escape to open the menu and navigate through it with the arrow keys until you reach Finder. Then hit Enter to exit the app
Through the Activity Monitor. Press Control + Space to open Spotlight and type in Activity Monitor, then hit Enter to open the app. In the search bar in the top right corner of the window, type in Finder. Select all the processes with that name (Command + A) and quit them by clicking on the cross symbol in the top left corner.
Another way to fix Finder not opening is to log out of and back into your user account. If that doesn't work, you will need to reset Finder preferences
Delete Finder preferences
If Finder won't relaunch even though you've tried every one of the three ways, it's likely that you have a corrupted preference file. Normally, you would use Finder itself to delete such files and reset preferences; however, because in this case, the UI is not responding, you will need to resort to the Terminal command line.
The Terminal is a great way to access your machine's internal components, getting to which requires admin privileges. You can use the command line to perform pretty much any operation by using just the keyboard - no need to open any other applications.
Here's what to do to delete the preference files via Terminal:
Open Spotlight by pressing Control + Space
Type in Terminal and press Enter to open the app
Copy and paste the following command in the command line: rm ~/Library/Preferences/com.apple.finder.plist. This will move the .plist file from the hidden library folder into the Trash
Restart the Mac and try launching Finder again

Finder keeps crashing
If Finder quits unexpectedly whenever you try to use it, the first thing to do is to restart your computer. If that doesn't solve the problem, boot the Mac in Safe Mode:
Restart the Mac
Hold down the Shift key as soon as it starts booting
You can release the Shift key when you see the login window. Then just log in normally and see if the issue persists in Safe Mode. You will distinguish it from the regular boot by the "Safe Boot" indicator in the top right corner of the screen.
If Finder is still crashing after booting in Safe Mode, you should delete any unnecessary login items as they might clash with each other. If it doesn't, you most probably had a corrupted cache.
In case you're still experiencing the crashes, try repairing your disk using the Recovery mode:
Restart the Mac
Hold down Command (⌘) + R immediately as it starts booting. Release when you see the Apple logo
You'll see the Utilities window appear. Select Disk Utility
In the top left corner of the window, click on View → Show All Devices
This will show all of your disk partitions in the sidebar on the left. Click on your Mac's drive
In the top menu, click on the First Aid button and then click Run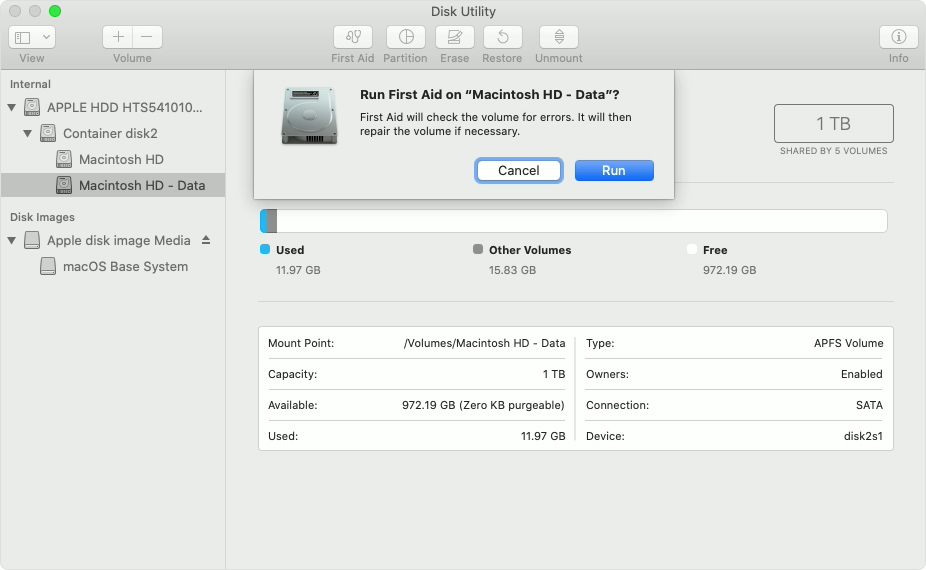 If no problems are found, simply restart your computer. If you see an "overlapped extent allocation" error, open the DamagedFiles folder and delete the corrupted files. Then run First Aid again. If the disk fails to be repaired after several First Aid rounds, reinstall macOS.
Finder keeps freezing
Do you get the spinning beachball whenever you try to do anything related to Finder? The culprit is most likely a corrupted .plist file. However, before we get into this, try launching the app in Safe Mode. Restart your Mac and hold down the Shift key when it starts booting. Log in normally and see if the problem is still there, then restart the computer normally.
If Safe Mode is no use, follow these steps to get rid of the corrupted .plist file:
Make sure to back up the Mac before you do anything
Open Finder if you can — if you can't follow the guide from a previous section
In the top menu bar, click on Go → Go to Folder
Type in ~/Library and hit Enter to be transferred to the hidden Library folder
Inside the Library folder, locate and click on the Preferences folder
Find the file called com.apple.finder.plist and move it to the Desktop folder
Restart your Mac and see if anything changes
Mac Finder running slow
Finder running slow can be the result of several issues. The first and the most likely one is that you're simply running short on storage. That's not a big deal — you can clear your storage manually by deleting the Photos library or moving it to an external carrier, getting rid of unnecessary files or duplicates, and looking through your apps and extensions to remove the ones that you no longer use. However, it's far easier to free up space using a third-party clearing software such as MacKeeper.

Another reason for a slow Mac Finder is Spotlight indexing. This is a normal process that happens whenever you update your software or transfer a large volume of data to a cloud or an external carrier. During indexing, Spotlight registers the files on your internal disk that you can search for. It can take a while to complete but will stop on its own with no separate action required.
Finally, as with many other issues, your Finder may be slow to respond due to a corrupt preference file. You can read a solution to this in the previous section of this article.
Finder Search not working
When Finder Search is not working, you will see a blank page whenever you try to look something up in your file manager. At the same time, you may find that the issue doesn't affect the Spotlight search. On one hand, this might not seem a big deal — however, many users rely on the Search feature and will be extremely upset with such a problem.
It's common for Finder search to start glitching after a macOS update. The first users to point out this issue were the ones who updated their MacBooks to macOS Mavericks — there was a lot of turmoil at the time about the superiority of Snow Leopard over the subsequent upgrades.
Fortunately, it's easy enough to get things back to normal by rebuilding the Spotlight index.
Rebuild the Spotlight index
The process of reindexing Spotlight makes the tool register every file on your disk all over again. This is useful if, for some reason, you can't find your documents via Finder or the Spotlight Search. It takes just eight steps:
Click on the Apple menu in the top left corner of the screen
Select System Preferences from the list
Go to Spotlight and choose the Privacy tab
Open Finder
Open the location of your computer, i.e. MacBook Pro/iMac/MacBook Air
Drag the folder of your internal disk to the list of locations that Spotlight can't search in the System Preferences window. Alternatively, use the plus button to add the required folder
The disk will appear in the list. Select it and click on the minus button to remove
Quit System Preferences and Finder, wait for Spotlight to reindex