Microsoft Word is now known by pretty much everyone who has ever used a computer as a text editing software. It's the most popular tool for writers, students, teachers, and anyone who has to deal with text files on a regular basis. Since its release for Windows OS 36 years ago, Microsoft Word became available for most other operating systems and is now ingrained in the core of modern industrial progress.

Before we start


Corrupted cache files can cause apps like Microsoft Word to crash. You can look for these files manually and delete them, but it's much easier to use MacKeeper's Safe Cleanup feature. It'll search your Mac for cache files and other unnecessary data, and then delete it with a single click.

Start MacKeeper, and click Safe Cleanup on the left-hand side

Click Start scan

Select Caches, and choose everything you want to delete

Click the Clean junk files button

You can download MacKeeper for free. It comes with one free fix, so you can properly test it, without any commitments.

Like any other program, Word can occasionally freeze and stop working for reasons unknown to the general user. Sudden crashes used to devastate their victims who lost hours of hard work in a matter of seconds until auto-save came round. Even though the loss of data is no longer a problem for most of us, constant lags can still cause a great deal of annoyance. You can learn how to fix some typical Microsoft Word issues in the following sections
Microsoft Word keeps crashing on Mac
If Word crashes when saving a document, you risk losing important data and corrupting the file. This is not an unusual event and can happen at random if the Office suite itself is down or, more commonly, if the installation wasn't completed properly. However, sometimes it's caused by internal system issues, and it's down to you to resolve them. Here's what to do:
Make sure you have the right hard drive name. Windows has imposed a number of restrictions on hard drive names, putting Mac's flexibility at disadvantage. If you have an HD name that falls out of the range of what's allowed, it may cause issues with Word. Open Disk Utility and make sure that your Mac's drive name starts with a letter and does not contain special characters (it's called Macintosh HD by default)
Erase the auto-saved versions. There is a folder on your Mac that contains all the automatically saved documents that can accumulate over time and cause Word to glitch. Clearing out that folder may solve the problem. Open Finder and click on Go in the top menu bar, then select Go to Folder from the drop-down menu. Type in ~/Library/Containers/com.microsoft.Word/Data/Library/Preferences/AutoRecovery and hit Enter to follow the path. Delete the contents of that folder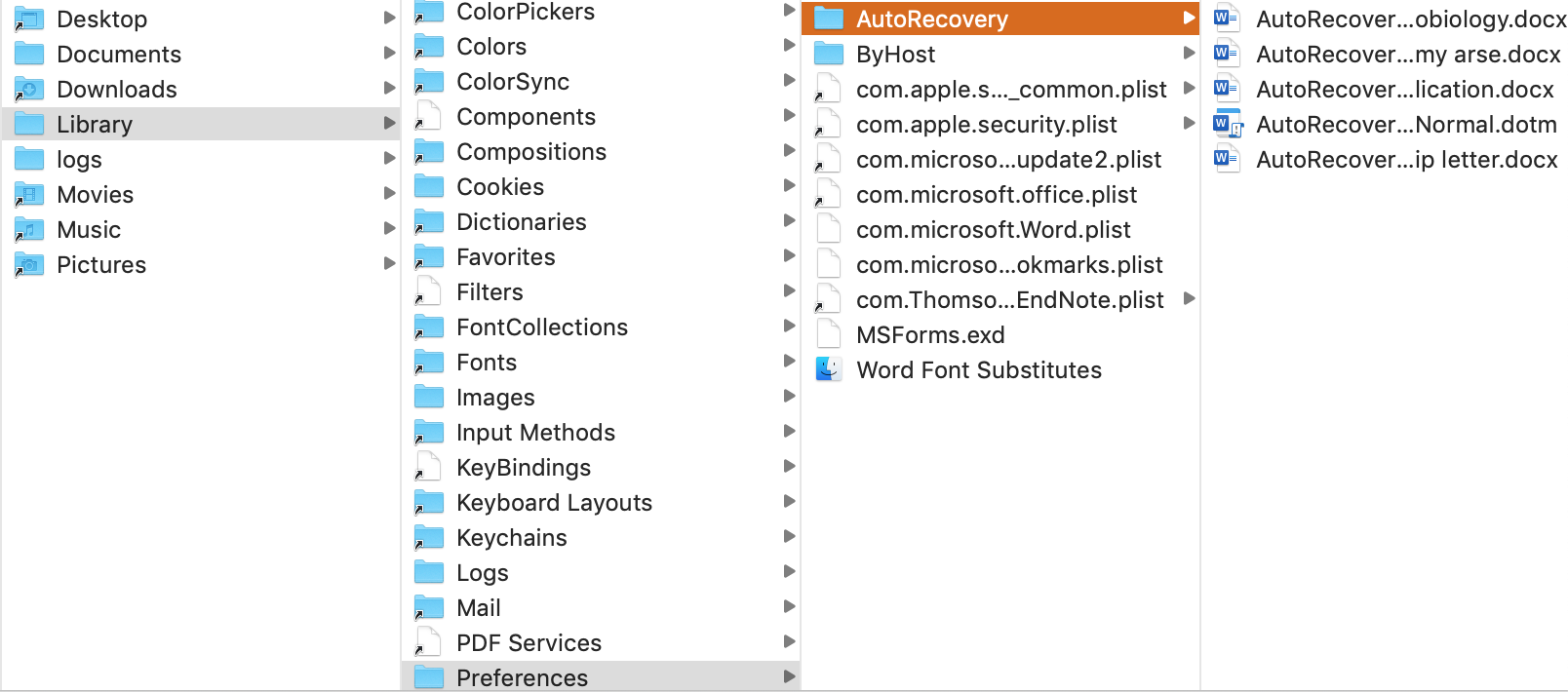 Reset Preferences. Open Word and click on the Word menu in the top left corner of the screen. Select Preferences from the drop-down list. Go to the File Locations section and select "User Templates" from the list. Then click the Reset button. Restart your Mac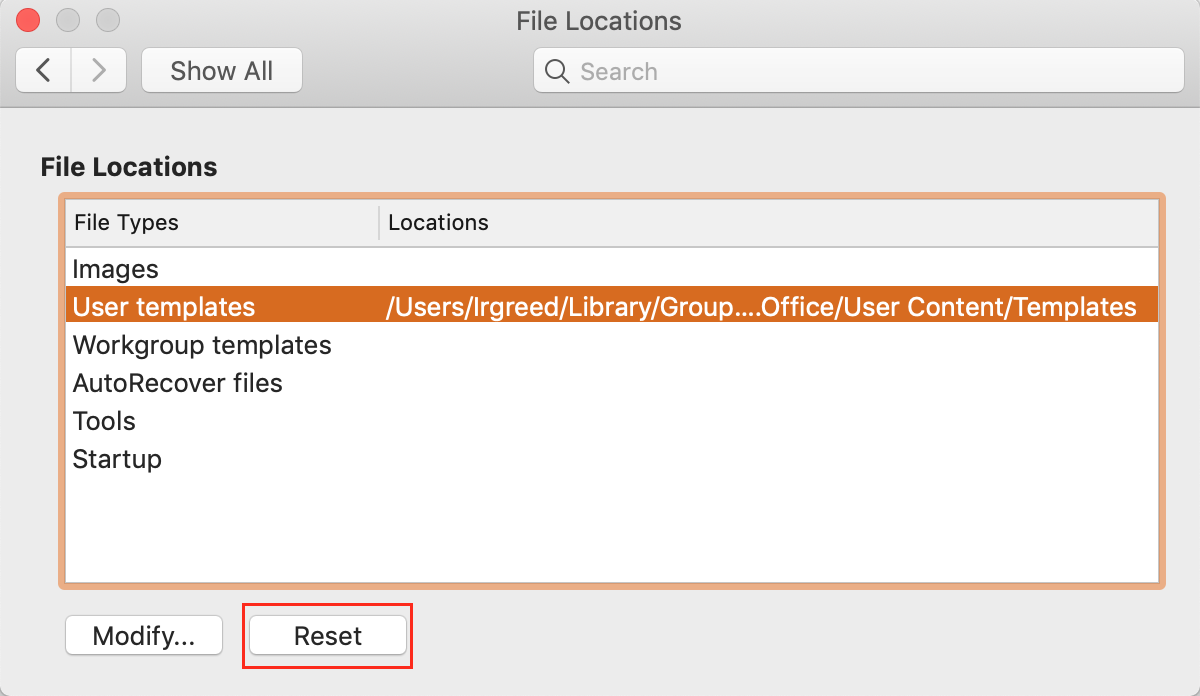 Run First Aid. If you think that more fundamental problems relating to your internal disk are causing the glitch, repair Macintosh HD in Disk Utility. Press Control + Space to open Spotlight and search for the tool to open it, then choose Macintosh HD from the list in the sidebar on the left. Click on the First Aid and Run
Run in Safe Mode. This is a classic way to troubleshoot problems with both Windows and macOS. To launch Safe Mode on a Mac, restart the computer and hold down the Shift key as soon as it starts booting. Then log in normally and test the problem — you will see the "Safe Boot" identifier in the top right corner of the screen
Reinstall Microsoft Office. This is the last resort that is likely to work if your previous installation didn't go through the way it was supposed to. To do that, quit all the Microsoft Office apps that you're currently running and open the Applications folder in Finder. Drag every Office Suite app to the Trash. Go to AppStore and Reinstall the Suite.
Word is frozen on Mac
When your Mac is processing a particularly difficult task or working on multiple things at once, you will see the rainbow spinning beach ball. This is a frequent occurrence and is usually nothing to be concerned about — it goes away in less than a minute of waiting. However, if you see the spinning ball the entire time while using Word, it becomes an issue. Let's get to the bottom of it and see how to unfreeze Word on Mac.
First of all, give it a minute. Owners of older MacBooks will know that a slower system is not a rarity — if your Mac is "coming of the middle age", you might start experiencing these lags too.
However, if simply waiting is not an option, you will need to force quit the app or even restart your computer.
How to Force Quit Word on Mac
If you can't close a document when Word is frozen, you might need to force quit the app. This is fine as long as your auto-save has been enabled — otherwise, you will lose all your progress.
There are two ways to force quit on Mac. The first is simple and well-known: when you see the spinning beach ball, simply point at Word's icon in Dock, right-click on it and select Force Quit from the drop-down menu. If you don't see that option, hold down the Option key while clicking on the icon.
The second way is to open the Force Quit menu. This is particularly useful if the glitching app has caused the entire screen to freeze. Press Command + Option + Escape simultaneously and navigate to the line with Word by pressing the arrow keys. Once you've located it, hit Enter and wait until the app closes.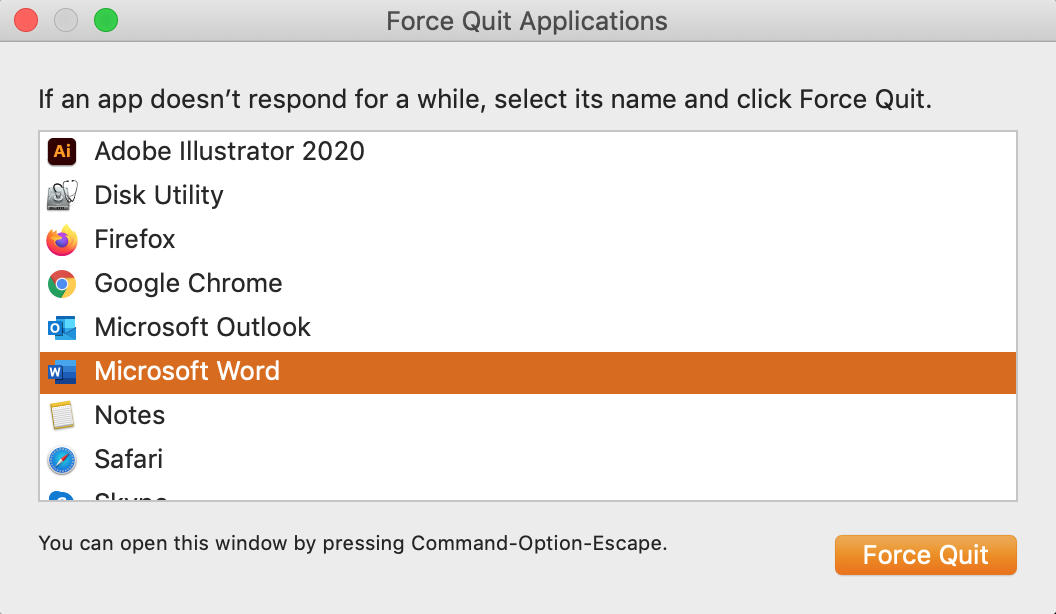 Microsoft Word not responding or won't open on Mac
You may come across an issue when Word stops responding whenever you try to launch it. If you have to use the Force Quit feature every time you attempt to start the program, you may have some in-app problems.
In order to address them, try the following steps:
Update Word. It's common to experience issues with outdated software, but it's especially critical with Office Suite programs for macOS. For example, you will need to have no later than the 2019 version of Office in order for it to work on Catalina. Launch Word and go to Help in the top menu bar, then click Check for updates
Erase the auto-saved versions of documents. As mentioned in one of the previous sections, a buildup of automatically saved files can cause all sorts of issues with Word. In the top menu bar in Finder, click Go → Go to Folder and paste the following path: ~/Library/Containers/com.microsoft.Word/Data/Library/Preferences/AutoRecovery. Then hit Enter. Delete the contents of the AutoRecovery folder
Change the name of the document. You might have a problem opening a .word doc if its name contains special characters — make sure it's just numbers and letters and then try launching the app again
Delete Word Preferences files. In the top menu bar, click on Go → Go to Folder and type in ~/Library/Preferences/com.microsoft.Word.plist. You will see the .plist file that holds your custom Word preferences. Move the file to the desktop — you will lose any customizations you have made. Restart the Mac.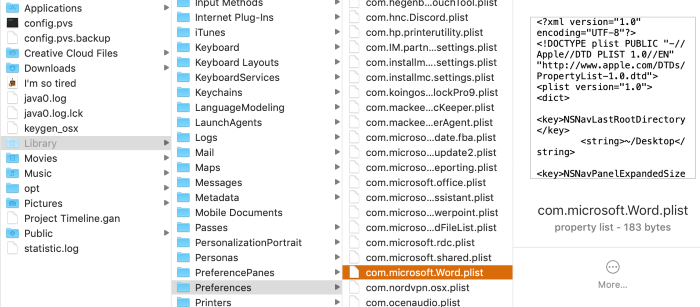 Microsoft Word slow on Mac
Various reasons can lie behind a lagging Microsoft Word app. It could be the internet connection or the Office suite itself, or simply power-hungry components of the program. Check out this advice to resolve your problem:
Turn off SpellChecker. This feature uses extra resources on top of the usual lot, causing Word to slow down
Repair disk permissions. If you have insufficient permissions for Office, Word will work slower than usual. Open Spotlight (Control + Space) and type in Disk Utility, then click on your internal disk's name in the left sidebar. Click on First Aid and run.
Disable Firewall. When Office attempts to connect to the internet upon startup, Firewalls can block this connection, causing the program to work slowly. To turn off the Firewall, go to Apple menu → System Preferences → Security and Privacy, click on the Firewall tab. Unlock the padlock and click "Turn Off Firewall"
Turn off Automatic Graphics Switching. Disabling this energy- and CPU-hungry feature is unlikely to interfere with your everyday activities, but will save you battery time and speed up Word. Go to Apple menu → System Preferences → Energy Saver and uncheck Automatic Graphics Switching. Note: this option doesn't exist in newer versions of macOS.