Macs are great, but they're not immune to problems. As with other computers, they can go wrong, and you can end up losing important data, like work documents or treasured photos. That's why it's a good idea to back up your Mac frequently.
There are few key ways to create backups of your Mac:
A note to remember


If you're making a full backup of your Mac, the smaller it is, the quicker it will be. So it's a good idea to clear your Mac of unwanted apps before you make a backup. You can do this easily with MacKeeper's Smart Uninstaller. It will remove apps without leaving any unnecessary files behind, which tends to happen if you just drag them to the trash.

Select Smart Uninstaller from the left-side menu in MacKeeper

Click Start scan

When it's finished, click Applications, and choose what to uninstall

Click Remove selected

You can try MacKeeper for free to see for yourself. It comes with one free fix, so you can decide whether it's right for you or not.
Manually backing up your Mac files
The most basic way of backing up data on a Mac is to hook up a USB drive and then just drag and drop files into it. It's not sophisticated, and it's only effective if you remember to do it. First, though, you'll need to make sure your drive is ready for backups, using macOS's Disk Utility.
How to prepare an external drive for Mac backups:

1. Plug in an external drive, then open Disk Utility from Applications > Utilities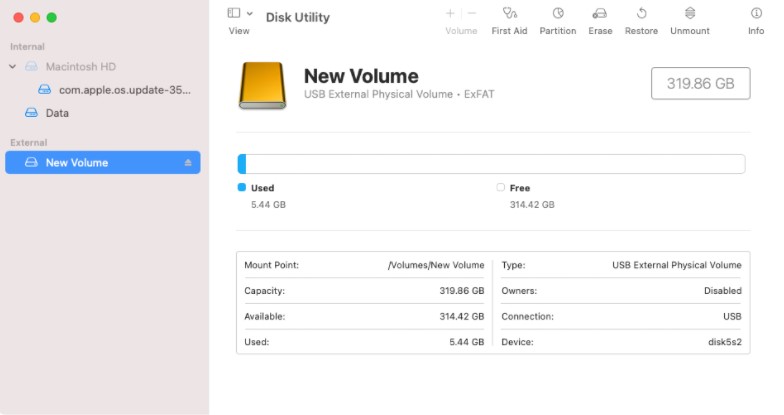 2. Select the drive from the list on the left, then click Erase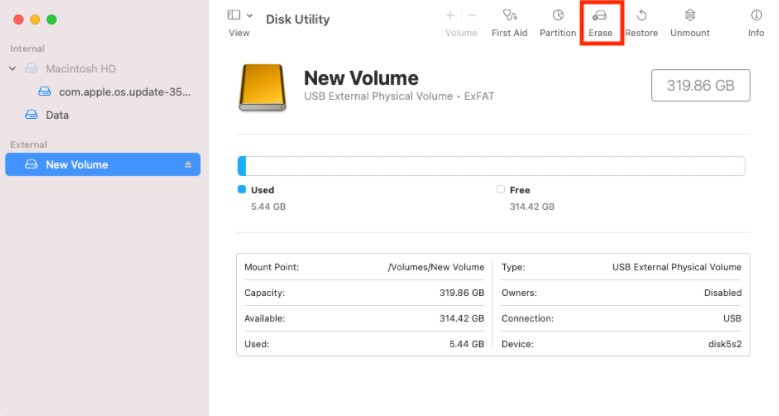 3. Choose a formatting option from the Format dropdown menu. If you want to be able to access the files on a Windows PC, select ExFat
Otherwise, choose Mac OS Extended or APFS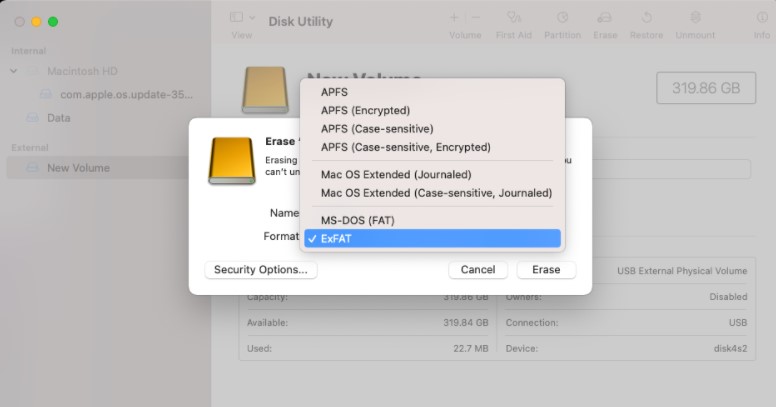 4. Click Erase
Backing up your Mac with Time Machine
Time Machine is the built-in backup app for Macs, designed to help you keep up-to-date copies of all your files. All you need to use is an external storage device, one that's at least twice as large as the amount of data you want to back up.
How to back up your Mac with Time Machine:

1. Prepare a hard drive for backup
Open Disk Utility, select your external drive, and choose Mac OS Extended (Journaled) for the Format. Click Erase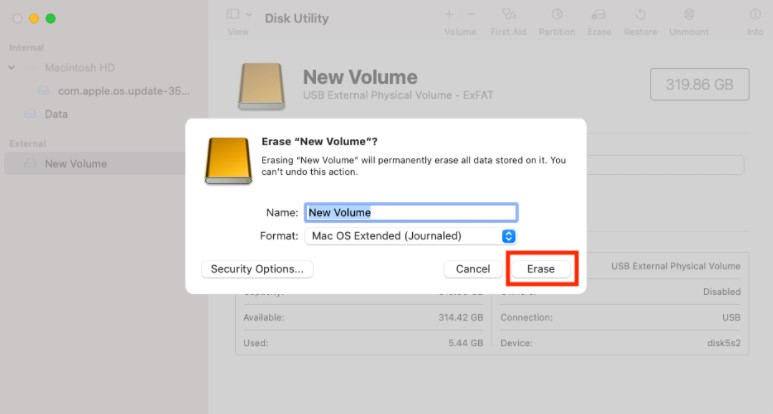 2. Launch Time Machine
Now, in System Preferences, click Time Machine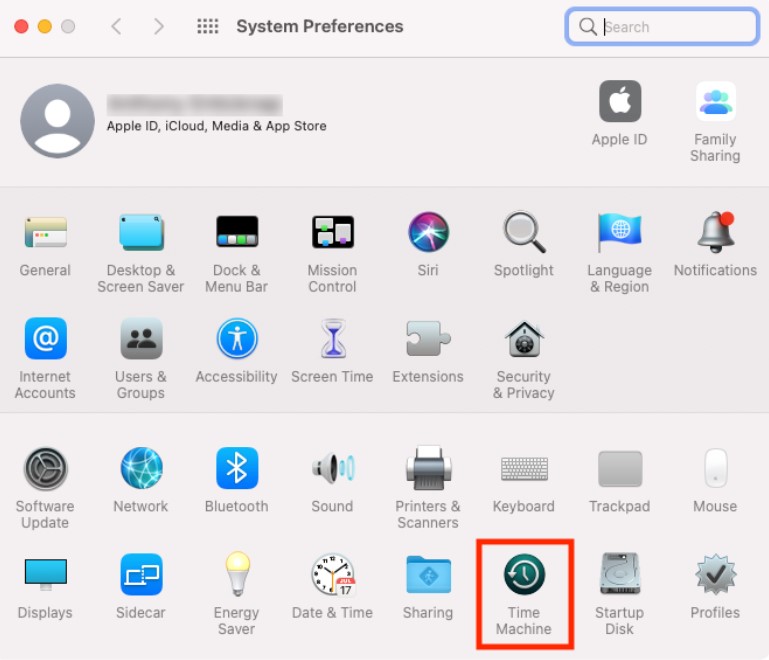 3. Select a Backup Disk
Click the Select Backup Disk button in Time Machine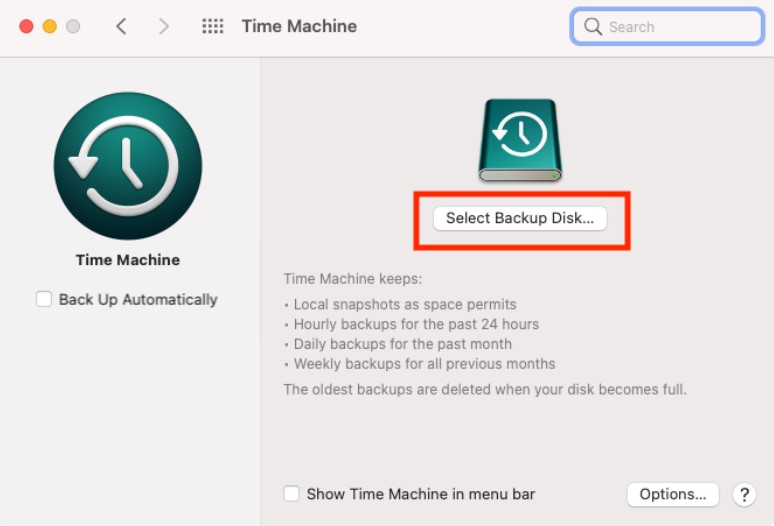 Choose your external drive from the list, and click Use Disk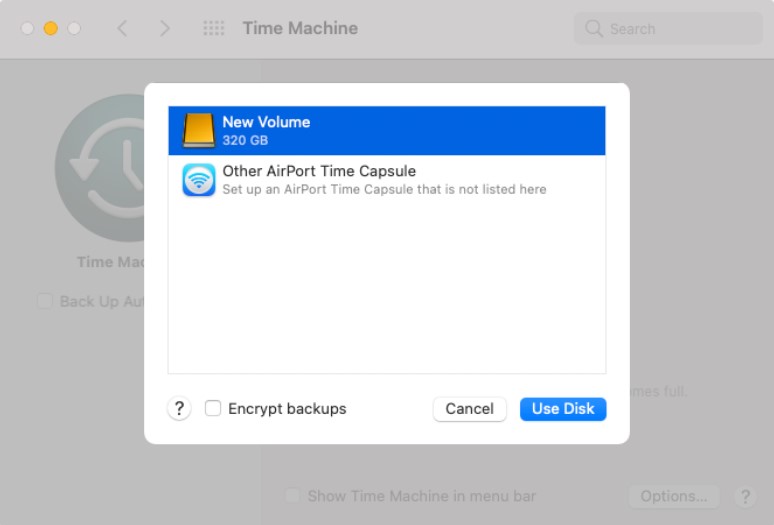 If you want Time Machine to automatically make backups, click the box next to Back Up Automatically
For more information about backing up a Mac with Time Machine, including formatting your drive, read our full guide.
Cloning your Mac's hard drive
Unlike Time Machine, a clone of your hard drive isn't just a copy of individual files. Instead, it's a bit for bit copy of the whole drive. That means you can even boot from it, if you need to. There's no built-in cloning tool in macOS, though, so you'll need a third-party tool. A good one is SuperDuper! It's available for free, and you'll only need to pay for it if you want to unlock features like scheduling.
How to backup your Mac's hard drive by cloning it with SuperDuper!:

1. Download and install SuperDuper!

2. Open SuperDuper!, and use the left-side dropdown menu to select the drive you want to back up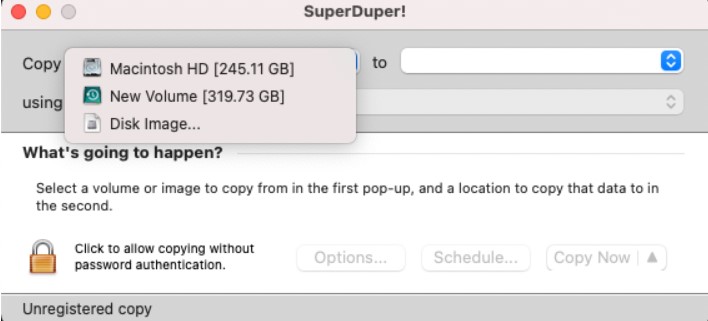 3. Using the right-side dropdown menu, select your external drive, and click Copy Now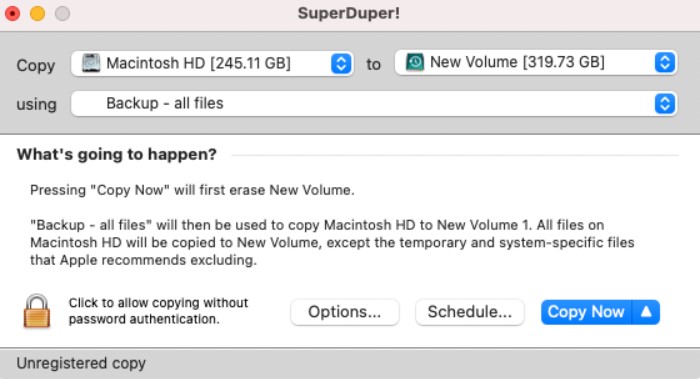 4. If you're prompted to enter your password, do it and proceed. You'll see a warning about erasing the external drive. Click Copy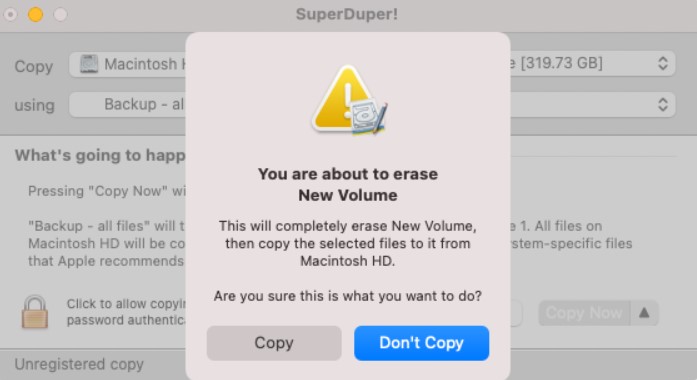 5. Wait for SuperDuper! to complete the backup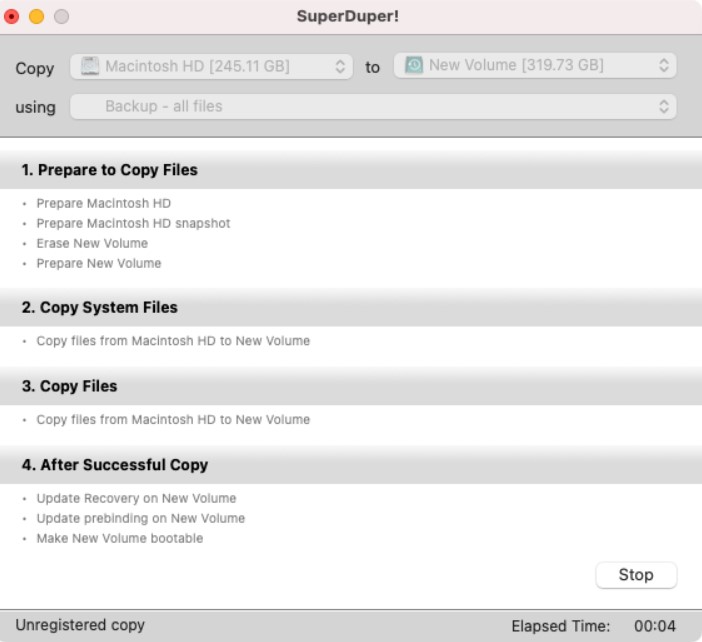 To learn more about this process, check out How to Clone a Mac Hard Drive.
iCloud backup
iCloud is, of course, Apple's cloud backup service for Macs and iOS devices. If you're using the free plan, you only get 5GB of space. That might be enough for your needs, but you can easily expand it by paying for more storage space. You'll need to set up an Apple ID first, if you don't already have one, but after that iCloud backups are done automatically.
How to manage backups of Mac files in iCloud:

1. In System Preferences, select Apple ID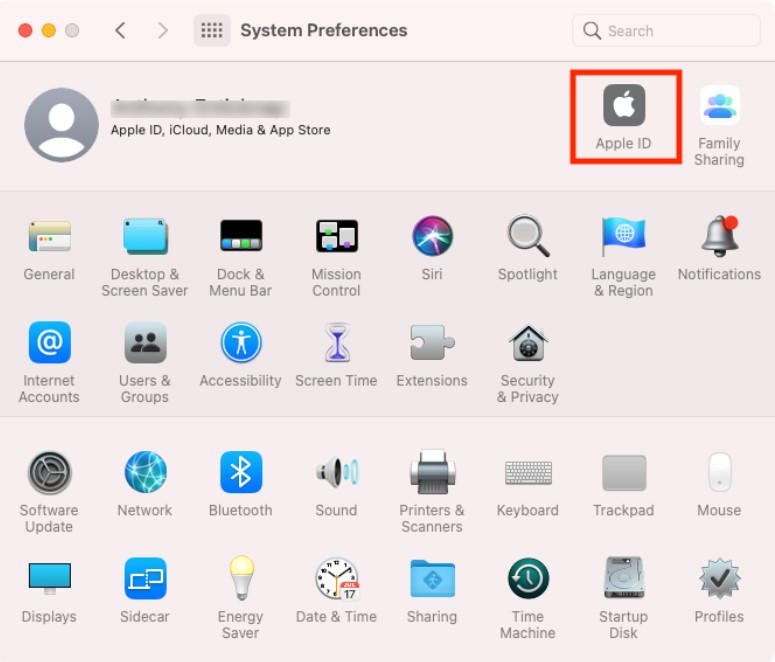 2. If it's not already selected, click iCloud in the list on the left. Go through the list and untick anything you don't want to back up to iCloud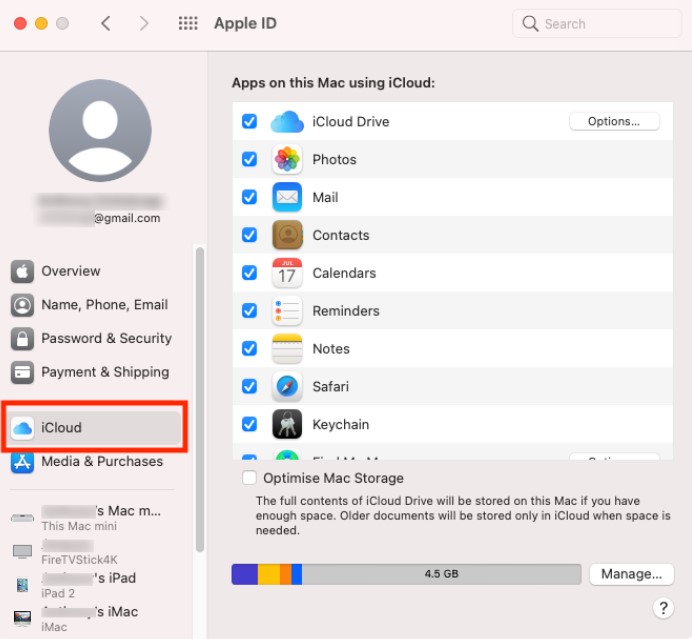 3. Next, click the Manage button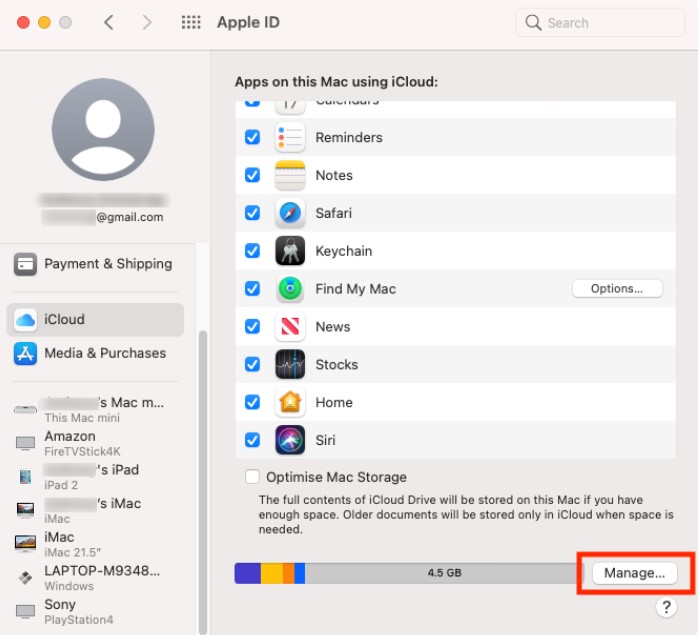 4. You can now see how much storage is left in your iCloud. You can view your current backups and delete them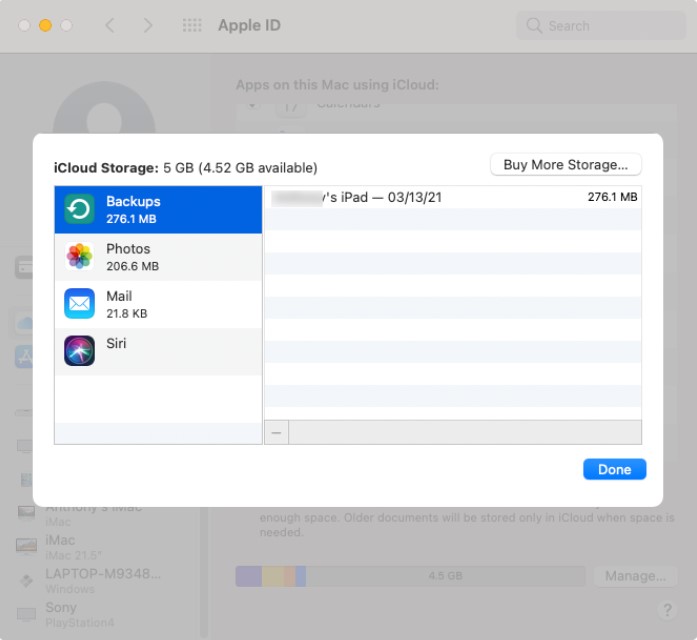 Read how to back up your data using Google Drive or Dropbox for a more detailed look at this process.
How to restore a Mac from a backup
The way you restore your files depends on which tool you used to make a backup.
For Mac backups made with Time Machine, you can restore all your files, restore both the Mac operating system and all your files, or restore specific files, including their older versions. If you cloned your hard drive, check out this detailed guide for instructions on restoring your Mac from a backup. And if you backed up your files with iCloud, you can just access them any time by opening iCloud on your Mac or going to icloud.com.
Backing up a Mac is really that simple. Using Time Machine or scheduled cloning is a great way to get it done because you don't have to remember to do it.
Read more: