It should go without saying that making backups is important. But backing up can be a chore, something that's easy to put off until another day. That's what's great about Apple Time Machine. It makes backing up easy, automating the process so you don't have to constantly think about it.
In this guide, we'll show you how to configure Time Machine and how to recover your data from it.

There's no point in backing up duplicate files. They just take up space and make your backup take longer. Use MacKeeper's Duplicate Finder to track them down and delete them.

Start MacKeeper, and select Duplicate Finder from the left

Click Start Scan

When it's done, select any duplicate it finds

Click Remove duplicates

Download MacKeeper for free, and give it a try.
There are a few steps involved in backing up with Time Machine:
Why use Time Machine for backups?
Time Machine is, of course, macOS's built-in backup tool. It creates a complete copy of your Mac system, including files and settings. Depending on how you set it up, Time Machine can make backups automatically or whenever you choose. You can then restore individual files or your entire Mac.
Choosing a Time Machine destination
The idea of Time Machine is to make a copy of your startup disk somewhere else.
You can use Time Machine with the following destinations:
An external USB drive
Another Mac
A network-attached storage (NAS) device
An AirPort Time Capsule
There are few things to note here. Firstly, only certain NAS drives are compatible with Time Machine, so if that's the route you want to take, check first before buying one. There are also a few extra steps needed to get a Mac ready to be used as a Time Machine destination for another Mac. Other than that, it should be simple to configure Time Machine with any other options.
The key factor is disk size. You should choose a Time Machine destination that is at least twice the size of your Mac's main storage.
How to set up another Mac as a Time Machine destination
1. In System Preferences, select Sharing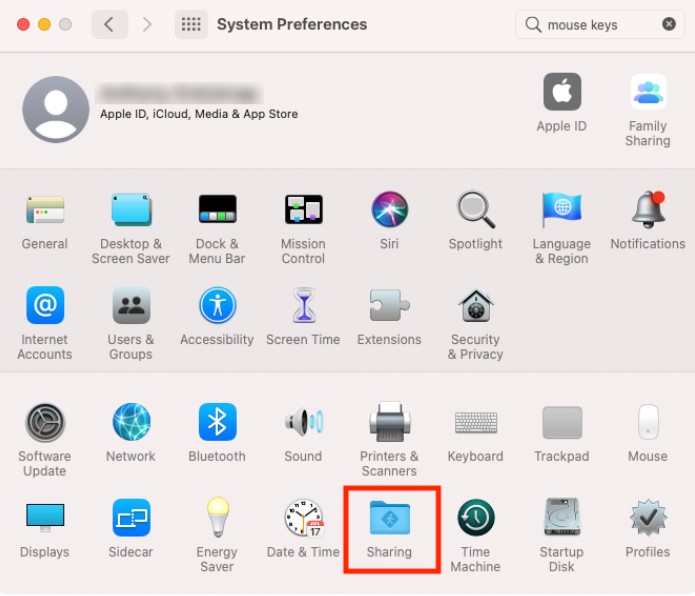 2. Click the File Sharing tickbox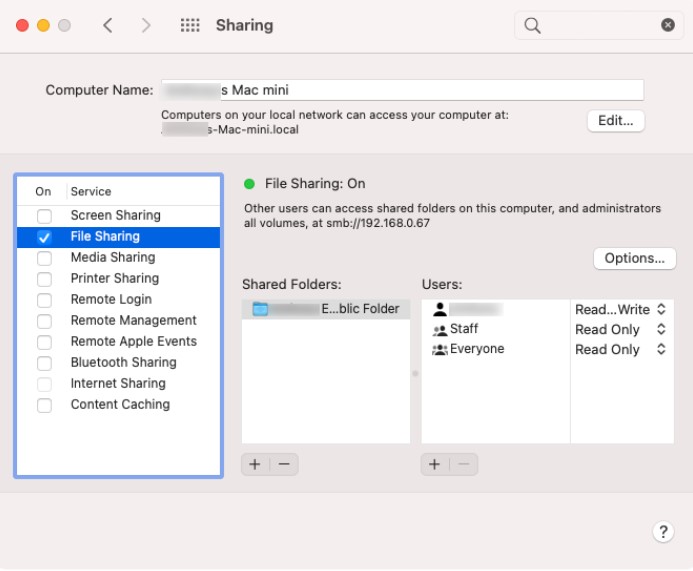 3. Click Options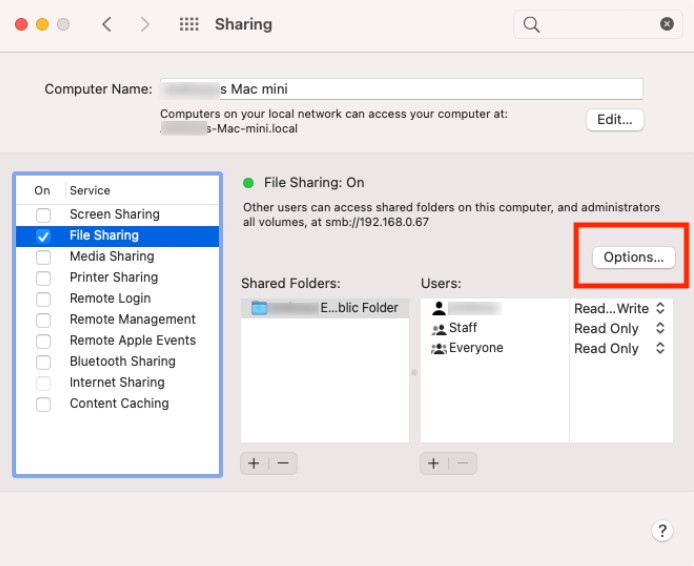 4. Make sure Share files and folders using SMB is selected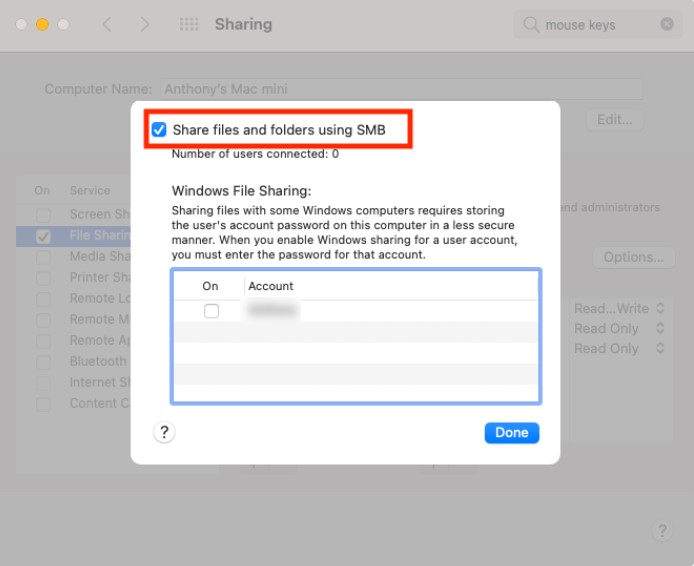 5. Click Done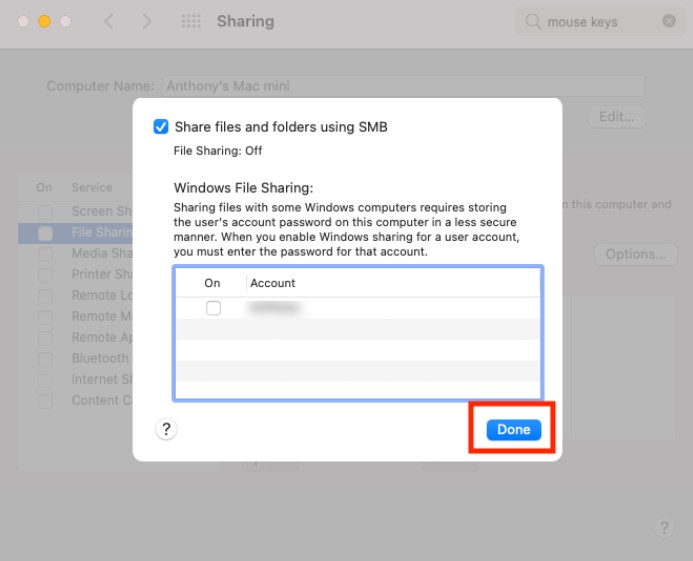 6. Click the + button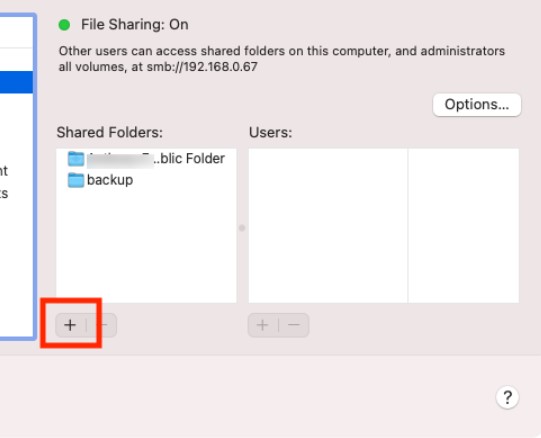 7. Find the folder you want to back up the other Mac to, and click Add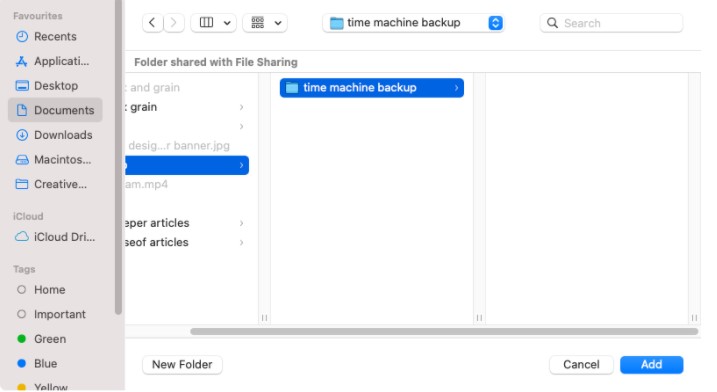 8. Right-click the folder, and select Advanced Options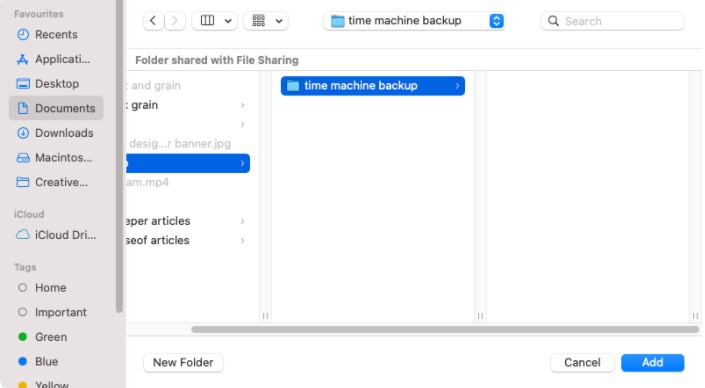 9. If you see a Share over option, choose SMB. In either case, select Share as a Time Machine backup destination. You can also set a size limit here, if you want. Click OK when you're done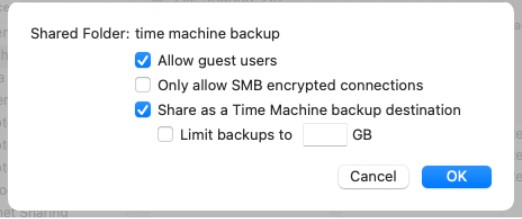 Formatting a USB drive for Time Machine
When you use Time Machine with a USB drive, it will ask to format the drive as part of the setup process. You can, however, do it in advance as well, using Disk Utility. This will wipe the USB drive, so back up anything on there you want to keep.
How to wipe a drive for Time Machine:

1. Find Disk Utility in Applications > Utilities, and start it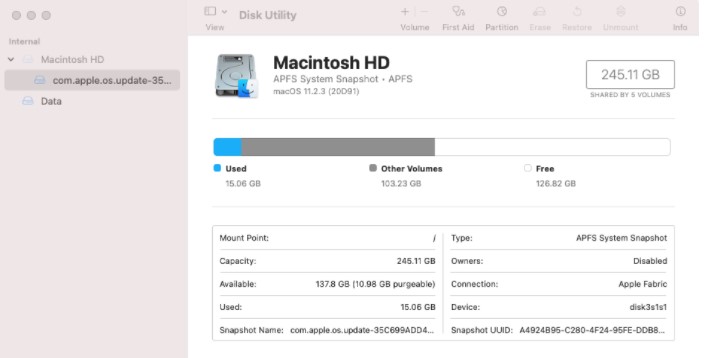 2. Select your hard drive in the menu on the left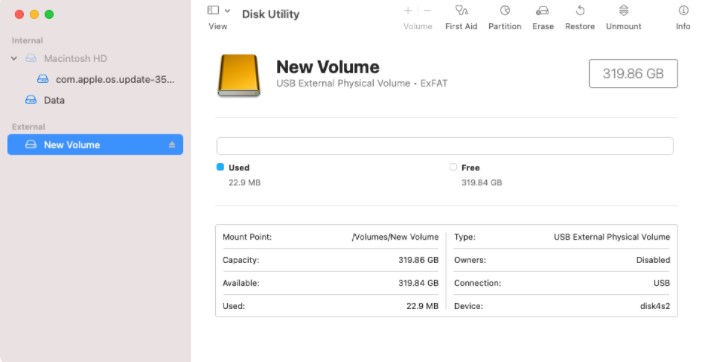 3. Click Erase in the upper menu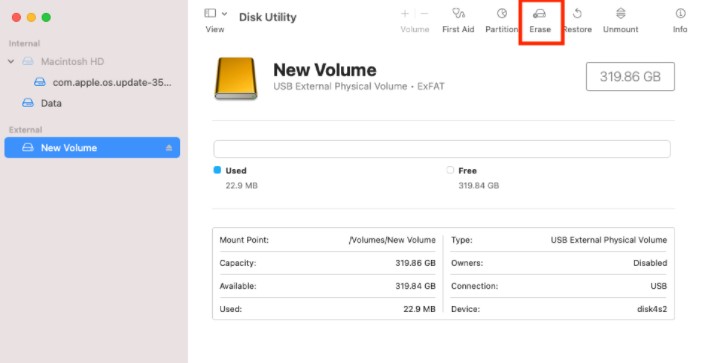 4. Select APFS or Mac OS Extended (Journaled) for Format, and click Erase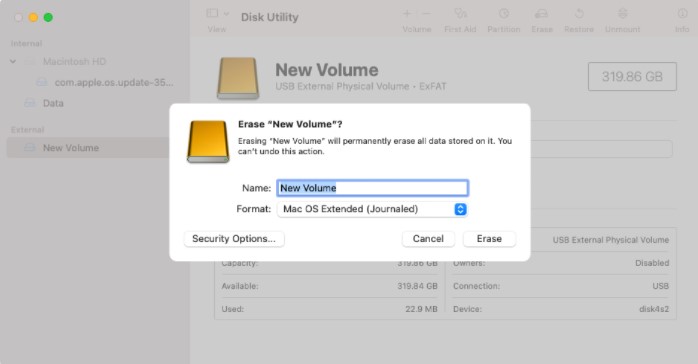 How to set up automatic backups with Time Machine
When you enable Time Machine, it will be set to back up automatically by default. Here's how to get Time Machine set up:

1. In System Preferences, select Time Machine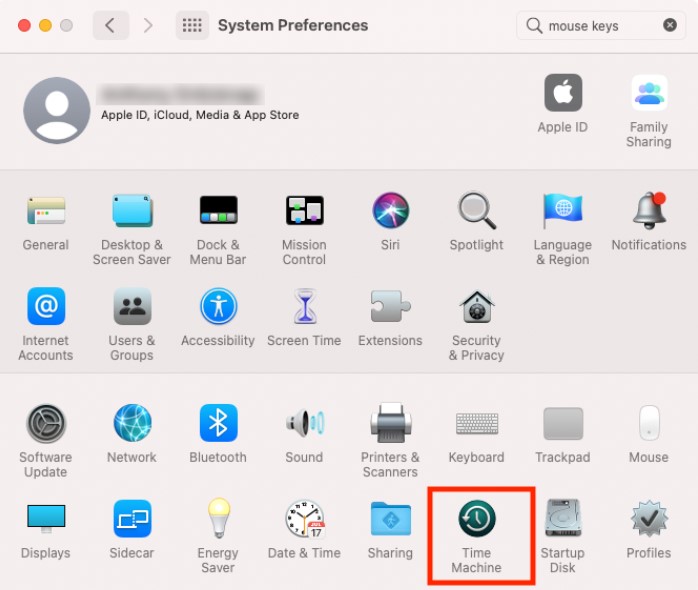 2. Click Select Disk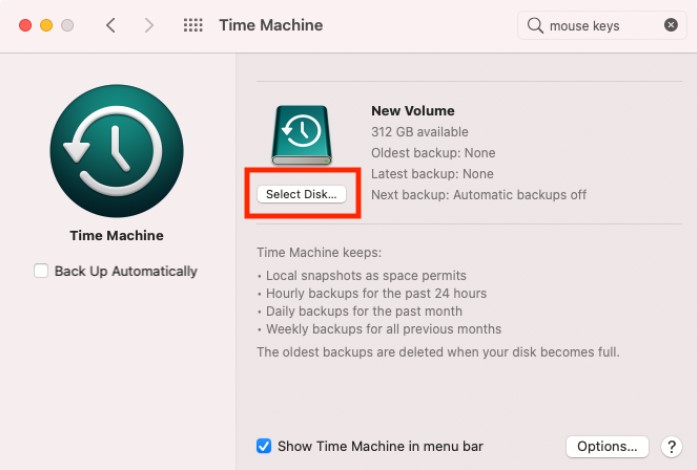 3. Choose whichever backup destination you want, and click Use Disk. Any compatible NAS drives or Time Capsules should appear in this list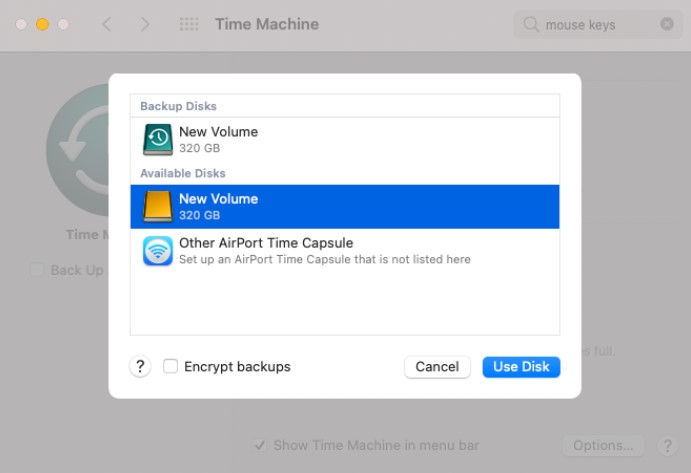 4. If you don't want automatic backups, untick Back Up Automatically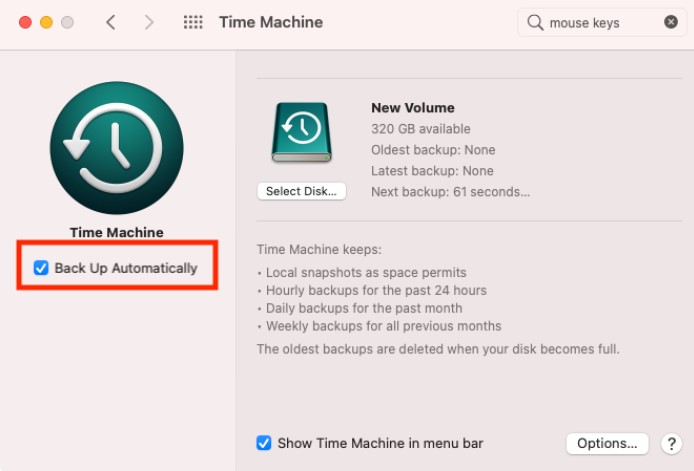 The first time you back up your Mac with Time Machine could take a while, depending on how many files you have. After that, Time Machine will back up your data periodically (hourly, daily and weekly). It only updates the files that have changed since the previous backup, so future backups are much quicker.
How to back up manually with Time Machine
Whether or not you have automatic backups set up, you can initiate a Time Machine backup whenever you like.
Here's how to do a manual Time Machine backup:

1. Go to the Time Machine settings in System Preferences

2. Make sure Show Time Machine in menu bar is selected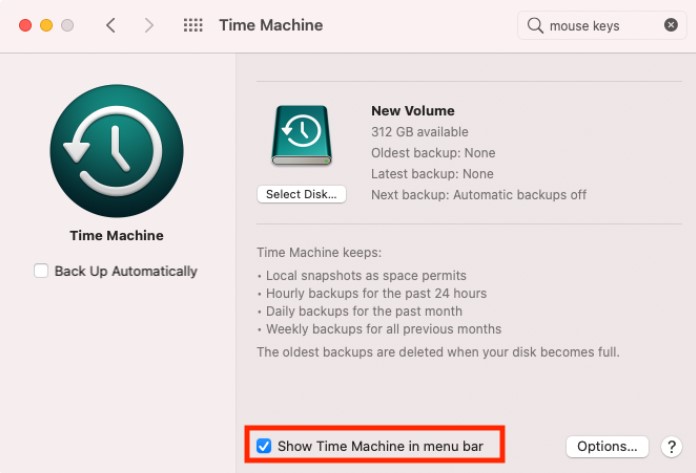 3. You should have a tiny clock icon in your menu bar. Click it, and select Back Up Now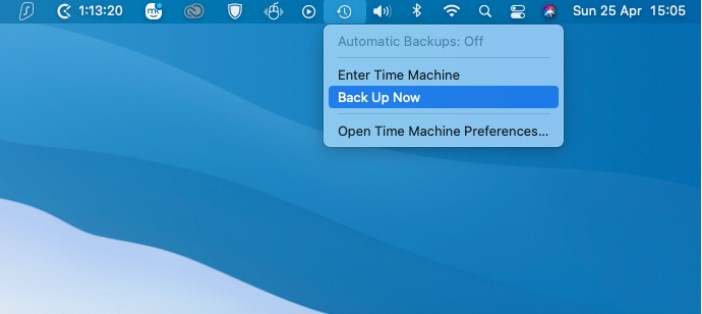 How to exclude files and folders from Time Machine backups
Unless you say differently, Time Machine will back up your entire system drive. Obviously, the more there is to back up, the longer it will take. And there are probably files on your Mac you don't need to back up — things like app installers, which you can just download again. Besides, use a Mac anti-malware scanner to prevent malware from backing up as well.
Here's how to exclude items from your Time Machine backups:

1. Open your Time Machine settings from System Preferences

2. Click the Options button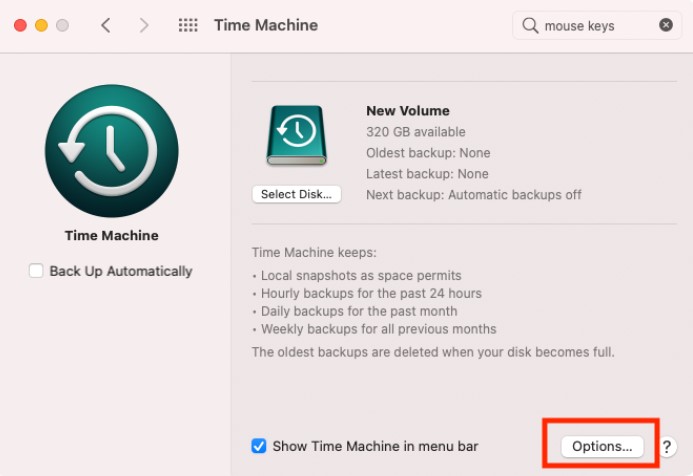 3. Click the + button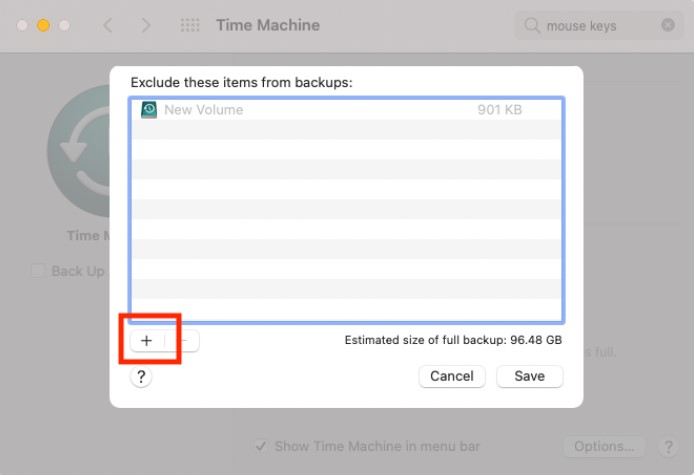 4. Select some files and folders you want to exclude, and click Exclude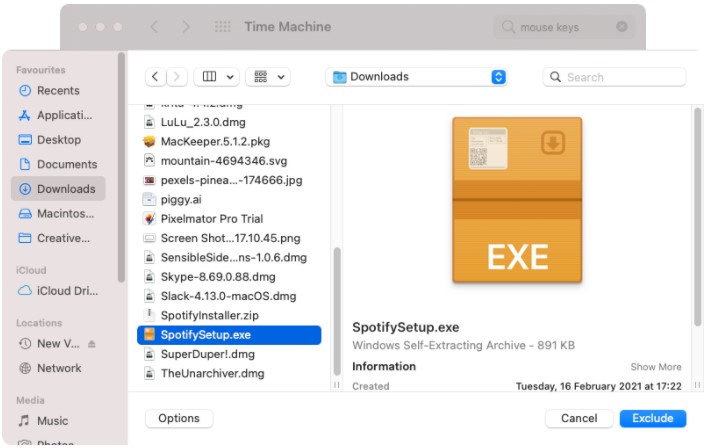 5. Repeat the process for any more files or folders you want to leave out of your backups
How to restore individual items in Time Machine
Once Time Machine is all set up and it's made some backups, you can restore individual files and folders any time you want.
Here's how to use Time Machine to restore items:

1. Click the Time Machine icon in your menu bar

2. Select Enter Time Machine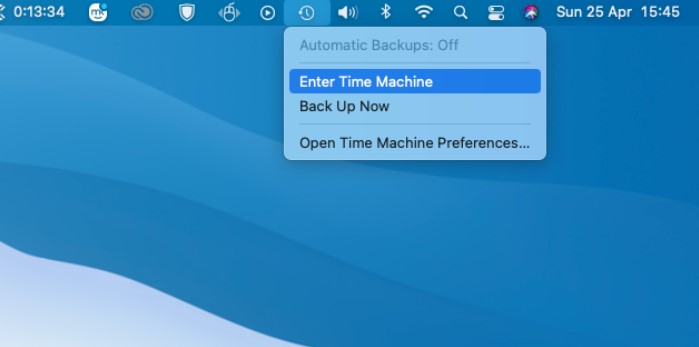 3. You'll see a stack of Finder windows. Each of these represents a different backup. You can navigate through these, as well as looking in each backup for files and folders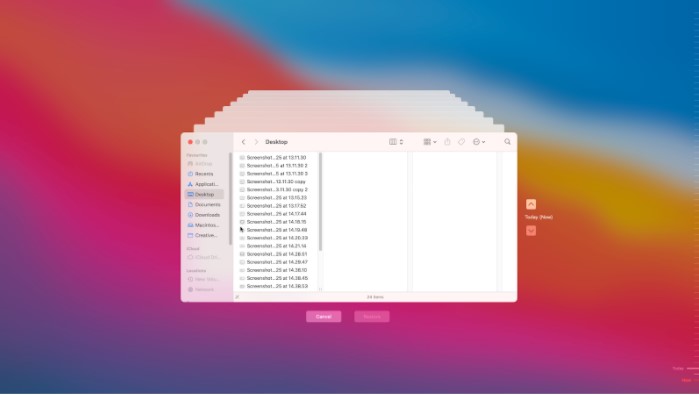 4. Select what you want to restore, and click the Restore button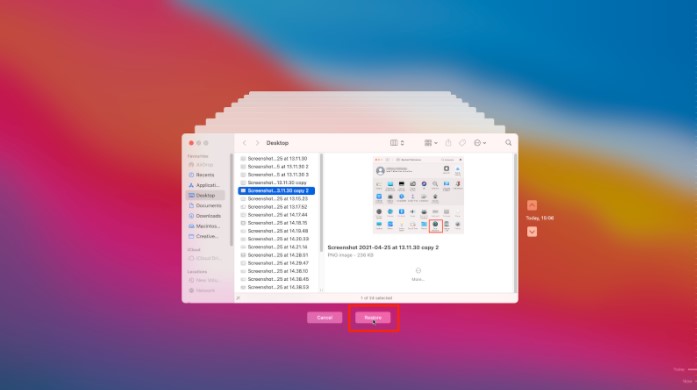 How to restore your whole startup disk with Time Machine
If something goes wrong with your Mac and it won't start, you can completely restore it from a Time Machine backup. You'll need to factory reset your Mac and reinstall macOS, then use the Migration Assistant to restore your Mac.
How to restore your Mac with Time Machine:
After reinstalling macOS, choose to use the Migration Assistant
Select From a Mac, Time Machine backup or Startup disk, and click Continue
Select your Time Machine backup, and click Continue
Select what you want to restore, and click Continue
Create a password when prompted, and click Continue
Wait while Migration Assistant restores your files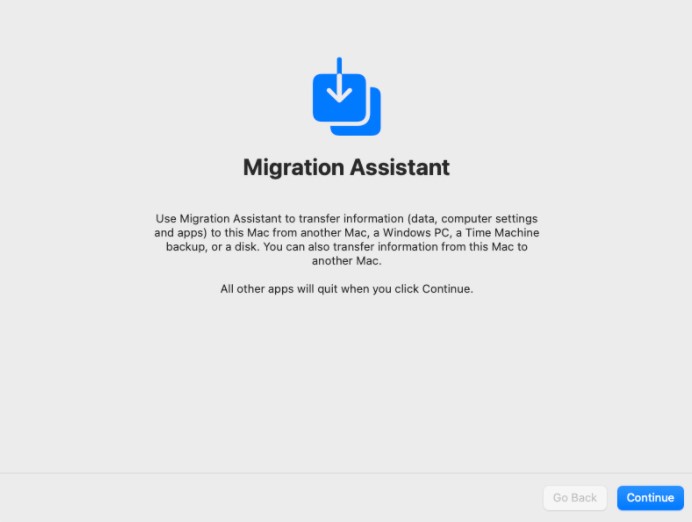 Most of the time, you won't want to restore your whole Mac with Time Machine. Generally, you'll only use that feature if something is seriously wrong with your Mac or if you're moving to a new computer. But Time Machine's ability to backup and restore individual files and folders can be a lifesaver.
Just follow the steps in this guide, and you should have no problems backing up your important files.
FAQ
How much space does Time Machine need?
It's generally recommended to use a Time Machine destination that's at least twice as large as your startup disk. But the bigger the better, so if you can get more space, you should.
Is Time Machine the best way to back up a Mac?
What's 'best' is very subjective. There are plenty of third-party backup tools for Mac, and some of them are great at what they do. And they include advanced features that aren't in Time Machine. But if Time Machine does what you need it to, you should stick with it, especially seeing as it's free.
How do I know when Time Machine is done backing up?
You can see Time Machine's backup progress in the Time Machine preferences pane. It tells you how much data is left to back up and roughly how long it will take to finish.
What format should my external hard drive be for Mac Time Machine?
Time Machine backs up to Apple's own disk formats. The preferred format is APFS, but it can also back up to Mac OS Extended formats and Xsan.
Read more: