April 22, 2020 | 8 min read
How to Back Up Your Mac with Time Machine
It's necessary to back up your data from time to time, but this task may be challenging without proper software. After reading our article, you'll discover a powerful tool—Time Machine—that can help you back up all your data easily and safely. However, don't forget to keep your data secured and keep software up-to-date on your Mac.
MacKeeper will help you to secure your Mac by protecting it from viruses, malware, and adware. It can also help you clean and optimize your Mac storage before the backup process, prolonging its life and allowing it to operate smoothly. Try now!
What is Time Machine
Time Machine is a built-in macOS utility that creates a full copy of your system. You won't need to download any additional software; all you need is an external drive.
Time Machine allows you to make regular automatic backups. To be more precise, Mac Time Machine makes hourly backups for the recent 24 hours, daily backups for the past month, and weekly backups for all previous months. The app deletes the oldest backups when your external storage is full.
However, this is not the only option to make a copy of your files. Check out this guide on how to back up your Mac for more options.
What does Time Machine back up
Time Machine backs up your entire system, including all your apps, photos, music, emails, documents, and system files.
You may have a lot of data on your Mac so we recommend deleting unnecessary files first. You can easily remove all clutter at once using MacKeeper. When you do, you'll use less disk space and your Mac will take less time to back up.
How to use Time Machine
Getting started
To begin using Time Machine, you'll need an external hard drive. Any of these will work:
an external USB, Thunderbolt, or FireWire hard drive
an external drive connected to an AirPort Extreme Base Station or AirPort Time Capsule
an AirPort Time Capsule itself
another Mac
a network-attached storage (NAS) device that supports Time Machine over SMB
When choosing a backup disk think about the capacity you'll need. First, look up how much data you have on your Mac. To find it out, click the Apple menu in the upper left corner of your screen. Select About This Mac and click the Storage tab. It makes sense to get a backup disk that's at least two times the size of your data volume.
Related reading: What to Do if Your External Hard Drive Is Not Recognized.
Make sure your external hard drive is properly formatted. Note that formatting will erase all its contents and make it compatible with your Mac. So first back up the files you might have on the drive before you start.
Go to Disk Utility using Spotlight Search (a magnifying glass icon in the upper left corner).
Select your hard drive in the menu on the right
Click on Erase in the upper menu
Select Mac OS Extended (Journaled) in Format
Click on Erase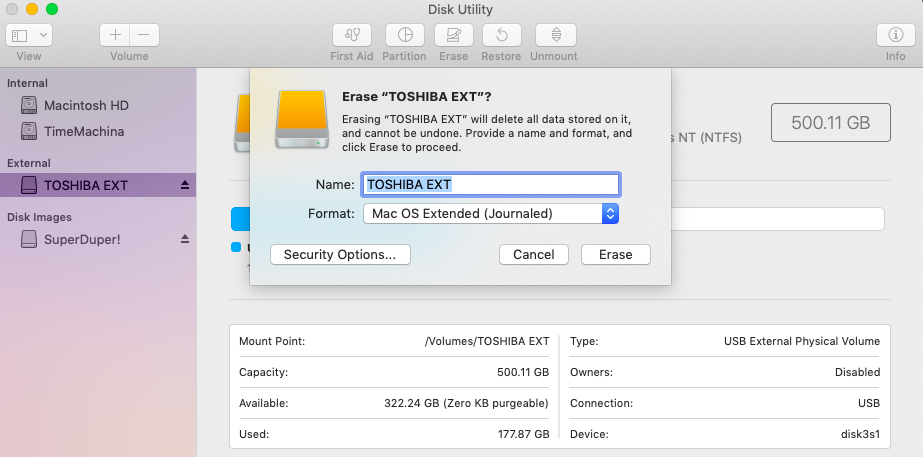 When you connect an already formatted external hard drive, you'll be prompted to use this drive to back up with Time Machine.
Choose Encrypt Backup Disk and then
Select Use as Backup Disk
If you're not prompted to use Time Machine, you can set everything up in System Preferences.
To enable Time Machine on your Mac manually:
Go to System Preferences from the Apple menu, Dock, or Spotlight
Click on Time Machine icon
Click Select Backup Disk button
Check the Back Up Automatically option to automatically back up your Mac.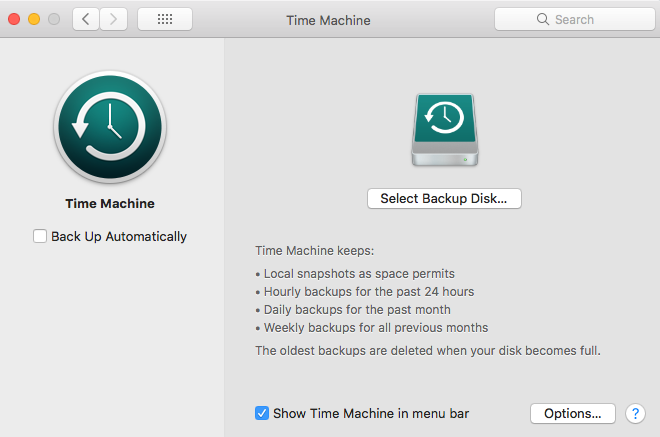 The first time that you back up your Mac with Time Machine could take a while, depending on how many files you have. After that, Time Machine will back up your data periodically (hourly, daily, and weekly). It only updates the files that have changed since the previous backup, which makes future backups much quicker.
You also have the ability to start a backup manually. You can simply select the clock-like icon from the Time Machine menu, in the menu bar, and choose the Back Up Now option.
Upon completion of your first backup, you'll see a notification.

Backup settings
If you want to control other aspects of your Time Machine backup, click the Time Machine menu bar icon, and then click Open Time Machine Preferences.

Here's a look at what you can do:
Stop automatic backups by deselecting Back Up Automatically
Cancel the in-progress backup by clicking Skip This Backup
Exclude items or folders from your backup by clicking Options, followed by "+" to select the items you want to exclude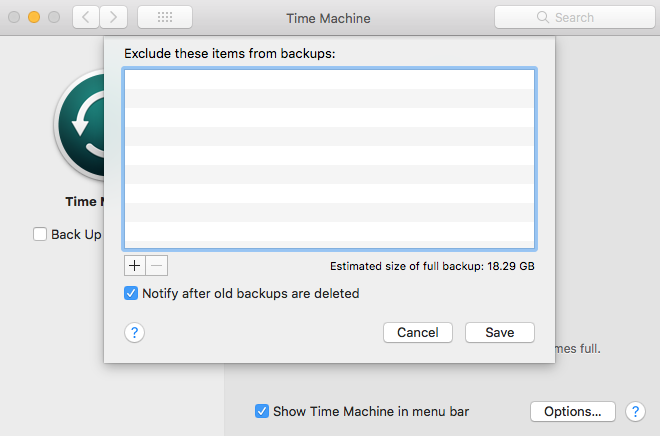 How to restore a Mac from a Time Machine backup
Now that you know how to back up a Mac using Time Machine, you also need to understand how to make use of the reserve copies should the necessity arise. In fact, it's really easy and you can restore everything in a snap.
You have three options here:
Just follow the instructions above to bring your files back.
***
We hope you now have a reliable backup with Time Machine. And if you also want to safeguard your privacy, as well as enhance your Mac's Mac's security and performance, check out MacKeeper! It's a great suite of tools for every Mac fan.
Read more: