Every so often, your Mac puts you in a bit of a panic when your apps freeze up and your computer stops responding. There's always a thought at the back of your mind that your computer might be dead because it's inoperable. But it isn't.
It's common for apps to crash on all computers. It could happen for several reasons, like any one or more of the reasons below:
Your apps haven't been updated to the latest version
You have too many tabs or apps open on your Mac.
When your Mac leaves you hanging, it might be necessary to force quit the frozen app.
Before we begin

We can all agree how inconvenient it is when your Mac stops cooperating with you. But there's a way to avoid this happening to you. MacKeeper's Update Tracker is a nifty tool that helps you keep your Mac apps up to date—all in one place. You can achieve this at the click of a button, and it doesn't take all day.

Ensure your apps continue to perform at their best in just four easy steps. (Make sure you have enough storage before proceeding.)

Open the MacKeeper app and select Update Tracker in the Cleaning section in the left pane
Click Scan for updates and wait while MacKeeper performs a thorough check for for available app updates on your Mac
If any updates are available, MacKeeper will show you a list on the screen. Click the Update button to get started. This process usually takes a few minutes, depending on the number of apps that need updating.
That's it. If the cursor is still visible when your Mac is unresponsive, your Mac may be trying to process the last request. But when the cursor turns into a beach bubble, it means your Mac is stuck.
At this point, you can wait it out, but there's no telling how long it would take for your Mac to wake up again. In this handy guide, we'll show you the most effective solutions to force terminate unresponsive applications on macOS. Let's get started.
Use a keyboard shortcut to force close an app on Mac
Mac is known for its handy shortcuts that get things done fast, like force-quitting hanging apps. You'll know you need to force quit an app when your mouse is frozen on Mac.
Follow the steps below to force quit on Mac using a keyboard shortcut:
Hit the Command + Option + Escape keys
Select the app you want to quit in the pop-up window and click the Force Quit button. Click Force Quit again on the next pop-up window.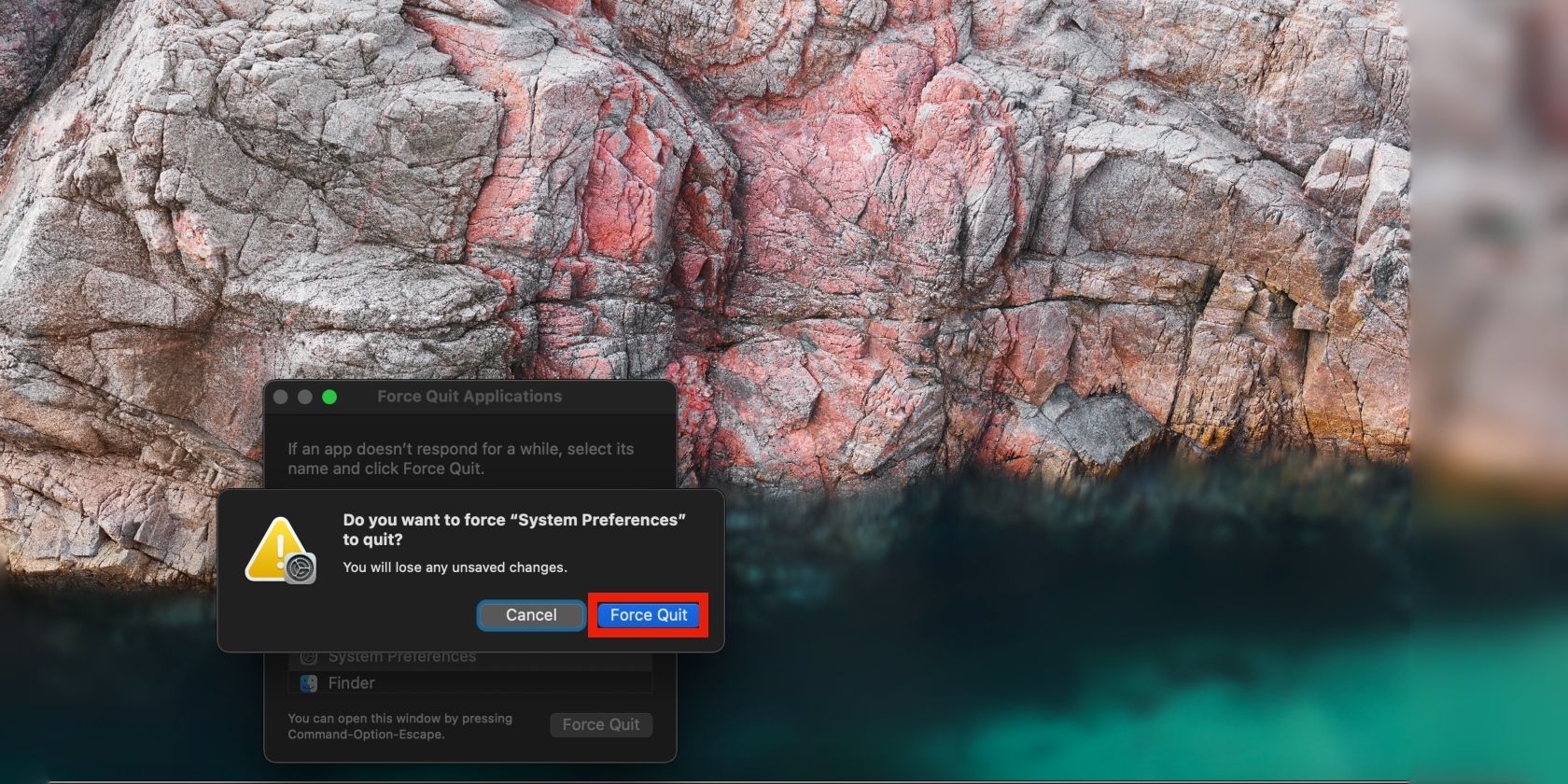 Learn how to unfreeze Mac.
How to force shut down apps on Mac from the Apple menu
Something else you can do is force quit apps via the Apple menu. This process is similar to the previous solution, but with one extra step.
Click the Apple menu and select the Force Quit option
The Force Quit option will either show you the app name (for example, Force Quit Finder) or just Force Quit. Clicking on the latter will open a pop-up window where you can select the app you want to quit and click Force Quit (see the screenshot above).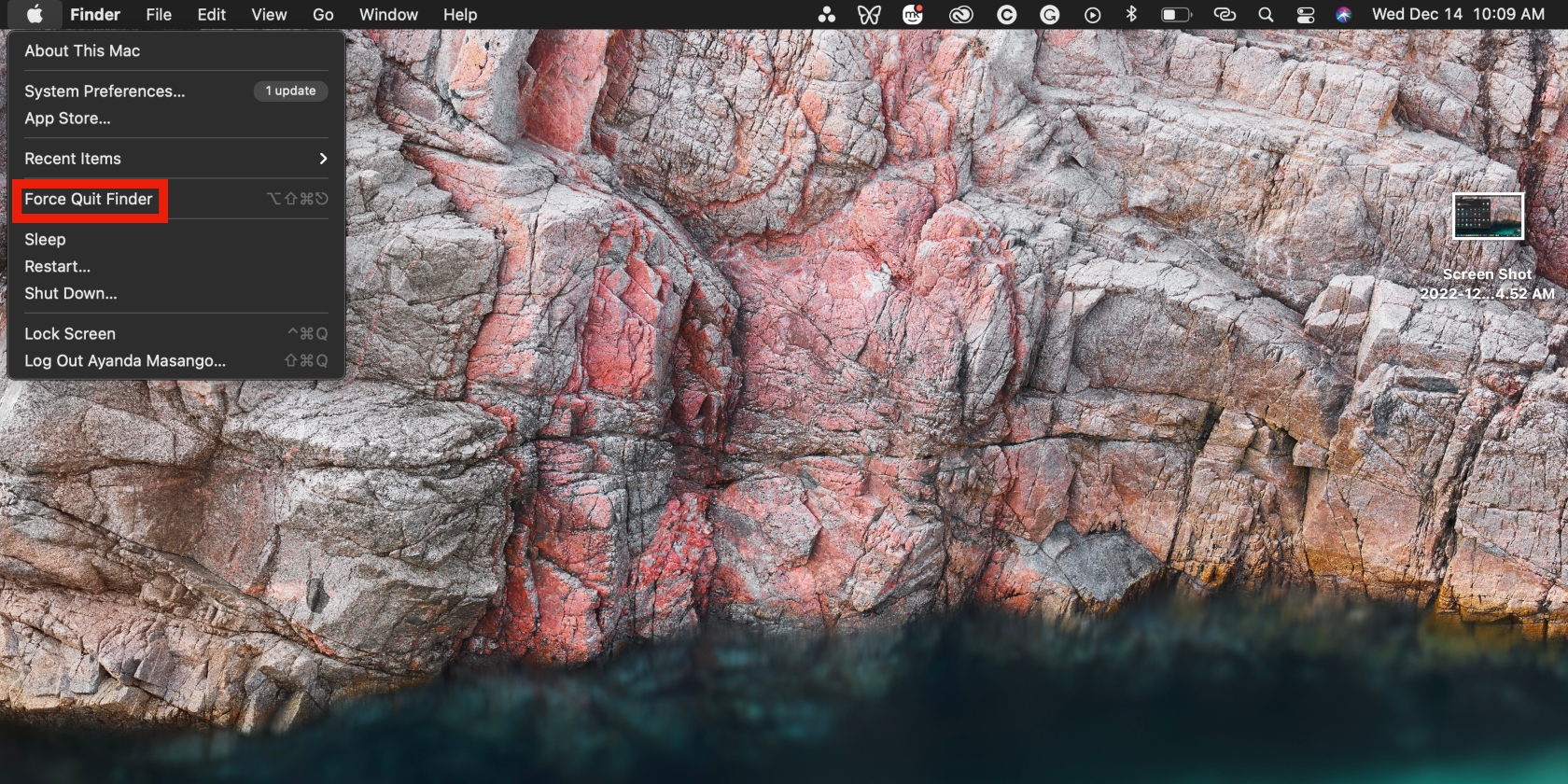 How to end a program on Mac with Activity Monitor
Activity Monitor (Mac's version of Windows' Task Manager) shows you what apps are currently running on your MacBook Pro or MacBook Air. As such, you can use it to kill a process on your Mac. Here's how:
Hit the Command + Space bar keys to bring up Mac's Spotlight search
Enter "Activity Monitor" in the search bar
Find the app you want to close and select it, click the X at the top of the screen, and click Force Quit. This will end the task on Mac.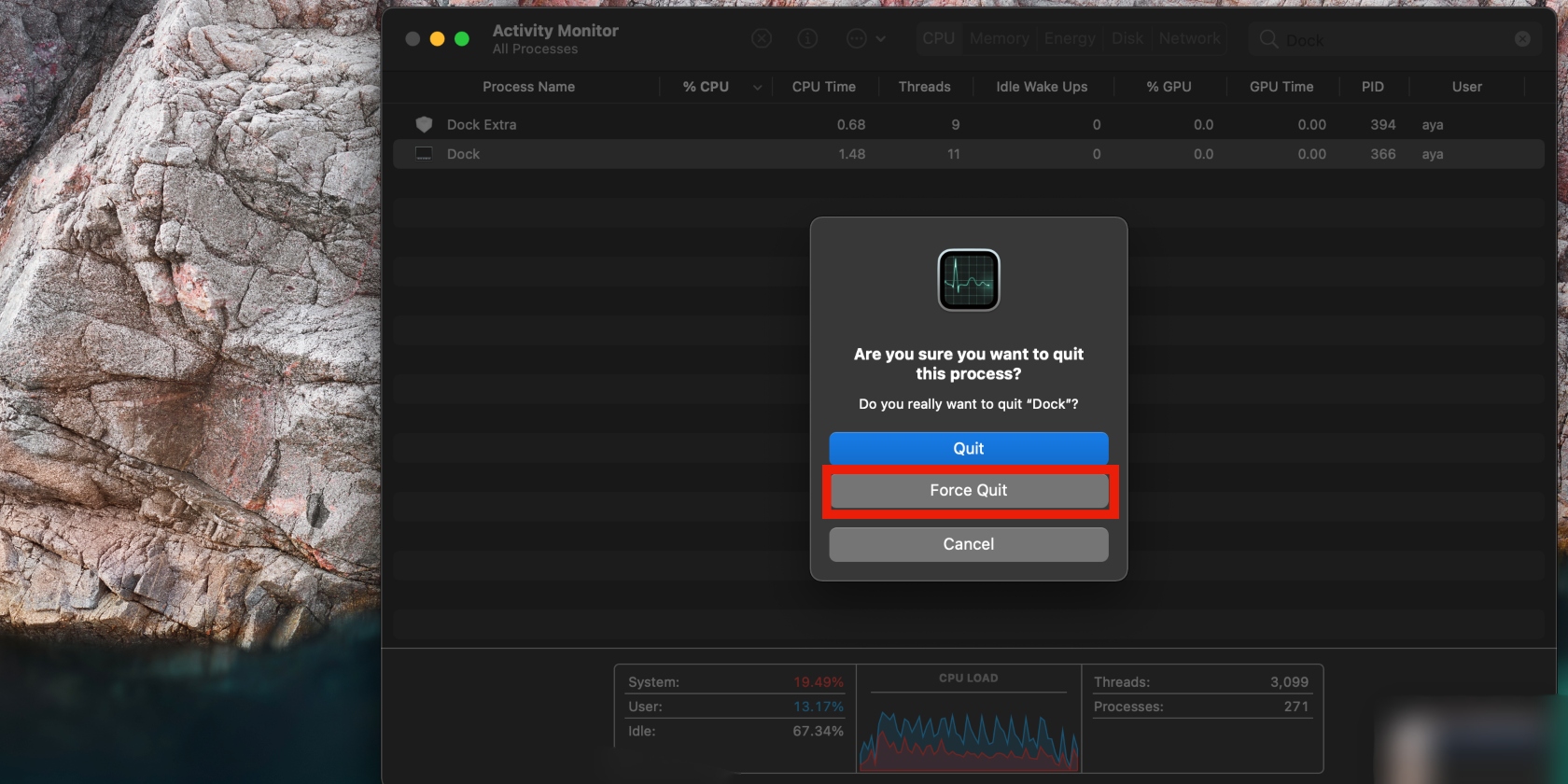 How to force stop an app from the Dock
The Dock on Mac is the strip containing all the apps you probably need daily. It's conveniently located at the bottom of your Mac's screen for quick and easy access.
You can force quit programs in the Dock when they stop working. Here's how:
Press the Alt key and right-click on the relevant app icon
Click Force Quit on the pop-up menu. (The menu will show the option to Force Quit if the app is unresponsive. Otherwise, it'll show an option to Quit.)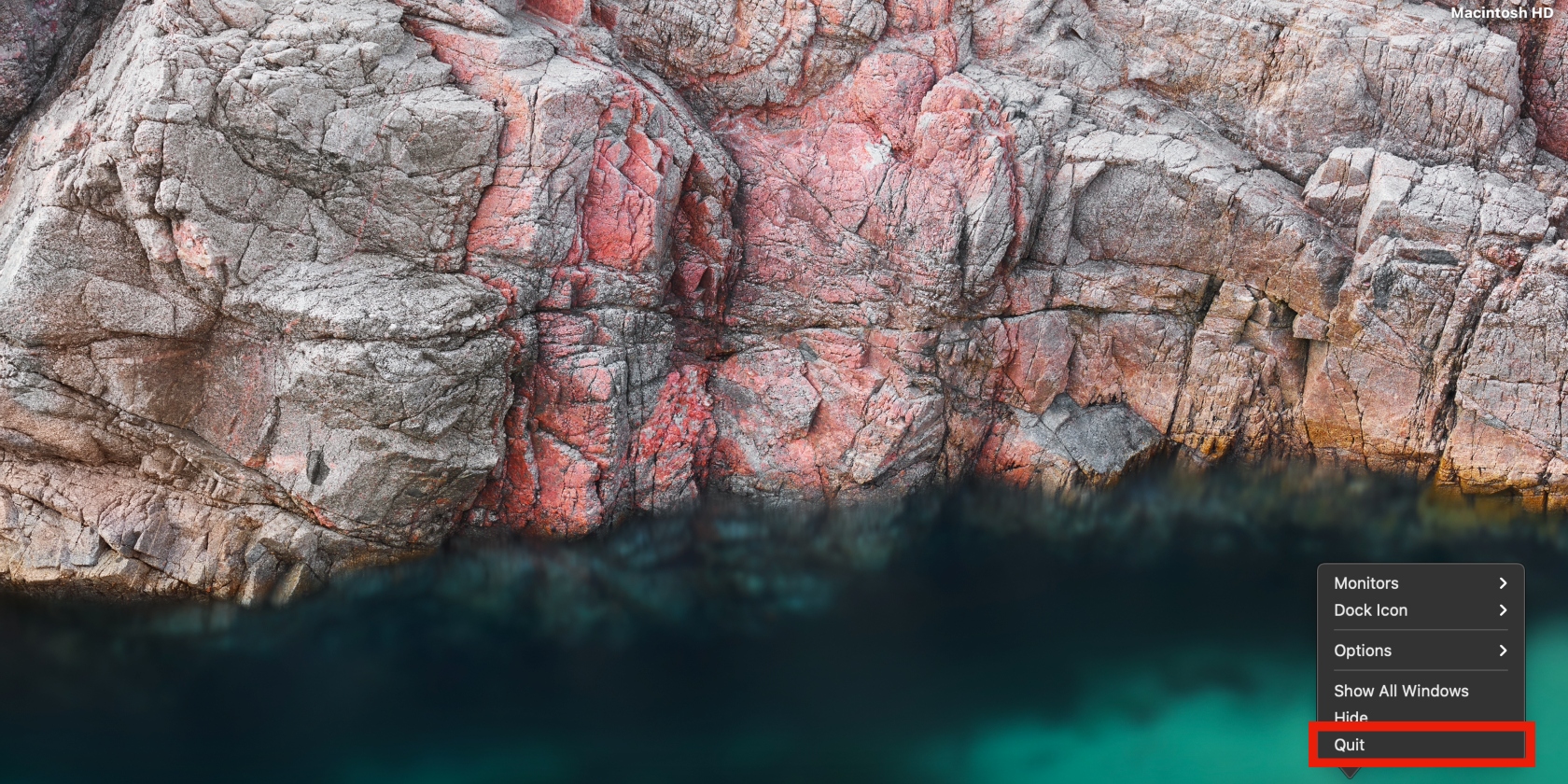 How to kill an app on Mac using Terminal
When all else fails, Terminal is often the last resort to fix issues on Mac. Follow the steps below to force quit using a Terminal command.
Open Terminal via Spotlight search (hit the Command + Space bar keys, input "Terminal" in search, and press Enter)
Type the command "killall [app name]" and press Enter.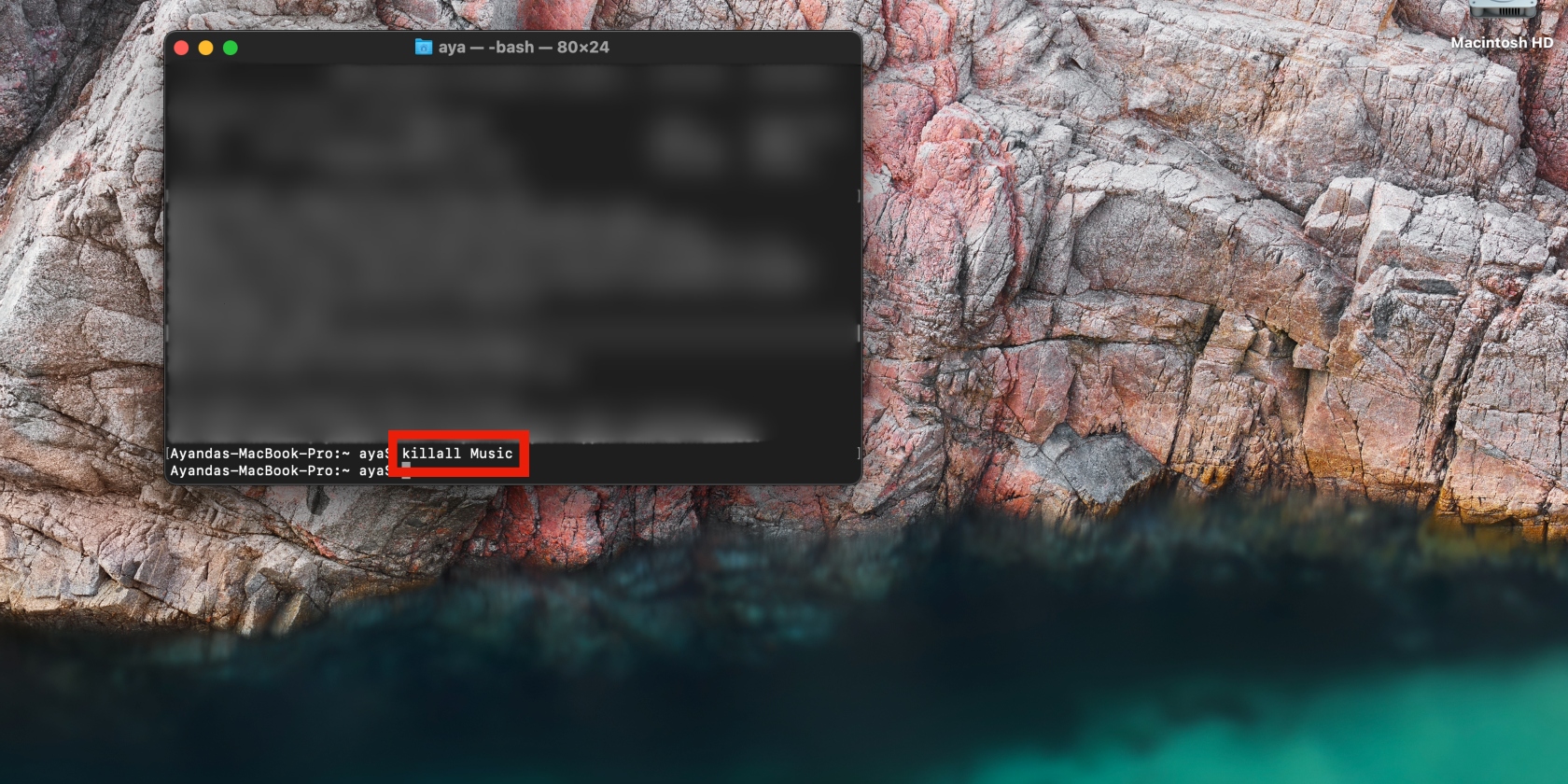 What to do if force quit doesn't work on Mac
Sometimes the fixes you try to force quit Mac apps don't yield results. In those rare instances, your final option is to restart your laptop. Turn it off completely by holding down the Power button until your Mac shuts down.
Force quit unresponsive apps safely on Mac
Mac is a reliable device. But sometimes, your apps can cause it to slow down or freeze. Fortunately, this involuntary error can be fixed by using the tips listed in this article.
More importantly, use MacKeeper's Update Tracker regularly to stay on top of app updates instead of attempting this manually. This habit will ensure that your apps continue to work optimally, and prevent them from crashing and holding up your Mac.