The Duplicates Finder feature detects all duplicate files on your Mac. These are unneeded file copies that usually waste disk space. Duplicates Finder removes them in a click so you get megabytes or even gigabytes of extra disk space back.
How to scan an entire Mac for duplicates
To search your Mac's home folder for duplicate files, do the following:
1. Open MacKeeper, and select Duplicates Finder from the left sidebar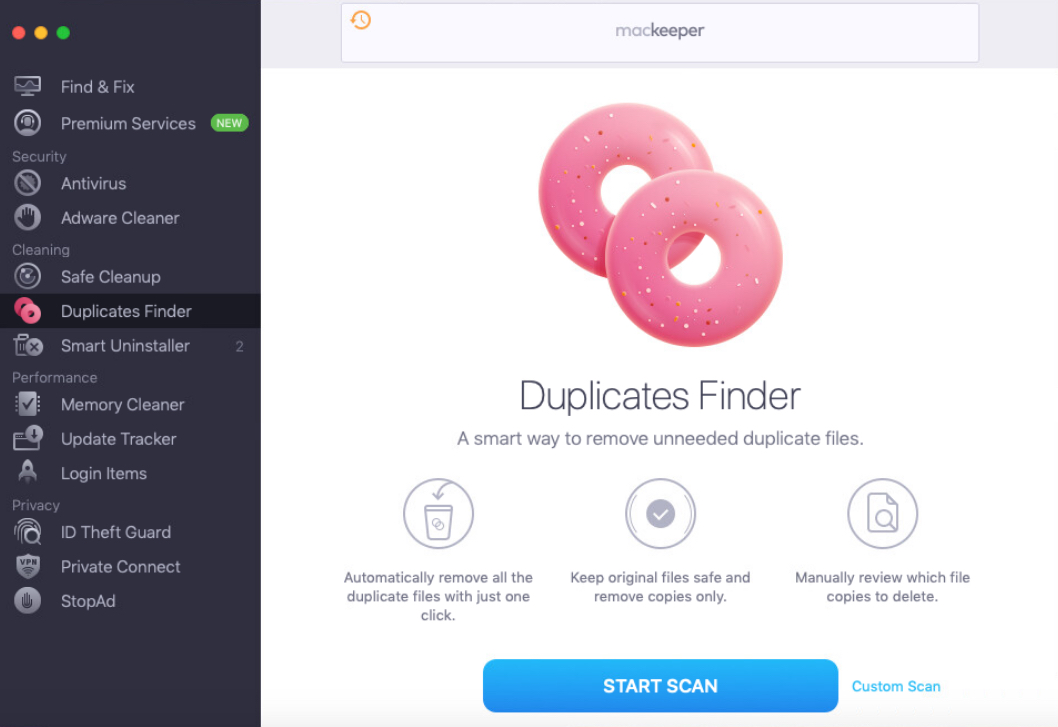 2. Click the blue Start Scan button to check your user folders for file copies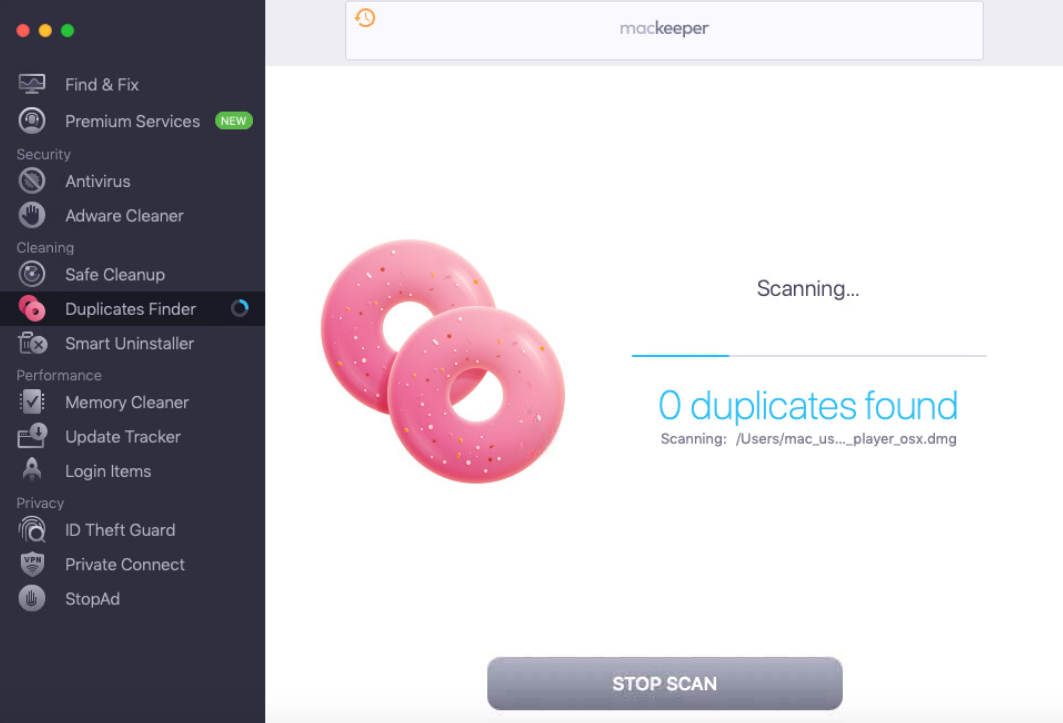 Now you should see a list of all the duplicate files on your Mac that are located in your home folder.
3. Click Remove Duplicates to delete all the duplicates found
How to review which duplicate files to delete
MacKeeper is a duplicates cleaner that displays files with identical content, regardless of whether they have different names. Let's take a closer look at the duplicates found.
Left Panel
All duplicates are sorted in file groups in the left panel. Each group contains the original file and all its copies.
By default, MacKeeper selects for removal all duplicates found except the original file. If you want to decide for yourself which file copies to remove, please deselect the Auto-selection checkbox. This will uncheck all the listed items.
Each file group in the left panel shows you the total number of duplicates found and their total size. You can click the nine-dot icon to sort them by Name, Total Size, Duplicates Number, Checked (puts the checkmarked items first), as well as Ascending or Descending order. You can also select the normal or large preview size.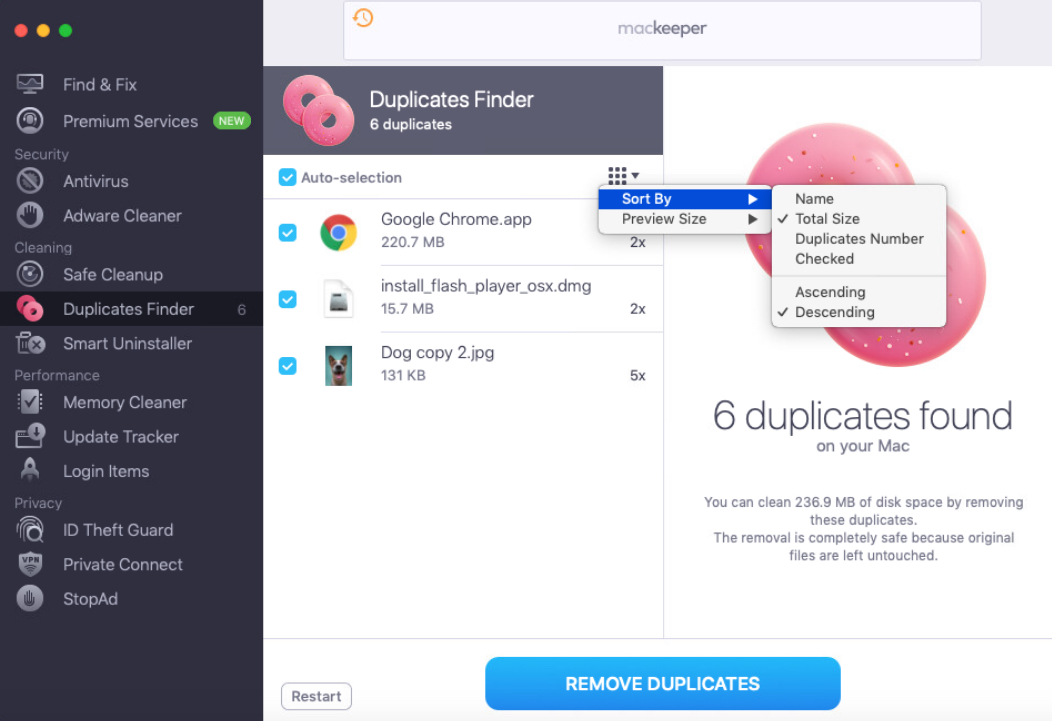 Right Panel
By default, the right panel shows the total number of duplicate files MacKeeper has detected on your Mac. Click the file group in the left panel to open a full list of file duplicates in the right panel. You'll see the duplicates preview and the full list of duplicates below it.
Preview helps you understand which files are duplicated — just click the magnifying glass to zoom the duplicated document or picture.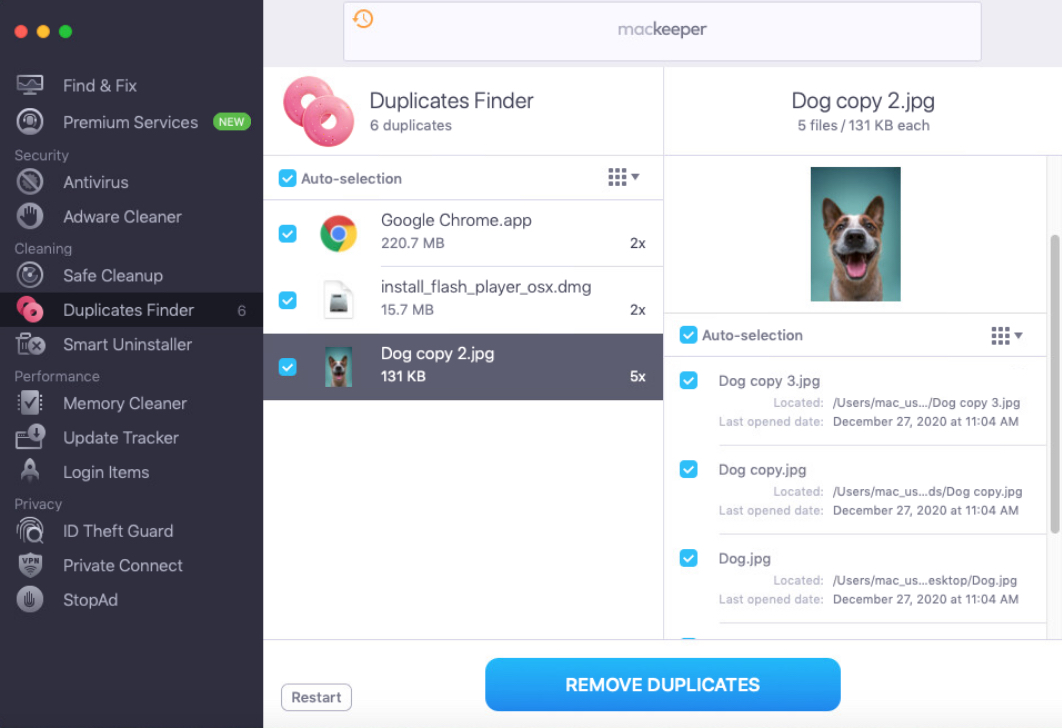 The full list of a file's duplicates can be found in the right panel below the preview. Each file copy is listed with its location as well as the date it was last opened. To reveal this file copy in Finder, just hover your mouse on it, and click the magnifying glass.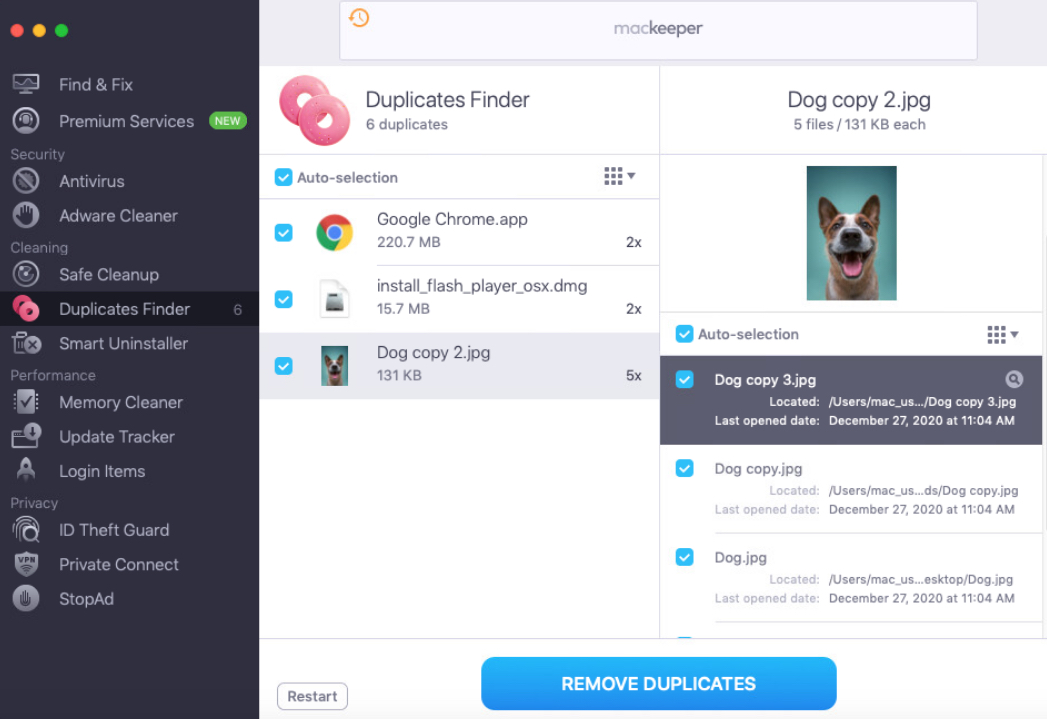 To change the sort order, click the nine-dot button to the right, select Sort by, and choose the order you'd like. You can sort all detected items by Name, Last Opened Data, Checked (puts the checkmarked items first), as well as choose Ascending or Descending order.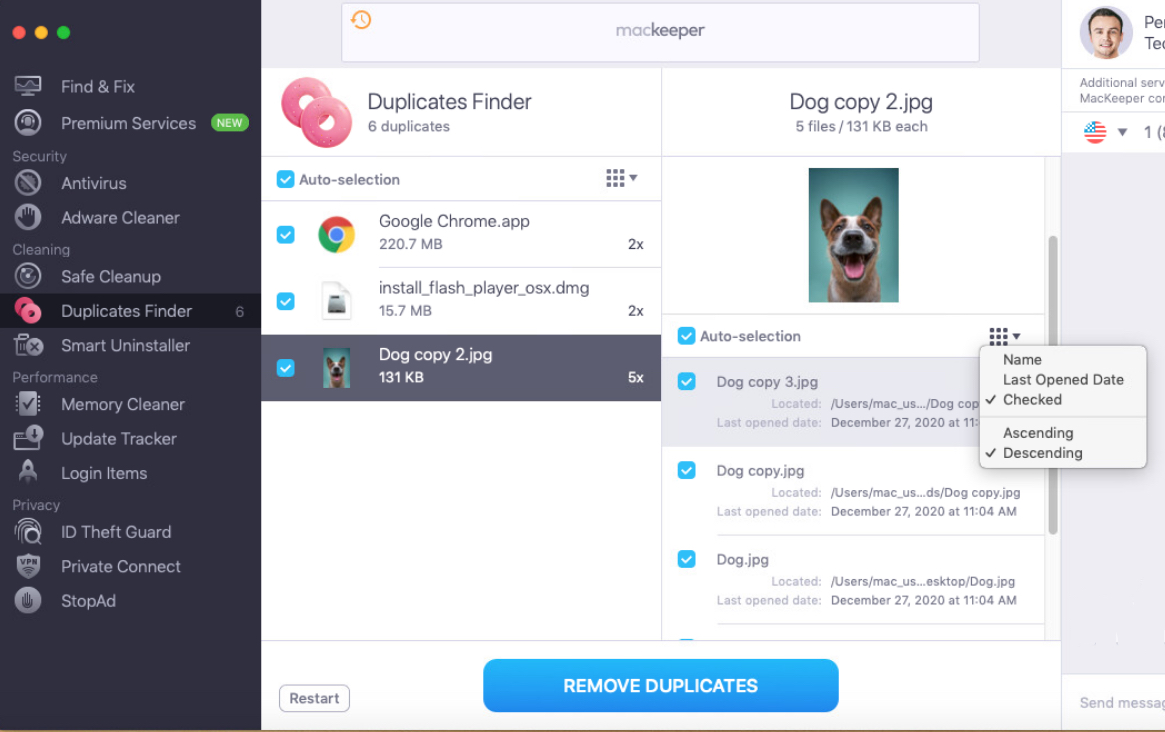 Once you've decided which file copies to delete, click Remove Duplicates. All selected duplicates will be moved to Trash.
To start over, please click Start Scan again.
How to scan a specific Mac folder for duplicates
To search for duplicates in a selected folder, do the following:
1. Open Duplicates Finder, and click Custom Scan
2. Choose the folder you'd like to scan for duplicates
3. Click the + icon, select the folder, and hit Open
Alternatively, you may drag the folder into the MacKeeper window. You can add as many folders to the Custom Scan as you want.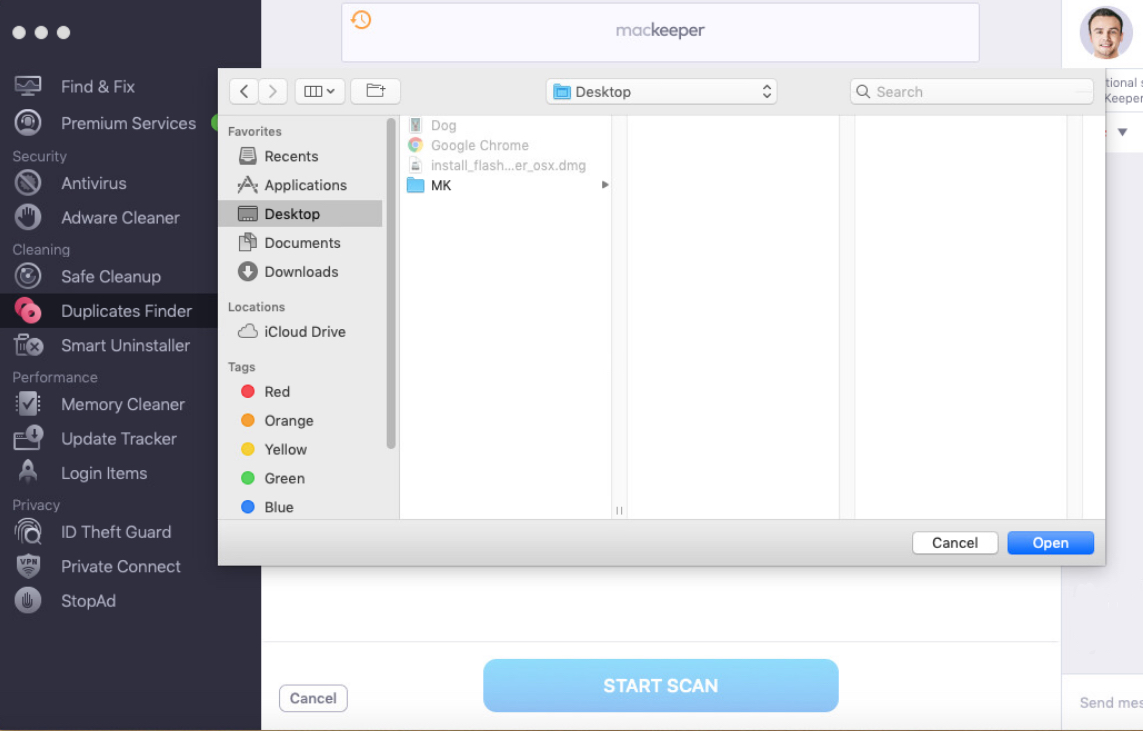 4. Click the blue Start Scan button at the bottom; once some duplicates are found, hit Remove Duplicates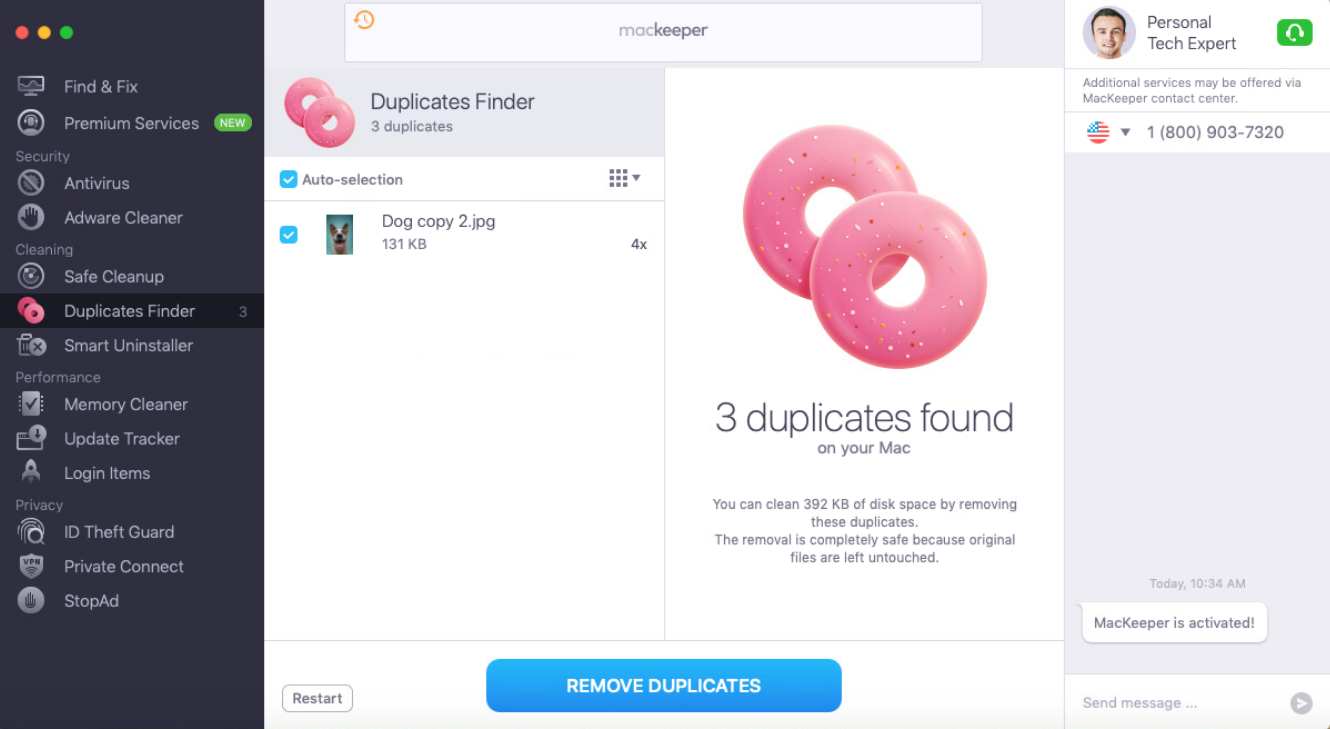 5. Now the folder you've selected should be free of useless duplicate files.
Is Duplicate Finder safe?
Duplicates Finder is perfectly safe for Mac, because it removes only what's useless. You can manually review and select which file copies to delete. Original files stay safe while you enjoy more disk space for the files you really need.
By default, MacKeeper selects all file copies to delete except the original file. MacKeeper will notify you if you accidentally select the original file.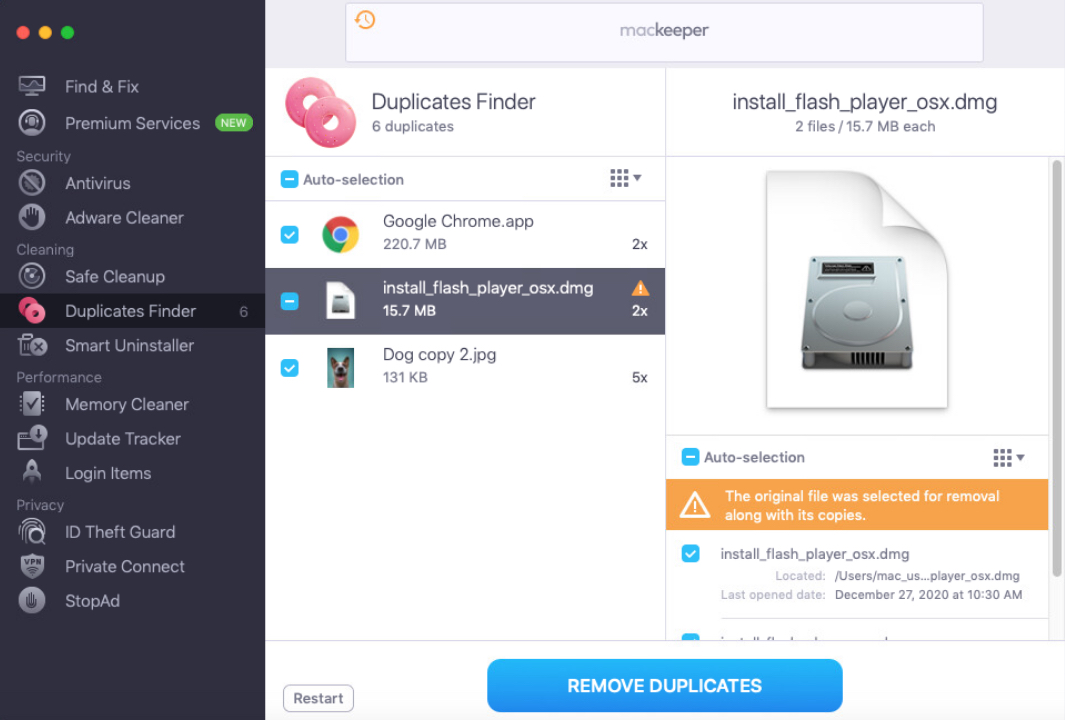 When you need a duplicates cleaner for Mac
By default, Mac can display duplicate files only in your iTunes Library. To see them, you'll need to go to Finder > Applications > iTunes > View > Show Duplicate Items. However, this will display only music file duplicates.
Another way to search for duplicates on Mac is to use Finder. There's no "Duplicate" folder in Finder, yet it allows you to search for file copies by name. To do this, open Finder > File > New Smart Folder, click the + button in the upper-right corner and enter the file's name. Next, Finder will show you all files with identical names. However, it's important to note that the content of these files may be different.
One of the best ways to check for duplicates is to use MacKeeper Duplicates Finder. Unlike the default macOS methods, it scans for duplicates that are the same inside, not only with the same name. Check out what else Duplicate Finder can do.