The updated MacKeeper Dashboard helps you run essential MacKeeper tools without opening the app. See how your Mac is doing, clean it up, and protect it in a few clicks.
Even when the MacKeeper app is closed, the Dashboard is always available. You can access it by clicking the MK icon in the top menu bar. Check out how much you can do with the Dashboard.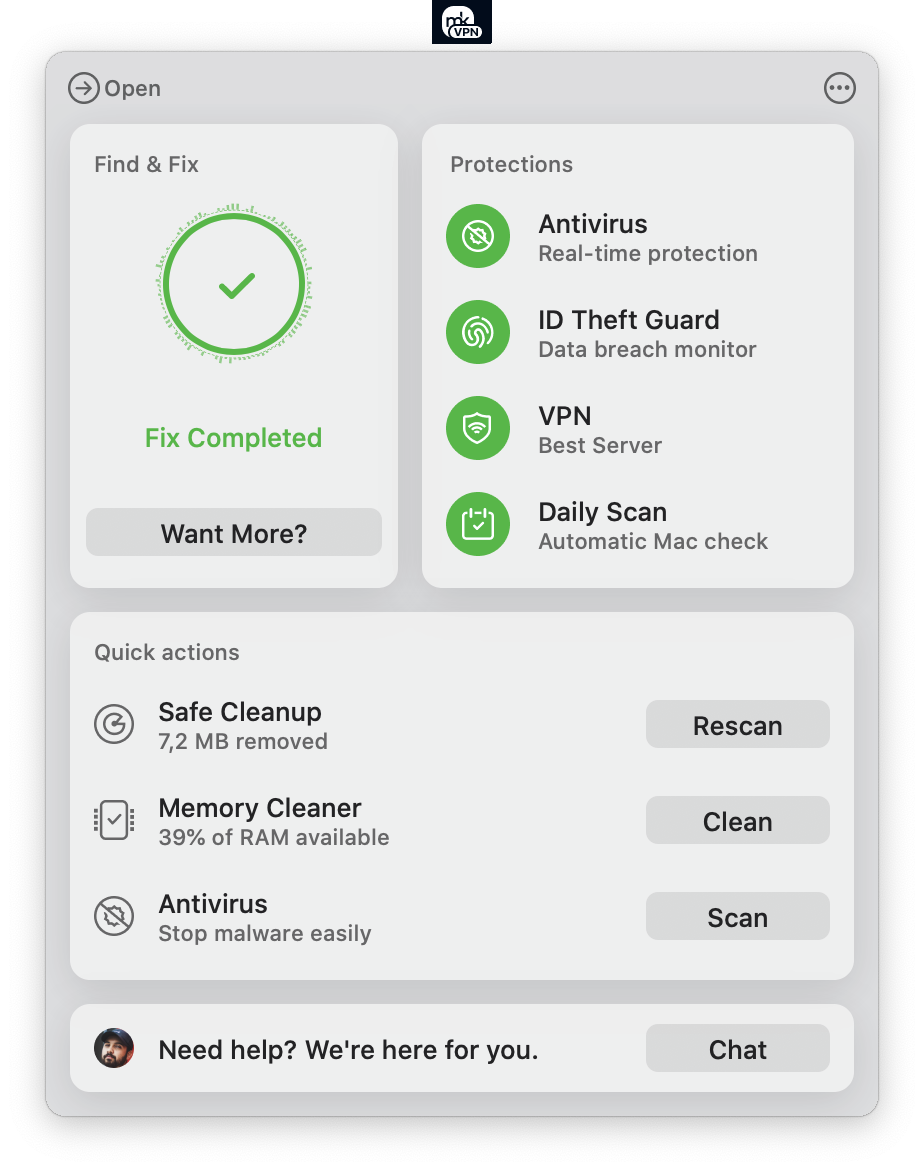 Scan your Mac
If you want to test how one-click protection works, but don't have MacKeeper yet, the download is available here.

Getting started is simple:

Download and install MacKeeper
Run a full system scan
Review your scan results

By the way, the first fix for each cleaning and security tool is free.
The top left section named Find & Fix shows your MacKeeper status and the last scan date. It also helps you manage the scan and fix process.
To start your scan, simply hit Scan in the Find & Fix section of the Dashboard. Here, you can also stop scanning, review the results, complete your fix, or get more fixes.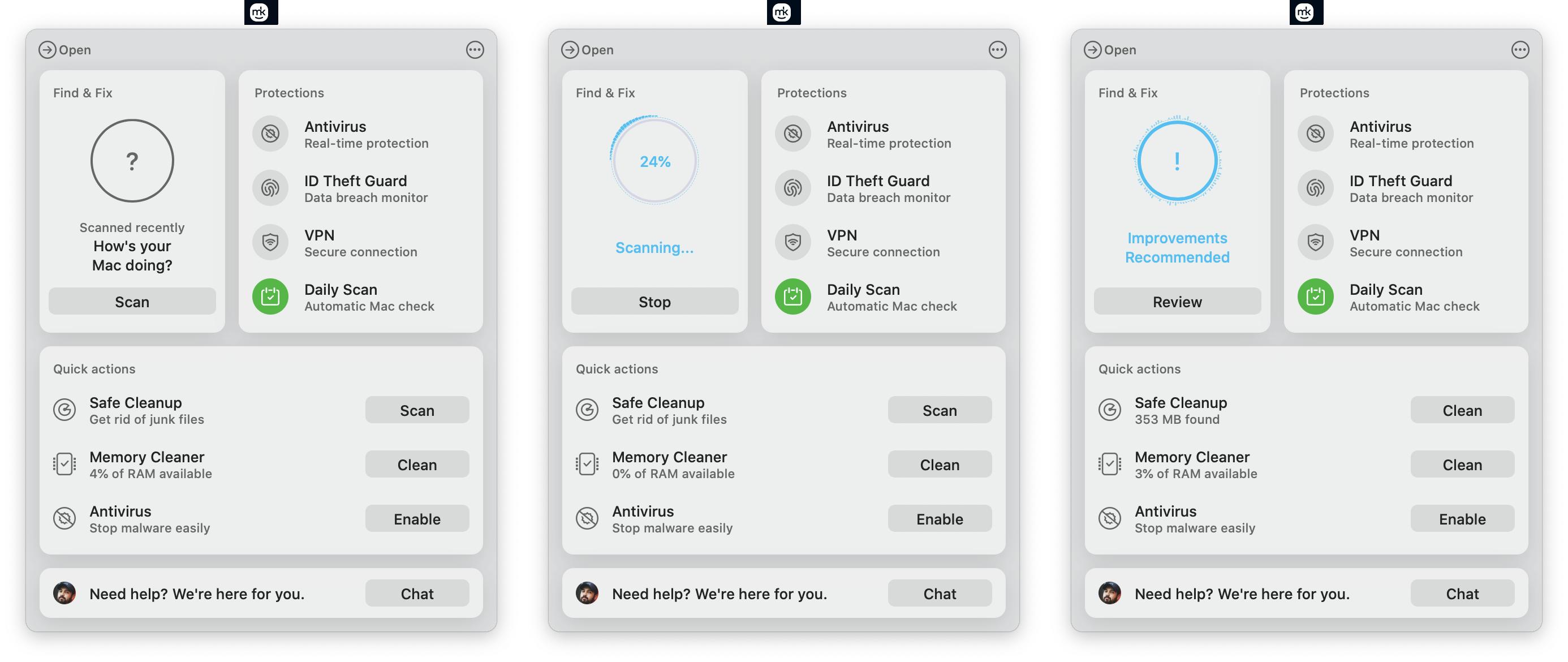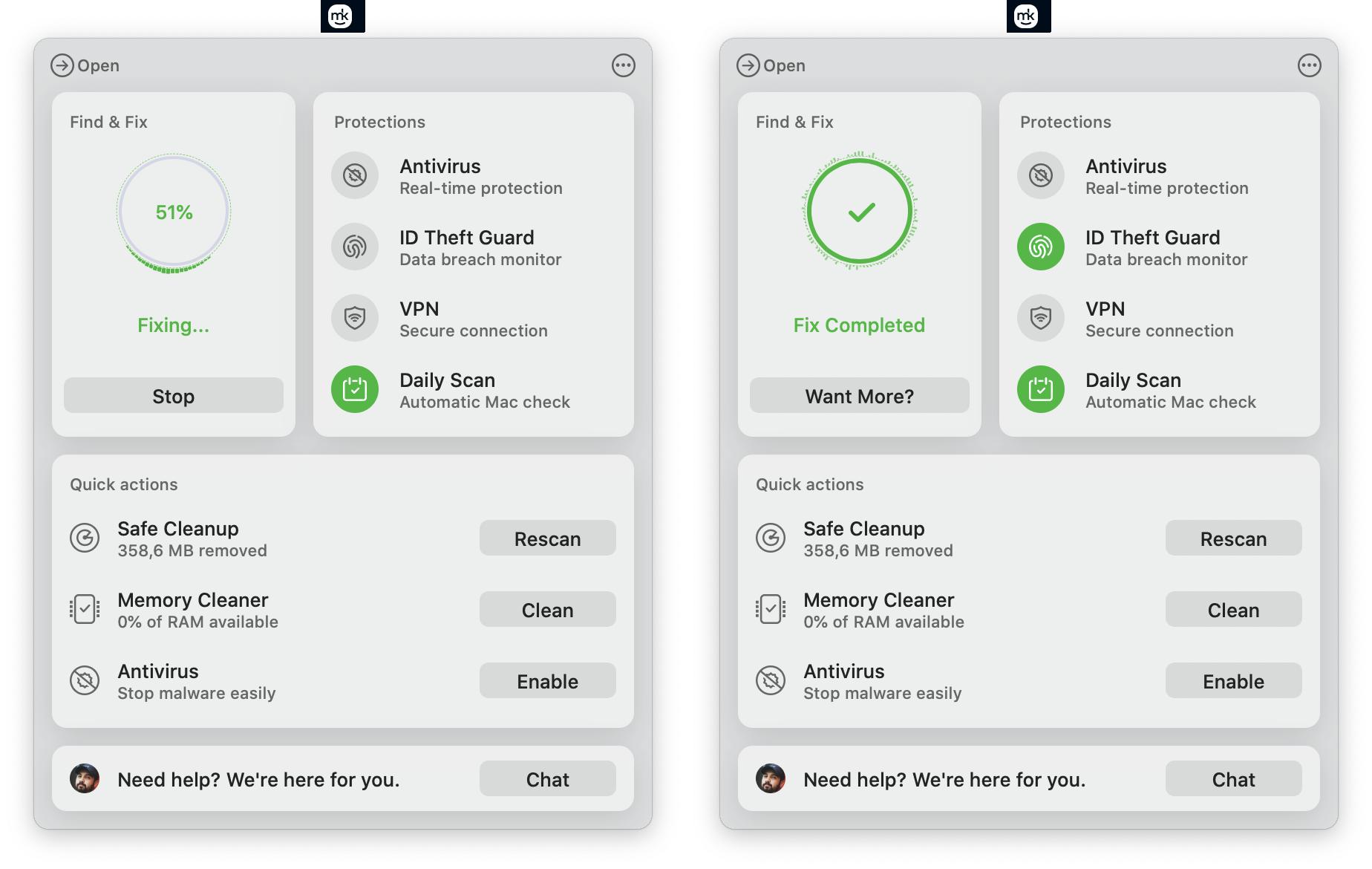 Control your Mac protection
The top right section named Protections helps you manage all your security tools from a single place. There are four protection tools— and the icons are grey if they are turned off. To turn them on, simply click the protection tool icon.
Antivirus controls real-time protection that automatically blocks malware
ID Theft Guard turns on monitoring for breaches of your passwords, credit card details, or other sensitive personal data (including full name, address, phone number, or SSN)
VPN creates an encrypted internet connection so no one can track your browsing
Daily Scan notifies you if there are critical items on your Mac or too much junk. It's on by default and you can manage when to receive notifications in MacKeeper Preferences.
Clean your Mac in seconds
The middle section named Quick Actions helps you instantly clean your Mac's storage, memory, or wipe out any viruses. Here you can easily use three MacKeeper features:
Safe Cleanup will show you the size of junk files found or removed. You can scan for junk or clean it up right from the dashboard.
Memory Cleaner displays the percentage of memory available on your Mac (the more the better). And you can easily clean RAM without even opening MacKeeper.
Antivirus helps you start the full system scan. It will detect any malware, spyware, or suspicious files. Usually, the full scan is fast, but sometimes it can take up to 20 minutes (depending on the number of files on your Mac).
Get expert help
The final section is your 911 for any MacKeeper-related question. If you need help from our experts, simply click Chat and ask them right away. Our tech experts are available 24/7, so you will always be able to access support if you've got an issue.
Dive into settings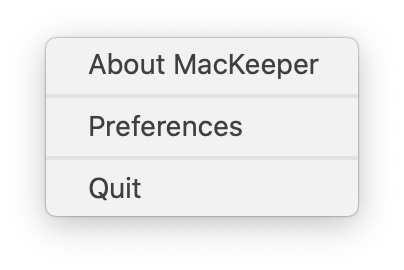 You might notice the three-dot icon in the top right of the Dashboard. It hides a small menu including the following:
About MacKeeper will tell you the MacKeeper version number
Preferences opens all MacKeeper settings
Quit will stop all security monitoring from MacKeeper. The app will remain installed on your Mac, but it will no longer automatically check for viruses or other threats.
The key takeaway
The redesigned MacKeeper Dashboard is a new, fast and simple way to manage your Mac's security without even opening the app. There aren't many cleaning or protection apps offering so many features packed within a quick menu. One thing you should remember is, we've designed the new Dashboard with our users in mind. And we hope you'll love it as much as we do.