MacKeeper is an all-in-one utility to take care of Mac computers. It easily combines 11 security, cleaning, performance, and privacy tools in a single app. Discover what MacKeeper can do here or read a quick overview below.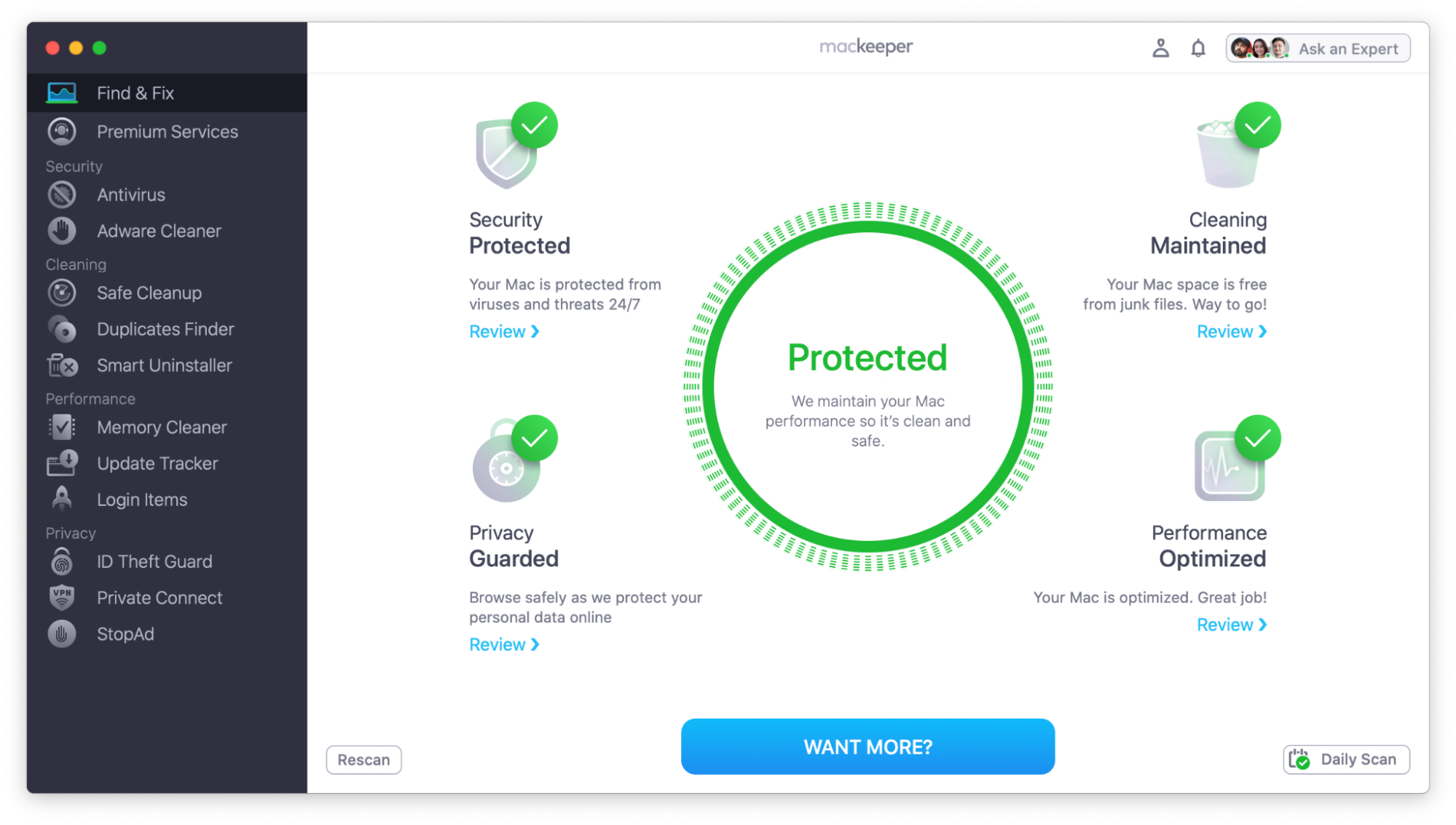 Why do you need MacKeeper?
Find & Fix is the first tool you'll open, and smartly combines all MacKeeper features in one. It scans your Mac for all junk, viruses, security threats, and performance items. This means you can quickly see what parts of your Mac can be optimized to keep your device safe and running smoothly.
The Premium Services feature works like tech insurance for your device, and goes beyond just Mac. Our techs will connect and help you remotely fix issues with your Mac or Windows laptop, smartphone, or smart device. We fix virtually anything—as long as it connects to the internet.
Aside from the Find & Fix and Premium Services, MacKeeper owns other smart tools. They're sorted by Security, Cleaning, Performance, and Privacy categories.
Security for your files and Mac
Antivirus smashes major security threats like malware or spyware. It comes with Real-time protection that automatically blocks a virus so you don't have to take any action to protect yourself. MacKeeper Antivirus blocks 99.7% of known malware and is one of the strongest in the industry, according to AV-TEST results.
There's an Adware Cleaner for extra safety. You can use it to remove apps that infiltrate your desktop with invasive ads. MacKeeper monitors for ads in real time, so you'll know if there's an adware infection, or any potentially unwanted apps on your device.
Deep cleanup one click away
Safe Cleanup helps you remove gigabytes of junk files wasting your Mac's storage. This tool will expertly remove unneeded system logs, browser caches, language packs, offline mail attachments, and empties the Trash.
Duplicates Finder safely deletes file copies, similar photos, and useless screenshots. It's a great way to free up disk space, and it's safe too—your precious original files remain untouched.
Smart Uninstaller completely removes apps from your Mac. It sorts your apps by usage and highlights the ones you might not need. If that's not enough, remember that you get the list of all the items taking up your storage from plugins and widgets to browser extensions and useless leftover files.
Performance Your Mac Deserves
Memory Cleaner frees up your Mac's memory in a snap. The more available memory, the faster your Mac runs, so this tool shows you the most resource-intensive apps and processes. You can then stop them in a single click.
Update Tracker monitors the latest versions for most of your Mac apps. You don't have to go through multiple websites to update eight different applications. Instead, Update Tracker can do this quickly and easily.
Login Items is just what you need when your Mac is taking forever to start. Remove apps from launching to boot your computer faster—the way it's meant to boot.
Privacy protection when you're online
VPN Private Connect works like a regular VPN tool that encrypts the data you send online with a secure connection. Use it to become virtually anonymous online. Your ISP won't be able to trade your search history, hackers will fail to intercept your data, and you'll be able to unblock any location-restricted websites.
ID Theft Guard checks if your email address has been compromised in any data breaches. It will help you find leaks of your passwords, credit card details, SSN, phone number, address, or other sensitive info. MacKeeper will guide you on how to change them and stay secure again. Not to mention it monitors for new breaches and alerts you if your data goes public.
StopAd blocks annoying ads and website notifications. It works as a Chrome and Safari extension, and easily stops site trackers too. These are the ones that follow your every move online and target you with more and more ads.
Powered by a 24/7 in-app support chat, MacKeeper is a one-stop solution to the most common Mac issues. Easy, fast, and smart, it keeps your Mac protected and in good shape with little effort from your side.