The Smart Uninstaller feature completely removes Mac apps for extra disk space. Even if you know how to delete apps on Mac manually, pesky app leftovers will still be there but with MacKeeper, you can easily remove these leftovers. Smart Uninstaller wipes them clean for good — along with useless widgets, plugins, browser extensions, and much more.
How to scan your Mac for apps
Before you start deleting apps on your MacBook or iMac, make sure to check the list of all apps installed:
1. Open MacKeeper, and select Smart Uninstaller from the left sidebar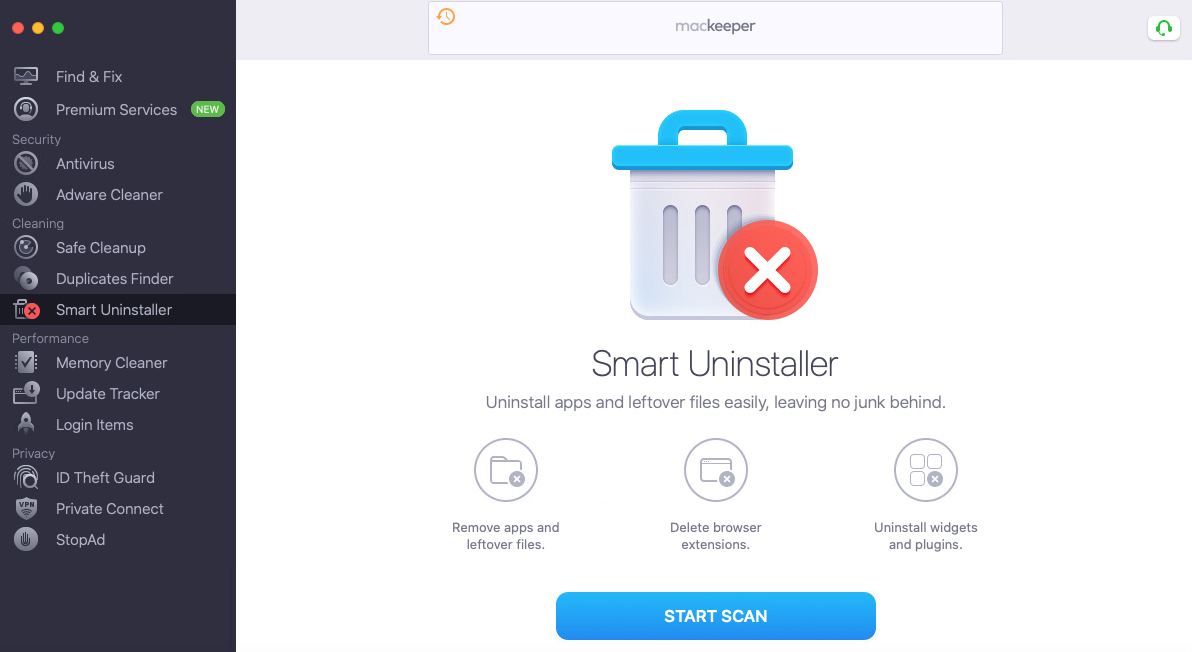 2. Click Start Scan to see the list of Mac apps and other items to delete. You should see six categories on your screen:
Applications
Widgets
Preference Panes
Plugins
Browser Extensions
Leftovers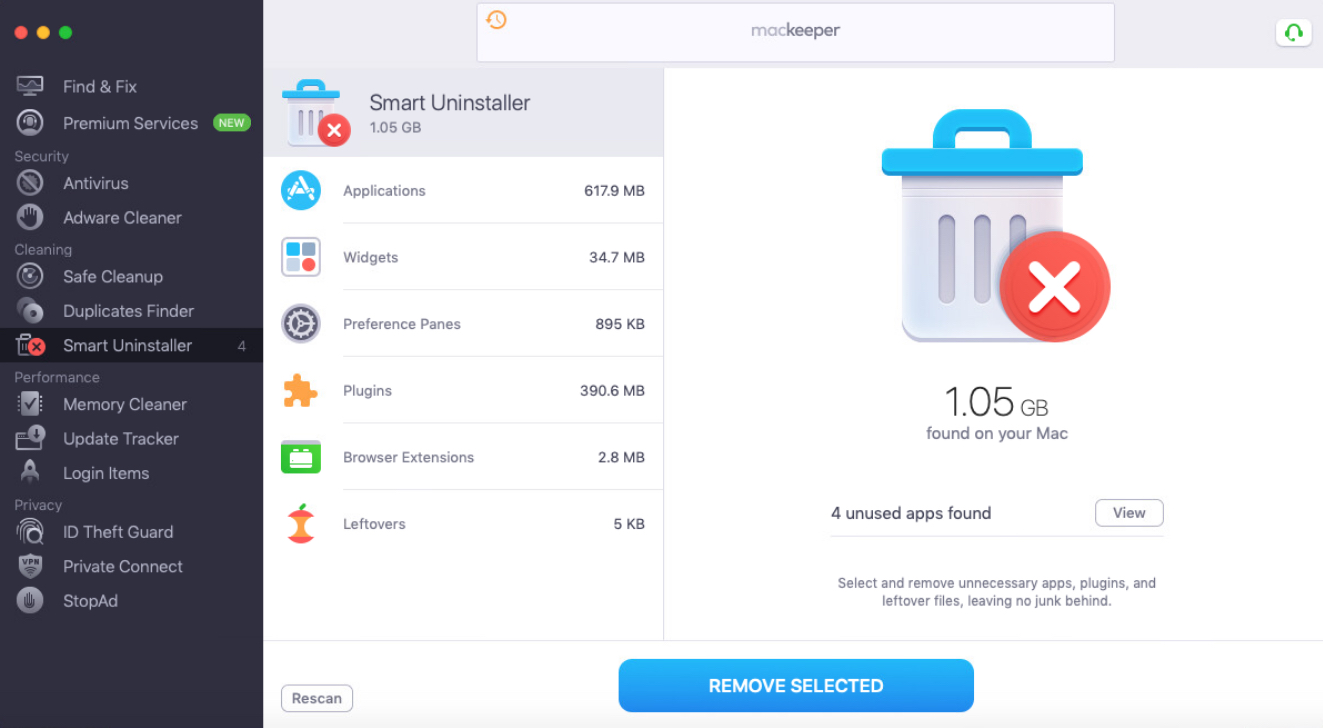 Important: Once the uninstaller scan is over, you might ask yourself "Should I delete all apps from my Mac?" The short answer is no, if you don't want to have a Mac without any apps at all. Remember, you determine which apps are unnecessary and which should stay on your Mac.
How to sort apps and reveal them in Finder
Click Applications in the left panel to review the list of detected Mac apps. None of them is selected by default, so you can manually pick the ones you no longer need. MacKeeper puts applications you haven't opened during the last six months first (they're marked with an orange Unused label).
You can also locate any detected app in Finder. To open the folder containing the app, right-click or press Control, then click on each item, and select Reveal in Finder.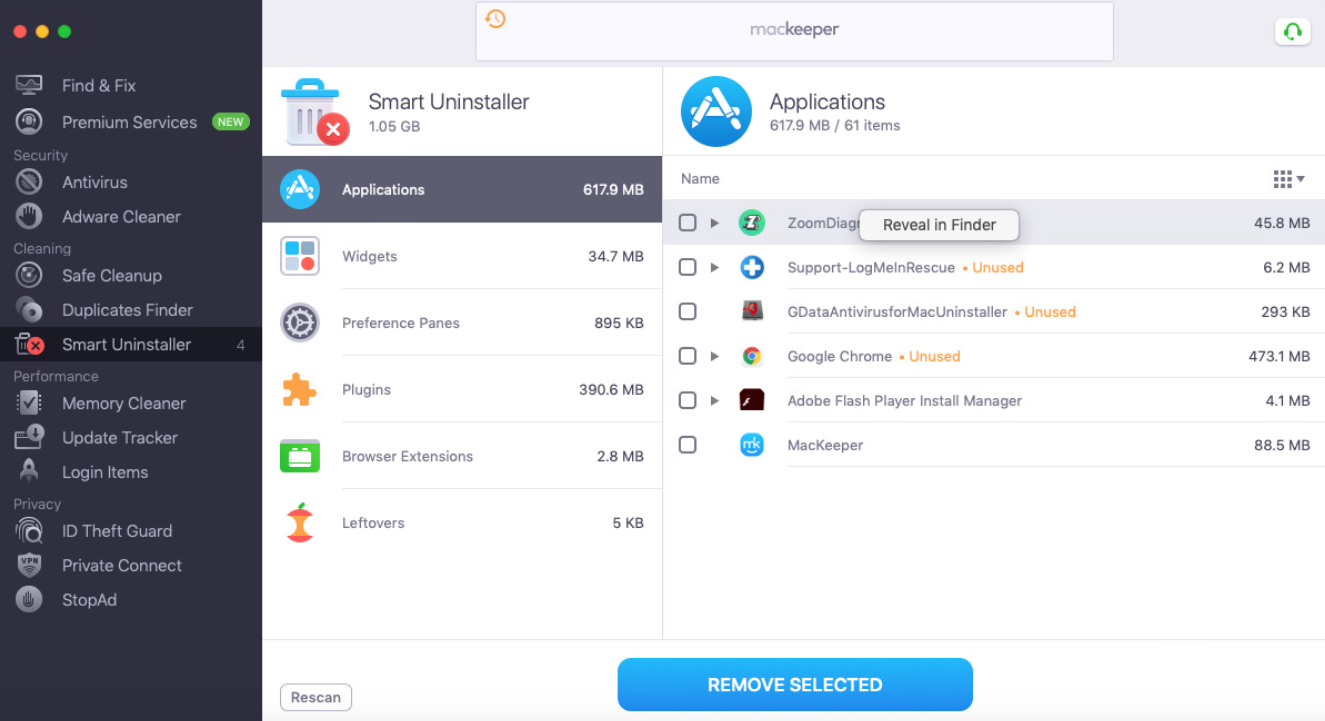 How to change the apps list order
The categories listed in Smart Uninstaller, including Widgets, Preference Panes, Plugins, Browser Extensions, and Leftovers are sorted by size in descending order. For applications, MacKeeper sorts them by usage frequency in ascending order.
To change the sort order, click the nine-dot button to the right, select Sort by, and choose the order you'd like. You can sort all detected items by Name and by Size as well as choose Ascending or Descending order.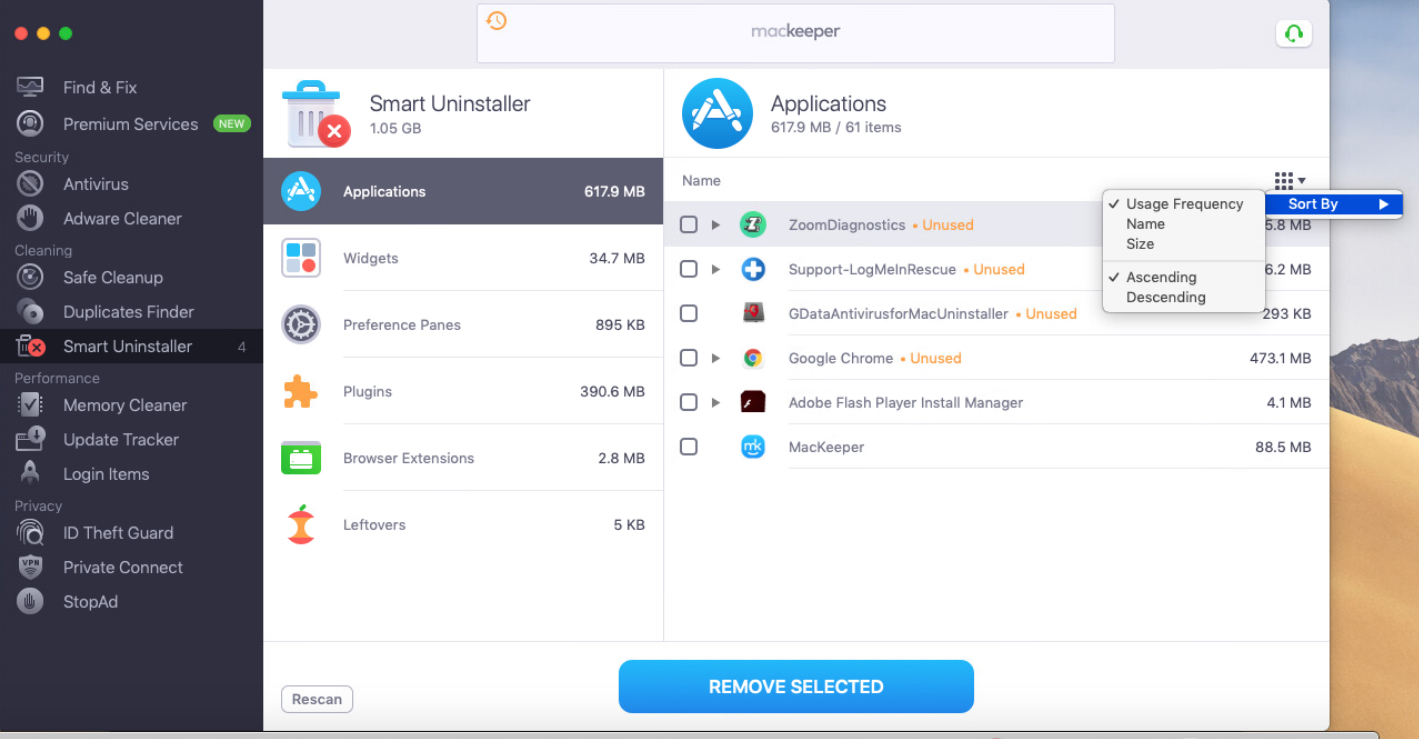 How to delete apps from Mac with MacKeeper
Now that you've decided which apps to remove, let's do this! Deleting unnecessary programs on your Mac is easy.
Within Smart Uninstaller, select Applications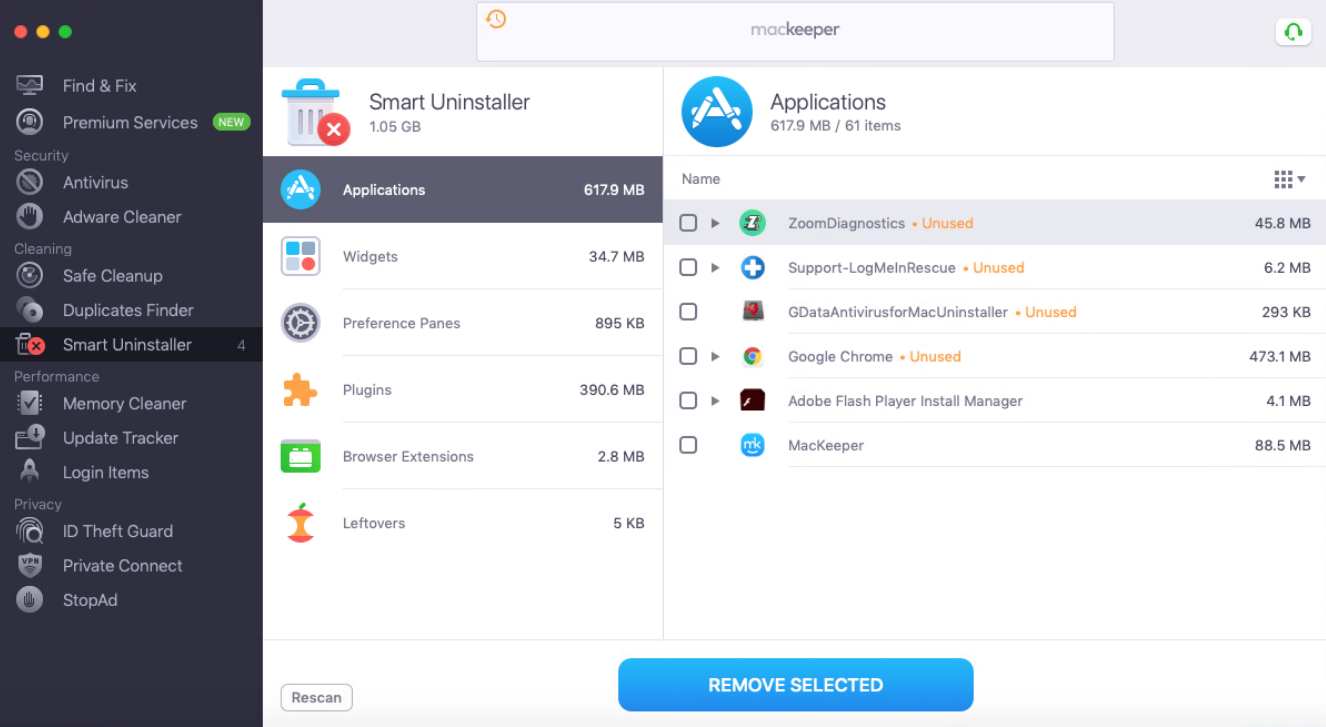 2. Then select the checkboxes next to the apps you want delete
3. Click Remove Selected once you're done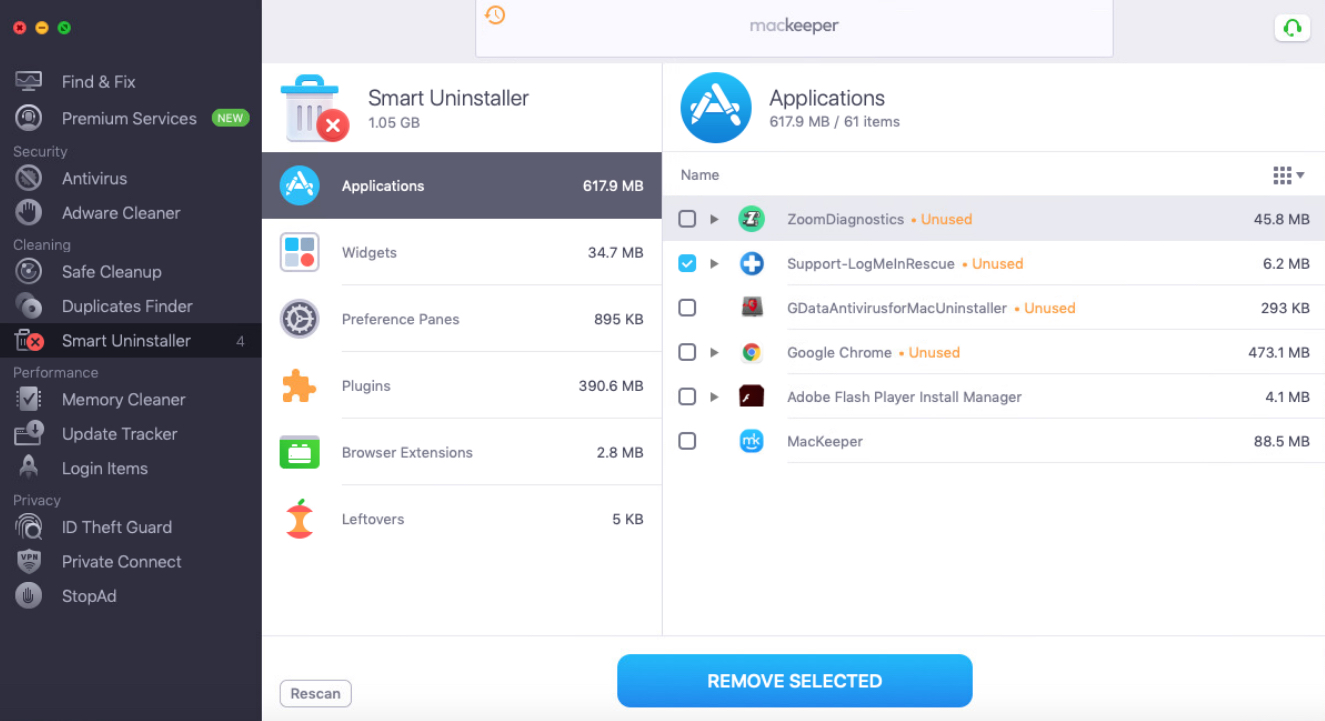 4. Next, confirm the removal by clicking Remove in the dialog window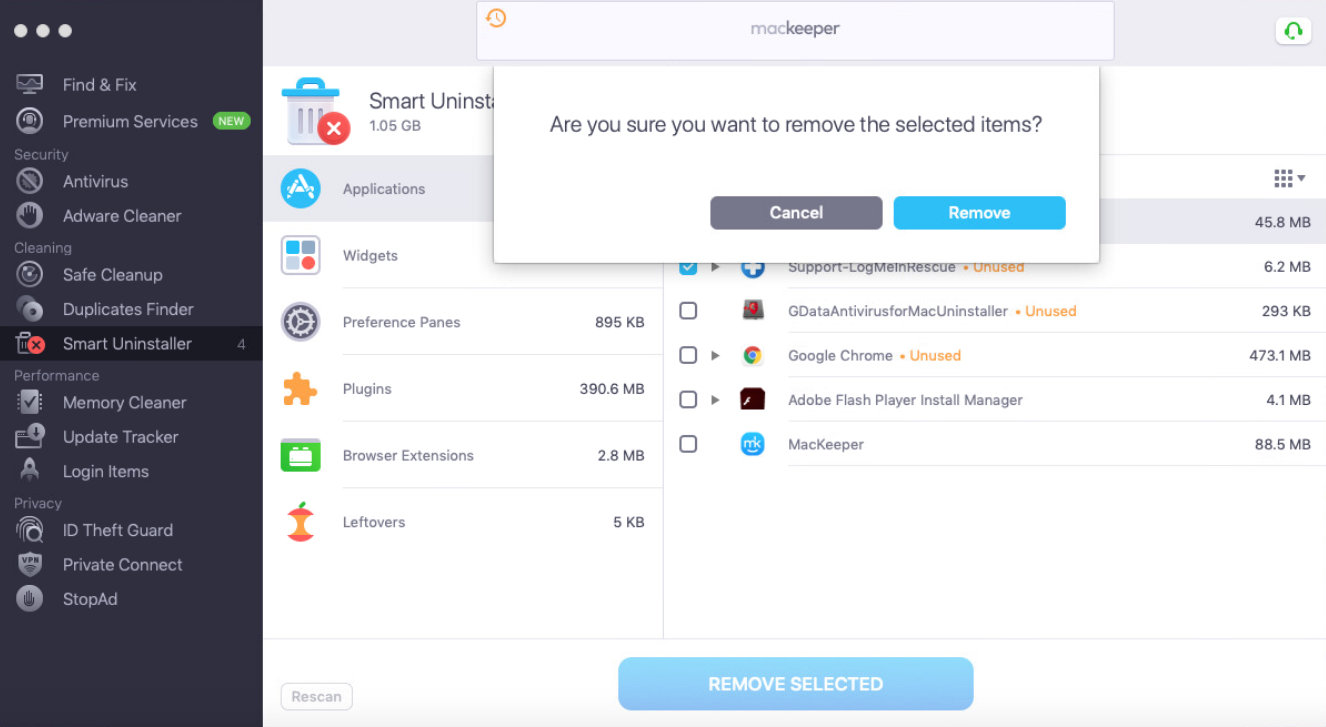 5. Once all the selected apps are uninstalled, check the amount of disk space cleared and how many items were removed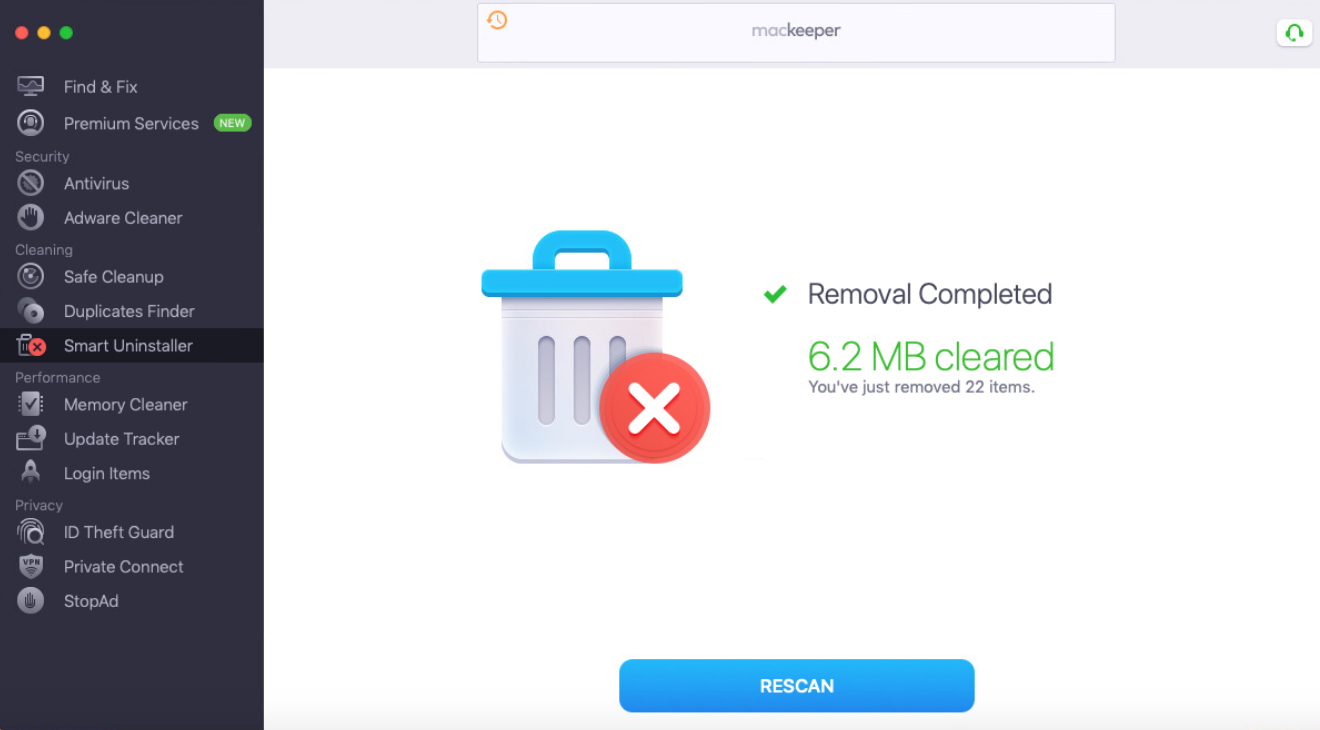 Once you're done deleting software on Mac, you can start over by clicking Rescan. The scan will show the results reflecting the recent changes.
How to delete widgets on Mac
Widgets are mini apps you can find on your dashboard. They give you quick access to your contacts and events without having to open up an app.
Click Widgets on the scan results list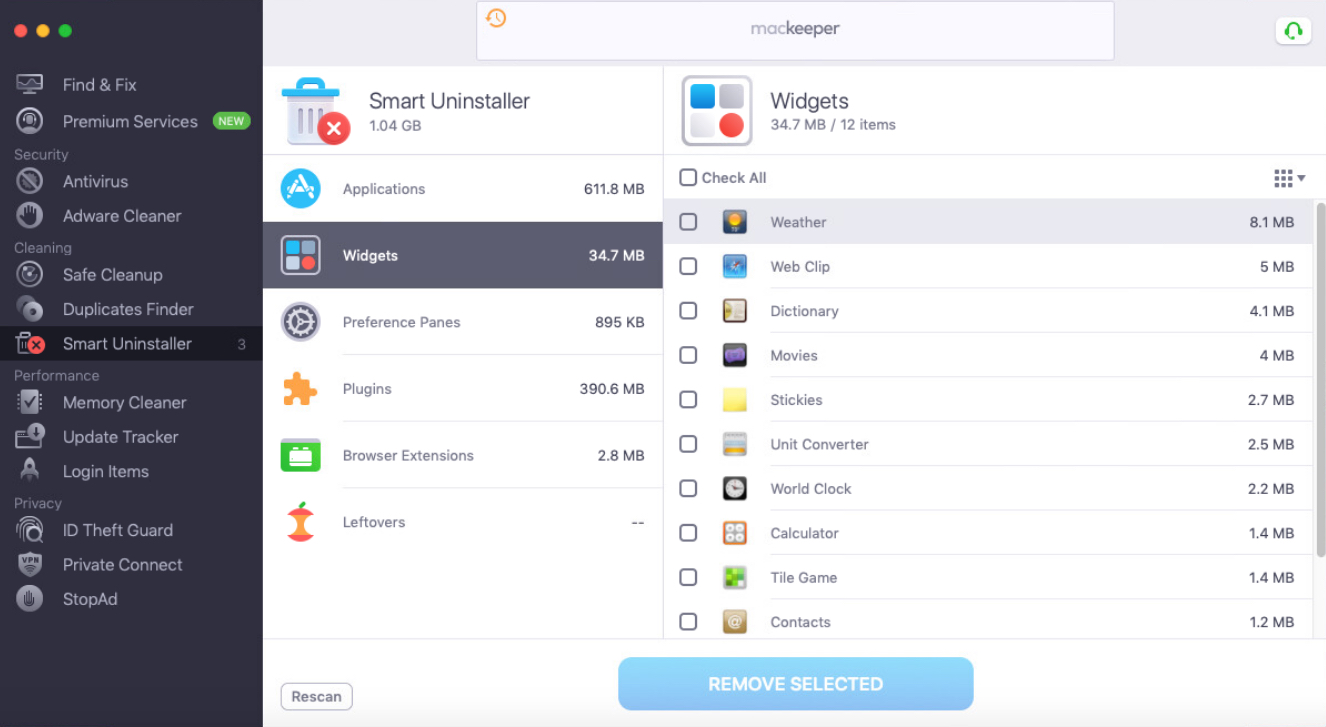 2. Select the widgets you want to remove, and click Remove Selected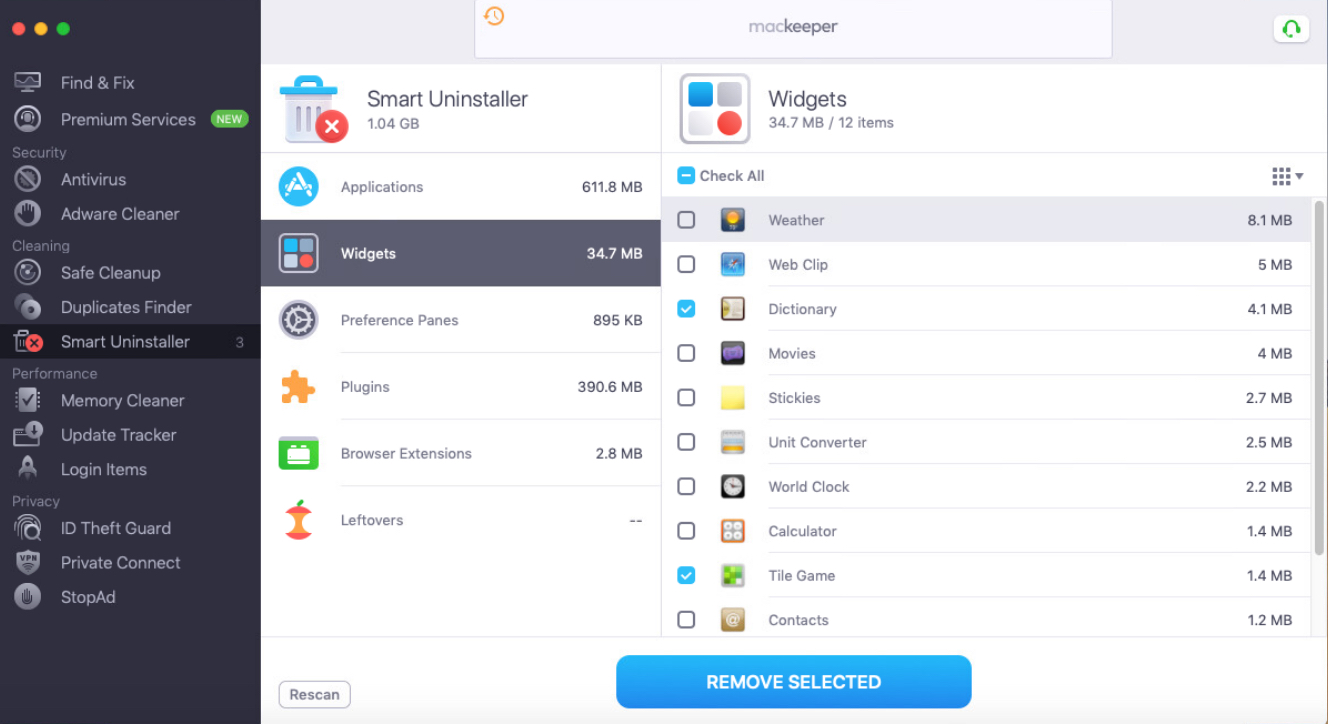 3. If you're asked to restart the Dock, select Accept and Uninstall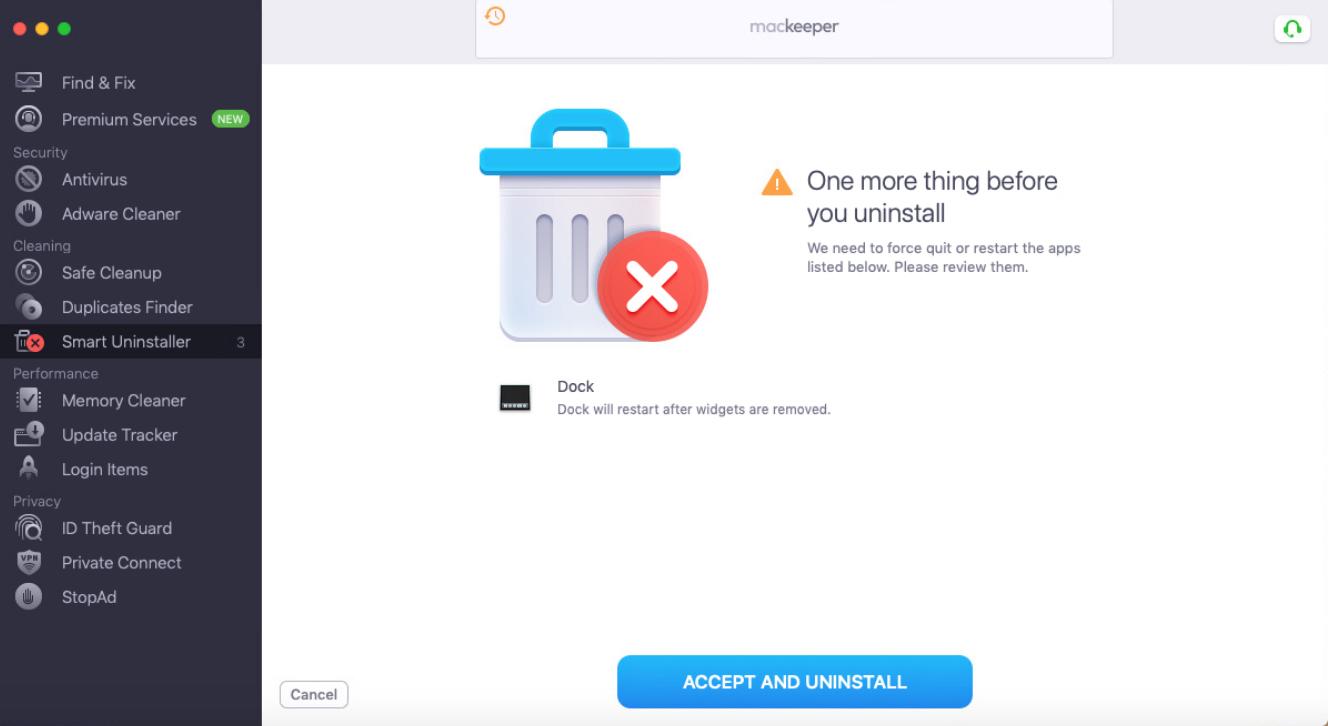 4. If you're asked to confirm the removal, click Remove
5. You've successfully deleted the widget programs on your Mac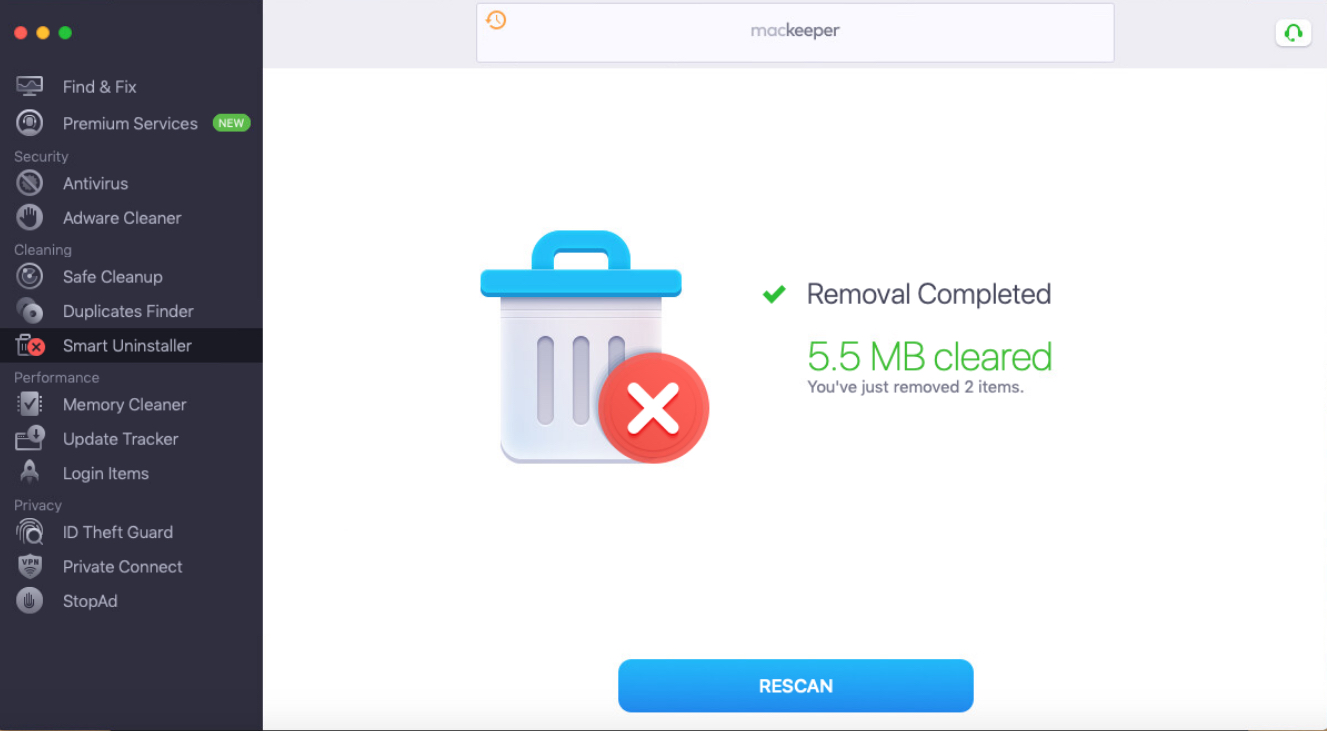 How to delete preference panes on macOS
Preference panes are third-party app settings located at the bottom of the macOS System Preferences window called Other.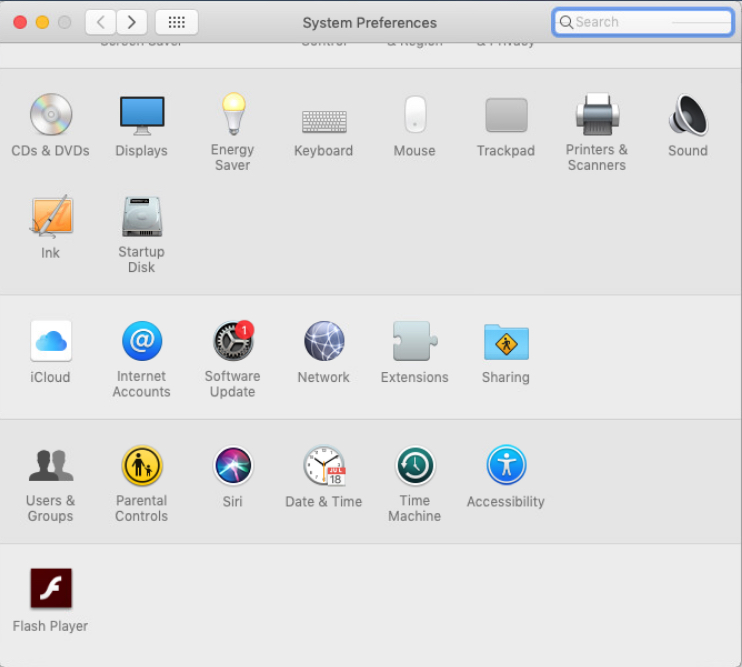 To remove a preference pane:
Select Preference Panes from the scan results list
Select which preference panes you no longer need
Click Remove Selected and confirm your choice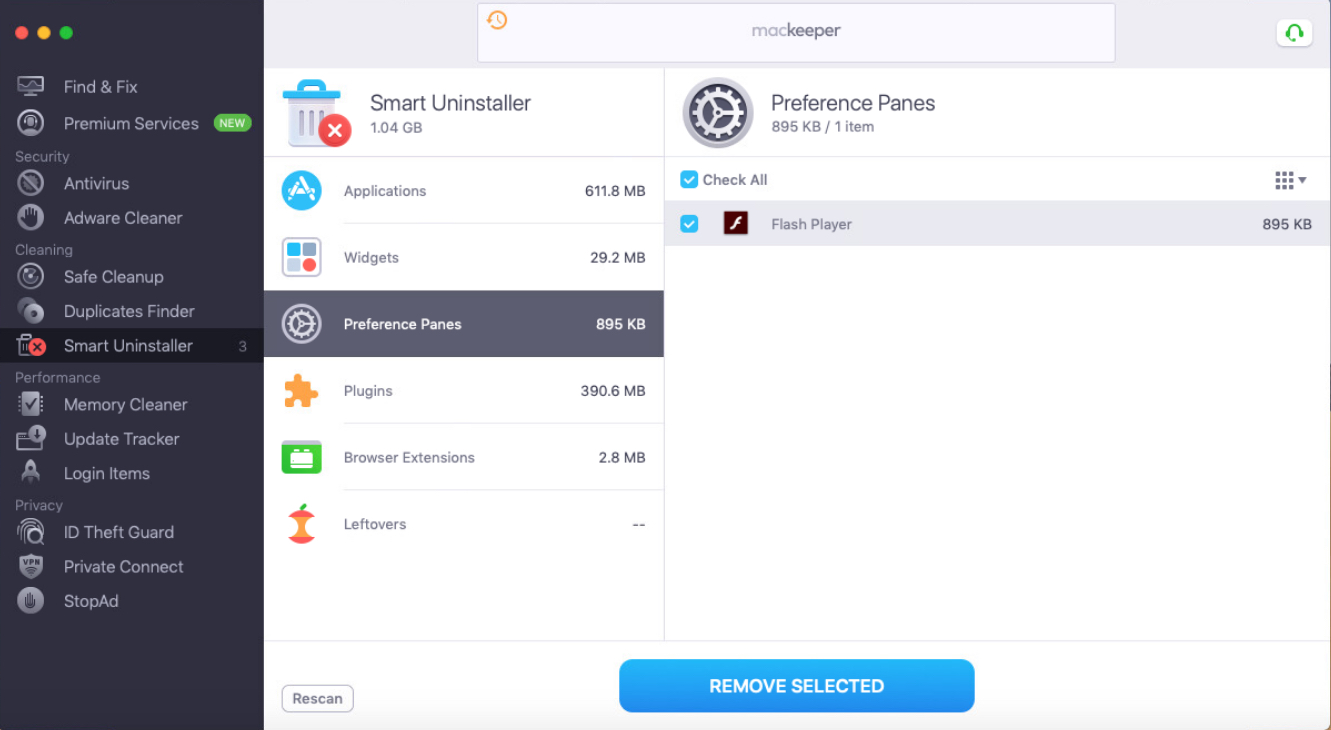 How to remove Mac plugins
Plugins are application components that use functionality and content from other apps. Any previously installed third-party plugins can be removed. However, it's not recommended to remove macOS default plugins like Spotlight or Quick Look.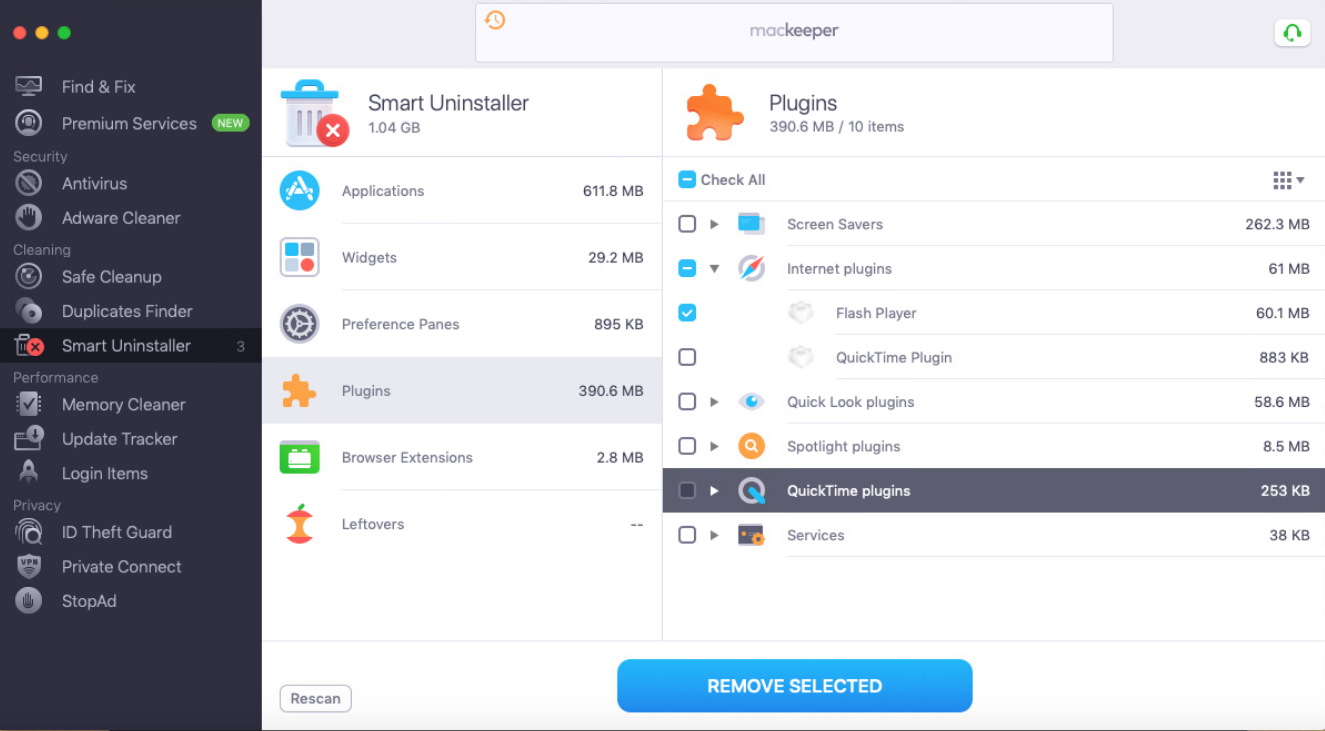 How to delete browser extensions on Mac
Also known as add-ons, extensions are web browser components that add some extra functionality. To check your browsers for unnecessary extensions:
1. Click Browser Extensions in the scan results list — you should see the list of web browsers with extensions installed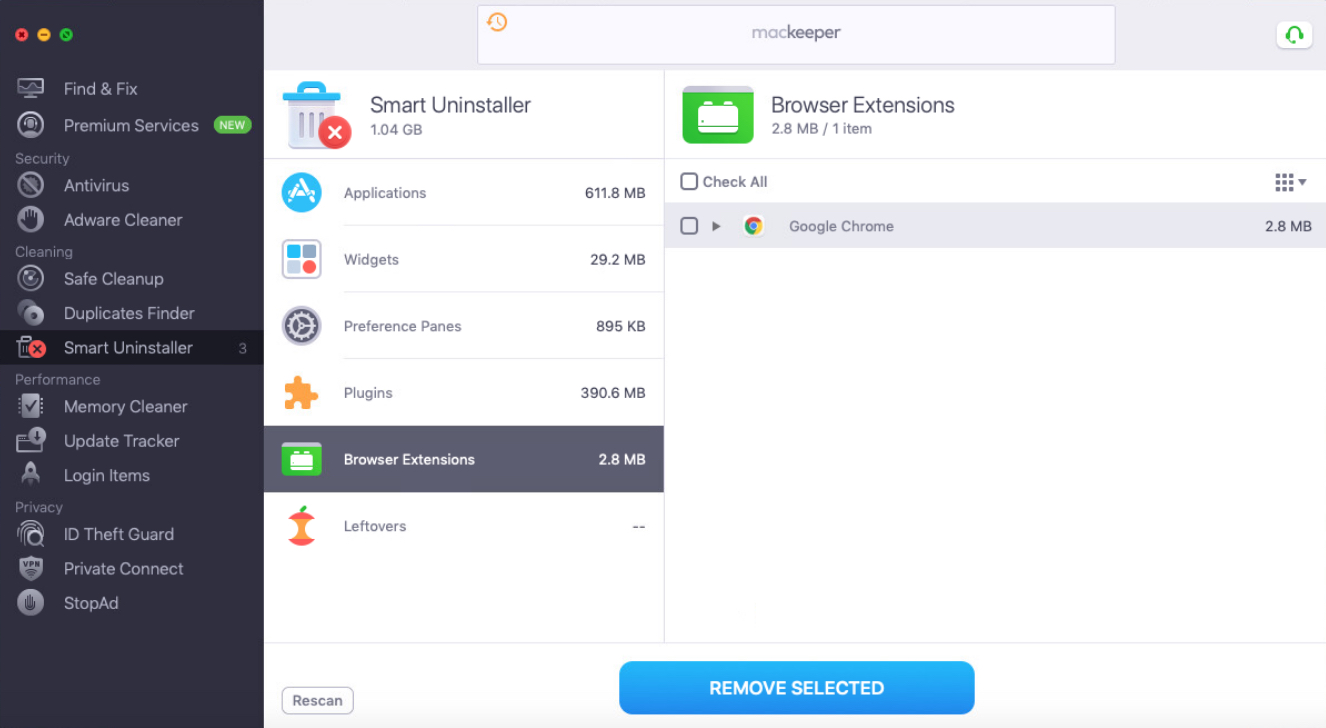 2. Next to the browser name, click the triangle pointing right — you should see the list of all the extensions installed on the selected browser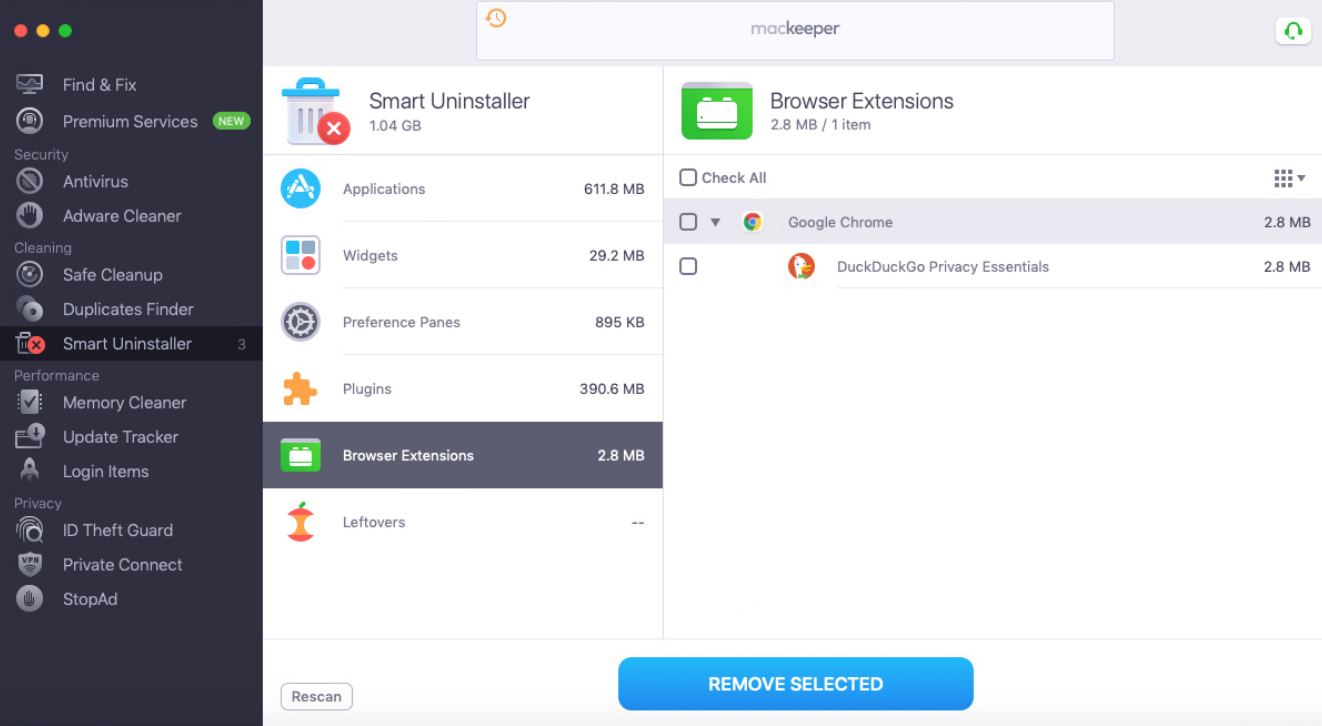 3. Select the checkboxes next to the extensions you don't use or recognize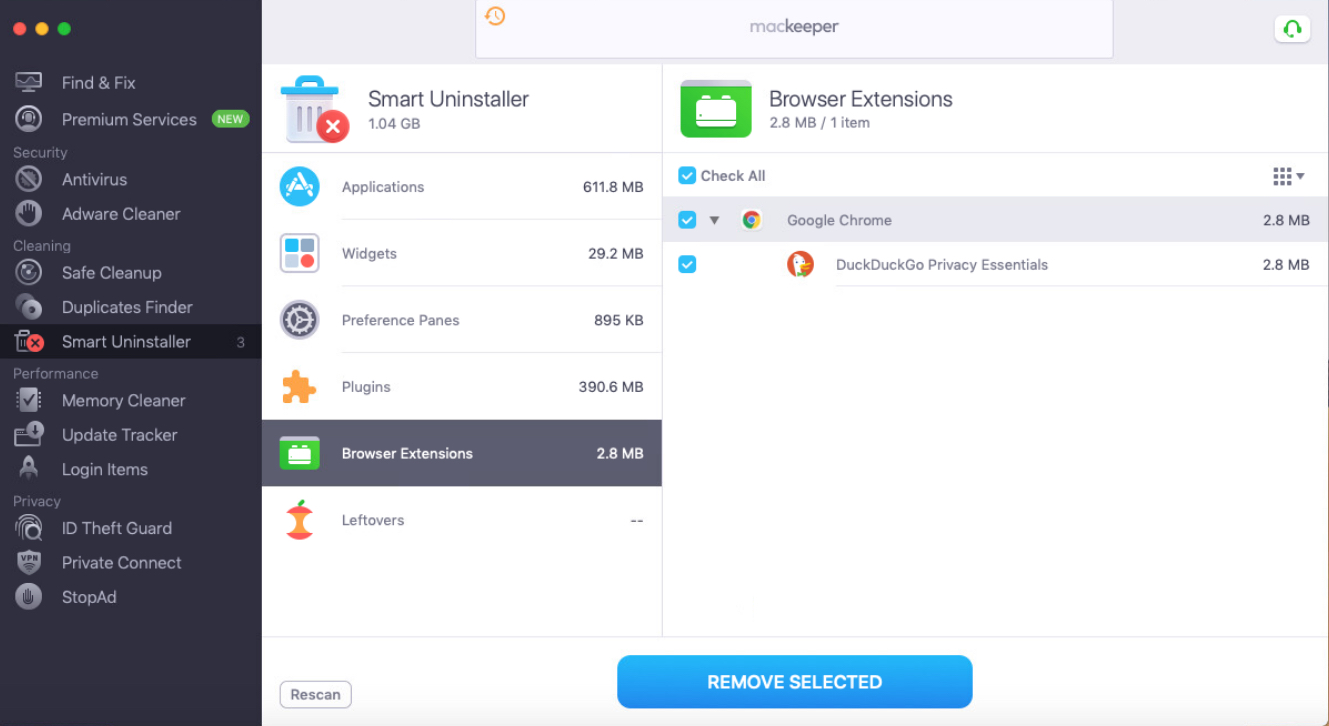 4. Remove the selected browser extensions by clicking Remove Selected
Remember, sometimes the extensions are installed along with an application and can cause browser malfunction. It's important to steer clear of all unnecessary and unknown browser extensions.
How to delete app leftovers on Mac
Leftovers are parts of applications that persist after the manual deletion by putting an app in the Trash. Leftovers slow your Mac because they continually refer to deleted apps and simply clutter up your computer. Removing leftovers is completely safe.
1. Click Leftovers, and select Check All at the top (if not selected by default)
2. Click Remove Selected, and confirm the removal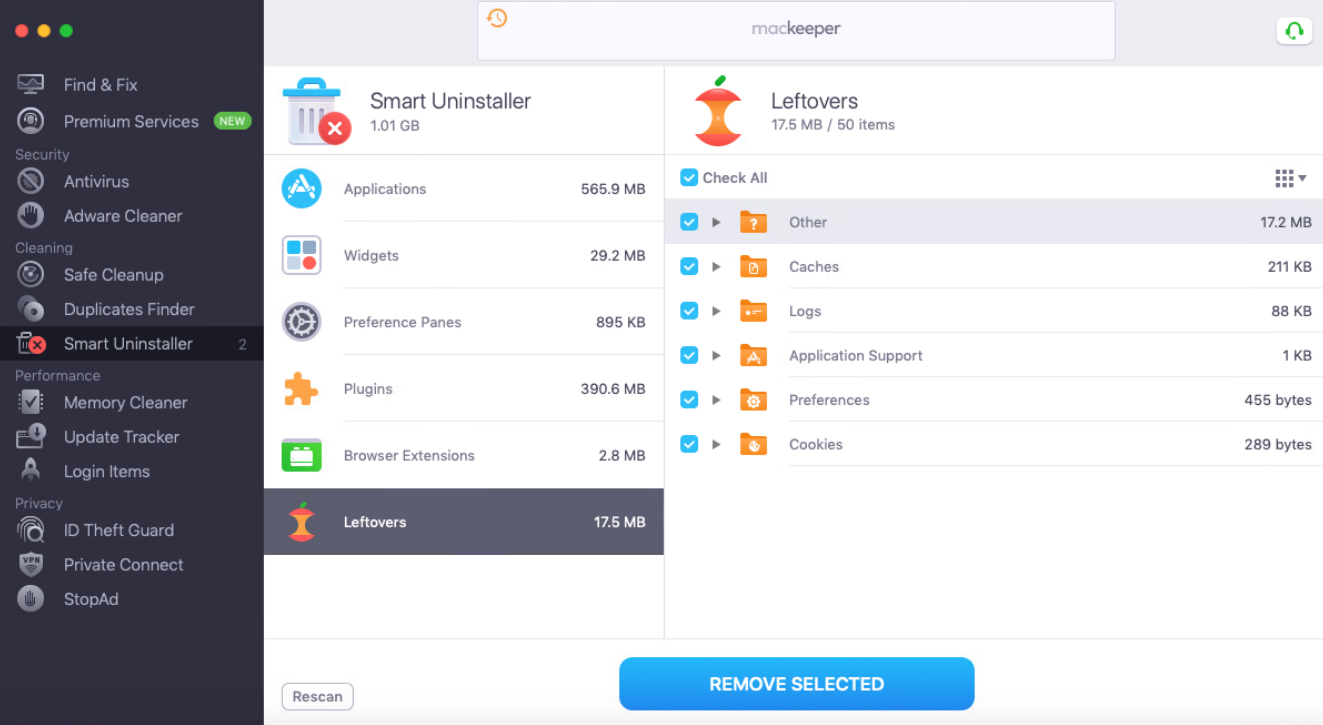 Smart Uninstaller is a simple and convenient tool to delete apps on Mac. Use it when you want to delete apps on MacBook or iMac, including applications, widgets, preference panes, plugins, browser extensions, or app leftovers.