July 07, 2020 | 7 min read
How to Back Up a Mac to iCloud
Being a Mac user you might occasionally wonder how to protect your files from accidental loss. While there are a few ways to back up your Mac, iCloud comes first to many users' minds as it is a built-in, convenient, and, to an extent, a free tool.

iCloud is indeed a solution to back up an iPhone, iPad, or iPod touch. However, for a Mac it is rather a complementary service, which doesn't create a complete system backup, unlike Apple's Time Machine utility or a hard drive cloning.
Still, iCloud is a great tool to make reserve copies of your selected files, keep them online, and access them from anywhere. So let's find out how to upload your files' backup to iCloud and, consequently, restore iCloud backup.
To safeguard your Mac and keep your peace of mind, we recommend MacKeeper. This app delivers multilayered protection from malware, online threats, and identity theft along with Mac performance optimization.
Try it today!
What is iCloud?
iCloud is Apple's online cloud-based service that allows you to store and access your photos, music, documents, contacts, and any other valuable data without taking up space on your Mac. iCloud backup can be helpful if you lose your Apple device, want to sync your devices, or need to access your files remotely.
Along with serving as a storage, iCloud automatically keeps apps, such as Safari, Mail, Calendar, Contacts, Reminders, and more, updated across all your devices. On top of that, it lets you collaborate using Pages, Numbers, Keynote, and Notes together with friends and family.
As for available storage, every user gets 5GB of space for free, and can buy more at any time. Here are the additional storage plans for iCloud.
How to back up to iCloud from your Mac
Before you start, make sure you have an Apple ID and remember its password. Moreover, it's a good idea to delete unnecessary files and duplicates first, as they'll take up your limited iCloud space. You can easily remove them using MacKeeper. As a result, you'll have no clutter both on your Mac and in your iCloud backup.
Now, let's get started.
1. Go to System Preferences from the Apple menu, Dock, or Spotlight
2. Click on the iCloud icon
If you're not logged in, enter your Apple ID and password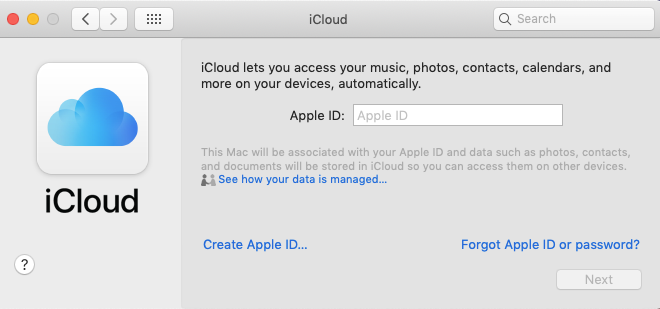 3. Select the data that you want to back up
Tick the box next to iCloud Drive to store files and documents there. Click on the Options button to select which apps and folders are synced with iCloud Drive
Select the types of data to store on iCloud by ticking the boxes below iCloud Drive
Similarly, here you can turn off iCloud backup entirely or for specific apps and folders.
4. Alternatively, you can access iCloud Drive through Finder
Go to Finder
Open iCloud Drive folder
You can move any folder on your Mac that isn't already in iCloud into iCloud Drive folder to back it up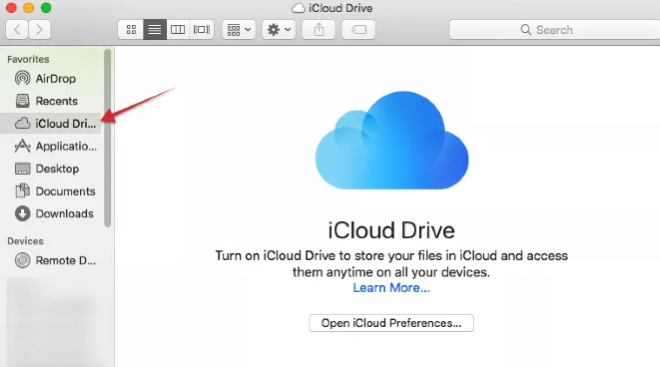 From now on, all the changes you make to your selected files and apps will be automatically reflected in iCloud. Access your data from any of your Apple devices, from a Windows PC using iCloud for Windows, or just go to icloud.com.
How to restore from iCloud backup
While you can fully restore your iPhone, iPad, or iPod touch from iCloud, it's a bit different with Macs. You can restore your entire Apple computer from Time Machine or an external drive if you used cloning earlier. However, you can reach any data that you've synced with iCloud by simply opening iCloud on your Mac or going to icloud.com.
Back up your data with other cloud solutions
If for any reason you decide not to back up mac to iCloud, you can choose from a number of other cloud-based online services to save and store your data. The most popular alternatives to iCloud are Dropbox, Microsoft OneDrive, and Google Drive. They all do quite similar things, it's really down to your personal preference as to which option you use.
Whatever option you decide to go for, make sure that you have your data saved and backed up somewhere other than your Mac. If there ever is an issue, you'll be extremely happy that you took the time to ensure your files are all saved and accessible.
***
We hope you now have a good set of your files' copies. And if you also want to safeguard your privacy, as well as enhance your Mac's Mac's security and performance, check out MacKeeper! It's a great suite of tools for every Mac fan.
Read more: