Updated: October 06, 2020 | 13 min read
What Is the Best Mac for Graphic Design?
The internet is full of confusing advice about choosing the right computer for graphic design. Which is better — laptop or desktop, Windows or Mac? What specs do you go for? How much should you be ready to pay?
Before we start

To ensure your graphic design apps work perfectly on your device, you need to devote your attention to optimizing your Mac. Download MacKeeper and let it optimize your Mac with almost no effort from you.
One thing we know for sure — Macs are in the favourites among all kinds of graphic designers, from typographers to 3D animators. Once you've set your mind on Apple, it's time to choose one out of the wide variety of devices. This article will help you figure out which Mac is best suited for your budget and your creative tasks.
We have produced the ultimate list of Apple devices that are the best for graphic design:
Why choose a Mac for graphic design?
Macs have been preferred by the world's leading designers for years, mainly due to the superb colour accuracy and image quality that come with Apple's high-end Retina displays. Furthermore, the new features that the company introduces with each release, such as the Magic Keyboard and Touch Bar, improve user experience, making it easier and more comfortable to design on Macs.
Simply having a powerful computer is not enough for creative occupations. A significant amount of memory and the best graphics cards are essential to pull off most professional software. The majority of Macs from the current line have plenty of RAM and discrete GPUs with on-board memory of up to 4GB.
The exquisite integration that comes with macOS allows smooth workflow between all the different apps that you use when working on a project. Additionally, cross-platform compatibility enables you to run Windows through Apple's own built-in tool, Boot Camp — so, when you need to run a Windows-specific app, you're sorted.
Finally, Macs are diverse and flexible when it comes to lifestyle. Are you a dynamic person who is always on the run? Then you must need to be able to carry your entire workstation with you. The light and compact MacBooks with long battery life have got your back. Correspondingly, if you're more of a desktop dweller and prefer working from the comfort of your home, you can opt for a large and impressive iMac.
The best Mac configuration for graphic design
Professional applications for designers are focused on interface design, illustration, and 3D. All of them are RAM-hungry, so look for devices with at least 8GB of RAM. If you're not sure how much memory you'll need for future projects, consider models that can be upgraded (the latest generations of MacBook Pro, the majority of iMacs, and Mac mini). Otherwise, always opt for the highest amount of RAM possible — you can purchase it in-store when buying your Mac.
On top of RAM, you'll need at least 256GB of internal SSD storage to keep many high-resolution images on your internal disk. Make sure you get a Mac with a solid-state drive rather than a hard drive for better performance. It's unlikely that you'll be able to replace a drive yourself after the purchase as Apple's products are sealed units, so make sure that you get plenty of storage space at the start. If that's not an option, get an external drive.
When it comes to processor power, graphic design applications are not that intense, especially when compared to video editing software. You'll get away with a 1.6GHz dual-core Core i5 CPU. Obviously, it is encouraged that you get a Mac that has more cores, but in most cases, you won't notice a change in performance once you're over the GHz range — instead, invest in additional RAM.
Make sure that your Mac has a discrete graphics card with plenty of RAM or is compatible with an eGPU. Older Mac models and most MacBook Airs use integrated GPU, which eats away from the CPU power and slows down the computer when working on graphics-heavy projects. We recommend looking for a Mac with at least AMD Radeon RX 570 — an equivalent of Nvidia GTX 1050.
Don't forget about the ports — as a graphic designer, you'll need to connect your tablet and other peripherals for regular work. Make sure your computer has at least two Thunderbolt 3s.
Finally, the display — one of the most important aspects of design work. Of course, most creators will agree that the larger the monitor, the better the workflow. However, the key aspect here is the resolution — make sure it's at least 1280x800. As for pixel density, it's higher in Apple monitors than in most PCs and regular laptops, so you'll be fine with any Mac.
The best MacBook for graphic design
MacBook Pro for graphic design
The 2019 16-inch MacBook Pro is an improved successor of its outdated 15-inch version. The base model has a 2.6GHz 6-core 9th Gen Core i7 processor that can be upgraded up to a 2.4GHz 8-core 9th gen Core i9 with Turbo Boost to 5.0GHz. This is more than enough power for any graphic design software.
But what about GPU? This beast has an AMD Radeon Pro 5500M with 4GB of GDDR6 memory — a substantial amount for gaming, let alone creative work. It's equipped with 16GB of on-board RAM and up to 8TB of SSD storage.
The LED-backlit Retina display with True Tone and P3 has 3072x1920 native resolution with 226 PPI and 500 nits brightness. Finally, four Thunderbolt 3 ports are available to connect peripherals — all of this in just 2 kg, starting at $2,399.
In 2020, Apple released an updated 13-inch version of MacBook Pro. This might not be enough for print design, but will be sufficient for web-designing purposes.
The base model of the 13-inch MacBook Pro has a 1.4GHz quad-core 8th Gen Core i5 processor with room for improvement up to 2.3GHz quad-core Core i7. However, it has an integrated Iris Plus graphics card, which is a significant drawback.
The base 8GB of RAM can be configured to 32GB, and SSD storage can be expanded to 4TB. The Retina display's resolution is 2560x1900 with 500 nits brightness, True Tone and P3 technologies in place as always. The laptop can have two or four Thunderbolt 3 ports, weighing 1.4 kg and costing from $1,299 to $1,799.
16-inch MacBook Pro (2019) Specs
CPU
Basic: 2.6GHz 6‑core Intel Core i7
Configurable to: 2.4GHz 8‑core Intel Core i9
GPU
Basic: AMD Radeon Pro 5300M with 4GB of GDDR6 memory
Configurable to: AMD Radeon Pro 5500M with 8GB of GDDR6 memory
Display
16-inch IPS display with 3072x1920 resolution
RAM
Basic: 16GB
Configurable to: 64GB
SSD
Basic: 512GB
Configurable to: 8TB
Ports
Four Thunderbolt 3 ports
MacBook Air for graphic design
The 2020 MacBook Air is the cheapest and most portable among all Apple computers. Weighing only 1.290 kg, it still packs powerful components that will satisfy beginner designers.
The base $999 model has a 1.1GHz dual-core Core i3 processor. The more expensive $1,299 option brings it up to a 1.2GHz quad-core Core i5 with Turbo Boost to 3.5GHz. Both the models have an integrated Intel Iris Plus graphics card with support for an eGPU available. 8GB of on-board RAM is configurable to 16GB, while 256GB of SSD storage can be boosted up to 2TB.
The display of the MacBook is impressive. The LED-backlit 13.3-inch screen with IPS and True Tone technologies packs 2560x1600 native resolution at 227 PPI with support for millions of colors.
Finally, two Thunderbolt 3 ports are available. The computer is also known for its long battery life of up to 12 hours with no need to connect the charger.
13-inch MacBook Air (2020) Specs
CPU
Basic: 1.1GHz dual-core Intel Core i3.
Configurable to: 1.2GHz quad-core Intel Core i7
GPU
Intel Iris Plus with support for eGPU
Display
13.3-inch IPS display with 2560x1600 resolution
RAM
Basic: 8GB
Configurable to: 16GB
SSD
Basic: 256GB
Configurable to: 2TB
Ports
Two Thunderbolt 3 ports
iMac for graphic design
On August 5, 2020, Apple announced a major update to their 27-inch iMac, making it the most powerful iMac ever created. It's ideal even for the most intense tasks such as game design and 3D modeling.
The CPU of the new iMac is configurable up to 3.6GHz 10-core 10th Gen Core i9, which has not been done before in any of the Apple devices except for Mac Pro. The base model of the iMac has a discrete GPU of Radeon Pro 5300M with 4GB of GDDR6 memory. This can be improved up to a staggering Radeon Pro XT with 16GB of GDDR6 memory.
Two 4GB blocks of RAM can be customized to the maximum of 128GB — 56GB each. SSD storage, starting at 256GB in the base model, can shoot up to 8TB in the best configuration.
The famous 27-inch 5K display has a 5120x2880 resolution and supports more than a billion colors. It has all the usual specs: True Tone, P3, 500 nits brightness… But it can also be turned into nano-texture glass, guaranteeing truly unbelievable user experience.
As for ports, the computer has four USB-As, two Thunderbolt 3s and an SDXC card slot. The iMac's price starts at $1,799, going up to $2,299.
27-inch iMac (2020) Specs
CPU
Basic: 3.1GHz 6‑core 10th-generation Intel Core i5
Configurable to: 3.6GHz 10-core 10th-generation Intel Core i9
GPU
Basic: Radeon Pro 5300 with 4GB of GDDR6 memory
Configurable to: Radeon Pro 5700 XT with 16GB of GDDR6 memory
Display
27-inch Retina 5K Display with 5120x2880 resolution
RAM
Basic: 8GB
Configurable to: 128GB
SSD
Basic: 256GB
Configurable to: 8TB
Ports
Two Thunderbolt 3
Four USB-A
Gigabit Ethernet
SDXC card slot
How to optimize your Mac ready for design projects?
Mac is one of the most comfortable computers for graphic design. However, having insufficient RAM or disk space may interfere with your work.
For example, 3D modeling is a RAM-hungry process, that's why freeing up RAM memory is an excellent idea. You can use Memory Cleaner in MacKeeper to free up your Mac's RAM without some extra effort. With a few clicks, MacKeeper will help to optimize your current Mac session.
Graphic design software also requires a lot of storage. Unused apps, duplicates, cache, junk files, and other useless elements take the space you can use for your creative projects. You can quickly free it up with MacKeeper's set of cleaning tools. Let your Mac be ready for your most daring creations!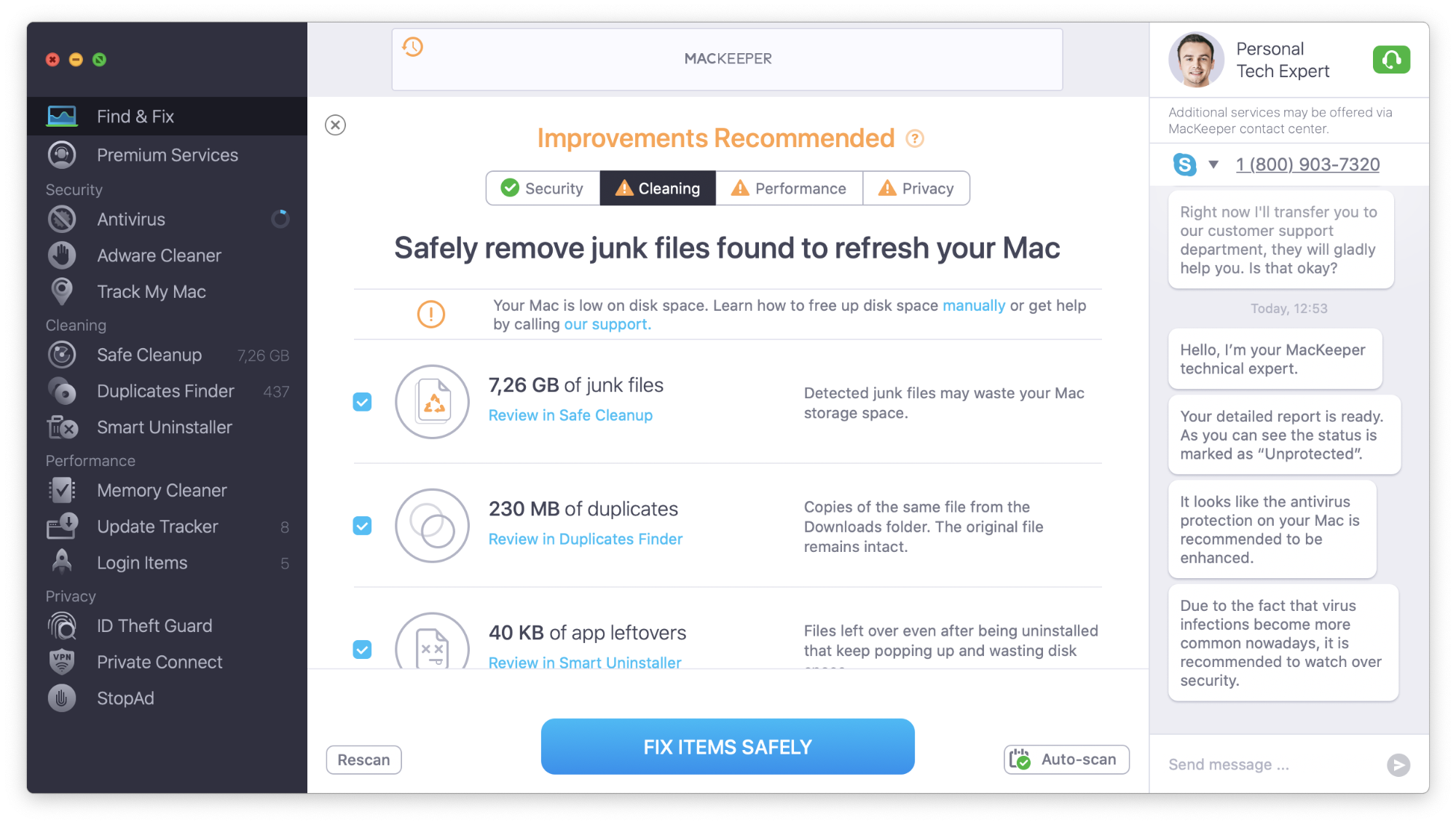 Conclusion
World-renowned companies, such as Pixar and Walt Disney, choose Macs to create their masterpieces. This is not surprising — the majority of graphic designers prefer Macs for their fast functionality, simple file management, and outstanding design software.
Read more: