In this article you will find the following:
The more you use your Mac, the more likely it is to get filled with junk and other unneeded files. That can include old downloads, data left behind by uninstalled app, cached files, and more. Left to accumulate, these junk files can end up slowing your Mac down, and they take up disk space. This is particularly important with newer Macs which have relatively small amounts of fast but expensive solid-state storage (SSD) space.
The good news you can easily remove unnecessary files from your Mac using a cleaning tool. These apps search for data that's safe to delete, letting you clear it all out in a click or two.
There are many Mac cleaning apps on the market. As well as MacKeeper, two other big names in this field are MacCleaner Pro and CleanMyMac. Like MacKeeper, they're multi-purpose apps, packed with a variety of features. But how do they compare to each other? Keep scrolling our comparison piece to find out.
Before we start

Looking for a way to clean junk files off your Mac? You've come to the right place. MacKeeper is a complete utility for Macs, and one of its key features is Safe Cleanup. In just a couple of clicks, you can seek and remove unneeded data from your Apple machine:

Download MacKeeper, install, and open it
Select Safe Cleanup
Click Start Scan
When the scan is done, select junk files to remove, and click Clean Junk Files.

It's really that easy, and you'll often get back gigabytes of disk space. Give it a try today.
MacCleaner Pro review
Developer: Nektony
Price: From $14.95 per month for one Mac
Website: https://nektony.com/mac-cleaner-pro
Free trial: Yes
Requirements: macOS 10.13 or later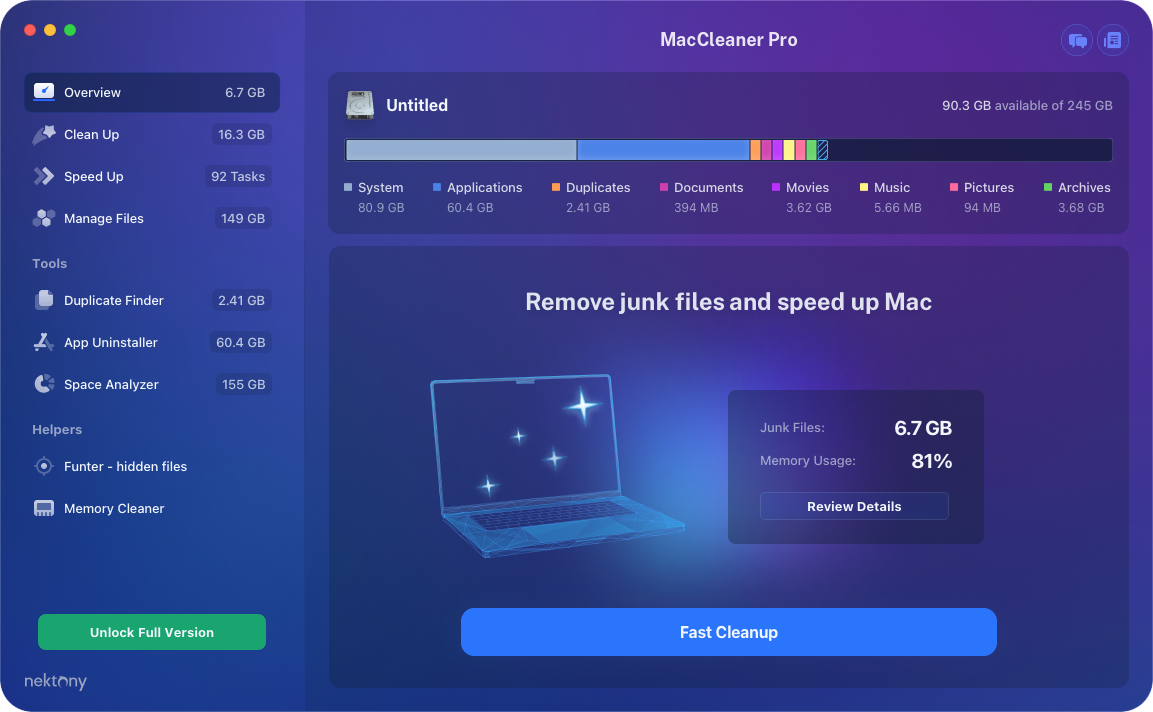 Features and tools of MacCleaner Pro
MacCleaner Pro bundles up a few separate cleaning and optimization tools for Macs. It includes:
A memory cleaner that frees up RAM
Duplicate file finding and removal
Space Analyzer to visualize disk space usage
Cleaning of junk files and unneeded data
Removal of apps and browser extensions
Funter, which files that usually hidden by macOS.
MacCleaner Pro summary
Here's a quick round-up of MacCleaner's features as well as a few pros and cons.
Offers a wide range of cleaning and speed-up tools
A bundle of separate apps rather than a single app
Free trial keeps full functionality locked away
Lots of different pricing options, including for multiple Macs

Pros

Cons

Some interesting features not found in other cleaners
Separate apps means they're less bloated
Funter lets you see hidden files
Licenses for one, two, or five Macs
Offers a year's subscription and a one-time purchase

Offers no security or privacy features
Separate apps feels disjointed
Single, monthly license is expensive
Do you really need MacCleaner Pro?
You can, of course, use your Mac without a cleaning tool, but solutions like MacCleaner Pro make it much easier to manage junk files. MacCleaner Pro isn't the only option, but it has enough useful features that are definitely worth trying out. Make use of the free trial before spending any money, though.
How much does MacCleaner Pro cost?
MacCleaner Pro starts from $14.95 per month for a single Mac, but you can get better value by subscribing for longer, for more Macs. Interestingly, you can also buy it outright with a one-time purchase. However, while the software will be yours to keep, major version upgrades aren't included in the price.
Here's the full list of pricing options:
| | | | |
| --- | --- | --- | --- |
| | One Mac | Two Macs | Five Macs |
| Monthly subcription | $14.95 | $21.95 | $34.95 |
| One-year subcription | $29.95 | $44.95 | $69.95 |
| One-time purchase | $74.95 | $119.95 | $169.95 |
Is MacCleaner Pro safe?
Yes, MacCleaner Pro is safe to use. It's a well-made app from a reputable development company, and it's notarized by Apple. As with any app that uninstalls and removes data from your Mac, though, there's a risk you can delete something you wanted to keep.
This is particularly the case with Funter, which reveals files that you're usually not meant to see. If in doubt, check out our guide on how to clear disk space on Mac.
CleanMyMac review
Developer: MacPaw
Price: From $39.95 per year for one Mac
Website: https://macpaw.com/cleanmymac
Free trial: Yes
Requirements: macOS 10.13 or later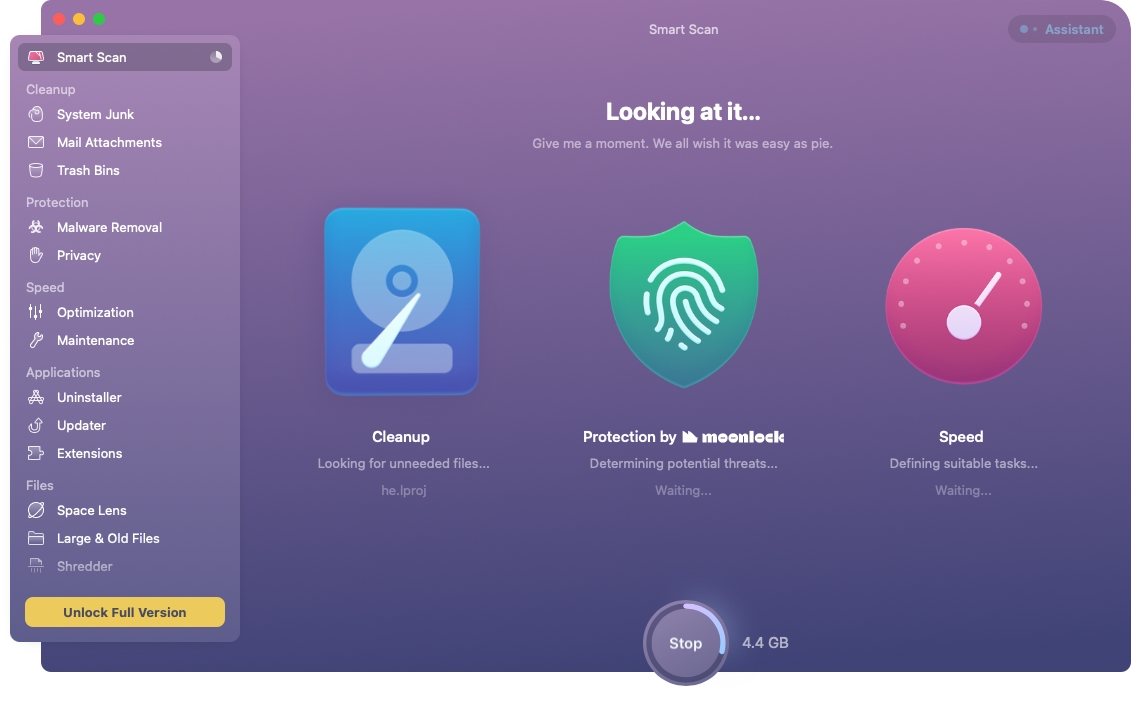 Features and tools of CleanMyMac
CleanMyMac is an all-in-one cleaning, optimization, and security tool for Mac. Its features include:
Removal of system junk, unwanted apps, mail attachments, and more
Anti-virus including real-time and on-demand protection
Privacy protection for your browser and chat data
Space Lens disk space analyzer and visualizer
File shredding for secure data deletion
Large and old files remover.
MacCleaner Pro summary

Cleans, optimizes, and protects your Mac
All tools available through a single interface
Free trial lets you scan but not fix
Yearly licenses and one-time purchases available

Pros

Cons

Offers malware protection
Space Lens feature makes it easy to analyze disk space
All-in-one design is convenient
One-time purchases are available

More expensive than some rivals, including MacCleaner Pro
No monthly license option
No duplicates finder
Do you really need CleanMyMac?
CleanMyMac's cleaning features are entirely optional, but they're an easy way to clear up your RAM and disk space. CleanMyMac also has the advantage of being an antivirus app, much like MacKeeper. That makes it a good choice if you want all your cleaning, security, and optimization taken care of by a single app.
How much does CleanMyMac cost?
There's no monthly license for CleanMyMac, so the least you can get it for is $34.95 per year for one Mac. There are also licenses for two or five Macs, which work out cheaper. The one-time purchase options for one, two, or five Macs offer good value but major version upgrades aren't included.
Check out the table below for full pricing info (correct at time of writing):
| | | | |
| --- | --- | --- | --- |
| | One Mac | Two Macs | Five Macs |
| One-year subcription | $34.95 | $54.95 | $79.95 |
| One-time purchase | $89.95 | $134.95 | $199.95 |
Is CleanMyMac safe?
CleanMyMac is safe to use. It's notarized by Apple, so you know it's malware-free. As with other cleaning tools, it's designed only to delete files that are completely safe to remove. The only real danger is that you might delete something you want later, but that's no different to manually deleting data in macOS.
MacCleaner Pro vs CleanMyMac: Final comparison
If you want to keep your Mac free of junk files and unwanted apps, either MacCleaner Pro or CleanMyMac will be a good choice. CleanMyMac has one major advantage, though—it includes antivirus protection, which is increasingly important as Macs grow in popularity and become more of a target for hackers. Check out our full CleanMyMac review for more information.
In favor of MacCleaner Pro, it offers Funter, which could be useful if you're looking for hidden files created by malware. Overall, the MacCleaner Pro experience is disjointed because many of the functions are in separate apps, which can be launched from the main app. Take a look at our MacCleaner Pro review for more information.
The best thing to do, if you want to know how to clean up MacBook or Mac junk, is to download the free trials and see what these apps can do.
| | | |
| --- | --- | --- |
| | MacCleaner Pro | CleanMyMac |
| Cache cleaning | / | / |
| Mail attachment cleaning | / | / |
| Trash emptying | / | / |
| Installation file removal | / | / |
| Downloads cleaning | / | / |
| Screenshot deletion | / | x |
| Language file removal | / | / |
| Broken login time removal | x | / |
| Xcode junk deletion | / | x |
| iOS backup removal | x | / |
| Login item management | / | / |
| Heavy usage app management | / | / |
| Memory cleaner | / | / |
| Reindex Spotlight | / | / |
| Flush DNS cache | x | / |
| Speed up Mail | / | / |
| Browser extension management | / | / |
| Repair disk permissions | x | / |
| Time Machine snapshot optimization | x | / |
| Maintenance scripts | x | / |
| App updater | x | / |
| Large file removal | / | / |
| Old file removal | x | / |
| Hidden file viewer | / | x |
| Disk space analyzer | / | / |
| Secure file shredder | x | / |
| App uninstaller | / | / |
| Duplicate finder | / | x |
| Antivirus | x | / |
| Privacy protection | x | / |
So which is the best Mac cleaner app for you? It really depends on what you're after, what kind of license you want, and if you want an all-in-one app. You should also consider MacKeeper. As well as being packed with security, privacy, and optimization tools, its Safe Cleanup feature is a fast, easy, and safe way to remove junk data from your Mac.
MacKeeper is also friendlier on your wallet if you don't want a long-term commitment. It's monthly starting price is just $10.95. That's lower than MacCleaner Pro, while CleanMyMac doesn't offer a monthly subscription.
As with these other tools, you can try out MacKeeper for free, so why not give it a whirl and see what it can do?