In this article you will find the following:
As with any computer, Macs inevitably get filled with junk and unnecessary data—the more you use them. Obvious culprits include old installers and downloads you no longer need, but that's not all. Web browser caches, duplicate files, data left behind by uninstalled apps, email attachments—the list goes on.
And it can all end up hogging your Mac's disk space, which can impact overall performance. So, if you're wondering why is my Mac so slow, the cluttered laptop could be the reason.
That's where Mac cleaning tools like DaisyDisk and CleanMyMac can help. They're both designed to help you find and delete unwanted files from your Mac. Which is best for you, though? Keep scrolling our review to find out.
Before we start

Forget about manually deleting files from your Mac. Save yourself time and effort with MacKeeper's Safe Cleanup. It lets you search for and remove junk in just a few clicks.

Here's how to run a Safe Cleanup scan with MacKeeper:

In MacKeeper, select Safe Cleanup from the sidebar
Click Start Scan and wait for the scan to finish
Select what you want to delete, and click Clean Junk Files
Choose whether to empty your trash or skip it.

MacKeeper will safely remove this unnecessary data, and you'll instantly regain some much-needed disk space. Sound good? Try MacKeeper today, and see what it can do for you.
DaisyDisk review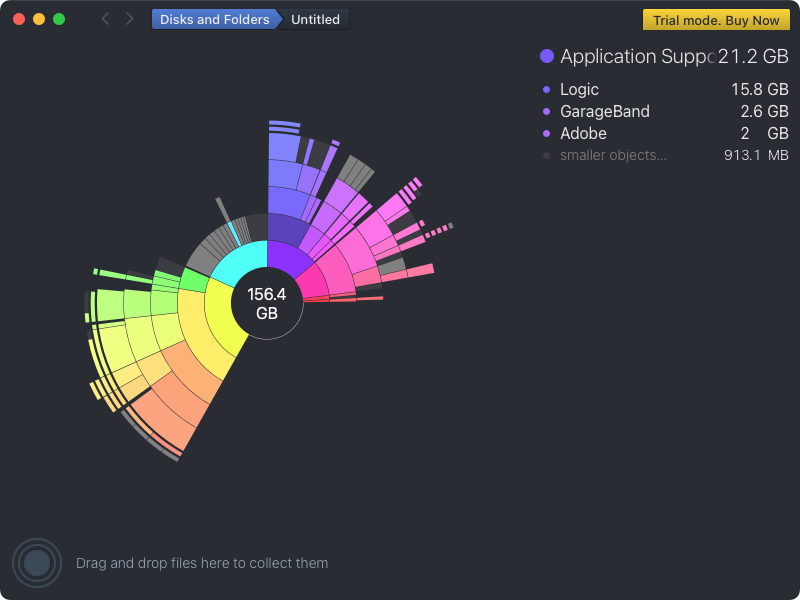 Developer: Software Ambience
Price: $9.99 for five Macs
Website: https://daisydiskapp.com
Free trial: Yes
Requirements: macOS 10.13 or later
Find out what's taking up your disk space
Get a visual representation of your Mac's storage
Quickly delete files and folders
Buy for a cheap, one-off fee.
Check out our full DaisyDisk review to learn more.
Features and tools of DaisyDisk
Here's what you get with DaisyDisk:
It scans internal, external, and removable storage
Scans Dropbox, Google Drive, Box, and Microsoft OneDrive
Scans as administrator
Shows results in Finder
Hidden space scanning
Individual folder scanning
Quick file preview
System-critical file protection
Fully manual cleaning
Doesn't analyze or collect any of your data
Drags and drops files and folders to build a delete list.
How much does DaisyDisk cost?
DaisyDisk costs a straightforward $9.99. This is a one-off payment covering five Macs with minor updates and bug fixes included. It comes with a 30-day money-back guarantee.
Is DaisyDisk safe?
DaisyDisk comes from a reputable developer, so it's safe to install and scan your Mac with. Be careful, however, when deleting anything with it. Although it includes safeguards to stop you from removing anything macOS needs to run, it's easy to delete something you didn't mean to. For more tips on regaining storage, read our guide on how to free up disk space on Mac.
DaisyDisk summary
Pros

Cons

Cheap, one-off price
Legacy versions for older Macs
Makes it easy to see what's taking up space on your Mac
Admin scan shows hidden files
Easily build up a list of files to delete
Link and scan your cloud storage

Preview mode isn't that useful
Very limited compared to other Mac cleaners
Free alternatives do a similar job
CleanMyMac X review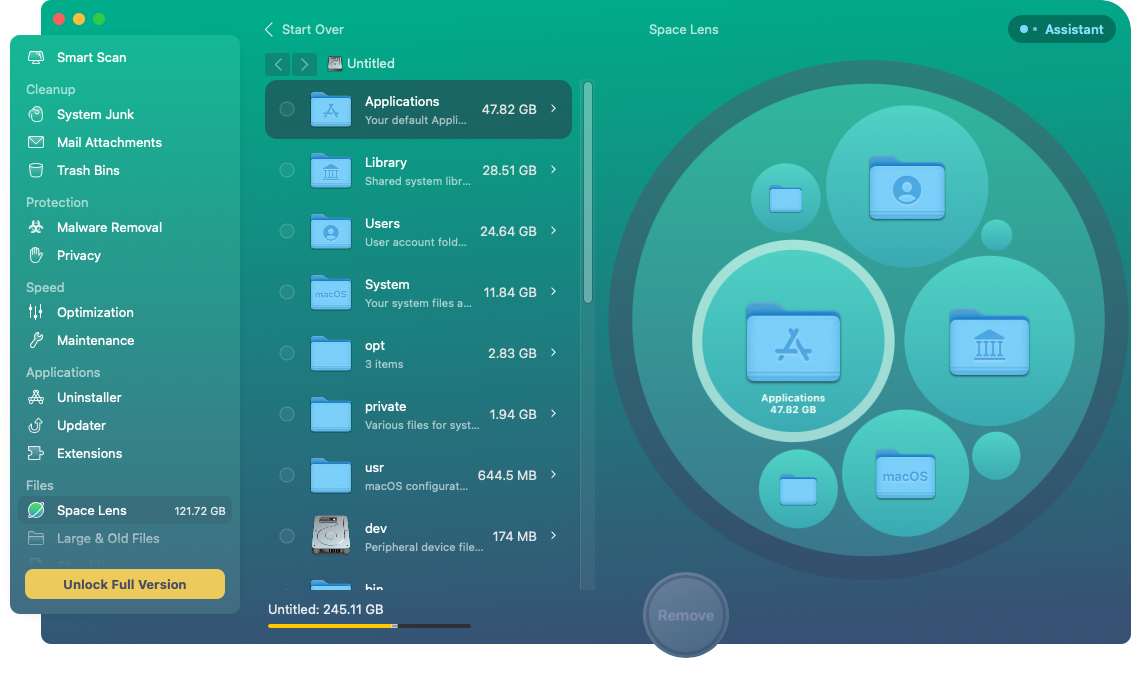 This, in a nutshell, is what CleanMyMac X is all about:
An all-in-one tool offering more than just cleaning
Automatic and manual cleaning features
Has a feature just like DaisyDisk
Lots of different pricing options.
For more information, take a look at our full CleanMyMac X review.
Features and tools of CleanMyMac
With CleanMyMac, you get a large selection of tools designed to optimize, protect, and clean your Mac.
CleanMyMac's features include:
SpaceLens, a visual disk space analyzer
Cache cleaning and junk removal
Memory cleaning
Antivirus protection
File shredding for secure deletion
Web browser and chat privacy protection
Large and old file deleting
App updater
Mail attachment deleter
Maintenance tools and scripts.
How much does CleanMyMac cost?
CleanMyMac is available through one-year subscriptions and one-off purchases. These start from $34.95 a year for one Mac, but you can save money by subscribing to more Macs. The one-time purchases come with free minor updates and bug fixes.
Check out the table below for the full list of pricing info:
| | | | |
| --- | --- | --- | --- |
| | One Mac | Two Macs | Five Macs |
| One-year subscription | $34.95 | $54.95 | $79.95 |
| One-time purchase | $89.95 | $134.95 | $199.95 |
Is CleanMyMac safe?
It's perfectly safe to install and scan your Mac with CleanMyMac X. Its automated tools shouldn't delete anything your Mac needs to run, but you should also review the results before deleting anything. If you use the SpaceLen feature to remove files from your Mac automatically, be more careful because it's easy to delete the wrong thing if you don't know what you're doing.
Take a look at our guide on how to clear cache on Mac if you're trying to remove junk files.
CleanMyMac summary
Pros

Cons

Offers a wide range of tools beyond cleaning your Mac
The SpaceLen feature does most of what DaisyDisk does
Includes antivirus protection
Automatic cleaning is safer and faster than manual cleaning

Requires a subscription or relatively high one-time fee
SpaceLen doesn't scan cloud services like DaisyDisk
DaisyDisk vs CleanMyMac: Final comparison
So which is the best Mac cleaner? Although these two apps can help free up disk space on your Mac, they offer very different experiences. The main difference between DaisyDisk vs CleanMyMac is that one is a single-function app while the other is a multi-function, all-in-one tool for Mac users.
DaisyDisk does what it does well, and the cloud storage scanning is a major boost. Its main advantage, though, is its price. You pay one low price, and you've got this cleaning app for life. On that front, CleanMyMac can't compete—either you pay a yearly subscription fee, or you pay a one-time price that's much higher than DaisyDisk.
But CleanMyMac wins on every other front. Like MacKeeper, it goes way beyond cleaning, more than justifying its subscription model. Unless you only want very basic functionality, these kinds of tools make a much better choice.
DaisyDisk vs CleanMyMac summary
| | | |
| --- | --- | --- |
| | DaisyDisk | CleanMyMac |
| Disk space analyzer | / | / |
| Hidden space analyzer | / | x |
| Cloud storage scanning | / | x |
| Cache cleaning | x | / |
| Mail attachment cleaning | x | / |
| Trash emptying | x | / |
| Installation file removal | x | / |
| Downloads cleaning | x | / |
| Language file removal | x | / |
| Broken login time removal | x | / |
| iOS backup removal | x | / |
| Login item management | x | / |
| Heavy usage app management | x | / |
| Memory cleaner | x | / |
| Reindex Spotlight | x | / |
| Flush DNS cache | x | / |
| Speed up Mail | x | / |
| Browser extension management | x | / |
| Repair disk permissions | x | / |
| Time Machine snapshot optimization | x | / |
| Maintenance scripts | x | / |
| App updater | x | / |
| Large file removal | x | / |
| Old file removal | x | / |
| Secure file shredder | x | / |
| App uninstaller | x | / |
| Antivirus | x | / |
| Privacy protection | x | / |
Ultimately, DaisyDisk and CleanMyMac X serve different functions and needs. If all you want to do is scan your Mac's storage, DaisyDisk is a great option, and the cloud functionality is a bonus. But CleanMyMac's SpaceLens feature does almost exactly the same as DaisyDisk, and it's just one of many tools it offers. However, it's also much more expensive, and you may not wish to commit to a yearly subscription.
There's another option—MacKeeper's Safe Cleanup. It offers fast, safe junk cleaning features like CleanMyMac but with the added advantage of a low-cost rolling subscription, among other options. If you're not sure if you want to commit for longer, it's a great way to try out Mac-cleaning tools first. Plus, the MacKeeper app is packed with other optimization and security features as well.