Does your Mac take longer to boot than it used to? Does it crash when you open multiple apps at once? Do you frequently run out of storage? With a good maintenance routine, your old Mac can run just as well as when it was new. All you usually need to do is clean up all the junk files and useless apps clogging up your Mac.
In this guide, we'll show you exactly how to clean up your Mac's hard drive. We'll even throw in some bonus tips on cleaning up the outside of your Mac as well.
Will cleaning up my Mac make it faster?
As time goes on and your Mac ages, it's likely to get slower and slower. This isn't necessarily because the physical components in your Mac have aged. Instead, it usually happens as a result of:
Running out of free storage
Picking up bugs in macOS
Unnecessary apps using all the processing power
If your Mac has less than 5GB of free storage, it's likely to be a lot slower. This is because macOS needs swap space and temporary storage to run as intended. In fact, some recommendations go so far as to say you should keep at least 15% of your Mac's storage free at all times.
Regularly cleaning up the inside of your Mac can fix all these issues and have a drastic impact on its performance. You'll notice you can boot up quicker, launch apps faster, and spend less time staring at a spinning beach ball wondering if your Mac has frozen again.
Cleaning up a ten-year-old Mac won't make it as fast as Apple's latest releases, but it'll go a long way to making that Mac run as fast as it did ten years ago.
Use a dedicated Mac cleaning app
By far the easiest way to clean your Mac is to use a dedicated cleaning app. These apps offer a variety of tools that are easier to use, faster, and often more effective than trying to clean up your Mac yourself.
If you choose to save yourself time and use a Mac cleaner app, it'll almost certainly give you the options we've listed below.
Clean disk space of junk files
Although macOS looks neat and tidy from the user's perspective, it often collects a lot of junk files in hidden folders that can take up gigabytes of storage unnecessarily. These junk files often include logs, caches, language files, and more.
Clean up junk files in one click
Most Mac cleaning apps offer to remove all these junk files – and free up your storage – with a single click. For example, in MacKeeper you can use the Safe Cleanup feature to do so.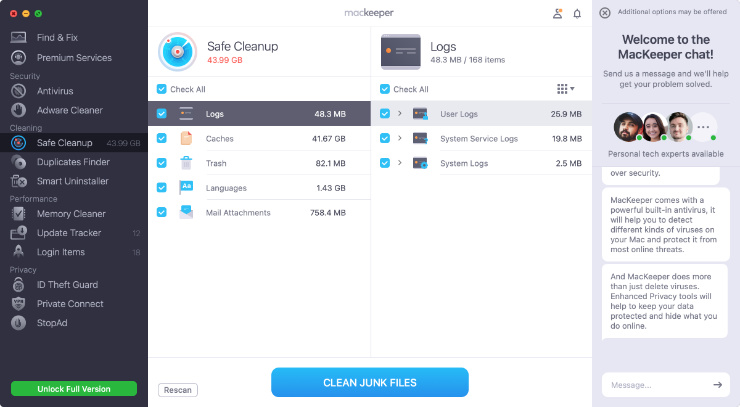 Run automatic scans in the background
As if a single-click cleanup wasn't easy enough, most Mac cleaning apps also allow you to schedule regular scans to automatically take place in the background. These scans will search for junk files, malware, unused apps, useless startup items, and other problems that might be slowing down your Mac.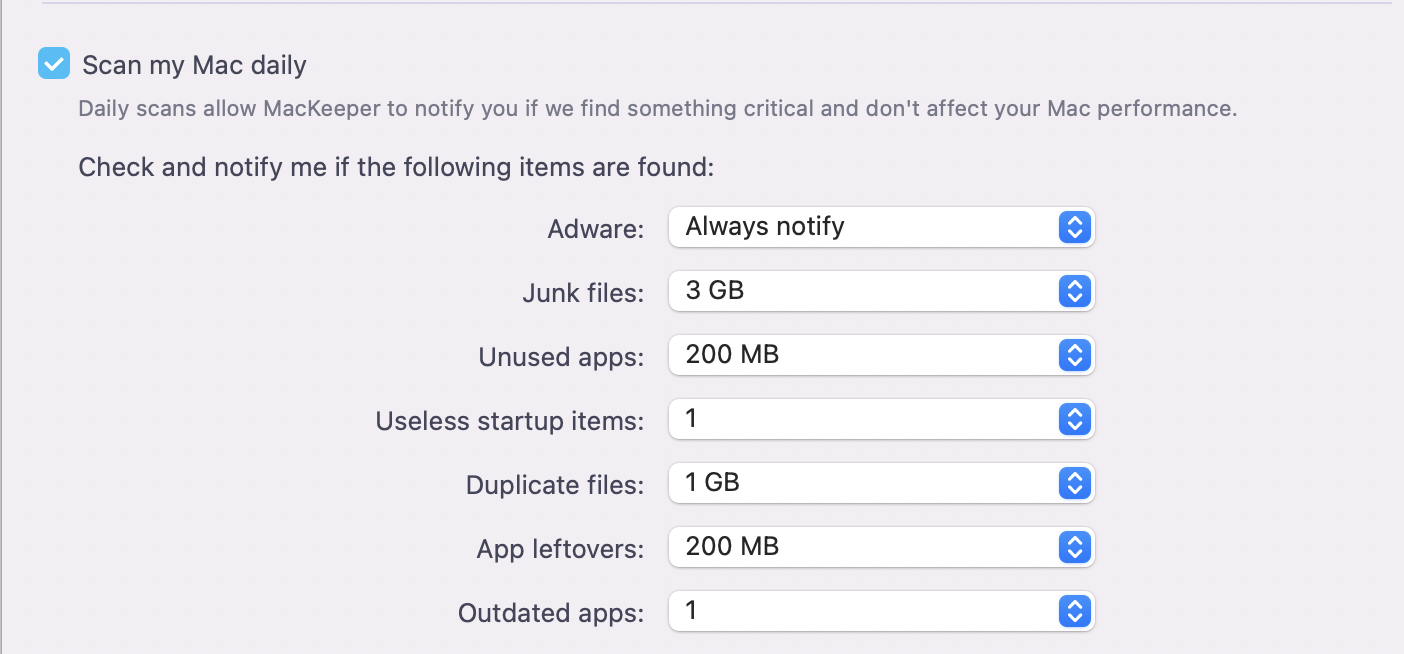 Remove duplicate and near-duplicate files
Sometimes a lot of space gets used up on your Mac by duplicate versions of the same files.
Alongside exact duplicates, you might also have lots of near-duplicate files on your Mac. This is particularly common with photos, where you may have a dozen photos of the same image.
Using a cleaning app to find all these duplicate and near-duplicate files is far quicker and easier than sorting through all the files on your Mac yourself.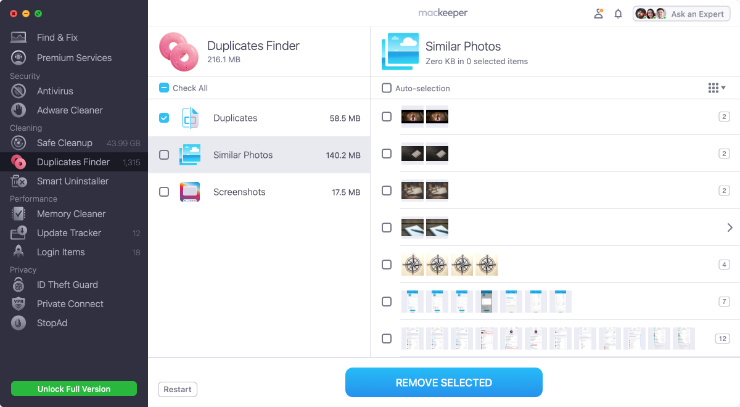 Uninstall apps and delete leftover files
Although it's usually very easy to uninstall apps on a Mac, doing so often leaves behind various hidden files in your macOS system folders. These leftover files can build up over time, as you install and uninstall more apps, often taking up gigabytes of storage.
MacKeeper's Smart Uninstaller will locate the following files for you to delete: applications, widgets, plugins, browser extensions, and all the other leftover files from a Mac app. These leftovers often include containers, preference files, cookies, and saved states, but you don't need to keep any of them.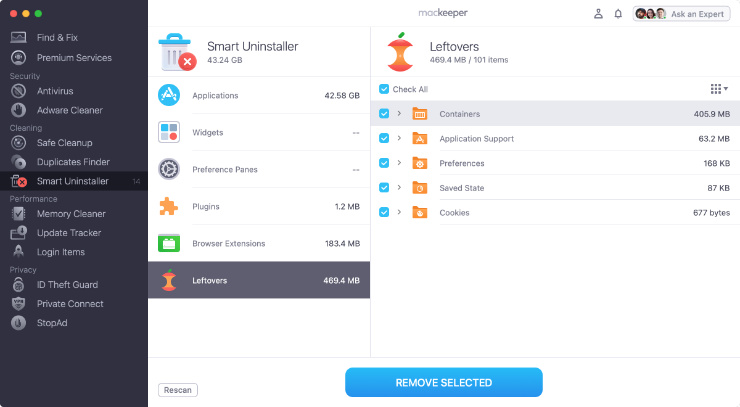 Various Mac cleaning apps are available
Although we've focused on MacKeeper here, this isn't the only option available to you if you want an easy way to clean up your Mac. Alternative Mac cleaning apps include: Avast, CleanMyMac, CCleaner.
Use the storage tools in macOS
Cleaning apps are definitely the easiest way to boost your Mac's performance, but Apple offers its own set of cleaning tools you can use as well. Apple's tools focus on clearing out your Mac storage, helping you find the files you probably ought to delete.
How to access them:
Open the Apple menu in the top-left corner of the screen
Click About This Mac
From the window that opens, go to the Storage tab
Click Manage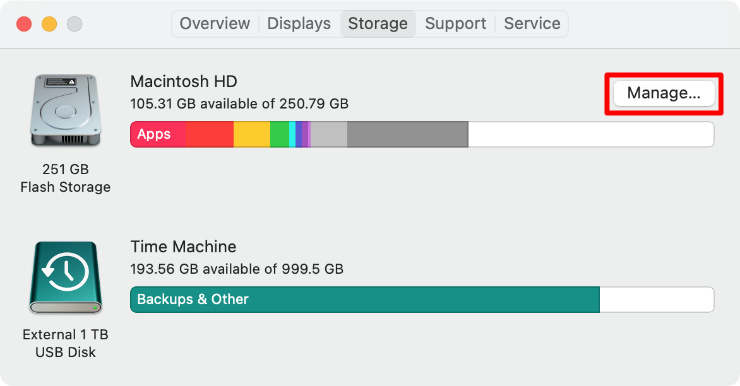 The storage management window opens with a series of recommendations you can follow to save space on your Mac.
Uninstall any applications you don't use
Click the Applications tab in the macOS storage tool to see a list of all the apps installed on your Mac. This shows the largest apps at the top of the list, so you can work your way through it to find and delete any apps you don't need anymore.
To delete or uninstall a Mac app, just select it and click the Delete button. Don't forget to empty the Trash and remove leftover app files afterwards.
Sort through books, music, photos, and TV
Use the Books, Music, Photos, and TV tabs in the macOS storage tool to view all the media on your Mac, listed from largest to smallest. If you find any media that you don't want anymore, just select it and click Delete.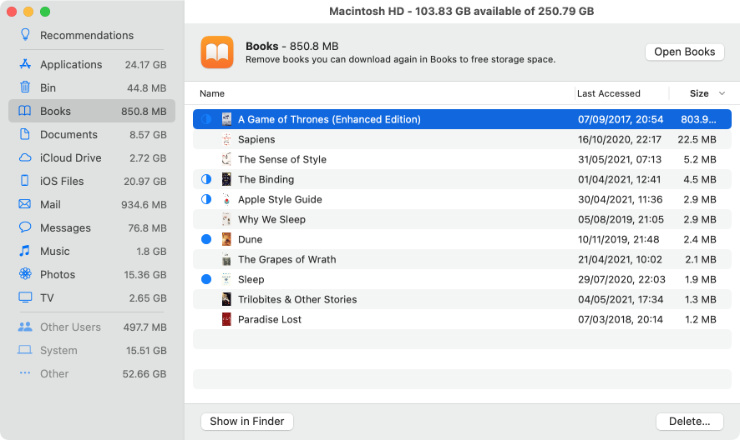 You may need to open the respective apps to view some of your media, such as the Photos app for photos and the Music app for music.
Delete your biggest documents to save space
The Documents tab in the macOS storage tools offer five options for cleaning up your documents:
Large Files: This lists some of the largest files in your documents to delete
Downloads: Here are all the files you've downloaded through web browsers
Unsupported Apps: The are all the files related to apps that aren't supported on your version of macOS
Containers: Some Mac apps include containers of data, which can stick around after you delete the app
File Browser: This acts like a Finder window, allowing you to browse all your documents, but it helps you find the largest folders by showing the size of everything in the browser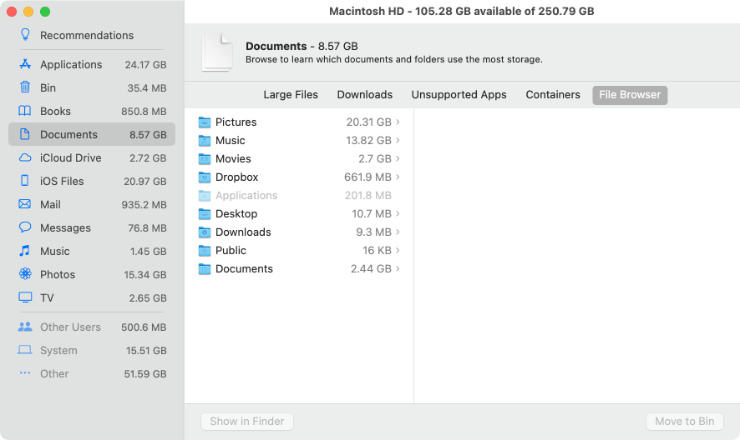 Remove old iOS backups
If you ever back up an iPhone, iPad, or iPod to your Mac then you might see quite a lot of space is taken up by iOS Files in the macOS storage tool. Click this tab to see a list of all your backups.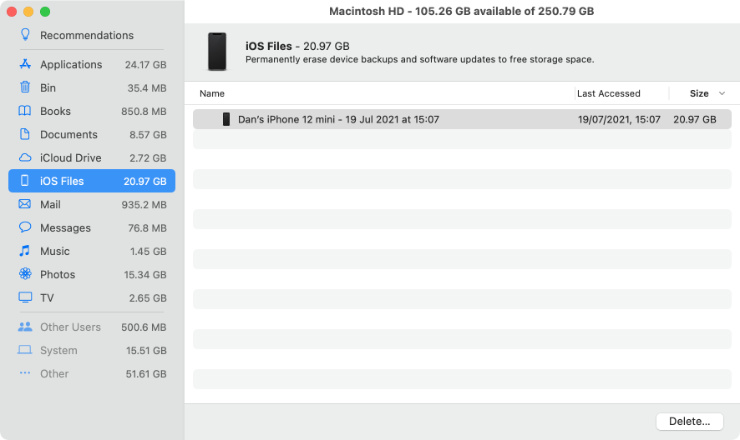 If any of the backups are particularly old and not of use to you anymore, you should select and Delete them to clean up your Mac. However, you shouldn't do this if you'll still need that backup should any of your mobile devices stop working.
Get rid of Messages to save more space
If you use the Messages app on your Mac, you might need to delete a lot of bulky message attachments to finish cleaning up your Mac. These are usually images and videos that people have sent you over iMessage.
Click the Messages option in the macOS storage management tool to see all your largest attachments. Select an attachment and hit Space to preview it, then click Delete if you don't want to keep it.
To further clean up your Mac, you may want to delete entire iMessage conversations that you don't need anymore.
Use Finder to manually clean up your Mac
The most hands on way to clean up your Mac is to sort through all your documents, caches, logs, and various other files using Finder. This can be quite a time consuming process, but it also gives you the most control, if you know what you're doing.
Search for duplicate files with Smart Folders
Duplicate files can take up a lot of space on your Mac unnecessarily. The simplest way to find duplicate files using Finder is by making a Smart Folder:
Open Finder and go to File > New Smart Folder
In the window that opens, click the plus (+) button to add a search filter
Now use the second dropdown menu to search for a particular kind of file, such as an Application, Document, or Image
When you select a file kind, Finder will list all the matching files on your Mac
Go to View > as List and click the first column header to organize these files alphabetically
Now you can scroll through the list to find any duplicates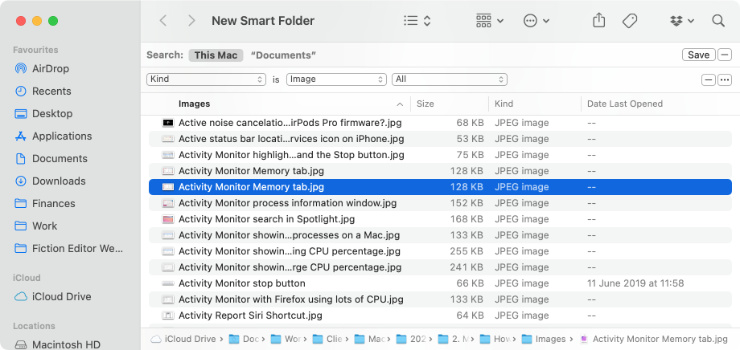 Of course, a much quicker method – if you don't want to manually search through every file on your Mac – is to use the Duplicates Finder in MacKeeper. This has the added benefit of highlighting near-duplicate files and similar images, which you won't find manually.
If you need to copy files in the future, consider creating a shortcut to that file instead. Shortcuts don't take up any extra storage, so are much better for saving space.
Clear the caches on your Mac
As you browse the web, your Mac stores images and files in caches to speed up the loading process if you revisit the same pages again. Caches, cookies, and other browser data make surfing the web more convenient on your Mac, but they can also take up a lot of unnecessary storage.
You need to be careful when deleting cache files on your Mac, since macOS requires some of these files to function properly. The best option is to remove caches and cookies from your browser settings.
To clear out the browser caches on your Mac:
Open Finder and select Go > Go to Folder
Type ~/Library/Caches and hit Go
Now find any app folders that you don't want the cache for and delete them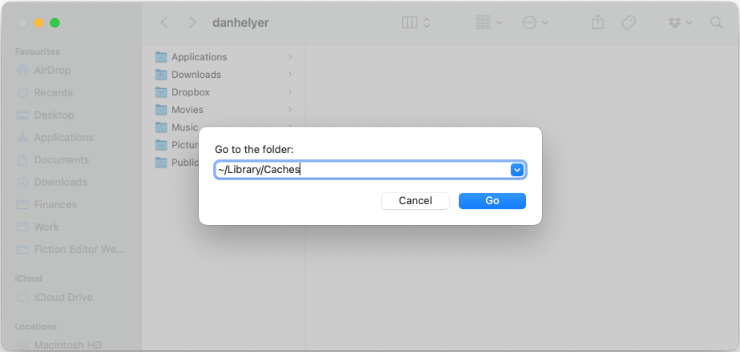 Organize the Desktop
Every time you log in to your Mac, Finder needs to load every file on your Desktop. If you're in the habit of dumping a lot of junk on your Desktop, this can really slow down the login process.
What's more, a cluttered desktop can make it difficult to focus while working on your Mac. It can also hide files that are taking up a lot of space unnecessarily. You should either delete files or move them to a more fitting location.
To make your Mac run faster, start by sorting out the files on the Desktop. If your Mac is running macOS Mojave or later, you can do this quickly by Control-clicking on your desktop and selecting Use Stacks from the popup window.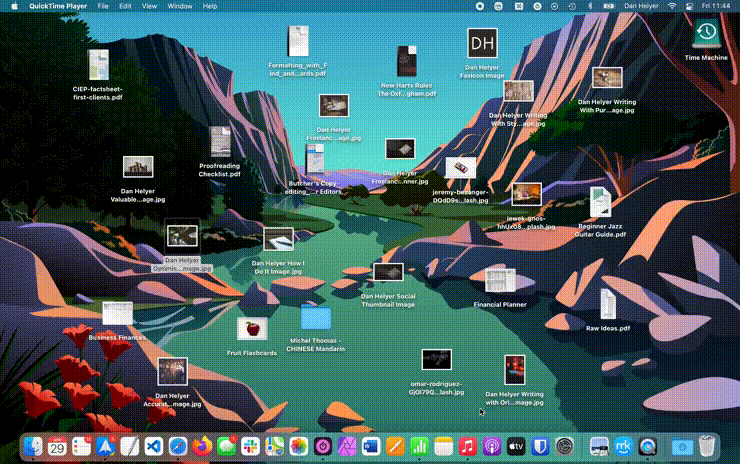 This organizes all your files into Stacks based on the file type. Your desktop will be clean in an instant! Now you can delete and transfer files quickly and easily.
Use System Preferences to clean up your Mac
Some of the best ways to clean up your Mac are actually hidden in the System Preferences. These options are far less fiddly than using Finder, but they can still make a big difference to everything from your storage space to your startup speed.
Delete your local Time Machine snapshots
If you use an external backup drive, Time Machine will save various snapshots of your Mac going back through time, allowing you to revert your Mac or restore files from previous backups.
Every time your external backup drive is connected, Time Machine will update these snapshots. However, if your backup drive isn't connected, Time Machine will save local snapshots to your internal storage, ready to transfer to the external drive the next time it's connected.
These local snapshots can take up a lot of extra space on your Mac and it's worth cleaning them up if you don't plan to connect an external backup drive again anytime soon.
To remove your local Time Machine snapshots:
Go to System Preferences > Time Machine
Disable the option to Back Up Automatically
Wait 24 hours for macOS to delete all the local snapshots, then re-enable this option if you still want to use it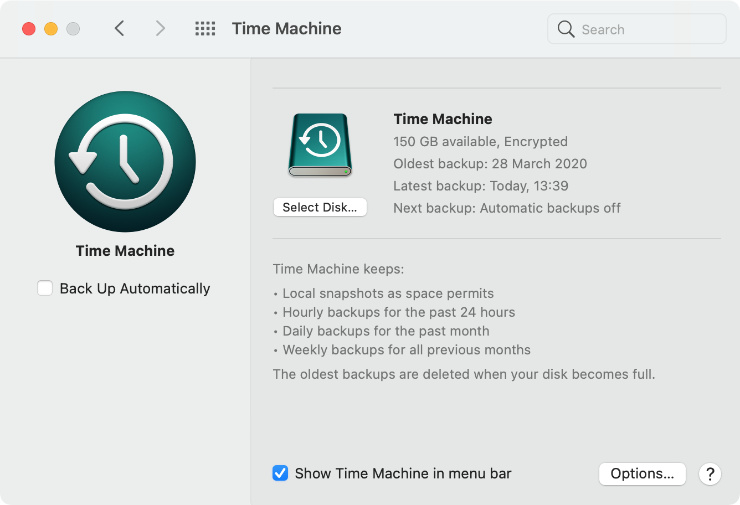 Remove old user accounts from your Mac
Having multiple user accounts on your Mac is a great way to keep your documents and apps separate if multiple people use the same Mac. However, each user account comes with a host of hidden files that can clog up the storage and slow down your machine.
When you're cleaning up your Mac, it's a good idea to remove any user accounts you don't use or don't need anymore.
Before doing this, though, be sure to log in to the account and save a copy of any important documents you still want to keep.
When you've done that, follow these steps to delete a user account:
Go to System Preferences > Users & Groups
Click to unlock the padlock icon, entering your administrator password to do so
Select the user account you want to remove, then click the minus (–) button
To clean up storage on your Mac, you need to select the option to Delete the home folder. This will delete all the data associated with that user
Click Delete User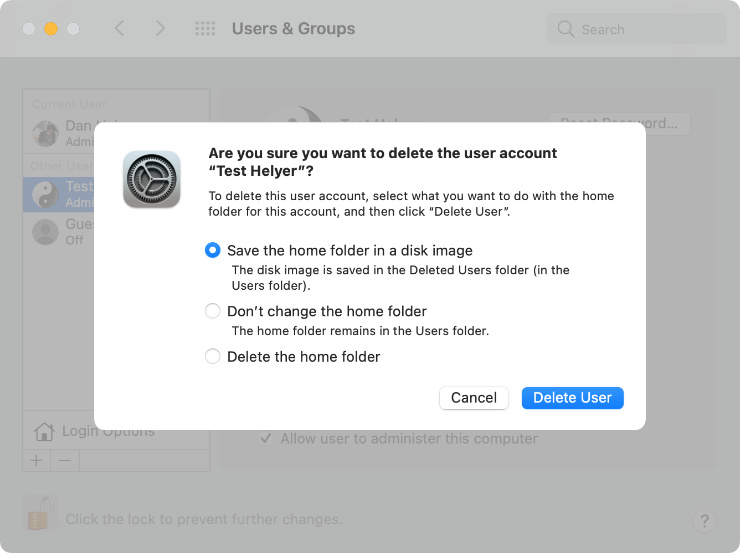 Clean up your login items
Another factor that could be slowing down your Mac is your login items. These are the apps and background processes that launch every time you log in to your Mac. They can put a lot of extra stress on the CPU and tend to slow down your Mac every time you start using it.
You can edit your login items from the System Preferences:
Go to System Preferences > Users & Groups
Click Login Items to view all that apps that open when you log in
Select an app you don't need, then click the minus (–) button to remove it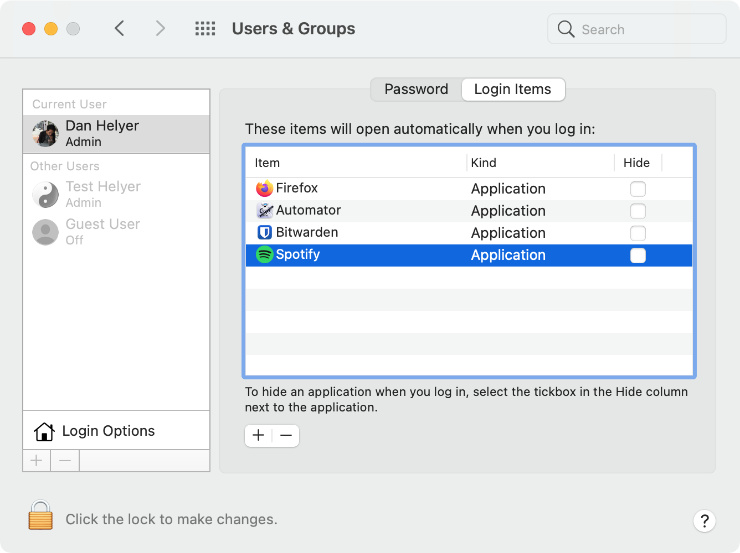 The System Preferences only shows apps that launch at login, to view all the smaller background processes that start when you log in, use a Mac cleaning software to remove login items instead.
Use more apps to clean up your Mac
There are some cleaning tasks that you can't do using Finder or System Preferences, like clearing the RAM or shutting down background processes that have been using up your CPU. For these tasks, it's best to turn to other tools like Activity Monitor or Terminal.
Stop rogue processes with Activity Monitor
If an app stops working properly on your Mac, it might keep running in the background using up all your computer's processing power. This can happen even if you tried to quit the app normally.
Luckily, you can find and stop these background processes using Activity Monitor:
Open Activity Monitor from the Utilities folder in your applications
Go to the CPU tab
Click to arrange the list from highest to lowest % CPU
Take a look at the processes using the highest CPU to see if there are any you can stop. Make sure you don't stop a process if you aren't sure what it does – your Mac may need it
To stop a process, highlight it and click the X button in the Activity Monitor toolbar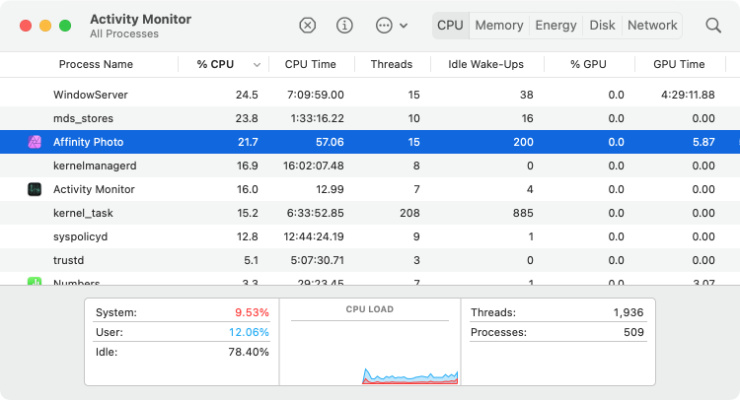 Clear your RAM using Terminal
Modern computers are pretty good at managing their RAM usage, but if your Mac is struggling to multitask there might be a problem here.
In general, your Mac aims to use all of its available RAM all the time, but it can be helpful to clear the RAM storage and allow your Mac to build up using it again.
The easiest way to do this is with a simple Terminal command:
Open Terminal from the Utilities folder in your applications
Type the following command: sudo purge
Hit Enter
Type your admin password, then hit Enter again

Get rid of plugins and extensions in browsers
Browser plugins and extensions allow you to customize your experience with Safari, Chrome, Firefox, or other web browsers. They let you translate web pages, compare prices, find discount codes, enable dark mode, and much more across all the sites you visit. But they can also contribute to taking up storage and slowing down your Mac.
It's a good idea to regularly disable, uninstall, or delete any browser extensions or plugins you no longer need. You may even want to remove all of them to completely clean up your Mac browsers for the best performance.
The method to delete extensions and plugins is slightly different for each browser, so here are some dedicated guides for the most popular web browsers:
Clean the outside of your Mac
Since you've spent all this time cleaning up the internal storage of your Mac, you may as well spend a little bit of time on the outside as well. By the time you're done cleaning the screen, keyboard, and enclosure, your Mac will look and perform as though it's brand new!
Apple is very specific about what you should and shouldn't do to clean your Mac, so make sure you read all these instructions before you dive in.
How to clean your Mac screen
To clean your Mac's screen, just wipe it down with a soft, dry cloth. A microfiber cloth is best, like these Amazon Basics cloths. Make sure there are no rough edges or labels that might scratch the screen, then wipe it down to remove any dust or fingerprints.
You may need to apply light pressure to work out some marks, but don't press too hard or you will damage the screen. With a MacBook, it can be helpful to lie it on its back with the screen facing up to avoid bending the screen back, as shown in this YouTube video. And if there are any stubborn marks you can't wipe off, just lightly dampen the cloth, but make sure no water drips into the edges of your screen.
If you still can't remove all the marks, consider using WHOOSH! Screen Shine, which used to be the product of choice in actual Apple Stores.
How to clean your Mac keyboard
The easiest way to clean the keyboard on your Mac is to turn it upside down and gently tap the bottom of it to work out all the dust and hair that has gotten between the keys.
After doing that, turn off your Mac or external keyboard and wipe down the keys with a lightly dampened cloth. Make sure the cloth isn't too wet or water will drip inside the keyboard, which you don't want. Just get it damp enough to loosen any grease on the keys.
It's OK to use a 70% isopropyl alcohol wipe on the keyboard, and the enclosure, to help remove particularly stubborn marks. Apple says you can use these on the screen as well, but we'd advise against that in case they strip off the antireflective coating.
How to clean your Mac enclosure
To clean the outside of your Mac, wipe it down with a soft cloth. You can lightly dampen the cloth to help work out any stubborn marks, or you can use 70% isopropyl wipes, but be extra careful to ensure no water gets inside any ports, keys, or seams on your Mac.
Make sure you don't use any of the following products to clean your Mac:
Don't use bleach
Don't use hydrogen peroxide
Don't use fabric or leather cleaner
Regularly clean up your Mac for the best performance
Even the best clean up routine can't stop your Mac getting older, but it can keep it running smoothly for much longer than it normally would. Following our advice to clear out storage, remove old apps, and generally keep your Mac sparkling is the best way to make sure it lasts as long as possible.
We all know that a Mac is an expensive purchase, so spending just a few minutes cleaning it up each week can save you hundreds of dollars in the long run if it means you don't need to replace it quite so soon.
If even those few minutes feel like too much work, get yourself a one-time free fix and turn on the Daily Scan feature so that MacKeeper can do the hard work for you.
Read more: