Before we start

Before downgrading from Big Sur back to Catalina make sure you have enough free space on your Mac for the macOS Catalina installer. It requires approximately 12GB.

Try MacKeeper to free up more disk space by getting rid of junk files, leftovers or unneeded apps that may hamper downloading large files.
Big Sur has had a rather rough start. Many Mac users have already updated to macOS 11 and encountered multiple issues caused by macOS Big Sur. If some of the apps you need for work crash or don't work or you're not enjoying the overall performance of your Mac—you can downgrade back to macOS Catalina. Go back to the previous macOS version using either:
Downgrade via Time Machine
If you've used Time Machine to back up your Mac before updating to macOS 11 Big Sur, downgrading to macOS Catalina will be less complicated for you. Use the following steps:
Backup your recent data so you don't lose your important files
Erase your Mac's hard drive:

Attach your power cable and restart your Mac. Hold down the Command+R keys when your Mac starts rebooting
You'll see the macOS Utilities window. Choose Disk Utility—click Continue— choose Startup Disk—click Erase—choose the APFS file format. Finally, select GUID Partition Map—and Confirm

Restore macOS Catalina using TIme Machine:

Restart your Mac—hold down the Command+R keys while it reboots
In the macOS Utilities window choose Restore From Time Machine Backup—click Continue
Select your Time Machine backup disk in the next window
Click on your most recent backup before installing macOS Big Sur
Choose a destination disk—all your backup contents will be stored there
Press Restore—then Continue
Note: Plug in your external drive if your Time Machine backup is stored there.
Take a break as this process is time-consuming. When it's complete, your computer will restart with macOS Catalina.
Downgrade to Catalina using a bootable installer
If you haven't backed up with Time Machine before upgrading to Big Sur, don't worry. You can still downgrade to macOS Catalina using a bootable installer:
Backup your recent data or do a full backup if you haven't done that before
Next, create a bootable installer:
Plug in an external hard drive with more than 12 GB of free storage
Follow this link—click on the Open App Store—click Get to download macOS Catalina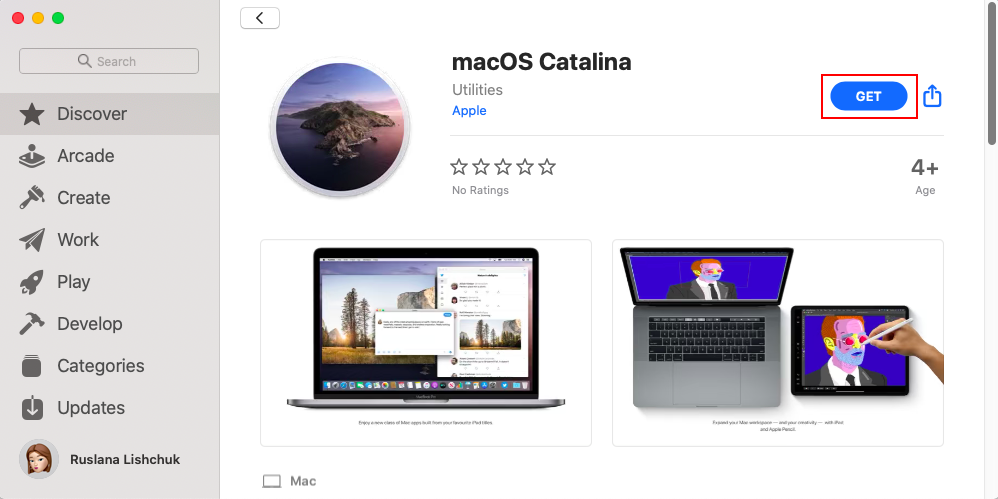 Open Disk Utility—click Erase to wipe off your external drive—select Mac OS Extended format
In the meantime, transfer macOS Catalina installer:
Launch Terminal—Type in the following script: sudo /Applications/Install\ macOS\ Catalina.app/Contents/Resources/createinstallmedia --volume /Volumes/MyVolume—press Enter

Type in your admin password right below this command line (it will remain invisible)
Follow further instructions in the Terminal window—wait till the Terminal says Done
Quit the Terminal app—Eject your hard drive
On Mac models 2018 and later you'll need to allow booting from an external drive:
Restart your Mac— boot it in Recovery Mode by pressing down the Command + R keys when the Apple logo appears on the screen
Click on Access Utilities—choose Startup Security Utility— type your firmware password. Note: The firmware password is different from your admin or Apple ID password. Ensure you know the firmware password before proceeding with this step
Finally, select the box next to "Allow booting from external media" in the External Boot. Wait for the process to be completed.
Install macOS Catalina:
Replug your hard drive (which is now a bootable installer)
Go to System Preferences—click on the Startup Disk tab. From there, select your bootable installer as a startup disk—press Restart
You Mac will start up to macOS Recovery
Choose Install macOS in the Utilities window—press Continue—and follow further instructions
Once the reinstallation is done, your Mac will restart running macOS Catalina.
Read more: