Mac Tips
January 11, 2019 | 10 min read
How to Choose the Best Mac for Video Editing
However, when it comes to professional online videos, commercials, TV shows, or whole movies, requirements for computer processor power, graphics power, and storage space are growing. High-definition videos use a lot of hard drive space, and to make your editing process fast and smooth, you'll need not only good software, but also a computer that's up to the task.

Recommended System Requirements
The Best Macs for Video Editing:
Recommended System Requirements
When choosing the best Mac for video editing, first you need to identify what projects you are planning to work on. You should consider the type of footage, complexity of your projects, output formats as well as whether you will be editing online or offline. That last aspect is especially important as offline editing requires more storage space and time to complete an edit, though it is easier to access your footage.
To edit videos comfortably on Mac, you will need at least 4GB of RAM (8GB is required for 4K editing, working with 3D, and 360° video editing), an up-to-date macOS as well as Intel HD Graphics 3000 or later. As the majority of editing programs support GPU rendering, CPU has become less important than it used to be.
Most of all, your storage needs will depend on the size of source footage you expect to work with. In general, your Mac will require 3X to 4X the size of the source footage for your project.
"I really enjoy working on iMac because of its large screen with amazingly accurate color gamut. In the future, I'd love to change my current display for a Retina one (they have a 2X better resolution, which means that everything looks twice as sharp). Plus, when working with 3D graphics, it is important to have enough processor and graphics power. Without it, you would not be able to calculate shadows and materials of various complexity."
—Kasster, Designer and Head of Creative Services at MacKeeper
The Best Macs for Video Editing
We've researched the topic thoroughly and even talked to professional video editors from our team to make up a list of the best Macs to use for video production.
iMac for Video Editing
Macworld claims that the 27-inch iMac with Retina 5K Display is the best computer for professional video editing. It has the best price-performance ratio and enables editing 4K videos at full size while still being able to see the controls.
The basic configuration and some additional options for iMac are the following: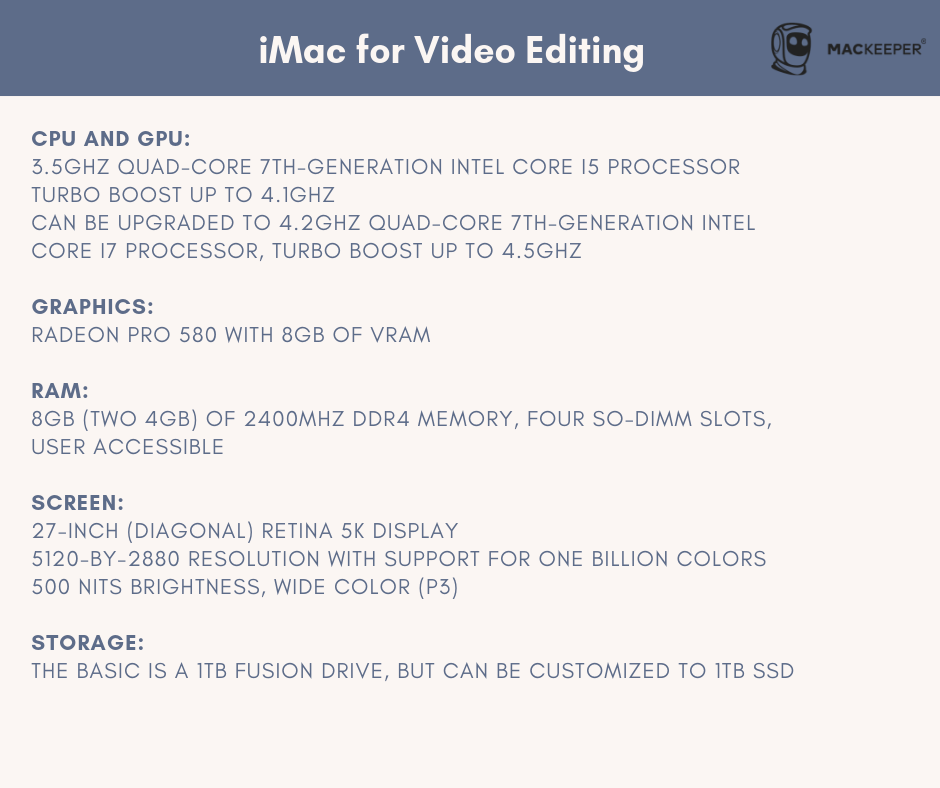 iMac Pro for Video Editing
With iMac Pro, you can edit 8K videos and create audio effects at the speed of light. In comparison to iMac, it has improved performance to make your editing experience even smoother.
iMac Pro is recognized for the following technical characteristics: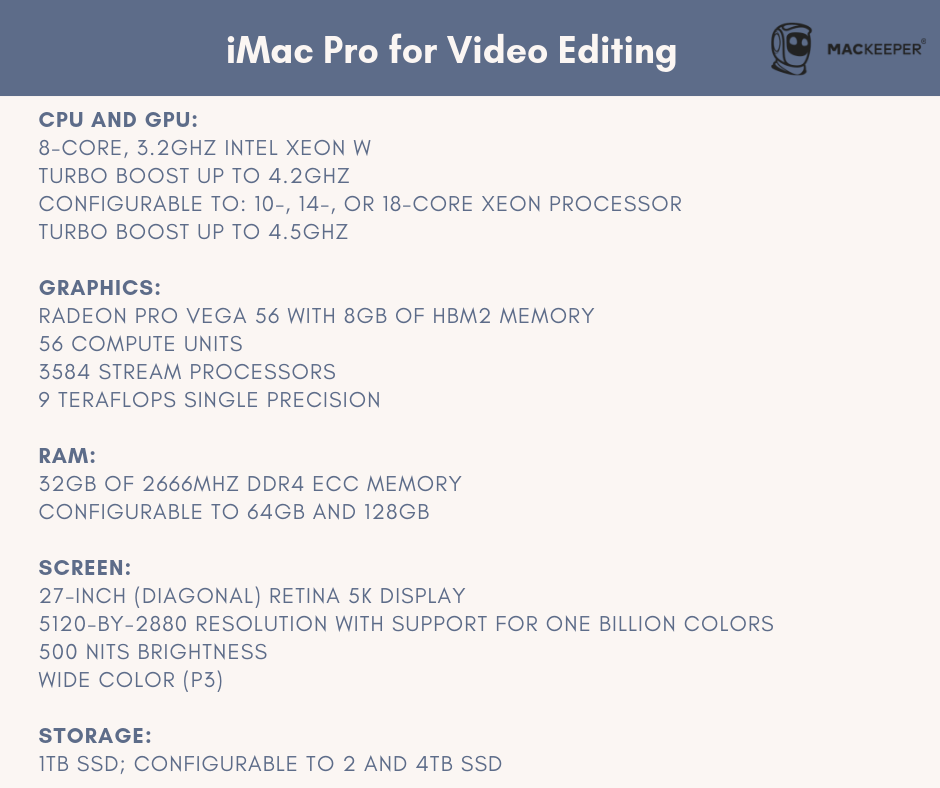 Macbook Pro for Video Editing
If mobility is a crucial factor for you, and you still need a powerful video editing computer, MacBook Pro is a solution that won't crash as soon as you open an editing program—if you've ever tried running Final Cut or Adobe Premiere on a basic Mac, you most certainly feel the pain. While the 13-inch display could be enough for amateurs, choose the 15-inch MacBook Pro if you deal with video editing professionally.
MacBook Pro specs are listed below: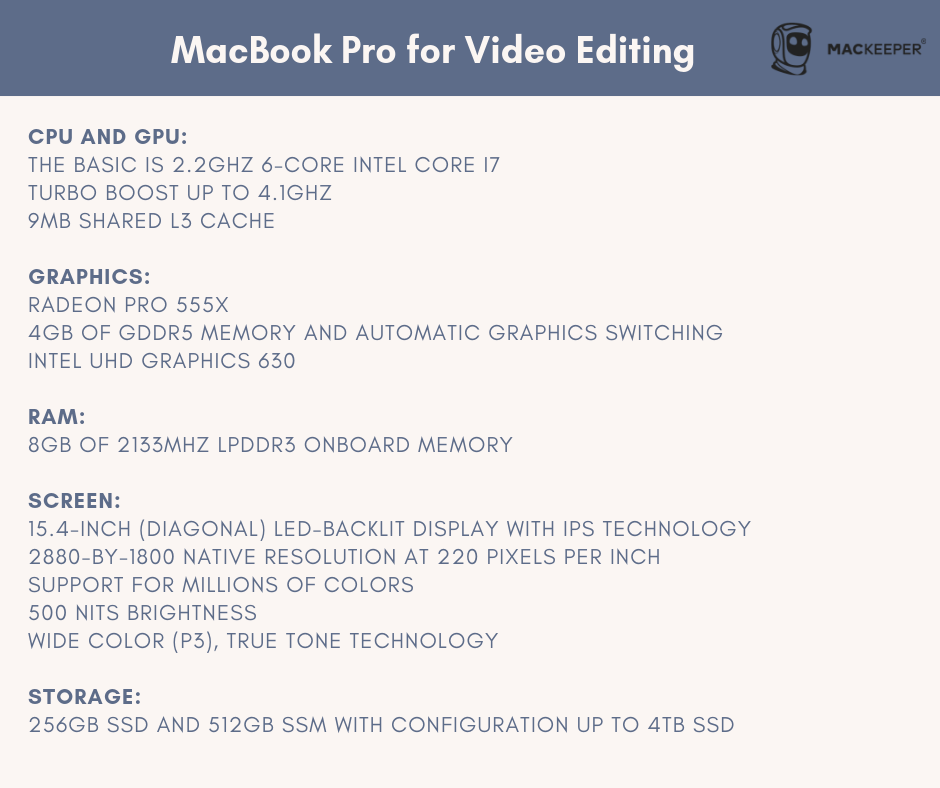 Your decision about what Mac to buy depends mostly on whether you need it for professional everyday use or periodical amateur video edits. iMac Pro will pay for itself if you deal regularly with hitting deadlines. iMac with Retina 5K Display is also great for professional video editors who are in need of large screen. MacBook Pro, in its turn, is the best video editing laptop for a dynamic lifestyle or video creation process.
The complexity of video editing can vary as well as the demands for your computer. The best solution is to check the system requirements of the software you're planning to use, paying attention to certified video cards. Keep in mind that the basic specs that are listed for each Mac are a minimum for a software to function normally. The most popular video editing software for Mac, Adobe Premiere and Final Cut, mention all the requirements they need on their websites.