Choosing a Mac for music production isn't easy. There are many different models that will do the trick, each with their own pros and cons. MacBooks offer portability, for example, but iMacs may be more powerful. And when you're handling long, multi-track songs, the more RAM and processing speed you can get, the better.
The important thing is to weigh everything up carefully before making a choice. So let's take a look at your options to see which Mac is best for your music-making needs.

Before we start


Music production apps can eat up RAM like it's candy. That can cause your Mac to slow down, until you free up some memory. Thankfully, you can do that easily with MacKeeper's Memory Cleaner feature.

Run MacKeeper, and select Memory Cleaner from the left

Click Open

Click Clean Memory

Now just wait, as MacKeeper clears some RAM for you

You can try MacKeeper now for free, with one free fix, so it's well worth giving it a shot.

In a nutshell, these are our three favorite Macs for music production in 2021:
Read on to find out why we think these models are the best computers for creating music.
Recommended system requirements
The Mac system requirements for music production depend on what music software you're using and the complexity of your projects. But ultimately, the faster your Mac, the easier and quicker it will be to produce music.
You could, for example, create music on an old MacBook with a dual-core i3 processor, but it'll probably take a long time to do anything useful. If your budget is tight, that might be acceptable. Otherwise, you should either be looking at one of Apple's new eight-core M1 chips or at least a 2.4GHz quad-core i5 or i7 Intel processor.
Next, you need to think about memory. This is important, because music software has to hold a lot of temporary data in RAM, so you can do things like previewing your tracks. With an Intel Mac, you want at least 16GB of RAM, but things are a bit different with M1 Macs. These new Macs can't take any more than 16GB of RAM, but the way they handle memory is different to Intel systems. Either 8GB or 16GB of RAM with an M1 Mac should be plenty.
Let's talk about storage next. Of course, the amount of disk space you need depends on the size of the audio files you'll be working on. Professional software can use hundreds of gigabytes of data. A good starting point is 256GB, but more is obviously better, unless you're happy to expand using external drives later. And SSDs are much faster than hard drives, but they're also much more expensive, so you need to balance capacity, speed and cost.
The video card, meanwhile, is one of the least important components for Mac music production. Really, any Mac should be just fine, because all it has to do, graphically speaking, is display a 2D user interface.
The best Macs for music production
Here's our list of the best Macs for music-making:
27-inch 5K iMac — the best choice for music production
Until the new M1 iMacs arrive, the 27-inch 5K iMac remains our top pick for your home studio. Its advanced processor lets you use all the features of pro audio editing apps, and with up to 128GB of RAM, it will take on complex music with ease. The size of the Retina display is an obvious benefit too. And it comes with four USB 3 ports and two Thunderbolt 3/USB Type C ports.
With the 24-inch M1 iMac expected soon, there may be some stiff competition coming. It's certainly expected to have a faster processor, but it also has a smaller screen and less RAM. In either case, you're likely to get a very capable Mac.
27-inch 5K iMac Specs
Processor
3.1GHz six‑core Intel Core i5 (Turbo Boost up to 4.5GHz)

Configurable up to 3.6GHz eight-core Intel Core i9 (Turbo Boost up to 5GHz)
Graphics
Radeon Pro 5300 with 4GB of GDDR6 memory

Configurable up to AMD Radeon Pro 5700 XT with 16GB of GDDR6 memory
RAM
8GB (two 4GB) of 2666MHz DDR4 memory, four SO-DIMM slots, user-accessible

Configurable up to 128GB
Display
27-inch diagonal Retina 5K display
Storage
256GB SSD
Configurable up to 8TB SSD
13-inch MacBook Pro — the best portable laptop
If you travel a lot, a MacBook makes sense. But your choice is complicated by the arrival of M1 MacBooks. While you can currently get a 16-inch Intel MacBook that offers 64GB of RAM, there's also a 13-inch M1 MacBook and a 13-inch MacBook Air. These run faster but max out at 16GB of RAM. A 16-inch M1 MacBook is expected, but for now, these are your choices.
Any of these MacBook will be fine for music production, but our choice for now is the 13-inch M1 MacBook Pro. It offers decent battery life, a powerful processor, and it's more future-proof than an Intel machine. However, if you want a bigger screen and better software compatibility right now, the 16-inch MacBook Pro is still a good choice.
You should also be aware that the 13-MacBook only has two USB-C ports and a headphone port, so you're probably going to need adapters for your music equipment.
16-inch MacBook Pro specs
Processor
3.2GHz eight-core M1 processor
Graphics
Eight-core M1 system-on-chip
RAM
8GB of unified memory

Configurable to 16GB of memory
Display
Retina display

13.3‑inch diagonal LED‑backlit display with IPS technology
Storage
256GB SSD

Configurable up to 2TB SSD
Mac mini — the best budget Mac
The M1 Mac mini is the cheapest new Mac you can currently buy. Despite its low price, though, it's got the same M1 processor as all of Apple's new computers. That means it's more than capable of music production. It also uses extremely fast SSD storage, so projects will load in a flash. The cheapest model only has 256GB of storage, though, so you might need to upgrade or use external drives.
As with the 13-inch M1 MacBook, though, the Mac mini is lacking in the connectivity stakes. It has an HDMI port, two full size USB ports and two USB-C ports that double up for DisplayPort and Thunderbolt duties. It also has a 3.5mm headphone port. If you run multiple monitors, you might need a USB hub for your other peripherals and music equipment.
Mac mini specs
Processor
3.2GHz eight-core M1 processor
Graphics
Eight-core M1 system-on-chip
RAM
8GB of unified memory

Configurable up to 16GB of RAM
The display is purchased additionally
Storage
256GB SSD

Configurable up to 2TB SSD
Mac music software
Here are our 2021 picks for the best apps for music-making on a Mac:
How to prepare your Mac for music recording
Recording and editing music can be highly demanding on your Mac. Every instrument and every track you load will eat into your RAM and test your processor. And as you save more and more projects, your free disk space will shrink too.
Before you get started with music production on your Mac, you should clear out at much junk as possible. The Safe Cleanup feature in MacKeeper can help with this.
How to clear junk from your Mac with MacKeeper:

1. In MacKeeper, select Safe Cleanup from the menu on the left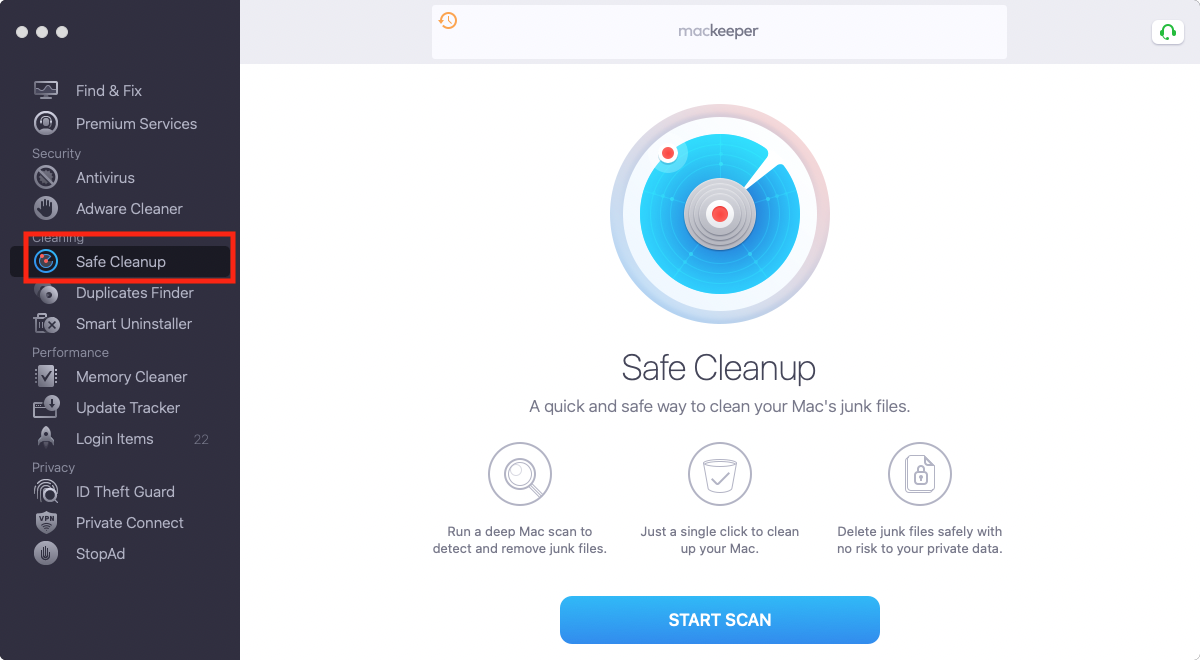 2. Click Start scan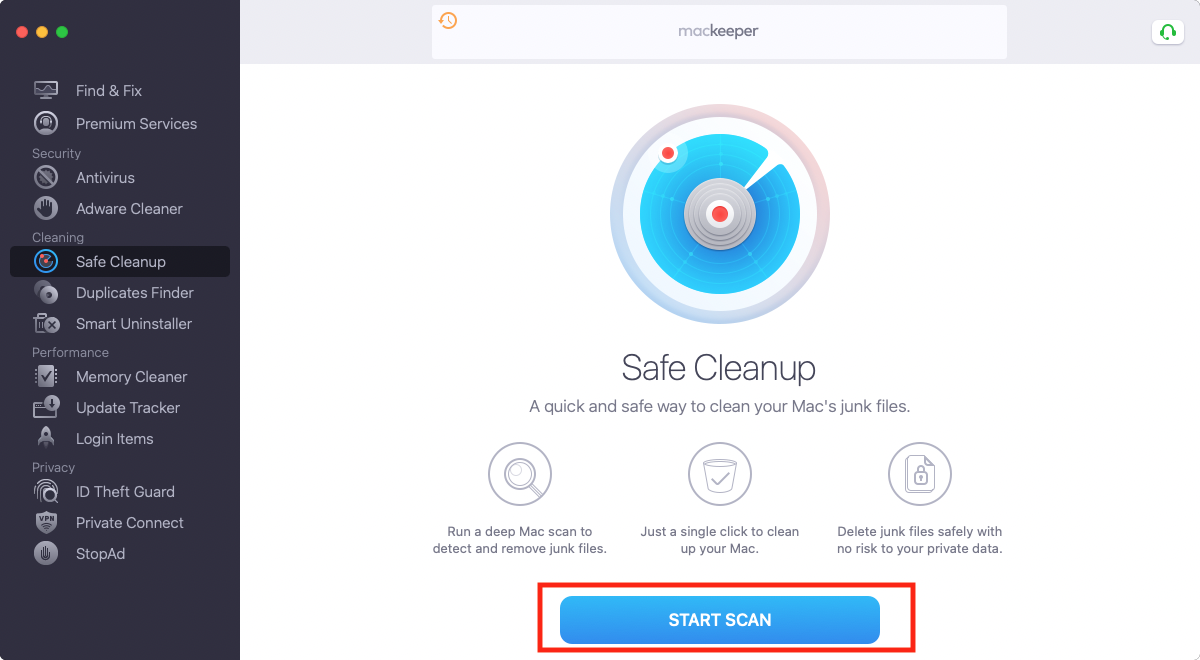 3. Wait while the scan is carried out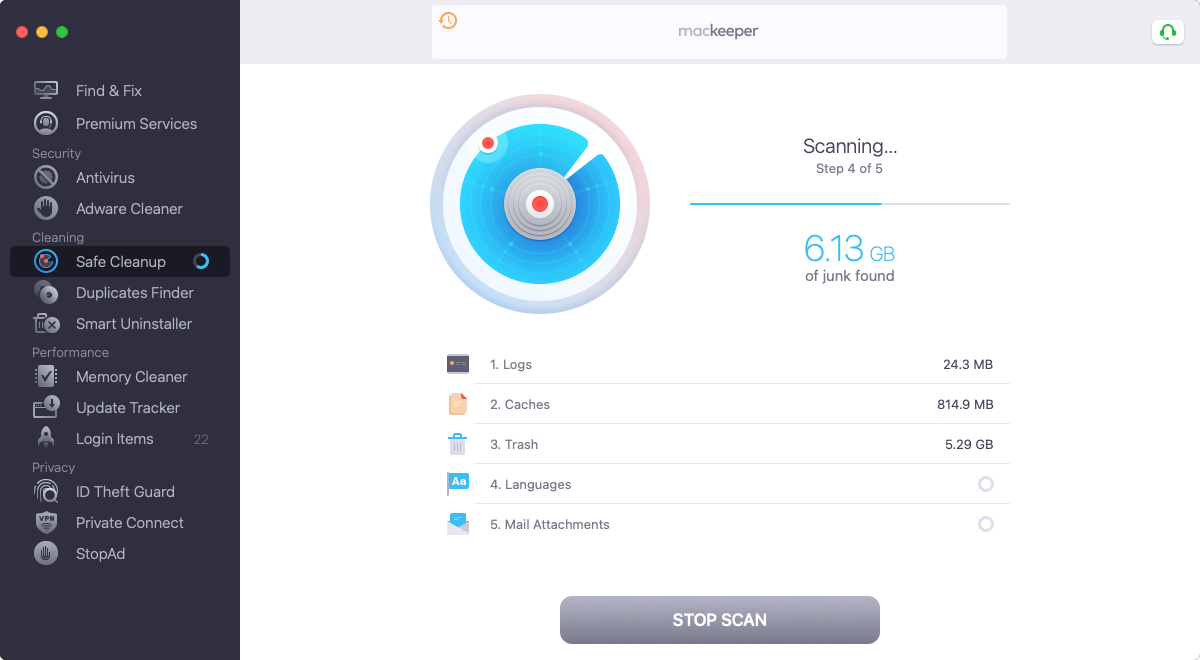 4. When it's finished, select everything you want to remove, and click Clean junk files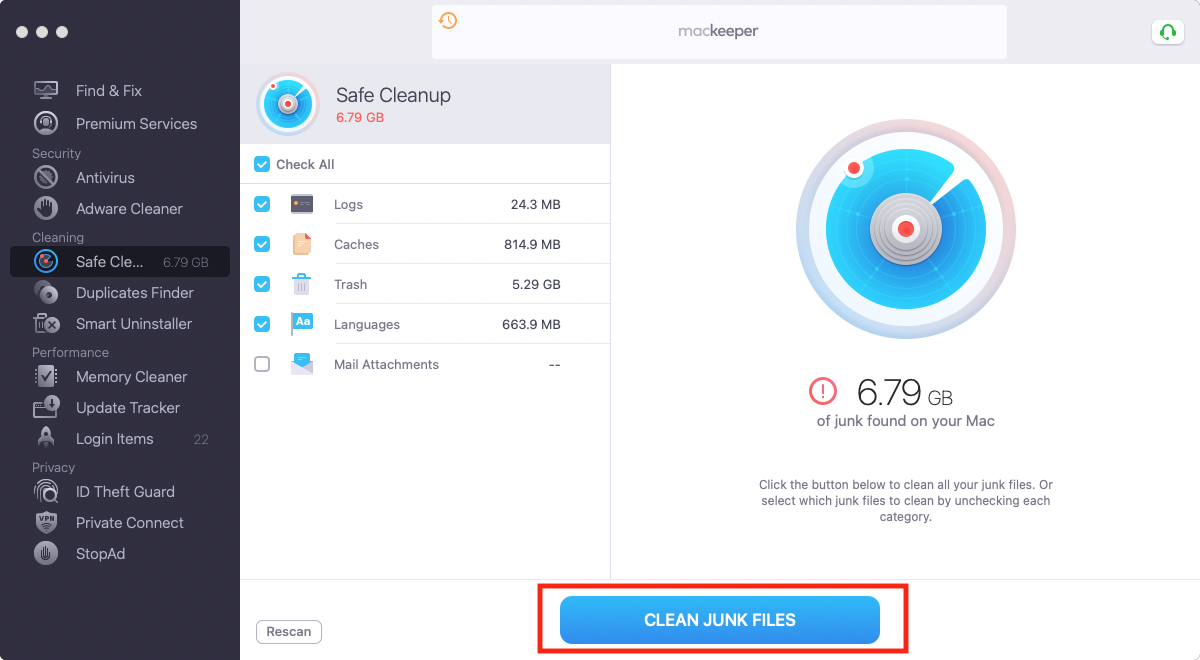 FAQ
What's best for musicians — Mac or PC?
Choosing between macOS and a Windows platform depends mostly on your computer preferences and your collaborators. And to be honest, both platforms are great for music production. However, if you're just starting out, you'll find Macs make music production much easier to get into.
For a start, Windows users need to install various drivers for their sound card and any other music hardware they'd like to use, such as MIDI controllers. On a Mac, fewer steps are required, because most, if not all, the drivers you need will be installed already.
And while Windows doesn't come with any native music software, macOS includes GarageBand, Apple's free digital audio workstation (DAW). That means you can pretty much just plug in your instruments and start recording and editing immediately.
Which MacBook is good for music production?
The 13-inch M1 MacBook Pro offers the best processing performance, along with the slightly less powerful 13-inch MacBook Air. Like all current M1 Macs, it's limited to 16GB of RAM, but it's still a good performer.
The 16-inch Intel MacBook Pro is an excellent option too, and it has a much bigger screen too. But bigger M1 MacBooks are coming, so it might be better to wait for them before making a purchase.
Is RAM or CPU more important for music production?
If you're choosing between more RAM or CPU for music production, then you should go with the CPU. Although RAM is important, Macs generally come with enough for music apps.
But when it comes to processing music files, the more processor speed you have the better. With a slow processor, you'll be left waiting every time you want to export a multi-track recording to a single audio file.
How much RAM do I need for 2021 music production?
How much RAM you need depends on how long and complicated your projects are. The less RAM you have, the fewer tracks, voices and effects your Mac can handle.
For simple projects, 8GB is usually enough RAM for music production. This is fine for casual use and for things like podcast recordings. Once you start to build up longer, more complicated songs, you may find your Mac starts to struggle.
So for serious music production, you should be looking for at least 16GB of RAM. And if you're a professional music production user, then you could need more like 64GB of RAM. However, M1 Macs don't currently support more than 16GB of RAM, so that's not an option.
We hope our guide helped you choose the proper Mac for music-making. Now go and grab your instrument or mic, plug it into your new Mac, and get rockin'!
Read more: