Mac Tips
February 25, 2019 | 11 min read
How to Choose the Best Mac for Photo Editing
In this article, we look at the best Macs for photographers, compare their characteristics, and discuss the most popular photo editing software.
Recommended system requirements
The best Macs for photographers 2019
The best laptop for photographers: Mac or PC?
How to edit photos on Mac? Top photo editing apps for Mac
Recommended system requirements
We've prepared a list of key things you need to look out for when buying your best Mac for photo editing.
Screen size and type is worth investing in for the best photo editing experience. IPS technology for your screen makes the images brighter and bolder, and guarantees better color reproduction. Retina display models would be the best option if you work with large projects.
Photo editing software is rather demanding—especially if you deal with high resolution raw files and work with advanced effects in Photoshop or GIMP. Consider having dedicated graphics cards on your Mac, and choose a computer with at least Intel UHD Graphics 617.
Software for photo editing needs a lot of space on your computer, so consider 8GB of RAM and no less than 256GB of inner storage.
Ports and peripherals matter a lot in photo editing as well. You'll need to connect different types of cameras and be able to move photographs from SD cards of various formats. Keep in mind your camera input when choosing your best Mac.
Photographers usually work in studios or on-location at the events they shoot, but they can edit pictures anywhere. Consider portable Macs if you're always moving around. Mac laptops boast pixel-perfect displays with excellent color support. Also, the wide contrast of their technological displays will keep highlights and shadow detail consistently visible.
The best Macs for photographers 2019
We've researched the topic thoroughly and talked to professional photographers to make up a list of the best Macs to use for photo editing. Here's what we've got:
MacBook Air for photo editing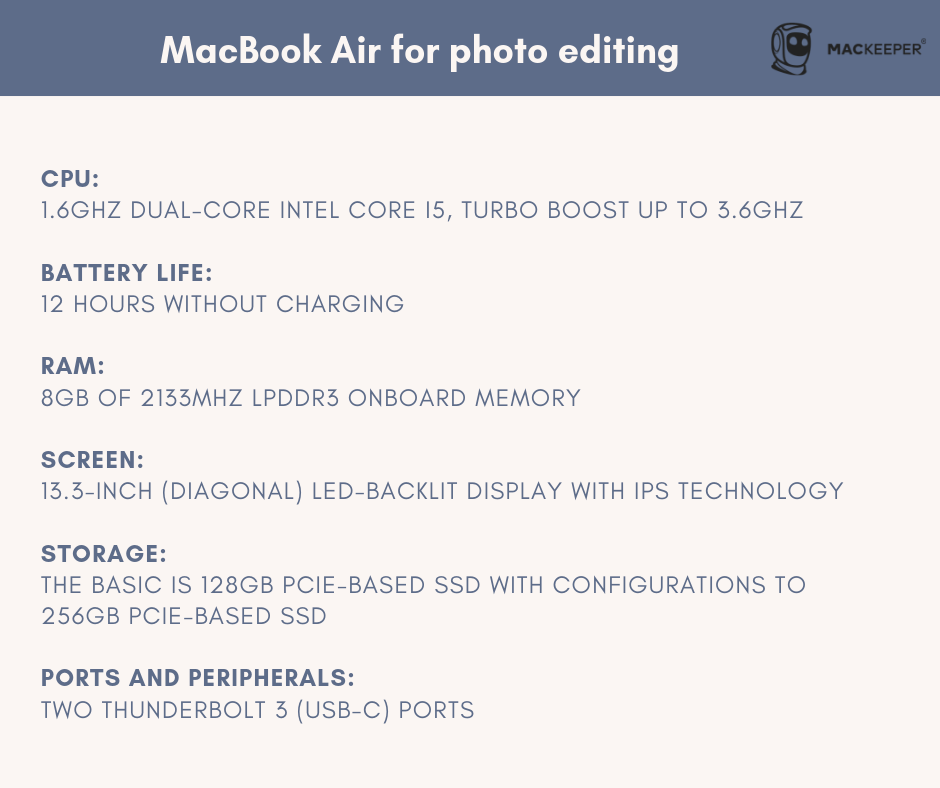 Powerful Mac laptops already rival traditional desktops. MacBook Air—the cheapest among all Apple laptops with Retina Display—may become your favorite photo editing assistant. Being the most portable Mac laptop with the longest battery life, MacBook Air is a great option for photographers who are always on the run.
MacBook Pro for photo editing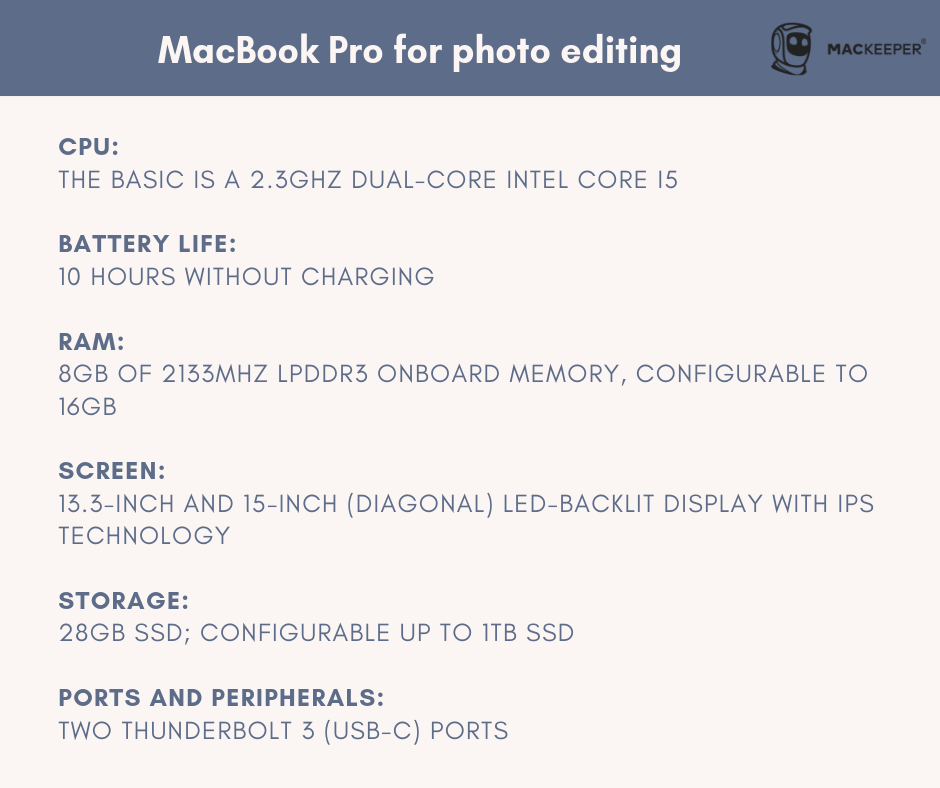 MacBook Pro is a great machine if you're after the greatest laptop from Apple. In 2018, both the 13-inch and 15-inch models were updated with newer, faster processors as well as with a multifunctional Touch Bar at the top of the keyboard. With this innovation, it is easier to work in Photoshop, as there are a number of useful shortcuts you won't find on any other laptop, like lightning-fast selection of your favorite photo, quick addition to album, or easy editing right in your photographs, and much, much more. This is far from a full list of what Touch Bar can do.
As we've learned from our friend and photographer Andrew Smith, you don't even need the latest MacBook Pro to comfortably edit photos on Mac:
"I use a Mid 2012 13" Macbook Pro (2.5ghz Intel i5, 16GB 1333Mhz DDR3 RAM, 250gb SSD) It's starting to date a little now, but it's still very responsive, running the latest MacOS and Adobe Photoshop smoothly. The best upgrade I made was adding an SSD, my Macbook now boots and loads programs lightning fast, far exceeding what I'd expect of a 7-year-old system!"
According to Jimmy, the photographer of Pixelicious, a 13-inch MacBook Pro is the best option to choose if you can only have one machine:
"Nearly all my images are captured on location, so when editing on the fly is needed, a desktop is out of the question. The MacBook Pro 13-inch provides the ideal balance between power and mobility. When you consider the weight of your professional camera gear, the few extra grams between the Pro and the Air are insignificant. The much needed ports, extra processing power, and screen quality all add into the overall experience."
The best iMac configuration for photo editing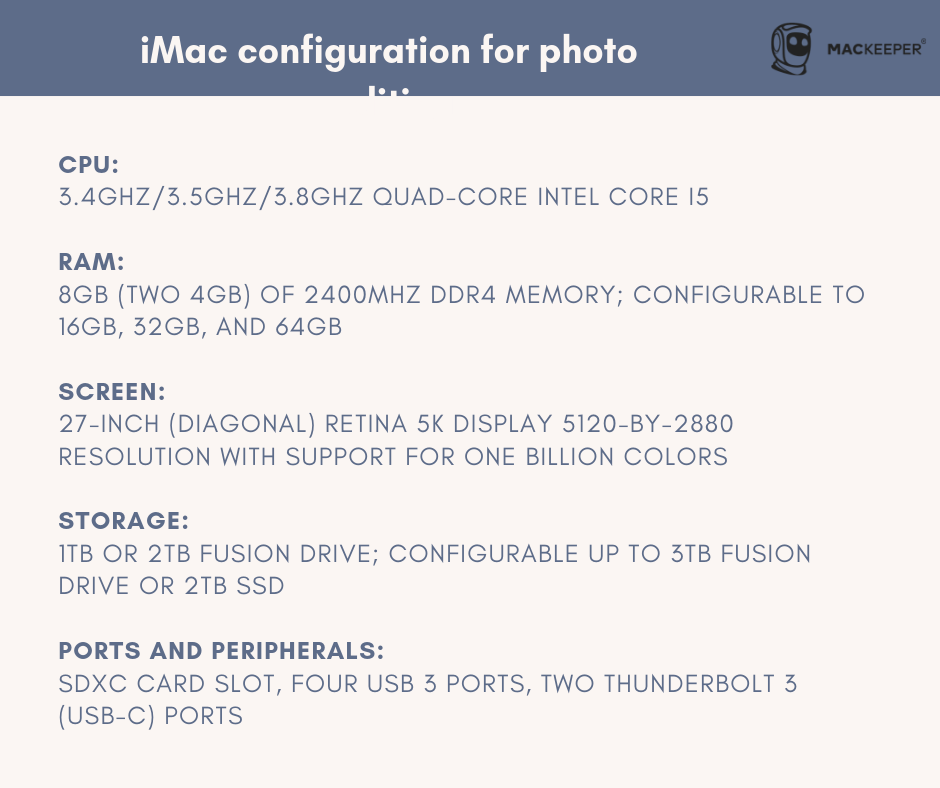 Photographers who've gotten used to working at their desktops may find the large screen and advanced specifications of the 21,5-inch iMac with Retina display the best Mac for photo editing. This option has a abundance of ports and peripherals, so you'll will definitely be able to plug in all your necessary devices.
The best laptop for photographers: Mac or PC?
While the question about the best system remains a widely-debated issue, we'd recommend to choose the computer you feel most comfortable working with.
We've prepared a list of pros and cons for both systems. We hope it will be useful when choosing the best computer for photo editing.
Pros of photo editing on Mac:
Macs have great battery reliability
All Apple devices have an interconnected ecosystem that makes syncing and working on-the-go a breeze
Macs are more stable and less prone to errors
"My general impression of editing photos on a Mac is that this is exactly what they were designed to do. From the aesthetic of the machine itself, to the beautiful UI and intuitive UX, Macs were made for photo editing (among other things!)"
—Andrew Smith, Photographer and Head of Marketing at Const LLC
Cons of photo editing on Mac:
Macs have a limited choice of photo editing software
Macs can be rather expensive for beginner photographers
Some models of Apple laptops have a limited number of peripherals making connecting devices a pain
Pros of photo editing on PC:
PCs have a great variety of photo editing software options
PCs have greater availability of peripherals
Hardware on PCs can be easily upgraded
PCs are presented in a variety of different brands with many affordable options available
Cons of photo editing on PC:
The open nature of Windows makes PCs more vulnerable to viruses and malware
PCs require third-party software to sync across devices
Generally, PCs are less stable and more susceptible to random errors compared to Macs
We asked professional photographers to share their experience editing photos on Mac, and here's what we learned:
"In general, I find Macs more intuitive to use and with a UI that puts Microsoft Windows to shame. Though I haven't ran any benchmarks, my MacBook seems to be more responsive than my wife's PC with a similar spec (Intel i7 2.9/16GB DDR3/250gb SSD).
The biggest advantage of working on a Mac is the fact that macOS rarely crashes. I know that I can rely on it for my work—100% of the time, I know that I can power on and have Photoshop open within one minute, and I won't have to CTRL+ALT+DEL to close some background process that's hogging all of the system resources. It just works, every time."
—Andrew Smith, photographer
"I am a natural light photographer who works on a Mac to edit photos. The biggest reason I choose Mac over PC is that I find OSX more user friendly and enjoyable to use. I feel that Mac computers are more suited for photographers and those in the creative field.
In my past experience working with PCs, I have had some sort of issue whether it be a bug or glitch. Each time this has happened I have lost time and data. In my opinion, although the Mac will cost you initially a lot more than a PC, it is worth the time and energy you will lose trying to recover lost data if you decided to invest in something cheaper and less efficient."
—Tina Butera, natural light photographer
How to edit photos on Mac? Top photo editing apps for Mac
With Mac, you have two options for editing your photos. First, there are several native apps that come with your Mac. You can do basic photo editing in Preview or try the built-in program Photos.
Second, there are third-party software to provide you with advanced effects. Professional photographers consistently recommend LightRoom, Photoshop, and Camera RAW plug-in as the best solutions. Additionally, you can try less expensive options like Affinity Photo and Pixelmator.
"Photo editing on the newer Macs is smooth and seamless, although not much different than using a similarly powerful PC. Adobe ensures that all features in Photoshop and Lightroom are available regardless of the operating system. It comes down to your personal preference. Those who are used to Macs should stay within Apple's ecosystem and those who are experienced with Windows will see no point moving towards Macs. Clients can't tell whether your image was edited on a Mac or PC anyway."
—Jimmy, a photographer from Pixelicious
Macs have become exceedingly popular among photographers. First, because they are powerful machines with outstanding color accuracy. Second, Apple laptops are portable and boast great battery life when properly cared for. Finally, photographers are mostly visual people, and they simply find Apple computers more appealing for their professional routine and everyday life.
Great updates! The new macOS Catalina makes photo editing even more handy. Be sure to check it out!