The Login Items feature helps you quickly and easily control startup programs on your Mac. Removing startup items can help your macOS load faster as it won't waste resources on loading unnecessary programs.
How to scan your Mac for login items
Follow these steps to find out if there are any unneeded login items on your Mac:
Open MacKeeper, select Login Items from the left sidebar, and click Start Scan
In the left panel of the scan results, you will see the list of all items that launch at system startup; to the right, you'll see the number of items
You can sort items by Name or by Category in Ascending or Descending order, alphabetically—to choose another order, click the nine-dot view button and select the option you like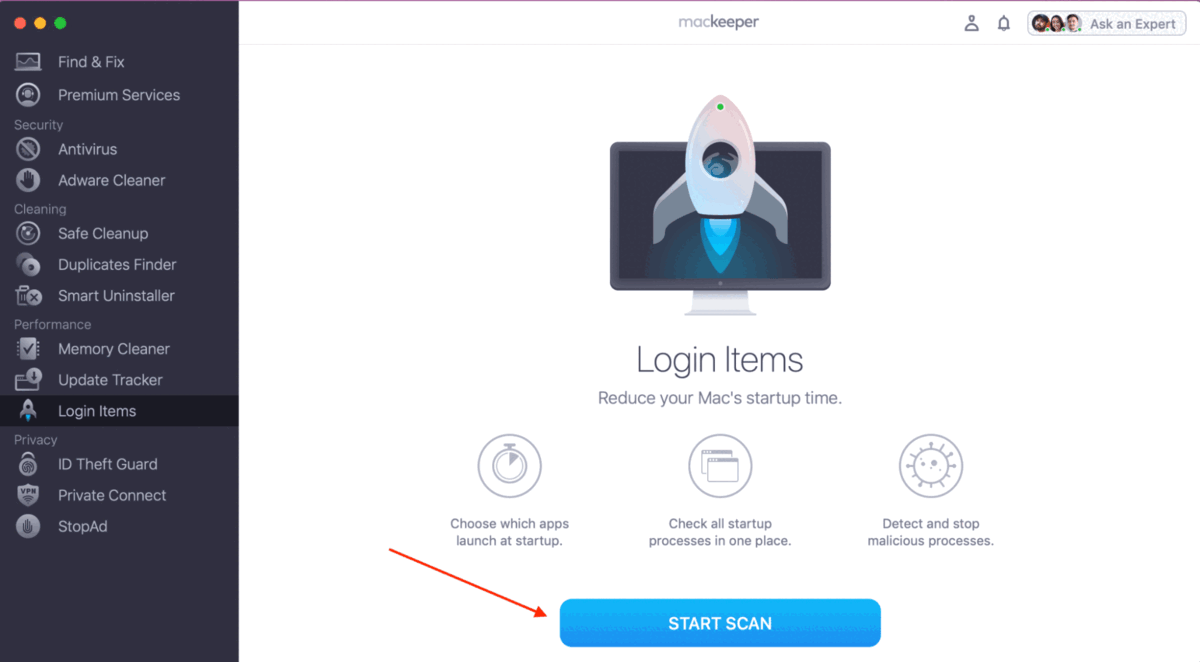 How to check what login items are unnecessary
The items are divided into:
Login items—apps or files on your Mac that are set to launch automatically before you see your desktop
Launch items—processes that run when your Mac starts but there are some that may be integral to your Mac's operation
Cron jobs—scheduled commands that run from a time-based job scheduler on Unix-like operating systems
It's safe to remove apps from the startup list as you can always start the app from the Applications folder when you need it.
Here is how to get more information and begin selecting items for removal from startup:
1. Select the item and read the description to the right—pay attention to the file location string, as usually it contains the name of the app it belongs to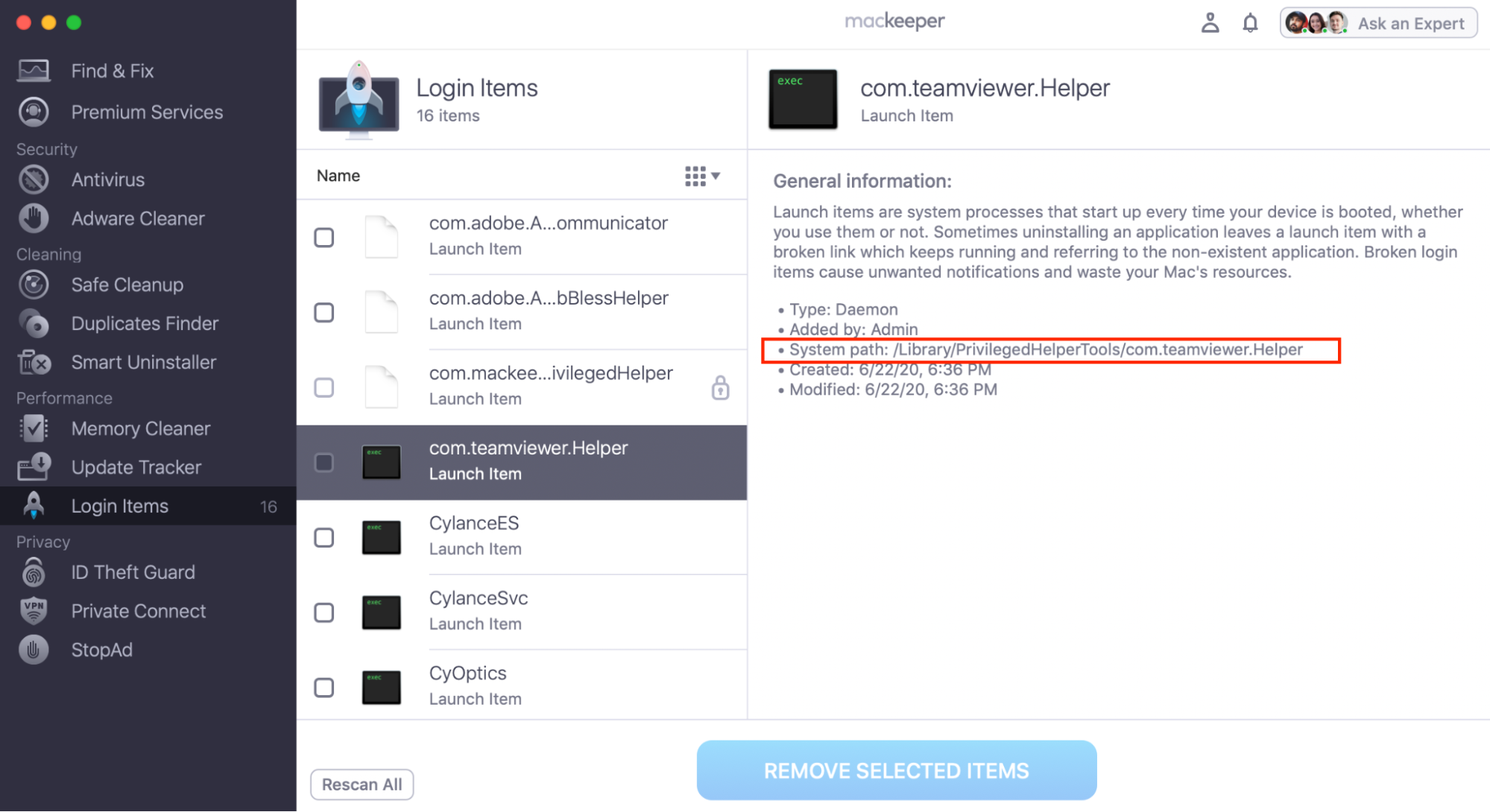 2. If you don't recognize the application name, and you don't want it to start up with your macOS, select the checkbox next to the item to designate it for removal
3. If you see an unknown process that doesn't belong to an app, it may be a system process—we highly discourage selecting checkboxes next to these items to avoid your Mac malfunctioning
How to remove login items
Before you remove any items, we recommend carefully reviewing the list of startup items and learning more about them as needed. When you are done, you can remove unnecessary startup programs in a click:
1. Select the checkboxes next to the unneeded items and click Remove Selected Items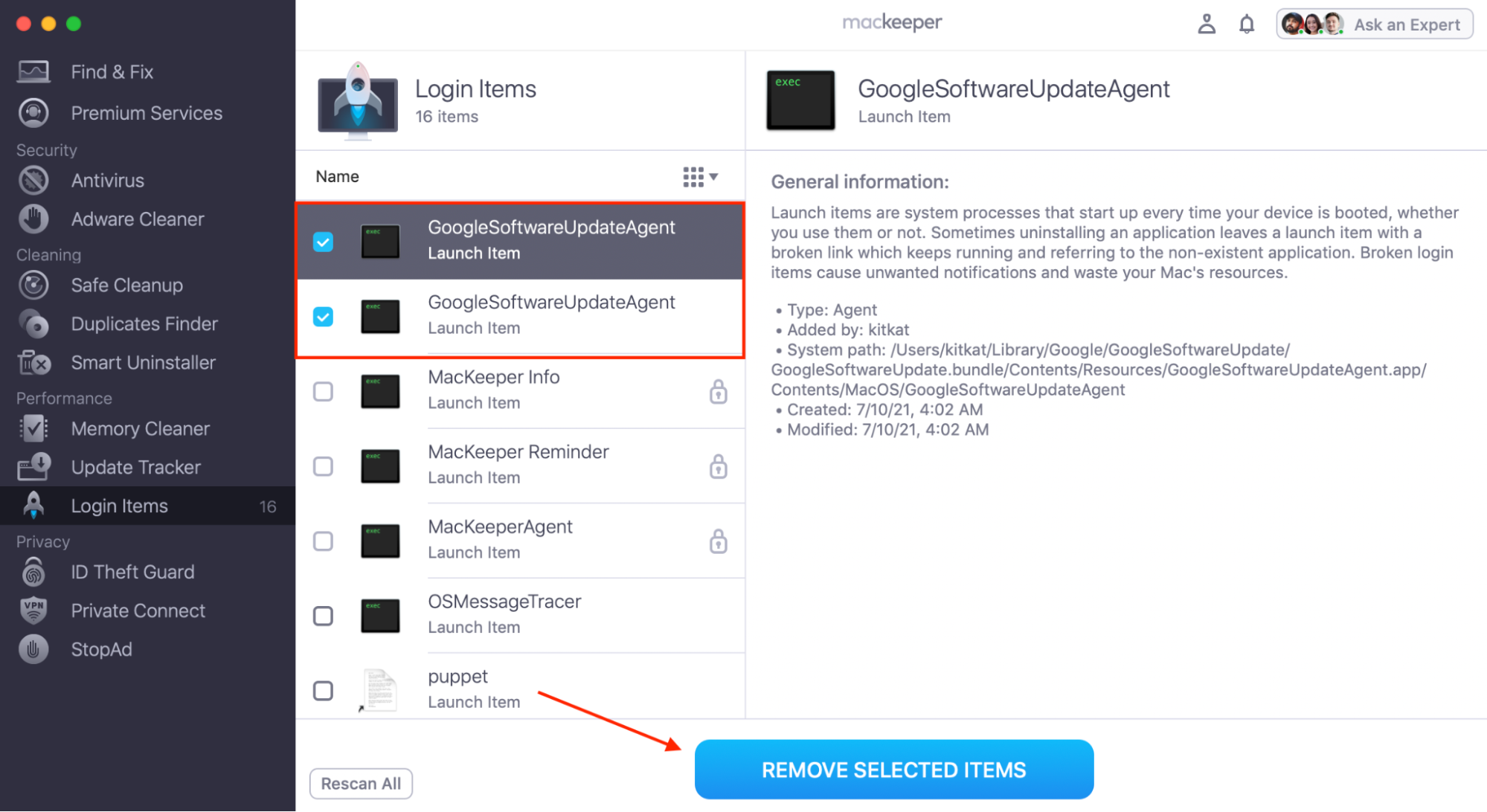 2. You'll see a warning before removal. If you've only selected unneeded items, confirm the action and click Remove
3. MacKeeper will show the number of login items removed. If you'd like to repeat the scan, click Rescan