In this article you will find the following:
Mac is a reliable device, so everything typically runs smoothly for anyone using it. However, there are those occasions when things can be broken, like your files suddenly getting corrupted. You usually have no clue how or why it happened, but it's enough to make you panic because it could be a sign that your Mac has a virus.
Before we begin

No matter how careful you're, your computer can get infected with a virus if you don't have the proper tools in place to guard against it. One of the telltale signs that it's infected is when your files become corrupted. To keep your files safe and catch viruses early, you must use reliable antivirus software.

MacKeeper's Antivirus tool is one such software. It guards your Mac against viruses and malware, which reduces the chances of your personal information being exposed to hackers. The Antivirus tool protects your Mac in the background in real-time, which is a crucial element in protecting your personal data. Try it out and see for yourself.

Download MacKeeper on your Mac
Select Antivirus in the left pane
Click the Start Scan button at the bottom of the window
Once MacKeeper has finished scanning your Mac, you can select and delete any malware found or move it to quarantine until you're ready to act.
Corrupted files are common on all devices, but corrupt file recovery on Mac is possible. Continue reading this article to learn the effective methods to uncorrupt files on Mac.
Find out the reasons why this might happen to you
There are several reasons why your files can become corrupted. Below are a few examples or scenarios that could lead to this happening.
1. Power outage
Experiencing a power outage or power surge while using a Mac could lead to your files becoming corrupted.
2. Using data recovery software
While data recovery software can help recover lost files and external drives (including USB flash drives, memory cards, and more), cheap data recovery software can sometimes cause your files to become corrupted. Learn what to do when Mac recovery mode is not working.
3. File system issues
File systems (where your files are stored) tend to get damaged from time to time, which can result in your files being corrupted.
4. File formatting issues
Anytime you format your files (for example, converting videos from MP4 to MOV, or photos from PNG to JPEG), you put them at risk of becoming corrupted or unreadable.
5. Viruses
This is probably the most common cause of corrupted files. Viruses can wreak havoc on your device, and your files are no exception. Consider checking your Mac for viruses and malware.
Viruses can show up on your Mac unannounced and sometimes without you noticing (Mac Finder not responding can be a clue). Keeping up with viruses manually can be a challenge and is time-consuming. Not to mention that you might not be able to find and weed out all viruses on your Mac, as they can be sneaky and easy to miss with the human eye.
That's why using antivirus software is non-negotiable. It searches for viruses in places you wouldn't think to look and finds viruses you'd have otherwise missed.
MacKeeper is a comprehensive cybersecurity app geared toward protecting your personal information and the integrity of your Mac through a suite of key solutions. The latter includes MacKeeper's Antivirus tool, which sweeps your Mac for viruses and malware, and removes them at the click of a button.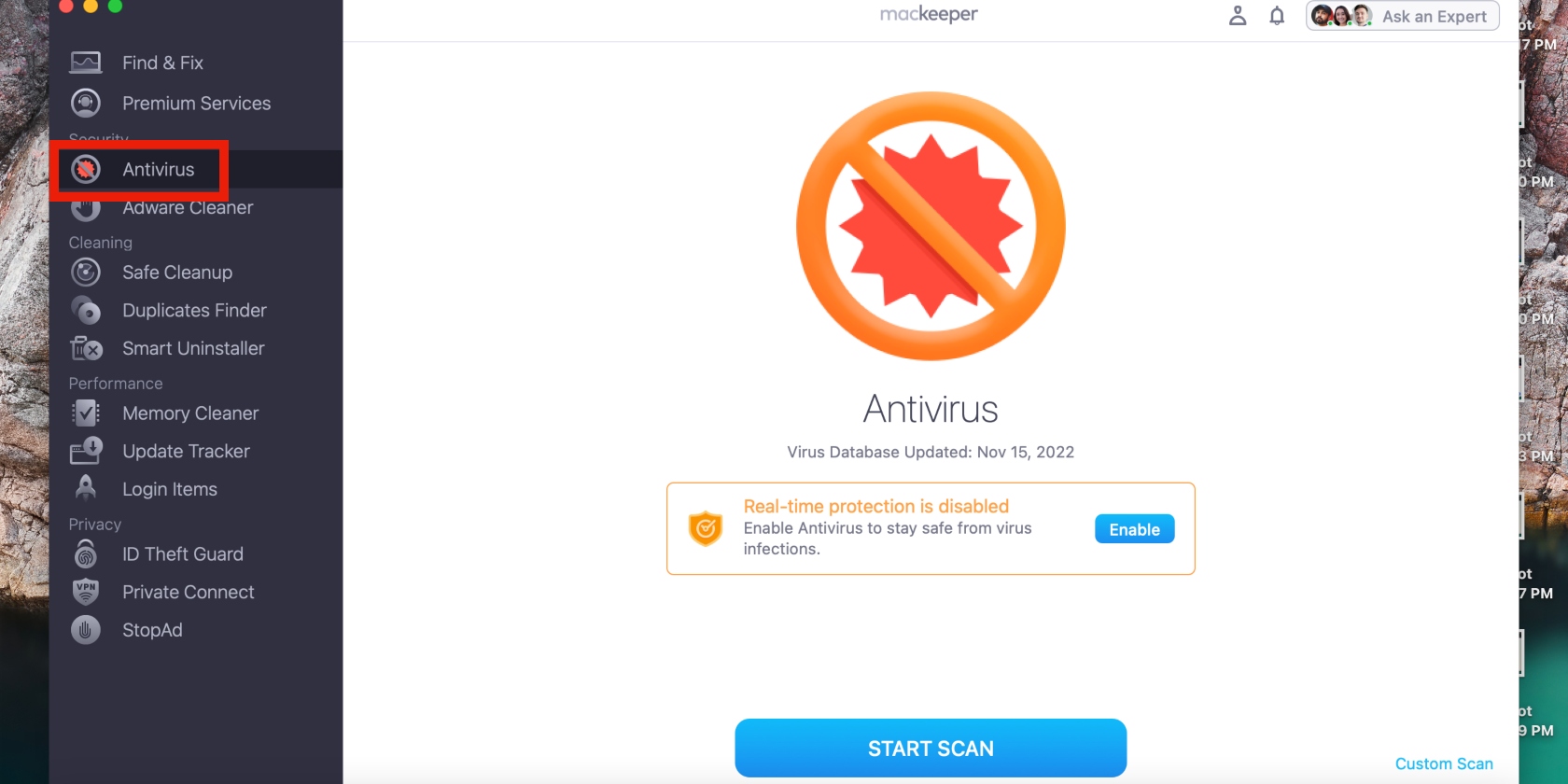 But it doesn't stop there. Antivirus continues to look out for viruses and malware in the background as you use your computer without interrupting you. This ensures that you can take action immediately when any viruses are found. And as you may know, time is of the essence when your privacy is compromised.
As we've seen in the list above, the causes of corrupted files are typically common everyday problems or occurrences. But this also means you can recover corrupted files on Mac OS X or any MacBook Pro M1, or other, as the causes aren't deeply rooted.
Repair corrupted files on Mac using Time Machine backup
Once you've identified and removed any viruses on your Mac, you can move on to repairing corrupted files. This is done in Mac's Time Machine.
Time Machine is a system software on Mac that backs up your files. It allows you to set the frequency of your backups and deletes the oldest backups when your backup disk is full.
Please note that it's only possible to restore files using Time Machine if a backup is available (for example, an automatic backup was enabled on your MacBook).
Follow the steps below to repair corrupted files using Time Machine backup.
1. Click on the Apple menu > System Preferences > Time Machine
2. Check the box next to Show Time Machine in menu bar
3. Now click the Time Machine icon in the top menu (it's the one that looks like a clock), then select Enter Time Machine. This will bring up the folders or files you've backed up in Time Machine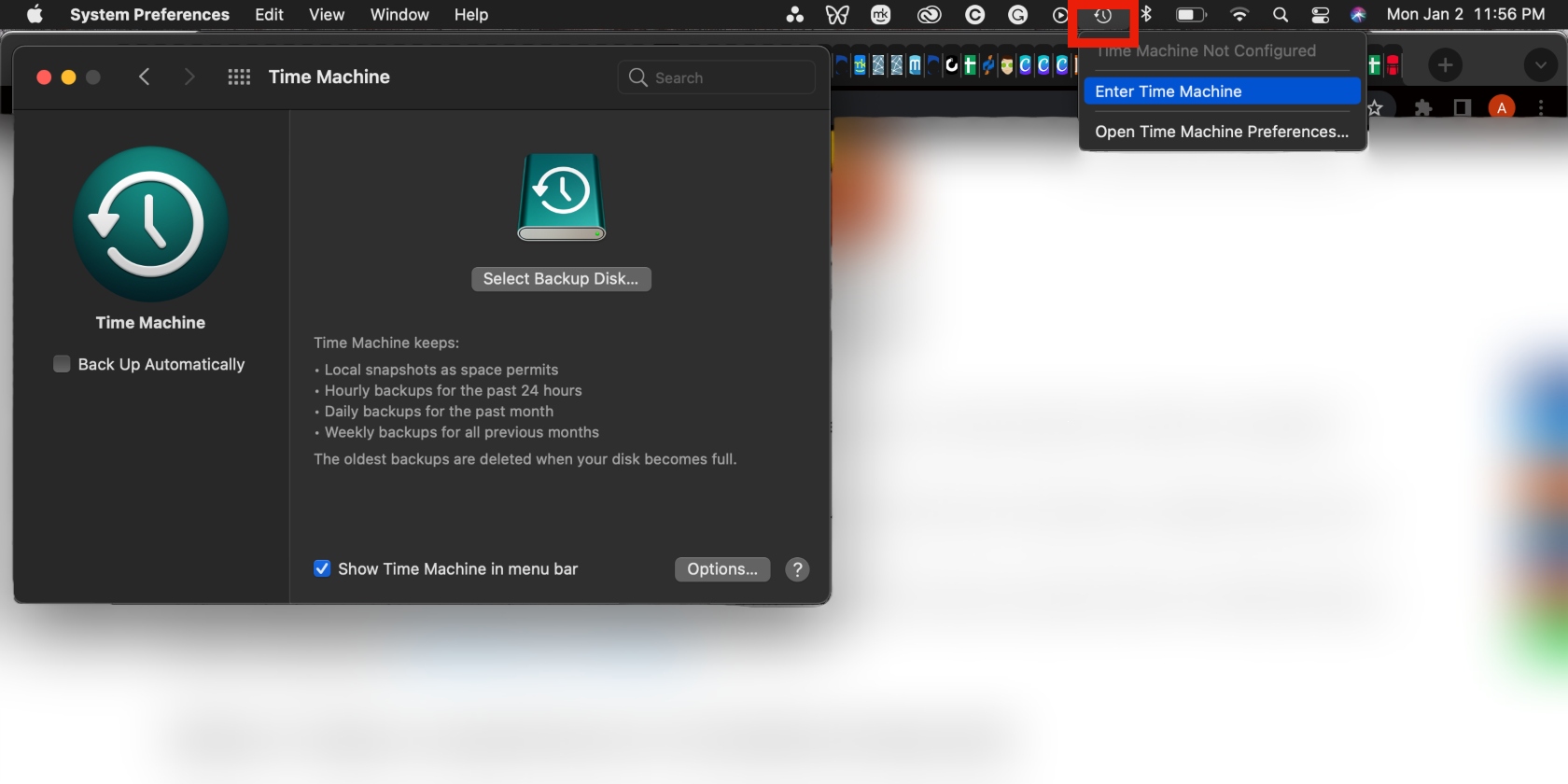 4. Find the file you want to repair by clicking on the relevant folder first
5. Next, open the file and click the Restore button at the bottom of the screen to start the process of fixing it in Time Machine backup.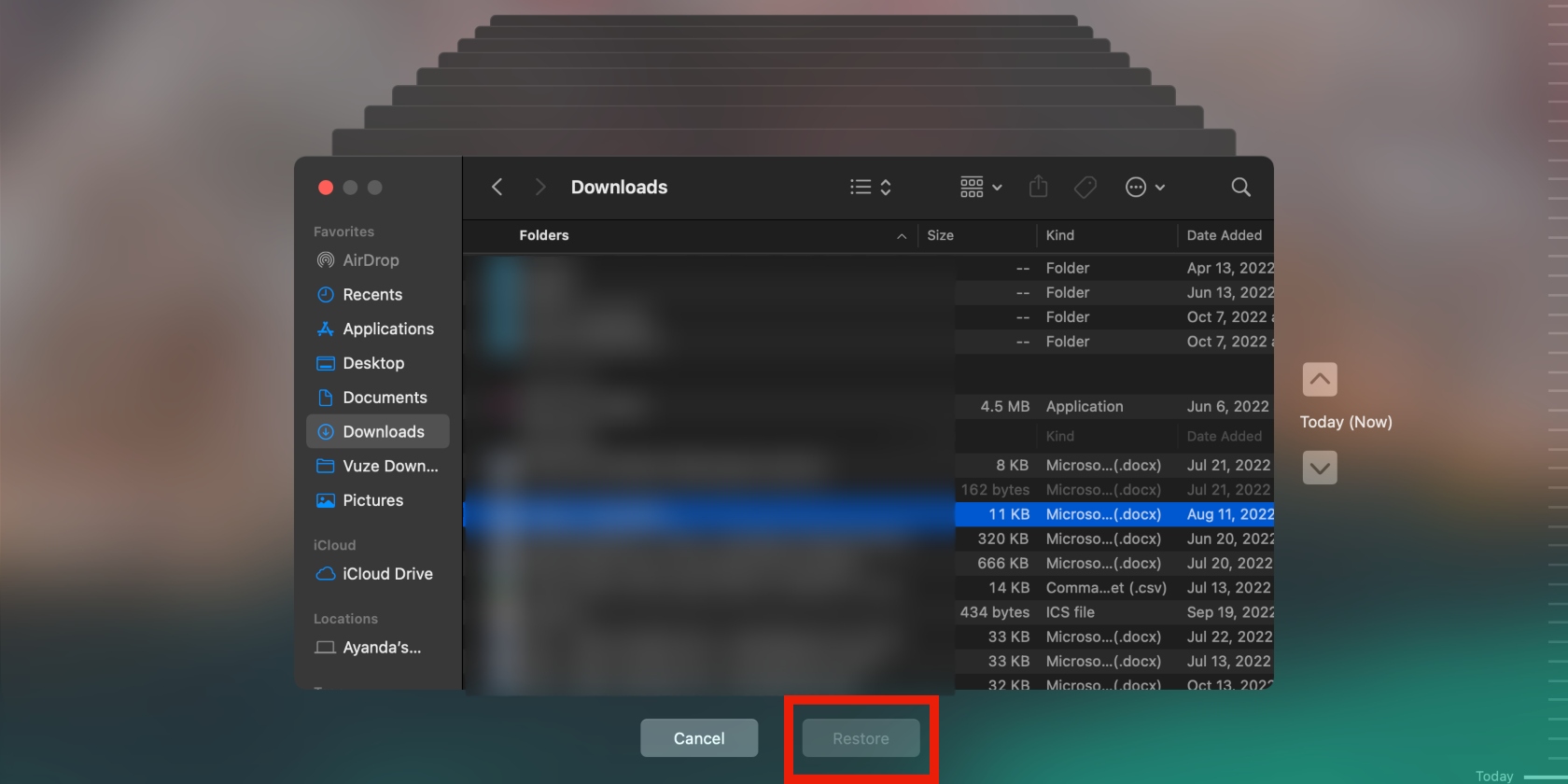 Tips on what else can be done to preclude the issue
As the old saying goes, prevention is better than cure. So, let's look at the ways Mac users can prevent their files from being corrupted in the first place.
Ensure your Mac is up-to-date to avoid errors by upgrading to the latest macOS regularly
Keep viruses at bay using MacKeeper's Antivirus tool.
Fixing corrupted files can be easy and quick on Mac
You shouldn't be alarmed when you encounter corrupted files on your Mac. Technology does tend to glitch occasionally, after all. If you come across a corrupted file on your Mac, try the solutions mentioned in this article.
The most important thing to remember is to use an effective antivirus software like MacKeeper's Antivirus tool. This is a great option because it scans your Mac for viruses and malware in real-time, which is the key to protecting your personal information.
The second critical factor in fixing corrupted files is using Mac's Time Machine feature, which is a straightforward process that even novices should be able to navigate through. Good luck to you!