In this article you will find the following:
MacCleaner Pro is a bundle of utilities that can breathe new life into your Mac by freeing up storage space and optimizing performance. It may be exactly what you're looking for if your Mac is running slow. Find out more in our MacCleaner Pro review.
| | |
| --- | --- |
| Pros | Cons |
| Useful set of utilities in one bundle | Subscription prices can be very costly |
| User-friendly interface | Utilties are split between different apps |
| Free trial available | Free trial is very limited |
| One-time purchase option available | |
Before we start

Searching for MacCleaner's cheaper alternative? MacKeeper's Safe Cleanup effectively removes unnecessary junk from your system and quickly frees up a storage space on your MacBook. It also includes a built-in malware removal tool, which MacCleaner Pro misses out.

To get started with Safe Cleanup inside MacKeeper, follow these steps:

Download MacKeeper to your Mac and then install it
Open MacKeeper and select the Safe Cleanup tool, then perform a system scan
Click Clean Junk Files once the process is complete.
Detailed overview of MacCleaner Pro features
MacCleaner Pro ships with the utilities you need to squeeze additional performance out of your Mac and free up disk space, including a RAM cleaner, duplicate file finder, the ability to disable performance hogs like browser extensions, and more. It won't make your machine significantly faster, but it could make it more enjoyable to use.
Here's an overview of MacCleaner Pro's key features:
Is MacCleaner Pro worth the money? In this review, we'll take a look at all its utilities in more detail and help you decide if it's the right system optimization software for you.
App Cleaner & Uninstaller
One of the problems with removing unwanted Mac apps manually is that it often leaves behind associated files that you no longer need. MacCleaner Pro fixes this problem with its App Cleaner & Uninstaller tool, which properly removes software from your system without leaving any stray data behind.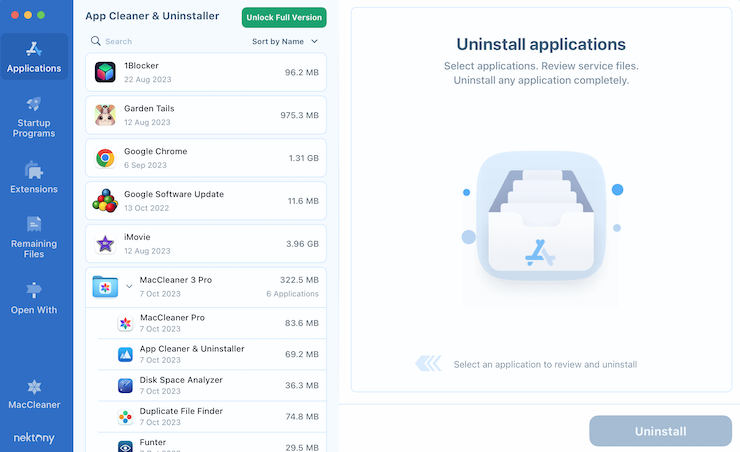 The App Cleaner & Uninstaller shows you a list of all the apps installed on your system—and how much disk space each one is using. You can then remove anything you don't want in just a couple of clicks. It's a fast and simple way to uninstall software from your Mac.
Disk Space Analyzer
Do you know what's hogging all the storage on your system? The Disk Space Analyzer tool scans your entire drive to find out exactly how much space each file and folder is using. This is handy if you're trying to free up space as it helps you determine what to target first, but you'll need to be careful.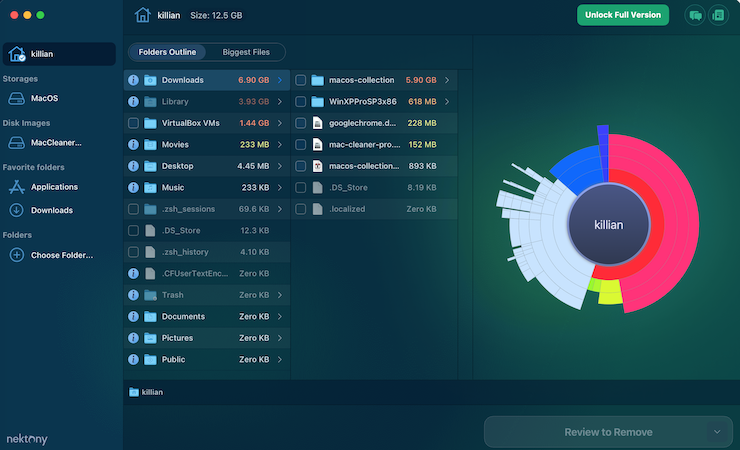 Note from our team:

Accidentally deleting unnecessary files could cause significant issues. If you remove critical files that your apps or macOS itself rely on, then you may need to reinstall software, or you could end up with an unstable system that frequently crashes.

There are safer and more simple ways to tackle this problem. For instance, the Safe Cleanup tool in MacKeeper identifies junk and other unnecessary files that your Mac doesn't need to hold onto. It then lets you safely remove them with just one click, without the fear that you might inadvertently delete something critical that your favorite apps or macOS itself rely on.
Duplicate File Finder
MacCleaner Pro's Duplicate File Finder trawls your system for files and photos that you have more than one copy of. Many Mac users don't realize that they're holding onto more than one version of the same file, and over time, these can take up a lot of storage space. They can also be incredibly difficult to find and remove manually.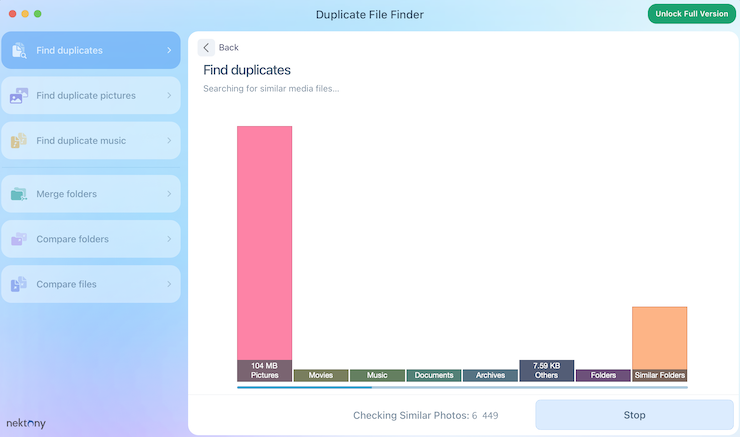 The Duplicate File Finder takes care of the hard work for you. It then shows you the duplicate files it has located and allows you to review them before you delete them.
Speed Up
It's common for a Mac to become slow over time, even if it packs powerful hardware. The more you use it, the more its resources get eaten up by apps and other processes that you're running in the background without your knowledge. The Speed Up utility in MacCleaner Pro lets you take control of all these and improve system performance.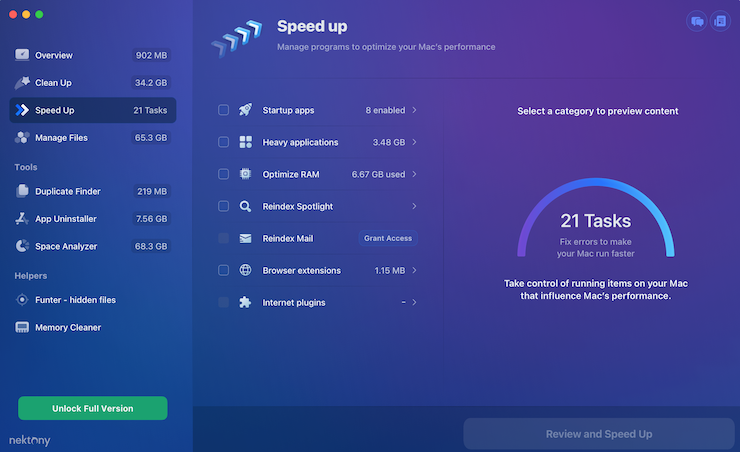 In addition to freeing up RAM, Speed Up can help you identify and disable programs that are set to run at startup. It can also reindex Mail and Spotlight to make them snappier, and remove and disable things like internet plugins and browser extensions, which may be stealing CPU power.
Manage Files
If you've been looking at how to free up space on Mac, the Manage Files utility can help. It's somewhat similar to the Disk Analyzer tool in that it shows you how much storage space is being used by every file on your system. This not only helps you figure out which files should be removed first, but it also lets you target different file types, such as images, videos, or compressed folders.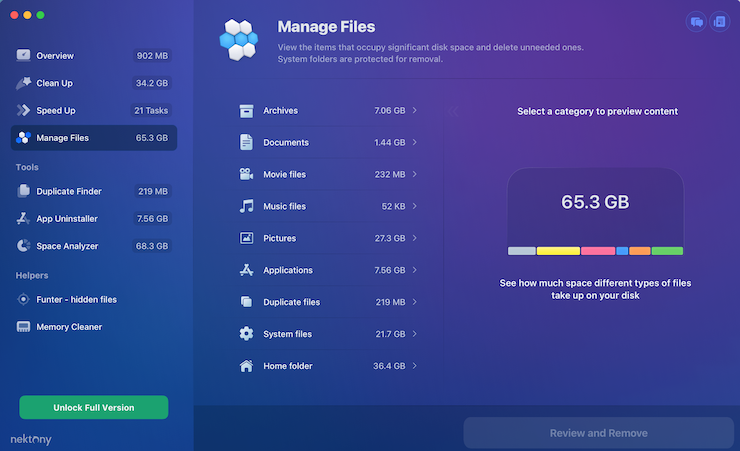 This may be useful if you want to clear specific things, however, we're not quite sure why the Manage Files tool needs to be a standalone utility, and why it's not just integrated into the Disk Space Analyzer. MacCleaner Pro has a tendency to split things up like this, and while all the utilities are relatively easier to use, packing them into one suite like MacKeeper does would make for a less complicated, more seamless experience.
Funter
Funter is one of our favorite tools in MacCleaner Pro because it can be used to quickly hide and then unhide files and folders without having to fiddle around with Terminal commands. It's useful for uncovering junk that's not immediately noticeable, as well as for concealing sensitive documents, images, videos, and more on a shared Apple machine.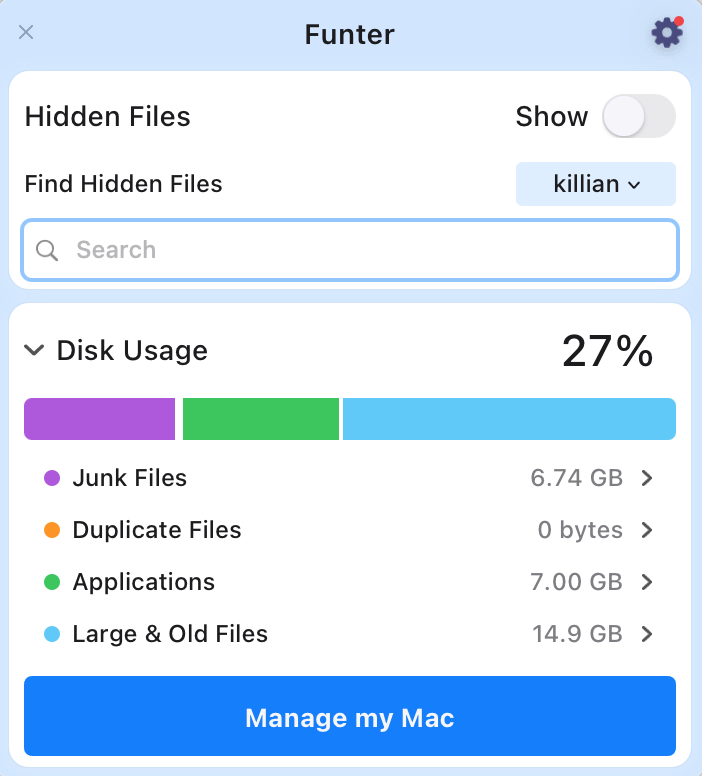 Funter lives in your Mac's menu bar, so no matter where you're or what you're doing on your system, you can access it instantly.
Memory Cleaner
One of the most common reasons for sluggish performance is overloaded RAM or system memory. Over time, data tends to build up in system memory and doesn't always get cleared properly by macOS itself, so the apps you're using have less to work with. MacCleaner Pro's Memory Cleaner clears inactive RAM data that your Mac doesn't need to hold onto.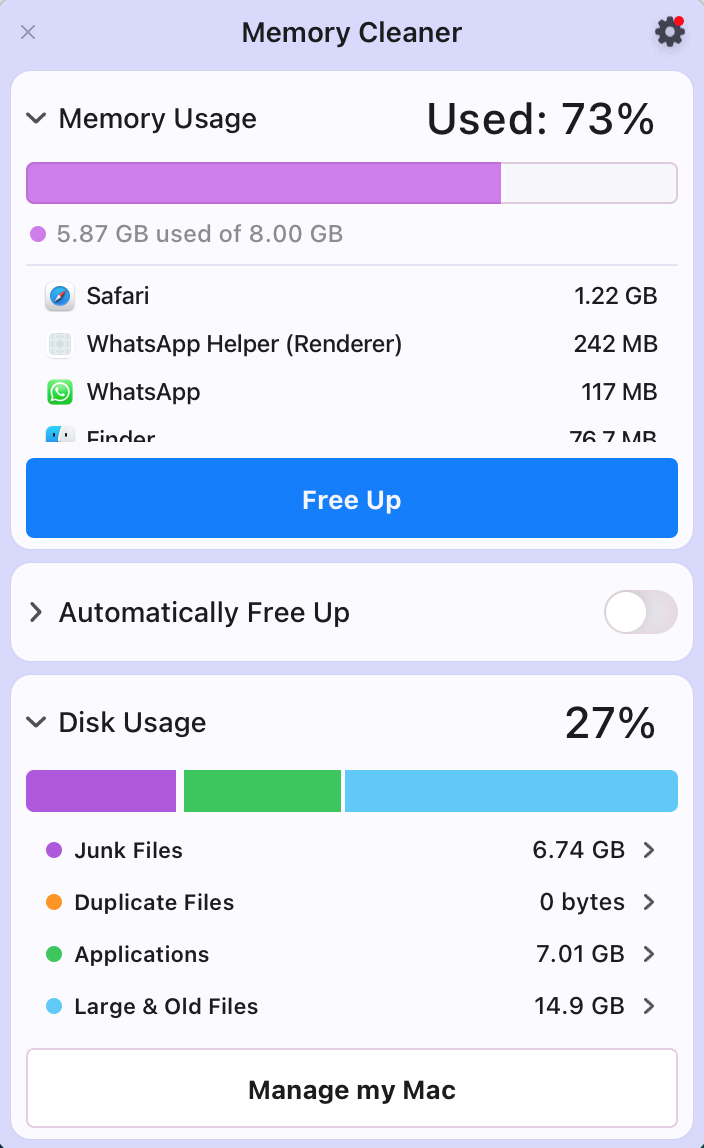 The Memory Cleaner is available from within MacCleaner Pro's Speed Up section, and it comes as a separate module that is accessible from your Mac's menu bar, where it's easy to get at at any time. You can also configure it to clear memory automatically as soon as you quit an intensive program, which is incredibly useful.
Pros of MacCleaner Pro
Packs all the utilities you need to free up space and optimize performance
Good configuration options
Easy to use
Free trial available.
Cons of MacCleaner Pro
Free trial is very limited
Subscriptions price options are expensive
Utilities are split between multiple applications
Remembering where everything is can be frustrating.
MacCleaner Pro pricing
There are several pricing options available for MacCleaner Pro, which is where things get particularly complicated. Here's what you can choose from:
1-month subscription: $21.95
1-year subscription: $44.95
One-time purchase: $119.95.
All packages offer licences for two Macs. A free trial is available for new users, but it's very limited. For instance, the free version of MacCleaner Pro will tell you what's using up all your storage space, but it won't let you delete anything until you pay. In comparison, MacKeeper's free trial will clear all system junk once for free and will let you enjoy other features for one week.
MacCleaner Pro is effective but expensive
There are lots of things to like about MacCleaner Pro. It offers a good selection of utilities that should provide everything you need to free up storage space, clear cache on Mac, and improve the performance of your machine. Each of the included applications is easy to use, and there are some nice configuration options that make maintaining your Mac a lot simpler.
However, there are some things we, as Mac experts, really don't like about MacCleaner Pro. Its utilities are split between six different apps, which means remembering where everything is complicated. We'd much prefer to see all tools bundled into a single suite. Moreover, the pricing options are clearly designed to push users toward making an expensive one-time purchase.
The high cost of the one-month and one-year subscription options mean that they quickly become a lot more expensive than a one-time purchase. If you think you'll use MacCleaner Pro for at least six months, you should stear well clear of the monthly subscription option, which would end up costing you $137.70. That's excessive for a system optimization tool.
In comparison, MacKeeper—one of the best Mac cleaner apps, which includes all the features you'll need to maintain a healthy machine—is only €10.95 per month, and an annual plan currently starts at just €71.64 as part of its Security Care deal. Its excellent Safe Cleanup tool safely removes all hidden and unwanted junk from your system, and it also includes a RAM cleaner. What's more, MacKeeper can clear malware from your Mac, which isn't a feature that is offered by MacCleaner Pro.