Updated: May 27, 2020 | 7 min read
How to Change Mac Startup Programs
Before we start

Before figuring out how to set up the start-up apps correctly, it's necessary to decide whether you need these apps at all.

Download MacKeeper and never worry about that again. The app helps you find the programs you don't use and remove them correctly.
Unwanted apps starting automatically whenever you turn on or restart your Mac? Follow these 7 steps to manually remove Mac startup programs.
Open System Preferences
Go to Users & Groups
Click on your account name in the left sidebar
Choose the Login Items tab
Highlight those startup apps you want to remove
Press the minus (–) sign
Restart your Mac to see the changes
What are startup items
When you press the power button and hear a musical chime, a big Apple logo appears on the screen. There's a progress bar below that indicates launching startup items—the system processes required to start up your Mac. Once you log in to your user account, your Mac will launch login items—apps set to open automatically before you see your desktop.
Basically, both startup and login items mean the same—the more apps launch automatically, the slower the startup of your Mac. Even worse, some apps may covertly install as startup items, burdening your Mac's processor, and reducing its memory capacity. Such items increase your Mac's startup time and decrease its performance.
Besides, startup programs might be one of the reasons for a slow Mac.
Types of startup programs
Let's cut to the chase and tell you more about types of macOS startup items.
Application login items help to auto-launch the programs when you log in
User login items help to automatically run apps on a Mac startup or user login
Launch agents are text files that launch background processes for a specific user
Launch daemons are system background processes that launch as soon as your Mac starts
The good news is that you can both turn on and off or delete such startup apps on your Mac.
Disable startup programs
Remove startup items using MacKeeper
One of the easiest ways is to use MacKeeper. Its Login Items feature displays each app that opens automatically, even if you didn't select it to launch at startup:
Open MacKeeper
Go to the Login Items tab
Start a scan
Select items
Click Remove Selected Items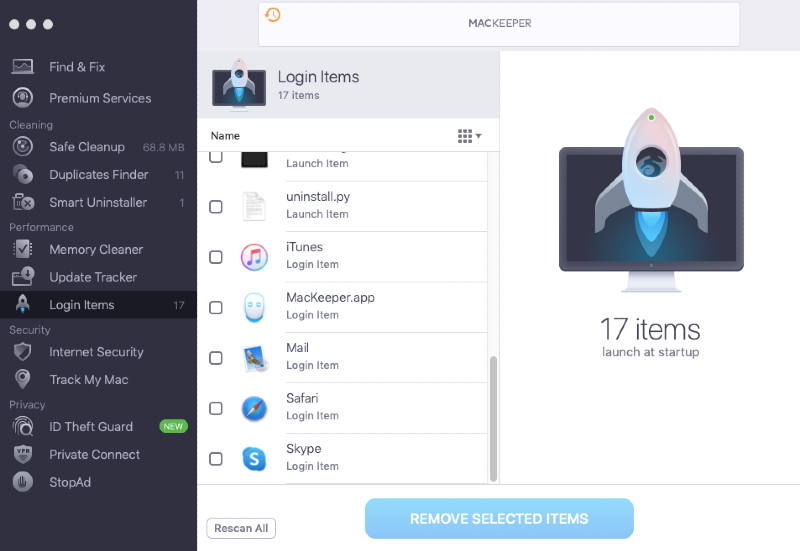 Remove startup items manually
Go to System Preferences
Click Users & Groups
Open the Login Items pane
Highlight the app (for example, Skype)
Click the minus (–) sign to remove it from your startup list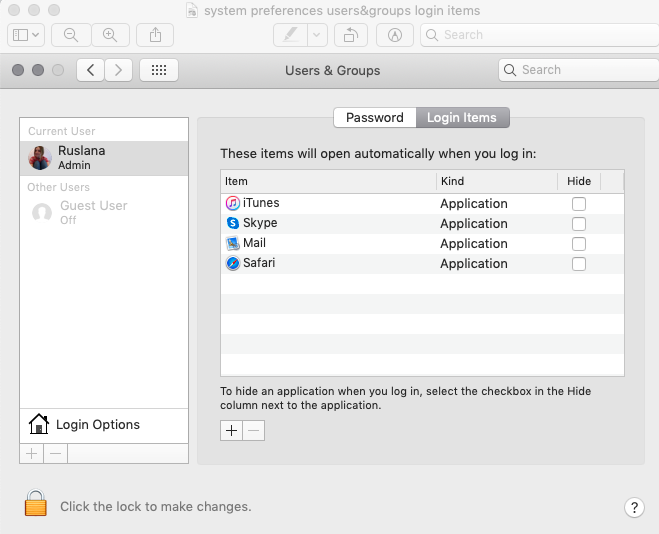 Alternatively, you can stop programs from opening at startup from the Dock:
Launch the app
Right-click its icon in the Dock
Choose Options
Uncheck Open at Login
Remove daemons and agents from startup
Daemons and agents make up a complete login items overview. Open Finder, click Go at the top menu bar, and choose Go to Folder. You'll see this window:

Next, paste the following commands:
/Library/StartUpItems—shows the full list of application files launched at startup
/Library/LaunchDaemons—displays preference files that define how a system application should work when launched
/Library/LaunchAgents—shows preference files for apps that launch after you log in to your Mac
The folders above display app-related files. If you want to check which system files launch at startup, check your system folders:
/System/Library/LaunchDaemons—displays all system files that run at startup for every user
/System/Library/LaunchAgents—shows system files that launch for a specific user
The system folders mentioned above contain important Apple files. Avoid deleting them if you don't want to damage your system.
Fix broken startup items
Sometimes uninstalling an application leaves a login item with a broken link. If you don't delete it, a broken login item will keep referring to the removed app and simply waste your Mac's memory.
This is a result of application leftovers—unneeded system files left after uninstalling an app. With MacKeeper, it takes a few clicks to clean application leftovers and broken startup items:
Open MacKeeper
Navigate to Smart Uninstaller
Scan your Mac
Go to the Leftovers tab
Check if any apps leftovers were detected
Tick the ones you want to delete
FAQ's
How to temporarily prevent startup items from launching at login
When you see the login window—hold the Shift key while you click the Log In button—release the Shift key when you see the Dock.
If you don't see the login window—restart your Mac—hold down the Shift key when you see the progress bar in the startup window—release the Shift key after the desktop appears.
How to hide login items on Mac startup
Some apps can still launch silently at Mac startup without popping up on the screen. By hiding itself at startup, the item runs in the background and is quick to respond whenever you need it.
Go to System Preferences—Users & Groups
Go to the Login Items tab
Tick the Hide box of an app you wish to hide at Mac startup
Restart
Try these steps and start up your Mac in seconds, not in minutes. Give your Mac a clean startup and enjoy your Mac experience!