Every copy of macOS has the Activity Monitor app installed in it. Like the Task Manager in Windows, Activity Monitor lets you see everything that's running on your Mac. This includes apps that you can open and quit as normal, but it also includes background processes, which you don't normally see.
Many of these processes will be part of macOS itself, but you'll also find background processes for your other Mac apps, including for your web browser, your antivirus and things like VPN clients.
In this guide, we'll show you how to open Activity Monitor, before looking at some of the ways you can use it:
Before we start

If you're looking at Activity Monitor because your Mac is behaving strangely or running slowly, you can use MacKeeper to find out what's wrong. It'll scan for viruses, clean junk files, clear memory and more. Simply run a full scan to check for a variety of problems.

Open MacKeeper, and select Find & Fix
Click Start full scan
Let MacKeeper complete the scan
Carry out the recommended fixes

Sounds good? Then give MacKeeper a try. You can download it and try each tool for free, so there's really nothing to lose.
How to start Activity Monitor
As with most Mac apps, there are a couple of ways to open Activity Monitor. Choose whichever method you find most convenient.
How to open Activity Monitor on your Mac:
In Finder, navigate to Applications > Utilities. In that folder, you'll find Activity Monitor. Double-click it to start it
Alternatively, click the Spotlight in the top right of your Mac's screen. It looks like a magnifying glass. Start typing 'activity monitor', and should come up. Press Enter to start Activity Monitor
You can also bring up Spotlight by pressing Cmd + Spacebar. Then type in 'activity monitor' to load the app
How to quit apps in Activity Monitor
The macOS Activity Monitor lets you quit out of apps running on your Mac, as well as background processes that you wouldn't otherwise know about. This can be useful if your Mac is running slowly or an app is behaving oddly.
You can quit apps in Activity Monitor in a few easy steps:
1. Start Activity Monitor
2. Look through the list of processes, and select what you want to quit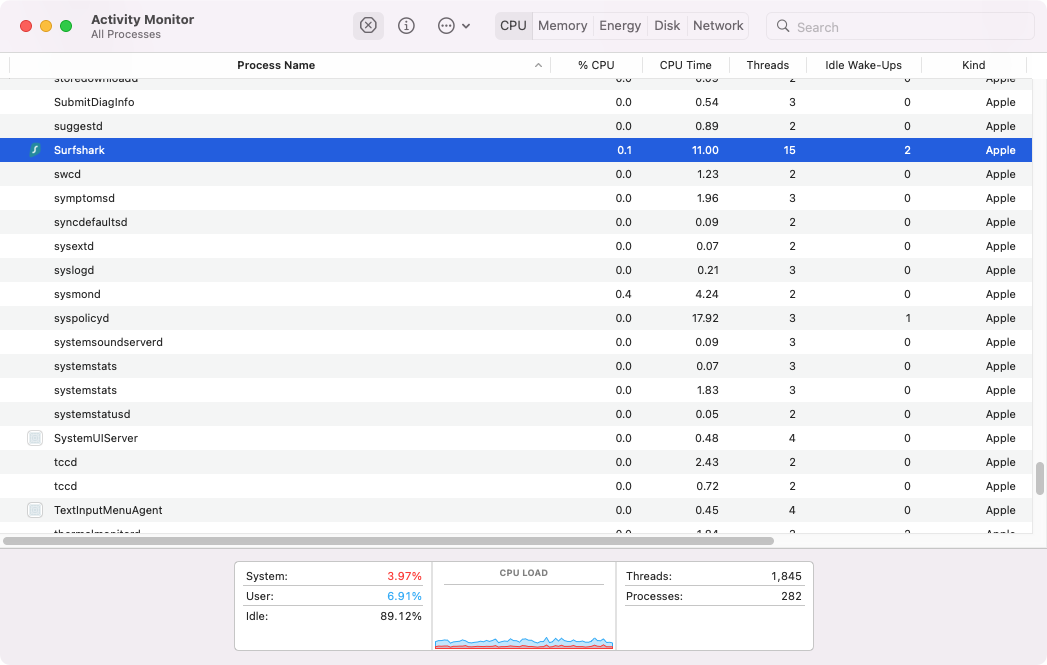 3. Now click the X symbol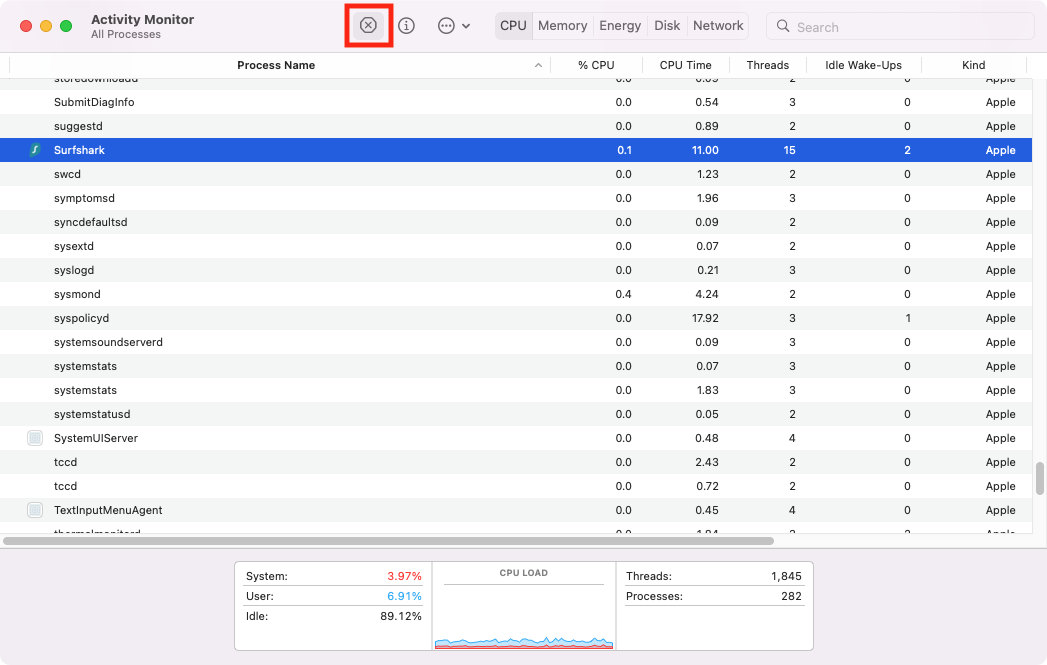 4. Select Quit or Force Quit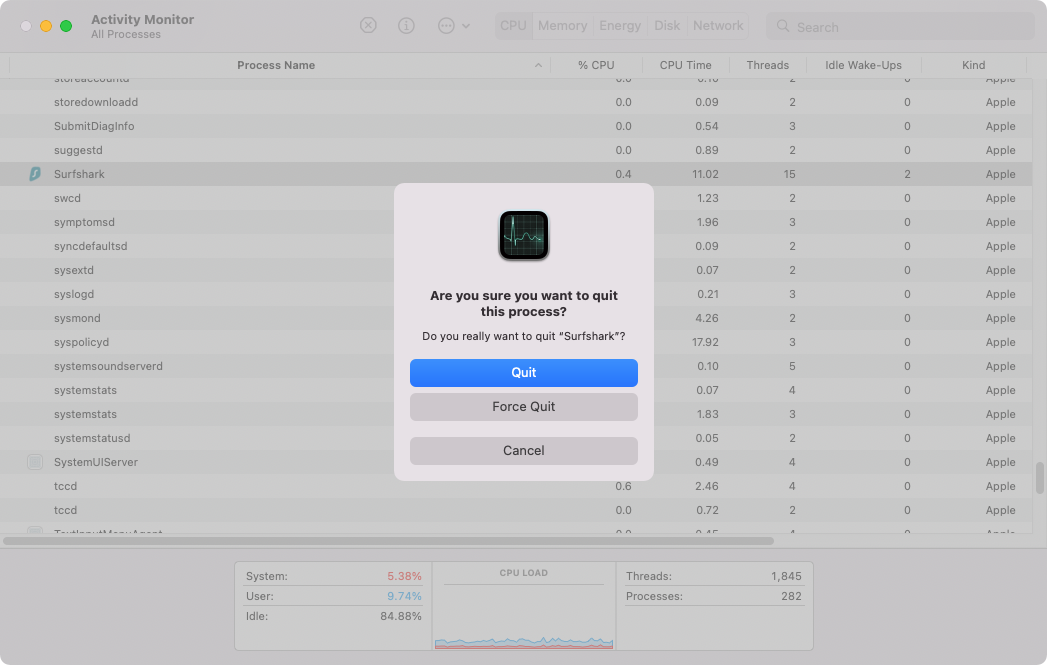 5. You can also quit an app by double-clicking it in the list, then clicking the Quit button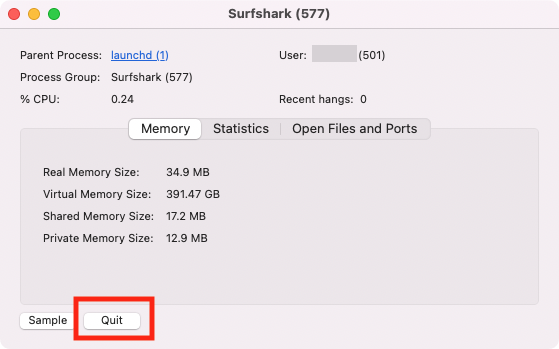 How to inspect processes in Activity Monitor
Activity Monitor gives you all kinds of information about what's running on your Mac. And you can focus on each process to get a summary of what it is and what it's doing. If you're having issues with your Mac running slowly or unpredictably, this information might help you to find the app or background process that's causing the slowdown.
Here's how to inspect a process on Mac:
1. In Activity Monitor, find a process in the list, and double-click it
2. This will open a new window with a few tabs. In the Memory tab, you'll be able to see how much RAM the process is using
3. Click Statistics to see a range of technical information, including the number of threads a process is using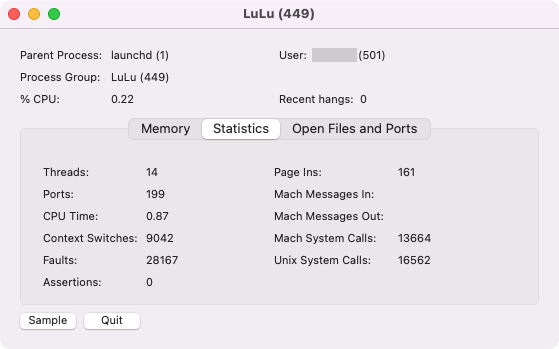 4. The Open Files and Ports tab shows exactly what the name says. You can see exactly which files an is using at any given time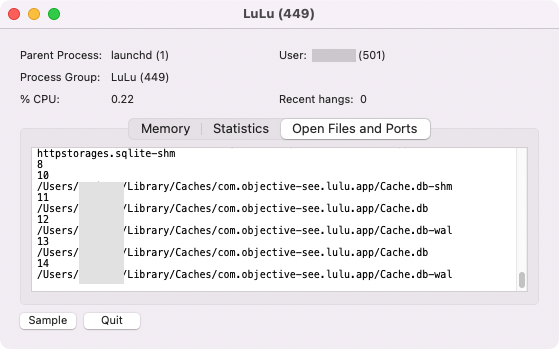 5. If you click next to Parent Process, it will open up another window, with details about that process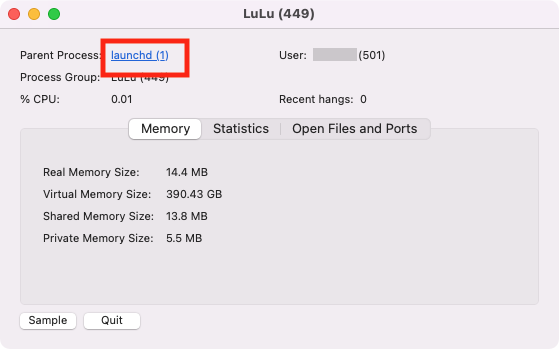 How to run diagnostic reports in Activity Monitor
You can create a variety of diagnostic reports in Activity Monitor. You can sample a process for three seconds to see what it's doing when it runs. You can also create a spindump, which looks at unresponsive apps that were force quit. You can create a System Diagnostics report. And you can create a Spotlight Diagnostic report, based on all the processes running on your Mac. All of these create technical reports, which you can send to Apple Support if you have a problem.
Here's how to run these reports in Activity Monitor:
1. In Activity Monitor, click the icon with three dots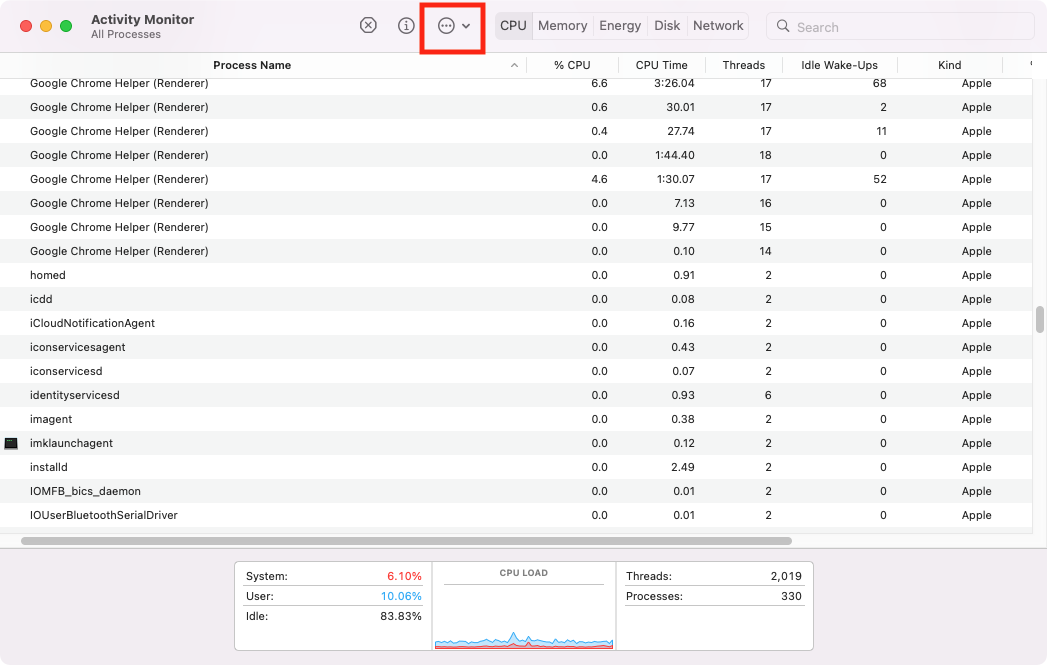 2. Select Sample Process, Spindump, System Diagnostics, Spotlight Diagnostics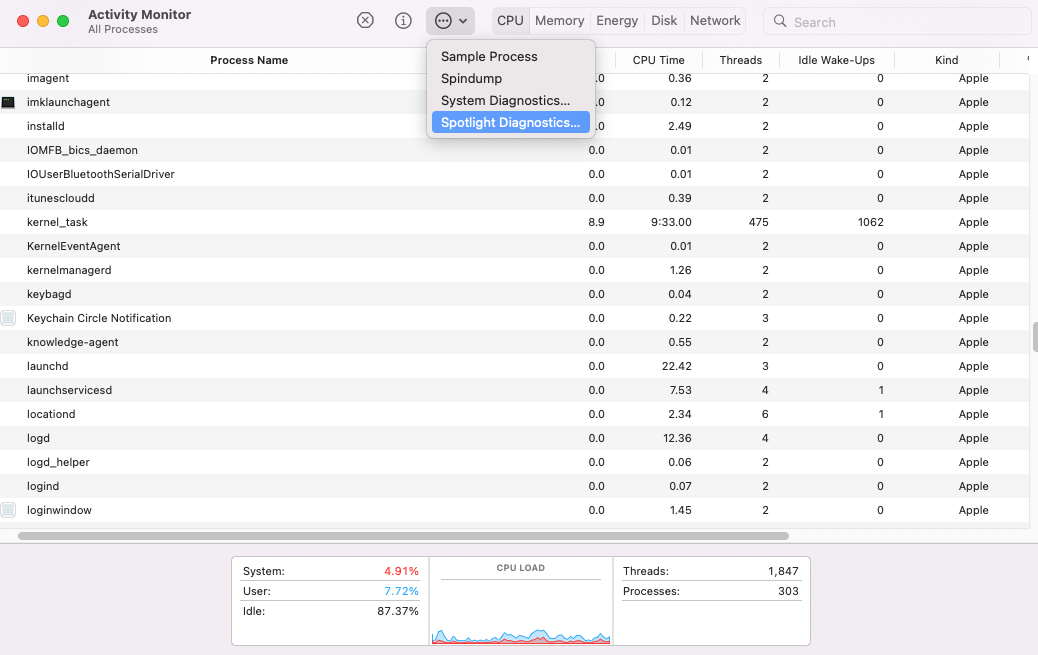 3. With some of these, you may need to enter your Mac password. If so, enter it, and let the report build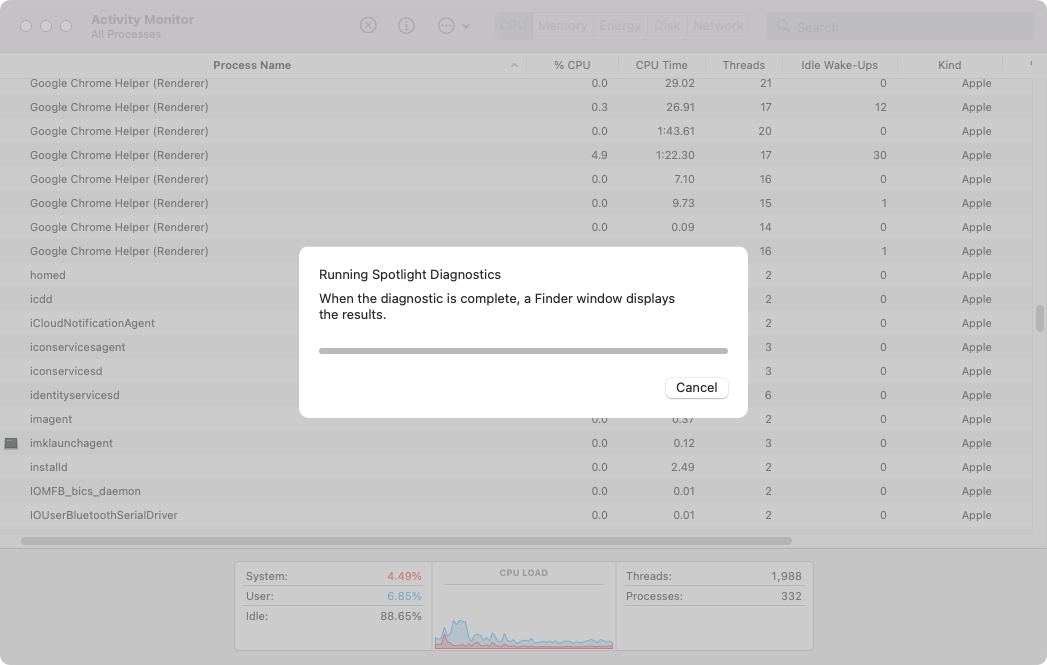 4. At the end, you'll have a file you can send to Apple Support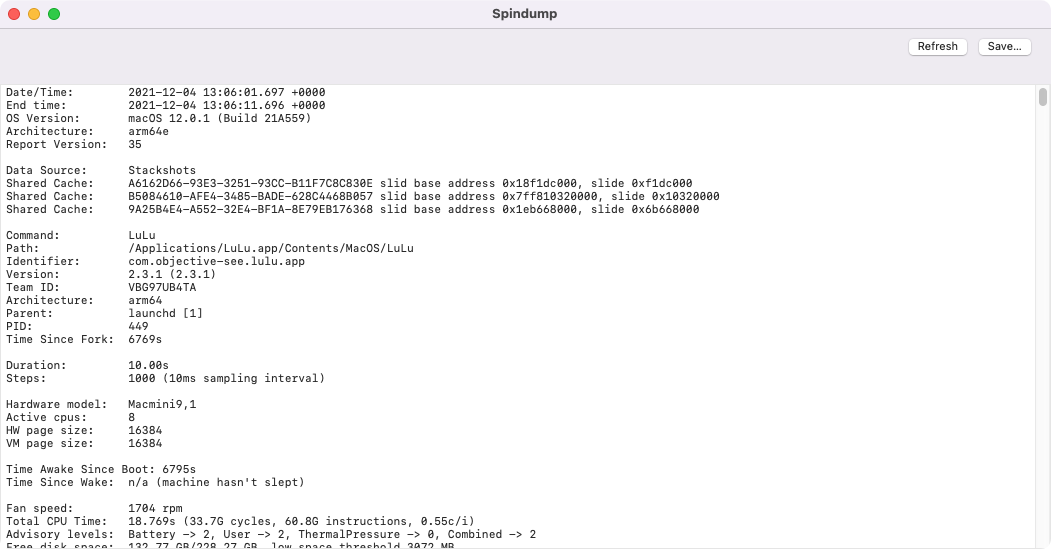 How to deal with malware using Activity Monitor
If you're unfortunate enough to find your Mac infected with malware, you can often use Activity Monitor to find and stop it. It's a good idea to do a web search for anything that you're unsure about, so you don't stop a process that your Mac actually needs to run.
This is how you can use Activity Monitor to find and shut down malware:
1. Open Activity Monitor. In the CPU tab, click the % CPU column to sort processes by how much of your Mac's processor they're using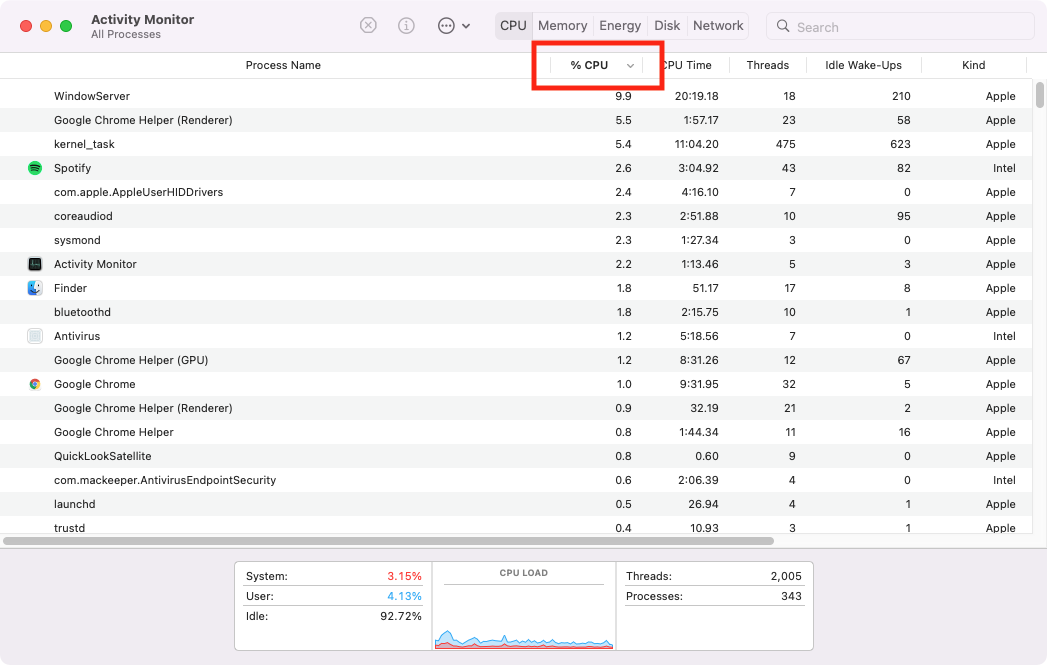 2. Get the most demanding processes at the top, and look for anything you don't recognize
3. Select anything suspicious, and click the X icon at the top of Activity Monitor
4. Click Quit or Force Quit
Relevant reading: How to Check for Malware on Mac
How to save MacBook battery power with Activity Monitor
When apps and other processes use a lot of processing power, they don't only slow your Mac down; they use more energy too. If you're using a Macbook on its battery, that could limit how long you're able to work away from an electricity outlet. Thankfully, you can use Activity Monitor to save some energy on your Mac.
Use these steps to check for energy use in Activity Monitor:
1. Open Activity Monitor, and go into the Energy tab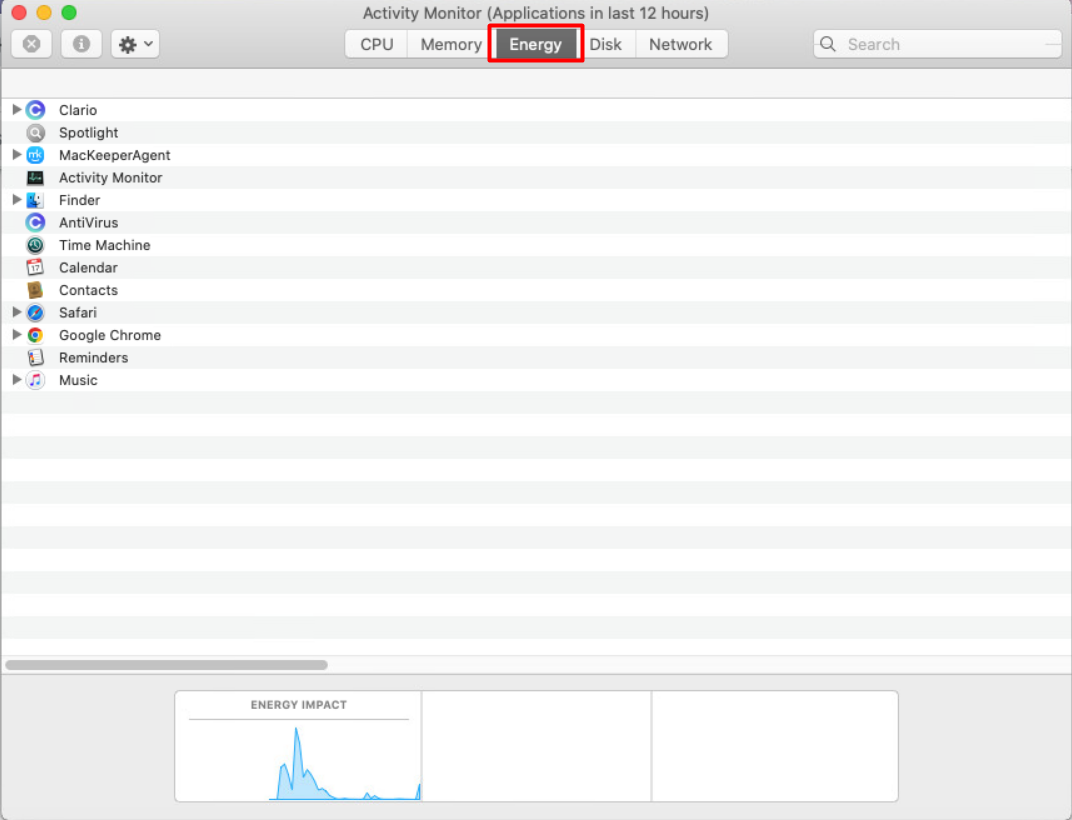 2. Look at the Energy Impact tab to see how much power each app is using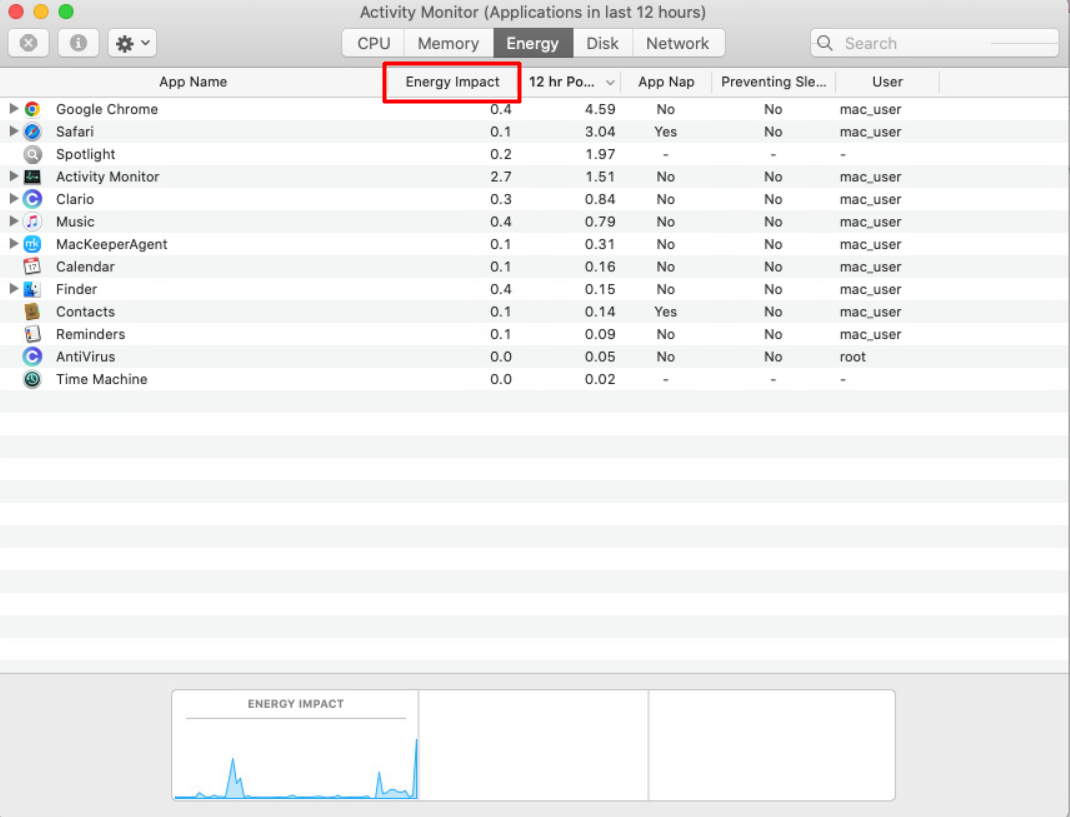 3. Use the 12 hr Power tab to see how much energy processes have used in the past 12 hours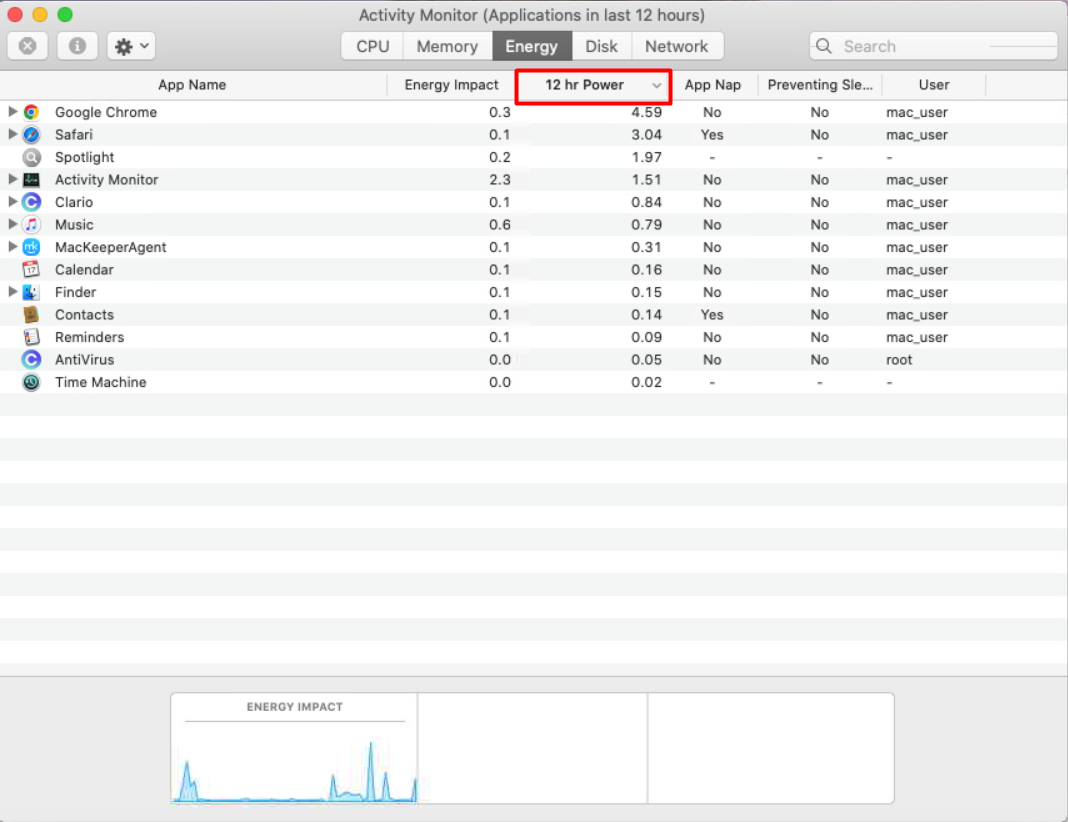 4. Quit apps that are using a lot of energy
How to use Activity Monitor to limit internet use
Although most modern internet connections don't limit how much you can download in a month, there are still good reasons to limit network activity on your Mac. If something keeps downloading files in the background, it could slow down your connection when browsing the web. And if you're on the move and tethering to your phone, you probably do still have a download limit.
You can easily use Activity Monitor to check what's being downloaded and uploaded by your Mac:
1. Open Activity Monitor, and select the Network tab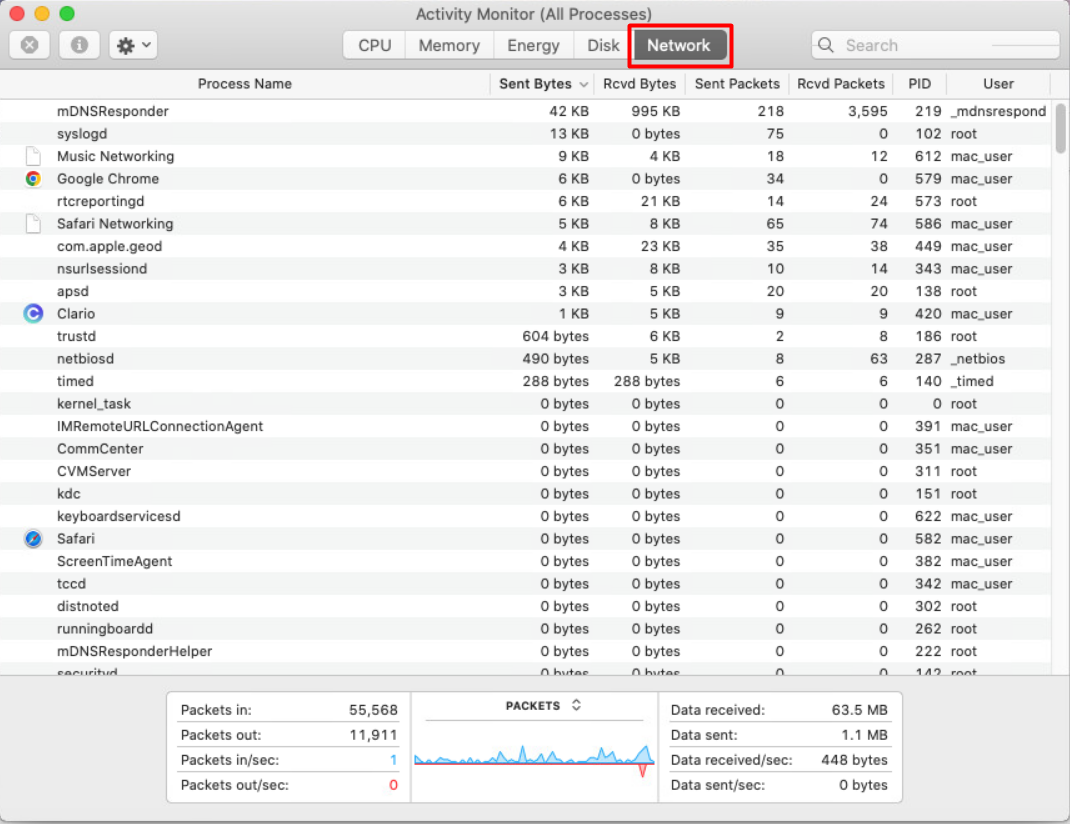 2. Click the top of the Sent Bytes column to sort highest to lowest. Note any large and unexpected figure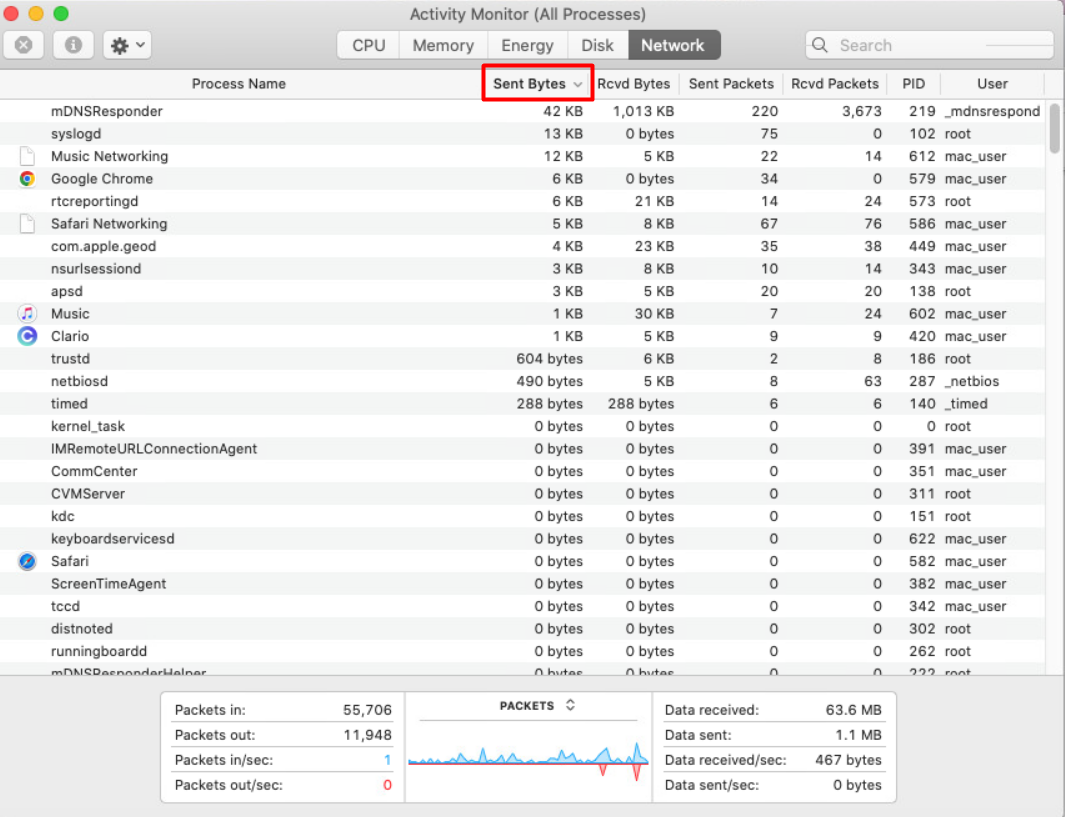 3. Do the same with the Rcvd Bytes column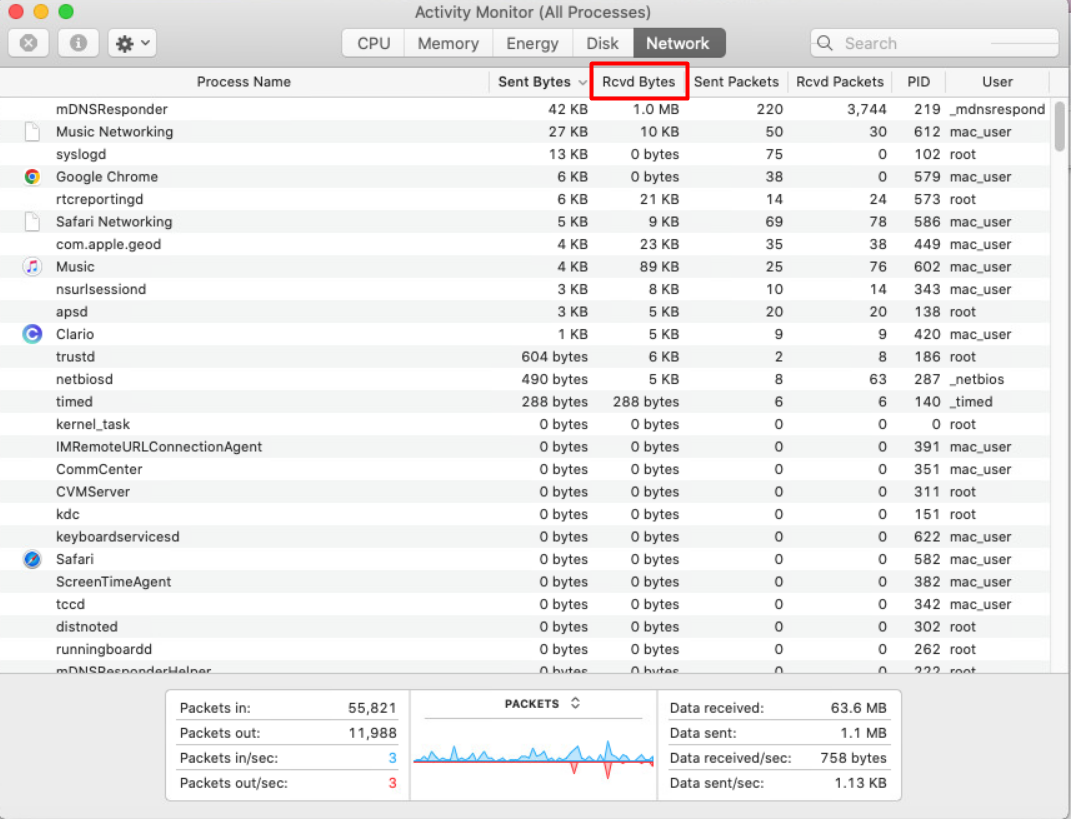 4. Quit any apps that are using a lot of bandwidth
5. If you don't recognize anything, search for its name on the web to find out if it's malware. Also, run an antivirus scan
Are there any other use cases for Activity Monitor that might be interesting for a wide audience? If so, link out to guides here (no need to explain them here).
Other handy ways to use Activity Monitor
These are the main ways to use Activity Monitor on your Mac, but there are other things you can do with it. You can use it to see real-time CPU, network and disk information in your Dock, for example. And if you think might need more RAM, you can track memory usage too, particularly with the help of the memory pressure chart. (Note, you can't change the RAM in all Macs.)
A word of caution
Most of the time, if you want to quit or force quit an app, press Cmd + Opt + Esc to open the Force Quit Applications tool. This doesn't include background processes, so there's no chance of you stopping something your Mac relies on. If you do need to use Activity Monitor, be careful about quitting things you don't recognise. Check online first, because a lot of the processes you see in Activity Monitor are part of macOS.
With a bit of care, though, Activity Monitor is a great way to take control of what's running on your Mac. Just follow the tips in this guide, and you should be okay.
Read more: