Mac Tips
January 31, 2019 | 11 min read
How to Choose the Best Mac for Music Production
With computers being the heart of modern music production, there's no need to rent costly studios to record your tracks. Nowadays you can apply all your desired effects and polish with your home computer—especially, if you know which computers are best for the purpose.
More specifically, Macs are the most likely computers to become your right hand in high-quality music production.
In this article, you'll find information about the main aspects you should consider when buying a Mac for music production, and get our recommendations for the top three Macs to cover your needs—no matter how diverse they are.
Best computer for music production: Mac or PC?
It's easier to get started making music on a Mac than on a PC.
A Windows user would most likely need to install ASIO drivers for their sound card and any other music hardware that they want to use, e.g. MIDI controllers, then install the music software they want to use (Windows provides no native music apps).
A Mac user can just plug in their music hardware and launch GarageBand—Apple's free DAW (digital audio workstation) available on Macs, iPhones, and iPads out of the box. It's an easy tool for recording and editing multi-track audio as well as composing and experimenting with a vast array of virtual instruments, effects, and loops.
If you're only getting started making music, GarageBand (especially the iOS version) has Smart Instruments that let you create great-sounding drum, guitar, synth, or even orchestral parts without having to know how to play the instruments.
The integration between GarageBand for iOS and Mac makes it a very compelling option for drafting your musical ideas on the go. And, if you play in a band and need to share these drafts with bandmates, it can easily become your common tool to send ideas back and forth (assuming you're all Apple users).
If you're an electronic musician and want to experiment with sound, you might be drawn to GarageBand's "older sibling" Logic Pro, which is Apple's professional audio software. Similarly, you might choose a different popular DAW like Ableton Live.
A few other notable Apple apps for musicians are MainStage (a rig of effects and virtual instruments for live performance) and Music Memos (an iOS app similar to voice memos that's tailored to music drafting and integrates nicely with GarageBand).
Recommended system requirements
The technical characteristics of the Mac you choose will depend on the type of software you are planning to use and the complexity of your music projects. Make sure you know in advance the sample rate and bit depth you're going to work at as well as the number of tracks and instrument voices you are planning to use on a regular basis.
The next step is to check the official system requirements for the program(s) you are going to run. This will help you determine the minimum required specs your Mac should have.
Generally speaking for comfortable music production, you should have at least a 2.2Ghz i7 quad-core processor; it affects how fast your projects run (especially if they're huge). You will require at least 16GB of RAM, otherwise you'll be able to use fewer instrument voices and your speed will decrease dramatically. As the basic configurations of the majority of Macs offer 8GB of RAM by default, consider some add-on options.
Most of all, your storage needs will depend on the size of audio material you expect to work with. Professional software and various instruments for music production can use hundreds of GB on your Mac, so the basic 128GB SSDs on some Apple laptops might not be enough. Still, you can consider some external storage options for your Mac.


While video cards have always been essential for video editing and playing games, some of the latest audio software is GPU-accelerated as well. Pay attention to the type of video card required by your audio software and/or whether additional displays will be needed.
Note: Keep in mind that the basic specifications listed are a minimum for music production software to function normally on a Mac. If you're ready to pay extra, we recommend getting highest performance machine you can afford.
"The Mac is the gold standard in the music industry today.
Which type of Mac to choose for music production depends on what music production means for you. If it's going to be music production only, pick an iMac or a new Mac mini (for the sake of stability and ease of use). If you are going to perform as well, MacBook Pro "13 or "15 are better options.
In general, any Mac that is beyond the basic tech spec will do the job quite well. For instance, Demi Lovato's song "Sorry Not Sorry" was drafted on the way to a recording studio using a MacBook Pro "13. Of course, it was then developed in a professional studiom, but the fact stands.
The majority of songs you listen to were most likely produced at branch scale. After all, it's not just equipment that makes particular songs stand out."
—Mandrivko, Affiliate Manager at MacKeeper (and real life musician)
The best Macs for music production
We've researched the topic and talked to professional music makers to compile the best Macs for music production.
27-inch iMac for music production
The 27-inch 5K iMac would be a reasonably high-end machine for home studios. Its RAM can be customized up to 32GB, and with the advanced processor, you'll be able to use all the functions of professional audio editing programs. The big Retina display will make work with complex editing software more comfortable compared to smaller options.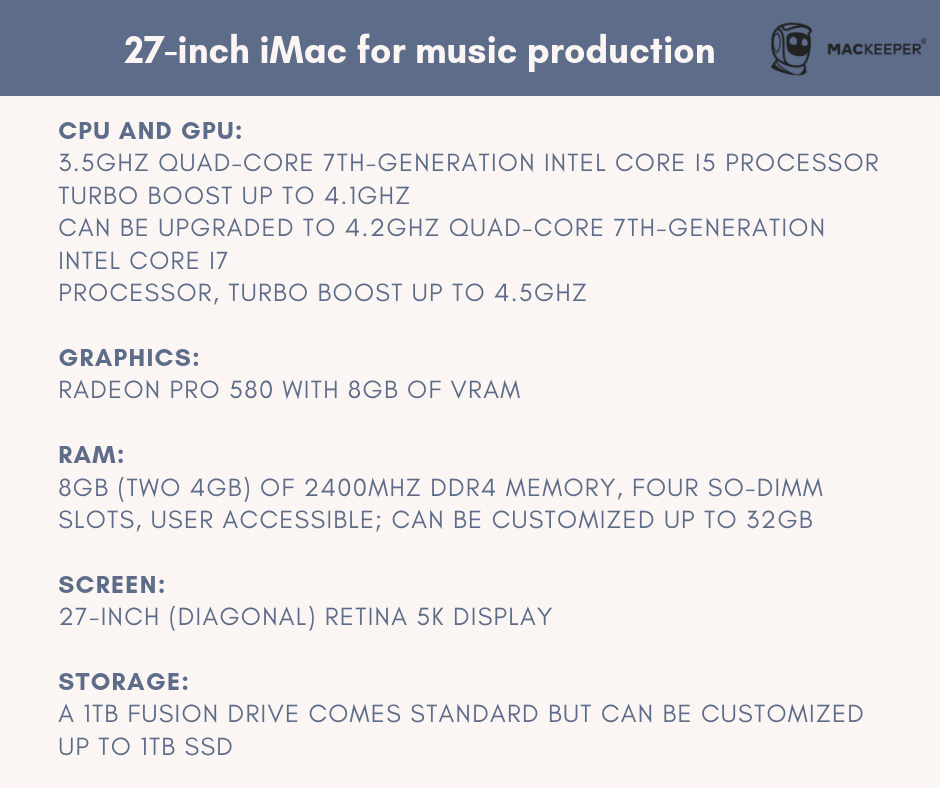 MacBook Pro for music production
Both the 13-inch and 15-inch MacBook Pro were updated with new, faster processors in 2018, so you can consider both options. Still, we recommend the 15-inch MacBook Pro with Touch Bar as the best laptop for music production. It's powerful even in the basic configuration, and the Touch Bar is especially useful when you need to record music and change settings at the same time.
Finally, its highly portable. At 13.75 inches (34.93 cm) wide and only 4.02 pounds (1.83 kg), Pro has a major advantage for musicians who are always on the road.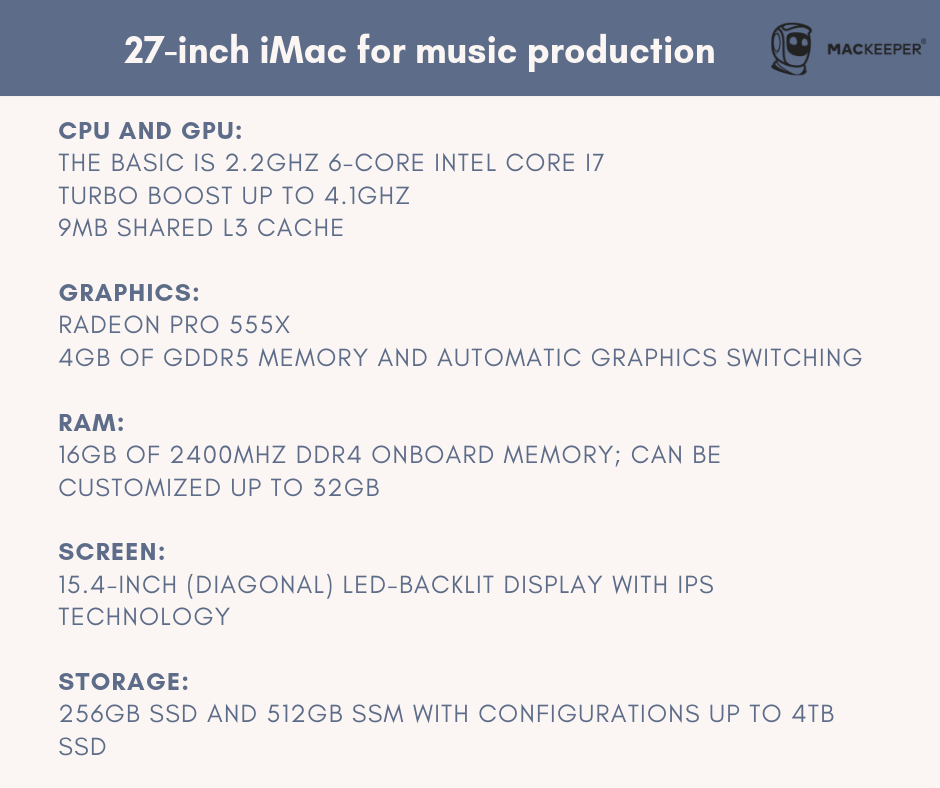 Mac mini for music production
Mac mini also had an updated version launch in October 2018 and is a good choice if your budget is limited. It is small, has an additional audio-in port, and can be customized with a more powerful processor and bigger RAM.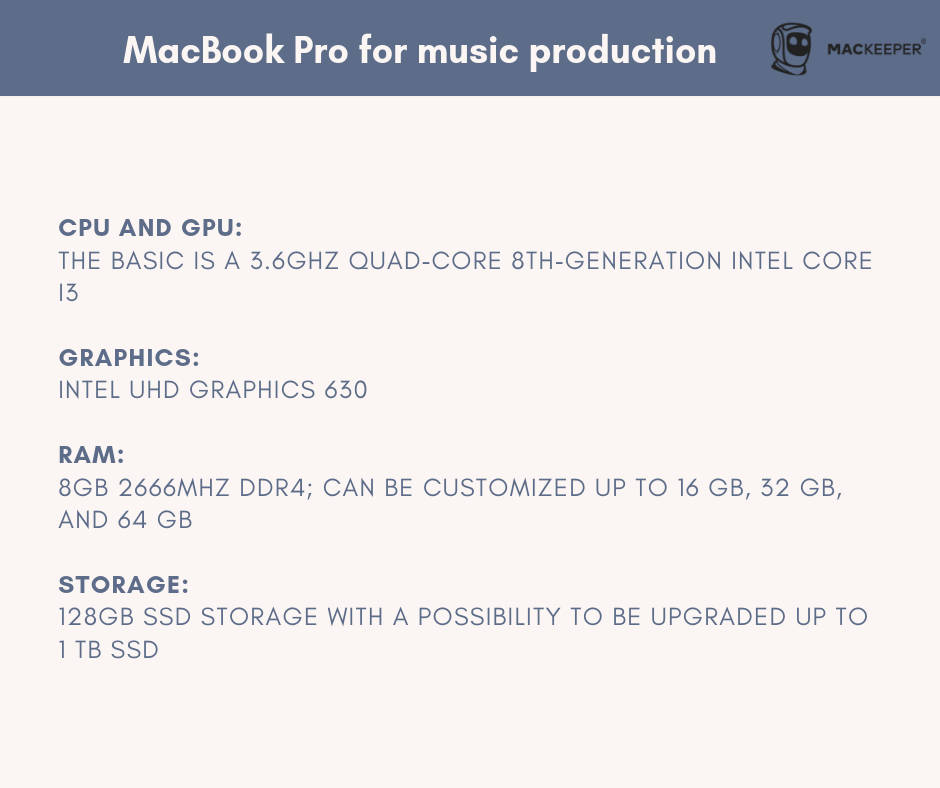 Note: Keep in mind that Mac mini requires you to purchase a display, keyboard, and a mouse.
Things to consider before buying a Mac for music production
When choosing the best computer for music production, consider these three main factors:
Portability
The first thing to do when deciding which Mac to choose is to decide whether you need a stationary computer or a laptop. The latter option is the best decision for musicians who work in many different locations and want to keep everything they need for work in one place.
Connections
If you're planning to use a lot of additional instruments such as monitors, headphones, USB instruments, and other audio interfaces, a limited number of USB ports might be an issue. Always check and compare the Connections sections when reviewing Mac specifications.
Budget
If you're looking for a budget model, your best choice is between a Mac mini or MacBook Pro. If money is no object, go for the 27-inch iMac or iMac Pro.
It's a good idea to check the system requirements for the software you're planning to use and compare it with the specifications of each particular Mac. The most popular music production software for Mac include GarageBand (Mac standard), Logic Pro X as well as cross-platform Ableton Live, Cubase, and Pro Tools.
Also, you can purchase all the Macs listed above with Logic Pro X preinstalled.
Go grab your instrument or mic, plug it to your new Mac, and get rockin'!