We've installed and tested all AVG Ultimate tools to see how they work. So, here's our AVG Ultimate story. Before we tell you all about our AVG test drive, let's figure what's in the package.
What is AVG Ultimate
In brief, AVG Ultimate equips macOS, iOS, Windows, and Android users with a slew of security, cleaning, and performance tools.
AVG Ultimate features include Internet Security, TuneUp, and Secure VPN apps. What's interesting is that you can simultaneously activate AVG Ultimate on ten various devices. We'll cover its tools in more detail in the upcoming sections.
Price for AVG Ultimate: Although AVG Ultimate is a bundled offer, you can purchase each tool separately but at a less attractive price. A 12-month plan will cost you $77.88. Note: $119.99 will be billed after the first year, so if you decide to renew your annual subscription—be ready to pay more for the second year.
AVG Ultimate features overview
AVG TuneUp
How it works
AVG TuneUp utilities aim to clean and optimize a Mac. They scan for junk files, duplicates, similar images, and apps. If you're working with photos—you'll find the AI-powered Photo Finder feature quite useful. It is designed to identify the best quality images in a series of similar ones. That would help decide what to keep and what to delete.
You can also run a scan to see the list of apps your Mac has. The scan results show which ones you haven't opened for the past six months. Probably, you'd consider deleting some of those.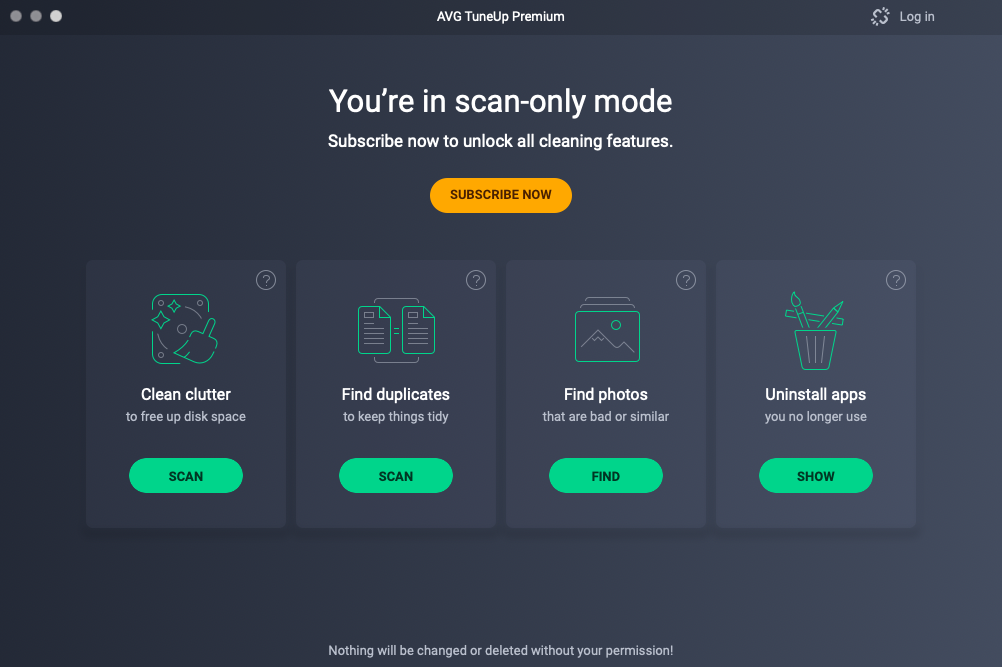 What we think
It was fascinating to use the Find Photos tool. We had a few photos on the Mac used for testing AVG, and we believed no similar images would be detected. However, AVG scan found some.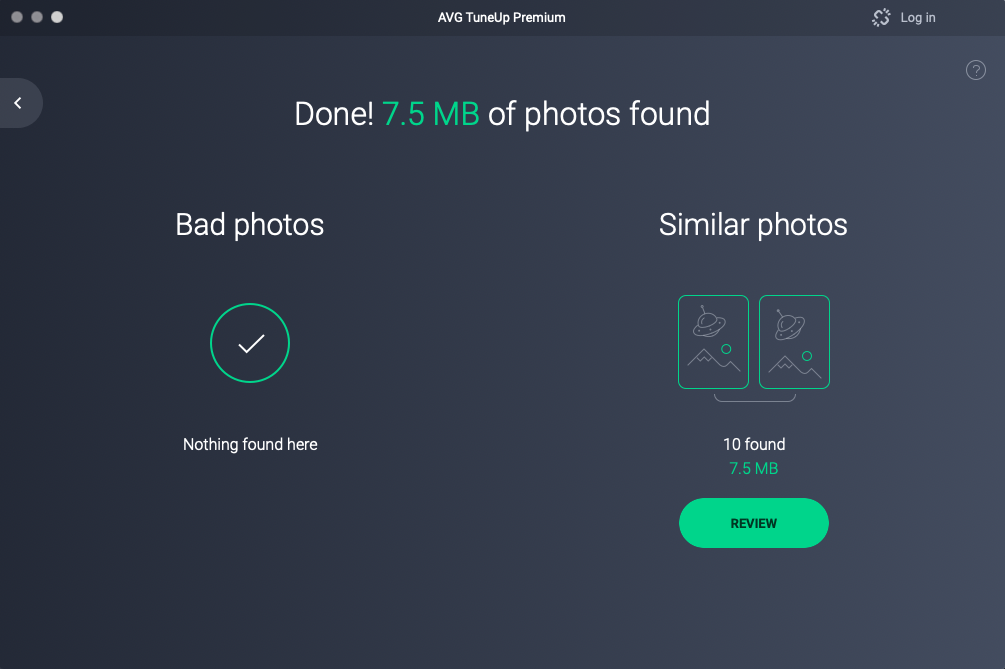 This kind of sorting technology lets you see how many similar-looking pics you can move to Trash to get more free space.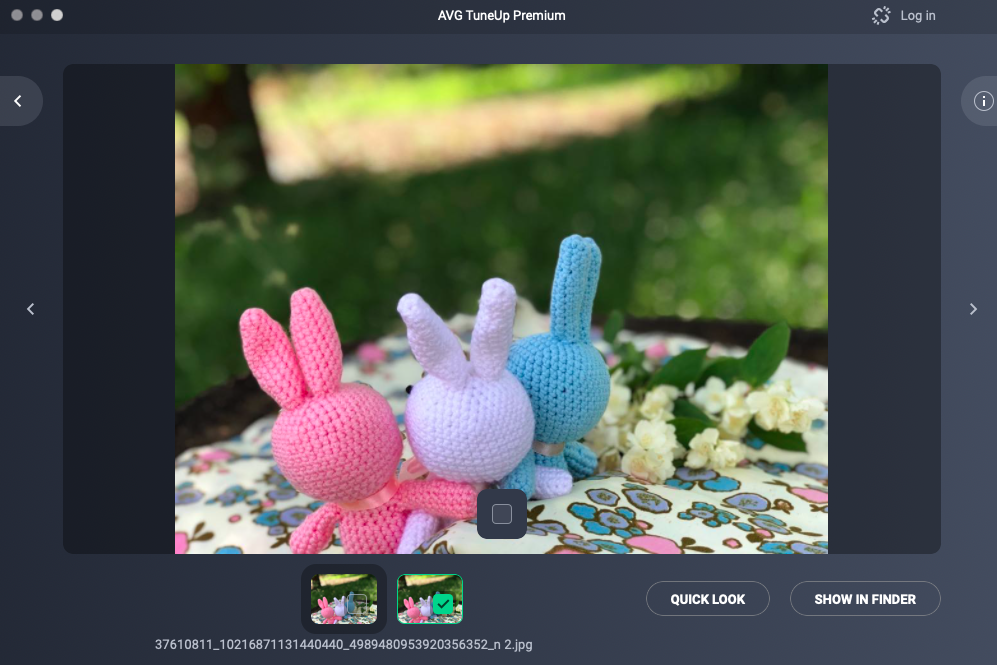 Summing up: TuneUp features are relatively easy to use and won't make you wait too long to see the scan results on your screen.
AVG Internet Security
How it works
AVG Internet Security includes more tools in addition to AVG AntiVirus. Internet Security and AntiVirus come as one. With the free version, you'll only have the features available for the antivirus part. Go to the AVG free tools section of this article to find out more about it.
AVG Internet Security is divided into two sets of tools:
1. Hacker Attacks includes:
Wi-Fi Inspector—scans for security issues and detects intruders trying to gain access to your network
Ransomware Protection—shields your data from ransomware attacks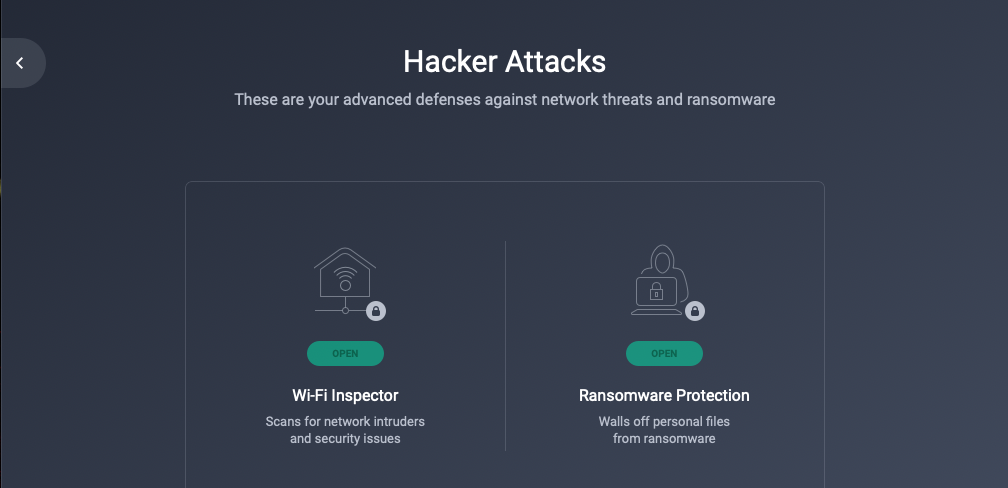 2. Payments features include:
Phishing Net—catches the newest phishing webpages
Fake Website Shield—prevents you from visiting fake websites
What we think
In an era of doing everything online instead of real-life experiences—from shopping, and paying the bills, to home delivery, AVG Internet Security is on the right track. Although some browsers do offer a similar feature—the Fake Website Shield is a big plus. It's never a bad idea to have extra protection when it comes to online payments. Besides, how often do you check your WI-FI for intruders?
AVG Secure VPN
How it works
With the AVG Secure VPN tool, like with any other typical VPN, you can hide your IP address, secure Wi-Fi networks, and browse any online content irrespective of where you are.
You can get unrestricted access to over 50 locations. The biggest number of locations is available for North America.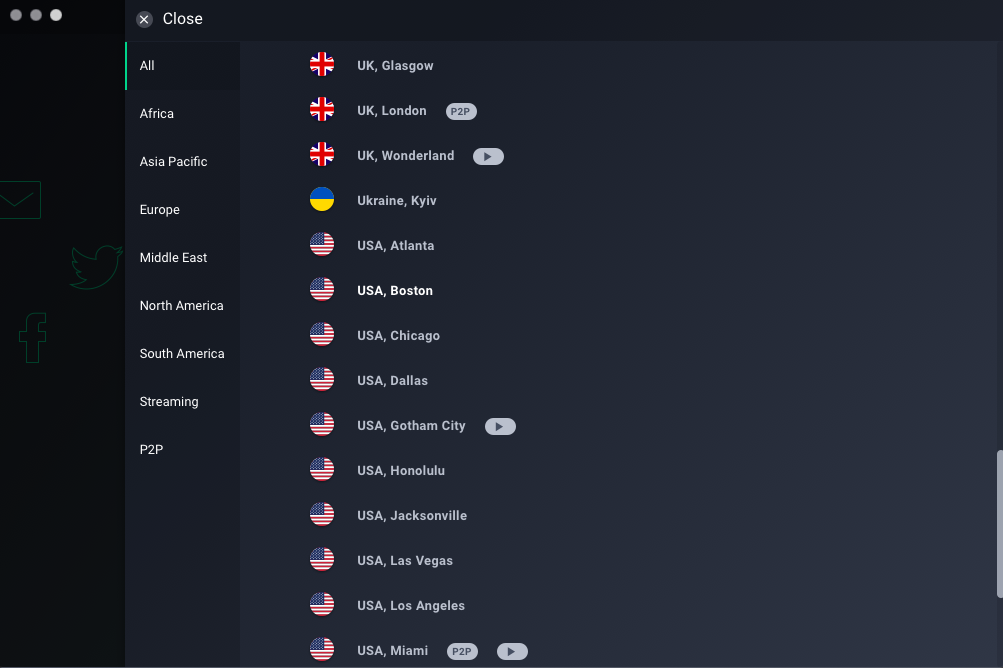 If you keep forgetting to connect to the VPN manually, you can automatically turn the AVG VPN to connect whenever you boot your Mac.

What we think
The AVG VPN tool is the one we like the best. Smooth and intuitive. Very easy to navigate and get used to the interface. We didn't notice any slowdown while using it—the websites loaded as usual, and the AVG VPN didn't cause any system slowdowns.
AVG free tools
AVG Cleaner
How it works
AVG cleaner app can be downloaded from the App Store and comes with two features for free:
Disk Cleaner tool scans for the following:
Downloads
Application Caches
Junk Files
Logs
Trash
Duplicate Finder scans for such copies:
Pictures (obviously, asking for permission to access photos on this Mac first)
Music
Archives (detected duplicated downloads in the Downloads folder)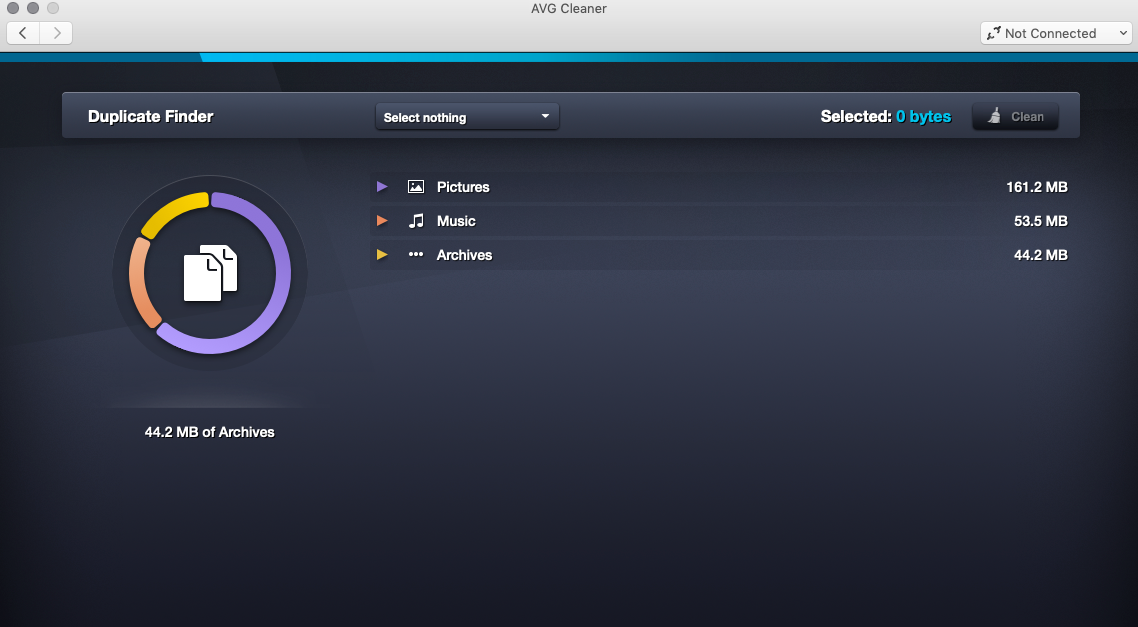 What we think
All in all, AVG Cleaner suggested cleaning 3.82 GBs in the Disk Cleaner section and 258.8 MBs in the Duplicate Finder one. And this is on a regularly cleaned Mac. The scan took less than 20 seconds. What is an advantage in terms of cleaning is that AVG Disk Cleaner offers to clear Application caches, which can free up a significant amount of GBs, especially if you have many apps installed.
It might be a good idea to start with AVG Cleaner free tools before deciding whether a free tool is enough or you need a more advanced cleaning app.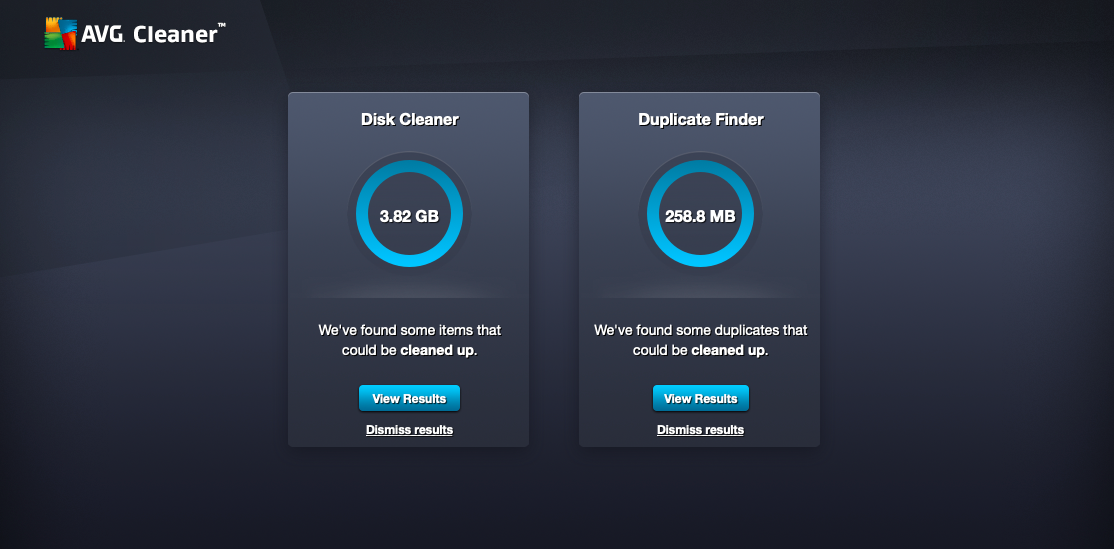 AVG AntiVirus
How it works
AVG AntiVirus comes in for free, offering a limited number of protection features. If you want to have added privacy to your device—you'll need to upgrade to AVG Internet Security.
Let's delve into what AVG free AntiVirus has to offer. Did you know that AVG and Avast antiviruses have a common antivirus protection engine? Back in 2016, Avast acquired AVG Technologies, so they operate as one company.
It took around 40 minutes to scan the whole system. AVG AntiVirus has detected no viruses.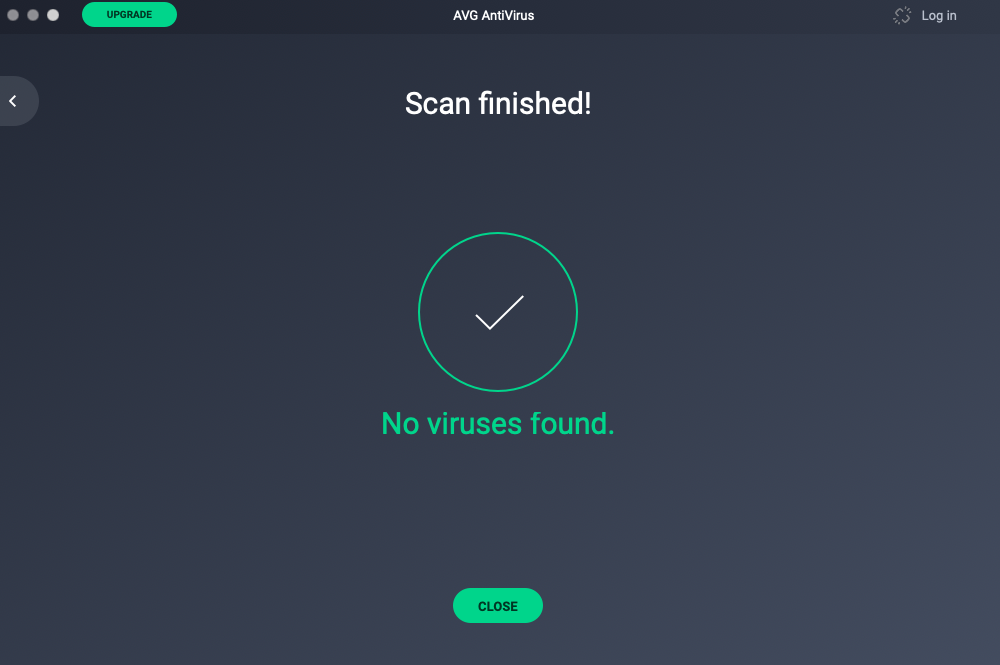 Here's what's included for free:
File shield scans files added to and opened on your computer
Quarantine isolates the detected threats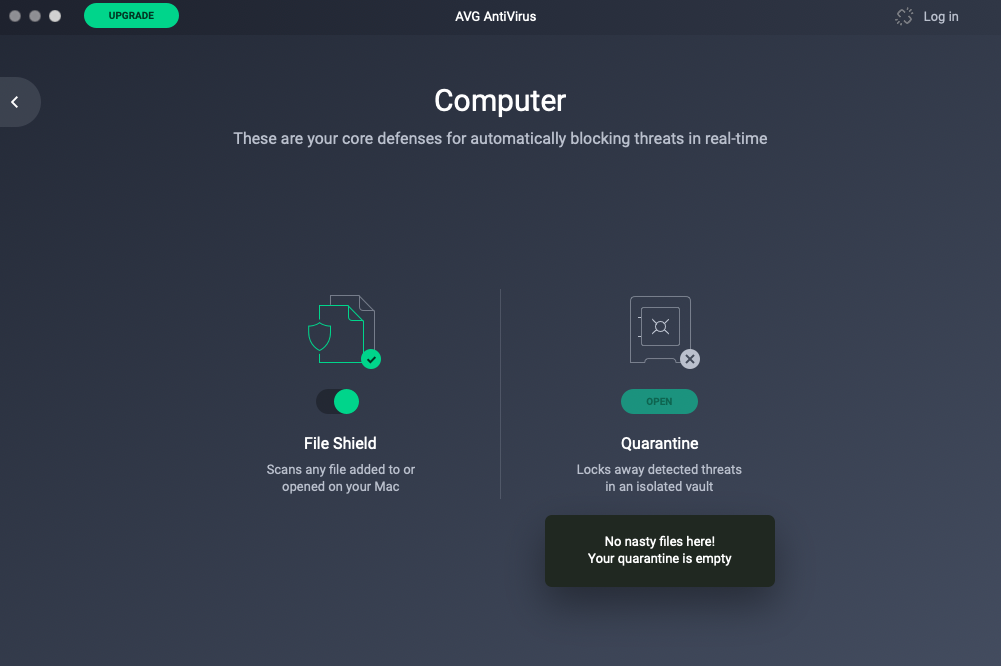 Web shield doesn't allow suspicious download and web attacks
Email Schield prevents your inbox from receiving unsafe emails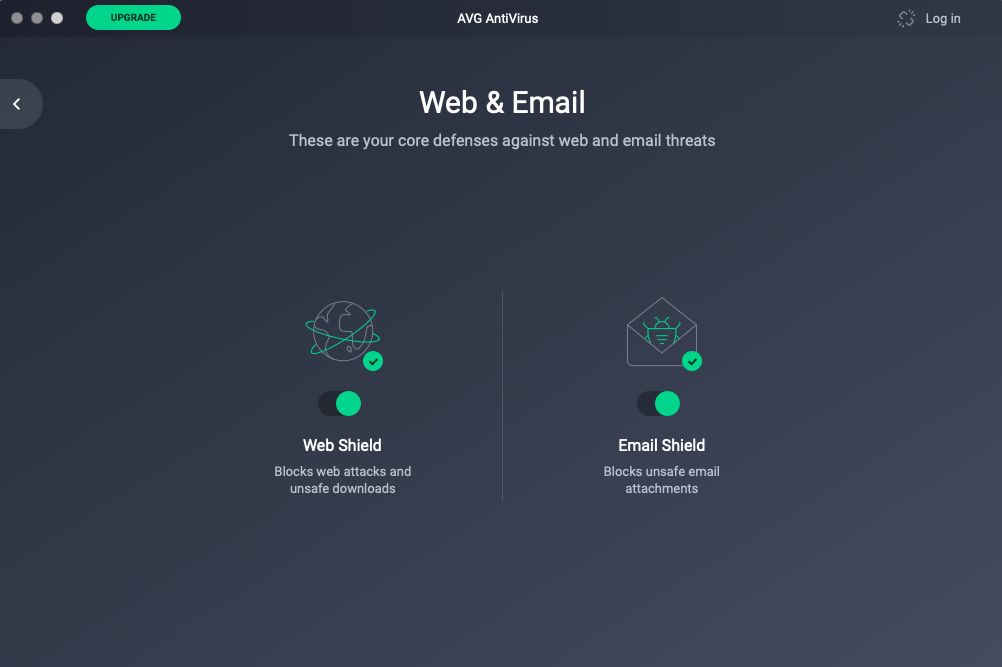 What we think
With Mac being non-immune to viruses—equipping your Mac with antivirus is the least you can do. In the case of AVG, you can just start with the free version. For most Mac users, AVG AntiVirus is enough. Suppose you want to have an advanced protection feature. In that case, you'll need to upgrade your AVG AntiVirus to AVG Internet Security, which can be bought separately or with the AVG Ultimate bundle.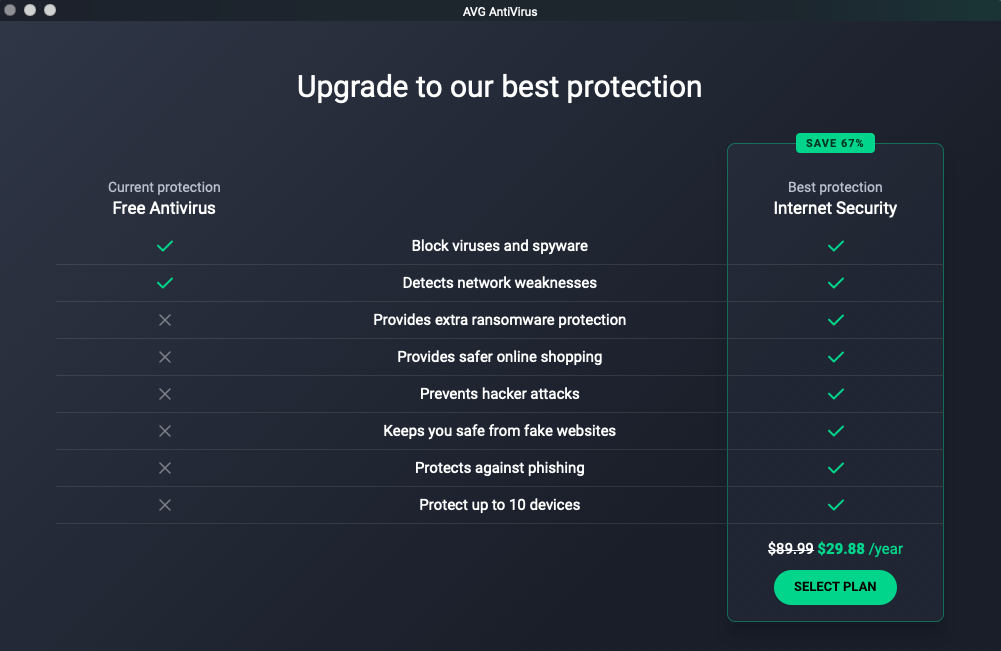 AVG Ultimate vs. MacKeeper 5
MacKeeper 5 is a worthy alternative to AVG—both apps offer a bundled package. Let's take a closer look at AVG and MacKeeper features. We've made a thorough investigation. Here are our results: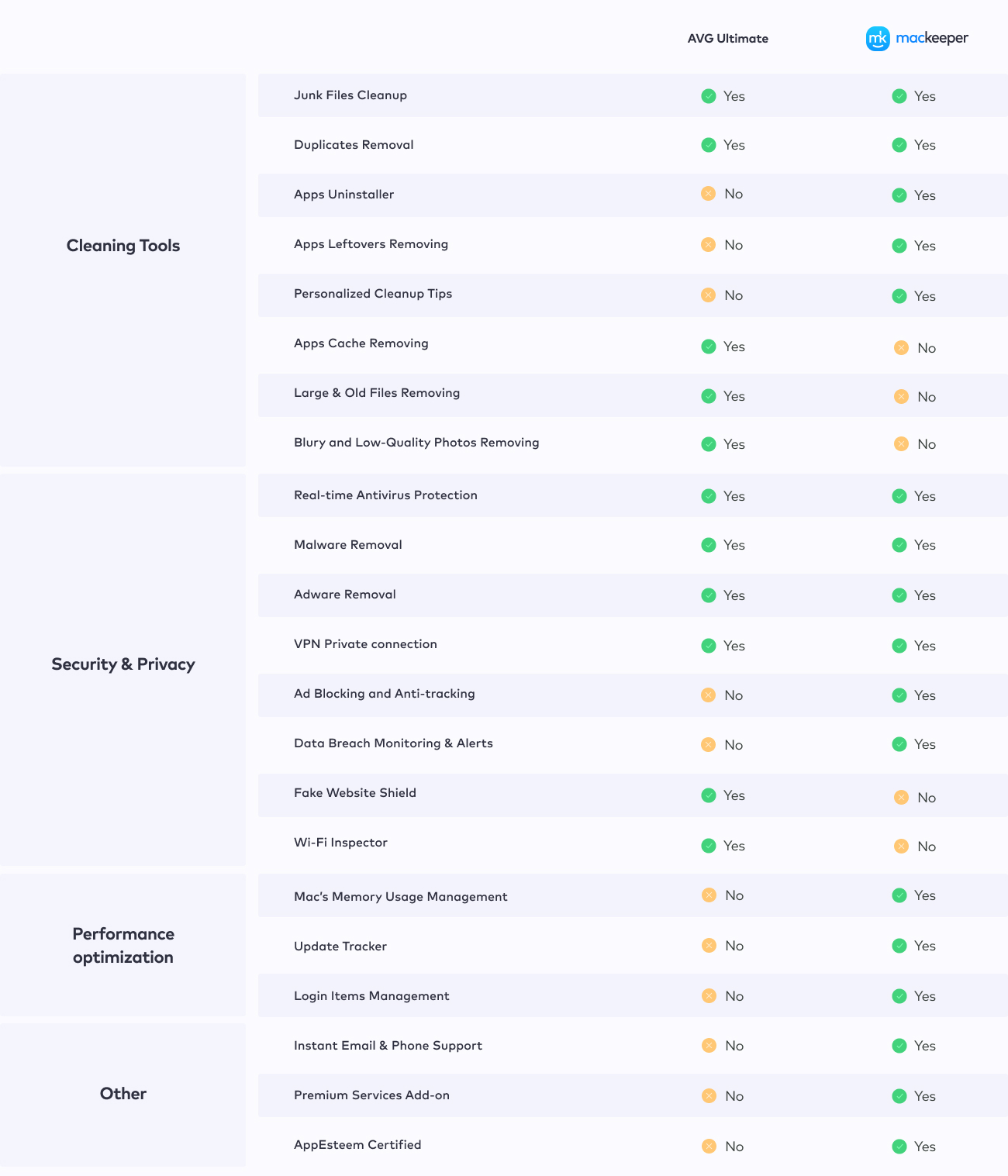 We've also decided to test both AVG TuneUP and MacKeeper to see whether they will show the same results in detecting unused apps. Both apps showed the same results. Check out the screenshots below.


Is AVG Ultimate worth it? (summing up)
It was confusing and time-consuming to download all AVG Ultimate tools separately. If you're okay with using multiple apps—then AVG can be the right choice for you. With AVG Ultimate, you can protect, optimize, and secure not only your Mac but phones and PCs as well. If you have a big family and multi-platform devices—AVG is just for you. What can be a disadvantage, though—no instant phone or email support.
By contrast, MacKeeper will release you from installing multiple apps with its "all in one place" approach. Plus, MacKeeper stands out thanks to Apple notarization, AppEsteem certification, and AV-TEST certification. However, AVG also can boast security awards.
So, if you're a Mac user only—download Mackeeper and give it a try.
Summing up: Activating AVG Ultimate tools on ten devices simultaneously looks like an enticing investment. Just decide if you have those ten devices or whether you need so many tools at once.
FAQ
What do you get with AVG ultimate?
Indeed, you can get lost in the variety of tools offered by AVG. The AVG Ultimate package includes Internet Security and Tuneup tools, an antivirus, and VPN. Note, this doesn't come in one app.
Is it worth paying for AVG?
Activating AVG Ultimate on multiple platforms is a plus. The price seems reasonable if purchased for ten devices.
What is the difference between AVG Internet Security and AVG Ultimate?
The AVG Ultimate includes the AVG Internet Security feature along with VPN and TuneUp features. You can get the security tool apart from the Ultimate package if you're not in search of cleaning, optimization tools, or VPN.
Who owns AVG?
AVG is developed by AVG Technologies, a subsidiary company of Avast. So, it is owned by the Avast Group.
Does AVG protect against malware?
Yes, AVG AntiVirus is designed to function as an anti-malware tool.
Does AVG detect spyware?
Yes, AVG AntiVirus has a 24/7 spyware detector tool to detect and block spyware trying to get onto your Mac.
Is AVG software safe?
Downloading an app from its official website is a good idea to make the usage of it safe.
Does AVG sell your data?
Free antivirus solutions are known for collecting users' data. Avast, the owner of AVG, was spotted in collecting user data. This resulted in Avast's updated privacy policy.