In this article you will find the following:
As our Macs fill up with junk and clutter, available storage can become scarce. When you're struggling for space, identifying unnecessary items on your device can help you formulate a solution.
In some cases, something called Other Volumes in Container will appear in your storage overview in About This Mac. The inexplicable entry doesn't provide many clues to its origin. Fortunately, with our investigation of the problem and tips left, you can identify the source of Other Volumes in Container on your Mac and resolve the issue.
Before we start


If you prefer to avoid tedious troubleshooting, MacKeeper's Safe Cleanup feature can remove unnecessary items from your Mac and help reclaim precious storage space. All you need to do is:

Download and install MacKeeper
Launch the app and select Safe Cleanup
Start the scan and remove any unwanted clutter

That's it. If you'd rather do things the easy way, MacKeeper can help you optimize your Mac and free up space. Try our MacKeeper's app now and approximate your successful deletion of Other Volumes.
How to delete Other Volumes in a Mac Container
If you've examined the other volumes within the container and you see a sizable entry that shouldn't be there, you may be able to delete it. But first, you should back up all important files and ensure that you know the exact purpose of the rogue volume.
Alternatively, if you notice a size issue with one of macOS's essential volumes or can't identify an obvious cause, deleting the culprit isn't an option. Luckily, we have several other suggestions that may help resolve the issue.
Create a new user account
If you don't have an obvious entry to delete, creating a new user account can sometimes resolve glitches that involve other volumes taking up too much space on your Mac.
Here's how to create a new user account in macOS:
Go to System Preferences > Users & Groups
Unlock the Security padlock and click the Plus (+) button
Set account to Administrator, fill in the details, and click Create User.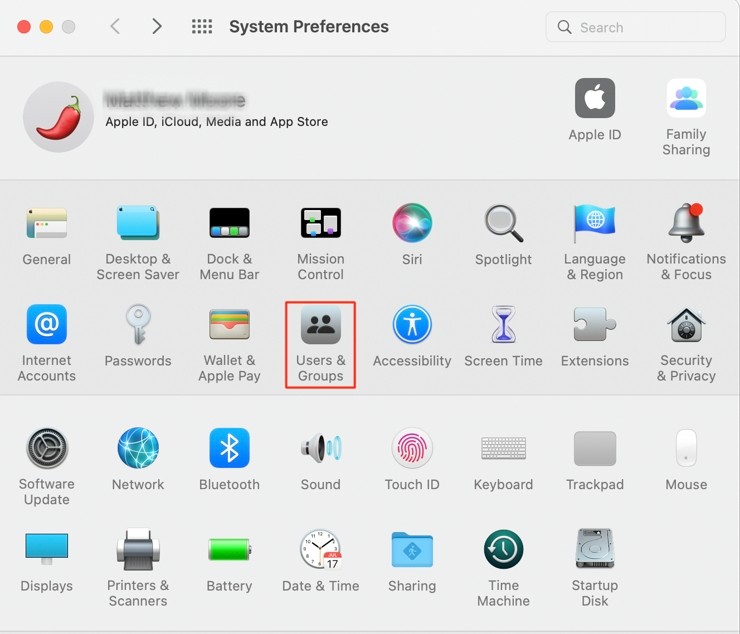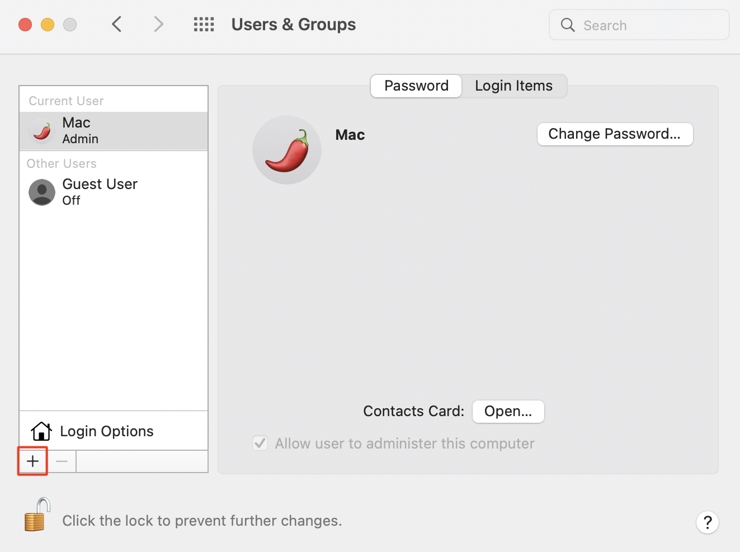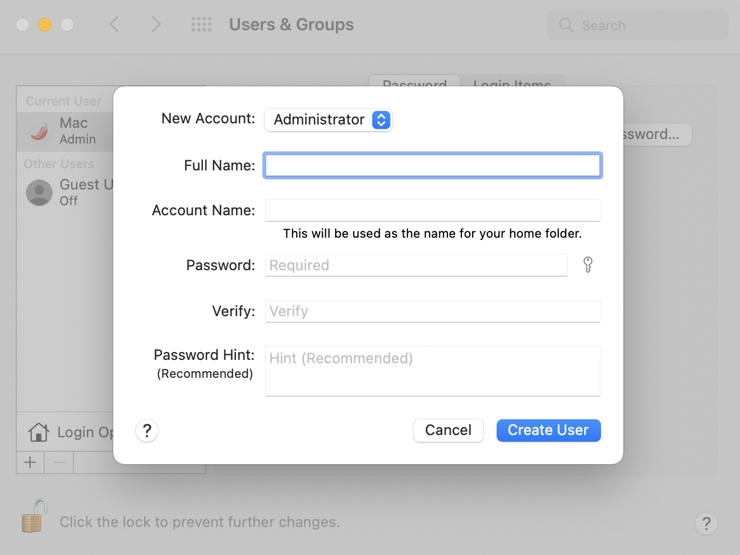 Now you can log out of the current user and into the new account. Once you're logged in, you can check to see if Other Volumes in Container have reduced to a reasonable size. If nothing has changed, you should try restarting your Mac and checking again.
Turn off content caching
Content Caching allows you to store downloaded information, such as software updates and iCloud data, on your Mac for other local devices to access. The feature helps save bandwidth but could contribute to unexpectedly high storage consumption.
Here's how to disable Content Caching in macOS:
Go to System Preferences > Sharing
Untick Content Caching.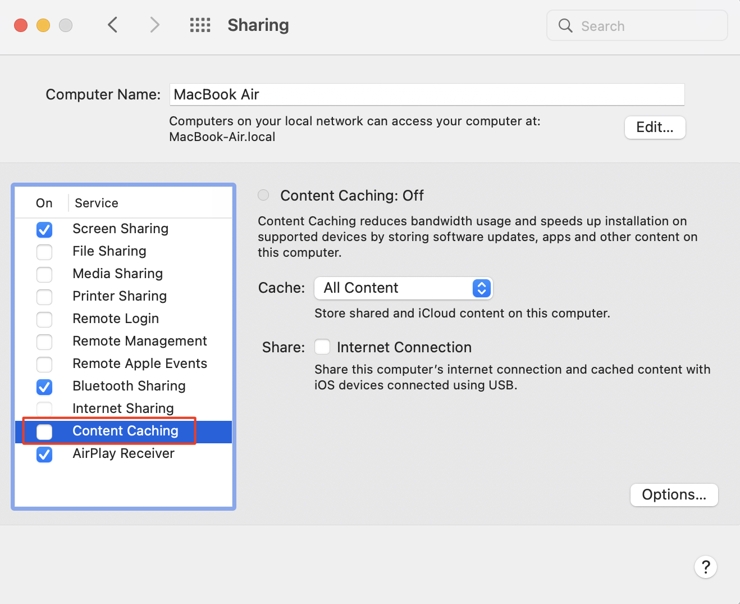 If no immediate changes occur, you should try restarting your Mac and checking again.
Delete an extra APFS volume
If you've positively identified a rogue entry you want to delete — and you've backed up your data — you can use disk utility to remove the unwanted APFS volume from your Mac.
Here's how to delete an extra volume from a container in macOS:
Launch Disk Utility
Click the View icon and select Show All Devices
Identify the volume you want to delete and mount it if necessary
Control-click the entry and select Delete APFS Volume
Click Delete to confirm.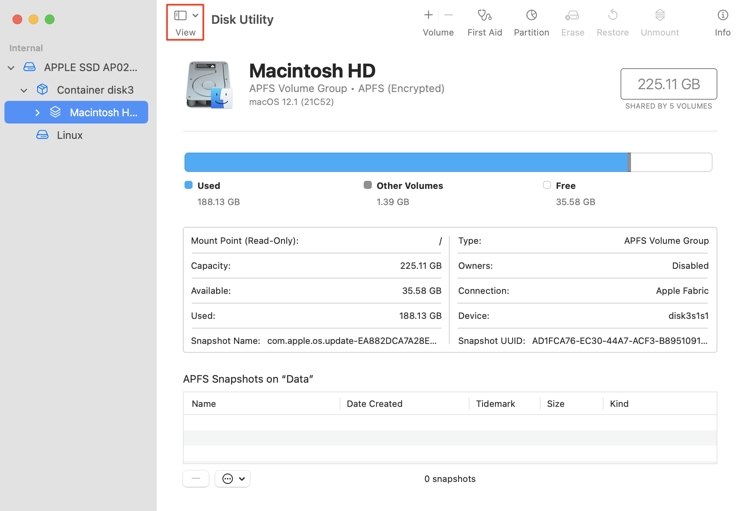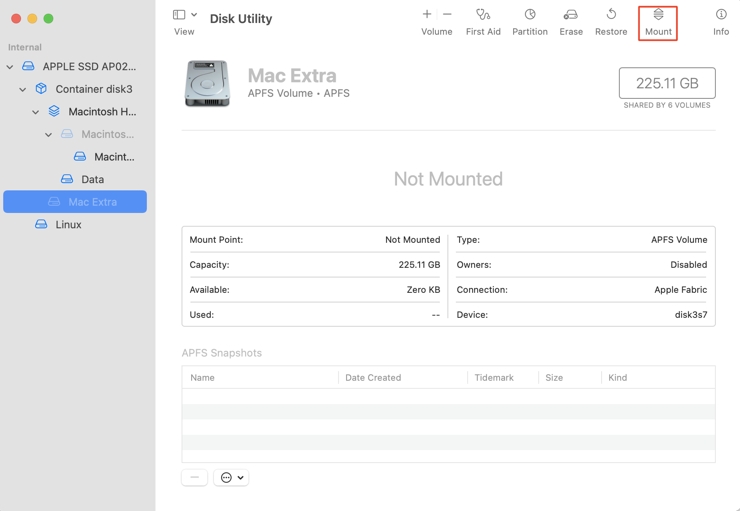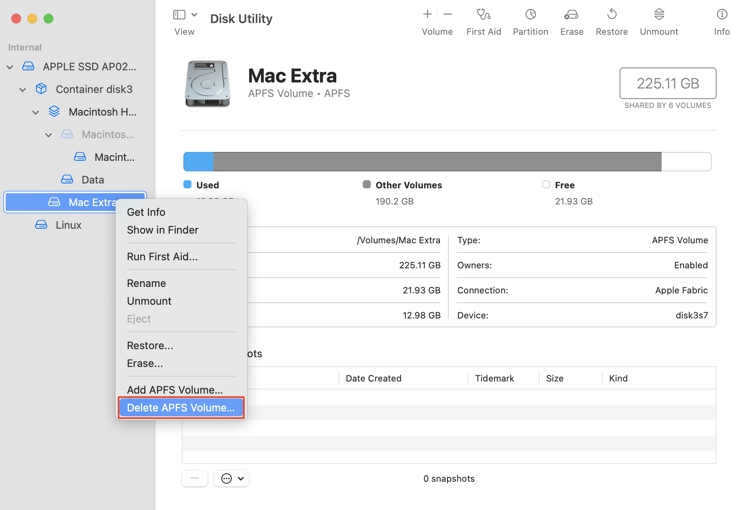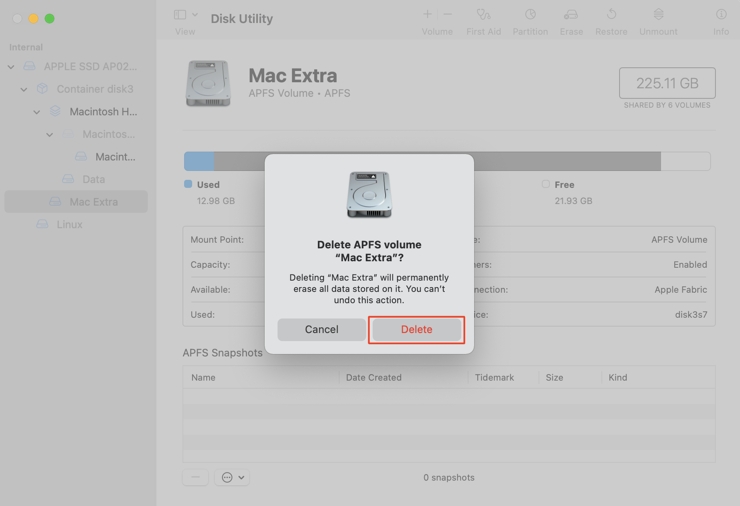 Once the process completes, you can recheck your storage, and macOS should have reclaimed the space.
Erase disk and reinstall macOS
If your Mac is being particularly stubborn with its storage, you can resolve the Other Volumes in Container issue by erasing your hard drive and reinstalling the operating system. This step is a last resort and is rarely necessary. However, sometimes the need for an erase and reinstall does arise.
Here's how to erase your hard drive and reinstall macOS:
Back up your data using Time Machine or another method
Boot to recovery using the process appropriate to your Mac model
Select Disk Utility and click Continue
Click the view icon and select Show All Devices
Select your system volume, usually Macintosh HD
Click Erase, set format to APFS, and click the Erase button
Control-click any old volumes in the container and select Delete APFS Volume to remove them, keeping Macintosh HD
Close Disk Utility, select Reinstall macOS, and complete the installation process.
When the installation completes, you can set up your Mac and check that the issue is resolved before transferring or migrating any data.
Use Mac cleaning software
If you want to avoid all of the tedious steps involved in clearing Other Volumes in Container data, MacKeeper can help clean your system with minimal fuss. The app's Safe Cleanup feature automatically removes the clutter from your Mac, saving you the hassle of manually identifying issues.
Here's how to use MacKeeper to get rid of Other Volumes in a Container on your Mac:
Download and install MacKeeper
Launch the app and select Safe Cleanup in the side menu
Click Start Scan
Select the items you want to remove and click Clean Junk Files.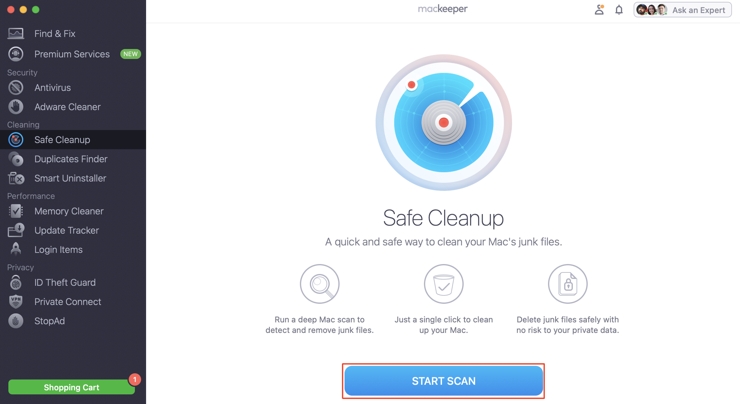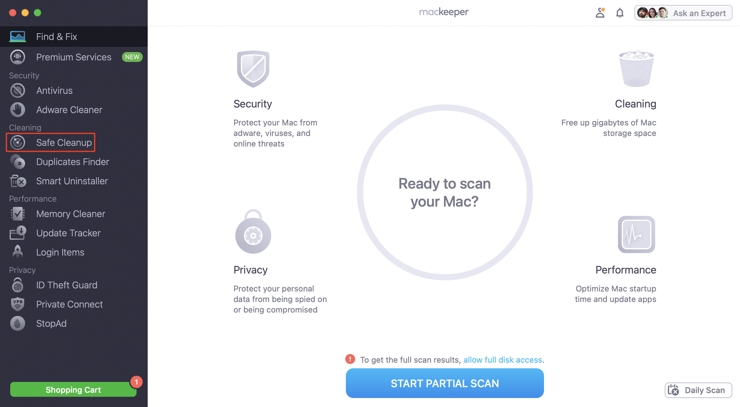 MacKeeper is adept at identifying unnecessary items on your device and removing them with your permission. Safe Cleanup and other optimization tools, such as Memory Cleaner, Duplicates Finder, and Adware Cleaner, keep your Mac running smoothly with minimal effort. Try MacKeeper now, and you'll soon notice the difference.
What are Other Volumes in Container?
In later versions of macOS that use Apple File System (APFS), containers function similarly to partitions. The top level disk may hold several containers, and each container could have multiple volumes within. Other Volumes in Container generally refers to additional invisible volumes macOS needs to function correctly.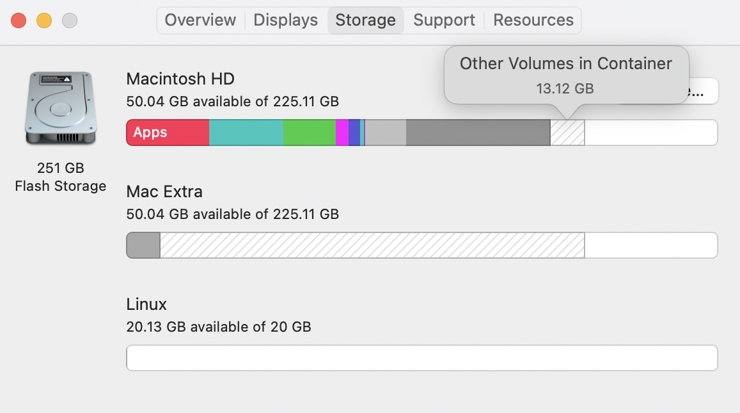 Other Volumes in Container on a Mac include:
Preboot volume assists with the boot up process on Macs using APFS. The size of the volume is generally quite small and shouldn't put a strain on your storage space.
Recovery volume is important for Mac maintenance and repair and shouldn't consume much space within the main container. If the recovery is using excessive storage, there may be an issue.
VM (Virtual Memory) volume is a swap file that allows macOS to use hard drive space like RAM. When memory runs low, the operating system (OS) can utilize VM to keep all processes running smoothly. The volume holds only temporary information and shouldn't permanently retain large amounts of data. Rebooting your Mac to clear out VM and RAM should resolve most issues relating to this feature.
Here's how you can view each volume in a Mac container using Terminal:
Launch Terminal
Type diskutil list and press Return
Read the output under APFS Container Scheme.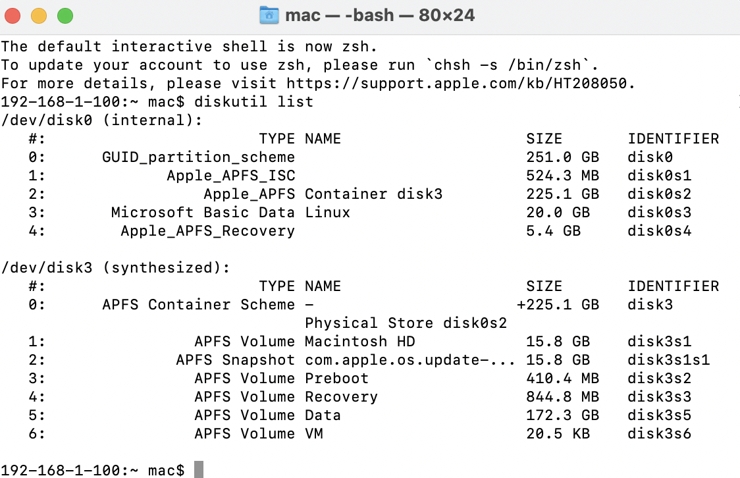 You should see the three previously mentioned volumes — Preboot, Recovery, VM — and your system volume — usually Macintosh HD — accompanied by a snapshot. On top of that, you should see a Data volume that holds all of your additional files.
Your system volume and the accompanying snapshot will be quite large as they hold your entire OS. Data can also contain a massive amount of information, depending on how much you've added to your Mac. However, the other essential volumes shouldn't be holding a lot of data, especially after a fresh reboot.
If Other Volumes are consuming an unusual amount of storage on your Mac or you notice an odd entry in the list, take further steps as our assistance to remedy the issue.
Other Volumes in Container may not need removing
While certain glitches can cause macOS to store excessive amounts of data in other volumes, the issue usually comes with a reasonable explanation. A rogue or forgotten volume may be hogging space, or the storage used is within the expected ranges.
If, however, you're struggling to identify the cause of the issue, utilizing Mac optimization software like MacKeeper can save you a lot of time and effort.
Read more: