In this article you will find the following:
The age-old saying, "Out with the old, in with the new," rings true in many respects. And it applies to software updates on your Mac, too.
Software update files are used to help you update your device's software and apps. After you're done doing that, you have no need for those files anymore. That's why you must delete them.
Doing this also helps you free up space on your device, so it can run more smoothly. While you can delete old software files manually, you can do a more thorough job using dedicated software.
Before we start

MacKeeper's Safe Cleanup tool does an immaculate job at cleaning and optimizing your Mac, and gets the job done fast and safely. All you need to do is download the app, select the Safe Cleanup tool, and your Mac could be clean within minutes.

Open the MacKeeper app on your Mac
Select Safe Cleanup from the menu on the left
Click Clean junk files to clean your Mac.
In this article, we'll show you how to safely delete old software update files on your Mac. Let's get started.
How to delete software update files on Mac
When you update your Mac's software, your device automatically removes old software update files that are no longer supported. That's why updating your Mac's operating system is the easiest way to remove those files.
But we know that some people don't like updating their Mac's software. If you fall into that category, don't worry, you have another option.
Here are all the ways to delete software update files on your Mac:
Via Software update
A software update is usually the answer to many issues on a Mac, including deleting old software files. That's why it's the first solution for deleting old software update files.
Start by going to System Preferences > Software Update. Alternatively, click on the Apple icon > About this Mac. This will show you the software that's currently installed on your Mac
Click on Software Update
Now select Restart Now.
Updating your Mac's operating system can do your device a lot of good. Consider updating it often if it isn't set to do so automatically.
Via Mac Terminal
If your Mac doesn't automatically remove old software file updates for some reason, you have one more option. This solution involves removing old software update files manually using Mac's Terminal program.
Before you proceed, consider reading our helpful Mac Terminal guide first if you aren't familiar with the program, as using it incorrectly can cause damage to your device.
Once you've done that, follow the steps below to get started.
Go to Finder > Applications > Utilities > Terminal
Depending on the macOS version, indicate the downloaded update file that should be deleted. In our case, it's Monterey Update File, and the command to be typed will look the following: sudo rm -rf Install\ macOS\ Monterey.app/
Enter the password if necessary and press Enter to finalize.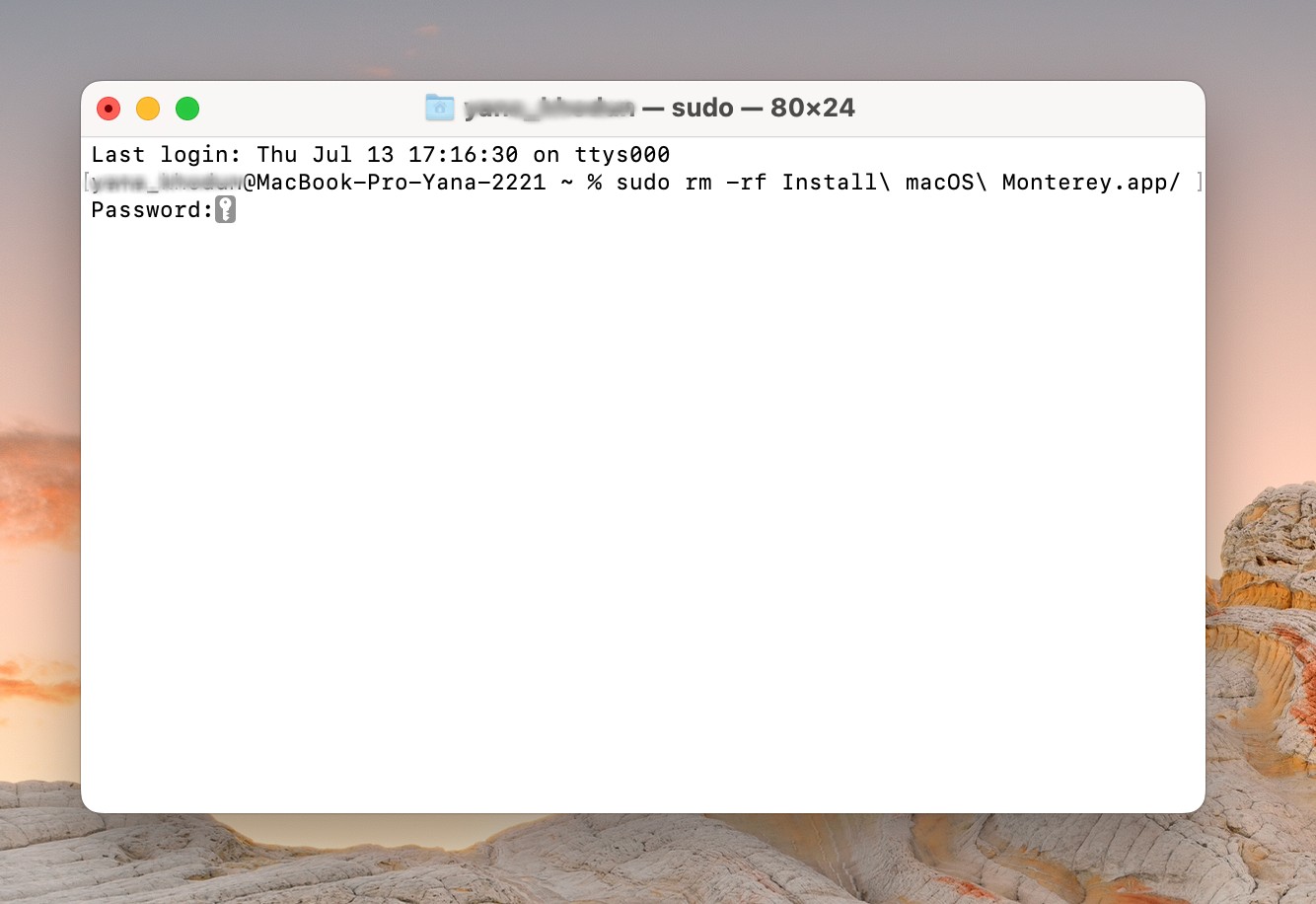 Can you uninstall an iOS update on Mac?
It's both possible and easy to uninstall an iOS update on a Mac. It will also help you free up more space on your Mac, but the process is different from what we've covered.
Click on the Apple icon > About this Mac > Storage tab > Manage
Click on iOS files from the options on the left, then click the Delete button.
In some cases, the iOS files category doesn't appear. There could be a number of reasons why this might be the case.
For example, you could be a new iPhone user, or you probably haven't backed up your iOS files on your Mac. Whatever the reason, you don't have to worry about uninstalling an iOS update in this case.
Is it safe to delete update files on Mac?
It's totally safe to delete update files on your Mac, just as long as you're only removing files you no longer need.
It's also advisable to get rid of any files that are no longer supported by your Mac in order to make sure that everything remains in tip-top condition.
Remove unwanted updates on your Mac
Deleting software update files reduces the clutter on your device and positions it to perform optimally again.
Consider doing this to avoid clogging up your Mac with unnecessary files and keep everything running smoothly.
Delete software updates with MacKeeper
As we previously mentioned, sometimes it's best to let a trusted program do the work for you. If you choose the right one, it'll do a thorough job at deleting files and do it in a fraction of the time it would take you.
When you'd like to delete the recently downloaded update or other redundant files, you need to get rid of the leftover junk that can be located on your Mac, too. As it's usually hidden, our advice is to use a professional tool that can see and delete such files—MacKeeper's Safe Cleanup.
Follow the steps below to get started.
Download and open the MacKeeper app on your Mac
Click on the Safe Cleanup tab on the left
Now click Clean junk files to start cleaning your Mac.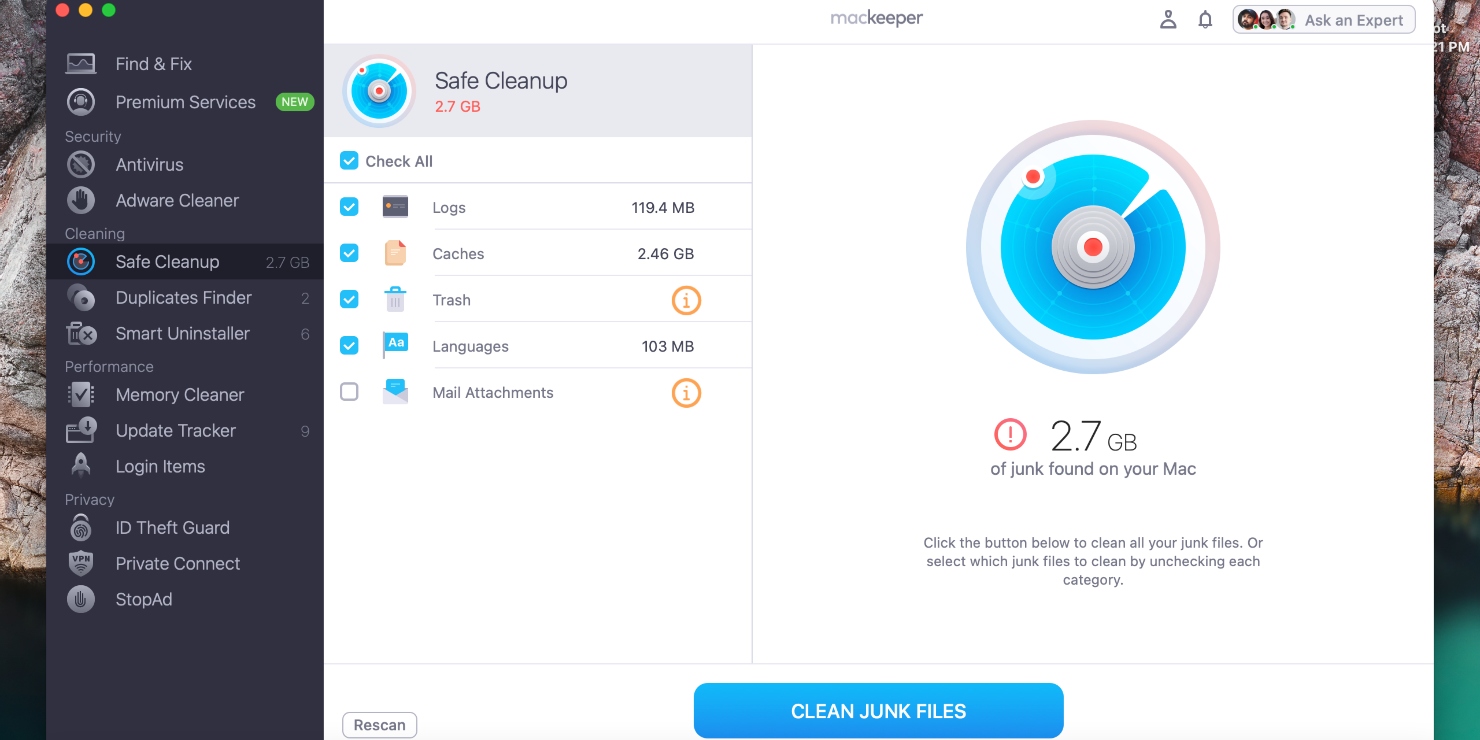 Our experts highly recommend you to repeat this process every time you need to clean your Mac to keep it working optimally.