Photos are important. They capture many of your memories, including some of your most precious moments, so understandably you want to save and keep them for years to come. But before you know it, you have hundreds or even thousands of photos on your Mac's hard drive. And because it's easy to create duplicates, many of them aren't even necessary.

Before we start


If you're not careful, it's easy to end up with tons of duplicate images on your Mac. They take up space and can even slow your Mac down if there are too many.

Finding duplicates manually can be a painstaking process, though, which is what makes MacKeeper's Duplicates Finder so handy. It scans your Mac, looking for duplicate files, so you can easily delete the unwanted copies.

Run MacKeeper, and select Duplicates Finder from the menu on the left

Click Start scan

When the scan is done, select what you want to remove

Click Remove duplicates

This can be a huge timesaver, so it's definitely worth a try. You can download MacKeeper for free, and give it a try. It comes with one free fix, so you see for yourself how effective it is.

So how do you find and delete photos on your Mac? There are few ways to do it, some manual and some automatic. Either way, they'll help you claw back your disk space, giving a Mac a speed bump in the process.
Here what you can try:
How to delete photos from the Photo app on a Mac
The Photos app will display a warning if you attempt to import a picture that's already stored on your Mac or which has an identical name and time created. However, duplicates may be saved with different names and dates to the originals. In that case, Photo won't see them as duplicates and they'll be imported as normal, and you'll have to clear them out manually.
Bear in mind that if your photographs are synchronized with iCloud, the pictures you erase on your Mac will also be removed from other devices connected to that account.
How to delete images from the Photos library on Mac:
Launch the Photos app
Select the pictures you want to delete. To select a photo, click on it once
Alternatively, hold Shift to select a range of photos or Cmd to select multiple individual photos
Right-click on the selected images and select Delete from the drop-down menu, or press the Delete key
Confirm the action and the photos will be sent to Trash. Empty it to delete them permanently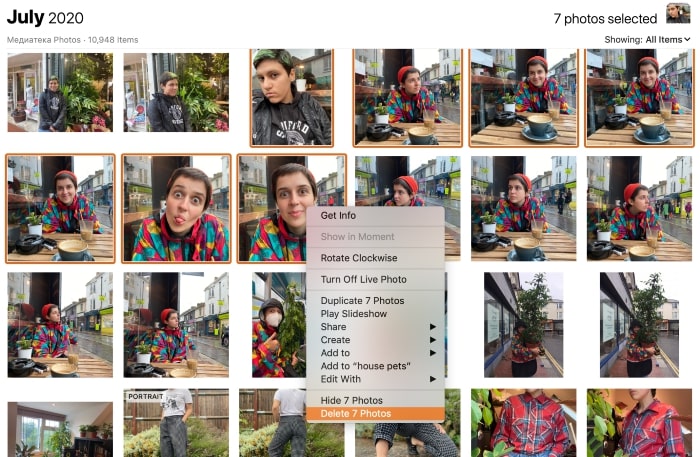 How to delete an entire album in the macOS Photos app
The Photos app collects your pictures into albums that you can find in the left side panel. You can edit and delete any of these albums.
To do that, take the following steps:
Launch Photos
Choose the album you want to erase
Right-click on it and select Delete album from the menu that appears
If you want to skip past the confirmation step, press Cmd + Delete — you'll see the album disappear from the list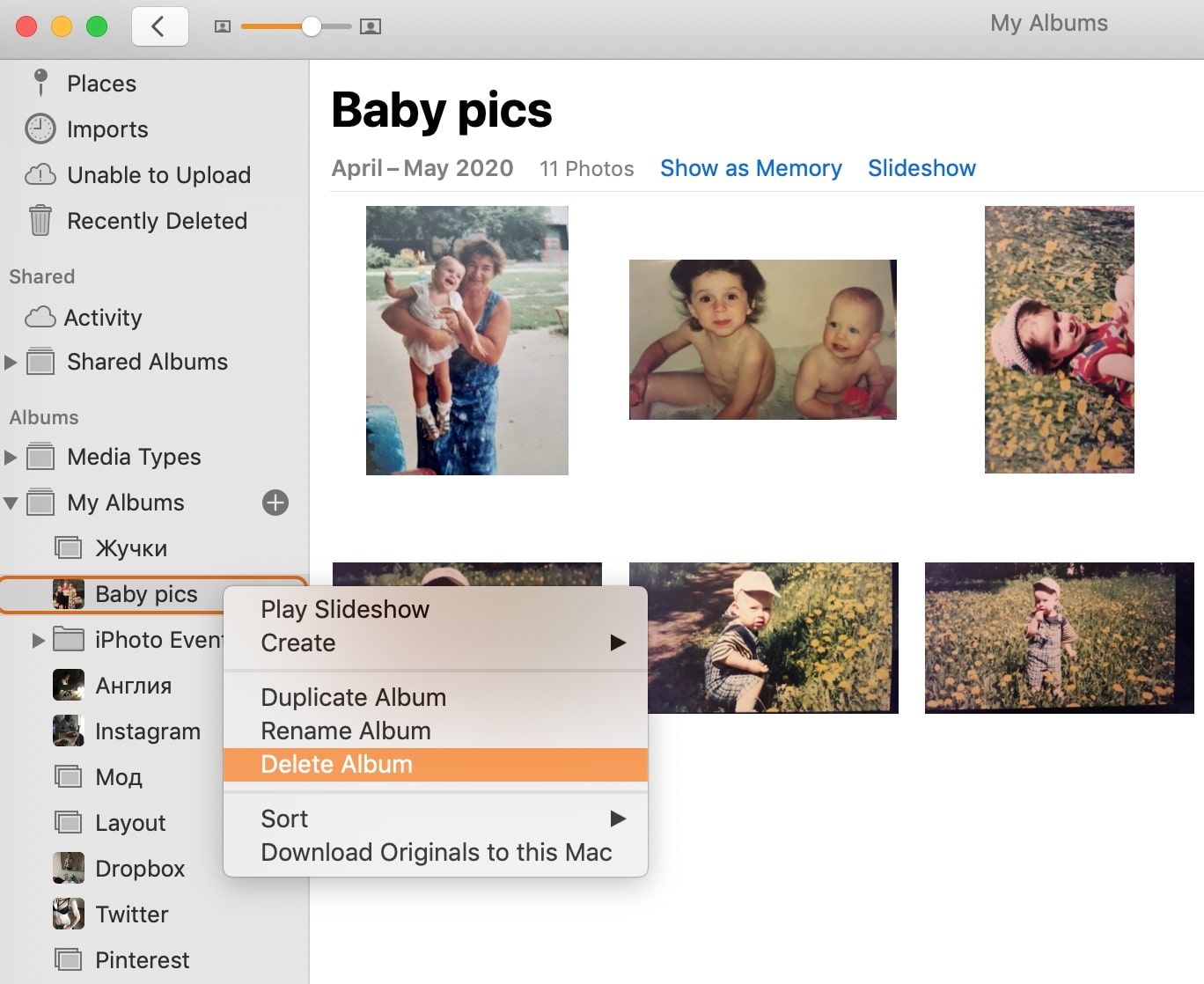 How to delete all photos on your Mac
At times, you might need to delete all the photos you have on your Mac — for example, when you're selling it. Or finally got down to cleaning up your Mac. Thankfully, it's easy to do.
Follow these steps:
Launch ‌Photos‌
Go to ‌Photos‌ in the left pane
Select all photos by pressing Cmd + A
Press Delete
Go to Recently Deleted in the left pane
Click Delete All at the upper right corner of the window
Click OK to confirm
How to recover deleted pictures in the macOS Photos library
If you delete some of your photos by accident, you have 30 days to recover them. After that, they'll be gone forever.
You can find all your deleted images in the Recently Deleted folder in the Photos app:
Launch Photos
Scroll down to the end of the left side panel with all the other albums
In the folder, select the images you want to restore — they'll be marked by a blue checkmark
Click on the Recover button in the top right of the window

How to permanently delete pictures in the Mac Photos app
You can fully wipe photos and videos instead of storing them for 30 days.
To do that, take the following steps:
Launch the Photos app
Go to the Recently Deleted folder
Select all the desired files
Click Delete in the top right of the window to delete them forever

Removing duplicate photos with MacKeeper
Although you can go through all the photos on your Mac manually deleting the ones you don't want, it's not the best way to do it. To be quite frank, it can be a mind-numbingly dull and time-consuming process. And there's always the risk you'll end up deleting shots you actually wanted to keep.
But there is an easier way: you can use MacKeeper. As well as being security and Mac cleaner software, it has a built-in Duplicate Finder, which can help you find and remove duplicate photos with just a few clicks.
Here's how to delete duplicate photos using MacKeeper:
Launch MacKeeper
From the menu on the left, select Duplicates Finder
Click Start Scan, or if you've recently done a scan, Restart
Select all the duplicates you want to delete
Click Remove duplicates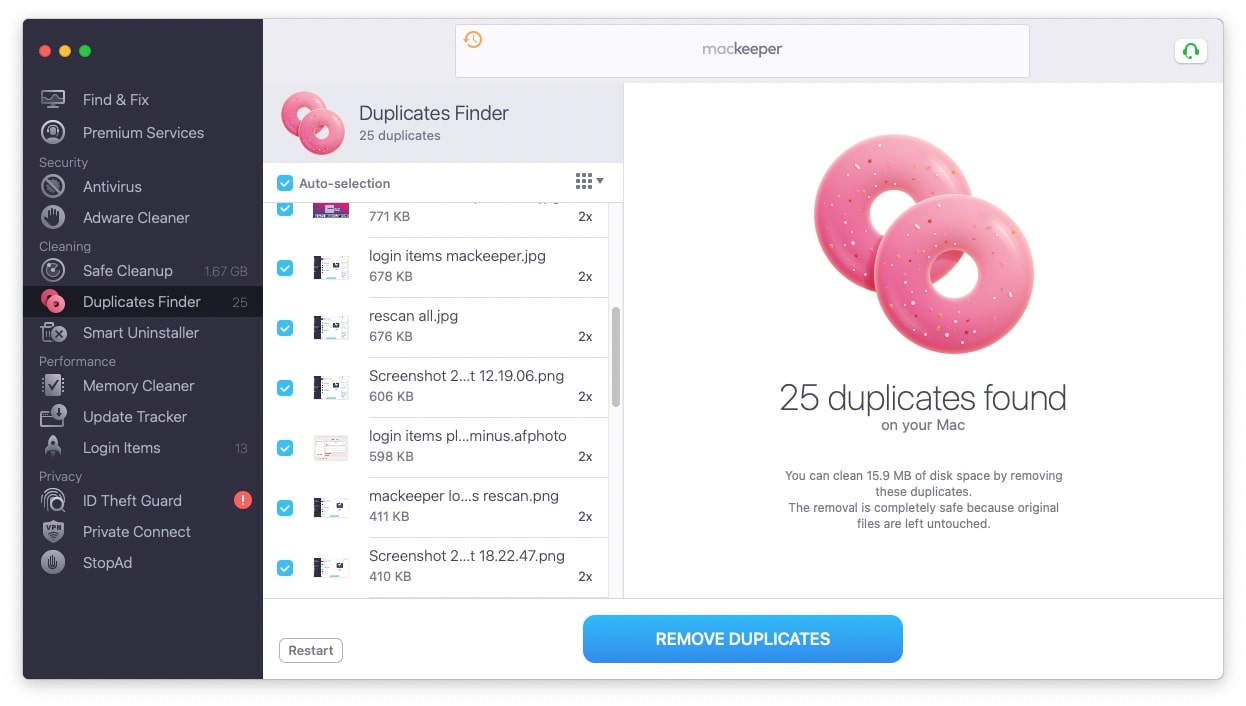 MacKeeper can find identical photos in your library even if they have different names. And it won't erase anything without your permission. It makes finding duplicate photos on your Mac fast and easy, so you can spend less time editing your old memories and more time making new ones.
FAQ
Why can't I delete photos from my Mac?
There are many reasons you can run into this problem. Here are a few things that might fix it:
Restart your computer
Update macOS
Reset the SMC
Reset NVRAM
Launch in Safe Mode
These are just a few of the steps you can take to diagnose and fix problems with your Mac, including with photos.
Can I delete photos on my iPhone and keep them on my Mac?
If your devices are synced through iCloud, deleting a picture from your library on any one of them will also remove it from the others. You can turn off iCloud to store them separately on all devices. When you want to delete photos from your iPhone only, plug it into your Mac with a USB cable and move them manually. Alternatively, use AirDrop to transfer them wirelessly via Bluetooth.
Read more: