macOS 10.13 High Sierra was released in September 2017. You might have a need to install it but many users report problems they encountered while doing it. Let's find out how to avoid these common mishaps.
macOS High Sierra won't download
There's a chance Mac users can get stuck at the very first step. Sometimes the download pauses, or even fails, displaying an error message that says "macOS High Sierra download has failed". Another common error message is "Installation of macOS could not continue. Installation requires downloading important content. That content can't be downloaded at this time. Try again later."
These error messages can appear for several reasons. First, there may be too many High Sierra download attempts happening simultaneously. If this is the case, retry the download later.
Second, it is recommended you switch from Wi-Fi to Ethernet cable to ensure you won't lose the internet connection. Try to download the High Sierra installation file from the AppStore once again. In case the download is paused repeatedly, find the file named "Install MacOS 10.13" on your hard drive, and move it to the Trash. Next, retry downloading from the AppStore.
If you still experience problems with downloading macOS High Sierra, open the AppStore, and click "View My Account". Check if there's anything in "Unfinished Downloads" and restart downloads from there. Log out of the AppStore and check to see if the download restarts.
macOS High Sierra won't install
Normally, once the HighSierra download is completed, you should be prompted to continue the installation. In case this doesn't happen, open the file named "Install macOS 10.13" from your Applications folder. Make sure you have enough disk space, otherwise the installation will fail. Once you free up enough space, retry the installation.
If the error message is displayed at the end of the installation process, restart your Mac and launch it while holding down the Command + R keys. This will run your Mac in Recovery mode where you can resolve the issue and restart again normally. Also, you can revert to your previous macOS version using the Time Machine backup and try the installation again.
Mac fails to start up after High Sierra update
Imagine the worst case scenario, your Mac won't start after you've installed High Sierra. This has actually happened to several users who reported this issue on discussion forums. What should you do if you're faced with the same thing? Try holding down the Command + Option + P + R keys at startup until you hear the chime. This combination resets NVRAM and is widely used as a basic troubleshooting method.
Mac keeps logging you out
Have you ever been suddenly logged out of your Mac? Some users have reported their Macs trying to think for their owners and frequently logging them out of High Sierra. The good news is that there are several solutions available for this problem:
Solution 1: Navigate to Preferences > Security & Privacy > Advanced, and uncheck the Log out after...minutes of inactivity box.
Solution 2: Navigate to Security & Privacy, select General, and uncheck the Require password after sleep screen or screen saver begins box. Remember, by doing this you put your Mac at risk since it is no longer password-protected.
Solution 3: High Sierra can log you out while using a third-party browser. In case you use Chrome, navigate to its settings. Next, click Advanced at the bottom of the screen, and turn off the Hardware Acceleration feature.
Some apps won't work in macOS High Sierra
Application compatibility is another possible problem after the High Sierra upgrade. This usually happens to outdated third-party apps.
If you find the app no longer works in macOS High Sierra, try to check for available software updates. A great idea is to visit the official developer's website for updates or tips on how to get your app running smoothly. Note that outdated software may no longer be compatible with macOS High Sierra. The only possible solution here is to consider purchasing a newer software version or to find an alternate app.
The list below contains popular apps that are no longer supported in macOS High Sierra:
Mac slows down after High Sierra upgrade
In case you feel your Mac is now ten times slower after the upgrade, try some troubleshooting tips. It may sound obvious, but first you should try to restart your Mac to see if that helps.

Open the Activity Monitor (Applications > Utilities) and find apps that take up most of your memory. Next, simply force quit these apps by highlighting them and pressing the greyed out X icon.

Deleting cache files is also a great idea. We also recommend running the Repair Disk tool from Disk Utility (Applications > Utilities).
MacBook battery problem
Some users complain of a shorter battery life after updating. If your MacBook battery drains faster after installing High Sierra, try checking for the cause. You can find "battery killers" in the Energy tab of the Activity Monitor. There you can see how much energy running apps are consuming. Learn more about checking battery status.
Mail app issues
Lots of High Sierra users report issues with Yahoo mail accounts. For some reason, High Sierra displays the message "The IMAP command UID COPY (to Trash) failed for the mailbox INBOX with server error: UID COPY Command is not valid in this state". To fix that, you'll need to delete your email account from the Mail app, and then add it back manually.
In addition, some users claim they no longer receive notification banners when they get a new email. There's an easy way to handle this issue: go to System Preferences > Notifications, and change the Alert style from Banner to Alert.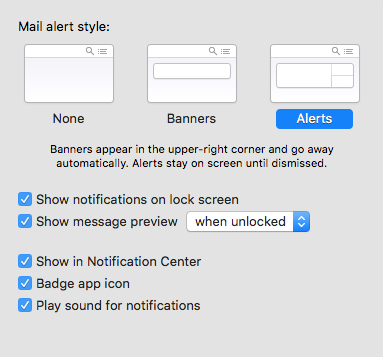 We'll keep this article updated to cover more High Sierra issues and find all possible solutions.