Updated: June 03, 2020 | 10 min read
How to Repair Your Mac's Hard Drive with Disk Utility
Before we start

There can be multiple reasons for poor Mac performance. However, this bad performance may itself cause more severe problems for your Mac in the future. This is why, before you start any modifications to your hard drive, you should make sure there is no other reason for its slowdown.

Download MacKeeper app and find the real reason for Mac slowdown and eliminate it with minimal effort.
Fixing hard drive with Disk Utility
If you're sure that problems with your Mac are caused by your hard drive, you can use Disk Utility, a built-in macOS diagnostic and recovery tool, to quickly fix your Macintosh.
Run it to repair your startup drive when you notice one of these hard drive failure warning signs:
Unexpected application crashes and disk errors
Malfunction of your external drive, USB stick, or a mouse
Corrupted access to specific files
Improper Mac startup
Strange humming, scratching, or clicking noises coming from your hard drive
In this article, we will figure out:
Step-by-step disk repair using Disk Utility
If you've ever faced any of the problems mentioned above, then it's time to give your drive a tune-up.
With the help of Disk Utility, you will be able to save a corrupted HDD or SSD on your MacBook. However, if your drive is totally failing, the best option would be to back up all your data and get a new disk.
In a nutshell, this is how you can repair Mac HD using Disk Utility:

Reboot your Mac
Hold Command + R while your Mac is restarting
Go to macOS Utilities menu and select Disk Utility
Select the disks you want to fix
Click First Aid or Run to repair them
Further, we'll explain these steps in detail so be sure to read on. Anyway, the process is pretty easy. All you need is to follow the instructions below to repair your Macintosh disk.
Step 1
To repair your hard drive with Disk Utility, first, you need to restart your Mac. Just click the Apple logo in the top left corner of your screen and select Restart.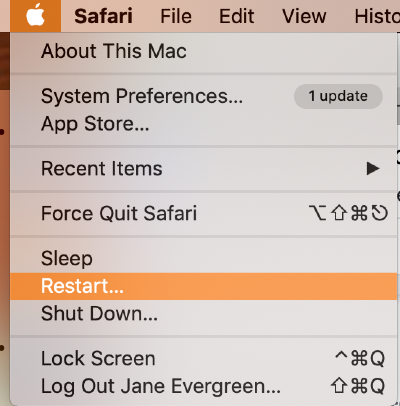 Step 2
All the magic begins once you hear the startup chime. Press and hold down Command + R keys until you see the Apple logo.
Step 3
Next, select the Disk Utility tool in the new window and click Continue.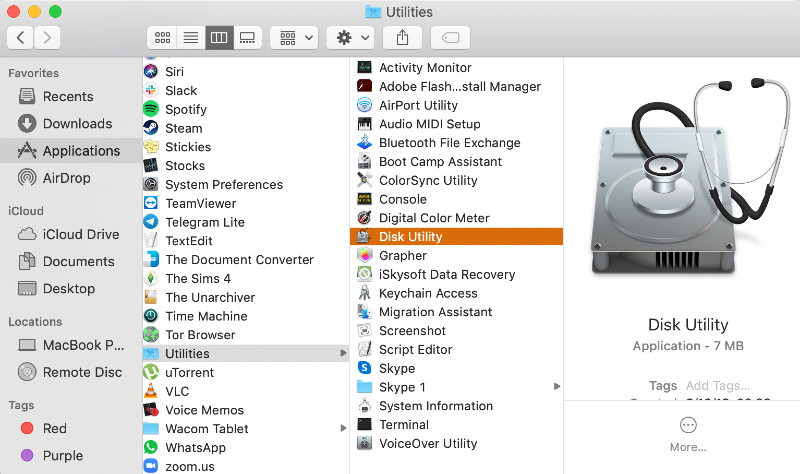 Now we are all set up and ready to repair a hard drive on a Mac, and the best and most efficient way to do so is to fix Volumes, then Containers, then Disks.
Step 4
If you have more than one storage device you can choose to display them by selecting View from the toolbar and click Show All Devices.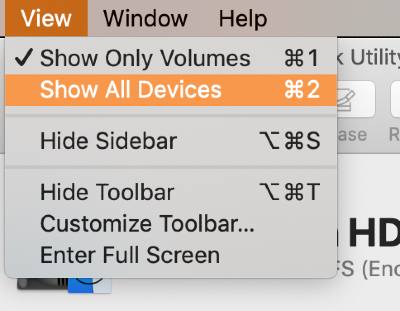 By doing so the sidebar should show all your available disks or other storage devices with your startup disk at the top.

Step 5
Beneath each disk, you should see all its containers and volumes. For each disk you are repairing we will start by selecting the last volume and click the First Aid button to repair your Macintosh.
Instead of the First Aid button, some people might have a Run button. In fact, they are the same. Just click whatever your MacBook has
If the button is greyed out and you can't click it, then skip this volume and go for the next one
If your disk is protected by a password, all you need to do is to enter your administrator password (here's what to do if you forgot it)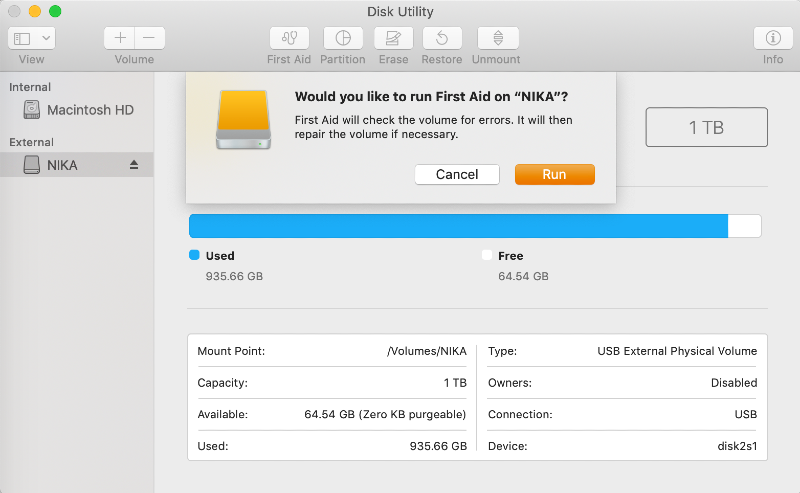 ٍStep 6
Once you finish repairing a certain volume, select the next item above it and keep moving up the list for each volume in the disk.
Step 7
After you finish repairing all the volumes in the disk, run First Aid again for every container.
Step 8
Keep doing so until you finish all the containers. Further, it's time to run First Aid for the disk itself, and we are done.
What's next?
Now, all you need to do is to just wait until Mac Disk Utility finishes the repair, and results are displayed on the screen.
If you are lucky, Disk Utility will show you one of the following messages: "The disk appears to be OK" or "The disk has been repaired".
If you are not so lucky, then it's time to fix some errors and that's what we will go through in the next section.
The most common disk errors
Sadly, some might encounter errors, and in this section, we will go through some of the widespread problems you might face while repairing your Mac disk.
1. Your disk doesn't appear in Disk Utility
If you can't see your disk or volumes in Disk Utility, you can follow these steps:
Shut down your Mac and start unplugging all nonessential devices from your computer
If you are trying to repair an external disk, make sure the cable is good and connected directly to your Macintosh, then restart your Mac
If you still can't see your drive in Disk Utility, then you need to contact Apple Support
2. You get overlapped extent allocation errors
This error means that two or more files are occupying the same space on your drive, and at least one of them is corrupted.
You can fix this error by checking each file in the list of affected files. Most of them will have aliases in the DamagedFiles folder at the top of your drive.
If you can replace the file or recreate it, then just delete it
If the file contains important information, open the file and examine its data to make sure it's not corrupted
3. Disk Utility shows your startup drive is about to fail
In a worst-case scenario, the Disk Utility scan will let you know that your current hard drive is failing. In this case, we recommend backing up all your important files. Next, take your Mac to an authorized repair service or the local Apple Store as soon as possible.
4. Disk Utility suggests running diagnostics
Sometimes repairing disk utility doesn't go smoothly and Disk Utility tells you about a certain task failure. In this case, you can try to repair the same disk once again.
If it still doesn't help, back up your important data and try to reformat your hard drive, reinstall macOS, and restore your data when you're up and running.
Note: Only advanced macOS users should try disk reformatting and reinstalling macOS. If you don't consider yourself tech-savvy enough, you'd better take your Mac to the local Apple Store or an authorized service provider for further assistance.
FAQ
What happens when you repair disk on a MacBook Pro
Using Disk Utility to repair your Macintosh will:
Format and manage your disk volumes
Create a disk image, which is a single file that you can use to backup and archive your work or for simply transfer your files from one Mac to another
Check and repair errors on your Macintosh
Boost your Mac performance by combining multiple hard disks into a raid set
How long does the Disk Utility repair take?
There are a few factors that determine the speed of your scan and fix such as:
How large your disk is
How many files you have and how corrupted they are
How much RAM you have
However, if you are looking for an approximate answer, then every 1 TB of memory can take up to 90 minutes of repairing.
How to protect a disk from failure and keep your Mac healthy
Back up your data
Regularly use the Mac HD Disk Utility Repair tool
Reduce data load, in other words, remove all unwanted or unused files
Install an anti-malware software
Keep your desktop clean, as having a lot of files will slow down your Mac
Shut down all unused apps especially the ones that run in the background
MacKeeper can help you easily deal with most of these tasks. Try it today!
In the end, we really hope your hard drive will serve you well and you'll never face anything described in this post. And just in case you do, you know how to fix it.