You might need to repair your Mac disk if your computer won't start up, apps keep freezing, you can't open certain documents, or the performance has slowed to a halt. Luckily, Apple includes a handy tool you can use to repair your Mac: Disk Utility.
In this guide, we'll show you how to use Disk Utility to run First Aid and repair any disks connected to your Mac.

Before we start


It isn't always easy to diagnose a problem with your Mac disk, be it an HDD or an SSD. Lots of the same symptoms can be caused by other problems, like a lack of storage or a malware infection.

Install MacKeeper to scan your Mac, fixing any existing issues and ruling out other potential problems before trying to repair the disk.
What is Disk Utility First Aid?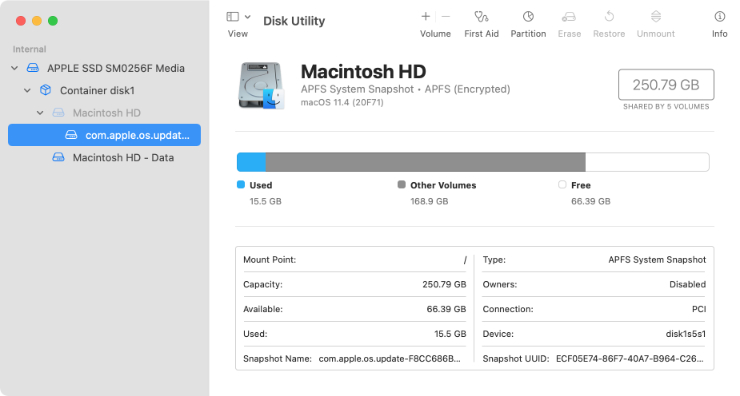 Disk Utility comes pre-installed on every Mac, and offers a way to manage and repair the various disks you might use: startup disks, storage volumes, and even external drives. You can use Disk Utility to partition, restore, or format different disks.
You can also use Disk Utility to run First Aid, repairing various problems affecting your Mac's disk. It's one of the key apps for a faster Mac.
These issues could range from corrupt data to formatting issues, to bad directory structures. But all you really need to know is that Disk Utility will scan the entire disk to find and repair these issues, which can affect your Mac's performance if untreated.
How to repair disk on your Mac with Disk Utility
At its essence, Mac disk repair is as simple as opening the Disk Utility application, selecting a disk, and running First Aid. But before you jump in, there are a few other steps you need to take to protect yourself from data loss.
Some of these steps involve powering off your Mac, so you might want to print off or load these instructions on a separate device before continuing.
You should also set aside a decent amount of time. Repairing a healthy disk on your Mac only takes about five minutes. But if your disk is damaged or corrupt in any way, carrying out First Aid on it could take a couple of hours instead.
Step 1. Back up your Mac
Even though you're repairing the disk on your Mac, if the repair fails it can actually leave your disk worse off than before you started. For this reason, we strongly urge you to back up all the data on your Mac before starting.
If problems with your disk prevent you from booting up your Mac, you won't be able to make a backup first. Unfortunately, in this case, you'll need to rely on any pre-existing Mac backups — if you have one.
Step 2. Boot your Mac into Recovery Mode
If you need to repair the startup disk on your Mac, you'll need to boot into Recovery Mode first. This is because you can't repair the startup disk while your Mac is using it to run macOS. Booting into Recovery Mode allows you to get around this by using a separate partition to run macOS.
First, you need to find out if your Mac runs on Apple Silicon, like the M1 chip, or an Intel processor, found in older Mac models.
To check this, open the Apple menu in the top-left corner of the screen and select About This Mac. Beneath your Mac model name in the window that appears, it should say either Chip (for Apple Silicon models) or Processor (for Intel models).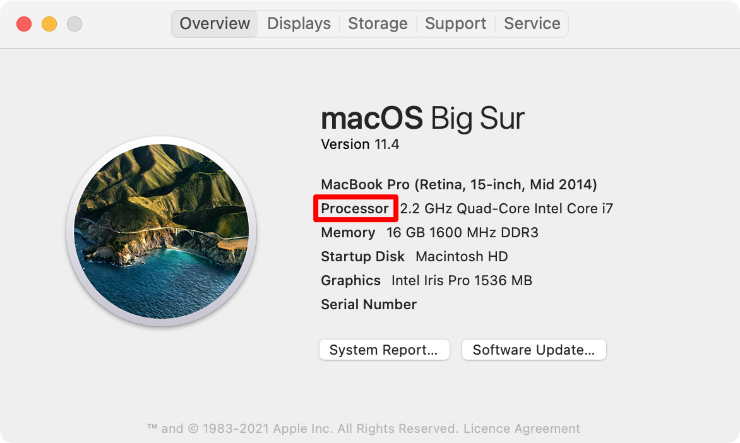 How to boot into Recovery Mode on an Apple Silicon Mac:
Shut down your Mac and wait for it to finish powering off
Now restart your Mac by pressing the Power button, but keep holding the button down until you see a page of startup options appear
Click Options, then choose to Continue
If prompted, use an administrator password to log in to your user account
How to boot into Recovery Mode on an Intel-powered Mac:
Shut down your Mac and wait for it to finish powering off
Restart your Mac by pressing the Power button, then immediately press and hold Cmd + R
Keep holding both keys until the macOS Recovery screen appears
If prompted, use an administrator password to log in to your user account
If recovery mode doesn't work, there might be a simple fix, but it could also indicate a hardware problem.
Step 3. Select your disk and run First Aid
From the Recovery Mode screen, click to open Disk Utility. If you can't see it, go to Utilities > Disk Utility from the menu bar.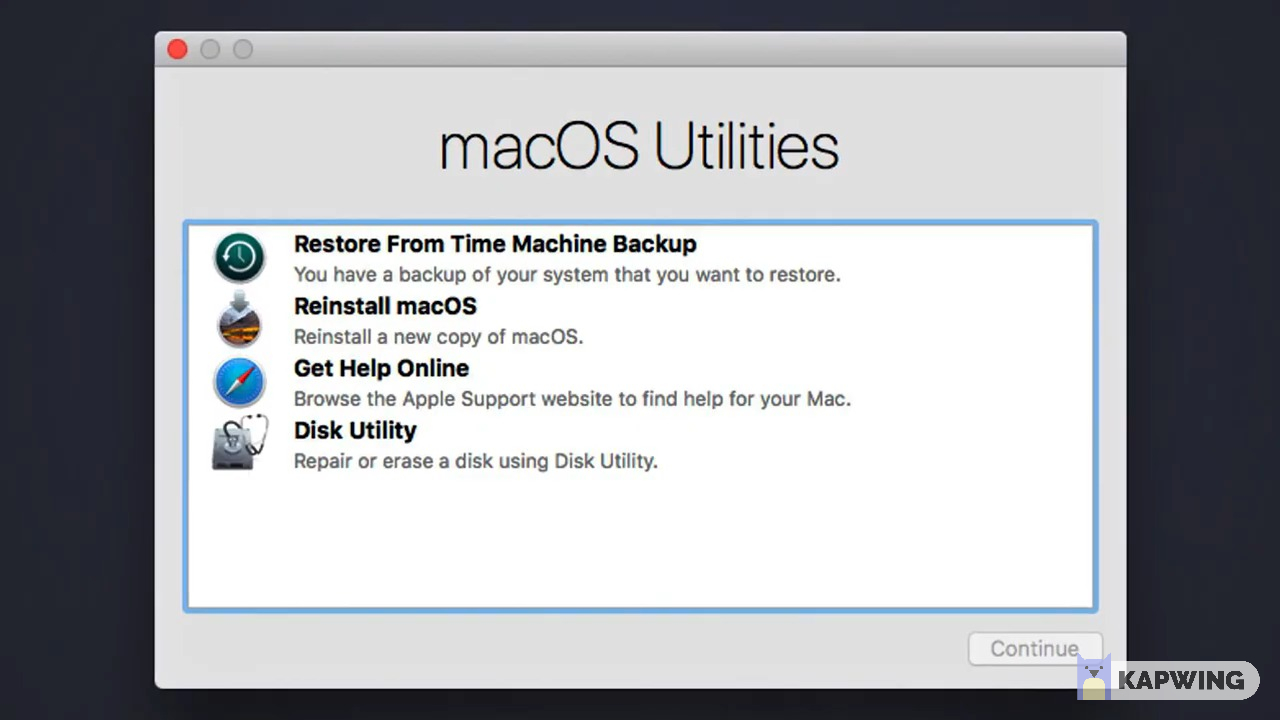 When Disk Utility opens, select View > Show All Devices from the menu bar, if it's available. This will show all the disks, containers, and volumes connected to your Mac in the sidebar on the left.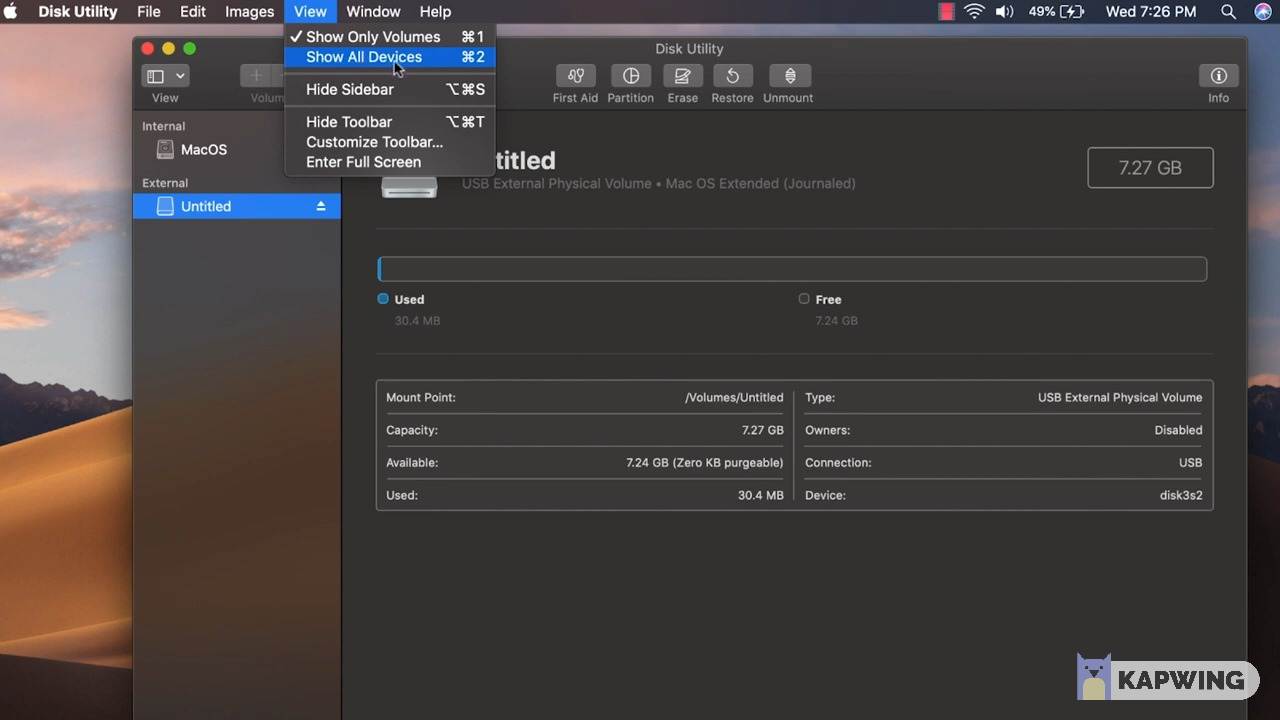 Containers and volumes appear nested inside each disk in the sidebar. It goes, Disk > Container > Volume, with each level nested inside the previous one.
When repairing a disk on your Mac, you need to start by repairing all the volumes inside it first, then containers holding those volumes, and finally you can repair the disk itself.
Follow these steps to repair the volumes, containers, and disks on your Mac:
Select a volume, container, or disk from the sidebar in Disk Utility. Start with the bottom volume and work your way up before moving to the containers and the disk
At the top of the Disk Utility, click the First Aid button and choose to Run it. If you can't see a Run button, click Repair Disk instead. You may need to enter your administrator password
When First Aid is complete, click Done and repeat these steps for the next volume, container, or disk
When you've finished repairing all the disks on your Mac, go to Apple > Restart from the menu bar and restart your Mac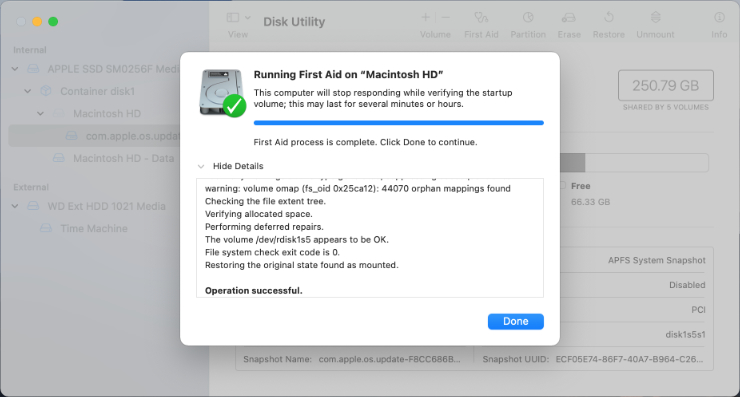 What to do if Disk Utility can't repair your Mac disk
When the First Aid process is finished, you'll see a report telling you if it was successful or not. Most of the time, you'll see a big green check and you'll know the repair went well. But on occasion, First Aid might spit out a list of unfixable errors with your Mac disk instead.
Luckily, there are still a few Mac disk repair tricks you can use when this happens.
If using an external disk, check the connection
You might be unable to repair the disk inside an external drive if your Mac doesn't have a good connection. This can happen if the cable isn't pushed in all the way, if there's fluff in the port, or if there's damage to the cable, port, or drive.
Shut down your Mac and unplug all the unnecessary accessories, then test the cable and port for your drive using a different device before trying to repair it again. If that fails, try using a different cable, port, or even a different Mac.
Format and erase your disk
When First Aid can't repair a disk in your Mac, you might need to reformat it to get it working again. Formatting a disk erases all the data from it, which is why it's so important to make a backup before starting this process.
If you're happy to erase your data, follow this guide to format your disk and reset your Mac. When you've done that, restore your backup to get all your data back.
Use a third-party disk repair app
We already explained how MacKeeper can fix other issues that look like disk problems, but if that doesn't help, there are other third-party apps you can use to repair your disk if Disk Utility fails you.
Most of these apps come at a premium price, but if it's between that and losing your data, you might want to give them a go. Here are some of the most popular disk repair apps available:
If all else feels, seek a physical repair
It's entirely possible that you're experiencing problems with your Mac because of a physical problem with its disk. This might be the result of liquid damage or a hard knock, but disks can also stop working as they age over time.
If the Mac disk repair instructions we gave above haven't helped, it's time to look at a hardware repair instead. Book an appointment at your nearest Apple Store or with an Apple Authorized Service Professional to diagnose your problem and find out your options.
Read more: