Before we start


There are many reasons you could have problems with a new operating system like Big Sur. One potential cause is apps that need updating. It's easy to forget to update your apps, of course, but MacKeeper can help here. Its Update Tracker feature will scan your system and let you know if you have any apps that need updating.

In MacKeeper, choose Update Tracker from the left-hand menu

Click Scan for updates

Click the Check All tickbox to select everything that needs updating

Click the Update button

If you'd like to try MacKeeper, you can download it for free right now. You get one fix for free, so you can see for yourself what it can do.

Big Sur has had a rather bumpy launch. With the official release of macOS 11 on October 12, 2020, the internet is already bursting with users' feedback on installation hiccups, bugs, and other common issues with it. We've researched the most common Big Sur problems and we'll dive straight into the fixes for f the issues reported:
Fix macOS Big Sur update download problems
In this section, we'll cover three macOS Big Sur update failures and provide solutions to them.
Fix "gateway timeout" error
The "gateway timed out" error message that pops up when installing Big Sur (or sometimes "bad gateway" error) means the download was stopped or interrupted. Try checking the Apple System Status page to ensure everything is alright on Apple's side. If it's not — wait until it is fixed.
Then, reboot your Mac in Safe Mode:
Shut down your Mac
Press and hold the Shift key once you have rebooted your Mac
Try reinstalling macOS Big Sur when in Safe Mode
Update stuck
If your Mac gets stuck on the "Setting Up Your Mac" window, and the loading bar won't move — here's what you should try:
Hard shut-down your Mac (press the power button until it shuts down)
Turn it on while holding down Command+Option+R keys. This will put your Mac into recovery mode
Connect to Wi-Fi when prompted — select your language — and log into your account
Next, you'll see six options. Go for Disk Utility here — run First Aid on all of your internal drives
Next, choose to reinstall Big Sur
Note: The Big Sur installation may take a few hours. So, please be patient.
"Update not Found" or "Your Mac is up to date"
If you're getting these messages when you try to download Big Sur from the Software Update tab in System Preferences or the App Store, it means your Mac is probably too old to qualify for macOS 11.0 updates. The latest update before Big Sur was macOS Catalina 10.15.6. To be sure, you can check if your Mac is on the list of Mac models compatible with macOS Big Sur first.

Related reading: How to update macOS the right way.
Big Sur Backup Problems
Another issue with Big Sur is it's causing trouble when you try to back up via Time Machine. Try the following remedies:
Open Disk Utility — click First Aid — wait, and click Done when prompted — then try to do a backup
If that didn't help — the most effective method would be to try reinstalling Big Sur
High CPU usage issues
So, your Mac is freezing whenever you move your mouse, and WindowServer is utilizing 100% CPU? First, let's see if the problem is limited to just one account. Log in to another user account to check. If the issue persists;
Boot up your Mac in Safe Mode
Check if there's still a problem
Reboot your Mac normally — test for the lag again
You could also try the following:
Open System Preferences — click on the Mission Control tab — switch to "Displays have separate Spaces off" — then log in again

Reset SMC and PRAM and run First Aid (open Disk Utility and click on the First Aid button)
Reduce transparency — open System Preferences — Accessibility — Display — select the checkbox next to Reduce transparency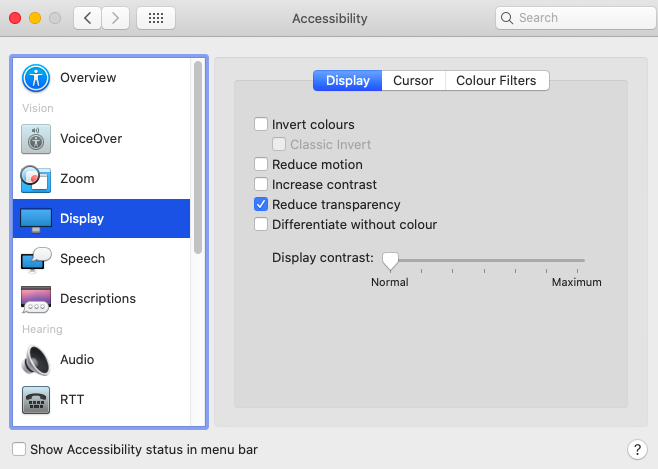 Black screen after update
Another common bug when updating to macOS Big Sur is the black screen after update and getting stuck on installation. Don't force a shutdown — it's better to leave it that way until installation is complete. You could also try the following:
Mail search not working after Big Sur install
Some Mac users encountered the 'Mail search not working' issue after installing Big Sur. First, let's try some basic troubleshooting:
Close the Mail app — log off — then restart your Mac
Rebuild the Spotlight index. Reindexing is helpful when you don't get the desired search results on your Mac. Go to System Preferences — Spotlight — Privacy tab — click the Plus (+) icon — in the search field type in Mail — add the Mail folder for it to be re-indexed — then quit System Preferences
Big Sur slowing down my Mac
It's common for your Mac or MacBook to run slower than before after updating to macOS 11. If you saw a notification message saying: "Optimizing Your Mac: Performance and battery life may be affected until completed," then you should be perfectly fine. Big Sur needs some time (approximately a day or so) to do some important things for your Mac offstage.
However, if your Mac goes on running slow —first, try restarting it. If that didn't help, try the following steps:
Check if any unnecessary apps load once you launch your Mac. Open System Preferences — Users & Groups — click the Login Items tab. Here, highlight the apps you don't want at startup — then press the Minus (-) sign
Update all your apps, as this contributes to a smoother performance. You can do this separately for each app, or run Update Tracker scan in MacKeeper to update all your apps with just one click
Run First Aid in Disk Utility. Open Disk Utility — choose your disk — press the First Aid button at the top of the window — click Continue — wait, and click Done when prompted

If that didn't help, read more ways to help speed up your Mac.
macOS Big Sur battery drain issue
If your battery drains in no time at all after the Big Sur update — this can be attributed to Spotlight making new indexing of the disk. This is a typical process that comes with each major macOS update.
The best solution here is to wait for a few days to see if the situation improves briefly and the battery gets back to normal.
If this doesn't work, try the following steps:
Change energy saver preferences — putting hard disks to sleep whenever possible or reducing the display turn off time can help the battery to run for longer
Quit any apps you're not using at the moment — leave open only the ones you're (currently) working in
Check and quit any energy-draining apps. You can see them by clicking on the battery icon in the menu bar. In the example shown below, Chrome is using significant energy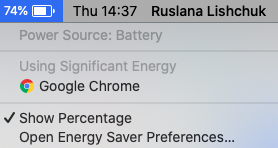 HP printer or scanner doesn't work with Big Sur
The Big Sur update highlighted another conflict with HP printers and scanners. If you're finding it impossible to print or scan and you keep seeing the warning "HP software will damage your computer" — try replacing your printer drivers.
To fix the HP printer not working on Big Sur:
Note: From October 22nd, 2020, you might need to replace your HP printer drivers to continue using your HP printer. This will be the case if you receive warning messages or messages about failed processes.
For AirPrint-enabled printers:
Go to System Preferences — Printers & Scanners tab — connect to your printer and add it using AirPrint
If not, follow these HP support instructions
FAQ
How do I fix my Big Sur Mac?
To fix your Big Sur Mac, boot it up in Safe Mode by following these steps:
Shut down your Mac and wait for 10 seconds
Start up your Mac while holding the Shift key
Release the Shift key after the login window appears on your screen
If there are no performance problems, reboot the Mac
You can also reset NVRAM to solve common macOS Big Sur issues.
It goes like this:
Shut down your Mac
Start up your Mac while holding Command (⌘) + Option + P + R
Release the keys at the second startup chime
Will my Mac slow down with Big Sur?
Your Mac can slow down with Big Sur for a day or so. Immediately after the update, your Mac needs to rebuild the Spotlight indexing and run other essential processes in the background. Once done, you should notice a marked performance boost.
Before updating to macOS Big Sur, note that many users report degraded performance on older Macs. It happens because older Mac models don't have enough processing power to run new macOS features. Even if Apple lists your Mac as Big Sur compatible, you might still experience some performance issues.
Is there a Boot Camp on Big Sur?
Yes, the Boot Camp app will be supported on Big Sur, so you can run Windows on macOS 11.0. However, it won't be available on M1 Macs.
Connect MacBook Pro to Thunderbolt Display on Big Sur
Some Mac users reported issues with the Thunderbolt display on Macs running Big Sur. The system will only boot if the Thunderbolt display is disconnected. Try reconnecting your Thunderbolt display after the Big Sur update is complete. If you decide to restart your MacBook — consider disconnecting the external display first to avoid issues at bootup. As we are still in the early stages of Big Sur — do this until a fix for this problem arrives.
How do I go back to macOS Catalina from Big Sur?
Had a change of heart? Maybe Big Sur is not working the way you expected it to, or you find out that critical apps that you need for everyday tasks do not work correctly or are not supported. The good news? You can downgrade to macOS Catalina. In brief, you can do this in two ways:
1. Via Time Machine
If you've backed up your system before updating to macOS Big Sur — you'll need to backup your data on Big Sur — erase your Mac's hard drive — and restore Catalina from Time Machine.
2. Via a bootable installer
If you haven't done a backup using Time Machine before shifting to Big Sur — creating a bootable macOS Catalina installer comes into play. Follow these steps: back up your data — create a bootable installer — transfer it to an external drive — and install macOS Catalina.
Read more: