A slow internet connection can ruin many things — both the fun stuff and the more serious. Web pages and apps will take ages to load, video calls will freeze and disconnect intermittently, and playing online games or streaming movies becomes a painful experience.
In this tutorial, we'll show you how to test the internet speed on Mac and 10 simple ways to speed up your MacBook or iMac's Wi-Fi connection:
Why is my internet running slow on Mac?
There are a number of factors that could affect your Mac's internet speed. Your internet provider may be experiencing a service outage, there could be a temporary glitch with your router, or your Mac's Wi-Fi configuration files could be corrupt, etc.
But worry not, there are a myriad of solutions to get the internet on your Mac working smoothly again, and we're here to tell you all about it.
Before we start

One of the main reasons for a slow internet connection is a clogged up device due to all the downloads and files you've accumulated overtime. You typically don't notice this is the case until your device or internet connection starts running slowly. To fix this, your first move should be to clean your Mac—but this could take hours to do, and you'd probably miss a lot of hidden files if you do it manually.

MacKeeper's Safe Cleanup tool is the solution you need to quickly, safely, and thoroughly clean your Mac—and subsequently fix your slow internet connection. Take advantage of the one-time free fix to optimize your Mac and enjoy more of MacKeeper's cybersecurity solutions without spending a dime.

Download MacKeeper on your Mac
Click on Safe Cleanup in the left pane
Click the Start Scan button.
That's all—just three easy steps to get your Mac and internet connection working smoothly again. But that's just one fix. In this article, we'll provide a number of tips to help you restore your Mac's internet connection to full speed.
How to speed up the internet on Mac: 10 tips to try
1. Test connection speed
The first step to diagnosing a slow internet problem is to test your connection speed. Fast.com and Speedtest.net are two reliable services that let you check internet speed on Mac (and other devices).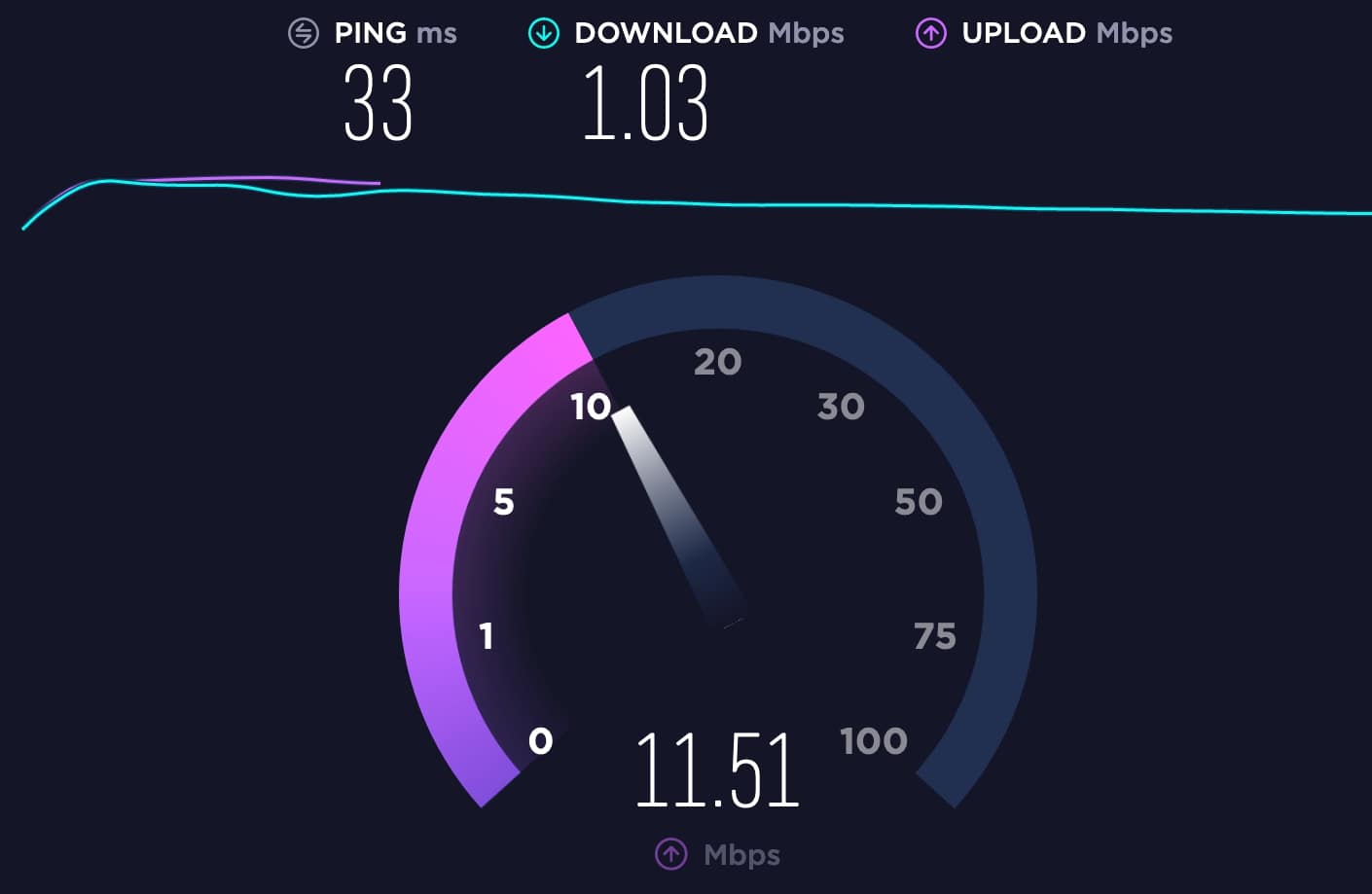 Visit any of the websites on your preferred web browser and wait for a detailed connectivity report — this usually contains download and upload speeds. If the speeds in the report fall way below the advertised speed of your internet plan, then your connection is slow.
2. Use a faster internet line or ISP
It goes without saying that faster internet comes at a cost. If you do any of the following, you need a fast internet service provider (ISP) to:
Work from home
Stream or download high-resolution or 4K video content, like movies, TV shows on Netflix, or live sports
Use online gaming platforms like Twitch
Typically have multiple devices connected to the internet at the same time (like mobile phones, gaming consoles, laptops, smart TVs, and other smart home devices).
If you fall into any of the categories, there's really no point in using a low Megabits per second (Mbps) connection. In fact, you'd only be frustrating yourself. Low Mbps connections are for people and households who typically use the internet for non-internet throttling activities like social media, emails, and just staying in touch with loved ones via messaging services like iMessage.
Instead, all of the scenarios listed above are good candidates for fast internet speeds, as they use up a lot of bandwidth. So, if you want to enjoy a fast internet connection, there's no getting around it—you have to be willing to pay for it.
If you want peace of mind while using the internet, consider upgrading your line or getting a new one if your ISP doesn't offer the speed you need. Depending on your needs, anything between 20 Mbps and 100 Mbps should be fine. You can even go higher if your pocket allows it.
3. Switch to another web browser
You may encounter delays in accessing web pages, find downloads are slow, and videos constantly buffer if your web browser is malfunctioning—this is not because your internet is slow. You can resolve browser issues by clearing the browser cache and history. If you still can't access websites or they take forever to load, try using another browser (check out some of the best internet browsers for Mac).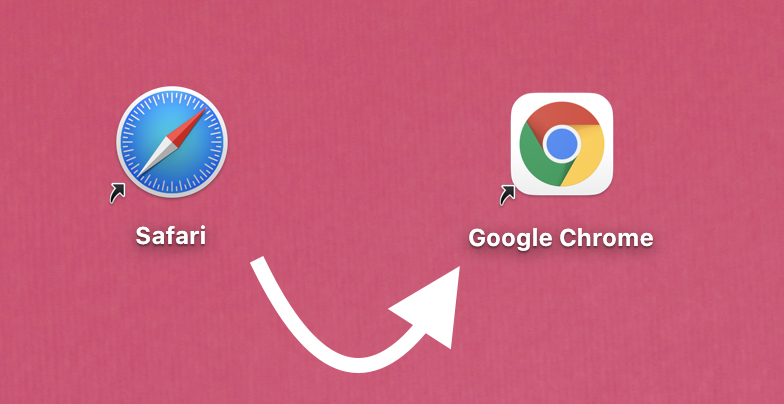 Downloading multiple files simultaneously may also slow down your Mac's network speed. Pause the files in your browser's download queue and download them one at a time instead.
4. Reduce the frequency at which Time Capsule is backed up
Time Machine is Mac's built-in, automatic backup feature for your files and data. When you're using Wi-Fi, Time Machine often backs up to Time Capsule on an hourly basis by default. (Time Capsule is an Apple device that acts as both a Wi-Fi router and external hard drive to back up the computers on your wireless network.)
Given that Time Capsule uses your Wi-Fi bandwidth, it reduces the amount of bandwidth available to browse the internet. This is fine, unless Time Capsule backs up large files, which could slow down your connection.
For that reason, you might want to reduce the intervals at which Time Capsule is backed up. We recommend backing up at two-hour intervals.
Follow the steps below to change Time Capsule's backup frequency.
Go to Finder > Applications > Utilities > Terminal
Type the command: "defaults write /System/Library/LaunchDaemons/com.apple.backupd-auto StartInterval -int <7200>" on a new line and hit the Enter key.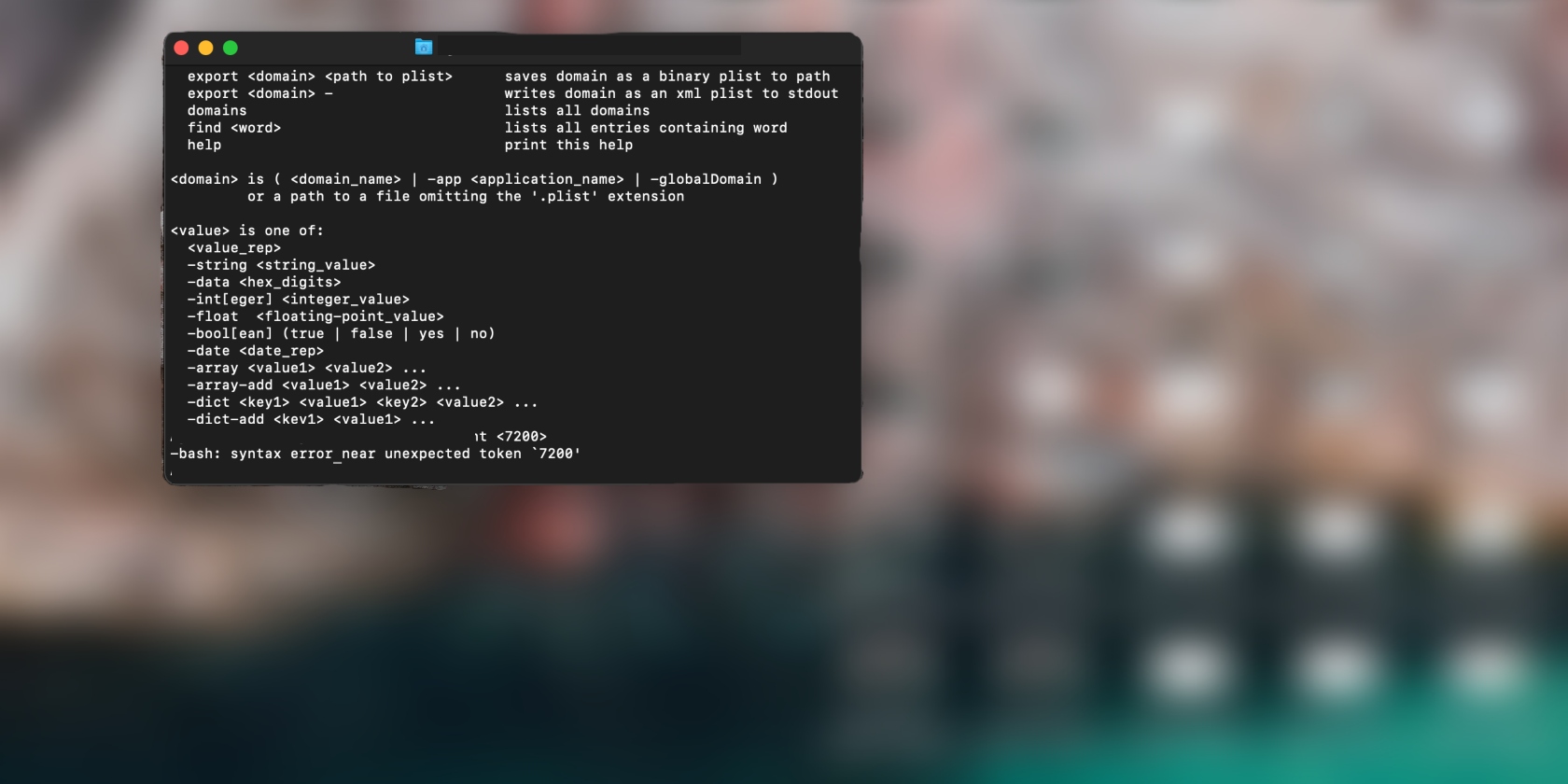 Note that time intervals are expressed in seconds, so 7,200 seconds will cause Time Machine to back up your files every two hours.
5. Restart your Mac
Yes, rebooting your Mac absolutely can fix performance issues like slow internet connection and other network-related problems. If a wireless connection is blazing fast on any other device but yours, reboot your Mac and rejoin the network. Click the Apple logo on the menu bar and select Restart.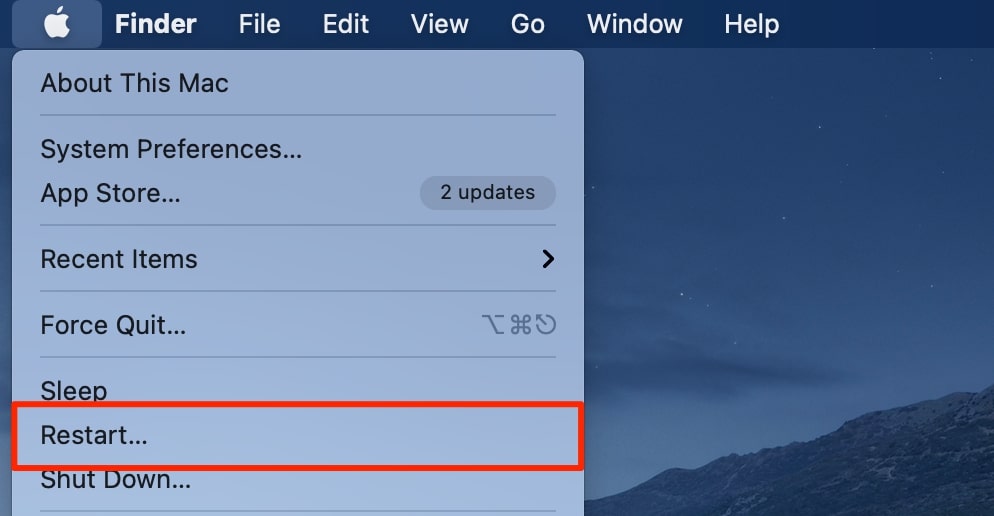 Make sure you close all active apps so you don't lose any important and unsaved documents.
6. Reset Wi-Fi settings
Mac connectivity issues can sometimes be a tough nut to crack. If your network speed is still running slow despite trying all the recommended solutions above, resetting your Mac's Wi-Fi settings might help.
This reverts your Mac's Wi-Fi configuration and network preferences to the factory default setting. You should note that performing a network reset will remove all previously-connected Wi-Fi networks from your Mac. Therefore, you'll have to re-enter the password to rejoin networks after resetting your Wi-Fi settings.
If you can't remember the password to your networks, go through our comprehensive tutorial on how to find a Wi-Fi password on a Mac before you proceed with resetting Wi-Fi settings. Just remember to use our advice as a guideline, not a critical measure.
Method 1: Reset Wi-Fi Settings from System Preferences
This is one of the easiest ways to reset Mac's network settings.
Follow the steps below to get it done:
Launch System Preferences and click on Network
Select Wi-Fi on the left sidebar and click the minus (—) icon in the bottom-left corner
Click Apply to continue. This will remove the Wi-Fi interface and disconnect your Mac from any active wireless connection.
Wait for a few seconds and click the plus (+) icon
Click the Interface drop-down button and select Wi-Fi
Click Create to continue
Click Apply to save the change.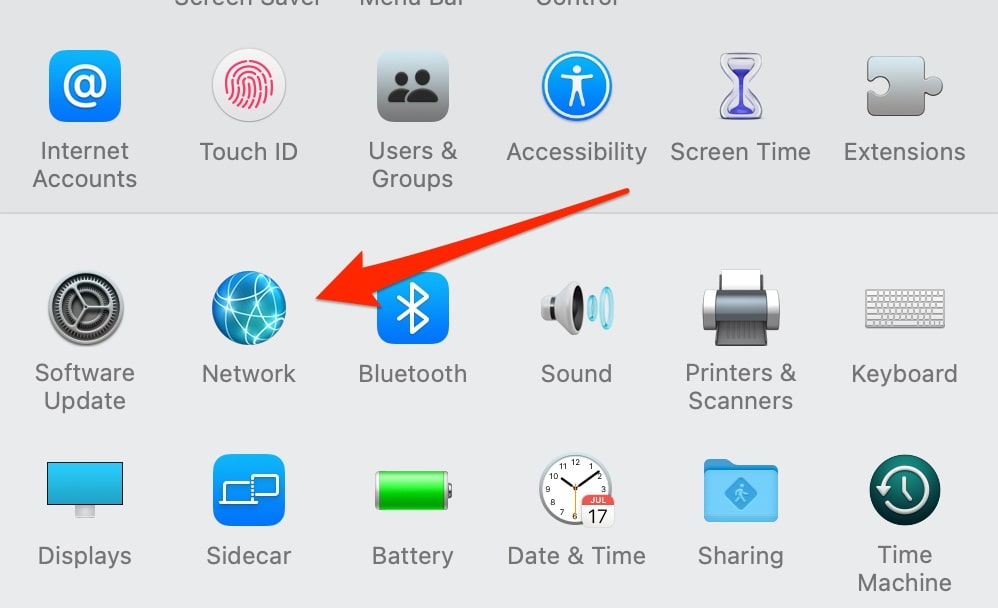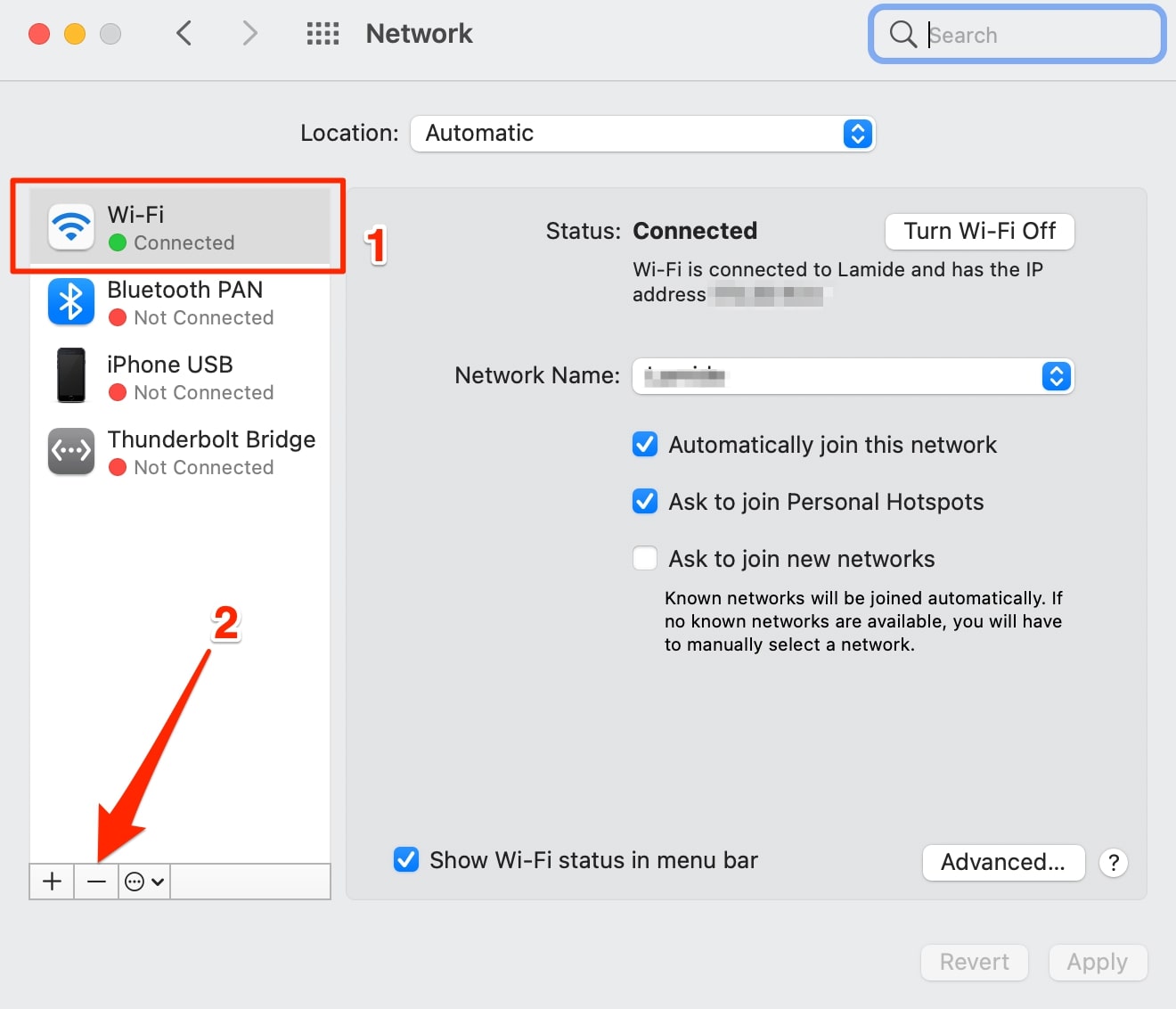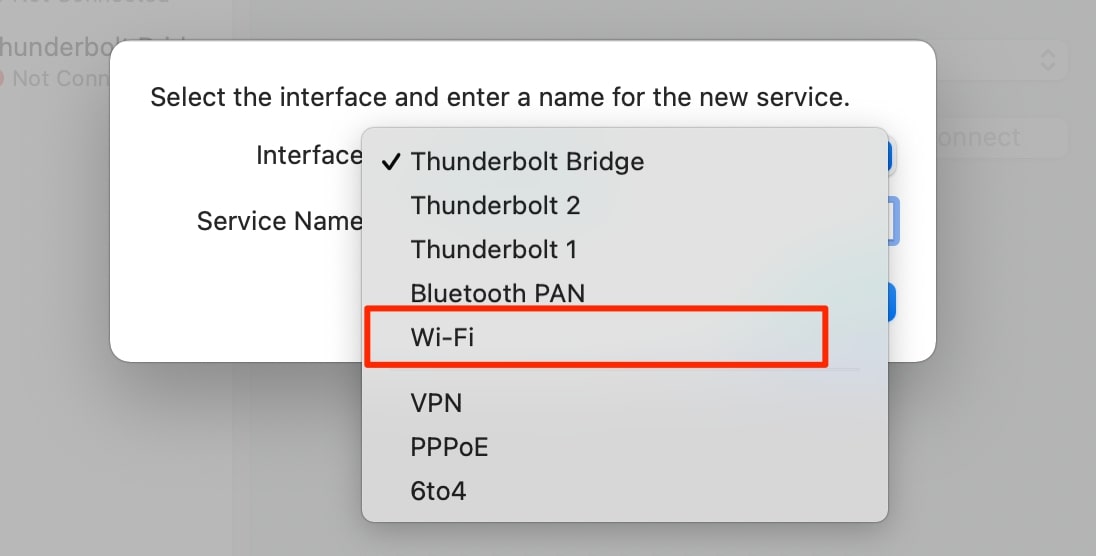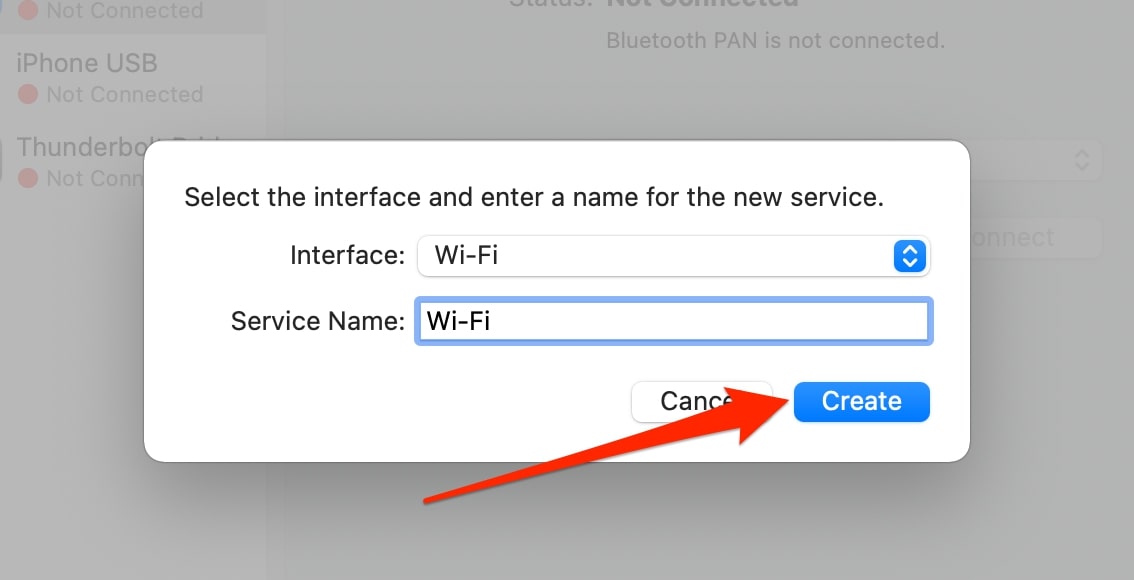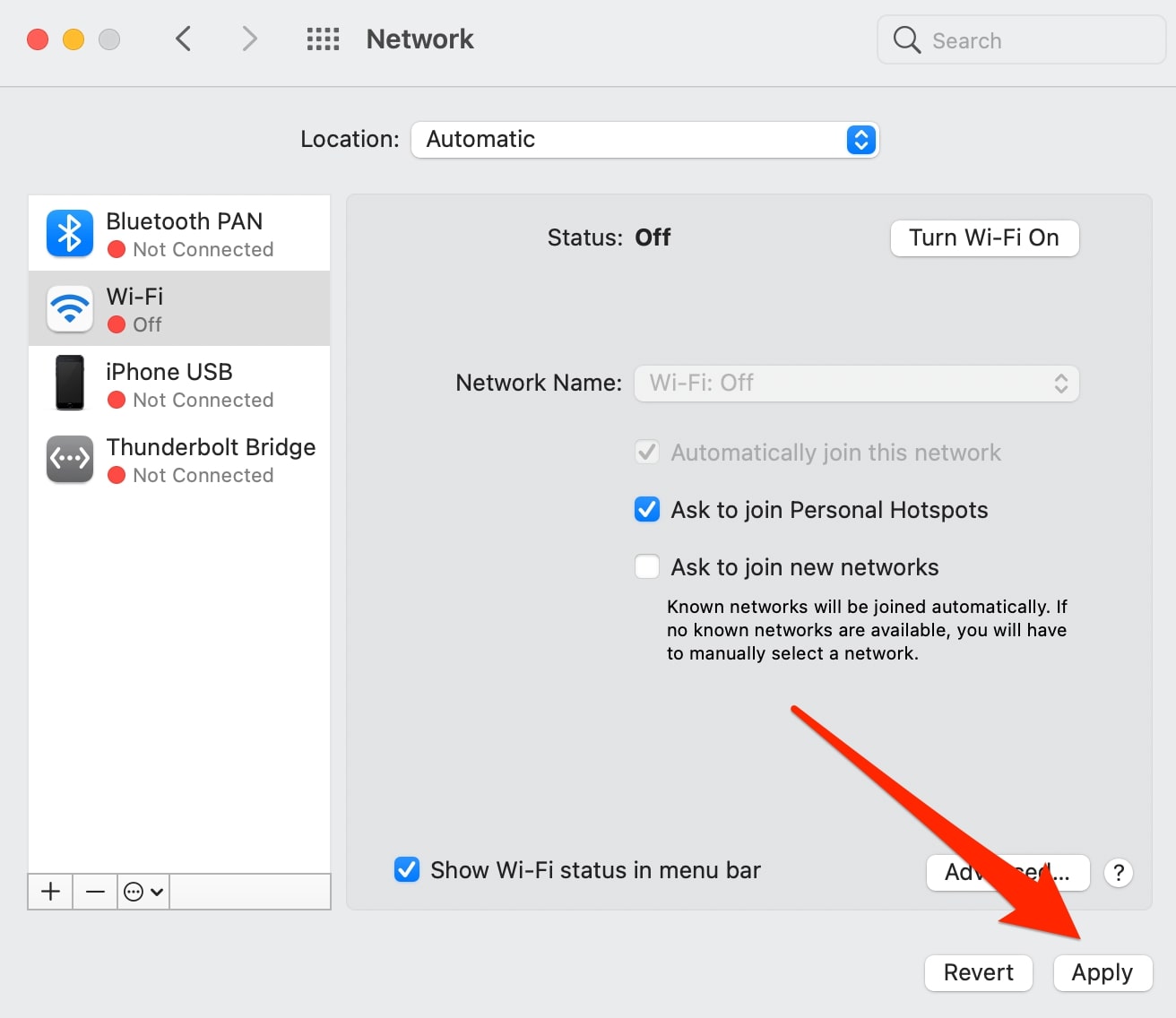 Turn on your Mac's Wi-Fi, reconnect to the network, and test the connection speed.
Method 2: Delete your Mac's network configuration files
You may experience Wi-Fi connectivity issues on your Mac if the files holding your Mac's network configurations and settings corrupts. Deleting these files can restore your internet connection back to normal.
macOS will automatically create fresh network configuration files, so you have nothing to worry about.
Turn off your Mac's Wi-Fi and follow the steps below:
Click anywhere on your Mac's desktop and press Command + Shift + G to launch the Go to Folder dialog box
Paste the path in the box and click Go: /Library/Preferences/SystemConfiguration/
Locate the following files and move them to the Bin:

NetworkInterfaces.plist
preferences.plist
com.apple.wifi.message-tracer.plist
com.apple.airport.preferences.plist
com.apple.network.eapolclient.configuration.plist

Reboot your computer. macOS will create new preference plist files when your Mac comes back on.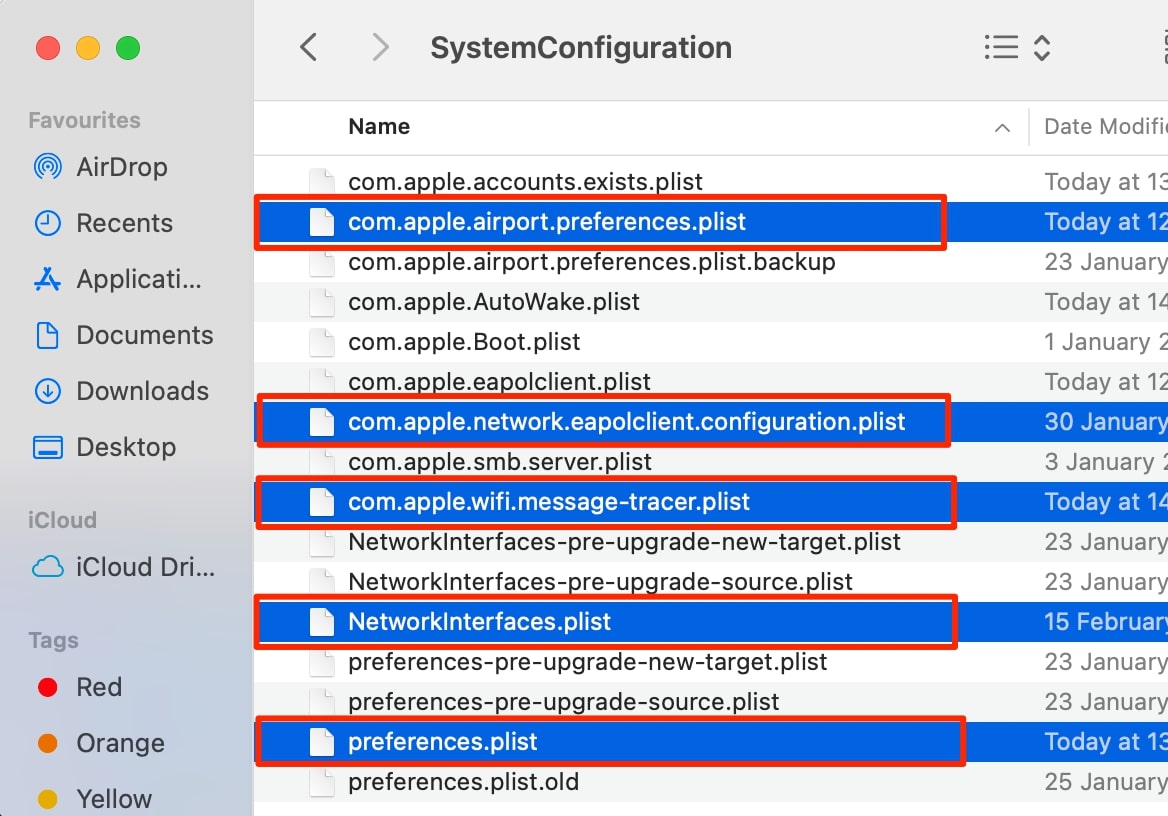 7. Use an Ethernet cable instead of Wi-Fi
An ethernet (or wired) connection is generally faster and more stable than Wi-Fi. If a router's internet is running slow on your Mac, try establishing a direct connection with the router using an ethernet cable. This should result in a rapid boost in speed and optimize the network quality.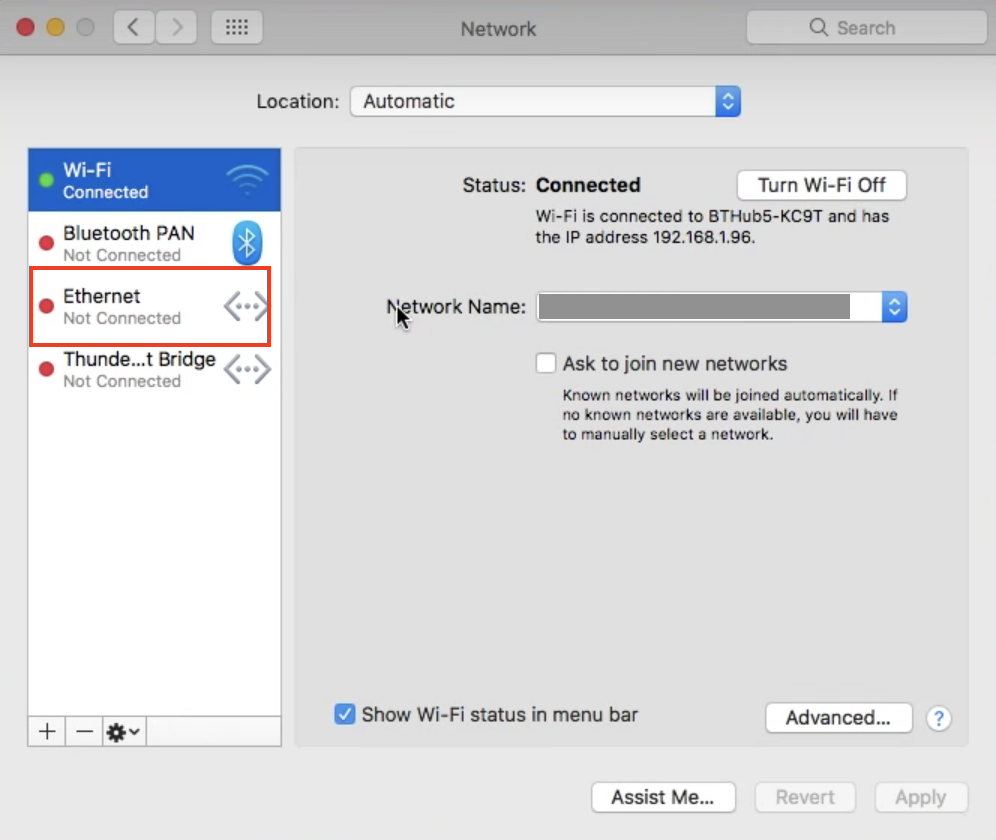 Important: For MacBook models without an ethernet port, use a USB-C to Ethernet adapter or a USB-C hub with an ethernet port.
8. Quit unnecessary apps & browser tabs
We can already hear you saying, "There's a method to my madness," but having too many unnecessary apps running and tabs open could be the reason for your slow internet connection. Both of these rely on your internet connection and continue to run in the background even if you don't have them open or aren't using them at the time. That's why you must close them if you want it to work speedily.
Our experts suggest you focus on only opening apps and tabs that you need and close them when you're done using them.
9. Optimize, clean, and reset Safari
You might not have heard this before, but you must clean the Safari browser to help speed up your internet connection. Now, we're not saying you should do this every day, but a monthly reset should do the trick.
Clear the cache: open the Safari app icon, then click on Safari at the top of the screen > Preferences > Privacy > Manage Website Data > Remove All > Remove now > Done
Clear the history: Click on the Safari app icon > Safari > Clear History. Click on the arrows and select the option you're comfortable with, then click Clear History
Uninstall extensions: while Safari is open, click on Safari > Preferences > Extensions. Check the box next to the extension you want to remove, then click the Uninstall button.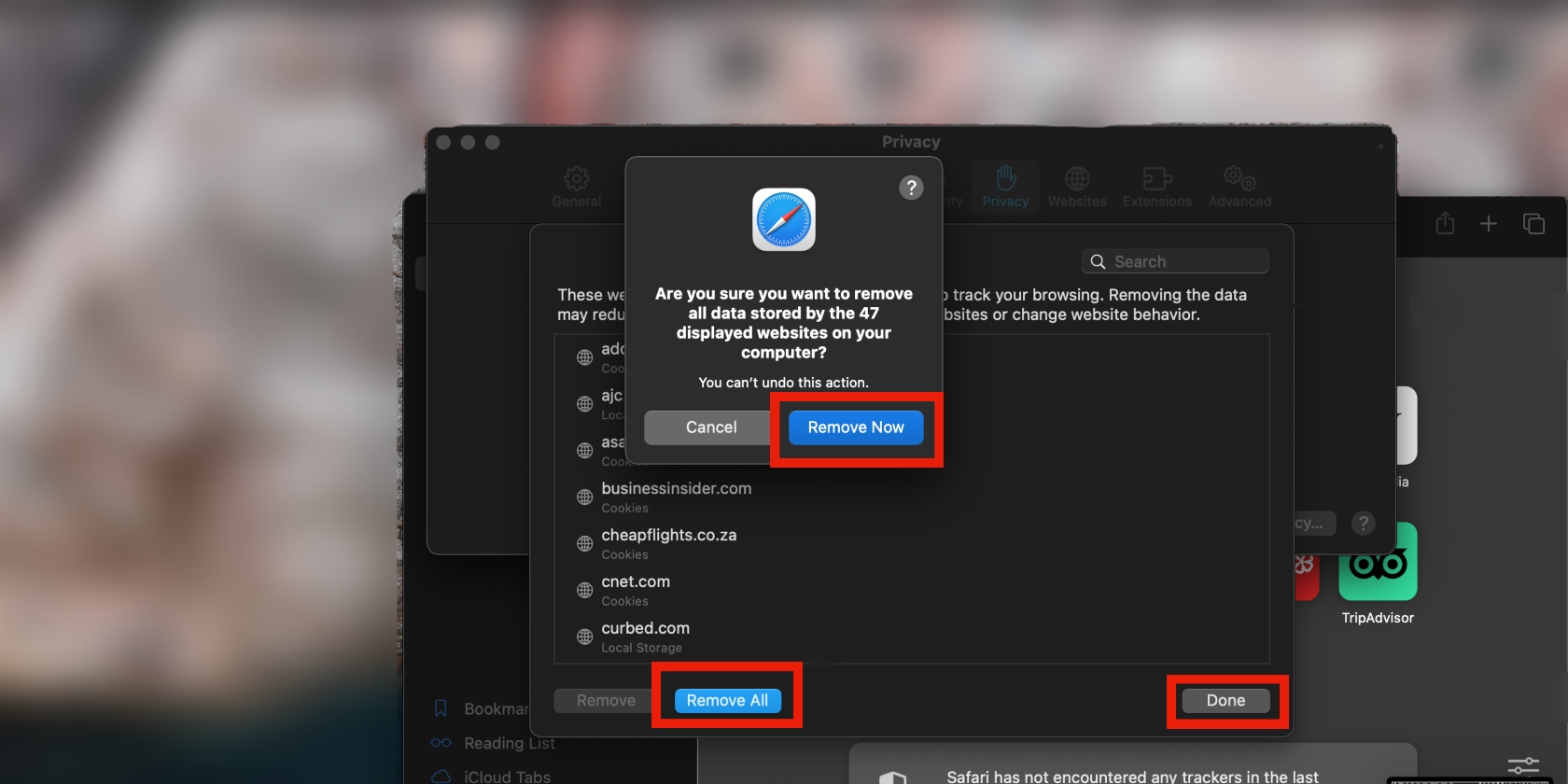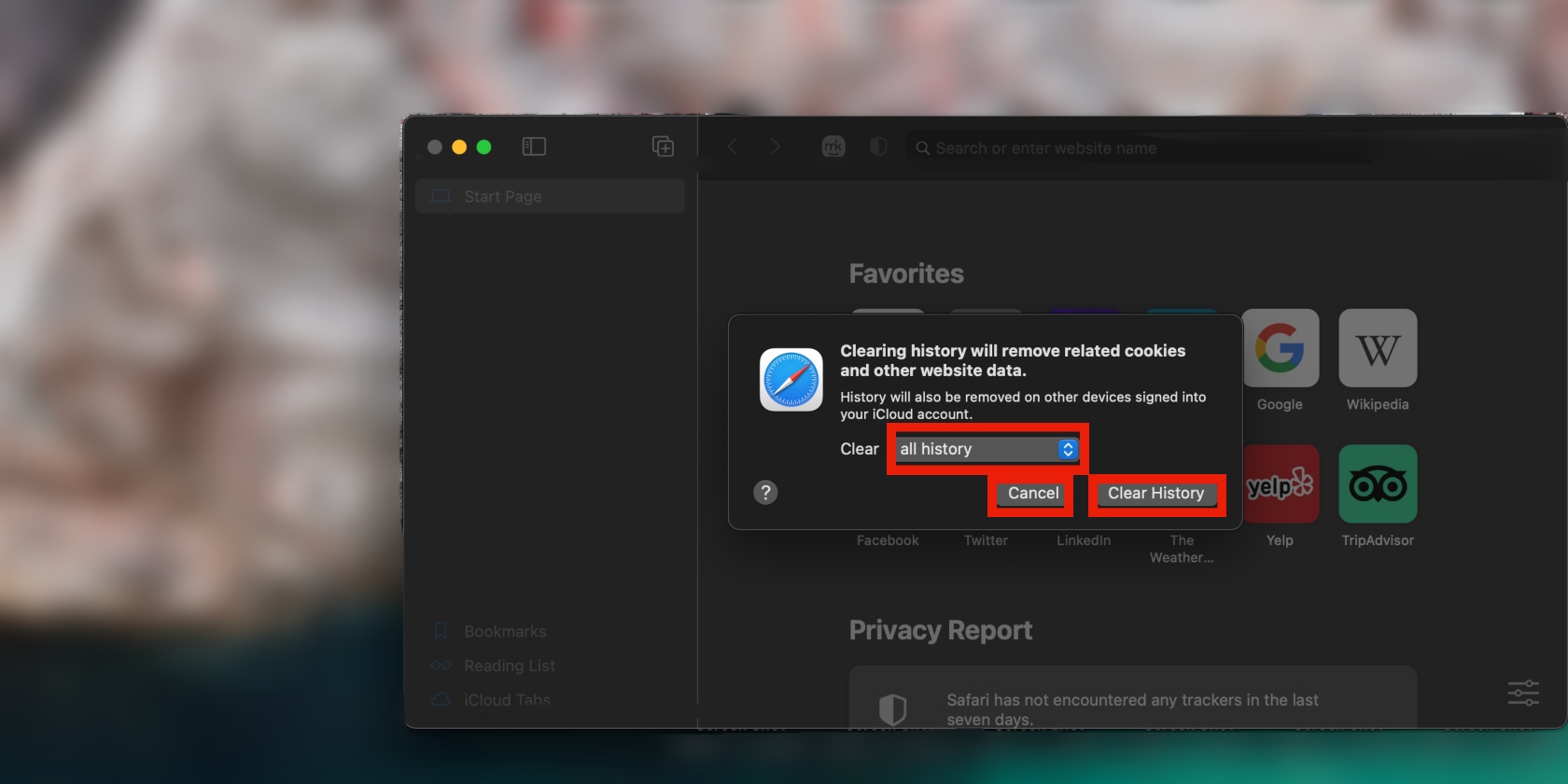 These easy steps will make your Safari work smooth and not take care of your Mac device performance.
10. Clean up your Mac to boost the overall performance
No matter how fast your line is supposed to be, your internet connection will undoubtedly be slow if your Mac is filled with junk files that shouldn't be there. That's why our team's advice is to make a habit of cleaning your Mac thoroughly to ensure it isn't weighed down by any unnecessary files.
MacKeeper's Safe Cleanup tool does the job efficiently and within minutes, whereas it'd take you hours to do it manually. And you'd still miss those pesky files that can remain hidden on your Mac.
And, thanks to MacKeeper's one-time free fix, there's no commitment needed from the onset. So, why not see for yourself how effective and thorough MacKeeper's Safe Cleanup is?
Download MacKeeper on your Mac
Select Safe Cleanup in the left pane
Now click the Start Scan button and wait a few minutes while MacKeeper optimizes your Mac.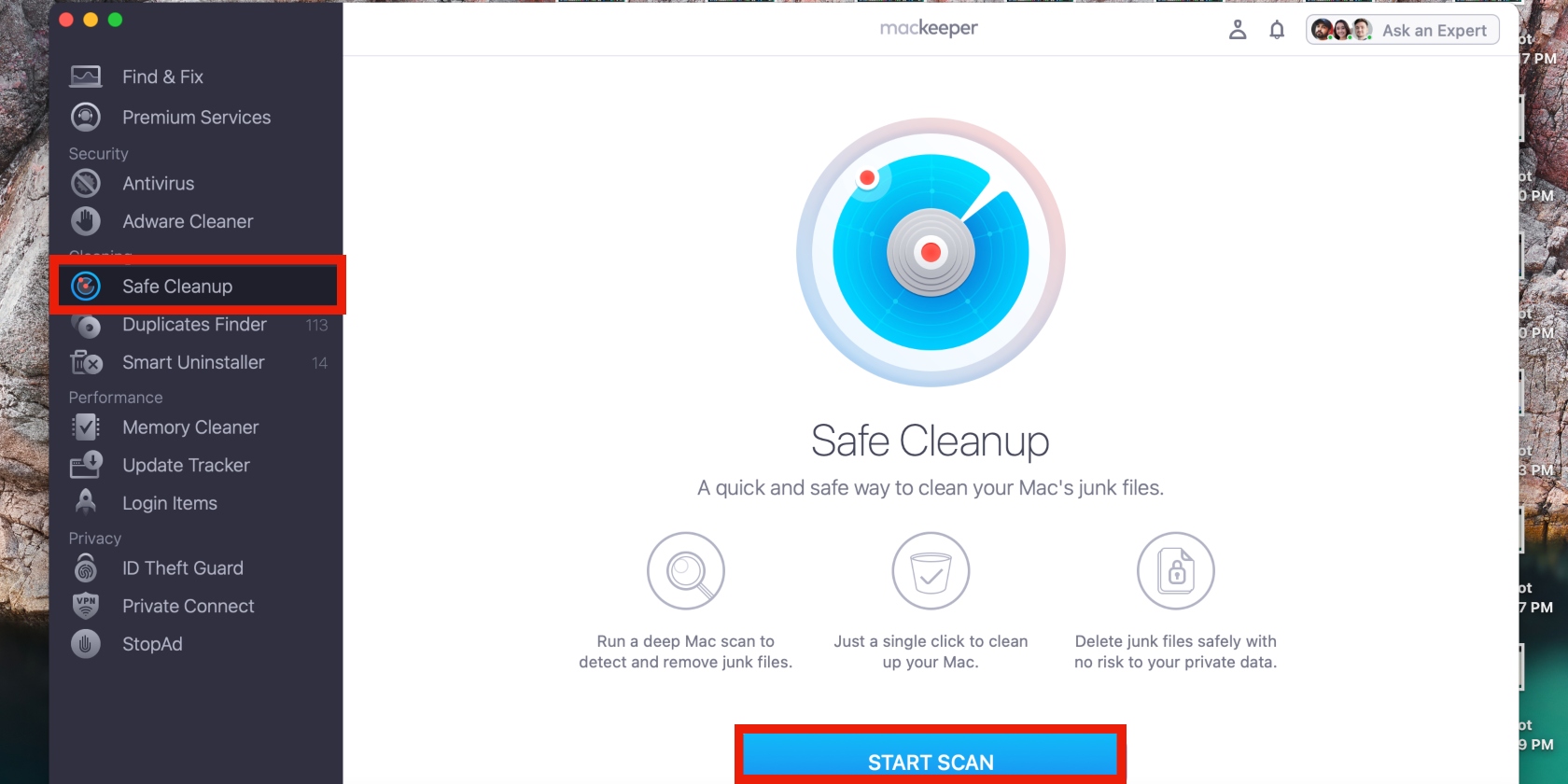 MacKeeper scans your Mac every 24 hours to ensure it stays in tip-top condition.
Fast internet or nothing
We're confident that at least one of the solutions in this guide will help fix your Mac's slow internet issues. If the problem persists, you should reach out to your internet provider.
You could also try visiting an authorized Apple Service Center to get your Mac examined for any hardware damage; a faulty Wi-Fi antenna can also cause slow internet speed. If there's no authorized Apple Service Center near you, or you are reluctant to take your Mac outside of where you live or work, contact our premium customer support for an advanced system tune-up.